The 25 Best Spots For Chicken Wings In England
Want to find the best chicken wings in England? Don't worry, we have you covered.
If there's one dish that brings pleasure to the masses, it has to be a humble portion of chicken wings. Something so simple, yet with so many varieties that never fails to deliver happiness. The fact that you usually wash them down with some beer is just an added bonus…
England has some great spots for wings, so we wanted the find the best of the best. From London to Leeds and beyond, these are the chicken wings that are so good you'd travel all the way across the country for them…
Best Chicken Wings in England, How do these rankings work?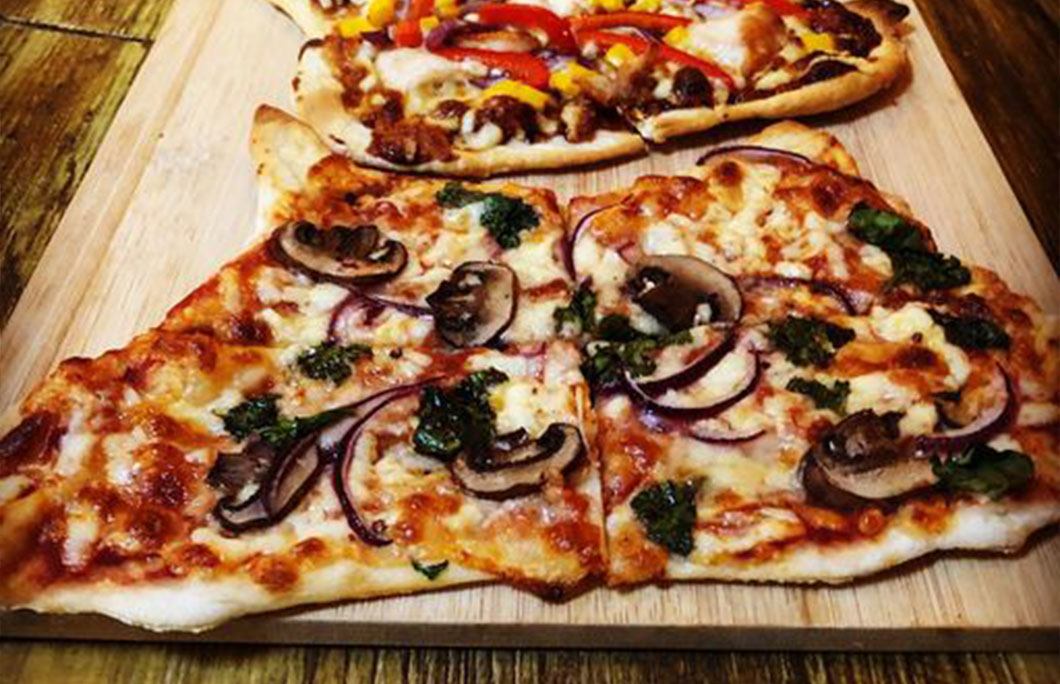 25th. Industry Bar & Kitchen – Bristol
Industry Bar & Kitchen ticks all the boxes: there's an extensive drinks list, cosy beer garden and tasty pub grub menu that makes the most of local ingredients. Their chicken wings are a must-order, with juicy meat and a hot and spicy sauce. You can also chow down on southern fried chicken strips if you want a boneless option.
---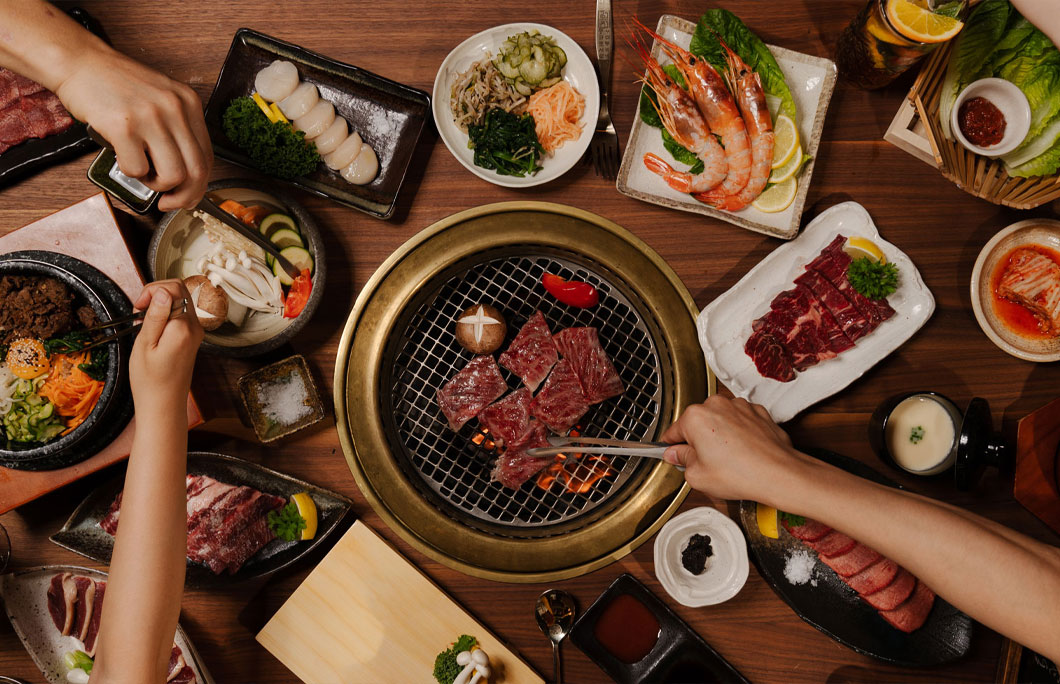 24th. Kimchee – London
They serve up chicken wings with various marinades, burgers, bibimbap and other Korean Street food in this hip eatery. But it's those crunchy fried wings that will have you returning time and time again. Their wings are quite simply some of the juiciest and tastiest you will ever get your teeth stuck into.
---
23rd. Blue Grass BBQ Smokehouse – Reading
Blue Grass BBQ is a traditional American BBQ smoke house where they serve everything from BBQ sandwiches to meat combo platters and their droolworthy chicken wings. The wings are smoked and then finished off on the chargrill, with your pick of hickory or hot flavour.
---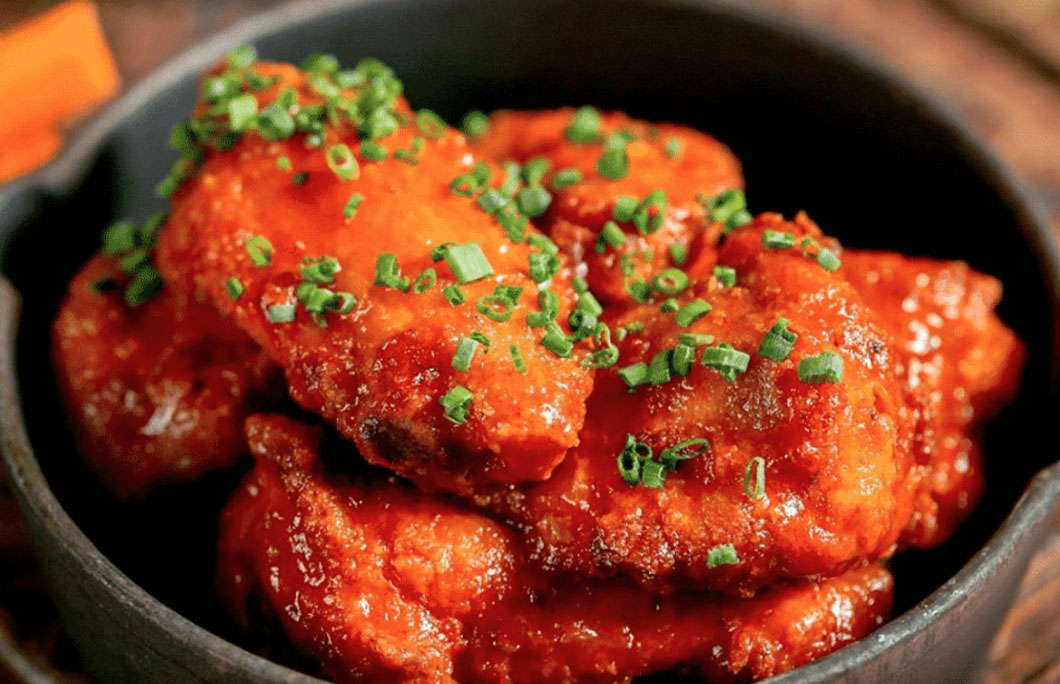 22nd. The Blues Kitchen – London
Proper soul food in every sense of the word. They do amazing BBQ and wonderful burgers, but not to have the wings would be a travesty. That perfect mixture of crunchiness, tender meat and one of the most intense and addictive dipping sauces you could ever wish for.
---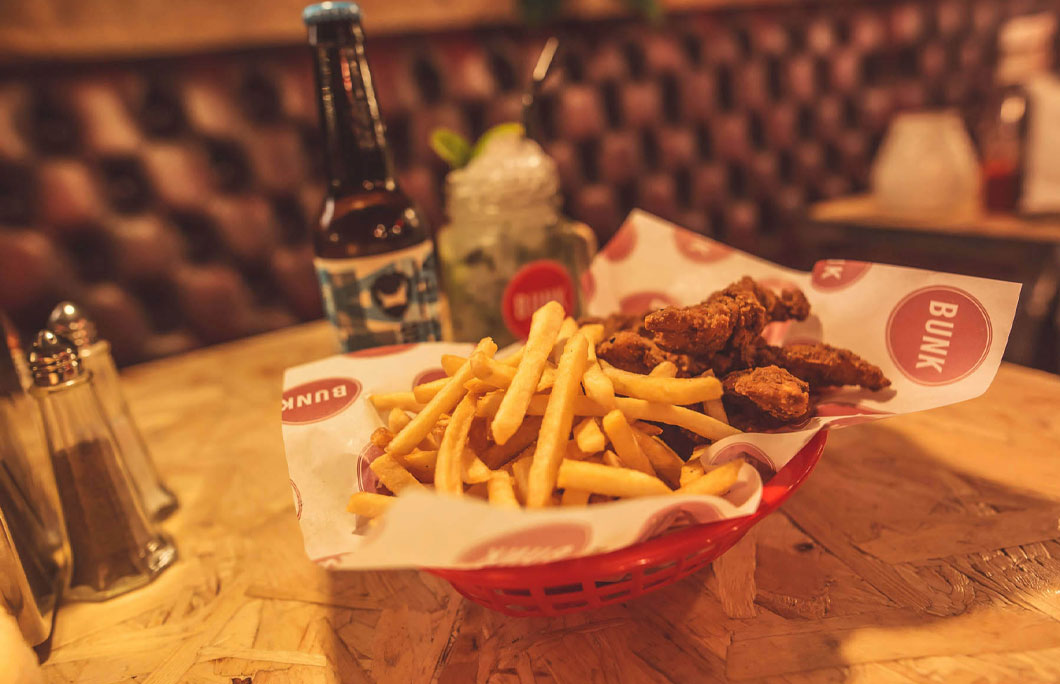 21st. Bunk – Nottingham
Bunk is well known for having some of the best chicken wings in England. Their wings are exciting, with unique sauces and toppings that will have you savouring every single bite. Choose from 15 different sauces (including a tangy ginger, chilli and garlic or maple & bourbon glaze) and add on toppings such as parmesan for a real feast.
---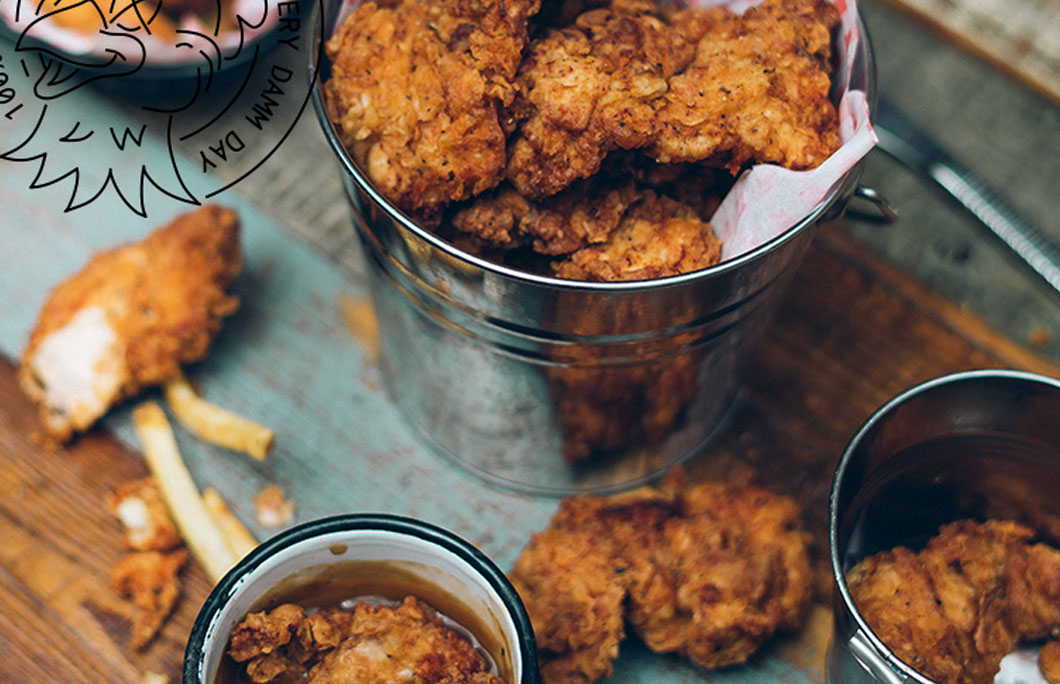 20th. Pattersons – Liverpool
Think you've had proper fried chicken? Think again, as Pattersons really steps it up a notch. Their fried chicken is brined for over 24 hours in a special mix of herbs and spices, soaked in buttermilk, dusted in a secret mix and then fried until golden and crispy. Order a full bucket of chicken, or get it on top of a fluffy waffle.
Click here to compare car hire in Liverpool
---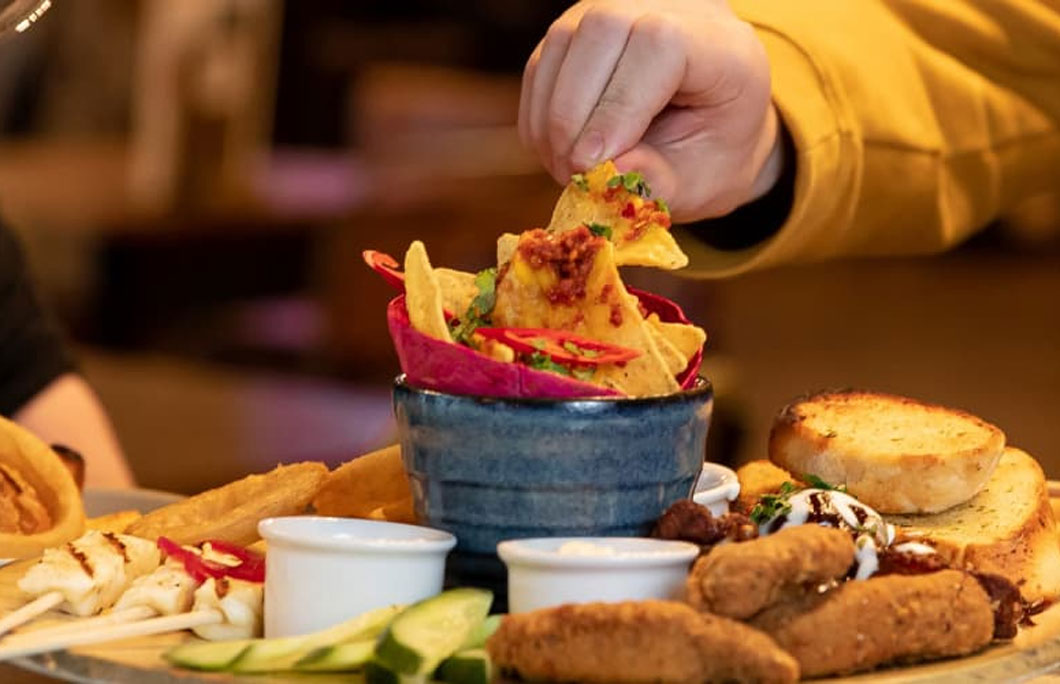 19th. Cavendish – Sheffield
Re-opening later this month after renovations, hightail it to Cavendish for their delicious chicken wings and live sports. Opt for their classic crispy chicken wings, finished with spring onion, or try the buffalo wings with Stilton blue cheese and Frank's hot sauce.
---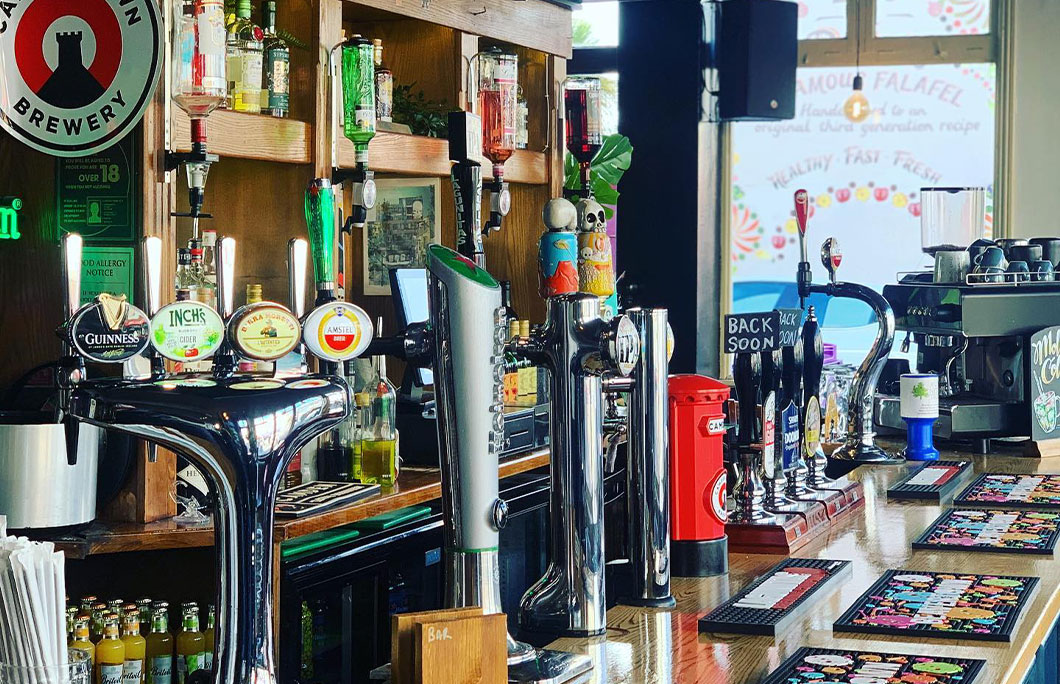 18th. Hobgoblin – Bristol
In short, Hobgoblin a great place to come and drink beer and eat meat; life doesn't really get much better than that.
The wings come with a hot and spicy homemade sauce (you can also choose Korean-style sauce and plenty more) and are perfectly trimmed to ensure you are eating nearly all pure tender pieces of chicken.
---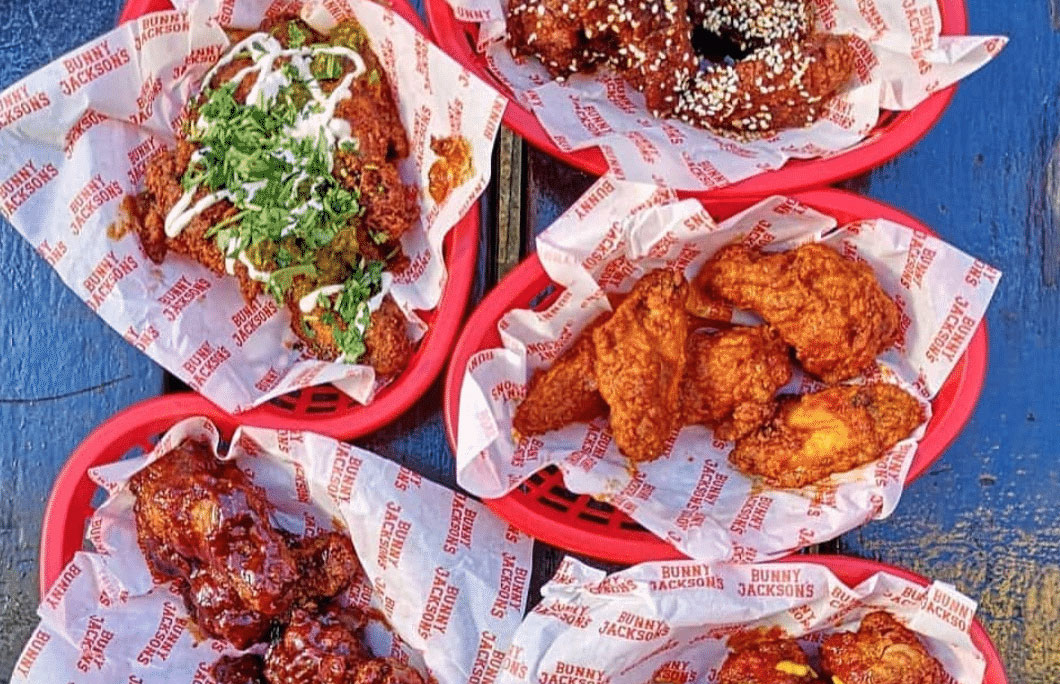 17th. Bunny Jacksons – Manchester
They call themselves the "home of the 10p wing", which is when they have them on as a special. We suggest you keep an eye out and head straight down here as soon as you see the offer!
Lots of great sauces and rubs to choose, from along with some superb craft beers. Pretty much everything you want in life.
---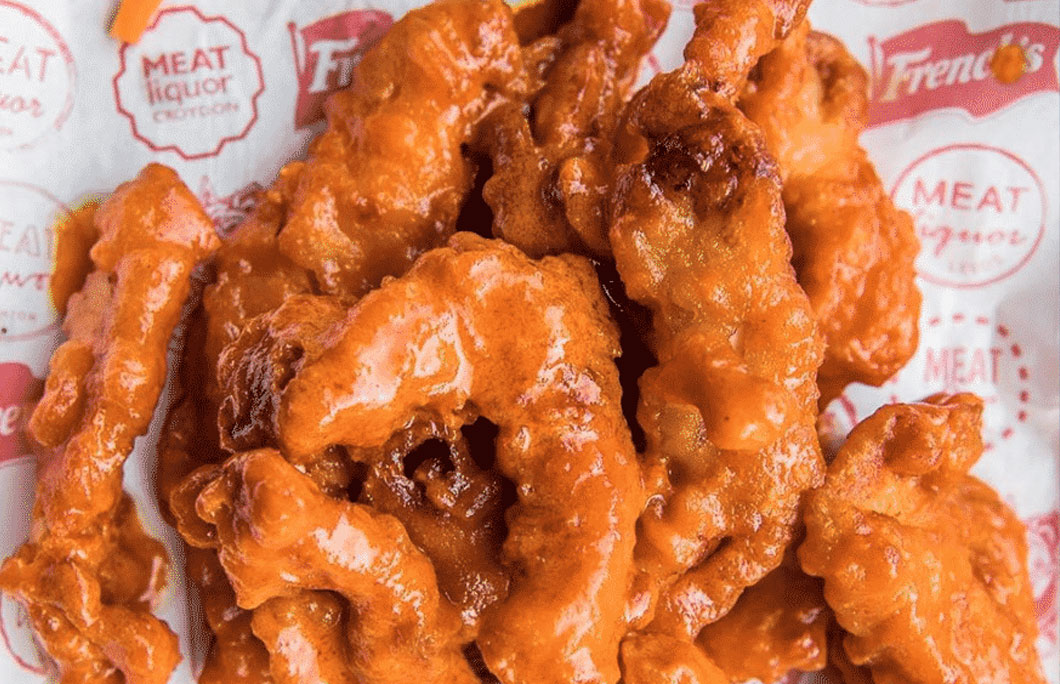 16th. MEATliquor – Leeds
This mega-popular spot might be best known for its burgers, but ever since opening in Leeds in 2014, MEATliquor has had some of the best chicken wings in Leeds. Their juicy buffalo wings are slathered in homemade sauce and come with a blue cheese dip. After your feast, check out the retro video gaming space in the basement.
---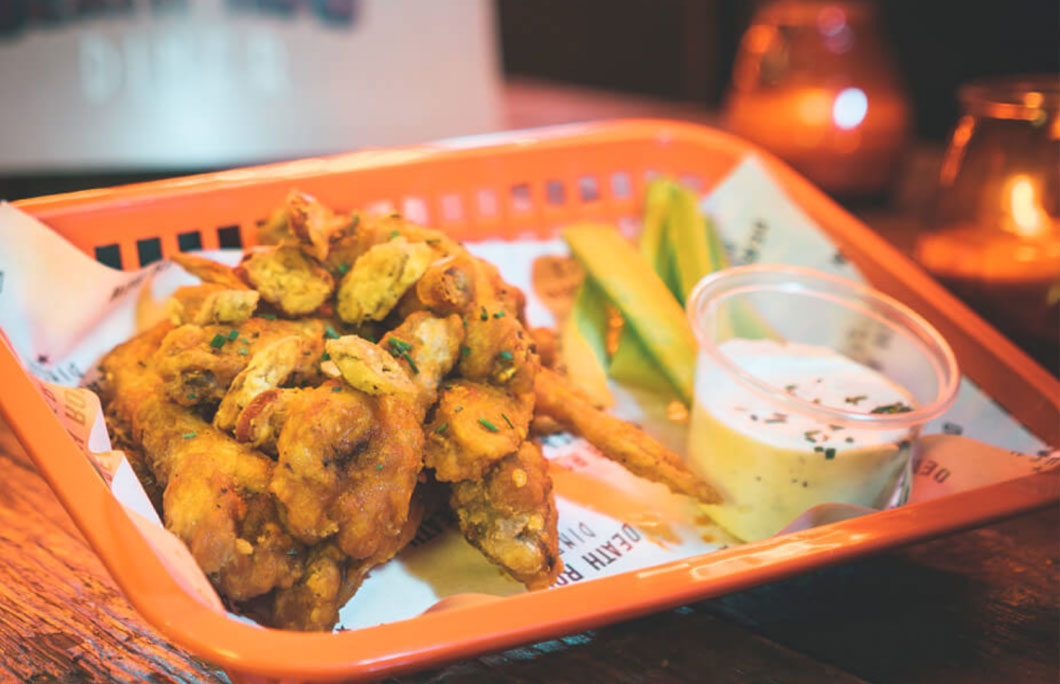 15th. Death Row Diner – Liverpool
This funky dive bar and diner is where you'll be heading for your death row feast of chicken wings in Liverpool, that's for sure. There's a range of wing flavours – you can choose from Frank's hot sauce, 'chip shop' salt and pepper, Korean or Tennessee BBQ.
The wings are plump on the inside with seriously juicy meat, yet crispy and perfectly crunchy on the outside.
---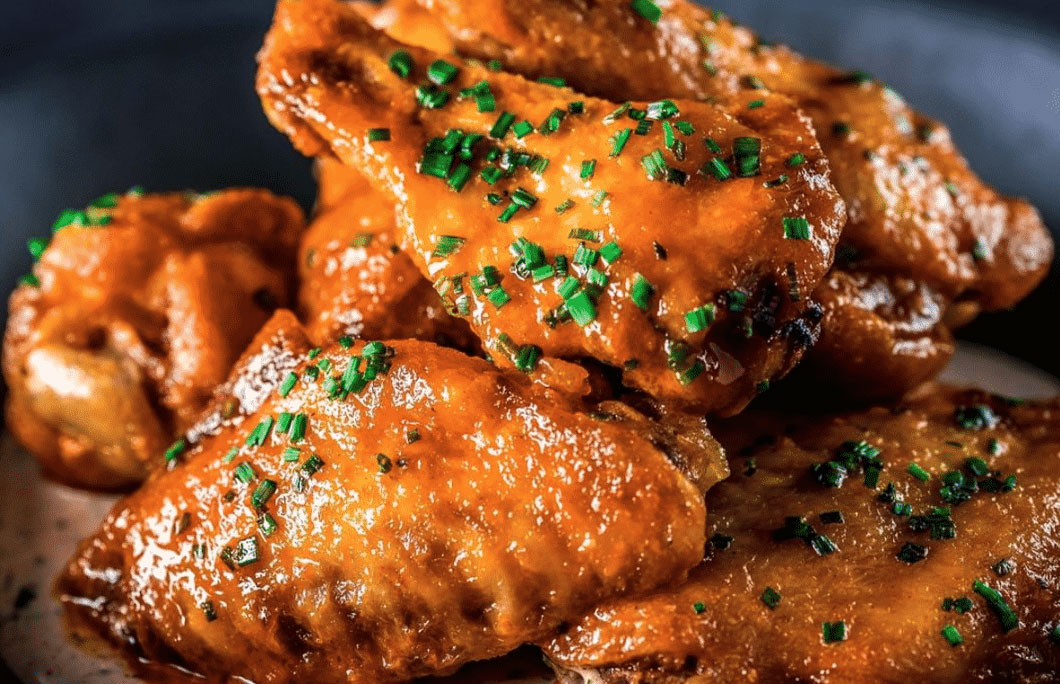 14th. Dirty Bones – Oxford
Dirty Bones is an NYC-inspired food and cocktail spot that has grown into one of the best places for a wing feast. They place huge emphasis on sourcing the very best ingredients, which is what makes the end product so finger-licking good.
Their crispy free-range chicken wings are tossed in Frank's® hot sauce and spices with blue cheese dipping sauce.
---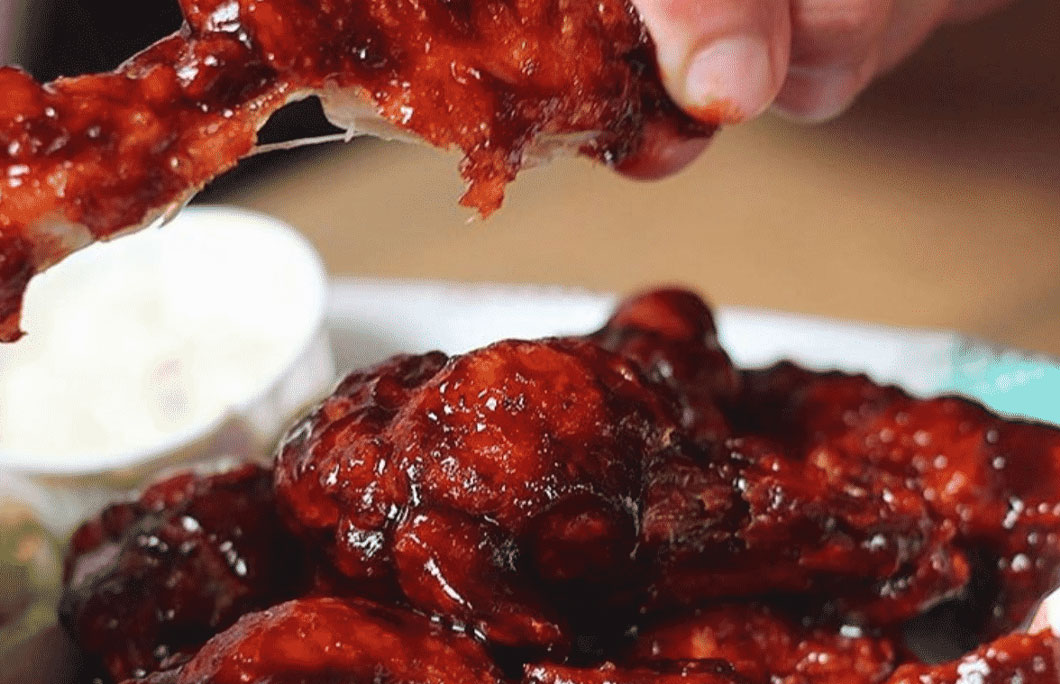 13th. The Joker – Brighton
Feel like some award-winning NY style buffalo wings in Brighton? The Joker takes chicken wings to a whole new level, with a tempting menu of their own small batch homemade sauces, which they smother over juicy chicken wings.
There's several variations of a buffalo sauce, Korean-style sauce, mango habanero and plenty more. Plus, they even do jackfruit vegan wings with a 'sugarcane bone' if you're in the plant food mood.
---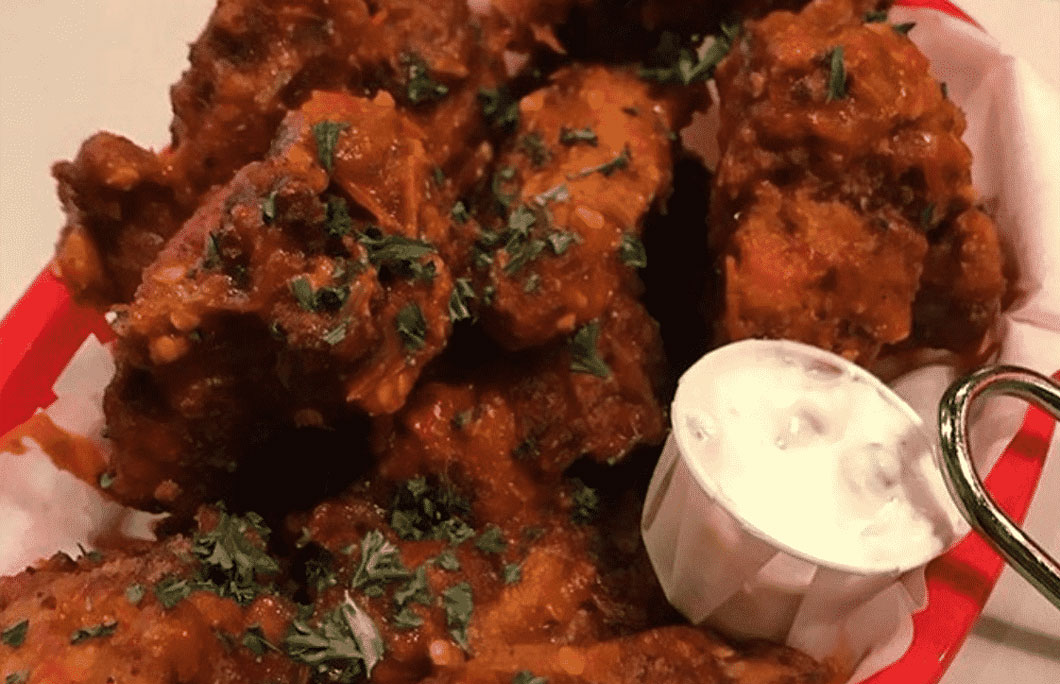 12th. Cane & Grain – Manchester
The rib joint and tap room on the ground floor is a relaxed hangout and a nod towards the 80s skate scene. While they might shout loudest about their amazing ribs, it is the chicken wings that should command your attention. Full of flavour and perfectly crisp they are a great meal in and of themselves.
The bar serves a large selection of bourbon, craft beer and cocktails that will keep you here long into the night.
---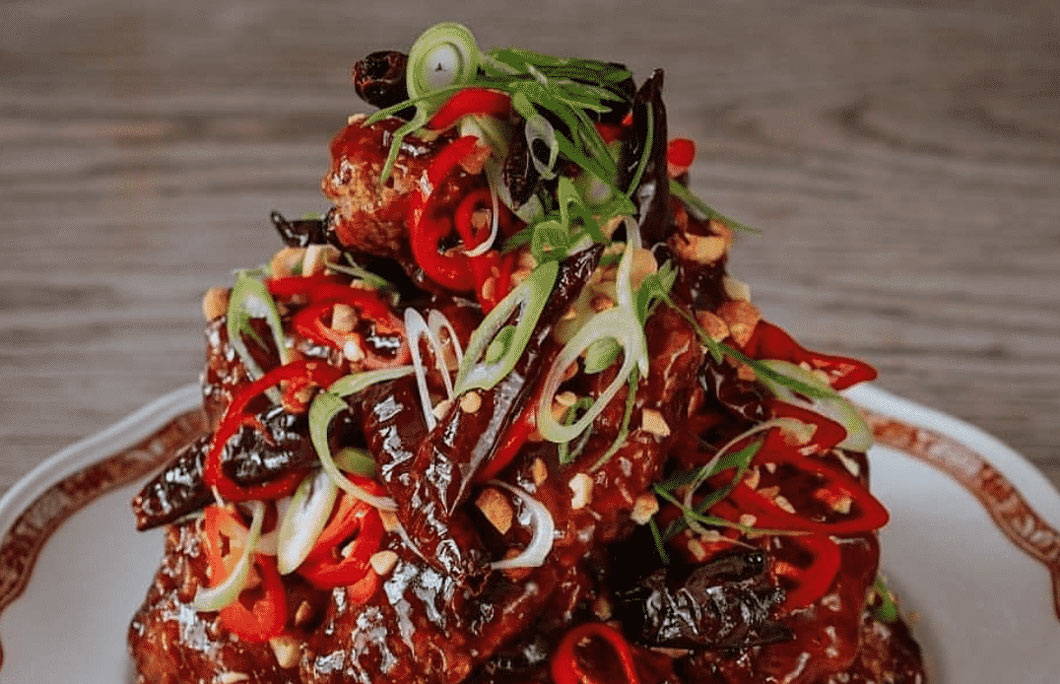 11th. Chick 'n' Sours – London
Chick 'n' Sours is a great restaurant masquerading as a chicken shop! A whimsical menu of herb fed fried chicken, serious seasonal sides, sour cocktails, local beers & cracking soft serve ice cream creations.
Couple this with great tunes, loads of fun and you can see how they are such a success. They'relso wildly popular on Deliveroo for the perfect hangover treat.
---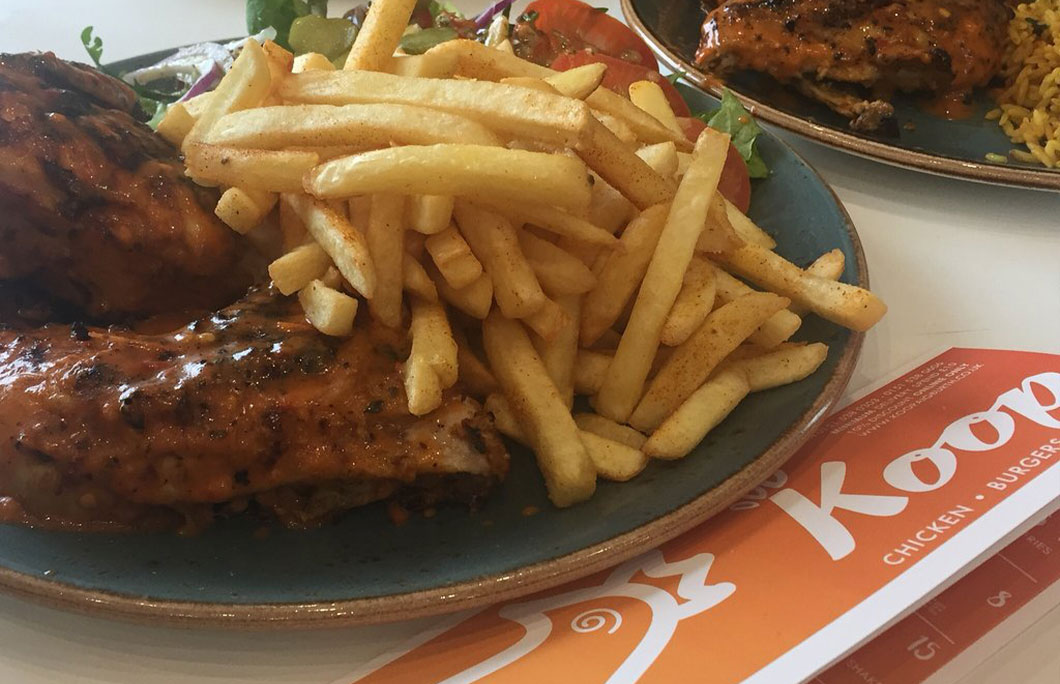 10th. Koop – Liverpool
Koop is all about homecooked rotisserie chicken and tasty sides, so you can be sure their chicken wings will hit the spot. You can choose from crispy and original bone-in, or lightly breaded boneless. As for sauces? We're glad you asked. Slather 'em in Sriracha, salt & pepper, maple syrup and many more.
---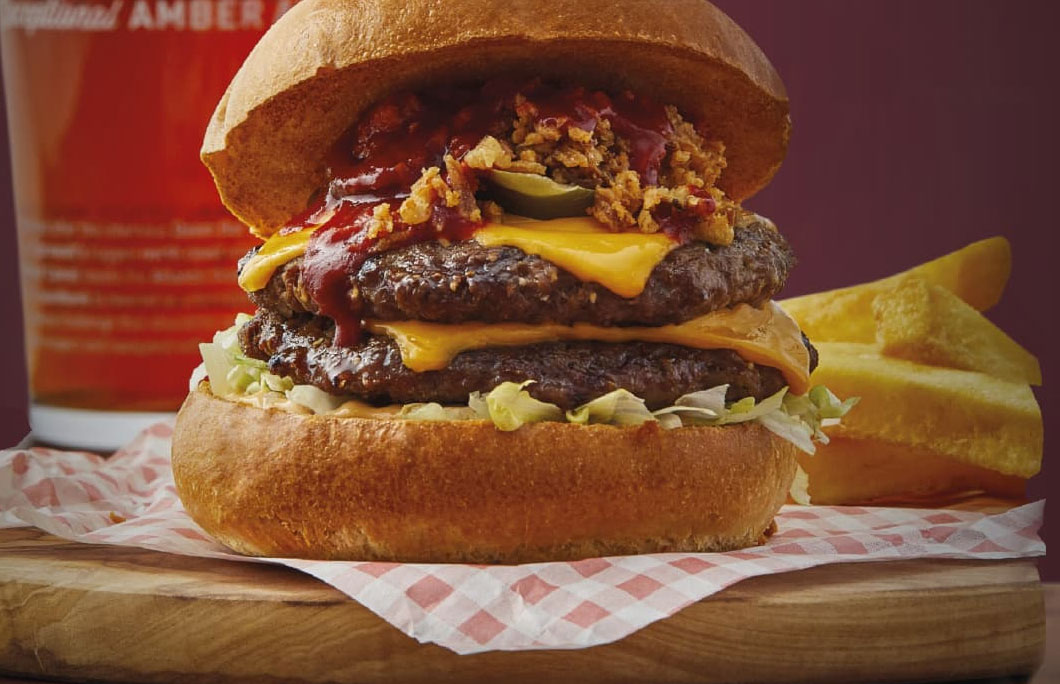 9th. Charles XII – York
Charles XII is a lovely gastropub that has a tempting menu of beers, ales and tasty comfort food. These are wings that pack a serious punch and which are beautifully prepared so you can easily get at the proper meaty bits. There's seven creative wing flavours, from a Monster Munch topped bacon wing to wings with vodka Bloody Mary ketchup.
---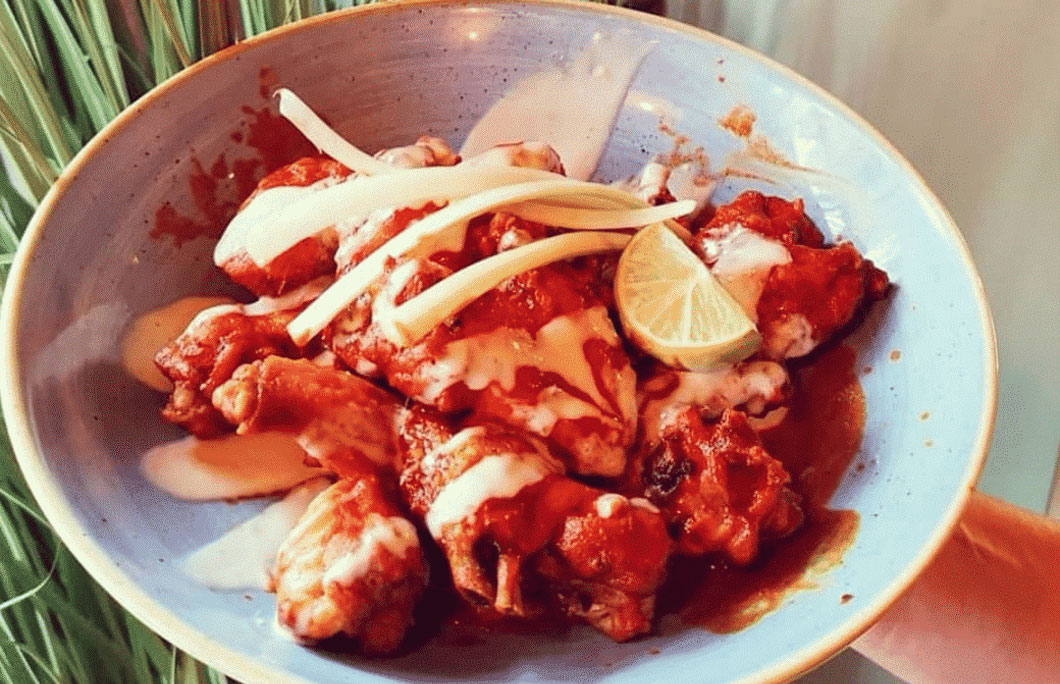 8th. Yard & Coop – Manchester
This restaurant focused on taking the chicken eating experience to a whole new level with their inventiveness and super creative menu
Great tunes, super cocktails and some quality craft beers make this a place where you will quickly become a regular. The chicken itself is the real star of the show – your only problem will be deciding which tasty option to go for.
---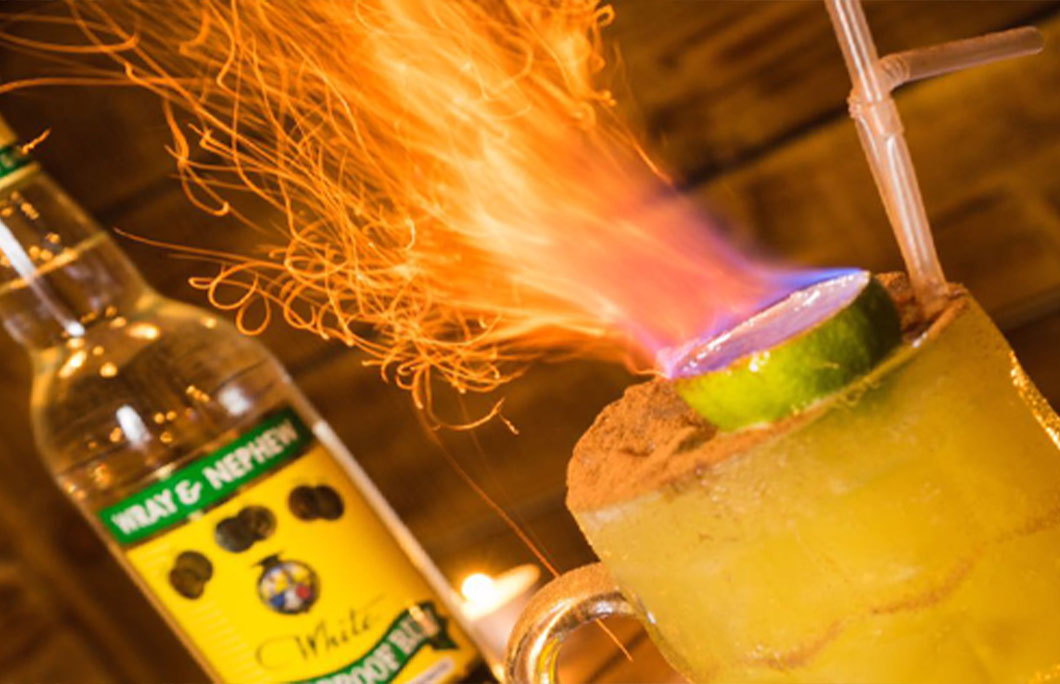 7th. Roots Rum Shack and Kitchen – Hull
Roots Rum Shack takes food from the Caribbean region, taking regional and street food and turning it into trendy dishes that still retain authentic flavours. The chicken wings come two ways: classic jerk seasoning or a tangy Havana sauce. The slow cooking method means it's amazing meat that is so tender and delicious it nearly melts into your mouth.
---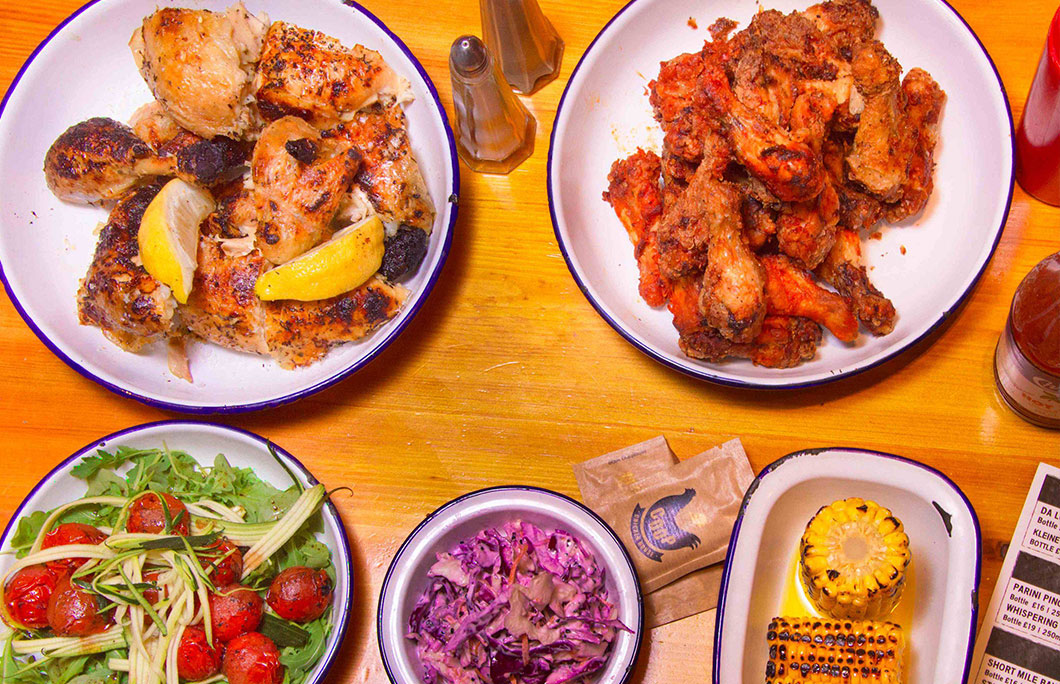 6th. COOP Chicken House – Newcastle
With slow-smoked meats, delicious sides made from scratch, and a bustling craft beer bar, COOP Chicken House is a top spot to chow down on some wood-fired chicken wings. Stop by on Sundays for their all-you-can eat wings for a tenner, and make sure you pick up a bottle (or two!) of the excellent sauces they have for sale to use at home.
---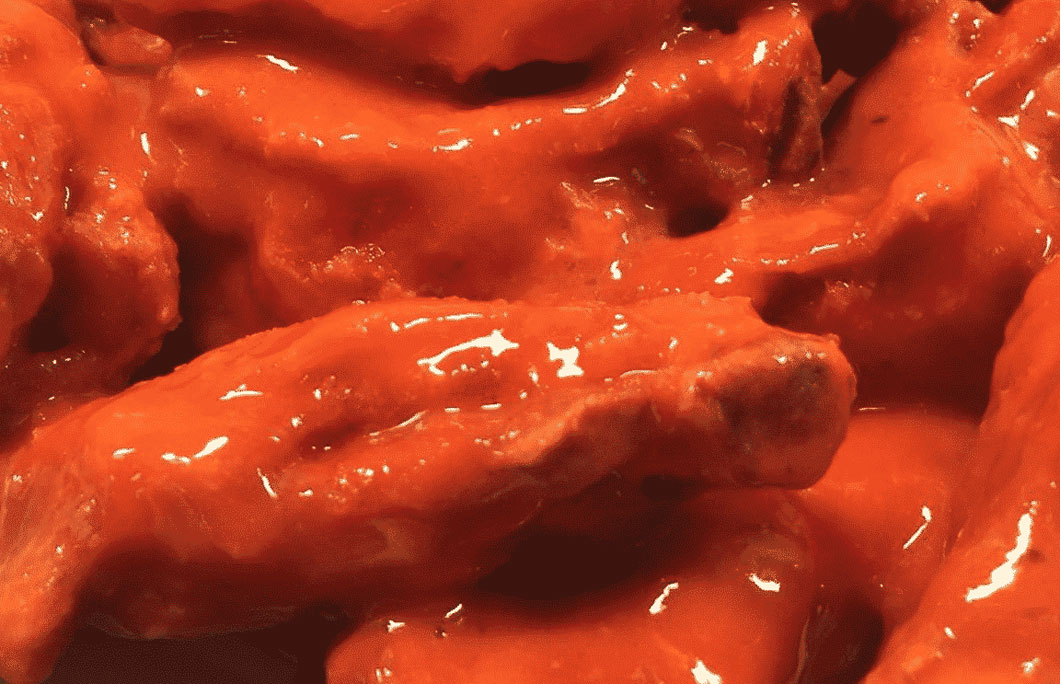 5th. StickyWings – London
StickyWings were officially the second best wings in the world at The National Buffalo Wing Festival in New York Sept 2018, which tells you all you need to know. It's all about that perfectly spicy and succulent sauce that they are smothered in. As close to the perfect bowl of wings as you are ever likely to eat.
---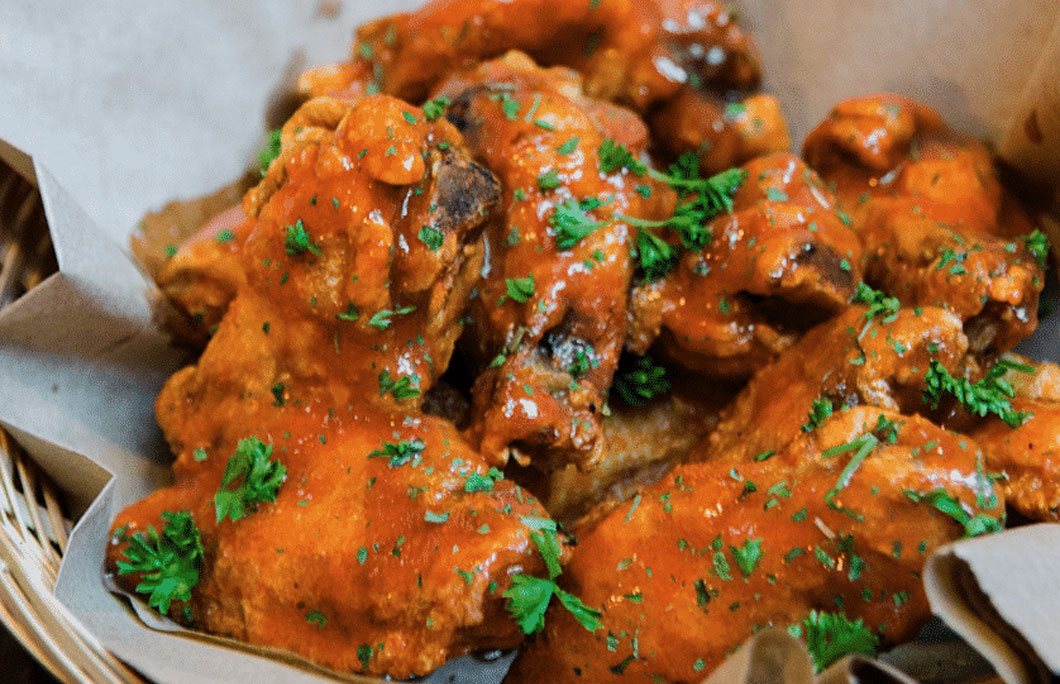 4th. Gonzo's Tea Room – Norwich
This is a funky cocktail bar (check out the rooftop!) that also serves up seriously great burgers, but we urge you to order the chicken wings as well. There's a huge 17 different sauces to choose from, such as peanut butter and jelly, Jamaican jerk or nacho cheese.
There's regular DJs and music nights and the food menu goes on 'til late, so you can have a near-midnight feast.
---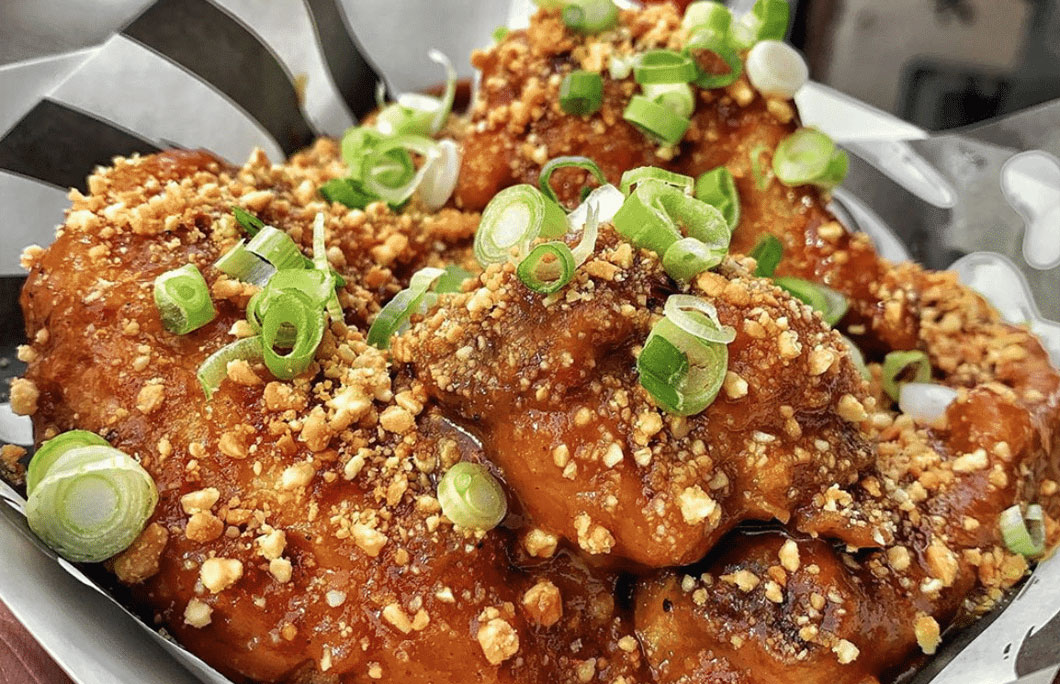 3rd. Bonehead – Birmingham
A small but absolutely buzzing room where no reservations are accepted, but you can quickly see why people are willing to wait.
Their burgers and wings not only looking absolutely incredible when presented but also taste ever bit as good. Easily some of the best fried chicken in the UK and that's before you even mention their lovely selection of craft beers.
---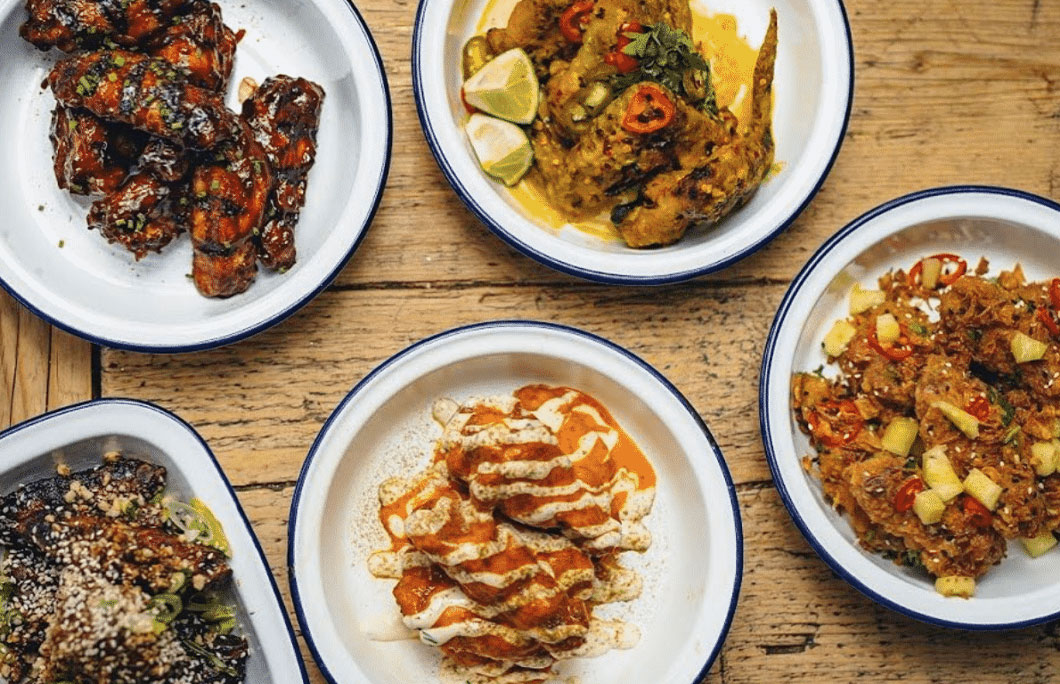 2nd. Randy's Wing Bar – London
With two locations in the city, this is the place to come to if you want lots of exciting choice and plenty of different flavours. Their passion for what they do along with their wonderful service makes this a wonderful place to spend some time. Be warned though: once you taste them you will be hooked for life.
---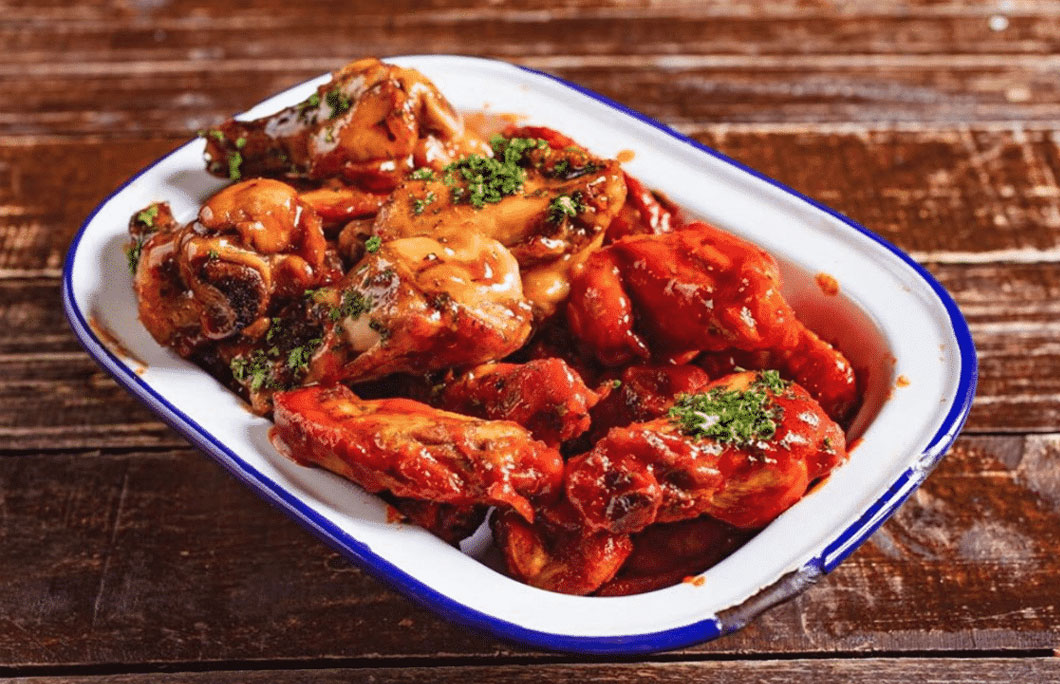 1st. Apocalypse Cow – Newcastle
As for the best chicken wings in England? The award for 2020 goes to Apocalypse Cow, who serve up BBQ street food at the funky Ghetto Golf in Newcastle. There's plenty of dishes to share, with baby back ribs, jumbo wings, lasagne bites and mac n cheese on the menu, but it's those jumbo wings that have us drooling.
Order them with salt & pepper seasoning or the signature 'fire alarm' sauce for a succulent feast.
---