Top 10 Road Trips in Munich
Linderhof Palace
Herrencheimsee
Augsburg
Nuremberg
Regensburg
Rothenburg
Schleissheim Palace
Ulm
Kelheim
Wurzburg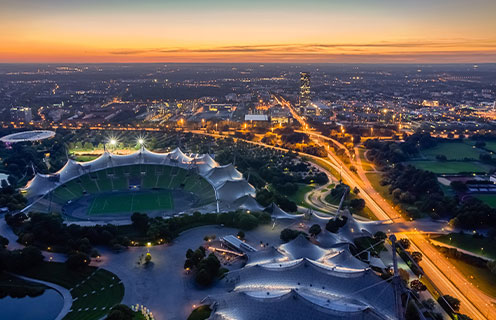 10 best scenic drives from Munich
Off to Munich for a holiday or work trip? Prepare to be seriously impressed by the Bavarian capital's mind-blowing mix of historical and high-tech, modern and contemporary. A lederhosen-clad driver in a cutting-edge car with a graffiti paint job might be the closest you get to a visual representation of this super-cool city. And the warm welcome you'll receive is closely connected to 'gemutlichkeit' ‐ a distinctive way of life that blends health, cosiness and a chilled-out attitude. Mix these fantastic factors with Munich's close proximity to so many fab road trip destinations and you've really got a trip to savour.
Known as 'the city of art and beer', Munich's culture is truly world-class. Art fans love the Kunstareal ‐ the city's art quarter, which showcases everything from Renaissance masterpieces to contemporary Pop Art. And if BMWs are your idea of beauty, there's a museum for that world-famous carmaker too. If you're a beer-lover meanwhile, you'll want to park your car up for a few days to sample some of Munich's famous brews. This is Europe's most prestigious brewing cities and there are six gargantuan breweries producing enough high-grade beer to slake the thirst of the city's beer hall regulars, the six million annual Oktoberfest attendees and fans of Bavarian beer all over the world!
The heart of the action in Munich is Marienplatz, the bijou but buzzing public square in the Altstadt. This is where locals and visitors gather to celebrate festivities throughout the year and it boasts iconic architectural attractions like the Mariensaule column, and 19th century Neues Rathaus building with its charming musical Glockenspiel.
Hire a car in Munich from Enjoy Travel and strike out from this famous city to explore its beautiful historical and natural surroundings, as well as neighbouring towns and cities.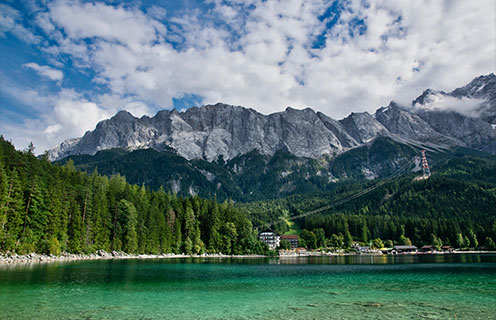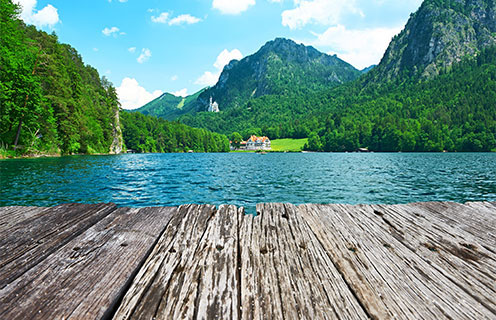 Top tips on driving in Munich
Your top 10 road trips from Munich will be here faster than a BMW M5 goes from 0-60mph, but let's take a quick pause for some advice on driving in Munich and Germany at large.
You always drive on the right in Germany, and you should carry your full UK driving license, passport and car hire documentation with you whenever you get behind the wheel.
The speed limits are 130km/h for motorways (although there's no upper speed limit on sections of the autobahn denoted by a white circle sign with 5 diagonal lines), 100km/h for main roads and 50km/h in built-up areas.
Three colour traffic lights are used here but a red light with a green arrow pointing right allows you to turn right provided you give way to other drivers and pedestrians. Drink driving rules are strict, with a 0.05% blood alcohol limit, and there's a zero tolerance rule if you're under 21 or have been driving for less than two years.
Traffic coming from the right has priority at all junctions and crossroads, vehicles on a roundabout have the right of way (unless otherwise indicated by signs), and you shouldn't indicate when you enter a roundabout, only before you exit.
Now start your engines for those scenic road trips!
Linderhof Palace
Situated near the Austrian border at Ettal, the ravishing Rococo Linderhof Palace was the favourite residence of King Ludwig II and was built as a hunting lodge in 1878. Its external fountains, formal gardens and façade are truly magical, but the interior is just as elaborate and ornate. Take a tour to discover the famous hall of mirrors, eastern and western tapestry chambers and the dining room where deeply troubled Ludwig would set the world to rights with imaginary royals, statesmen and luminaries.
Getting there: Linderhof Palace is one hour 20 minutes from Munich via A95.
Herrencheimsee
Fancy exploring a gorgeous palace complex nestled on an island in Bavaria's biggest lake? Course you do! Herrenchiemsee was another stomping ground of Ludwig II and in the onsite museum and Augustinian Monastery, you'll see his personal artefacts and striking furniture. The state staircase and Ludwig's apartment are other highlights but there are superb fountains and sculptures at every turn. For an easy (yet deeply rewarding) day trip from Munich, look no further.
Getting there: Herrenchiemsee is one hour and 10 minutes from Munich via the A8.
Augsburg
If you're a history buff, a road trip to Augsburg will definitely float your boat. One of Germany's oldest cities, it's named after the stepchildren of Emperor Augustus, who founded it over 2000 years ago, and boomed thanks to its prominence in the Middle Ages textile industry. Dreamy spires and gables lend Augsburg a romantic ambience and its Old Town boasts the brilliant Rathausplatz square with its fabulous fountain, while the labyrinthine Fuggerei district is also well worth exploring.
Getting there: Augsburg is one hour and 15 minutes from Munich via the A96 and A8.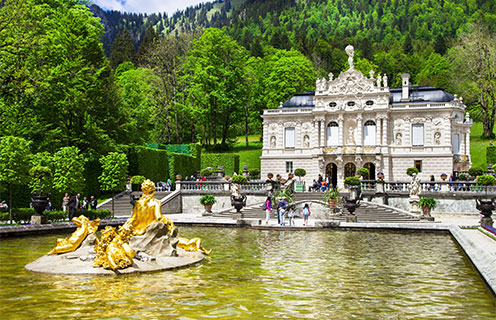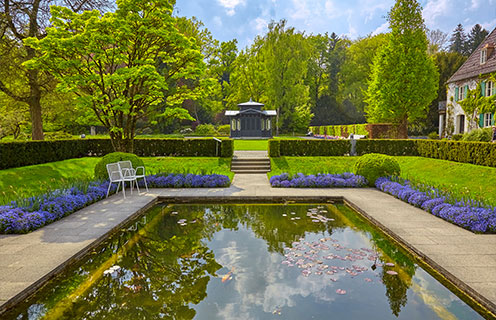 Nuremberg
A hotspot for arts and culture since Medieval times, the ancient castellated city of Nuremberg is always an interesting place to visit. It was bombed heavily by Allied forces during WWII, but an extensive restoration programme restored its stunning Gothic buildings to their former glory and as well as a documentation centre with lots of information on the war years, there's a hilltop castle affording panoramic views across the city.
Getting there: Nuremberg is two hours north of Munich via the A9.
Regensburg
A UNESCO World Heritage Site, Regensburg is strategically positioned at the point where the Danube, Regen and Naab rivers converge, and its remarkably well-preserved Medieval town is one of Europe's finest. Combine unique historical attractions with pleasant weather year-round and you've got a great recipe for a road trip destination. The 12th century stone bridge is definitely a hotspot and you can mix leisurely riverside strolls with investigating elegant cathedrals and churches.
Getting there: Regensburg is one hour and 30 minutes from Munich via A9/A93.
Rothenburg
One of Germany's most beautiful historic towns, Rothenburg's pastel-hued, timber frame buildings, charming churches and cobbled lanes look as if they've been lifted from the pages of an old time fairy tale book. Highlights in Rothenburg ab der Tauber (to give it its full name) include the picturesque Plonlein square, Markplatz and City Hall, St James Church and scary but fascinating Medieval Crime and Justice Museum.
Getting there: Rothenburg is two hours and 35 minutes from Munich via A9/A6.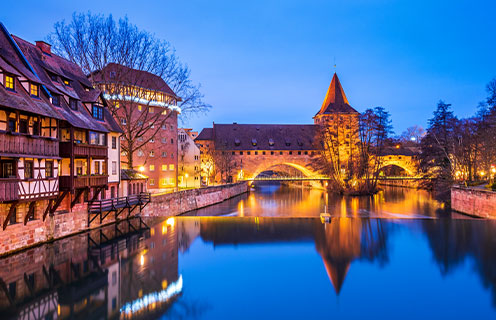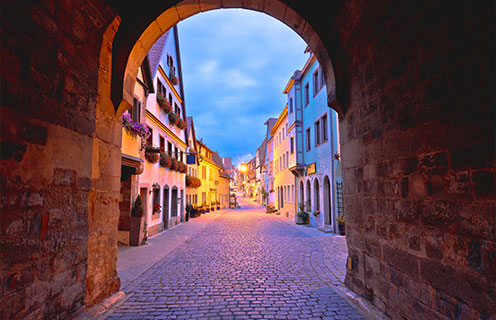 Schleissheim Palace
How does a historic triple-whammy just a stone's throw from Munich sound? The Schleissheim Palace complex actually comprises three palaces: the Neues Schloss, Lustheim and Altes Schloss. Built between the 17th and 18th centuries, the grand buildings here showcase Rococo, Baroque and Italian Garden Palace architectural styles. They're complimented by manicured gardens and a canal that runs through the middle of the park.
Getting there: Schleissheim is just 25 minutes from Munich, via the A9.
Ulm
A fascinating location that deserves more attention, Ulm is a city that's actually packed with world-beating attractions like the world's tallest cathedral steeple and the most crooked house on the planet. Oh ‐ it's also the birthplace of a certain Albert Einstein. The Munster which looms over the Markplatz is the most impressive building and from the time ground was first broken in the late 15th century, took 500 years to finally complete, while the rambling Fischerviertel sector is ideal for a romantic stroll.
Getting there: Ulm is one hour and 35 minutes from Munich via the A8.
Kelheim
If you're fond of scenic riverside settings, Kelheim sits at the point where the Danube and Altmuhl rivers meet and its main draw is the vast Weltenburg Monastery, which was founded in 600AD and sits perched in a wooded gorge enclosed by dramatic limestone cliffs. The Abbey houses its own brewery and (if you're not driving) you can treat yourself to a tankard of its famous Kloster Barock Dunkel ‐ served by waiting staff in traditional dress in the airy courtyard.
Getting there: Kelheim is one hour and ten minutes from Munich via A9/A93.
Wurzburg
Another historical hotspot, Wurzburg is UNESCO World Heritage Site famous for its gargantuan Wurzburg Residenz castle complex, which boasts the world's biggest fresco, created by legendary Italian painter, printer and leading light of the Venetian style, Giambattista Tieopolo. Meanwhile, the Martin von Wagner Museum hosts one of Europe's largest university art galleries, and the 11th century Wurzburg Cathedral has a lovingly restored interior that's a joy to behold.
Getting there: Wurzburg is three hours from Munich via the A9 and A3.