Top 10 Road Trips From Warsaw
Kampinos National Park
Zelazowa Wola
Malbork Castle
Kazimierz Dolny
Mazovia
Wieliczka Salt Mine
Torun
Masurian Lake District
10 scenic drives from Warsaw
So you're visiting Warsaw? Poland's capital is a unique city where beautiful baroque buildings sidle up against brutalist Communist-era office blocks, and a resilient culture which has survived a tumultuous history is now resurgent. Blessed with wonderful palaces, parklands and pubs, gorgeous museums and galleries, and welcoming locals offering world-class hospitality, Warsaw makes an impression you won't forget.
What makes Warsaw's renaissance all the more remarkable and humbling is that it has risen phoenix-like from the flames of WWI, when Hitler's brutal reprisals after the 1944 uprising left 85% of the city reduced to ruins. The main attractions in the modern city are on the west bank of the Wisla River, where the Srodmiescie retail sector surrounds Centralna station. Stare Miasto (the Old Town) lies north of this district and houses some of Warsaw's most aesthetically pleasing buildings.
Architecture fans can feast on Gothic, Neoclassical, Renaissance and Baroque styles in Warsaw, while the Palace of Culture & Science and Marszalkowska Residential District are fine examples of the socialist-realist school and edifices like the Copernicus Centre showcase contemporary styles. As far as green spaces go, you can visit the stunning palace and gardens at Wilanow, Central Saxon Garden and Krasinski Garden, to name but a few natural leisure locations. Meanwhile, culture vultures love the Warsaw Rising and POLIN museums, and this is also just a great place to hang out and be sociable, with everything from laid-back milk bars to haute cuisine restaurants and earthy bars to sleek clubs ready to welcome visitors from around the world.
This is also a great base for a range of road trips to nearby towns and cities and natural and cultural attractions, so hire a car in Warsaw from Enjoy Travel and adventures aplenty await!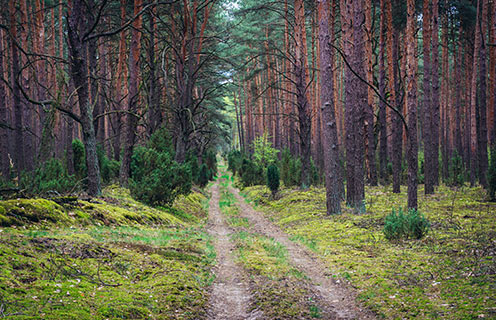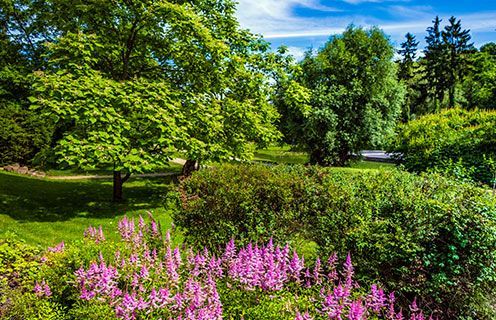 Top tips on driving in Warsaw
We'll roll around to your top 10 road trips from Warsaw imminently, but let's take in a few handy driving tips first.
You always drive on the right in Poland and you should use dipped headlights at all times of day, all year round. Most highways in Poland are well-maintained, but rural roads can often be narrow and potholed. Driving on these roads in the dark can also be hazardous as they're poorly lit.
You'll see lots of trucks and agricultural vehicles on the roads so please be patient when driving behind them and cautious when overtaking. There's zero tolerance for drink driving and seatbelts are mandatory in front and back. The national speed limit on motorways is 140km/k and on main roads outside built-up areas, it's 90km/h to 120km/h.
Now let's get a move on with your scenic road trips from Warsaw!
Kampinos National Park
Fancy escaping to a natural paradise just a short drive away from Warsaw? Kampinos National Park comprises 385 sq km of dense forest, numerous hiking trails for all abilities, tens of thousands of animal species and even a war museum! If you like Nordic walking, mountain biking or horse riding, it'll be right up your street. Get away from it all at Kampinos National Park – you won't regret it.
Getting there: Kampinos National Park is 55 minutes from Warsaw via DW898.
Zelazowa Wola
Situated close to Warsaw, Zelazowa Wola has a rhythmic ring to it – which is appropriate given that it's the birthplace of iconic composer Frederic Chopin. If you're a fan, you'll love the dedicated museum in his former home which has original notebooks and scores on display. The nearby Botanical gardens are a beautiful green space and there's also a 16th Century Gothic church in the town proper.
Getting there: Zelazowa Wola is one hour 15 minutes from Warsaw via DW580.
Malbork Castle
A 13th century Teutonic marvel, Malbork Castle is the world's largest in terms of area and suffered severe damage during WWII bombing raids. Located close to Gdansk, it has now undergone extensive reconstruction to return it to its former glory and there are three different levels to wander around. If you fancy a historical road trip, this ticks the box terrifically and lets you step back in time amidst beautiful scenery. It's a slightly longer trip, so leave early or stay overnight.
Getting there: Malbork Castle is 4 hours from Warsaw via A1.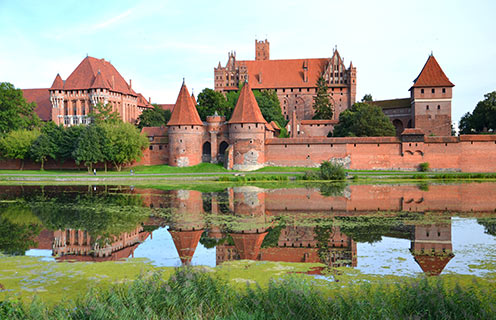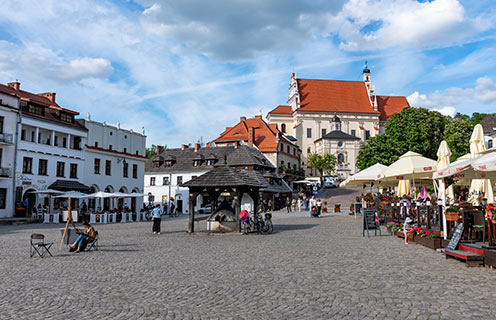 Kazimierz Dolny
SOne of Poland's most beautiful towns, Kazimierz Dolny is located southeast of Warsaw and it's very popular with creative types as well as international visitors. You'll feel the ambient vibes as you wander around its elegant streets, take in the renaissance architecture, explore the 14th century castle ruins and shoot the breeze in the market square. If you want to spend a day in picture postcard Poland, Kazimierz Dolny is worth writing home about.
Getting there: Kazimierz Dolny is 2 hours 5 minutes from Warsaw via S17.
Mazovia
Located just outside Warsaw city limits, the Mazovia region is a heartland of authentic Polish traditions and makes for a fabulous day trip. The town of Lowicz is a hotspot for folk art and has its own museum dedicated to local crafts, while the Radziwill family palace in Nieborow is a beautiful baroque building surrounded by the awesome Arkadia garden park. For a manageable day trip with a touch of magic, Mazovia is the very dab.
Getting there: Lowicz is 1 hour and 15 minutes from Warsaw via A2.
Wieliczka Salt Mine
If you've got a sense of adventure (and aren't claustrophobic) then the underground UNESCO-accredited Wieliczka Salt Mine is a real eye-opener. This labyrinthine tunnel complex brings home just how testing life as a miner would have been in days of yore and the site also features the world's only subterranean chapel.
Getting there: Wieliczka Salt Mine is 3 hours 45 minutes from Warsaw via S7.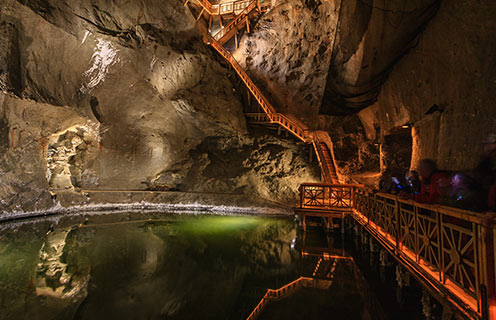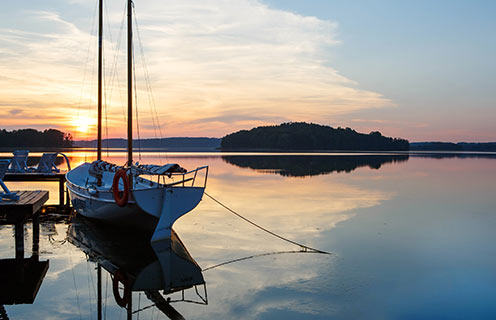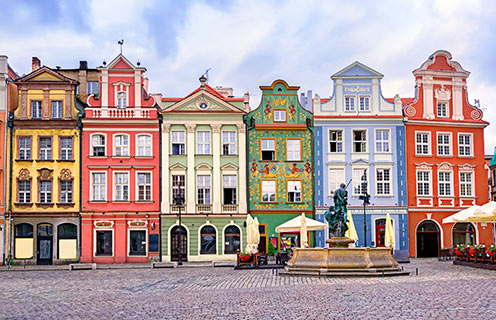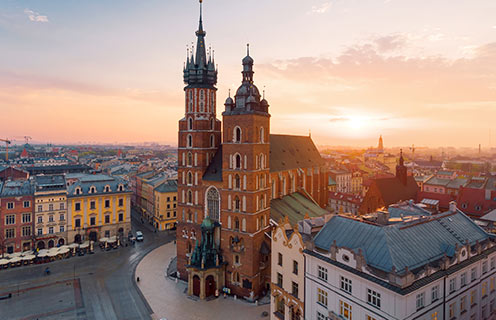 Torun
The fabled medieval town of Torun is the birthplace of legendary astronomer Copernicus (that clever chap who first proposed that the Earth revolved around the Sun), and it's another UNESCO World Heritage Site that's well worth a visit. The Old Town boasts elegant streets, lovely churches and a Gothic town hall, while the Living Museum of Gingerbread satisfies anyone with a sweet tooth.
Getting there: Torun is 2 hours 45 minutes from Warsaw via A2 and A1.
Masurian Lake District
One of Poland's most serene and stunning landscapes, the Masurian Lake District isn't far from Warsaw, but it feels a world away. Arriving from Warsaw, you'll hit Olsztynek first, and there's a network of pretty villages and natural sights to explore. There's an impressive ancient castle at Nidzica, a fascinating Museum of Folk Architecture and lush greenery and cathartic walks at Napiwodsko-Ramuscka forest.
Getting there: Olsztynek is 2 hours 50 minutes from Warsaw via DK7 and S7.
Poznan
Equidistant from Warsaw and Berlin, Poznan was Poland's original capital, hence it's regarded as a history-packed cultural heartland. You'll see better preserved traditional Polish architecture here than in Warsaw, including the striking steep gabled, brick-built cathedral and the captivating, castellated city hall. If you want to let your hair down, the nightlife is lively in Poznan and there's an eclectic selection of bars.
Getting there: Poznan is 3 hours from Warsaw via A2.
Krakow
A doable day trip from Warsaw, Krakow is Poland's second-largest city and has much to recommend it. Iconic sites include Wawel Castle, Market Square and Florianska Street, and leafy Planty Park which surrounds the city's old town. For some alternative retail therapy, try The Sukiennice (Cloth Hall) which is arguably the world's oldest shopping centre, and the twin spires of St Mary's Basilica. The Vistulan Boulevards are also cool places to hang out – these walkways and green spaces by the Vistula River are perfect for enjoying a picnic, grabbing a craft beer or picking up bargains at open air markets.
Getting there: Krakow is 3 hours 30 minutes from Warsaw via S7.
Get set for these top 10 road trips from Warsaw and you'll soon be experiencing the best of Poland. With legendary landscapes, cosmopolitan cities, charming towns and historic sites on your doorstep, hiring a car in Warsaw enables you to travel independently in one of Europe's most interesting countries. With Enjoy Travel, you can add another dimension to your Warsaw sojourn.