Day trips from Paphos
With its pleasant subtropical-Mediterranean climate, scenic coastal location and aeons of history, the city of Paphos is one of the best places to base yourself in Cyprus.
Our 10 best places to visit from Paphos:
Famagusta
Tylliria
Nicosia
Kyrenia & Bellapais
Xeros Potamos Valley
Kato Paphos Archaeological Park
Coral Bay
Akamas Peninsula
Ayia Napa Sea Caves
Eliouthkia Botanical Park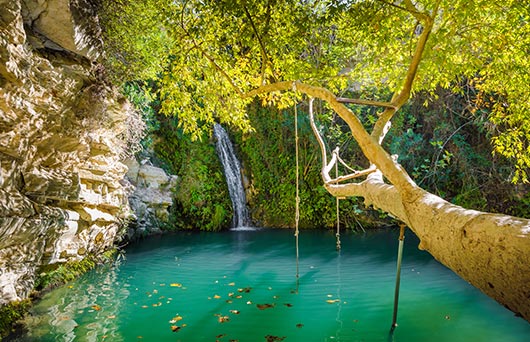 You're spoiled by the longest coastline of any district in Cyprus here, so as well as the city itself with its unique blend of lively bars and restaurants and historical architecture, you'll love the verdant forests of Tylliria, and Akamas Peninsula, two of the island's most wonderful wilderness areas.
Modern Paphos is split into Kato Pafos (lower Paphos) and Ktima (upper Paphos). Taken as a whole, the city and its environs deliver a triple whammy of natural beauty, ancient history and contemporary hospitality that's hard to beat ̶ as evidenced by its status as joint European Capital of Culture in 2017.
All in all, this is one of the few places in the world where you can hire a car that instantly becomes a time machine ̶ get behind the wheel and in a short drive you're transported through thousands of years of history!
Tips on driving in Cyprus
Paphos International Airport (PFO) is just 6.5km from the city, so it's great base for picking up your hire car. There are connecting flights to PFO from UK locations like London, Edinburgh, Manchester and more and carriers also connect to many other locations in mainland Europe.
You always drive on the left in Paphos and Cyprus, as you would in the UK.
Speed limits in Cyprus are 100km/h for motorways and highways, 80 km/h for open roads and 50/60 km/h in built up urban areas. Drinking and driving is prohibited, seatbelts are compulsory and no child under 5 can sit in the front of a vehicle. There's a bit British influence in Cyprus, so many of the road signage is similar, as is the traffic light system.
Once you've organised your convenient Paphos car hire, you can set off for the following fantastic road trip destinations:
Famagusta
Famagusta is a couple of hours' drive from Paphos, on the northeast end of Cyprus, so you'll need an early start to make the most of this day trip but it's worth it. You can take in the Salamis ruins, which date from the 12th Century BC, the Venetian walls and St Nikolaos Cathedral in Famagusta proper, and the eerie ghost town of Varosha, which was once one of the island's most popular tourist resorts but was abandoned after Turkish partition.
Getting there: follow the A6 and A1 eastwards along the south coast to reach Famagusta in 2 hours.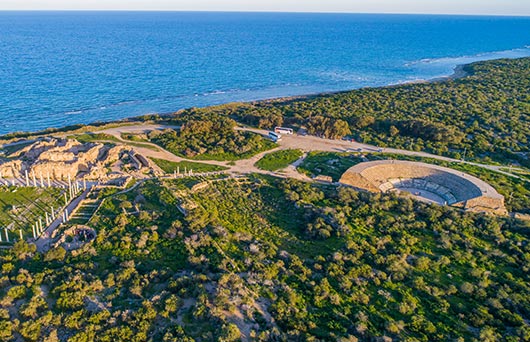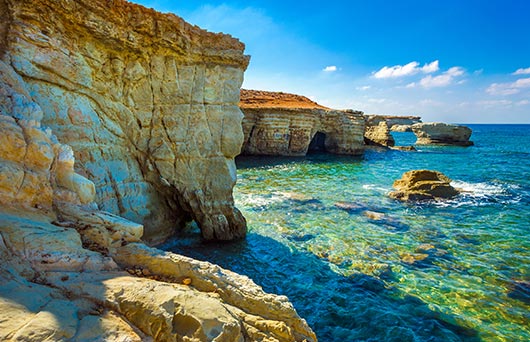 Famagusta (left) and Coral Bay (right)
Tylliria
A reasonably short drive from Paphos, Tylliria is one of the most wonderful, wild and untouched parts of Cyprus. This rural area wedged between Chrysohou and Morfou Bays is characterised by serene forests and a handful of tiny beach resorts, so it's ideal if you want to get away from it all for a day, or even for a couple of nights. There are a few nice seafood restaurants, the Museum of Natural history is worth a peek and the wide, sweeping beach of Pahyammos is another highlight.
Getting there: take the B7 out of Paphos to Polis and then the E704 around the coast to reach Tylliria in under an hour.
Nicosia
Nicosia is the capital of Cyprus and you can drive there from Paphos in around an hour and a half if traffic is on your side. There's plenty to see and do here, including sampling the café culture (the coffee and cakes are legendary!), strolling down iconic Ledra Street with its shops, bars and boutiques, and seeing the famous Green Line, which separates the Greek and Turkish sectors of the city.
Getting there: take the A6 and A1 east then north to reach Nicosia in around one hour and 40 minutes.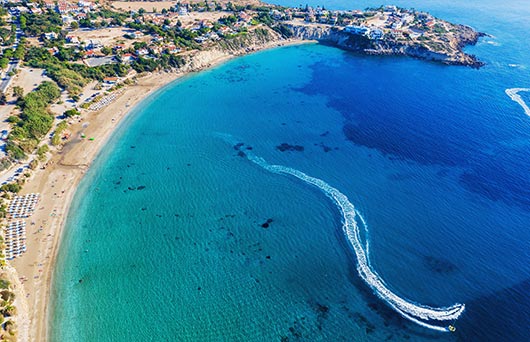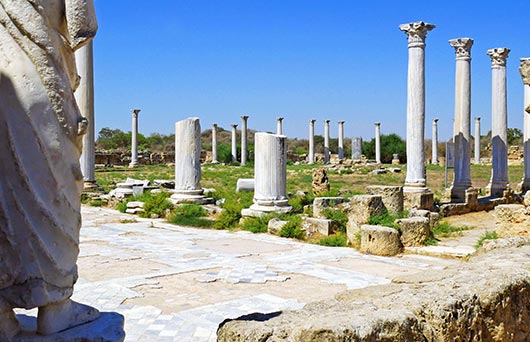 Kyrenia & Bellapais
Kyrenia district in northern Cyprus is another delightful day trip location and you'll see some lovely scenery on the way there and back. On the way up you can take a pitstop at picturesque Bellapais and visit the abbey, while in Kerynia you can have a lovely lunch overlooking the harbour and visit the castle and iconic shipwreck, which dates from around 300 BC and is housed in a museum along with many of its original artefacts.
Getting there: take the A6 and A1 to reach Kyrenia in just over 2 hours.
Xeros Potamos Valley
Another popular road trip from Paphos, Xeros Potamos Valley is very popular with hikers and it's packed with dramatic scenery and cultural attractions. Join an organised walk and you can take in some of the authentic watermills, see the Panagia tou Sinti monastery and marvel at otherworldly rock formations which harbour secret caves.
Getting there: take the E606 to reach Xeros Potamos in just 45 minutes.
Kato Paphos Archaeological Park
Located to the west of the modern city, the expansive Kato Paphos Archaeological Park is a UNESCO-protected wonder which is a must-see for history buffs. This is the ancient city of Pafos, founded in the 4th Century BC and originally protected on all sides by robust, castellated walls. There's too much to see here to list, but the amazing collection of kaleidoscopic mosaics depicting Greek myths are simply breath-taking.
Getting there: take the B20 out of Paphos and you'll be in the archaeological park in around 15 minutes.
Coral Bay
One of the most popular beaches in Cyprus, Coral Bay is just 11km north of Paphos and as well as its soft white sands and beautiful blue waters, it has distinctive craggy headlands, several sea caves and is bookended by lovely limestone headlands. If you do like to be beside the seaside, there are few better places to splash around!
Getting there: Coral Bay is just 20 minutes north of Paphos via the E701.
Akamas Peninsula
Located to the north of Paphos, Akamas Peninsula is blessed by some of the best scenery in Cyprus, which in an island renowned for its visual appeal, is a fine accolade indeed. There's lots to see here, including Lara Beach at the southwest of the peninsula, which is famous as a breeding ground for loggerhead turtles, and the Baths of Aphrodite ̶ the cave near Polis where the legendary goddess took her beauty baths. Hike or bike the peninsula and you'll see some 68 bird species, 35 unique plant species, reptiles, butterflies and mammals like foxes and hedgehogs.
Getting there: take the A6 north to reach Akamas Peninsula in an hour and a half.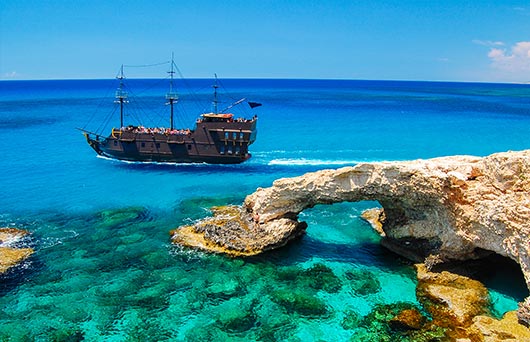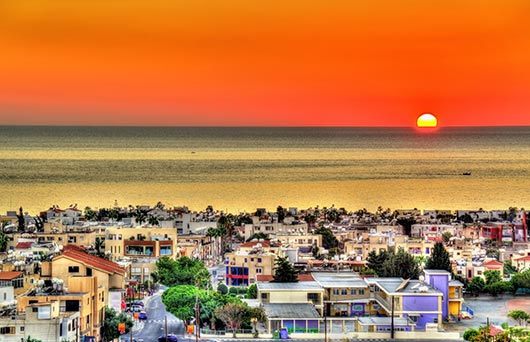 Ayia Napa Sea Caves (left) and Paphos sunset (right)
Ayia Napa Sea Caves
The Ayia Napa Sea Caves are at the gateway to the Cape Greco National Park and they're an amazing complex of tunnels, hidden caves and rock bridges. The caves are lovely to look at, but they actually reach 80 metres underground and you can walk through many of them at low tide or, if you're a reasonably strong swimmer, snorkel or dive to really take in their beauty. Locals love to dive off the cliffs above the caves and this is also a lovely laid-back spot for fishing.
Getting there: drive east along the coast via the A6, A1 and A3 to reach Ayia Napa in just under 2 hours.
Eliouthkia Botanical Park
If you fancy a short trip out of Paphos, the Elouthkia Botanical Park is a sublime subtropical green space where you can really take cathartic tree bathing to another level. Wander around the manicured lawns, marvel at the magnificent flora from all around the world and treat yourself to a picnic ̶ it's perfect for a family morning or afternoon away from the city or even a romantic date.
Getting there: take the A6 southeast to reach Eliouthkia Park in just 20 minutes.
These 10 beautiful places to drive from Pathos prove just how captivating, cultured and charismatic Cyprus can be.
Hire your car in a couple of clicks from Enjoy Travel and have the time of your life exploring this outstanding part of the planet!