Top 5 Scottish Road Trips:
Edinburgh to St Andrews via East Neuk
Lochcarron to Applecross
Edinburgh to Glencoe
Angus Coastal Route
North Coast 500
Many Scots and visitors alike will claim that Scotland isn't just the most attractive constituent nation of the UK ̶ it's also one of the world's most beautiful countries.
If you live in another part of the UK and you're considering a Caledonian staycation, we strongly advise you to go for it!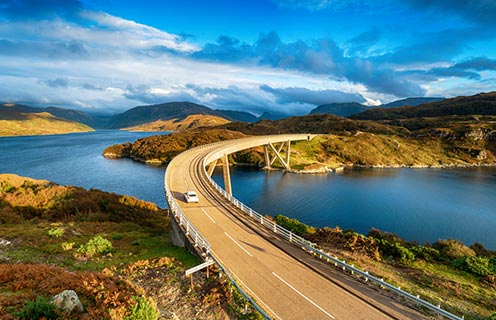 5 Scenic Scottish Road Trips
First thing's first ̶ the scenery. With rugged mountains, dramatic coastal cliffs and sea stacks, gorgeous green glens, bottomless lochs and idyllic islands, few nations on Earth can compete with the sheer variety of terrain you'll find here.
Geology meets architectural grandeur in its cities too; Edinburgh's medieval castle perched on top of an (extinct) volcanic plug being a prime example. And Scotland's capital is packed with culture as well as history too ̶ it's the home of the world's biggest art festival and a UNESCO City of Literature.
Caledonia's largest city Glasgow is a must-see too ̶ a multicultural melting pot which is a magnet for writers, artists, sports fans and shoppers, while Dundee is a hotspot for design, Stirling is a historical heartland and Aberdeen sits amidst stirring scenery in the chilly north east.
There's much more to see and do besides, but as you can see, you'll never be bored north of the border and with Enjoy Travel you'll find hassle-free car hire for everything from a compact car to a minibus so that your highland fling is as smooth as possible!
Top Tips on Driving in Scotland
Your five best driving roads in Scotland will be here in two shakes of a haggis tail, but it pays to take a minute for some top tips on driving in this delightful part of the planet.
Speed limits are often signposted in Scotland, and this is depicted in the same way as elsewhere in the UK: with a red-bordered circle sign and the number (in mph) in the middle. The limits for cars are 70 mph on motorways and dual carriageways, 60 mph outside built-up areas and 30 mph inside them. Please also be aware that a lower 20 mph limit is often applied near schools and in residential areas.
Drink driving is taken extremely seriously in Scotland and the limit is lower here than elsewhere in the UK (22 microgrammes of alcohol per 100ml of breath and 50 milligrammes per 100ml of blood).
There are 24 hour petrol stations in every Scottish city, but there are fewer in the country, and they typically operate shorter hours, so if you're heading out into a rural area, it's best to fill your tank before you set off.
December, January and February are usually the coldest months in Scotland and roads can become icy and hazardous. Please also remember that you might also find farm animals and large wild animals like deer on rural and remote roads, so drive cautiously and defensively at all times.
Ready to roll? Let's hit the pedal for your five stunning Scottish road trips!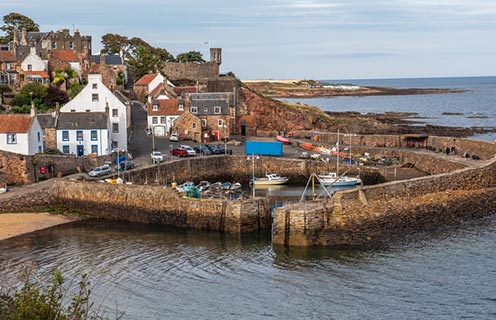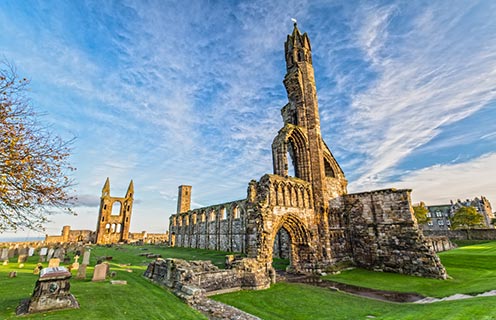 1. Edinburgh to St Andrews via East Neuk
Starting in Edinburgh, this 65-mile drive up the A92 east coast road takes in some of Scotland's best scenery. You'll head north across the Queensferry Crossing (with the old Forth Road Bridge and iconic Rail Bridge alongside), before heading through Fife's undulating countryside to reach pretty East Neuk fishing villages like Elie and Anstruther (home of some of Britain's best fish and chips).
St Andrews is a short hop from here and as well as being the home of golf, it has a lovely windswept beach and historic university, which hit the headlines recently as the place where the Duke and Duchess of Cambridge met during their studies. If you fancy extending your east coast exploration even further, from St Andrews head across the Tay Road Bridge to Dundee, named 'Scotland's coolest city' and one of the world's top 10 destinations in recent years by the Wall Street Journal.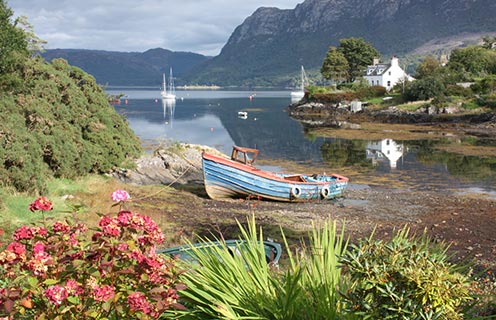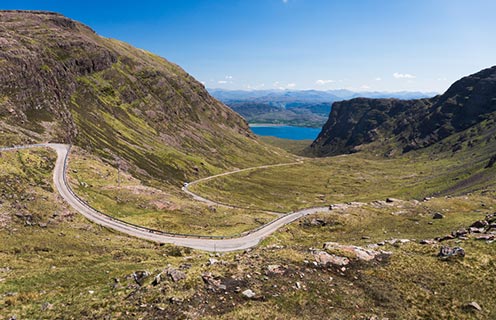 2. Lochcarron to Applecross
This 17-mile route should take you just 45 minutes, traffic and conditions permitting ̶ but it packs in some truly eye-popping scenery. Starting at the shore of Loch Carron, you'll snake through the famous Bealach Na Ba (Pass of the Cattle) which is one of Scotland's most renowned roads for discerning drivers.
It's also known as the Road to Applecross and as you navigate its tight bends and single track, you'll see the Outer Hebrides, Isle of Skye and Wester Ross from its lofty 623m elevation. If you want to see Scotland at its wildest and most wonderful, this trail takes some beating and further adventures await over on the Isle of Skye down the A87 if you'd like to stay longer.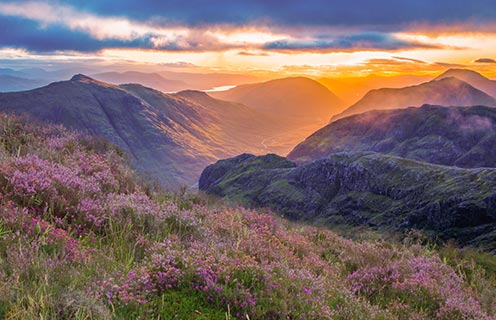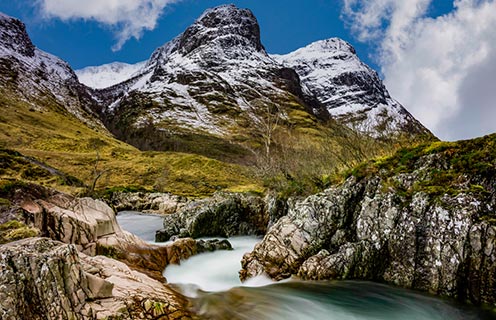 3. Edinburgh to Glencoe
Stark, remote and simply stunning, you might be familiar with Glencoe's scenery from films like Skyfall. This route is 120 miles from Edinburgh, and it'll take 3 hours, but it's definitely worth it. You'll pass the famous Kelpies statues and historic Stirling in the Forth Valley from the M9 on the way up and once you enter Glencoe and drive along the floor of the glen, the sheer scale of the mountains that surround you on each side is overwhelming.
This is also the site of the 1692 Glencoe Massacre, when members of Clan MacDonald were murdered by government solders under the command of the 10th Early of Argyll, Archibald Campbell, and it's thus a deeply emotive area for many Scottish Highlanders. There's also a ski resort here, so if you're visiting in winter you can try out snowboarding and skiing on Scotland's steepest and longest natural run!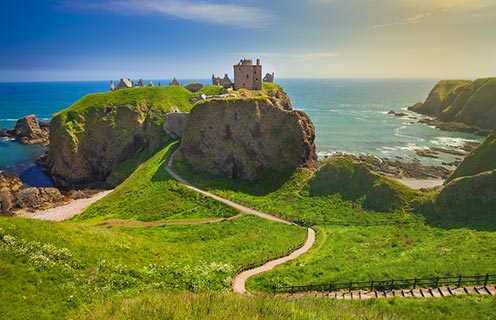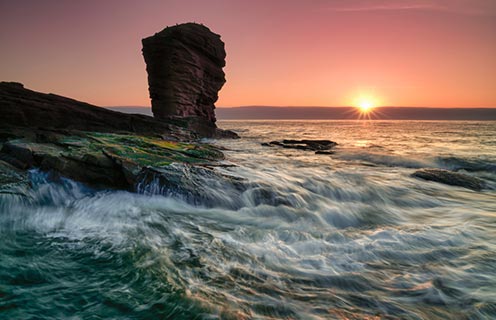 4. Angus Coastal Route
Stretching 68 miles from Dundee to Aberdeen, the Angus Coastal Route whisks you through the mind-blowing scenery of Scotland's north-east coast. Following the A92 all the way up from Dundee, you'll pass historic Arbroath (where Scotland was declared independent in 1320), Lunan Bay with its delicate sands and sea cave, and the otherworldly Dunnottar Castle, which sits perched on sea cliffs near Stonehaven. If you're still in search of thrills once you reach Aberdeen, find your sea legs for a boar trip out into the north sea for some dolphin spotting.
If you're based in Dundee, there's no doubt you'll see the iconic V&A Design Museum ̶ Japanese Architect Kengo Kuma based its distinctive silhouette on the staggered sea cliffs that are found on this very coastline. Do pop into the museum ̶ it's as interesting inside as it's spectacular outside.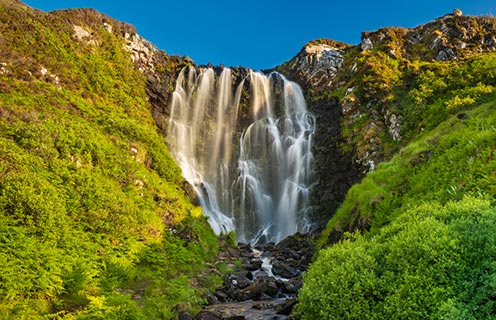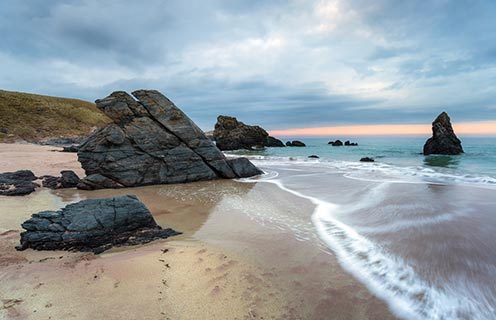 5. North Coast 500
Probably Scotland's most famous road for drivers (at least to visitors), the North Coast 500 is a monster 516-mile route that starts and finishes in Inverness and takes in the best of Scotland's beautiful Highlands. It's possible to drive the entire route in around 14 hours non-stop, but this isn't advisable, and many motorists choose to take on a certain portion of the circuit if time doesn't allow them to tackle it as a whole over a few days.
Known as Britain's Route 66, NC500 takes you through Gairloch, Ullapool, Thurso, John O'Groats, Wick, Dornoch and Dingwall and reveals magical sites like the Black Isle, Dunrobin Castle in Sutherland, Smoo Cave and Sandwood Bay. Put simply, this is Britain's best road trip bar none. It should go without saying, but please drive carefully on this road and be aware that fellow drivers might be a little overenthusiastic about its wide open spaces and forget to stick to the speed limit!
So there you have it ̶ a quality quintet of Scotland's best driving roads. When it comes to fulfilling four-wheeled adventures, you can see that there's really no area of the UK that competes with Caledonia in terms of mind-blowing scenery and bloodcurdling history. And furthermore, its cosmopolitan cities always offer a warm welcome to incomers from across the UK and beyond.
Hire a car in Scotland from Enjoy Travel and look forward to ticking some stunning Scottish road trips off your travel to-do list. If you book ahead as early as possible, you'll pick up a bargain and we only work with trusted partners, so your peace of mind comes as standard.
The skirl of the pipes is calling you to Scotland's best driving roads ̶ don't forget to bring us back some shortbread and Irn Bru!