The Best 10 Road Trips From Frankfurt
Idstein
Neuschwanstein Castle
Baden-Baden
Speyer
Cochem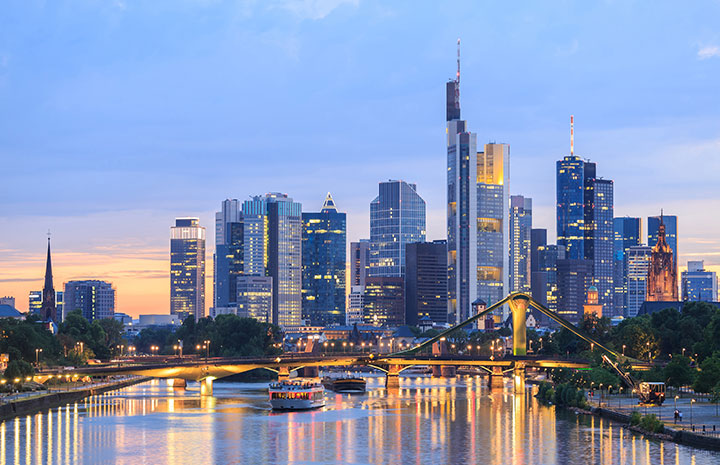 10 best scenic drives from Frankfurt
Heading off to Frankfurt for a holiday, business trip, or to catch up with friends and family? You're in for a fab treat in the biggest city in the German state of Hesse. Officially known as Frankfurt-am-Main, there are 760,000 inhabitants in this vibrant metropolis and it's the heart of a megalopolis with a population of 5.5 million. A thriving banking and business centre, its nickname 'Mainhattan' reflects its sleek skyscrapers and vast stock exchange – it's home to the European Central Bank headquarters and attracts top-notch corporate power players from all around the world.
However, this bustling , modern centre is complemented by a charming old town (Altstadt) featuring authentic timbered houses, traditional pubs serving amazing apple wine and delicious food, and laid-back, leafy neighbourhoods where you'll enjoy chic cafes, hip boutiques and scintillating street art. There are also lots of lovely green spaces, with parks, formal gardens and well-ordered riverside areas on offer. If you're a culture vulture, the galleries and museums in Frankfurt rival those in many major European cities – for instance, the Stadel Museum features masterpieces by world-renowned artists like Rembrandt, Botticelli, Vermeer, Degas and Kirchner, and at the medieval Goethe House and Museum you can see how the German polymath lived and learn more about what inspired him. History buffs always enjoy Frankfurt Cathedral, where 10 kings were crowned between 1562 and 1792, and wandering around Romerberg Square amidst the colourful medieval and renaissance buildings is always a treat. If you want to let your hair down in Frankfurt, you won't be disappointed either – its lively night-time economy has brilliant bars and clubs to suit revellers of all tastes.
There's lots to explore in the surrounding region of Hesse and Darmstadt too – from lush valleys and mountain peaks to dense forests and spellbinding castles. And Frankfurt is also within easy reach of terrific towns and villages which make delightful day trip destinations – as we'll explore soon!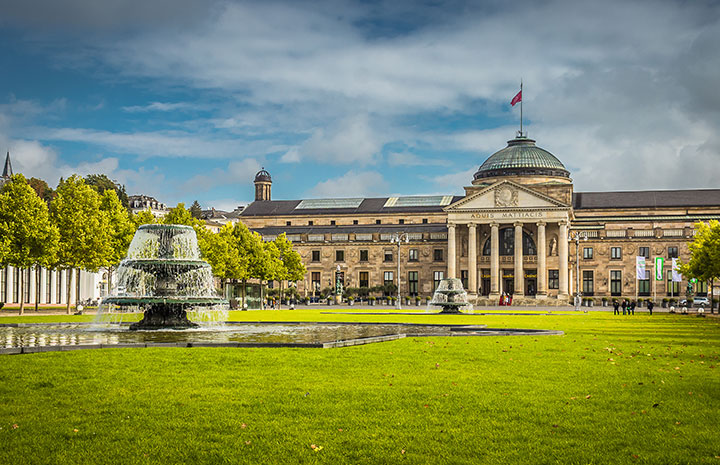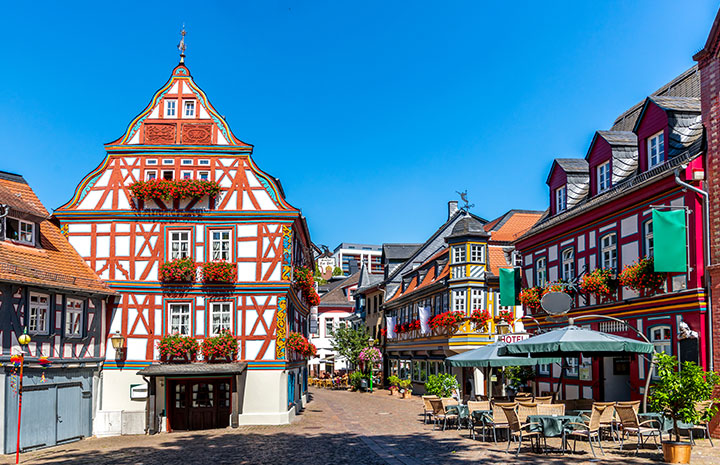 Top tips on driving in Frankfurt
We'll get started on your Frankfurt road trips shortly, but first let's take a look at some quick refresher tips for driving in the city and Germany at large – if you haven't been for a while, or it's your first time, it's definitely worthwhile.
Your full and valid UK driving license is sufficient for driving on German roads, but safety is a particular priority here, so all vehicles should contain a warning triangle, reflective safety jackets, beam deflectors and a first aid kit. You drive on the right and speed limits (unless local signage indicates otherwise) are 130km/h on motorways, 100km/h on main roads and 50 km/h in urban areas. Areas of the Autobahn with no speed limit are indicated by a white circular sign with five diagonal black lines – drive as fast as you're comfortable with but remember that cars can materialise quickly behind you, so be very careful when overtaking. Drink driving laws are stringent here and the driver and all passengers must wear seatbelts or age-appropriate restraints. Free parking is not readily available in downtown Frankfurt – rates are expensive during the day but slightly cheaper at nights.
Now we're done with your Frankfurt driving tips, let's roll out for those scenic road trips!
Wiesbaden
The second-biggest city in Hesse, Wiesbaden is one of the oldest spa towns on the continent and its name translates as 'meadow baths' in reference to the legendary revitalizing powers of its natural waters. Fans of amazing architecture are in for a treat here too – from the grandeur of the Hessian State Theatre to the captivating Schloss Freudenberg Castle, it's definitely easy on the eye. The surrounding area is famous for Riesling wines, so you can pick up a few bottles to take home.
Getting there: Wiesbaden is 45 minutes west of Frankfurt via the A66.
Idstein
Just a short drive north of Frankfurt, Idstein is a picture-postcard German town replete with half-timbered buildings and quaint cobbled streets. The Crooked House is iconic because of its distinctive slant (caused by 18th century renovations), the 12th century Hexenturm (witches' tower) is equally famous and it's lovely to hang out in the calm cafes of the main square (Konig Adolf Platz) and watch the world go by.
Getting there: Idstein is 50 minutes from Frankfurt via the A3.
Heidelberg
Revered as one of Germany's most beautiful cities, with its famous university and romantic castle ruins, Heidelberg makes a brilliant day trip destination from Frankfurt. You'll pass the scenic Neckar River to get there and the architecture once you arrive is inspirational – with fine examples of Gothic and renaissance styles. Wander through labyrinthine lanes and there's something special around every corner, with town centre highlights including the Knight's House and Church of the Holy Spirit.
Getting there: Heidelberg is one hour and 10 minutes from Frankfurt via the A5.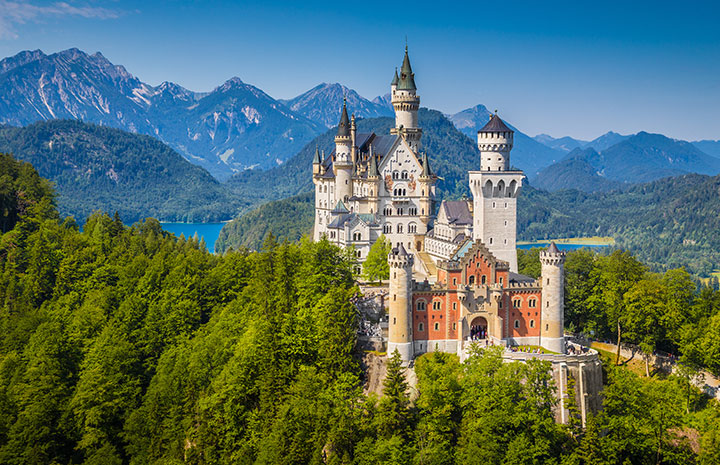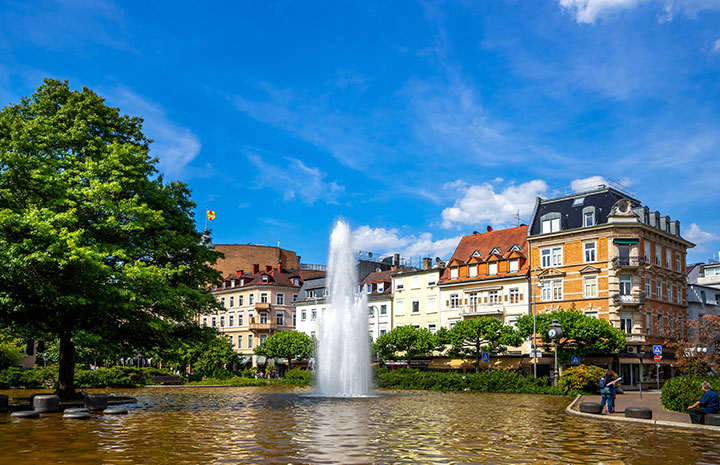 Neuschwanstein Castle
Believed to be the inspiration behind Disney's version of Sleeping Beauty, awe-inspiring 19th century Neuschwanstein Castle is definitely the stuff of fairy tales and it's a must-see for many visitors. Built by Ludwig II of Bavaria as a tribute to Richard Wagner, this hilltop castle near the village of Hohenschwangau is a honey trap for over one million tourists a year. This is a longer road trip, so you should stay overnight to make the most of it.
Getting there: Neuschwanstein Castle is 4 hours from Frankfurt via the A3 and A7.
Baden-Baden
A spa town in the famous Black Forest in south west Germany, Baden-Baden's thermal baths have made it a chic resort since the 19th century. A UNESCO World Heritage Site, its historic city centre was developed from the middle ages to the early 10th century and its elegant neoclassical architecture is divine. As you might expect, there are some terrific hiking trails in the surrounding countryside too.
Getting there: Baden-Baden is two hours from Frankfurt via the A5.
Mainz
Originally a strategic Roman citadel built where the Rhine and Main rivers converge, Mainz has been a vital trading centre for centuries and rose like a phoenix from the flames following extensive bombing during WWII. This is the wine capital of Germany so the hospitality is first-rate – you might want to park up your car and stay for a couple of days to enjoy the ambience safely. Foodies should try the Spundekase – a tasty cream cheese dip with delish pretzels.
Getting there: Mainz is 50 minutes from Frankfurt via the B43 and A60.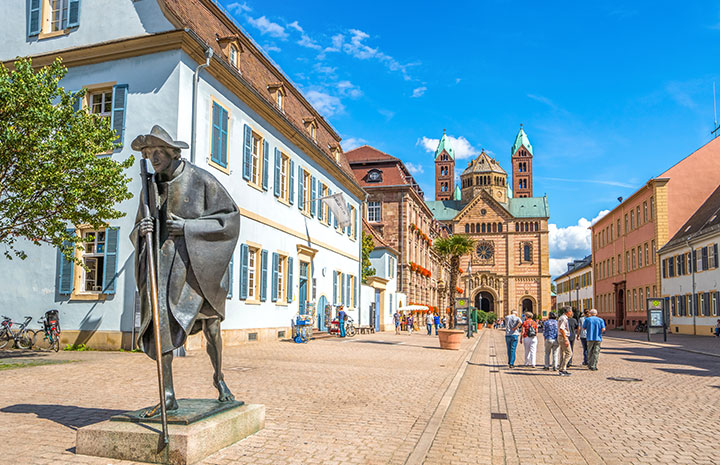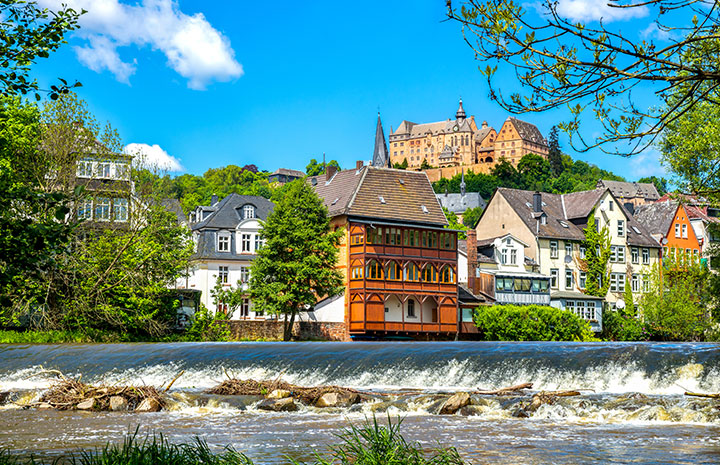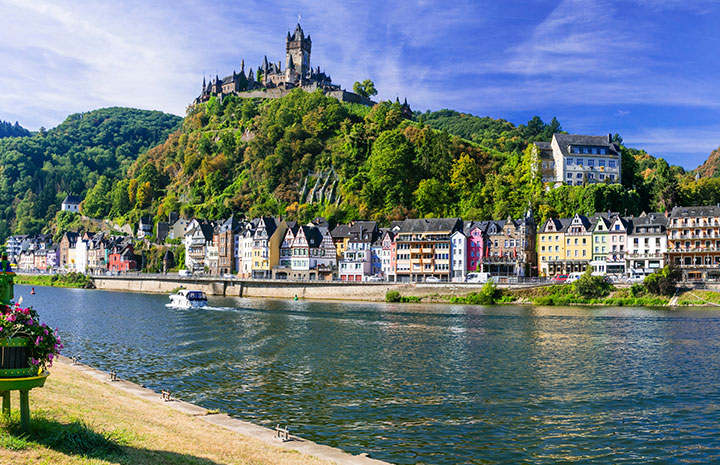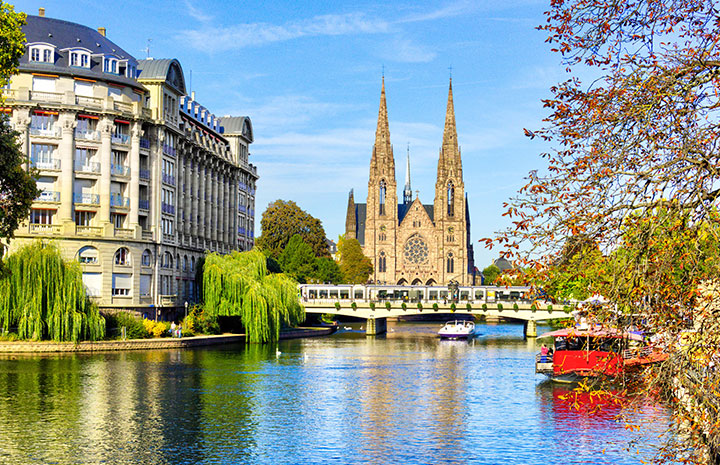 Speyer
The Pfalz region is famous for almonds, figs and – you guessed it – wine, and the ancient city of Speyer is one of the jewels in its crown. The pedestrianised Maximilanstrasse is the main street here, it's packed with cool cafes and shops and spans the distance from the Cathedral to the west gate. The charming Hasenpfuhl quarter is a joy to explore and the liver dumplings and wheat beer are to die for – but don't drink unless you've got a designated driver!
Getting there: Speyer is one hour and 30 minutes from Frankfurt via the A67.
Marburg
The compact university town of Marburg is a medieval masterpiece which is always worth a visit. Steeped in the folklore of the Brothers Grimm, the cobbled alleyways and stunning Marburg Castle add a sprinkle of fairy dust. While you're here, you can catch a play or wrestling match in the Waggonhalle cultural centre, pick up local fare at the street market and enjoy panoramic views from Kaiser Wilhelm Tower.
Getting there: Marburg is one hour and 40 minutes from Frankfurt via the A45.
Cochem
Located a couple of hours west of Frankfurt in the Mosel River Valley, Cochem is a picturesque town overlooked by a castle which is over 1000 years old. If you're a fan of the great outdoors, head to Pinnerkreuz Mountain for scenic hiking trails but this is also a wonderful place to simply relax and wander around the streets soaking up the atmos.
Getting there: Cochem is two hours from Frankfurt via the A3 and A48.
Strasbourg
Fancy venturing into France for a delightful day trip? Strasbourg is the capital of the Alsace region and it's a doable day trip if you leave early in the morning, although staying overnight might be more relaxing. The Grand Ile is the city's historic centre and features the city's fine cathedral and several medieval churches, while Place Gutenberg (named after the printing press inventor) is perfect for people-watching. Don't miss Petite France – this pedestrianised area is the city's prettiest and features old-style buildings and riverside walkways.
Getting there: Strasbourg is two hours and 35 minutes from Frankfurt via the A35.
These top 10 road trips from Frankfurt add a new dimension to your holiday – drive safely and have a ball!