Top 10 Road Trips in New Zealand
Forgotten World Highway
Coromandel Peninsula
Auckland to Bay of Islands
Milford Road
Thermal Explorer Highway
Great Alpine Highway
Otago Heritage Trail
East Cape Route
Canterbury mountains and lakes
Southern scenic route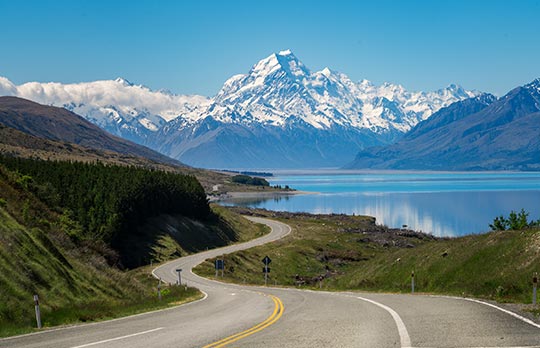 10 best scenic road trips in New Zealand
So you want to discover New Zealand's preternatural beauty by car? You're in for a wild ride through cosmopolitan cities, charming towns and coastal and alpine landscapes in one of the world's last great wildernesses. The Kiwi terrain is so diverse that it feels like there's a whole continent packed into its north and south islands – think dramatic coastlines, sun-kissed beaches, powerful geysers, giant forests and snow-capped mountains. En route, you'll encounter unique wildlife, but best of all, the people who embody NZ's brilliant blend of Maori, European and Asian culture. Road trips here include something amazing around every corner, so build in plenty of scenic pitstops so you can keep your eyes firmly on the road!
Wellington is the world's most southerly capital city in the world and this bijou metropolis of 215,000 has been nicknamed the 'world's coolest little capital' thanks to its lively creative scene and neighbouring coast, mountains and winelands. Meanwhile, Auckland's 1.5 million people make it the nation's biggest city and it actually has a larger population than the entire South Island combined – its beaches, bush and golf courses are natural draws for locals and tourists alike. But don't forget Christchurch – the South Island's largest city is the country's third-biggest and its surf beaches, stunning Port Hills views and thriving art scene attract backpackers and mainstream visitors.
Expect a warm welcome whichever parts of New Zealand you visit, but the South Island's snow-capped mountains, commanding fjords, majestic mountains and enormous glaciers mean it's chillier than the North Island, which is characterised by volcanoes, bubbling geysers, white sand beaches and hot springs.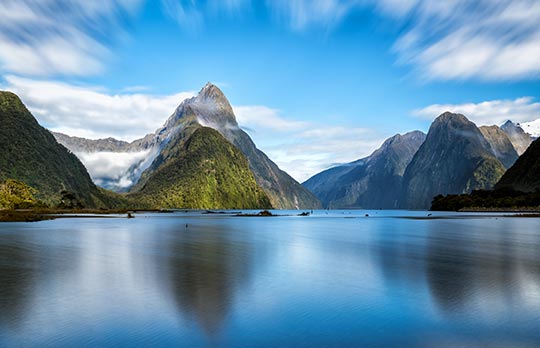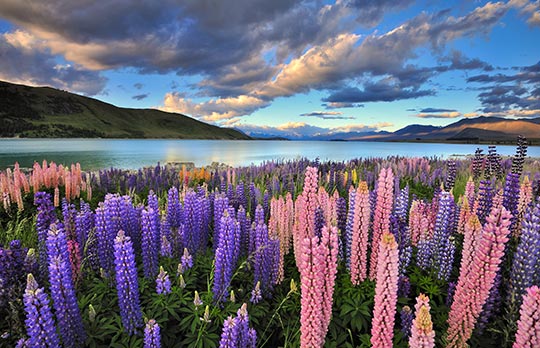 Top tips on driving in New Zealand
Your top 10 New Zealand road trips will be here in two shakes of a kiwi's tail but take five for some driving tips first.
Kiwis drive on the left (great news for Brits), and the nation boasts a huge number of roundabouts (perhaps not so good news, but at least they'll feel familiar!) and one lane bridges where you have to slow down and check the signage to see who gives way.
The speed limit here is generally 100km/h on main highways and 50km/h in towns, although there's often a buffer zone between the two where the limit is 70 -80km/h. You should always wear your seatbelt, never drink and drive and never use your mobile phone wile driving.
Last but not least, ask your car rental firm if a GPS is available as it can be a real help in finding more remote locations you might want to visit.
Now let's get rolling with those scenic road trips!
Forgotten World Highway
This rural, remote, mysterious North Island road trip covers 150km, but it's best split up over 2-3 days to enjoy its splendour to the full. A natural rollercoaster that takes you up hill and down dale, it starts amidst the rivers, lakes and volcanic cones of Taumarunui, before continuing to Whangamomona (where a detour along Moki Forest Road to Mount Damper Falls is recommended). The last leg takes you on to Stratford, where there's a gorgeous glockenspiel clock tower, world-class surfing, and hiking at Mt Taranaki.
Coromandel Peninsula
The Coromandel Peninsula is ram-packed with natural attractions and your road trip starts and ends in Tauranga where (if you have time) you should hike up magnificent Mt Maunganui for classic coastal views. The iconic Cathedral Cove and Hot Water Beach sit on the east of the peninsula, while the rugged west coast turns to verdant forests and goldmining towns in the interior and the Coromandel Range features the famous 1200 year old Kauri Tree.
Auckland to Bay of Islands
Also known as the Loop of the Bay of Islands, this is a top road trip when you're pushed for time but want to sample some of the best NZ scenery nonetheless. With wonderful weather year round, highlights on this idyllic part of the north coast include the Hole in the Rock on Piercy Island, the Waitangi Treaty Grounds where New Zealand became a nation in 1840, wildlife like dolphins and parrots, and snorkelling at Opito Bay in Kerikeri and Donkey Bay in Waitata.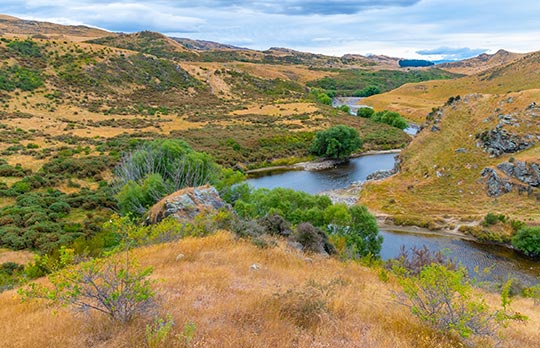 Milford Road
Regarded as one of the world's most beautiful highways, Milford Road stretches for 288km from Queenstown to Milford Sound – you can complete the route in around four hours and (amazingly) it includes fjords, waterfalls, lakes and vertiginous mountains. Trek to the top of Queenstown Hill for a breath-taking view before setting off and schedule a pitstop at Te Anau, where you can see the Te Anau Glowworm Caves as well as the sublime mirror lake.
Thermal Explorer Highway
Fancy a road trip that really heats things up? The North Island's Thermal Explorer Highway takes in Auckland and Hawke's Bay, but the most stunning stretch for many visitors is between Rotorua and Taupo. The brooding geothermal terrain of Wai-o-Tapu features sulphurous geysers and hot springs, while hiking at stunning Tongariro National Park is perpetually popular. This is a road trip that you certainly won't forget in a hurry.
Great Alpine Highway
This 288km pass takes you from Christchurch to Punakaiki, from east to west over the backbone of the South Island. The natural scenery is amazing, but it's also complemented by some seriously impressive feats of engineering including the Otira Viaduct and Waimakariri Bridge. Few roads in the world blend human and natural wonders quite as dramatically – don't get too distracted while you're behind the wheel!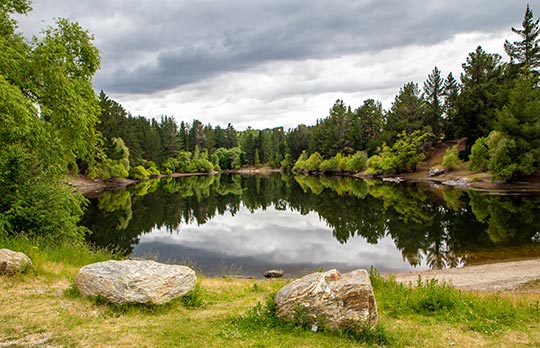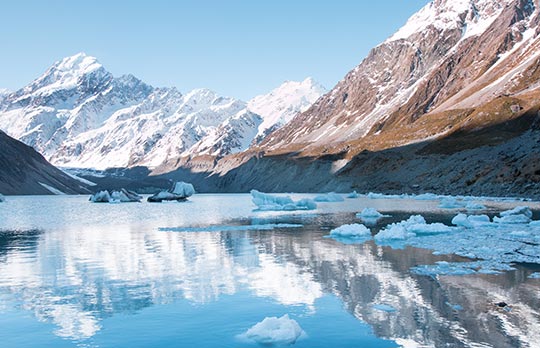 Otago Heritage Trail
Set aside a few days to absorb the history, culture and terrific scenery that features in this fab 450km South Island road trip. Starting in trendy Dunedin with its arty converted warehouses and craft beer bars, you'll head south to Lawrence, where New Zealand's first gold was struck back in 1861, then on through Central Otago's lush winelands to Alexander. If you've got a flexible schedule, various easy detours take you in close proximity to mountains and fiords.
East Cape Route
Also known as the Pacific Coast Highway (or officially as State Highway 35), the East Cape Route caresses the east coast and takes in jaw-droppingly beautiful beaches, deep gorges, thick bush and white water rapids along the way. Starting in Opotiki, this 368km route rolls you around the coast to Tolaga Bay before depositing you at Gisborne, which is a superb spot for foodies, anyone who loves fine wine and culture vultures who want to find out more about Maori traditions.
Canterbury Mountains and Lakes
Better known by some motorists as Inland Scenic Route 72, this 474km loop takes you from Christchurch to Oxford, Methven, Geraldine, Ashburton and Akaroa and it's best split across five or six days to make the most of it. You can experience country life with a farmstay at Oxford, hit the slopes at Mount Hutt near Methven (or hike in summer), enjoy boutique shopping at Geraldine and fish for salmon at Ashburton. Francophiles love the cuisine at Akaroa, and you can top off your trip with a dolphin- and seal-spotting harbour cruise.
Southern Scenic Route
A heady blend of thick woodlands and wild southern coast, this 600km route through New Zealand's south east is rated by some visitors as the nation's most memorable. The landscapes around Lake Manapouri and Lake Wakatipu were carved by glaciers, while the sandstone hills west of Tuatapere were pushed skywards from the interior of the Earth 150 million years ago. The natural drama continues in the unique parallel ridges of The Catlins, where even experienced botanists are bewildered by the kamahi, rata and beech trees in the South Island's biggest area of natural forest. Wildlife fans are catered for too – this coastline is home to blue penguins, rare yellow penguins and much more. If you want to go wild in NZ, you'll love this drive!
Hire a car in New Zealand from Enjoy Travel and you can set off on any of these adventurous road trips in complete confidence.
Drive safe, strap on your seatbelt, stick to the speed limit and remember to send us a postcard!