Top 10 Road Trips from Lithuania
Panemune Road
Neringa Road
Four Capitals Route
Aukstaitian Road
Samogitians Road
102 Road
E272 Route
A4 Road
Old Postal tract
Southern Via Baltica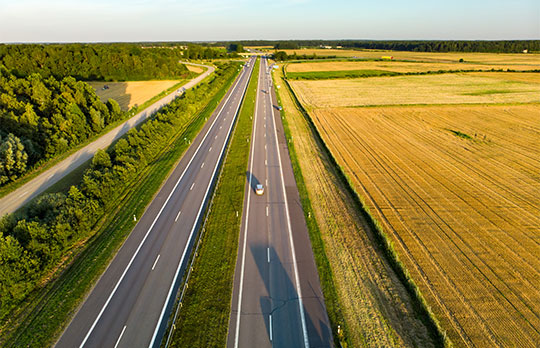 Top 10 scenic trips from Lithuania
Planning a trip to Lithuania? Or maybe you actually live there? We're jealous either way.
This beautiful Baltic nation sits on the east shore of the Baltic Sea and is bordered by Belarus, Latvia, Russia and Poland. Vilnius is the capital, with Klaipeda and Kaunas as other main cities. The farthest south of all the Baltic states, Lithuania benefits from warm summers (with expansive daylight hours) and a terrain that covers everything from dense forests to serene lakes and soft sand beaches. The baroque architecture and cobbled streets of the capital are complemented by all the modern conveniences you expect. And beyond the cities, folklore and magic feel as alive today as they have done for centuries, particularly in areas like Curonian Spit.
Top attractions in Lithuania include the UNESCO-listed Old Town in Vilnius, the medieval island castle in the middle of the lake at Trakai, and the renowned modernist architecture in Kaunas. Another interesting site is the Ginuciai Water Mill near Ignalina. Dating from the 19th century, this building spans the waters that rush down to Lake Linkmenas and was used to make flour and generate electricity – it's no longer operational but all of the workings have been retained and a portion of it is now a unique hotel. Meanwhile, nature lovers should definitely make a beeline for Aukstaitija National Park, which has deer, elk and even wild boar. The park boasts 126 lakes and 30 rivers – Lake Baluosas is the most popular and has seven scenic island within it.
Hire a car in Lithuania and this amazing nation is yours to explore. Right here at Enjoy Travel you can book ahead of time and grab a great deal on the ideal vehicle for your travel needs.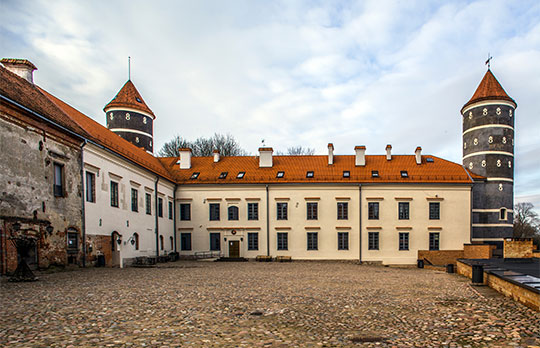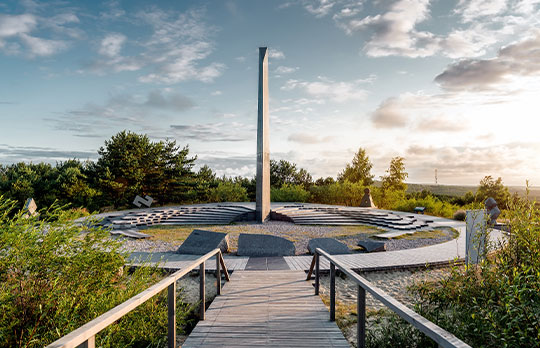 Top tips on driving in Lithuania
Hold your horses on those road trips for just a minute – let's take in some quick tips on driving in Lithuania.
First off, remember to drive on the right hand side of the road here. Don't use your phone unless it's genuinely hands-free and keep your headlights on all day, at every time of year. You should also remember that it's mandatory to call the police if you encounter an accident.
Speed limits are 50km/h in urban areas, 90km/h on asphalt roads, 70km/h on rural roads with no asphalt and 120km/h on motorways.
Let's start those legendary road trips!
Panemune Road
For many who know their onions about Lithuanian motoring, the Panemune (Nemunas Valley) Road is the most scenic in the nation. A long, leisurely route that stretches 100km + (depending on stop-offs) between Kaunas and Klaipeda, it unlocks views of Lithuania's largest river and stunning ancient palaces at Raudone and Raudonvaris. As the road veers left you'll pass through charming Germanic towns like Silute and if you take a brief drive off the beaten path, the Nemunas Delta and Curonian Lagoon are teeming with waterfowl and boast a rich fishing heritage. This is a perfect combination of nature and history.
Neringa Road
A beautiful road through a National Park forest, the Neringa (Smiltyne-Nida) road on the Curonian Spit Peninsula is 100km there and back. You'll spend some time on a ferry and pass through lots of picture-postcard villages, as well as vast sand dunes and sprawling seabird colonies. For a wild and windswept road trip that stimulates all the senses, the Neringa road is hard to beat. Remember to pack water and sandwiches for this one – you'll need your energy if you stop for a bracing hike in the wilderness.
Four Capitals Route
Fancy a 160km road trip that takes in Lithuania's historical hubs? The Four Capitals route between Vilnius and Kaunas takes in the romantic medieval castles of Trakai, prehistoric archeological treasures of Kernave, and art deco buildings of Kaunuas (capital between the wars). Finally, modern capital Vilnius combines elements of the magic of the other three, in a historical and cultural alchemy you can feel all around you. This is probably the most popular road trip in Lithuania, and you'll understand why once you complete it – there are rich pickings for culture vultures.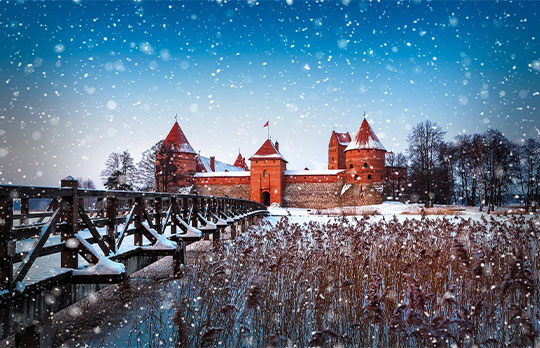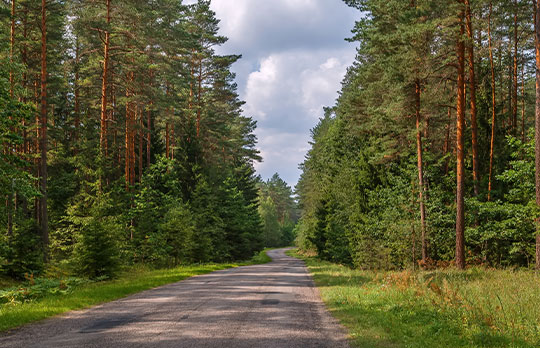 Aukstaitian Road
Covering the northern portion of the modern Via Baltica, the Aukstaitian Road was built in the lead up to WWII to connect then capital Kaunas to the interior. It spans much of the territory formerly controlled by the powerful Radvila clan – at Birzai you can see their 17th century fortress and their wealth and influence is also evident in Kedainiai, with its picturesque old town. This 180km route also provides the opportunity to stop off at the city of Panevezys for some retail therapy, tasty food or even an overnight stay – take your time and make the most of the ambience.
Samogitians Route
Also known as road no.196, the Samogitians Route was completed in 1933 and links the rugged forest interior of Samogitia with the coast. This area mixes pagan traditions with Christian iconography and one of the most popular pitstops is the Virgin Mary shrine at Siluva, which is the nation's foremost pilgrimage hotspot. Kraziai and Varniai are small towns by modern standards, but you'll see remnant of their former glory in ornate churches and civic buildings, while Rietavas is more industrial but still makes an interesting stop-off point. If you like nature and spirituality, this road trip has your name on it.
102 Road
Don't worry – this route is definitely more exciting than it sounds (whew). Connecting Vilnius, Zarasai and Daugavpils in Eastern Lithuania, it connects several villages with Polish and Russian as well as Lithuanian cultures, thus representing the region's unique multiculturalism. You'll pass through the ancient lakelands of Aukstatija National Park and a one of a kind church at Jurgeliske. This is a fascinating road trip in the region close to the Latvian border – it really reveals the rich and varied tapestry woven together in modern Lithuanian culture.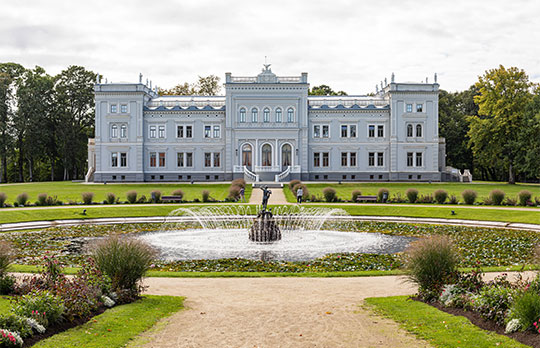 E272 Route
This 361km route takes you from Vilnius to Panevezys, then on to Siauliai and Palangua. When you want to get to the seaside from Vilnius but don't mind a longer route, E272 takes in lots of treasures. You'll pass by the major cities of Siauliai and Panevezys, the magnificent manor towns of Kretinga and Plunge and attractive towns like Ukmerge before reaching the popular seaside resort of Palanga. You can also take an easy detour to the Hill of Crosses – this hilltop collection of thousands of crosses is a symbol of Lithuania's peaceful resistance to Soviet occupation and it's a very moving sight.
A4 Road
No – this isn't a road created from surplus printer paper (although that would have been very innovative). Covering 128km from Vilnius to Druskininkai, this is the main road through the legendary Dzukian forests and takes you through ancient capital Trakai. After winding your way through wonderful woodlands peppered with tumbledown monasteries, you'll end up at the up and coming spa town of Druskininkai. Be sure to stop off for some therapeutic treatments before your return trip – you deserve it!
Old Postal Tract
Another road steeped in history, the Old Postal Tract (AKA A6 from Kaunas to Daugavpils) was originally part of the massive road connecting St Petersburg and Warsaw. The first Lithuanian road to be surfaced (in 1836), it heralded a new era of infrastructure – along its route you'll see huge fortresses around Daugavpils, elegant squares and boulevards at Zarasai and various historic buildings where messengers and traders would swap horses during long-distance runs of yore. If you want to experience Lithuania's version of Route 66, this is it!
Southern Via Baltica
Also known (somewhat less romantically) as the Kaunas-Poland A7, the Southern Via Baltica is a subsection of the major Warsaw-Kaunas-Riga-Tallin route and as you might have guessed, it's the main way in and out of Poland from Lithuania. You'll pass culturally important towns like Marijampole in the Sudovian region, and if you venture over the border there are some lovely areas where the locals still preserve a strong Lithuanian heritage, such as Suwalki. Another road which exemplifies Lithuania's varied history and diverse modern culture, the Southern Via Baltica is always worth exploring.