Top 10 Road Trips from Turin
Reggia di Venaria Reale
Alba
Sacra di San Michele
Lake Orta
Canelli
Bra
Asti
Martini & Rossi
Parco Nazionale Gran Paradiso
Milan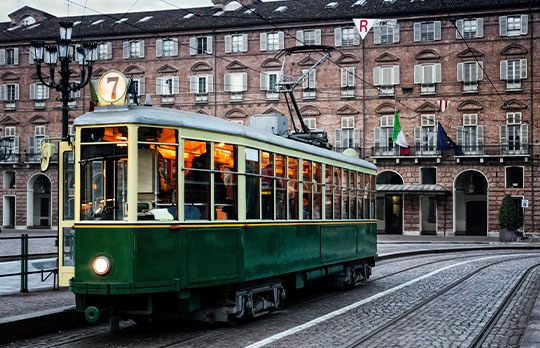 Top 10 scenic trips from Turin
Still best known to some around the world for its Holy Shroud, Turin is a buzzing cultural and business hub in Northern Italy that's always a joy to visit. Although this city might not be as famous as Rome or Milan, it's the capital of the prominent Piedmont region and was also the capital of the entire Italian nation from 1861 to 1865. In fact, it's referred to as 'the cradle of Italian liberty' because it was the beating heart of the 19th-century Risorgimento movement which drove the unification of various Italian regions into one nation. Located in the Susa Valley on the west bank of the Po River, Turin is blessed by expansive, leafy boulevards, grand art nouveau buildings and pulsating art and live music scenes. It's also the birthplace of Fiat cars and a heartland for sustainable cuisine, with verdant winelands and majestic Alps within easy reach.
Top things to do in Turin include visiting the Mole Antonelliana ‐ which has a sky-scraping spire that dominates the city skyline and hosts the national cinema museum as well as a panoramic viewing platform offering striking views of the metropolis. Meanwhile, Piazza Castello is the historic town centre where you'll find the beautiful Palazzo Reale and Palazzo Madama buildings, two jaw-dropping examples of baroque architecture by the masterful Filippo Juvarra. And when you want to stroll in sublime scenery, head to Parco del Valentino, with its romantic riverside walks and UNESCO-listed Castello del Valentino.
Last but not least, hire a car in Turin to explore the rest of Piedmont and beyond ‐ all sorts of superb locations are ideal destinations for a four-wheeled adventure.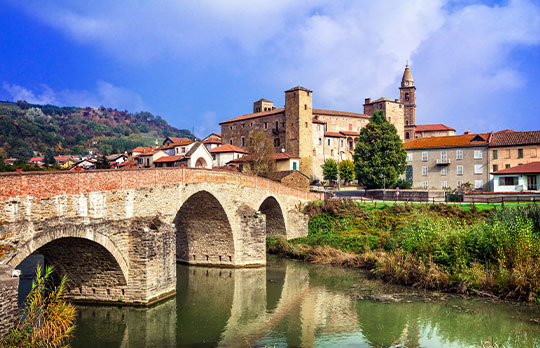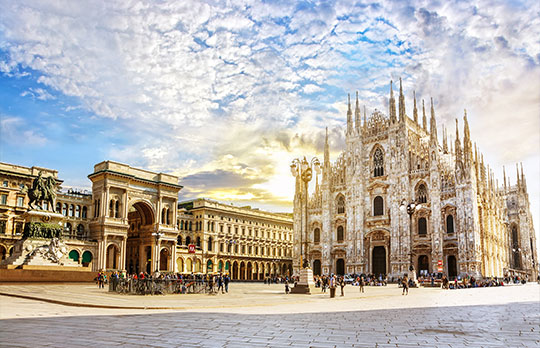 Top tips on driving in Turin
Your Turin road trips will be here in a tick ‐ let's look at some quick driving tips first.
Don't forget the basics ‐ drive on the right-hand side of the road, always wear your seatbelt and never drink and drive.
Remember to carry your full, valid, UK photocard driver's license at all times, as well as paper (or electronic) rental documentation. Some local driving customs also differ from the UK, so beware ‐ for instance, if a driver flashes their lights at you, it can mean that they're not going to stop, rather than they're giving way to you.
Speed limits in and around Turin are 130km/h on the motorway (or 110km), 90km/h in built-up areas, and 50km/h in cities.
Let's get moving with your road trips ‐ avanti!
Reggia di Venaria Reale
How does visiting an immaculate baroque-style 17th century hunting lodge sound? If you're nodding your head, then Reggia di Venaria Reale is only 30 minutes from Turin via Corso Regina Margherita and it's a feast for the eyes. A plush former residence of the Savoy royal family, this pristine palace is complemented by a 150-acre estate complete with a Museum of Theatre and Magnificence, spectacular water fountains and Dolce Stil Novo (an onsite Michelin-starred restaurant). Ideal for a half-day excursion, this trip lets you treat yourself to a little regal splendour.
Alba
Just over an hour south of Turin via the A6, Alba is a terrific day trip destination. Its historic town centre radiated from the Piazza Duomo, where the 11th-century San Lorenzo boasts a 40 metre tall tower you can climb for stunning cityscape views (if you're feeling fit!). The Centro Culturale San Giuseppe also has fascinating Roman ruins and seasonal art exhibits, but the highlight in Alba for snack fans is that it's the home of everyone's favourite nut-based spread, Nutella. Although you can't visit the Ferrero factory where it's produced, lots of shops sell gianduja, the original local spread that inspired the recipe.
Sacra di San Michele
A magnificent mountaintop retreat just one hour from Turin via A32/E70, the abbey of Sacra di San Michele is simply spectacular. This romantic ruined house of worship inspired novelist Umberto Eco to write his masterpiece The Name of the Rose but even if you're not a fan of religious buildings (or medieval mystery prose), the views over the Susa river valley are something to savour forever. For a daytrip that combines history, scenery and spirituality, this takes some beating ‐ get ready to snap a few memorable selfies.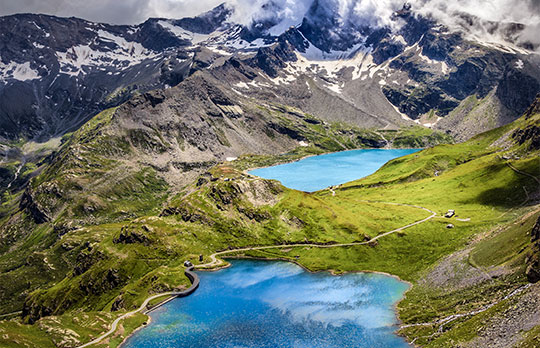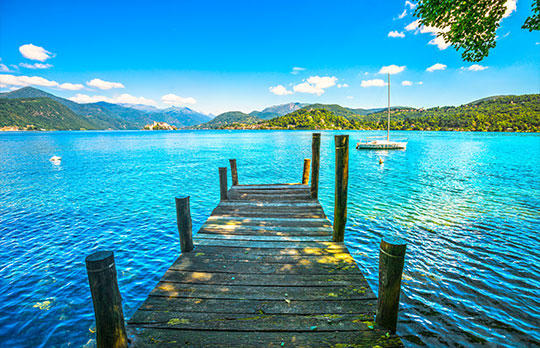 Lake Orta
Yearning for some lakeside scenery? At one hour and 35 minutes from Turin via the A4, Lake Orta is closer than better-known lakes like Como ‐ but just as beautiful. In the summer, you can relax on one of its many beaches, splash around in the water, try more high-octane activities like water-skiing, or simply relax and enjoy a cold drink while you watch the world go by. But this is a worthwhile visit off-season too ‐ when you can take a boat trip to gorgeous San Giulio island or get your hiking boots on and trek around the area's undulating countryside. If you love the great outdoors, Lake Orta is outstanding.
Canelli
One hour and 20 minutes from Turin via the A70, Canelli boasts bucolic scenery which inspired some of Cesare Pavese's iconic characters and stories ‐ when you see its lush vineyards, rolling hills and charming villages, you understand why. Located on a plan at the Belbo River valley, this has been rich farmland since Roman time, and it also has a fine castle which dates back to the 11th century AD. Other attractions include the beguiling Church of San Leonardo and the network of 'underground cathedrals' that form a subterranean town where wine is processed and finished.
Bra
Just one hour away from Turin via the A6, Bra is a must-visit for fans of world-class cuisine. If you've heard of the Slow Food movement, which champions locally sourced, organically produced ingredients, it was founded here back in 1986. Stroll around the scenic town centre and you'll see a plethora of artisan shops selling everything from handmade sausages to delicious baked goods and mouth watering vegetables. Don't leave town without sampling a lovingly prepared meal ‐ restaurants Osteria Murivecchi, Battaglino dal 1919 and Osteria del Boccondivino are all excellent.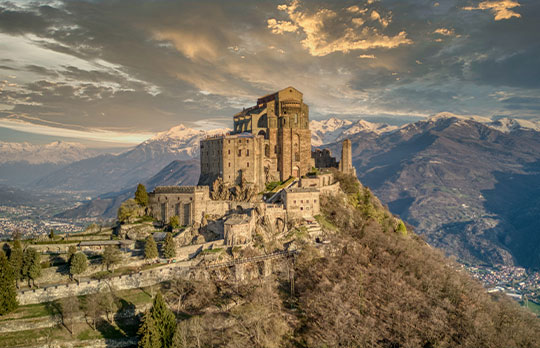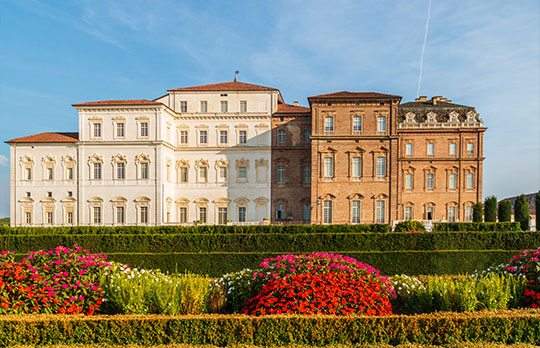 Asti
A 55 minute drive from Turin via the E70, Asti always makes a sparkling day trip destination. The home of the famous Asti sparkling wine you've probably quaffed during celebrations has lots to recommend it, not the least of which is the 13th-century Torre Troyana tower ‐ climb the steps to the top and you're rewarded with outstanding views across the town. Visit Palazzo Mazzetti museum and you'll see plush baroque rooms showcasing everything from archaeology to contemporary art, and if you visit in Autumn, you might catch the Palio d'Asti bareback horse race ‐ a local tradition which has survived since Medieval times.
Martini & Rossi
41 minutes from Turin via SS10, Martini & Rossi is another road trip destination that will sound familiar if you're fond of a tipple. Definitely grab a designated driver for this trip because the main attraction is Casa Martini, an exciting museum dedicated to the world-famous alcohol brand. With 16 rooms to stroll through and 600 artefacts dating back thousands of years, you'll discover all about winemaking from the time of the ancient Romans to the present day. We'll toast to that!
Parco Nazionale Gran Paradiso
Two hours and 10 minutes from Turin via the A5, Gran Paradiso National Park is Italian natural scenery at its most spectacular. Located in the Alps on the Italian-French border, summertime activities here include strolling through wonderful wildflower meadows or enjoying more challenging hikes above 200m, and you might spot wildlife like ibex and chamois. But it really comes to life in winter when the runs around the 4061m peak are packed with skiers and snowboarders. For sessions enjoying fresh pow and amazing apres-ski, build a couple of nights here into your itinerary.
Milan
One hour and 50 minutes northeast of Turin via the A4, fashion capital Milan is always worth seeing. Top things to do in this dynamic city include visiting the eye-popping 14th-century Duomo (one of the world's most beautiful churches) and discovering the Navigli district, the bustling canalside district which was partly designed by Leonardo da Vinci. Which brings us neatly to his masterpiece The Last Supper which you can see with your own eyes at Santa Maria delle Grazie. If you love opera meanwhile, there's probably nowhere better to catch a production than the opulent Teatro alla Scala.