Top 10 Road Trips in Rome
Arezzo
Ostia Antica
Florence
Orvieto
Pompeii
Hadrian's Villa in Tivoli
Naples
Bracciano
Cinque Terre
Assisi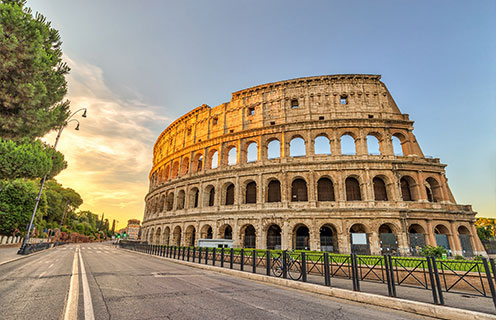 10 best scenic road trips from Rome
Heading to Rome for a holiday? The Eternal City is one of the most famous destinations on the planet ‐ not only the capital of Italy but the historical heart of the Roman Empire. It's also within reach of sublime Italian countryside, towns and villages ‐ ideal for road trips.
Gaze across Rome's cinematic cityscape and 3000 years of history unfolds in every rooftop, column, dome and fountain. The Pantheon, Forum and Colosseum are eye-catching, while the Vatican's towering St Peter's Basilica is the crowning glory.
From legendary artworks by Michelangelo and Raphael to culinary masterpieces on every corner, Rome stimulates the senses like no other city.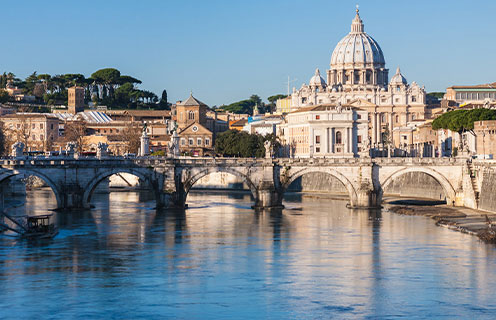 Top tips for driving in Rome
Your top 10 road trips will be here faster than a Roman chef whips up some spicy penne picante – snack on a few tips for driving in Rome in the meantime!
Always drive on the right hand side of the road and be mindful of the ZTL (limited traffic zone), which covers several Roman districts during weekdays and Saturdays, with restrictions applying at certain times of day. Plan your route by checking the official ZTL website to avoid a heavy fine.
Driving on the A90 'raccordo' highway around the city (wherever possible) helps you avoid tolls and get to neighbouring cities without getting tied up in the centre of town.
Now let's get revved up for those road trips!
Arezzo
Take the iconic A1 highway out of Rome and you'll cruise through undulating, cypress-kissed Tuscan terrain before reaching the former Roman outpost of Arezzo. Don't miss the stunning Renaissance frescoes in the church of San Francesco, and you might recognise the lovely Piazza Grande from the Roberto Benigni movie Life is Beautiful.
Getting there: Arezzo is 2 hours 15 minutes from Rome via A1/E35.
Ostia Antica
Just 30km from Rome, Ostia Antica is a great day trip for history buffs. This ancient settlement was a vital commercial centre with a population of 100,000 in its heyday and hosts some remarkably well-preserved ruins. Highlights include the Capitolium and Hercules temples, Agrippa's Theatre, and the ornate mosaics at the Termi Nettuno public baths.
Getting there: Austia Antica is just 44 minutes from Rome via SP8.
Florence
The ideal Rome day trip destination for culture vultures, Florence has an embarrassment of world-beating artworks. Drink in masterpieces by Caravaggio and Botticelli at Uffizi Gallery, see Michelangelo's David statue at Galleria dell' Accademia and get your fashion groove on at the Gucci Museum.
Getting there: Florence is 3 hours from Rome via A1/E35.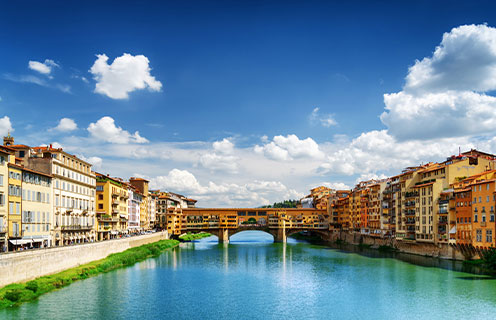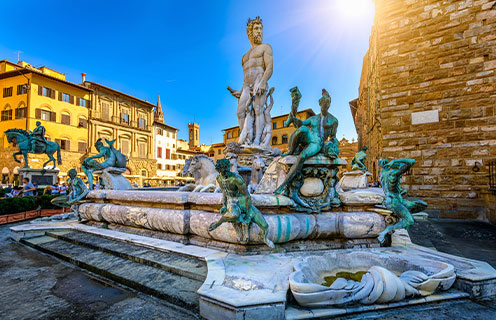 Orvieto
If you're yearning for a laid-back trip through rustic terrain to a charming hilltop town, Umbria's Orvieto is right up your street. Its hillside perch affords awesome views of the lush surroundings and the beautiful Duomo do Orvieto is a sight to behold. Don't miss the Pozzo di San Patrizio well with its impressive double helix design – ingenuity really is in the DNA here!
Getting there: Orvieto is one hour 30 minutes from Rome via A24 and A1.
Pompeii
As you know, Pompeii is the city famously frozen in time (and volcanic dust) when Mount Vesuvius erupted in AD79. As well as the remains of inhabitants, villas, steam baths and more, you can hike to the summit of the active volcano and see old lava flows as well as hissing steam vents!
Getting there: Pompeii is two hours 30 minutes from Rome via E45.
Hadrian's Villa in Tivoli
When 2nd century AD Emperor Hadrian wanted to build a weekend retreat from the hustle and bustle of Rome, he chose this fabulous spot 30km away to build a plush villa – it captured his heart to the extent that he eventually ruled the empire from here. This expansive World Heritage Site includes pools, gardens, palaces, temples and barracks – seriously impressive!
Getting there: Hadrian's Villa is 35 minutes from Rome via A24.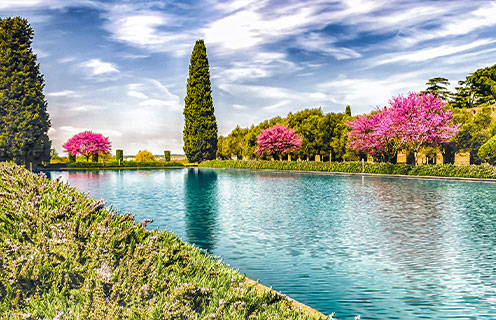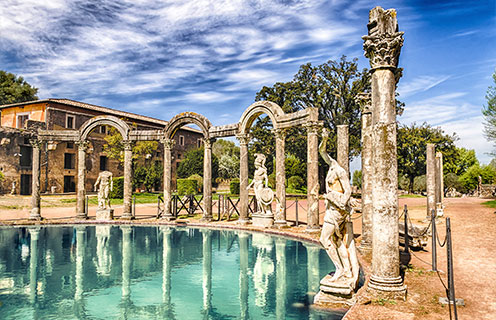 Naples
Fancy some jaw-dropping architecture and delicious food? Take a scenic day trip from Rome to Naples and you can see beautiful buildings like Castel dell' Ovo, Castel Nuovo, and The Royal Palace, then soak up more knowledge in the National Archaeological Museum. If all that history makes you hungry, Pizzeria Dal Presidente serves arguably the world's best pizza. Nom nom.
Getting there: Naples is two hours 20 minutes from Rome via A1/E45.
Bracciano
This lovely lakeside town is a stunning day trip destination from Rome and boasts medieval history as well as wonderful scenery. The 15th Century Orsini Odescalchi Castle is a highlight, and the cream coloured Duomo di Santo Stefano cathedral is a delight. Treat yourself to a sumptuous meal in Bracciano and soak up the atmosphere.
Getting there: Bracciano is 1 hour from Rome via Braccianense/SP493.
Cinque Terre
Cinque Terre comprises five picture-postcard villages painted in pastel hues, which hug the dramatic coastline of the Italian Riviera. Vernazza, Monterosso al Mare, Corniglia, Manarola and Riomaggiore all have their distinct charms, and hiking the Sentiero Azzurro cliff trails rewards you with panoramic views. This is a longer drive so stay overnight to make the most of it.
Getting there: Cinque Terre is 4 and a half hours from Rome via A1/E35.
Assisi
Another Umbrian gem, Assisi has charming cobbled streets and rustic cafes and an ornate basilica that's one of a kind. There's also a special spiritual dimension you can experience strolling through Bosco di San Francesco forest, in the philosophical footsteps of Saint Francis himself. Sample the local truffles before you leave – delicious!
Getting there: Assisi is 2 hours 15 minutes from Rome via SS3.
Take these 10 Roman road trips and get to know gorgeous Italy a whole lot better!