The 7 Outdoor Activities in Scotland
Scotland is a natural playground, full of fun, blood-pumping, and heart-thumping outdoor activities. With an abundance of mountains, lochs, islands, and valleys, it's a nature lover's paradise. The unspoilt, dramatic landscape makes even the most committed homebody itching to get out, smell the fresh Highlands air, and explore. Its beauty and diverse landscape make it the perfect place for outdoor adventure – Scotland is one of the top adventure destinations in the world, so don't let your trip pass by without making the most of it. From climbing to kayaking, here are the best outdoor activities in Scotland.
Best Outdoor Activities in Scotland, How do these rankings work?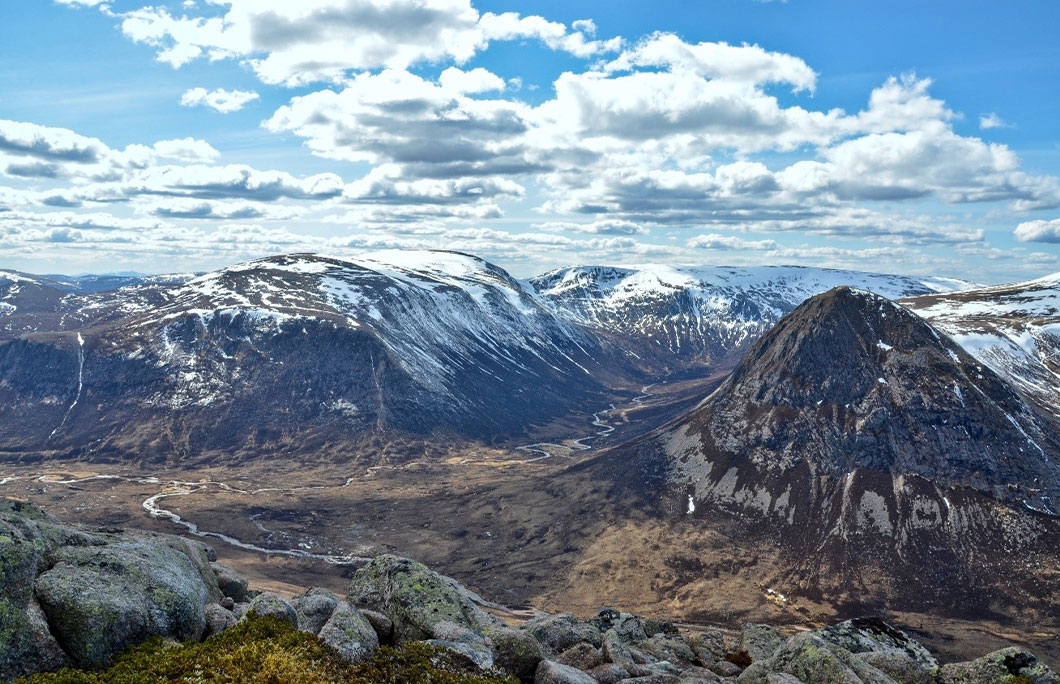 1. Bag a Munro in the Cairngorms National Park
If you really want to tick off one of the best outdoor activities in Scotland, take on the lofty heights of a Munro. A Munro is a mountain in Scotland that's over 3,000 ft – the accolade gets it name from Sir Hugh Munro, a Scottish mountaineer who published a list of the highest Scottish mountains in 1891. Reaching the peak of a Munro is a momentous accomplishment, and one that every thrill seeker and hiking enthusiast dreams of doing. You do have to have a good level of fitness and hiking ability, though – the rough terrain, occasional extreme weather, and altitude isn't for the faint hearted. However, it does come with spectacular sweeping views, an excellent work out, and a fulfilling sense of accomplishment. There are officially 282 Munros in Scotland, and 55 of those are in the Cairngorms. So, if you want to bag a Munro (or two, or three…), the Cairngorms is the place to do it. The scenery is supremely immense, from snow-topped mountains and craggy corries to smooth, rolling hills. The best Munros in the Cairngorms are Cairn Gorm, Sgor Gaoith, Braeriach, Mount Keen, and Angel's Peak.
---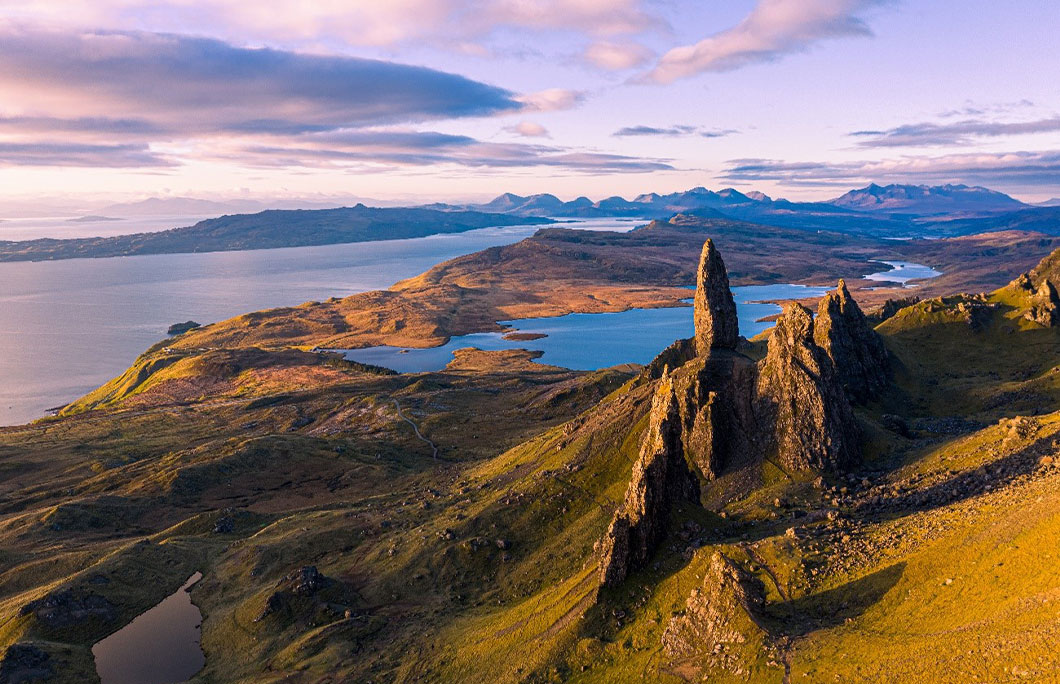 2. Sunrise Hike to the Old Man of Storr
The Isle of Skye is one of the most enchanting places in Scotland. It has a rugged wildness to its expansive landscape, with the ability to make visitors feel ant-like when facing its huge unspoiled beauty. There are spectacular waterfalls, hiking trails, and mountains to discover, but Old Man of Storr is a must-see. The Storr is a rocky hill, and the main event is a collection of large rocks jutting out of the grass – it's this unique formation that makes the visiting Old Man of Storr one of the best outdoor activities in Scotland. To make the experience even more memorable, we recommend getting there in time for sunrise. It's not a long hike, but it is steep. Let the image of watching the sun come up from this beautiful spot spur you on to reach the top – you won't regret it.
---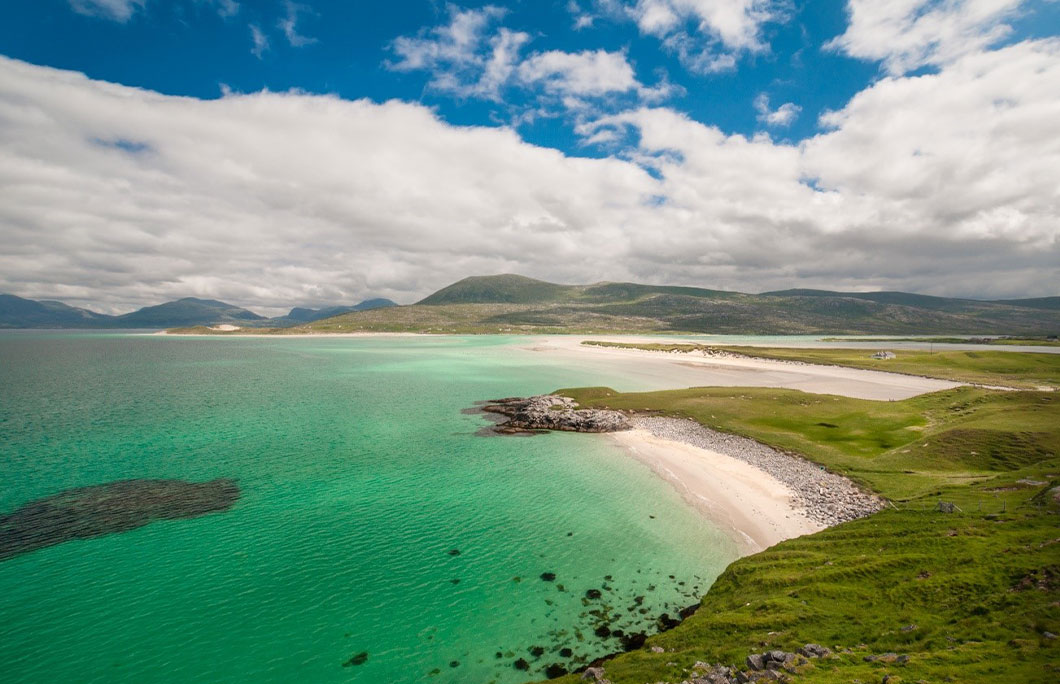 3. Sea Kayaking in the Outer Hebrides
The Outer Hebrides are a collection of paradisical islands off the west coast of mainland Scotland. The powdery white sand beaches and hilly landscape make the islands a fantastic destination for beach bums and thrill seekers alike. With over 50 remote islands to explore, it's a sea kayaker's paradise. Paddlers love coming to the Outer Hebrides for its sheltered blue-green waters, and most importantly, few tourists. Cruise around uninhabited islands and through caves with practically the whole place to yourself, finding the balance between relaxation and adventure. See the coast from a completely different perspective and stop off on islands you might not have visited otherwise. Sea kayaking in the Outer Hebrides is suitable for all levels – it won't be long before beginners are navigating the winds and waves of the North Atlantic Ocean.
---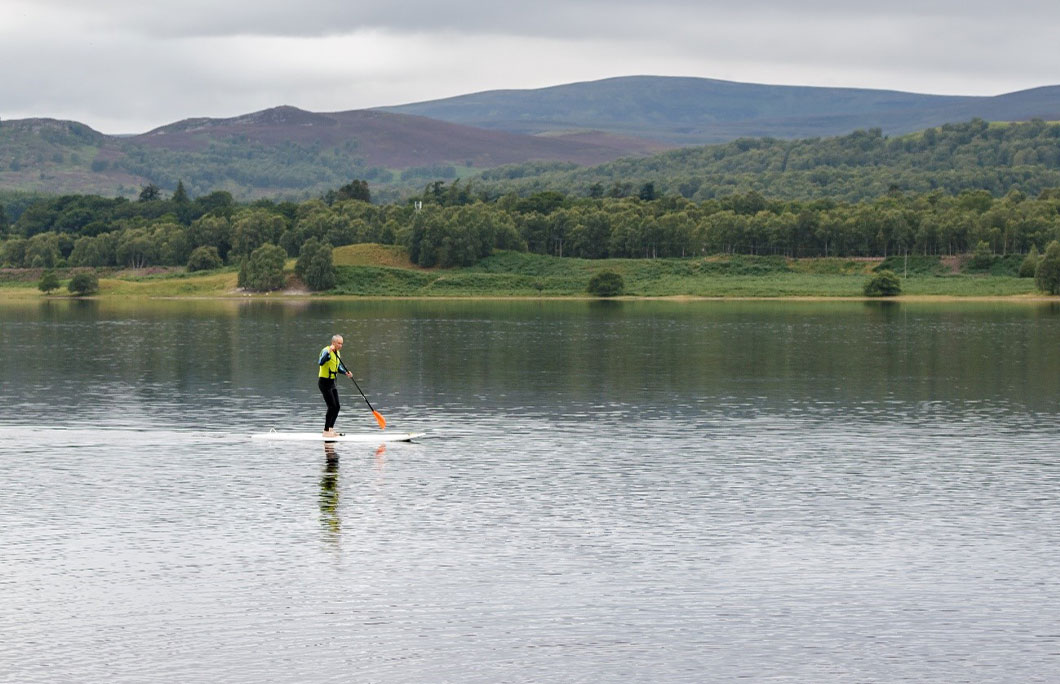 4. Loch Water Sports
Lochs are a big part of the Scottish landscape. They've been the linked to several of Scotland's mystical folklore and legends, they've been the inspiration of many poems, and they're a source of great pride for Scottish locals. A misty lake backed by sloping mountains is arguably the picture of natural Scottish scenery. There are over 30,000 freshwater lochs in Scotland, so you're never far from witnessing this special image come to life. They've also become a popular place for water sports, thanks to their calm, expansive waters. Some of the most popular loch water sports are paddle boarding, wakeboarding, windsurfing, canoeing, kayaking, sailing, and waterskiing. If you're a beginner to water sports, paddle boarding is probably the way to go – getting to see the surrounding scenery from a paddleboard is something you won't forget in a hurry. Plunging into the cold waters of a loch isn't for everyone, and it can be dangerous, so make sure you wear a wet suit in the colder months. If you go to one of the popular lochs, there will typically be wet suits to rent – there'll also likely be paddleboards, kayaks, and other water sports tools.
Here are some of the best lochs in Scotland for water sports: Loch Lomond, Loch Lubnaig, Loch Morlich, Loch Long, Loch Insh, Loch Sheil, Loch Venachar
---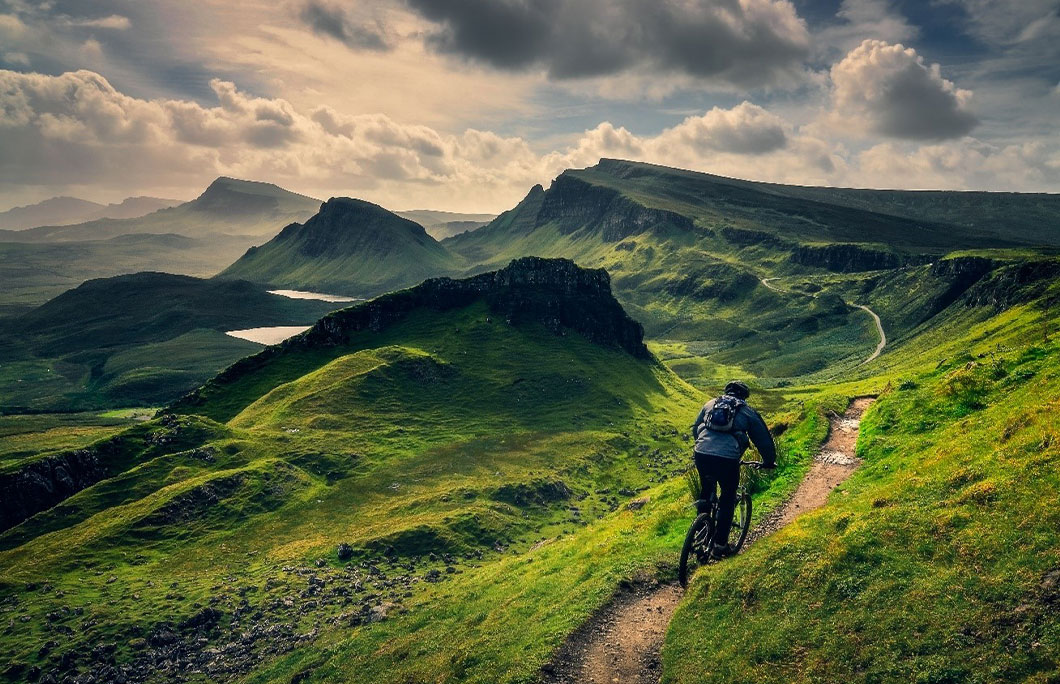 5. Mountain Biking in Glentress Forest
Some would swear that the best way to see the drama of Scotland's terrain is on two wheels. The weather might not always be on your side, but a few dark clouds add to the atmospheric moodiness of the rugged cliffs and towering mountains. And when the sun does come out and you witness lochs glittering in the sunshine and rays filling glens with light, you'll fall even more in love with mountain biking and that freedom it gives you. Darting along tracks tucked between mountains, crossing expansive verdant hills, and zipping through misty forests will soon become your favourite sport. This thrilling activity isn't for everyone at first, but Glentress Forest is the perfect place to give mountain biking a go as a beginner. There are a few cycling routes here, but the Upper Green Route isn't too challenging while still delivering on what you came for – views. Take in the incredible scenery of the Peebles, the Tweed Valley, and the beautiful surrounding hills. And while it's on the easier end, it does have its moments of 180-degree turns and narrow paths that give you a real feel of the sport.
If you have more experience mountain biking and want to try a more challenging route, here's where to go: Cairngorms National Park, Kirroughtree, Laggan Wolftrax, Comrie Croft
---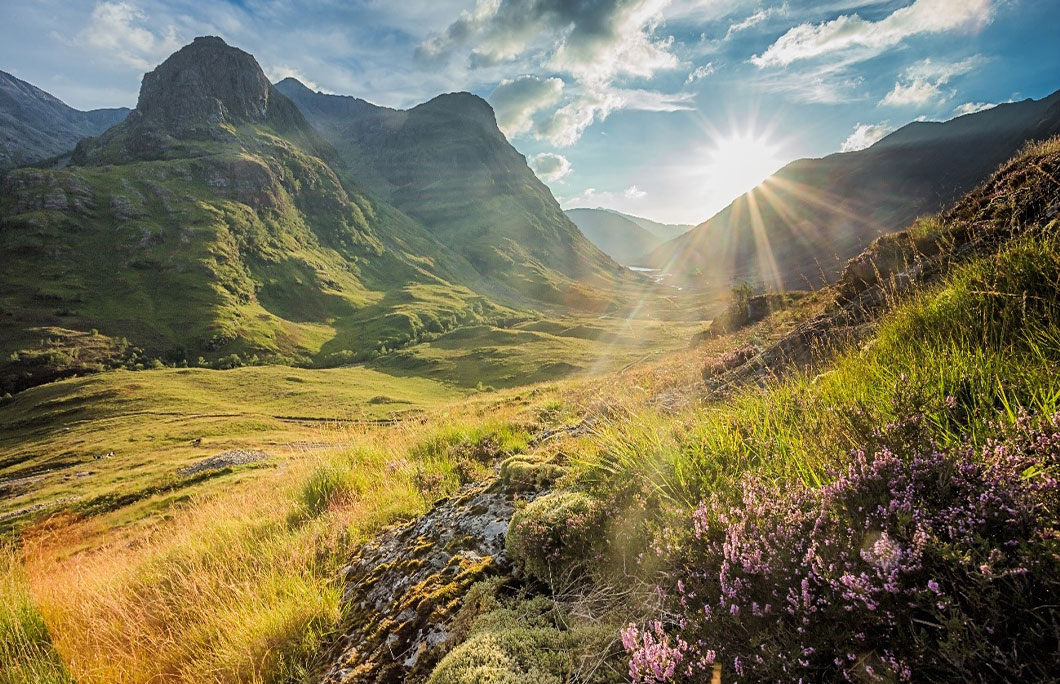 6. Hike through Glencoe Valley
The Scottish Highlands are packed with incredible valleys and hiking trails, but if you want to stick to one, let it be Glencoe. Not only is it wildly beautiful, but it's also full of some of the best outdoor activities in Scotland. There are mind-blowing hiking paths galore, but the Lost Valley trail is one of our favourites. There's stunning scenery before you even begin – you'll park in the Three Sisters car park; the views make this a destination all on its own. The path covers a distance of 4km and takes around 2 hours, so it doesn't seem too daunting in its length. However, bear in mind that it is tricky in parts, and there is scrambling up smooth rocks involved. You'll pass by waterfalls, cross bridges, and walk along narrow paths with open edges, until it finishes in the expansive Lost Valley. The huge, open space is flanked by sloping mountains. If you can handle the icy temperatures, Glencoe 'Meeting of the Three Waters' Waterfall is a brilliant place to finish off the hike and shock those hardworking muscles with a cold plunge. It's around a minute up the road from the Three Sisters car park, and the natural infinity pool that sits atop the waterfall has incredible views across the valley.
Other popular hikes in Glencoe Valley: Pap of Glencoe, Buachaille Etive Mor, the Devil's Staricase
---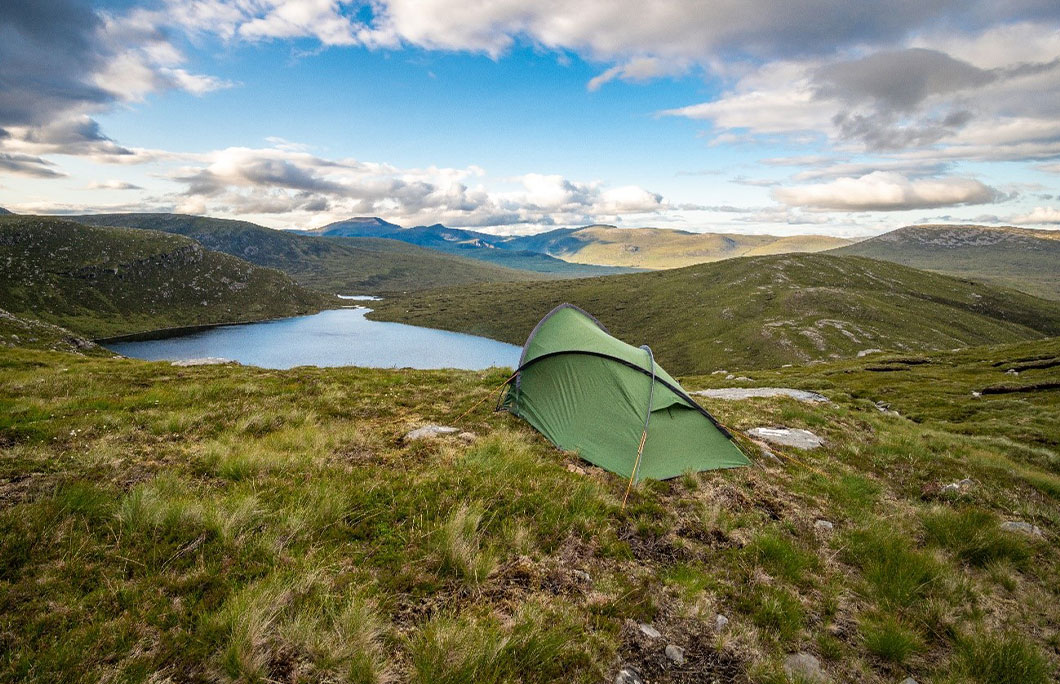 7. Wild Camping
While wild camping is adventurous, it's not the kind of adventure that gets your blood pumping. Quite the opposite – wild camping is one of the most relaxing things you can do. And luckily, Scotland allows wild camping pretty much anywhere. Just make sure you follow the Scottish Outdoor Access Code. Follow these (very straightforward) guidelines and everyone will be happy campers. Essentially, the code requires visitors to leave their campsite as they found it, respect the people, wildlife, and environment around you, and follow fire safety rules when cooking or warming yourself up. When you've got the practicalities down, you can enjoy all that wild camping in Scotland has to offer. There are dramatic landscapes galore – nothing beats waking up to desolate lochs, shimmering bays, or rugged mountains. So, pack your stuff and immerse yourself in this unique mix of adventure and utter bliss.
Seeing as it's permitted across the country, there are tonnes of spectacular spots to pitch your tent. A lot of the best wild camping spots require a hike to get there, so be sure to take the length of the walk and level of difficulty into account when packing your tent and supplies. Here are some of the best places to go wild camping in Scotland: Ben Lomond, Ben Donich, Loch Awe, Lealt Falls, Glen Etive, Quaring, Barrisdale, Peanmeanach Beach, and many more.
---