Top 10 Scenic Road Trips from Dublin
Cliffs of Moher
Howth
Glendalough
Belfast
Rock of Cashel
Wicklow Mountains
Newgrange and Hill of Tara
Connemara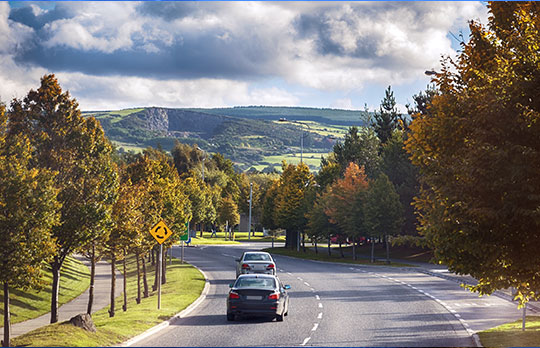 Top 10 scenic drives from Dublin
Dublin. You know it's got soul. For those in the know, the Republic of Ireland's iconic capital isn't just one of the world's best party cities ‐ it's also a literary capital, historical hotspot and (at least for some) an international catalyst for the collapse of imperial power during the 20th century. Packed with gorgeous Georgian buildings and bisected by the River Liffey, the best part of Dublin is it's people ‐ whether they're telling tall tales in Temple Bar pubs or charming you with craic in cafes and restaurants, the Dubs' gift of the gab always makes you feel welcome.
Great things to do in Dublin include strolling through the hallowed halls of Trinity College (in particular the Old Library Long Room), grabbing a pint of the black stuff from the source at the Guinness Storehouse Gravity Bar (after learning how the famous brew is made), and gazing at masterpieces from Van Gogh, Goya, and Caravaggio at the National Gallery of Ireland. And if you fancy combining drinking and literature, a Dublin literary pub crawl takes you to the beloved beer and gin-soaked haunts of legends like Joyce, Wilde, Beckett, and Behan.
Last but not least, Dublin is well connected to the rest of the Republic and Northern Ireland, which makes it the ideal place to hire a car and discover the magic of the rest of the Emerald Isle.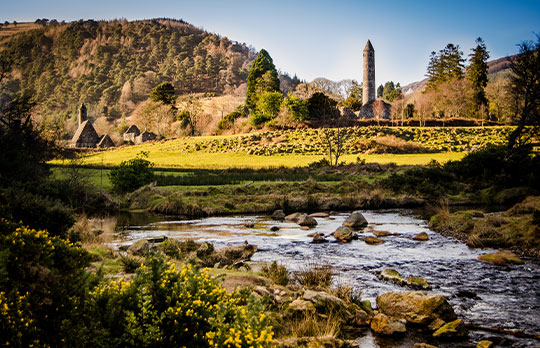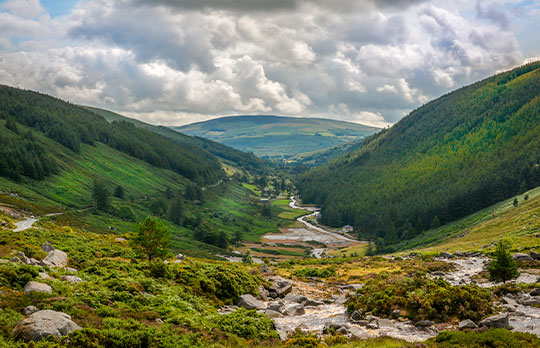 Top tips on driving in Dublin
Your top 10 road trips from Dublin will be here in two shakes of a shamrock. But let's take in some useful driving tips first.
First off, the Republic Of Ireland might be in the EU, but you drive on the left of the road here, just like in the UK.
Once you head out of Dublin, some of the country roads can get narrow, so drive cautiously, especially on bends and uphill sections. And look out for farm animals like sheep wandering across the tarmac too!
As long as it's sufficient for the size of your travel party, it's a good idea to hire a smaller car in Ireland ‐ they make narrow, winding roads easier to navigate and parking much less tricky.
Wear your seatbelt, never drink and drive, and observe the speed limit ‐ it's 30km/h in some residential areas, 50km/h in built-up areas, 80 km/h on local and regional roads, 100km/h on national routes and 120km/h on motorways.
Let's hop behind the wheel for those road trips!
Cliffs of Moher
Three hours' drive from Dublin via the M6 (over in the west) the Cliffs of Moher are a must-see on any trip to Ireland. When you reach these dramatic cliffs cascading 214m down into the Atlantic, you'll instantly understand why they're the Emerald Isle's most popular natural attraction ‐ their sheer scale and serene beauty is simply staggering. Take a bracing stroll along the clifftops and you'll see the Arran Islands and rock stacks popping up out of the sea.
Howth
Fancy a super-quick road trip to a picturesque fishing village? Howth is just 30 minutes away via R807 and R105 and this rugged peninsula is a cracking place to recharge your batteries. Apart from meditative walks, highlights include the medieval ruins of St Mary's Abbey and Howth Castle and Gardens, and the town's packed with cute craft boutiques and boho antique shops. If you've got your golf clubs with you, the greens at Howth Golf Club and Deer Park are ready and waiting.
Cork
Time for a road trip to another terrific Irish city. Cork is around two hours and 45 minutes from Dublin via the M7 and M8 and it has a whole vibe of its own. Cool things to do here include ringing the Shandon Bells at the top of St Anne's Church, visiting Cork City Gaol, and taking in the jaw-dropping scenery at Mizen Head, on the tip of the entire island. Cork is also a great place to catch live music, at hip venues like Cyprus Avenue, Con and Maura's Bar and De Barra's Folk Club.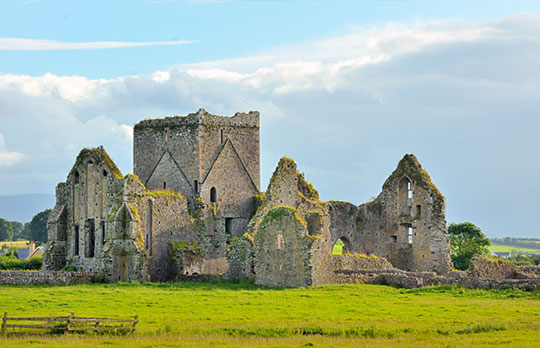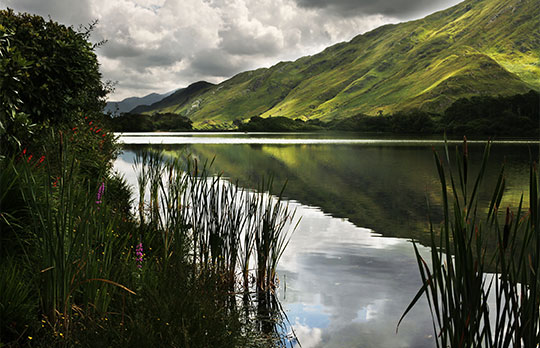 Glendalough
Just one hour down the M50 and R55 from Dublin, Glendalough in Co. Wicklow is another great Irish road trip. There's a whole load of history here ‐ St Kevin lived as a hermit at the Glendalough monastic site (which in its prime had seven churches) and hiking the upper and lower lakes is always popular. If you want to veer a little off the main route on your way here, drive through Sally Gap to see Lough Tay ‐ nicknamed 'The Guinness Lake' because it's owned by the famous brewing family and has a bank of white sand resembling the creamy top on a pint of stout.
Belfast
The capital of Northern Ireland might be in another country, but at just one hour and 45 minutes away via M1 and A1, Belfast is a marvellously manageable road trip from Dublin. There are lots of awesome attractions here, including Titanic Belfast, located beside the Titanic Slipways and Harland and Wolff Drawing Offices intimately associated with the tragic ship, and beautiful Belfast Cathedral, a centre for worship in the city for over 100 years. It's also a great place for entertainment, with top venues like the Grand Opera House and events like the Belfast International Arts Festival.
Rock of Cashel
How does a two hour trip via the M7 and M8 to the 'High King of Irish Monuments' sound? The Rock of Cashel has a commanding position on a limestone outcrop in the Golden Vale and the scared monuments found here include a 15th-century tower house, the Hall of the Vicars Choral, an abbey, Gothic cathedral and Romanesque chapel. This is the ancient seat of the kings of Munster, where legend has it that St Patrick converted King Aenghus to Christianity.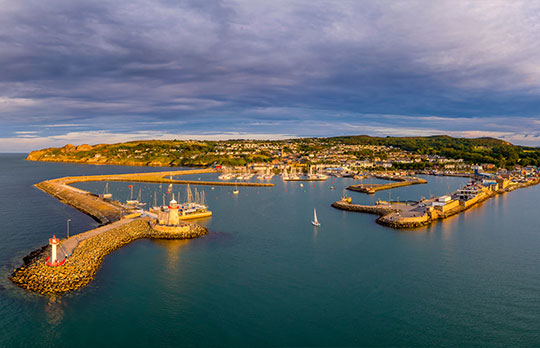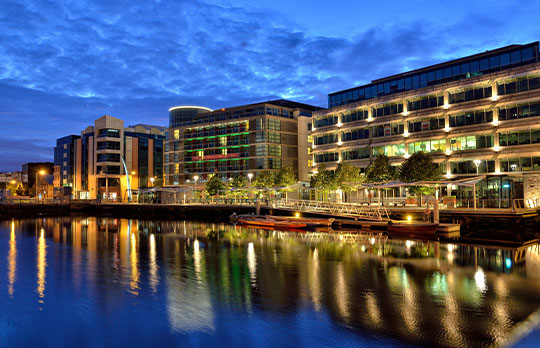 Ready for a weekend away from Dublin in some legendary countryside? Galway is just over two hours west via the M6 and it's definitely a top-notch road trip destination. Known as the 'City of the Tribes' because of the 14 families who controlled local affairs from the 13th to 19th centuries, Galway is criss-crossed with canals and boasts brilliant historical attractions like the 16th century Lynch's Castle. It's also a musical capital and you'll see lots of mega-talented buskers plying their trade in the streets of the lively Latin Quarter.
Wicklow Mountains
The Wicklow Mountains are just one hour south of Dublin via R115 and there are lots of scenic drives through these peaks once you get there. One of the best is the Wicklow Gap, which runs east to west from Laragh to Hollywood, with highlights including the panoramic viewing platform at the top of the gap and the serene Pollaphuca Reservoir on the west side. If you want to park up your car and take on some of the peaks on foot (with the right gear on), there are 20,000 hectares to explore!
Newgrange and Hill of Tara
Newgrange is just 40 minutes from Dublin via the M1, so it's an easy day trip with lots to see and do -particularly if you're an ancient history buff. At Donore, the UNESCO World Heritage Site of Newgrange and Knowth bears testament to how sophisticated the local forefathers were 5000 years ago, with their advanced knowledge of astronomy, while the Hill of Tara is the seat of the Kings of Ireland ‐ by far the most important focus of power in pre-Christian times. For sheer amount of history per square inch, it doesn't get much better than this.
Connemara
Around three hours from Dublin via the M4, Connemara is another great weekend road trip destination. What's there to do there? Plenty as it happens. For starters, you can drive the Sky Road, a 20km scenic loop near Clifden, the largest town in the area, then pop into the town proper to explore its welcoming pubs and bijou boutiques. Meanwhile, Dog's Bay Beach is on of Ireland's most idyllic and unspoiled, and Letterfrack is a charming fishing village in the Connemara National Park. For something a little different, hop on the ferry to Inishbofin Island for dramatic Atlantic views and historic ruins.