Cannot decide whether to choose Agadir Vs Essaouira?
Agadir and Essaouira are two cities along Morocco's Atlantic coast that are known for sun, sand and surf. Agadir is a much larger city and attracts lots of tourist during the winter months who want to escape the cold and enjoy a beach holiday. Essaouira, on the other hand, is a much smaller city and attracts water sports enthusiasts who make the most of region's the windy conditions. Agadir has more of a beach resort feel, whilst Essaouira has more of a boho, artsy vibe. Both cities are full of charm but are different in character. If you can only visit one of these beach cities, our handy guide on Agadir and Essaouira should help you decide which one to pick.
Agadir Vs Essaouira: How to Choose Between the Two
Overview – is Agadir or Essaouira better?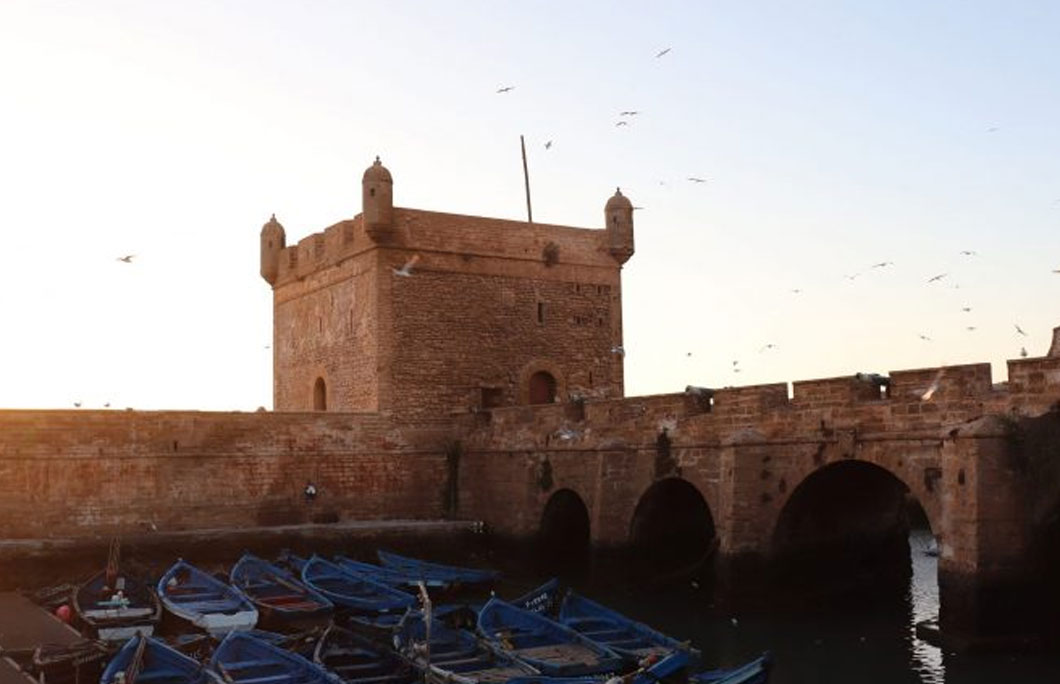 Agadir is a large resort destination along Morocco's southern Atlantic coast. Due to its year-round warm weather, it is popular for winter sun holidays and it is warmer here in the winter than it is in Essaouira. The vibe is laid back with people here to have fun in the sun. During the daytime, people lazy on the beach, take to the water for a swim, surf or sail and hang out in the buzzy beach clubs. The beachfront is populated with lots of lively bars, pubs, cafes and restaurants. At night, there are plenty of places to party.
When it comes to sights and attractions, there are some interesting museums and outdoor spots for nature lovers. You'll also find souks and streets that you can stroll around for hours discovering all their charms. The city attracts a lot of honeymoons who come for the beautiful beach and high-end resorts, surfers who come for the waves and families who come for a relaxing seaside holiday.
Essaouira is a port city, also located on Morocco's Atlantic coast. It is two and a half hours drive north of Agadir. It too is a very popular beach holiday destination, however, the winters here aren't as warm as Agadir and it is winder. This is why it is quite popular with windsurfers and kitesurfers. The vibe here is totally chilled out, more so than Agadir. This is because it is a much smaller city and attracts a different type of traveller. You'll find a lot more backpackers here. Much like Agadir, the daytime is for hanging out on the beach and in the water.
As for sights and attractions, there are a handful of cultural sites in and around the medina plus lots of souks too. The city has history and heritage hotspots too like the Bab El Marse port and its displayed cannons.
In terms of population, Agadir is much larger than Essaouira, so if you are looking for a city with a more intimate feel, Essaouira might suit you better. However, if you are looking for lots of things to do and the buzz of a bigger city, Agadir would be better.
---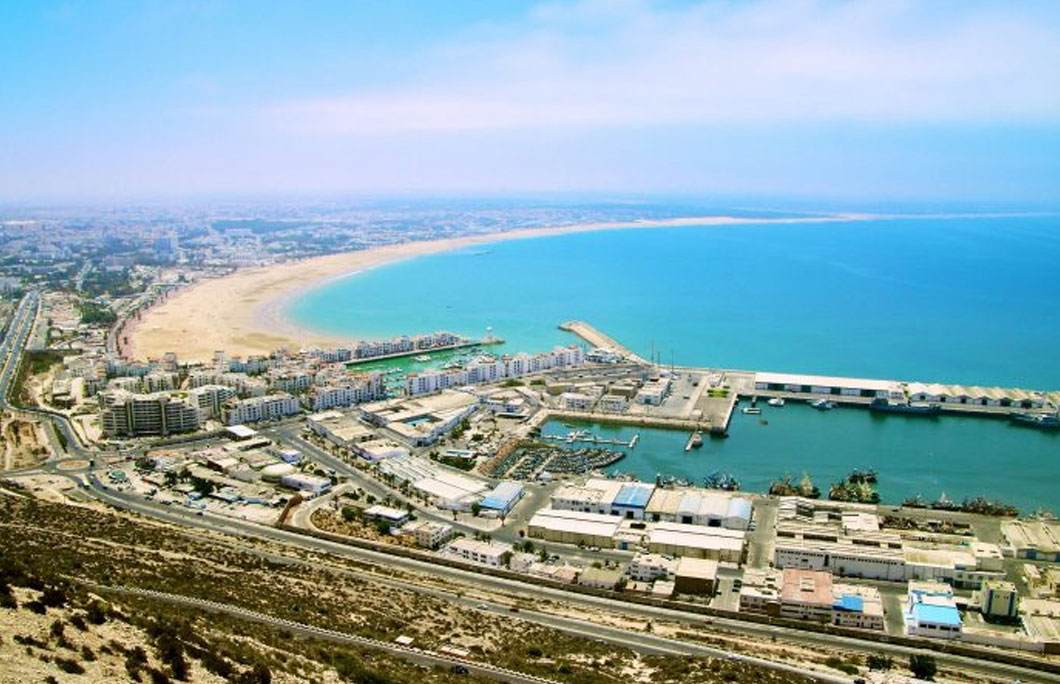 Agadir
The old city of Agadir was almost completely destroyed by an earthquake in 1960. So the city you see now is a rebuilt modern resort destination, but the remnants of the past are visible. From the main tourist zone, where the hotels are located, everything is within walking distance. The city is easy and pleasant to explore on foot. However, if you need to give your feet a rest, there is a small tourist train that goes from the centre of Agadir and takes you around the city sights, for instance, the beach and the rebuilt medina.
Most people come to Agadir for its sandy beach and amenities, watersports and excursions. The pretty beachfront is lined with palm trees and places to eat and drink and chill out. You can also walk along the beach from the Kasbah (old fortress) to the Royal Palace. There are great views from the Kasbah.
If you want to check out some of the cultural offers, the Museum of Amazigh Culture (Musée Municipal du Patrimoine Amazighe d'Agadir) is a wonderful place. In the museum, you'll learn about the Amazigh people (Berbers) and their influence on Morocco and its culture. If you have an interest in astronomy, the University Museum of Meteorites is fascinating and good fun too. Kids will love it. Another kid-friendly thing to do is to visit the Agadir Birds Valley. This is a pretty little park and zoo in the middle of the city.
If you are looking for a great place to soak up the sights and sounds of the region spend some time strolling around the Souk El Had.
---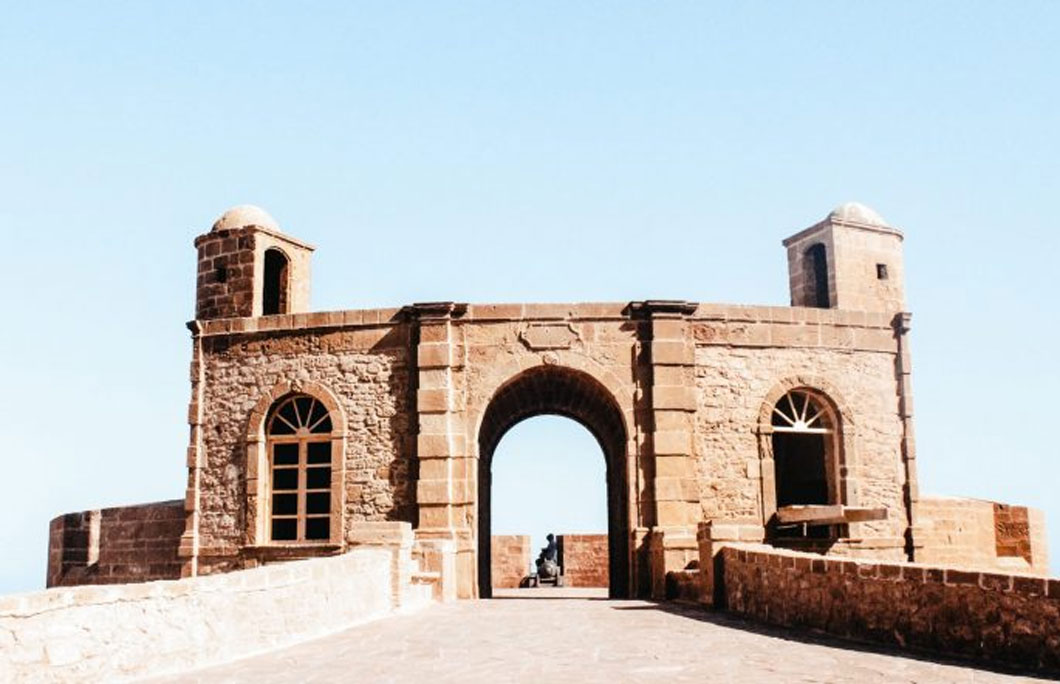 Essaouira
A former Portuguese city, Essaouira is an ancient port with a UNESCO-listed media, impressive marquetry and a beautiful beach that stretches out over 10km. Essaouira is a citadel that has been occupied by various civilizations since prehistoric times. Plenty of this history is still evident. Today, the city is a cradle for artists and also attracts Game of Throne fans as a few episodes were filmed here.
The main landmarks of the city are its fortified walls and medina. A stroll around both will leave a lasting impression. The ramparts were built in 1760 to protect the port from raiders. They are impressive and imposing and the cannons are still intact. As you explore be sure to stop and admire the sea views. The UNESCO-listed media is a labyrinth of laneways and streets filled with delightful surprises and scented by spice. It is a tranquil and atmospheric place to spend the day strolling, browsing, shopping, eating and drinking.
The beachfront promenade is a lovely place to hang out and so too is the fishing port. Here you'll find some welcoming places to enjoy a thé à la menthe marocain, Moroccan mint tea.p>
---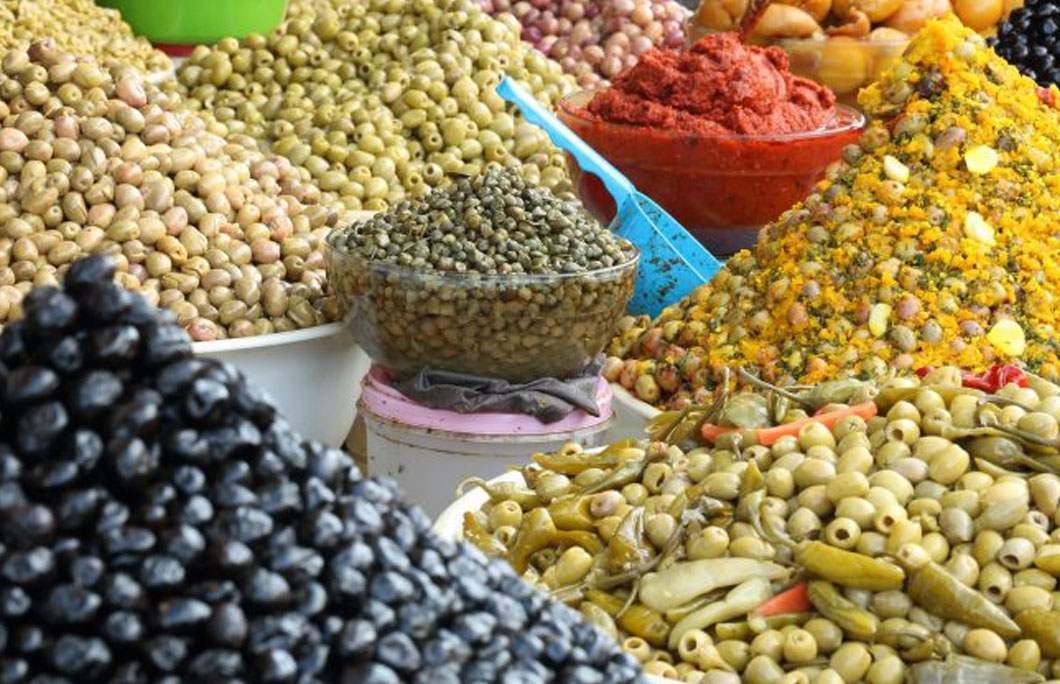 Both Agadir and Essaouira have plenty of restaurants serving food from around the world. However, there is a lot more choice in Agadir by nature of it being a much bigger city. However, both cities have great cafes and restaurants where you can try the local cuisine especially in the markets and along the seafront. Due to high taxes, alcohol is expensive in Morocco. For alternatives, order coffee, mint tea and freshly squeezed orange juice, all of which are cheap and served everywhere.
Boulevard du 20 Aout in Agadir has a great selection of restaurants, but, if you want to try more local food and restaurants, head to the residential area of Talborjt. For a real taste of the region, grab a table with an ocean view and dine on the local seafood smothered with chermoula sauce.
When in Essaouira, head to the port for some fantastically fresh seafood restaurants. The local way to cook fish is over a wood fire.
In both cities, if you want to eat local, order couscous, tagines and enjoy lots and lots of olives.
---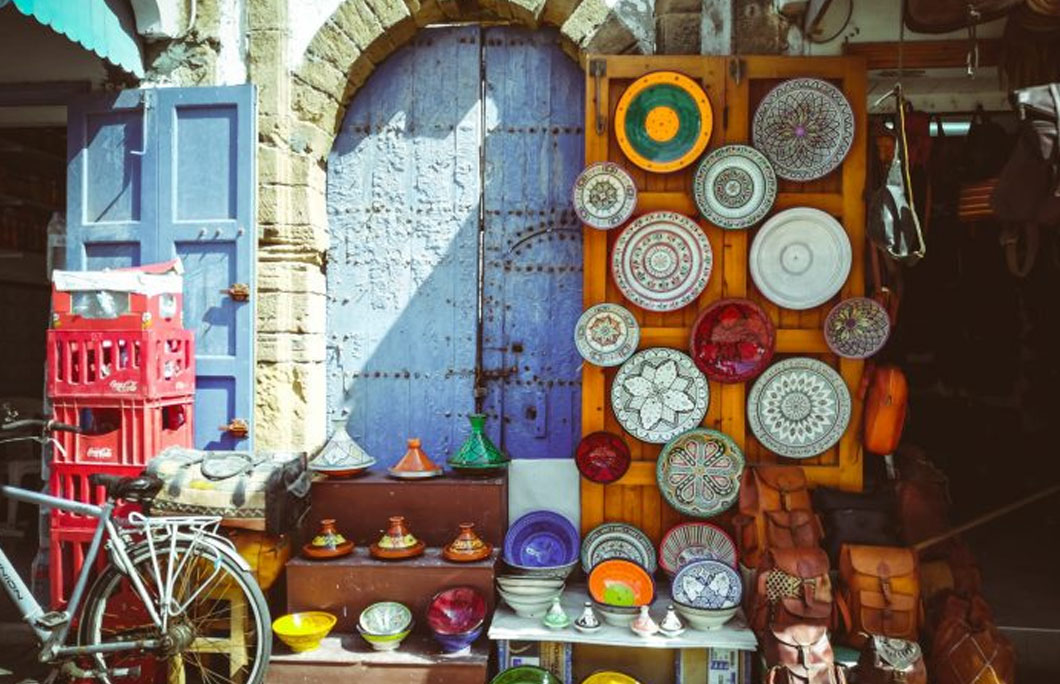 In Agadir, the Souk Al Had street market is one of the largest in North Africa. With more than 6,000 stalls this is a great place to shop for souvenirs and local handicrafts. It is open every day except Monday with some stalls closing on Friday afternoons.
In Essaouira, the best places to shop are in the souks in the medina. All along the streets, you'll see people selling spices, olives, ceramics, leather bags, colourful tagines and lots of clothing and shoes.
---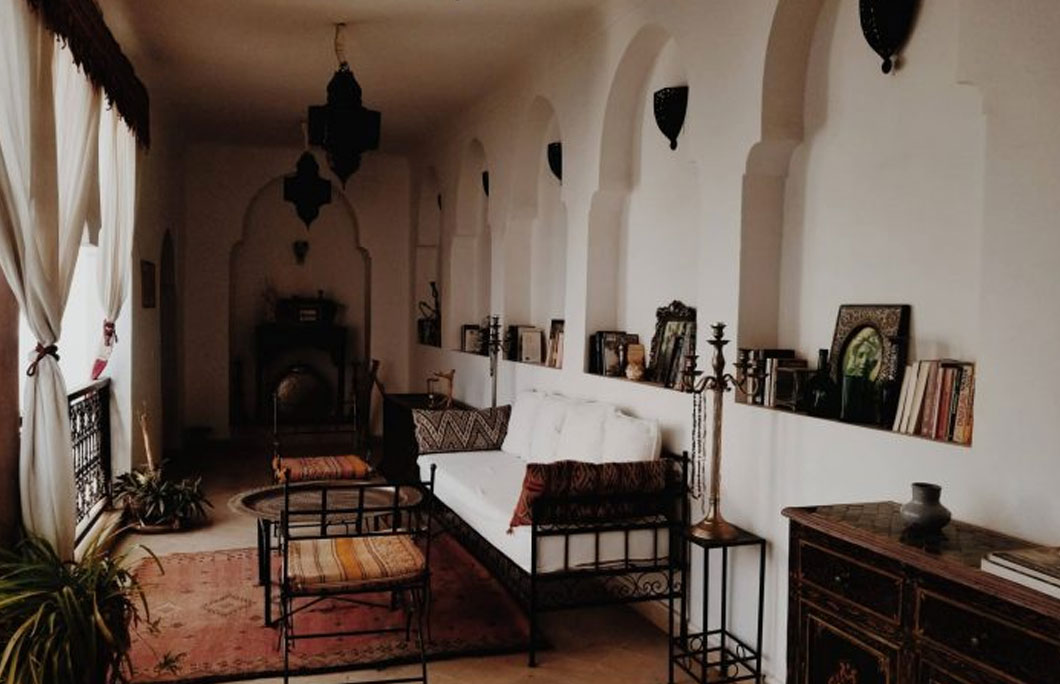 Agadir is well-geared up for tourism and has a range of accommodation styles from hostels to five-star all-inclusive resorts. Most of the tourist accommodation is located in the Touristic Zone close to the beach. If you would like to stay somewhere a little less touristy, look for accommodation in the lovely Swiss Village neighbourhood. The area of Founty is where you'll find the high-end resort hotels.
Essaouira has some lovely riads (traditional Moroccan homes), boutique accommodation and luxury hotels. The medina is one of the best places to stay for its charm and attractions. You'll find the more high-end hotels along the beachfront. For an alternative to the medina, try the new town (ville nouvelle) where you'll find affordable small hotels.
---
Agadir has a subtropical desert climate with hot and dry summers and warm winters. Winters are warmer in Agadir than in Essaouira. The hottest months are June, July and August. August has an average daily maximum temperature of 31°C and an average low of 20°C. February is the chilliest month with an average daily maximum of 20°C and an average low of 9°C. Between June to October sea temperatures average 23°C, so this is the best time to come if you want to do lots of water activities. But with 300 days of sunshine, Agadir is a year-round sunny destination. Agadir has less windy conditions compared to Essaouira and is therefore warmer.
Essaouira has a moderate climate. This means summers are cool and winters are mild and rainy. With an average high temperature of 22.1°C (71.8°F) and an average low of 17.4°C (63.3°F), September is the warmest month. However, Essaouira gets very windy during the summer which gives the city much cooler temperatures. An ideal month to visit Essaouira is October. This is when the wind is low and temperatures sit comfortably between 20 and 25ºC (68 to 77°F).