Where are the best beaches in the world
With summer vacations just a hop and a skip away, we've all got one thing on our minds – the beach. So, for some seriously wanderlusty reading, we've released our annual "50 Best Beaches in the World" rankings using aggregated stores from previous media results, official Blue Flag locations and contributions from the editorial team. Whether you're in the market for a secluded sandy stretch or a buzzing beach party, you're sure to like the look of a fair few of these beaches. Consider this your essential vacation guide…
---

---
50. Koekohe Beach – New Zealand
The scenic, sandy beach at Koekohe is mostly famous for one thing – the Moeraki Boulders. The mysteriously round stones scattered across the beach weigh several tonnes and took millions of years to form. Early morning and late afternoon are the prime times for photography when brilliant soft sunlight is cast across the rocks.
---
49. Mystic Beach – Vancouver Island, Canada
Canada might not immediately spring to mind when you think about beautiful beaches, but with some 15,000 miles of beaches, it should do. Mystic Beach, located on the southern coast of Vancouver Island, is one of its most enchanting. Set along the Juan de Fuca Trail, the white sandy beach is set against a lush forest, with a picturesque waterfall cascading right into the brilliant blue sea.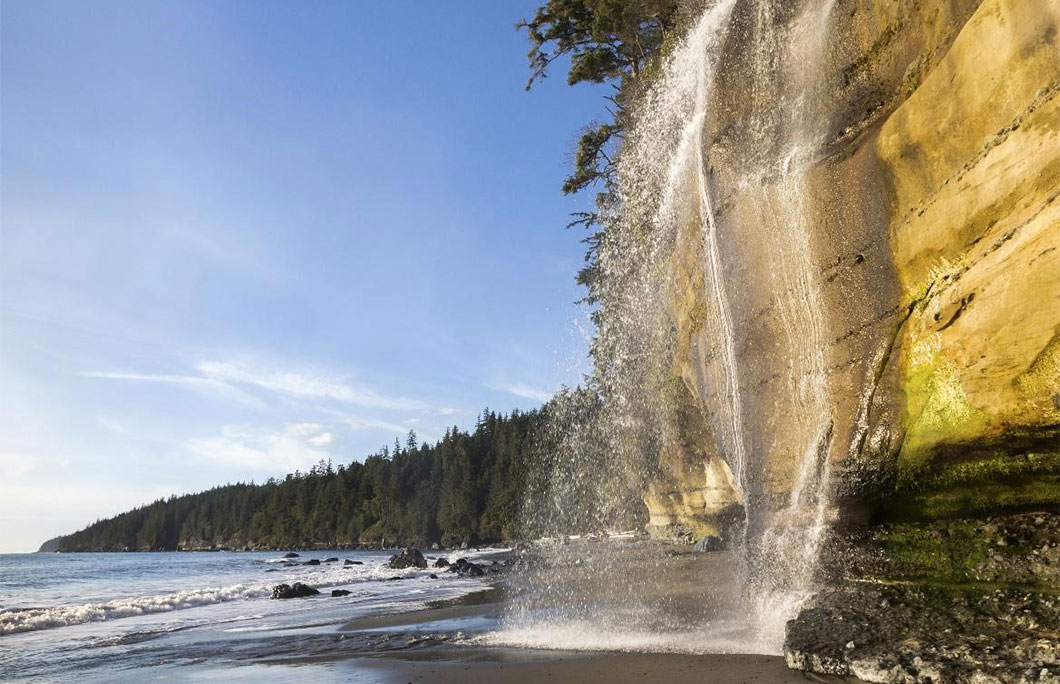 ---
48. Keem Bay – Achill Island, Ireland
Keem Bay is a breathtaking rural and sheltered beach surrounded by cliffs on Ireland's largest island – Achill Island. Its gleaming white sand rivals tropical islands and the water is superbly clear. The sun might not always be shining, but when it does it's world-class. And yes, it's beautiful even on a rainy day.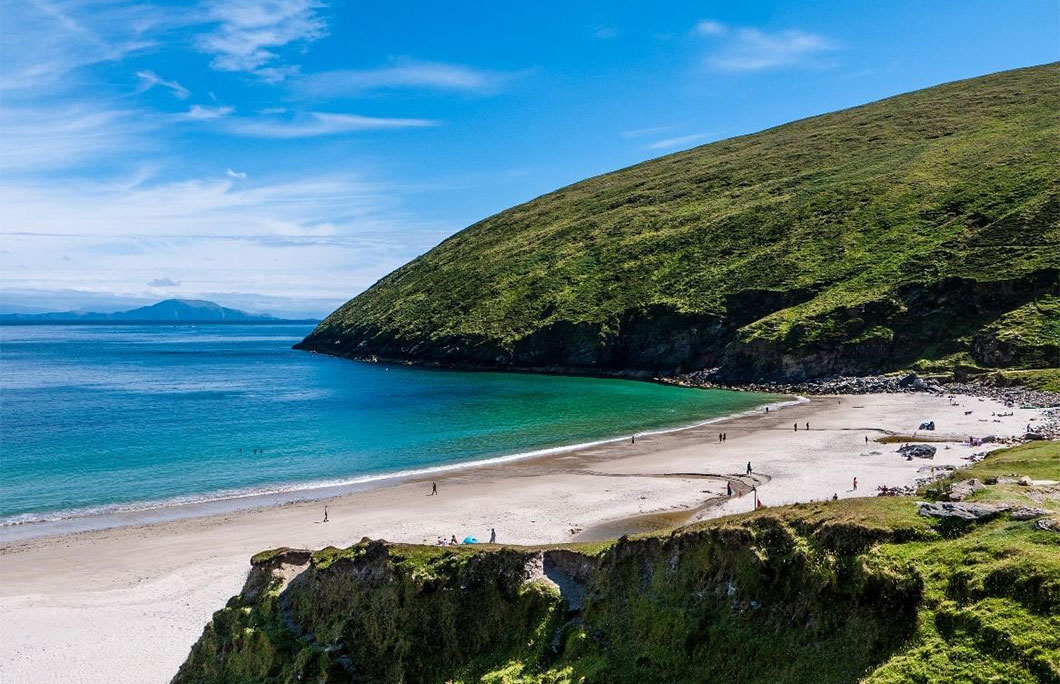 ---
47. Isla Robeson – Panama
For castaway fantasies, it doesn't get much better than Isla Robeson. Many claim it's where Robinson Crusoe's famous protagonist was shipwrecked. Think crystal clear waters, swaying palm trees and talc-soft white sands. To reach the San Blas Islands, it's a scenic 4×4 car ride to Carti, followed by a 20-minute boat ride.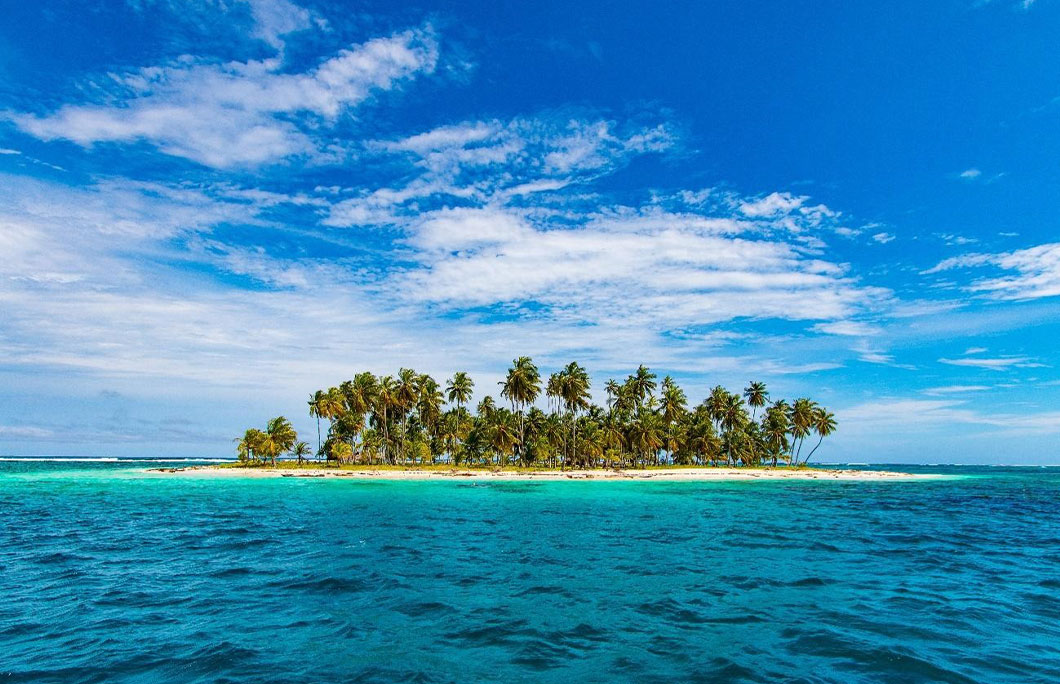 ---
46. Tugboat Beach – Curaçao
A great beach doesn't always have to mean white, powdery sands. Sometimes it's about the vibe, and Tugboat Beach is a big tick in that department. The pebbly cove is lined with cute beach shacks and bars with a hippy, artistic atmosphere. It's famous for its art shacks, where you can paint your own souvenirs. And as the name suggests, there's a shipwrecked tugboat that makes this beach an excellent snorkelling spot.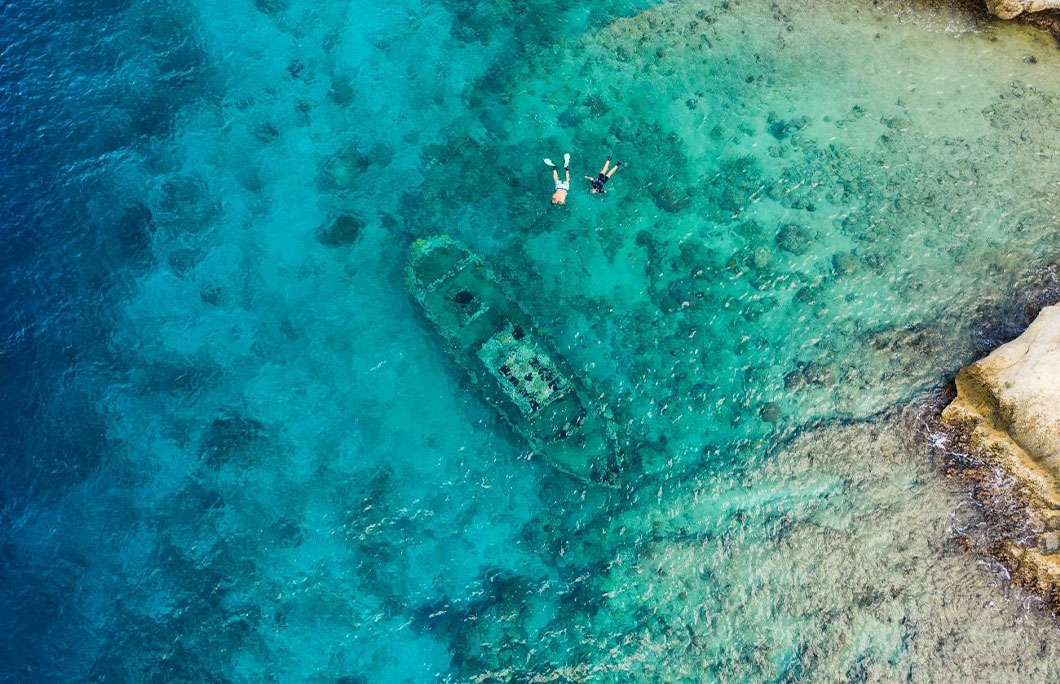 ---
45. Yonaha Maehama Beach – Japan
Set on the little-known island of Miyakojima, Yonaha Maehama Beach is a pristine seven kilometres stretch of white sand, lapped by clear, crystalline waters. And, while it might look like the stuff of desert island fantasy, there are plenty of facilities and activities to enjoy here too.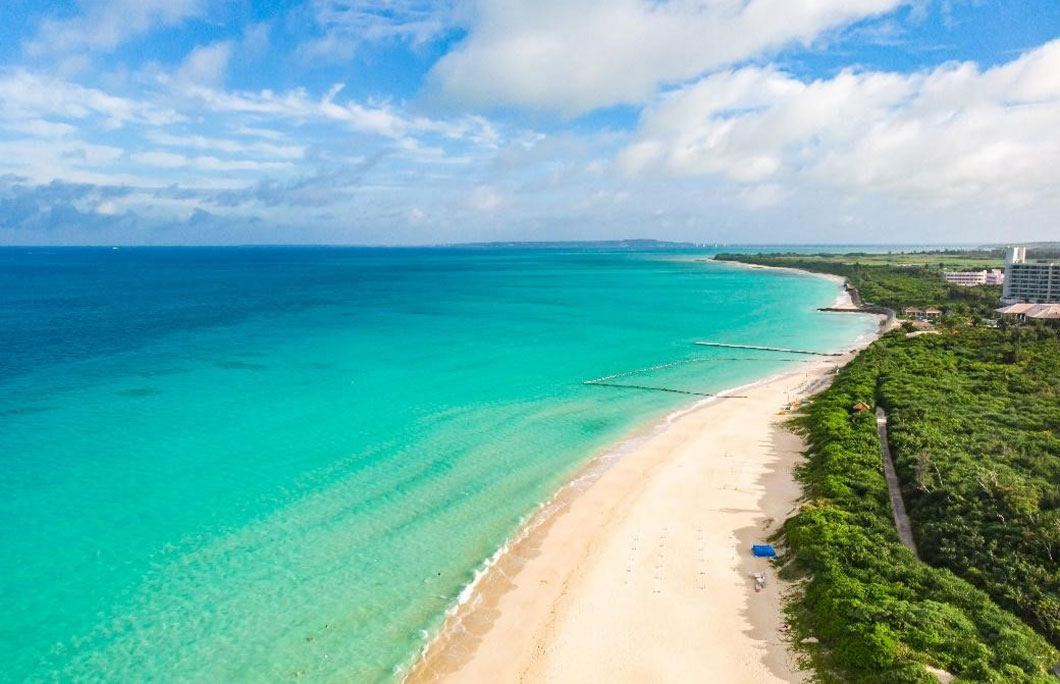 ---
44. Punta del'Este – Uruguay
Come summer, Uruguay's favourite beach is rolling in fun-loving celebrities, but mere mortals like us can enjoy it too. Technically, it's two beaches – Playa Mansa and Playa Brava. The former offers course blonde sand while the latter is mostly white sand. A giant sculpture of a half-buried hand with fingers peeking out of the sand divides the two beaches.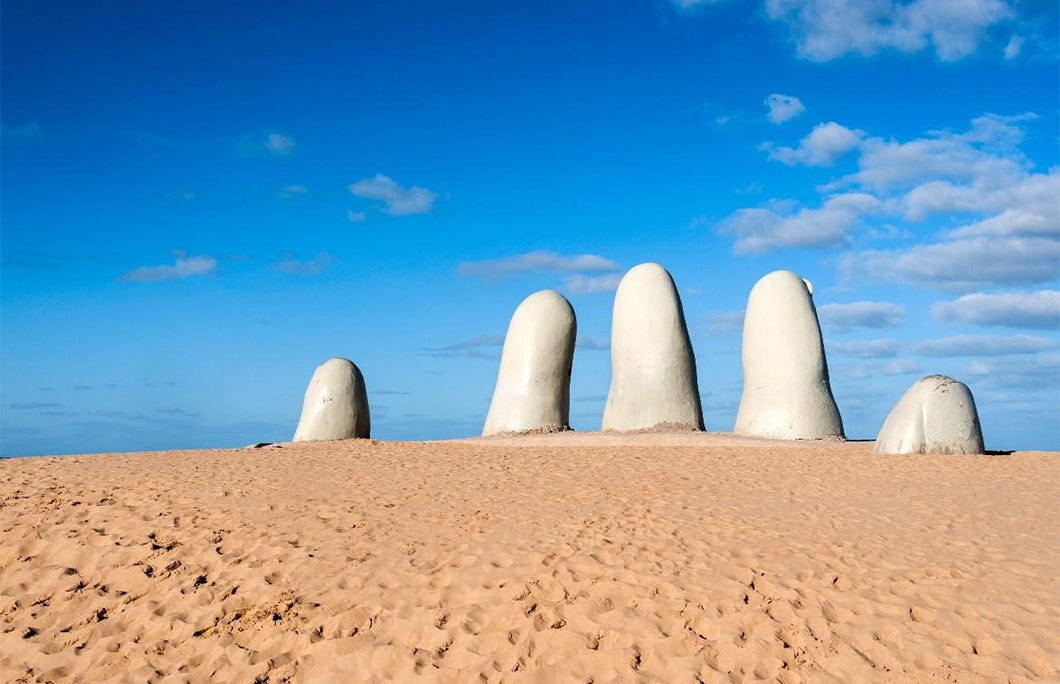 ---
43. Maundays Bay – Anguilla
Maundays Bay might be more modest in size than Rendezvous Bay and Shoal Bay, but it more than makes up for its diminutive scale with its white-sand shores and clear, azure waters. This is picture-perfect Caribbean territory. For an extra special outing, head here at night to see the glittering lights from neighbouring St. Martin Island. It's beautiful.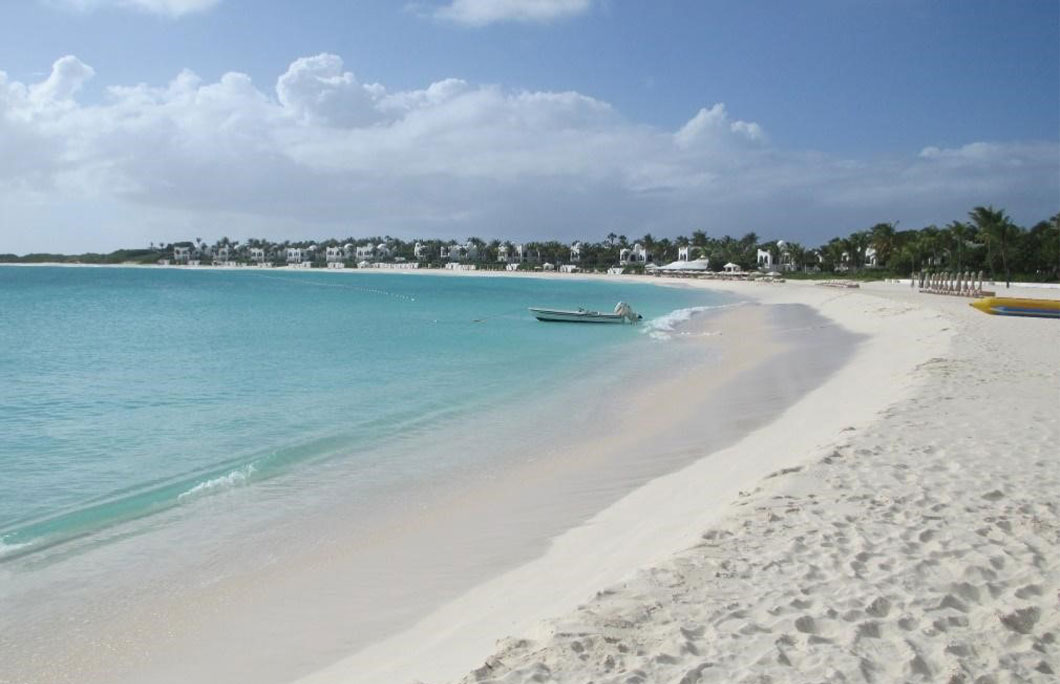 ---
42. Rhossili Bay, Swansea, Gower - Wales
Three miles of golden sands await you in the Gower Peninsula of Wales. It's a bit of a hike down a steep cliff-top path to get there (and even harder to get back up), but all good things require a bit of effort. It's a popular surfing spot, or you can just relax and enjoy the beach – it's kept pristine under the watchful eye of the National Trust.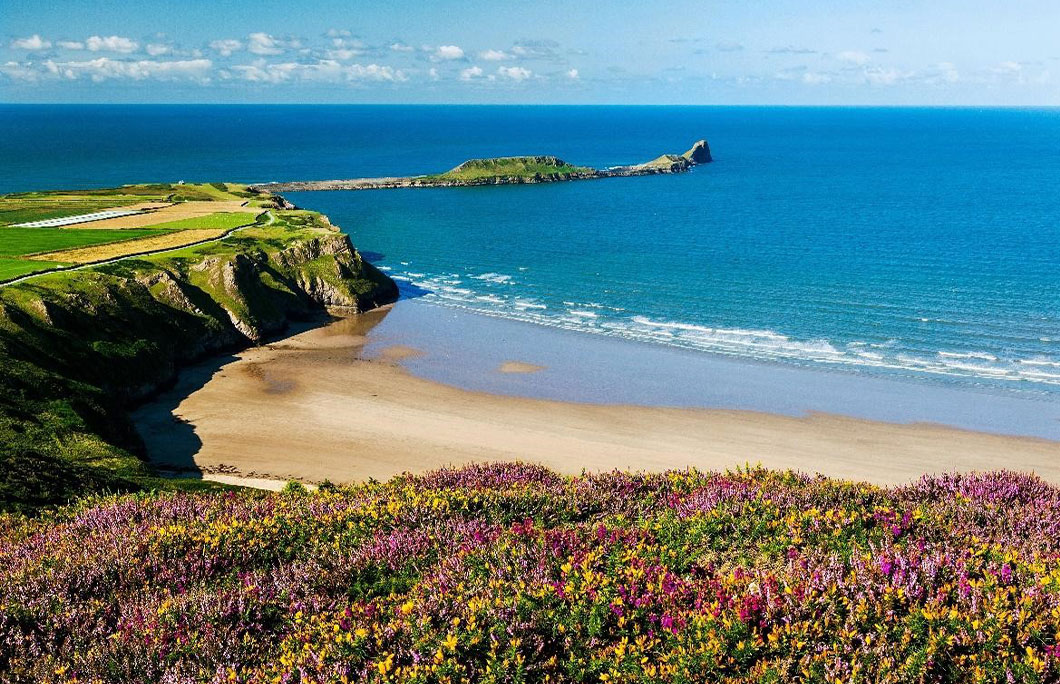 ---
41. Dream Beach – Nusa Lembongan, Indonesia
With a name like 'Dream Beach', you know to expect big things. And this small cove in Nusa Lembongan doesn't disappoint. When the tide is in and the current's particularly strong, the turquoise waters cloak the whole of the white sands – you can watch from the swings or the beach bar. When the tide goes out, you can explore the rock pools. Wander over to nearby Devil's Tears for sunset and watch the thunderous waves crash against the rocks.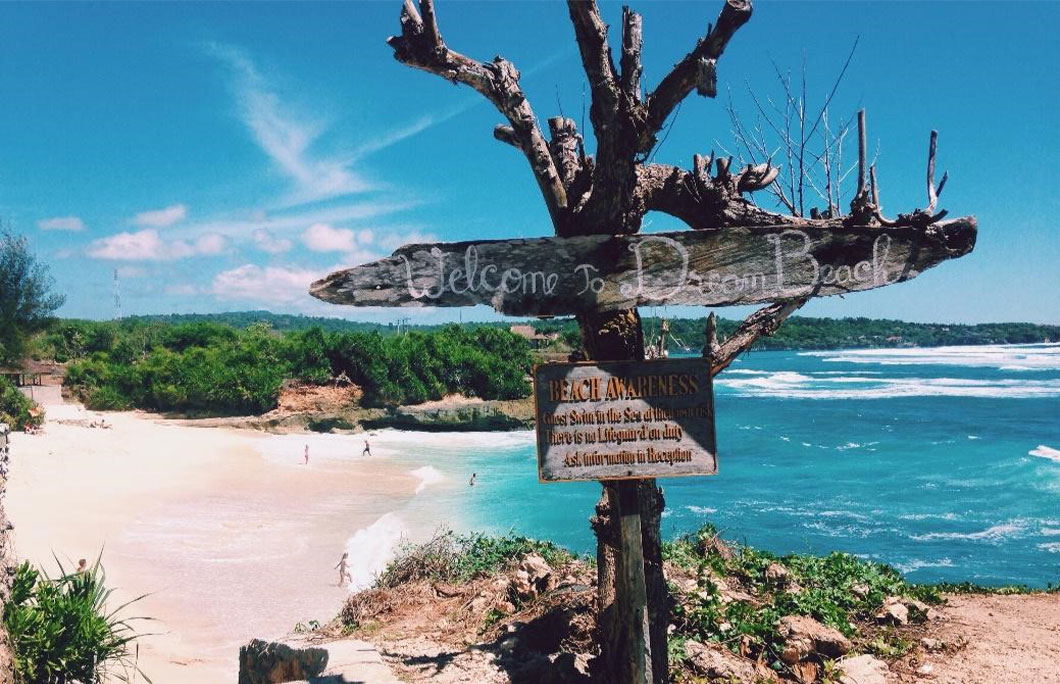 ---
40. Champagne Beach – Vanuatu
One of the world's most picturesque beaches, this spot has clear blue waters and sparkling sand. Once you've worked up an appetite for swimming, you'll be grateful for all those fresh fruit stalls, freshly prepared crab and lobster and cute beachside shacks too.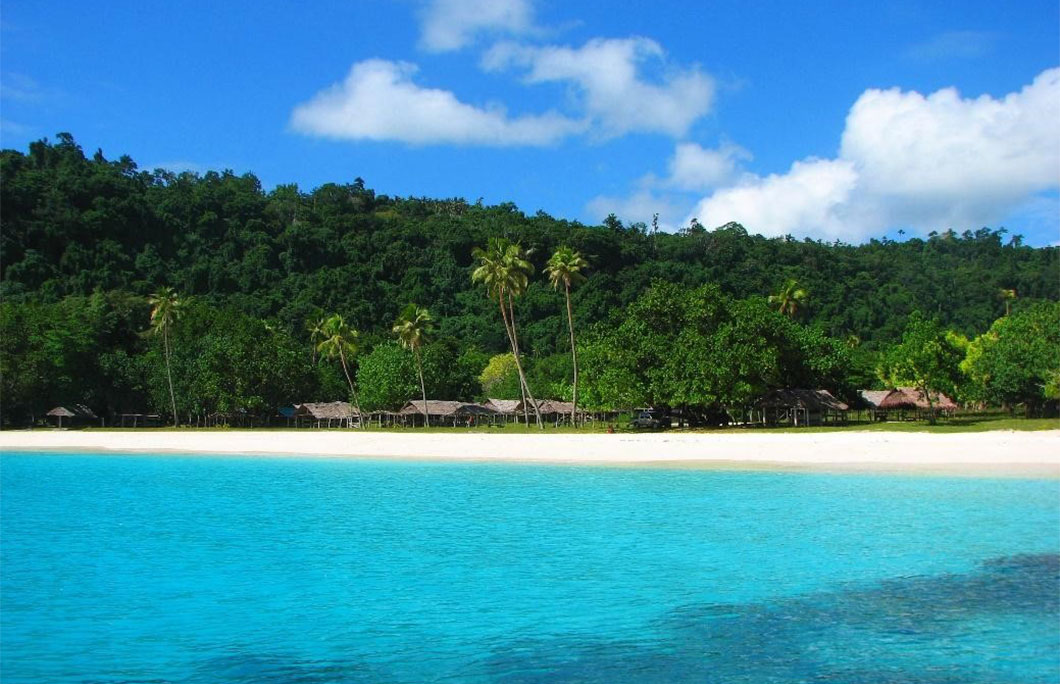 ---
39. Grumari Beach – Brazil
Copacabana and Ipanema might get all the fame, but those in the know hotfoot to Grumari Beach. Backed by bottled green rainforest, the beach boasts fine golden sands and emerald-green waters.
---
38. Pig Beach – Bahamas
This Insta-famous beach is all over social media. No one knows quite how the pigs got there since Big Major Cay in the Exumas is uninhabited and pigs aren't native to the island, but there's no doubt about it – they're here now! You can book a day trip boat ride to see this beach's pristine waters and swim alongside piglets.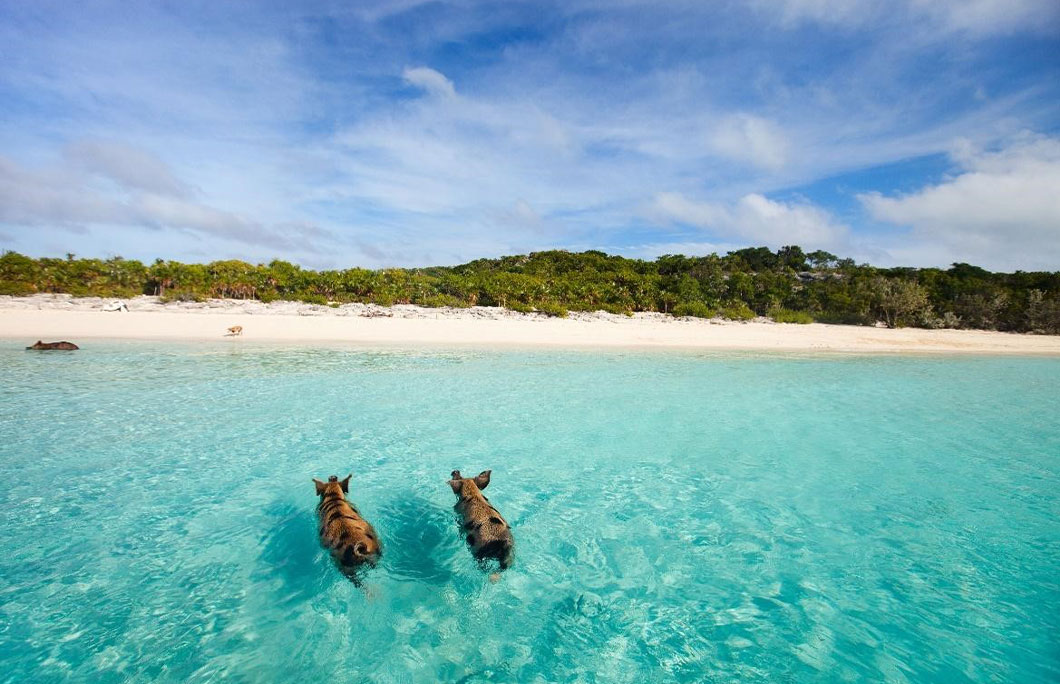 ---
37. Barceloneta Beach – Spain
It might be the most popular beach in Barcelona, but this busy stretch of sand perfectly captures the energy of the city. It's not the most authentic, in fact, it's entirely manmade – its golden sands were shipped over from Egypt. However, it's heaps of fun with music, beach bars, and volleyball, and it's surprisingly clean for a city beach.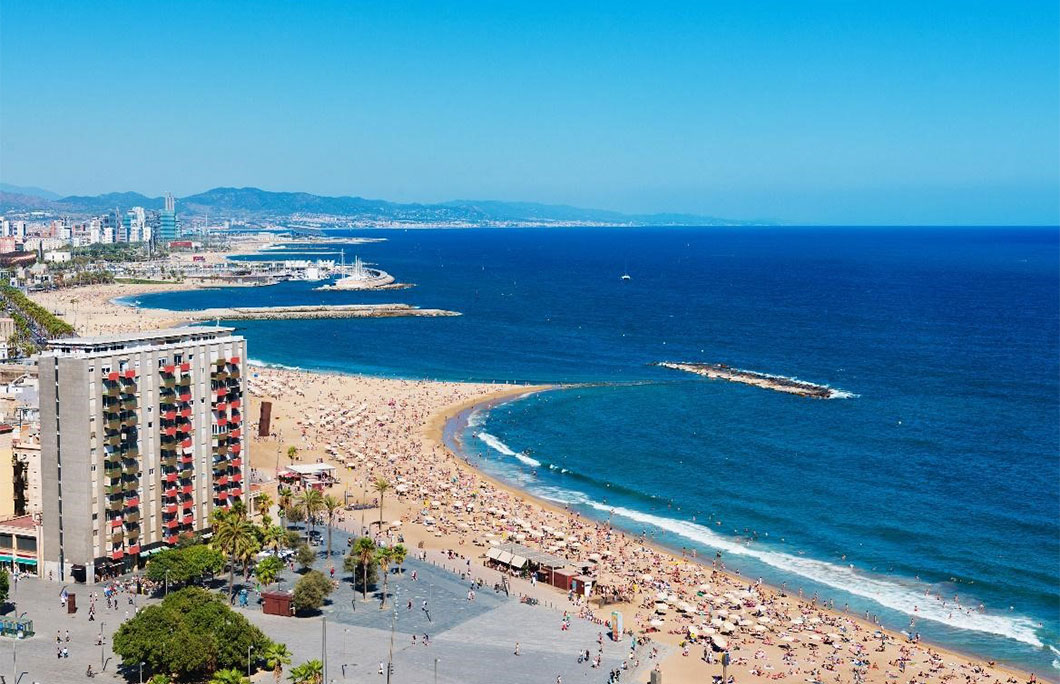 ---
36. Le Morne – Mauritius
This long golden stretch sits under the majestic Le Morne mountain on the southwestern tip of Mauritius. Combining miles of white sand with soaring casuarina trees surrounded by turquoise waters, it's one of the island's most stunning sights. It's popular with windsurfers and kite surfers too.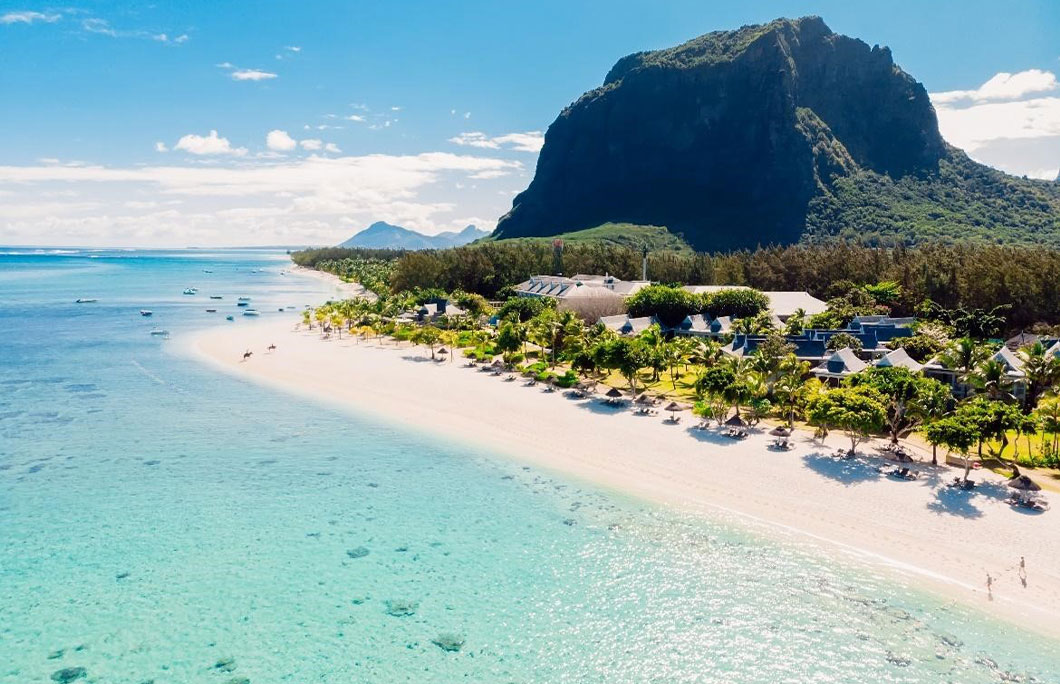 ---
35. Naama Bay – Egypt
Set right in the heart of Egypt's blockbuster beach resort, Sharm el-Sheikh, Naama Bay offers golden sands and wildlife-rich azure waters of the Gulf of Aqaba. In the far distance, you can see Saudi Arabia's craggy coastline. There's a real otherwordly feel to this beach that has us hooked.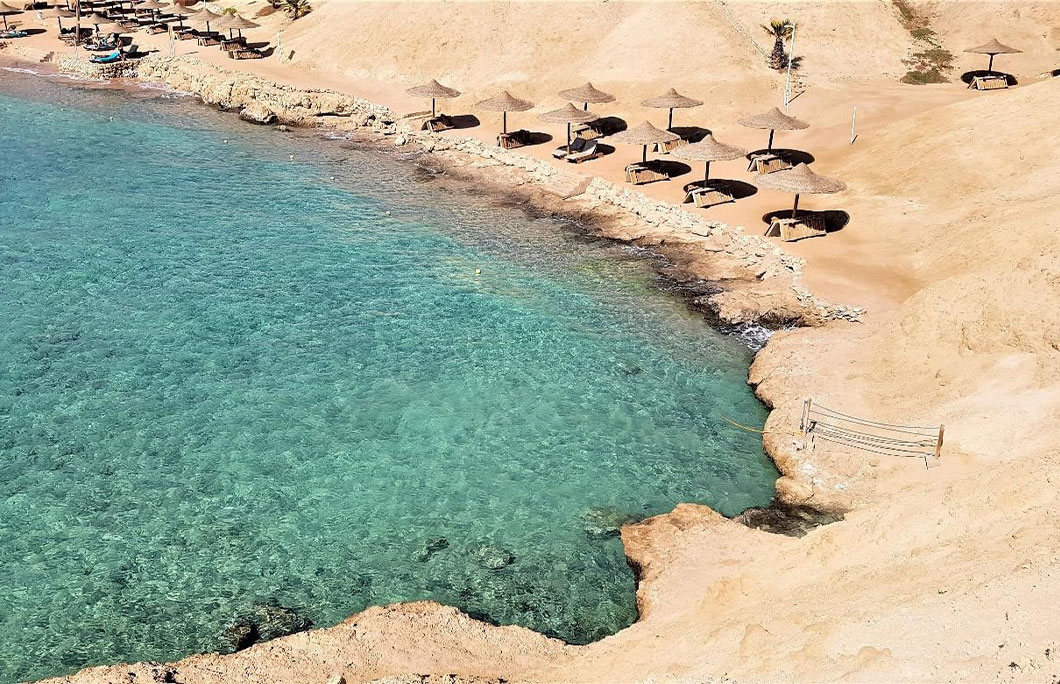 ---
34. San Fruttuoso – Italy
It might not have swaying palm trees or rolling dunes, but it does have a Benedictine monastery. It's an intimate pale pebbled beach, squeezed between turquoise waters and lush mountains. Like most of the best things in life, you'll need to put a bit of legwork in to enjoy it though. It's a two-hour hike or thrilling boat ride from ritzy Portofino.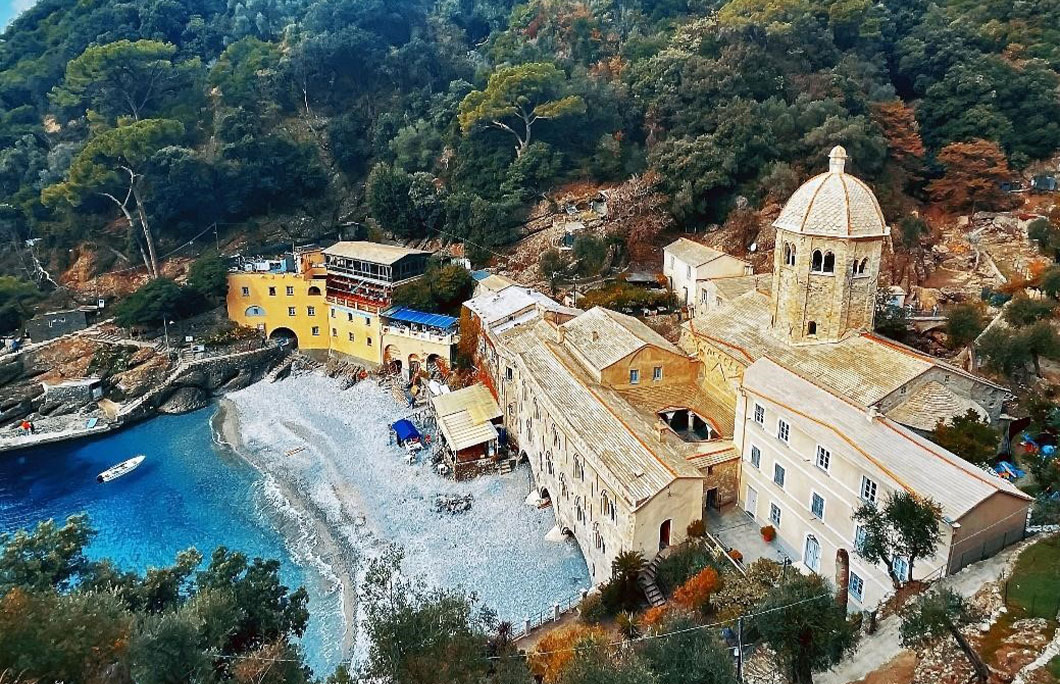 ---
33. Cala Pregonda – Menorca, Spain
The whole of this easternmost Balearic Island is a UNESCO Biosphere Reserve, so there's beauty at every turn but Cala Pregonda is something special. Unlike most of the country's white sandy beaches, this endless stretch has a rusty hue that compliments the still, turquoise waters.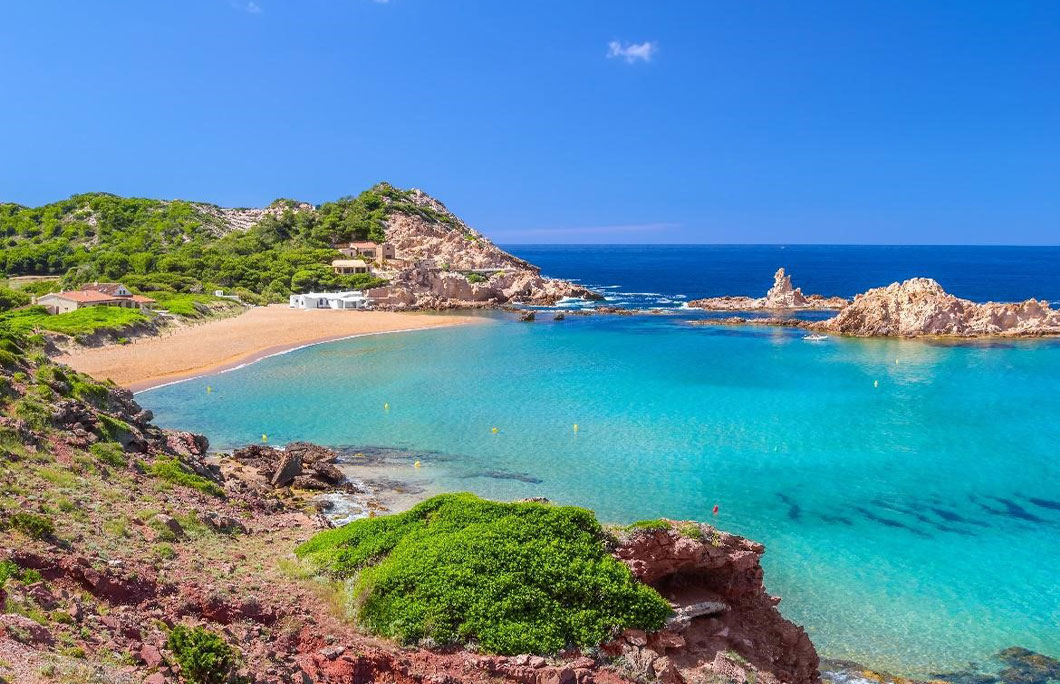 ---
32. Boulders Beach – South Africa
Boulders Beach is more famous for its inhabitants than its sandy stretches. A whole colony of as many as 3,000 African Penguins nest on the beach. The best time to see them is during the summertime. The cool, clear False Bay water and rock pools are an added bonus.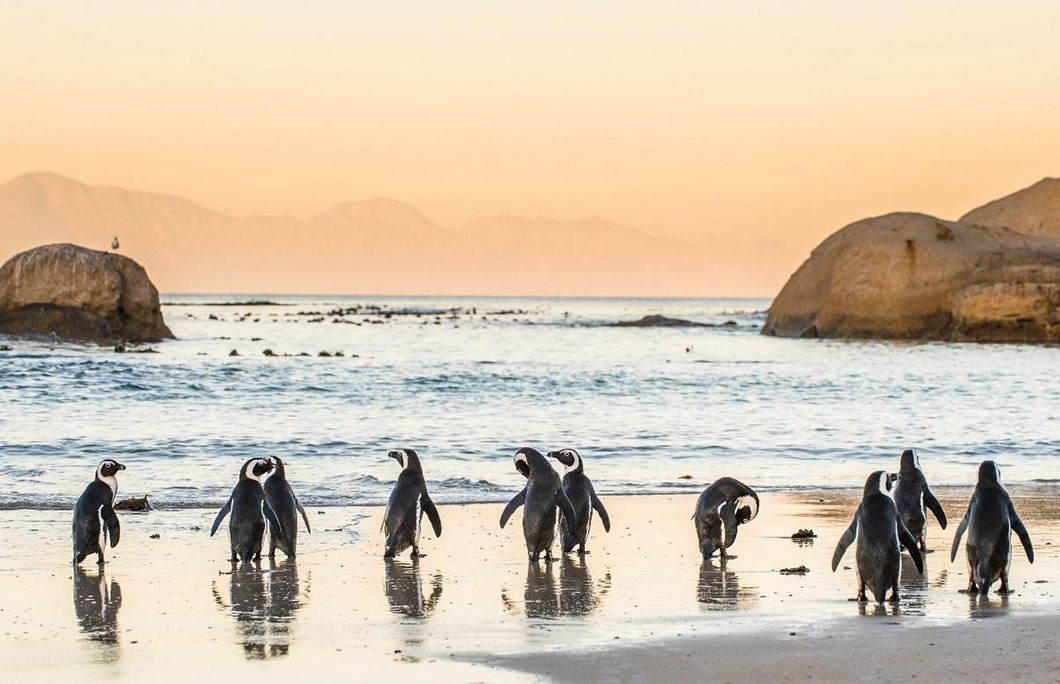 ---
---
31. Railay Beach – Thailand
Combine a world-class rock-climbing destination with soft white sands, emerald waters, and enormous limestone cliffs, and you have Railay Beach. The dreamy destination is a short boat trip from Ao Nang in Krabi, but being hard to reach hasn't discouraged the tourists. Despite being busy, it's still incredibly beautiful.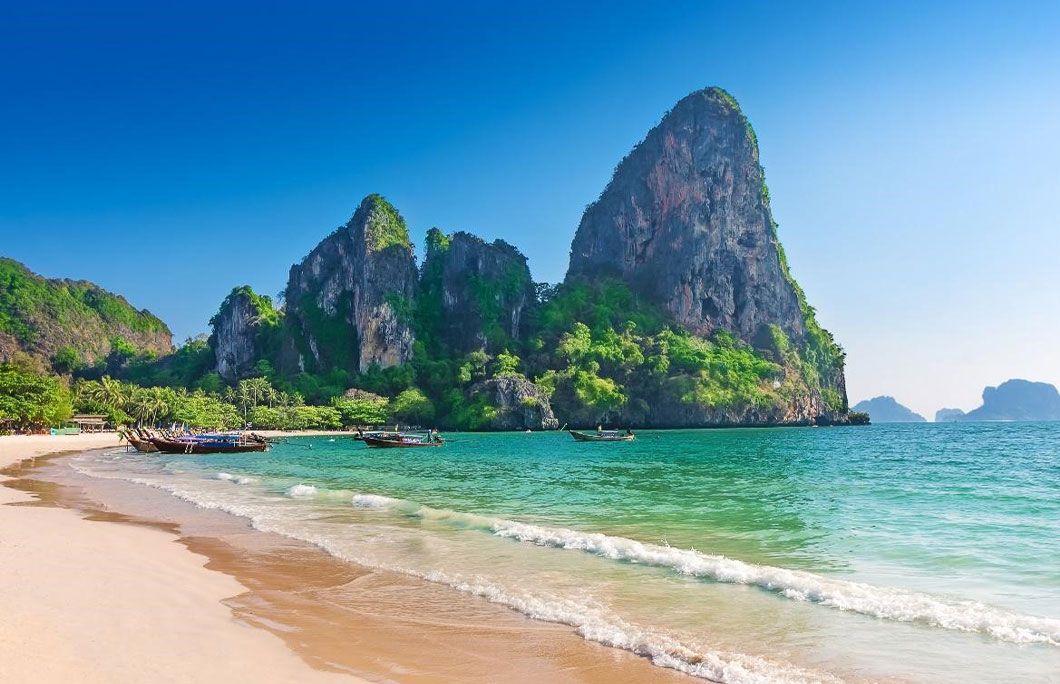 ---
30. Secret Lagoon – El Nido, Palawan, Philippines
El Nido is a cluster of 45 islands just off the tip of Palawan, which is famous for its Secret Lagoon. Swim through a hole in the limestone rocks to enter a hidden bay with crystal clear water, white sandy beaches and tropical jungle.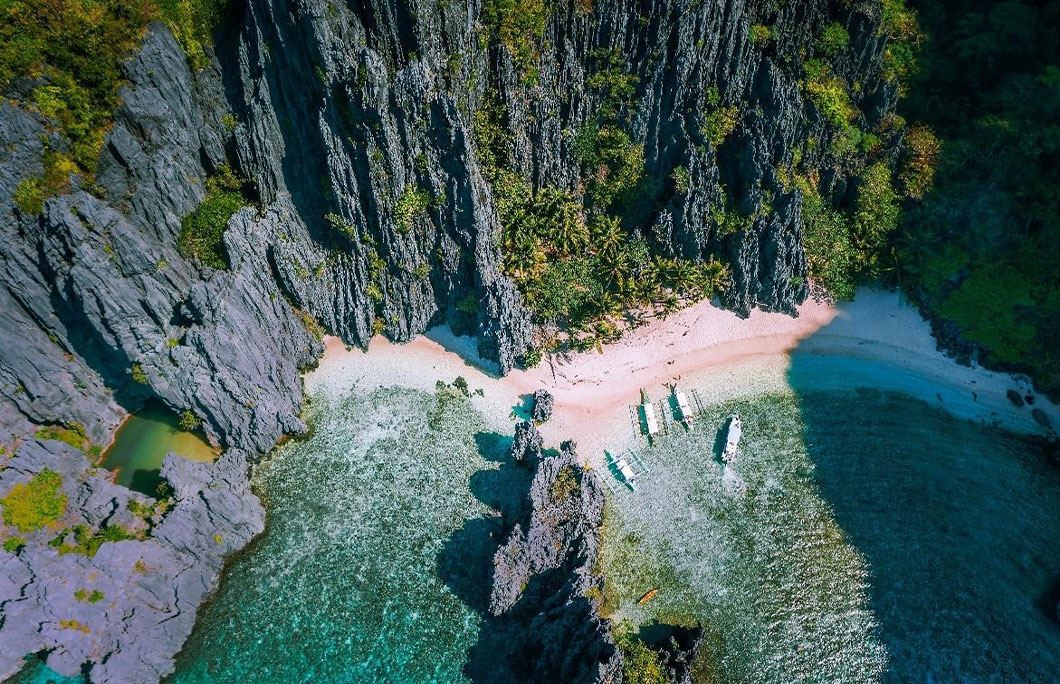 ---
29. Punta Mosquito – Holbox, Mexico
Holbox has only appeared on most people's travel radar in the last few years, but we still think its sandy stretches are Mexico's best-kept beach secret. There are crystalline lagoons, lush mangroves and reams of powdery white sand. It's one of Mexico's best spots for snorkelling too.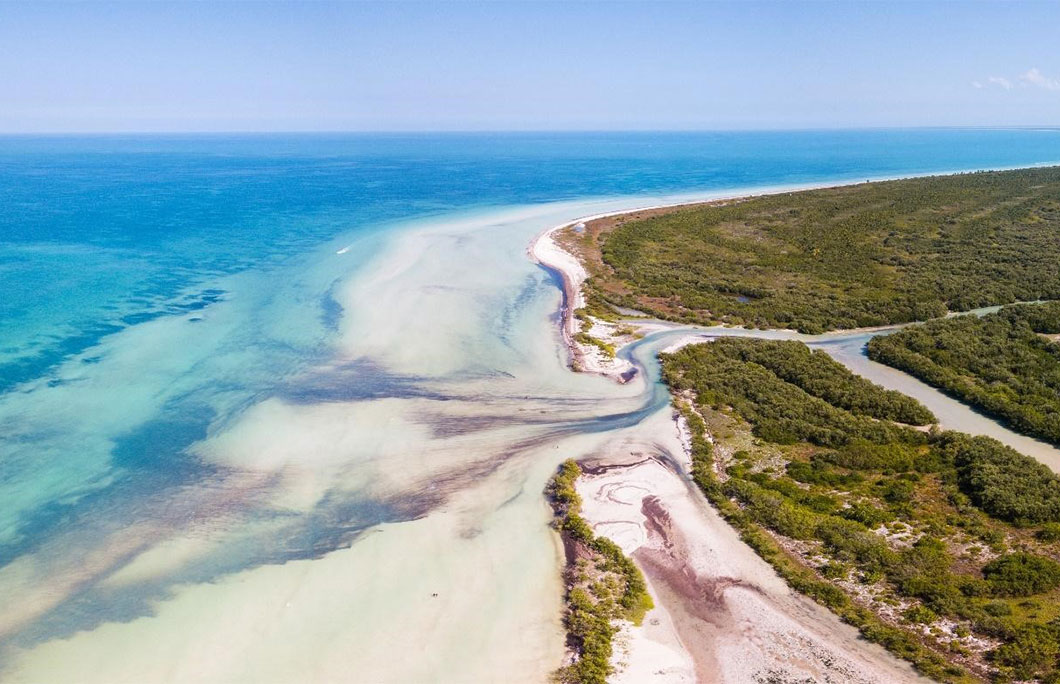 ---
28. Negril Beach – Jamaica
Great music, people, food, and beaches – Jamaica has it all. This seven-mile stretch of idyllic beach has palms swaying in the breeze, clear emerald waters, and fresh coconuts to sip on. It's lined by all-inclusive resorts, but there's plenty of space to spread out.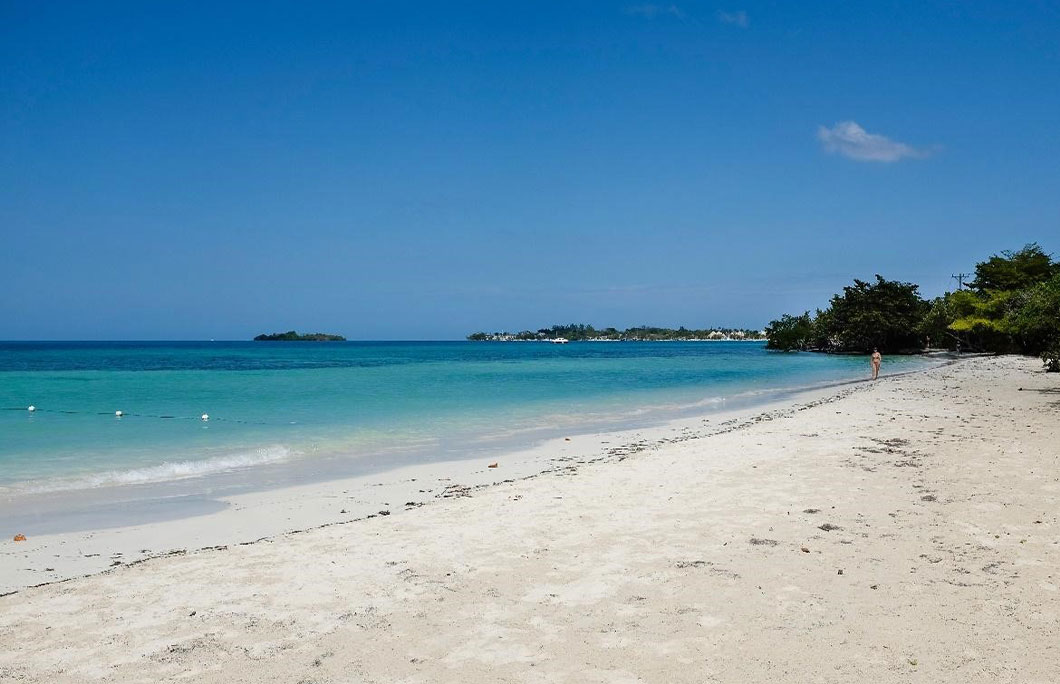 ---
27. Shark Bay – Koh Tao, Thailand
Expect clear turquoise waters and world-class snorkelling at Koh Tao's Shark Bay. It's one of the best snorkelling spots in Thailand – bonus points for not needing to go on a boat trip to see marine life. As the name suggests, many flock to this small bay to spot blacktip reef sharks. You'll likely see sea turtles swimming around, too.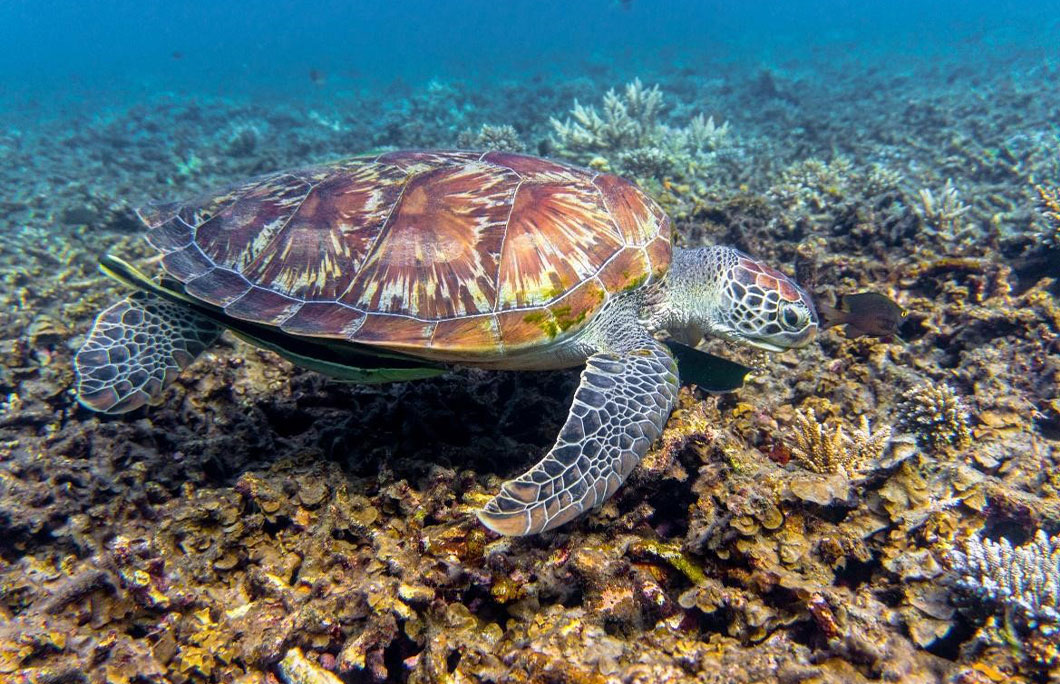 ---
26. Horseshoe Bay – Bermuda
Named for its curving shape, the popular Horseshoe Bay Beach showcases Bermuda's trademark crystal blue waters and pink sands. There are also hidden caves and tucked-away coves to explore. It's probably the most photographed beach in Bermuda and for good reason.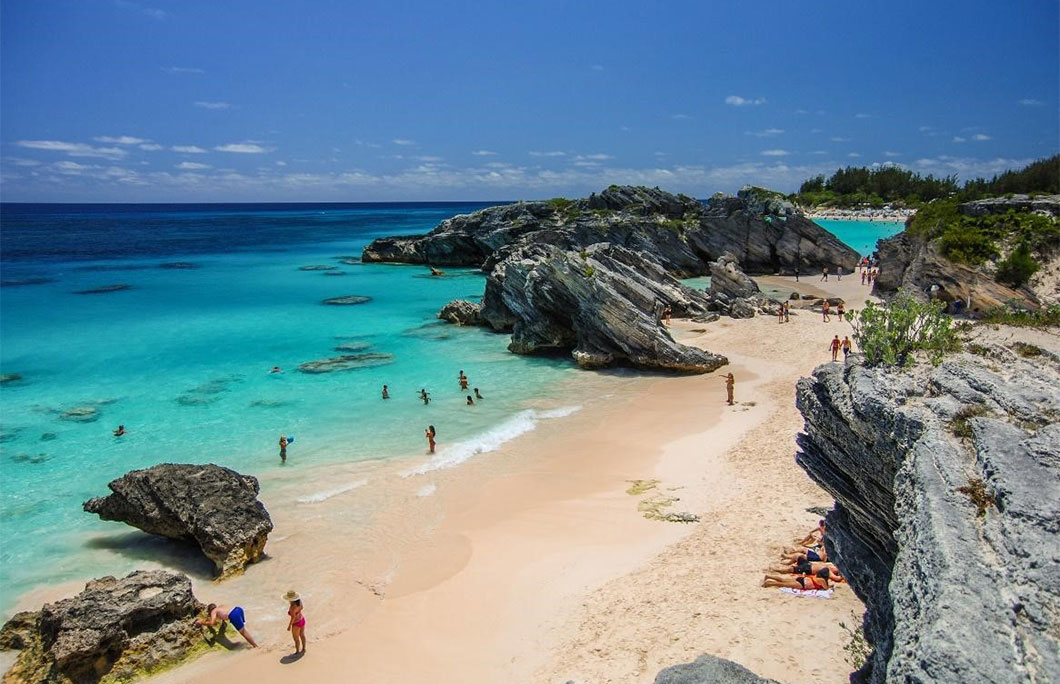 ---
25. Pedn Vounder – Cornwall, England
Cornwall has long been a summer getaway destination for local families, but its gorgeous coastline has caught the eye of international travellers. Despite the crowds, Pedn Vounder is still one of the UK's most beautiful beaches. Combining crystal clear blue water and white sand, it's proof that you don't need to hotfoot to the Caribbean for a tropical island-inspired getaway.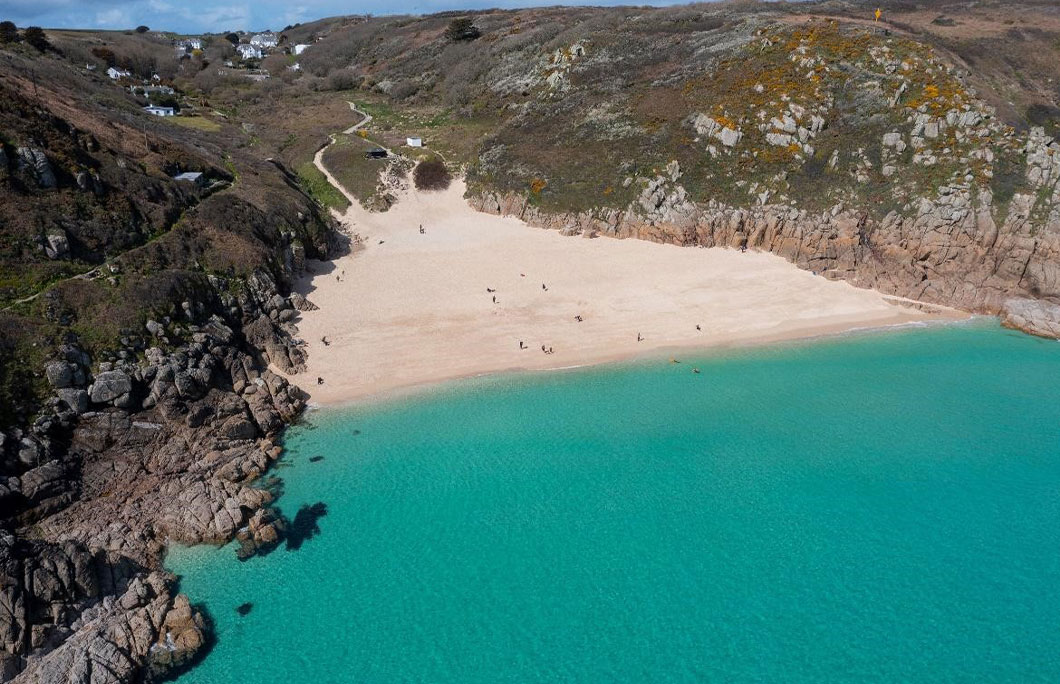 ---
24. Kanga Beach – Mafia Island, Tanzania
Stretching across 822 sq, km of protected waters, Mafia Island is home to the largest marine protected area in the Indian Ocean. This sublimely serene beach boasts white sands, turquoise waters and sprawling tidal flats. Below the surface, it's just as dreamy with its unique coral grove, mangrove and marine channel ecosystems teeming with fish, including whale sharks.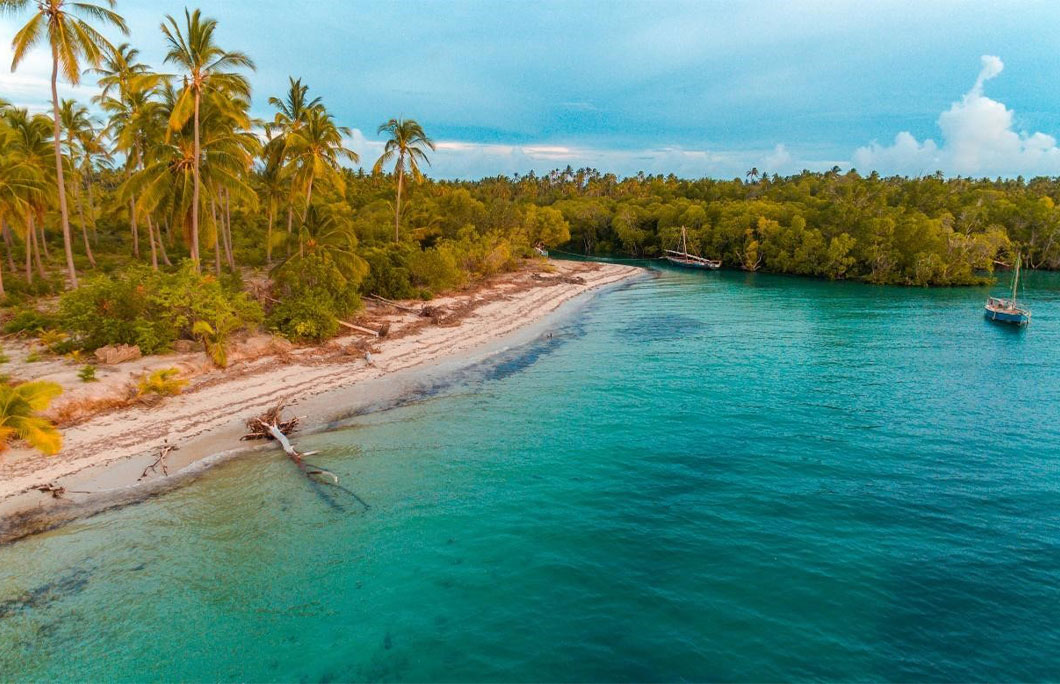 ---
23. Bazaruto Archipelago – Mozambique
This aquamarine paradise encompasses five islands off the coast of Vilanculos. As well as luxury travellers, it's popular with turtles, dolphins, rays, whales, sharks and over 2,000 fish species. Untouched and idyllic, these sugar-white sand stretches give way to miles of colourful coral reefs.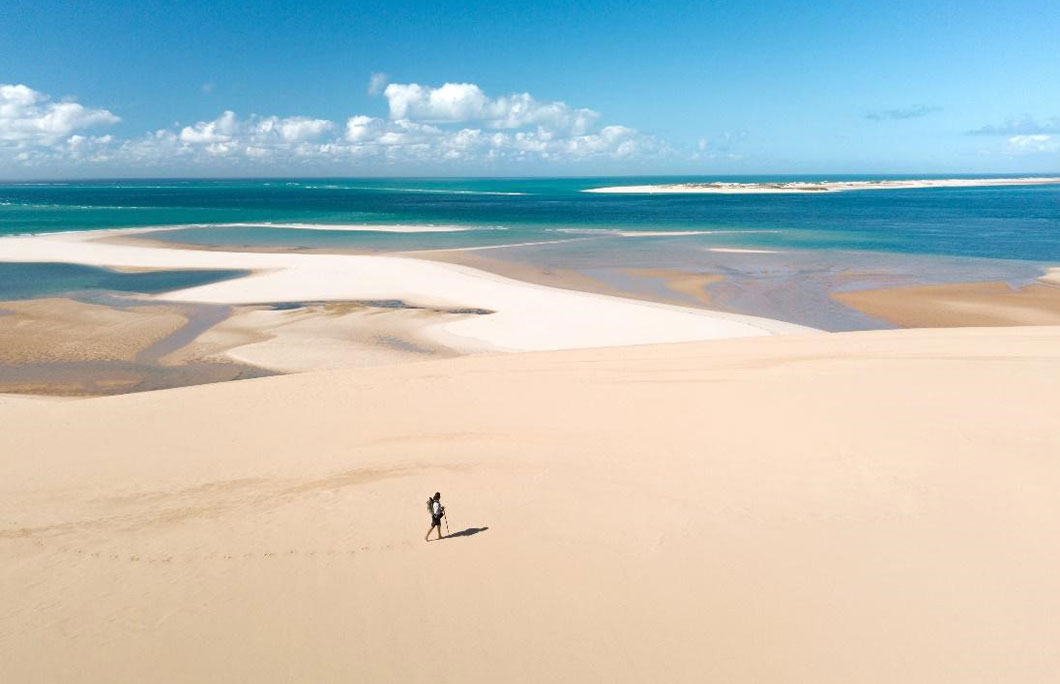 ---
22. Gjipe Beach – Albania
Albania is beginning to lose its hidden gem status having been named one of the top places to visit for 2023. If you're planning a visit, now's the time to do it. And as arguably the most beautiful beach in Albania, Gjipe is going to be high on visitor's hit lists. It's only accessible by a forty-minute walk, a 4x4, or a boat. It doesn't come easy, but the remote bay flanked by soaring hills is worth it.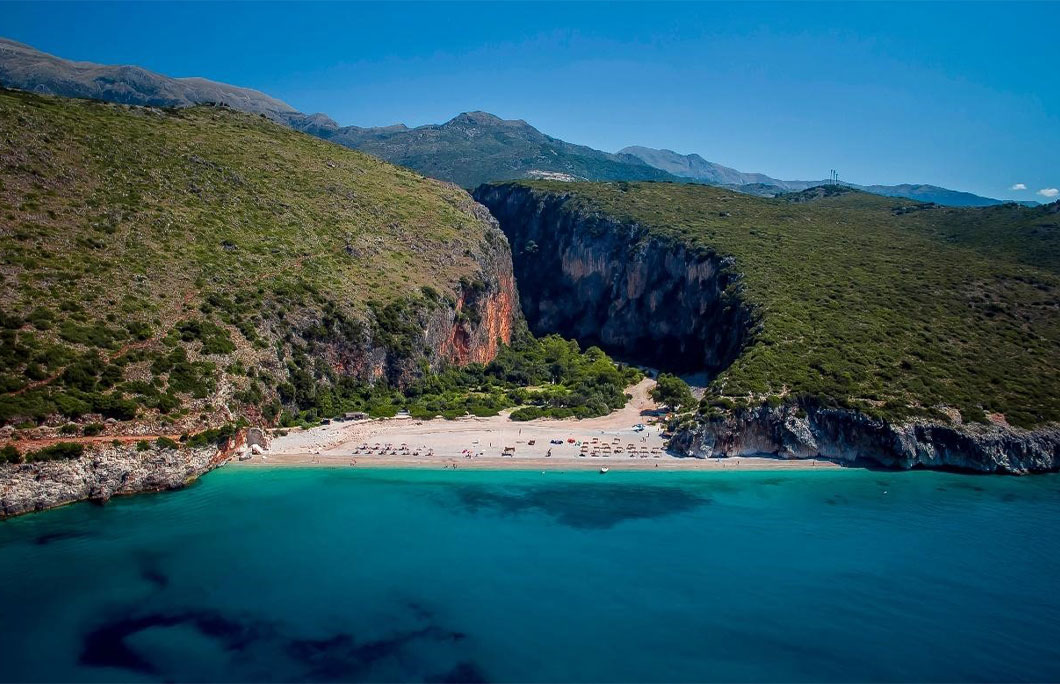 ---
21. Tunnels Beach – Kauai, Hawaii
Tunnels Beach (Makua) is an ultimate snorkelling spot, with the picturesque backdrop of Mount Makana and lush jungles. Lava tubes form the many underwater caverns here, which gives the beach its name. The water can get rough during winter, so keep an eye on the tides.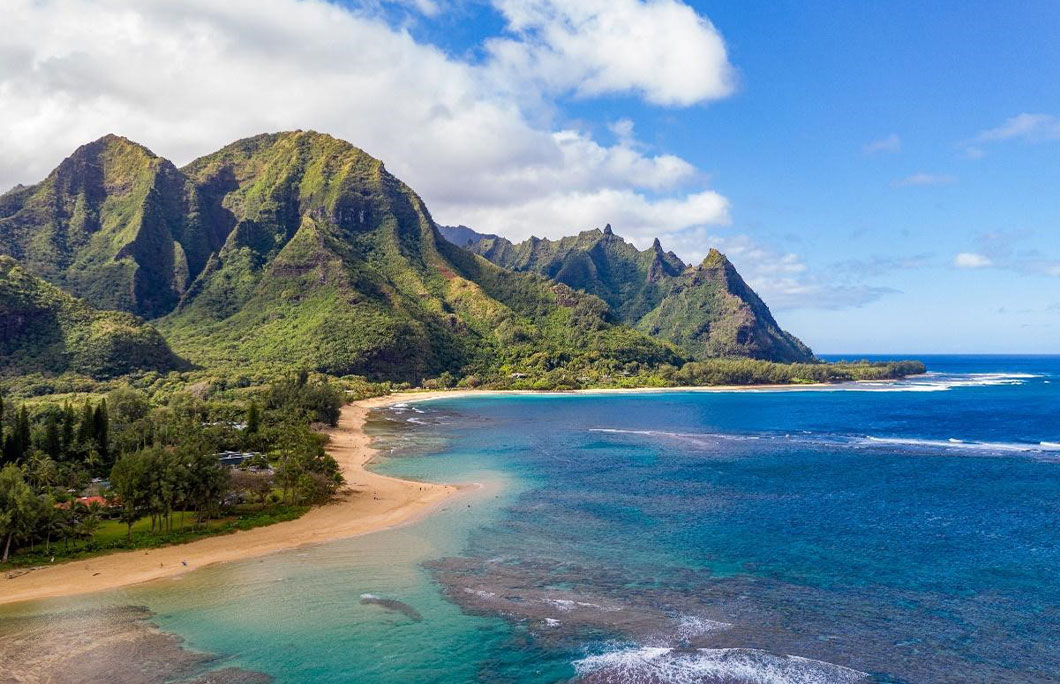 ---
20. Praia do Camilo – Lagos, Portugal
It's a hefty 200 steps down (and an unrelenting clamber back up) to reach this beautiful beach, but you won't be disappointed. From the winding path nestled into orange cliffs, you'll see the Ponta da Piedade nearby, a landmark rock formation with grottoes and rock arches. This really puts Lagos on the map, so it's a popular spot – get there early to nab a space.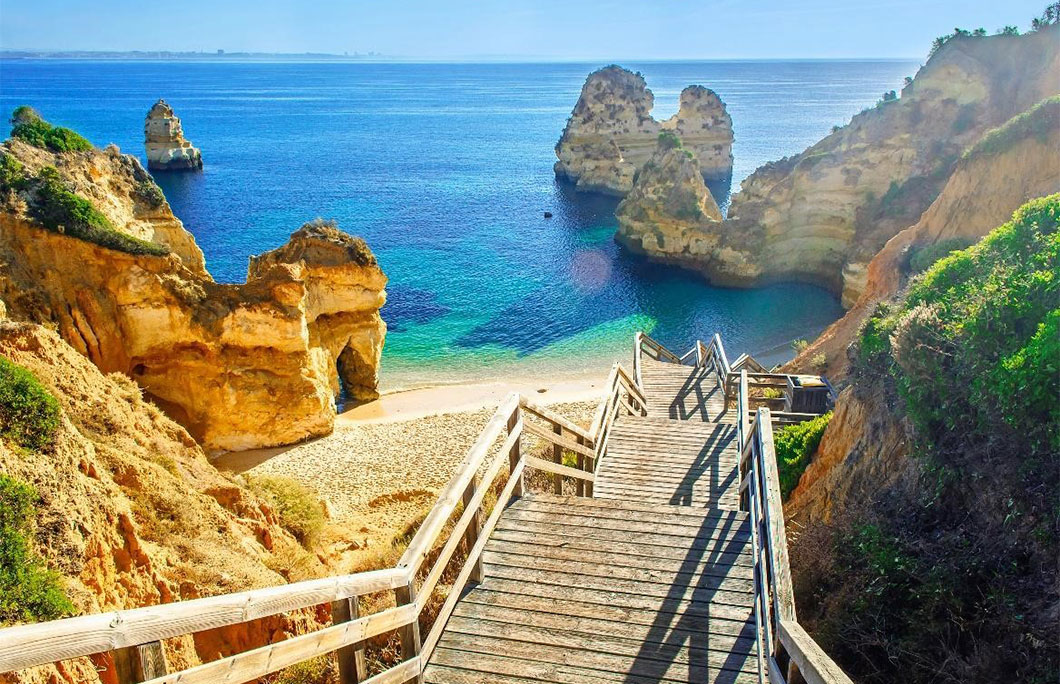 ---
19. Seven Mile Beach – Cayman Islands
One of the most famous beaches in the world, Seven Mile Beach is among the many reasons why Cayman is considered an ideal tropical destination. With sparkling waters and blinding white sands, it's so perfect it almost doesn't look real. Sunsets here are unforgettable, and you can also enjoy world-class snorkelling.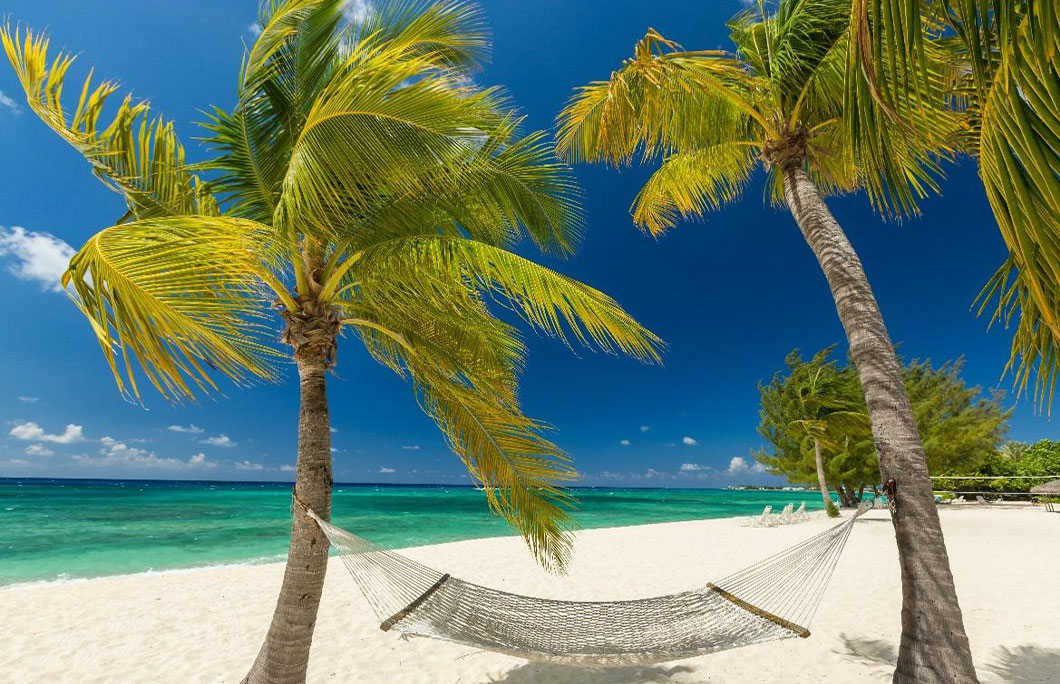 ---
18. Baga Beach – Goa, India
Baga Beach offers the best of both worlds. It's a fun place to relax or pick up some water sports during the day, and by night it's a nightlife hotspot. The beach is lined by shacks pumping out music until the wee hours, as well as some of the area's best nightclubs.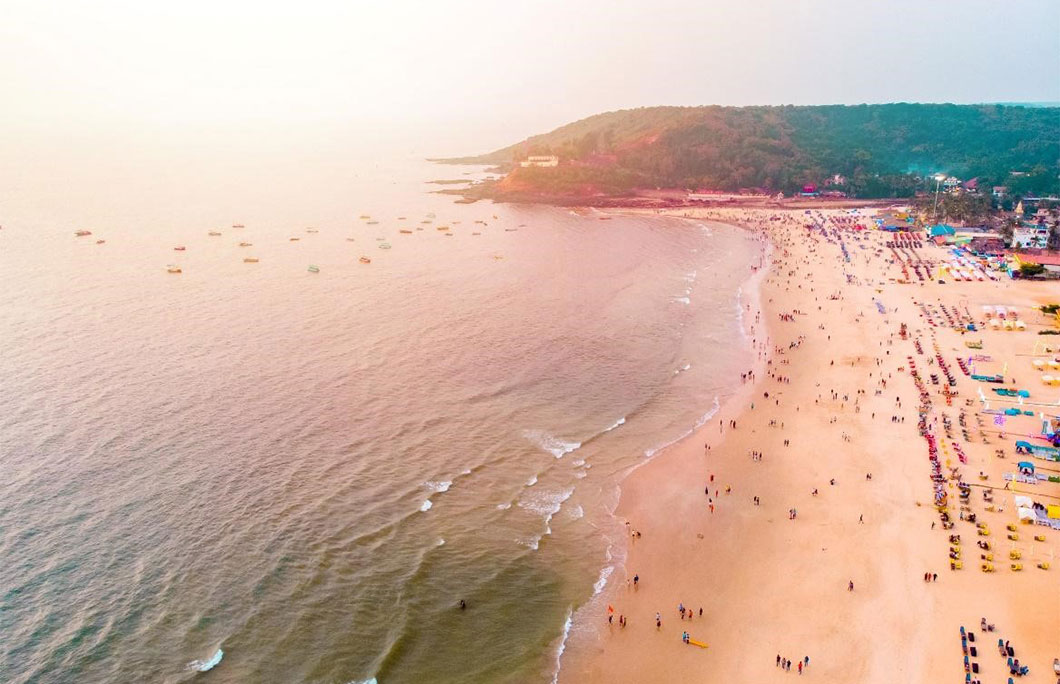 ---
17. Butterfly Valley, Turkey
Nestled between the ridges of Mount Babadag, Butterfly Valley Cove is dramatically beautiful. Not only does it look straight out of a postcard, but it's also home to over 100 species of butterflies. There's a captivating bohemian vibe here that makes you want to pack up and move to one of the valley's wooden bungalows.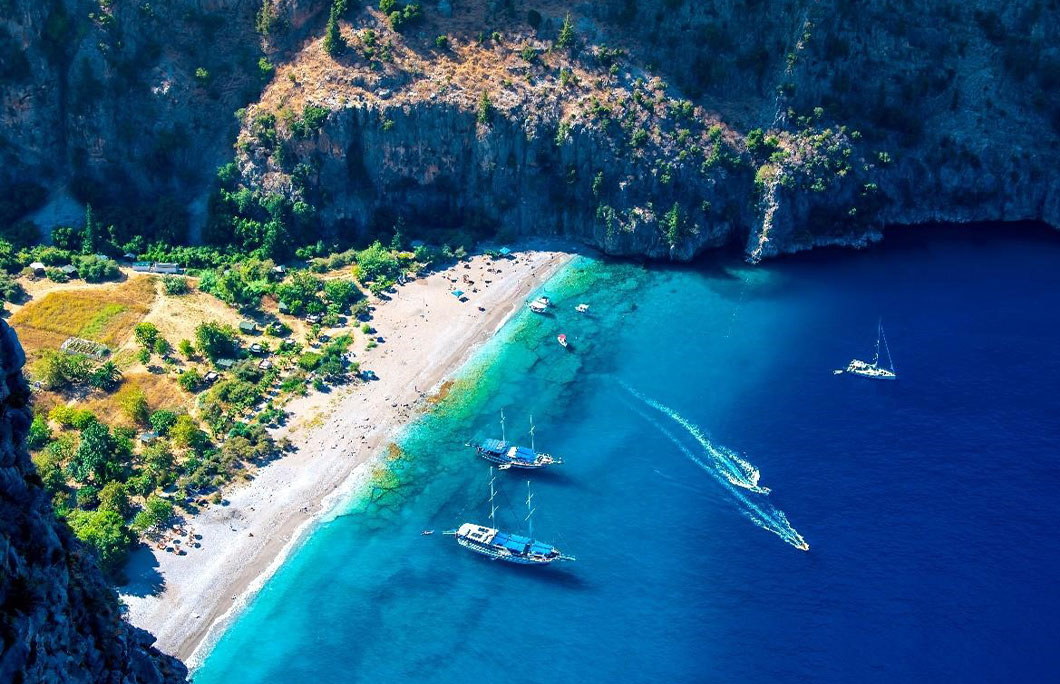 ---
16. Turquoise Bay – Exmouth, Australia
The clue's in the name, really. Think turquoise waters, the softest white sand and sparkling views over Ningaloo Reef, famed for its whale sharks. It's every bit as beautiful underwater too, with coral gardens teeming with marine life. Spend the morning snorkelling then stretch out in the sun for a truly blissful beach experience.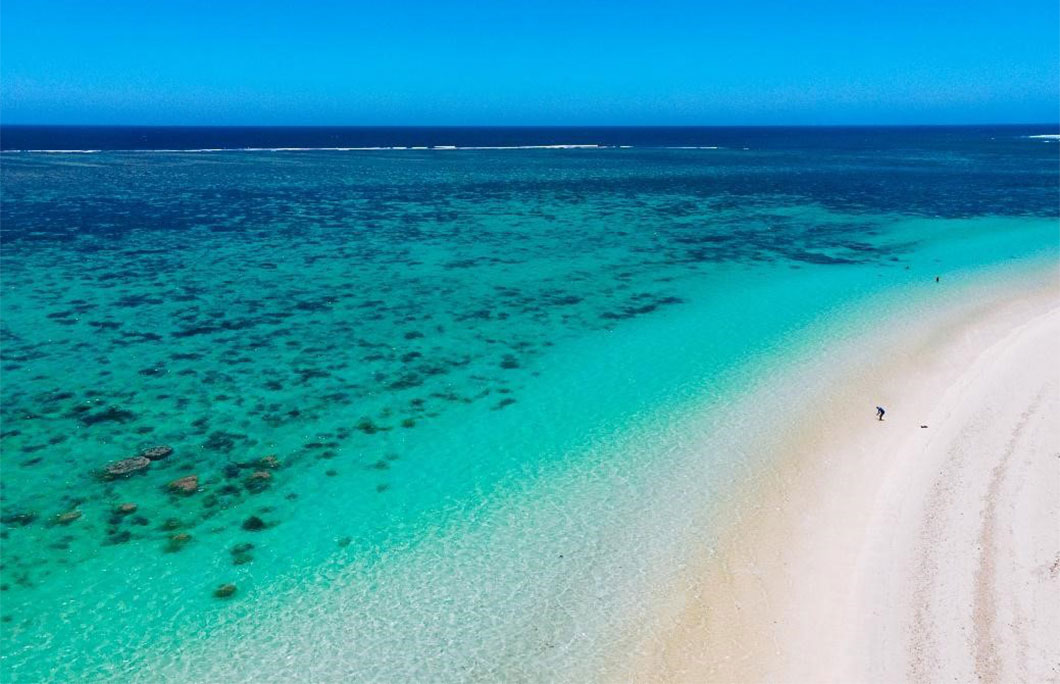 ---
15. Pink Beach – Indonesia
There are just seven pink beaches in the world, but Indonesia takes the cake. You'll find this rare beauty on Komodo Island, around a 90-minute boat journey from Labuan Bajo on Lombok. There's a Jurassic Park-esque feel to this beach, and it's not just the proximity to the Komodo dragons. The sloping hills backing the beach are quite different to Indonesia's quintessential landscape of palm trees as if the bright pink sand couldn't get any more enchanting.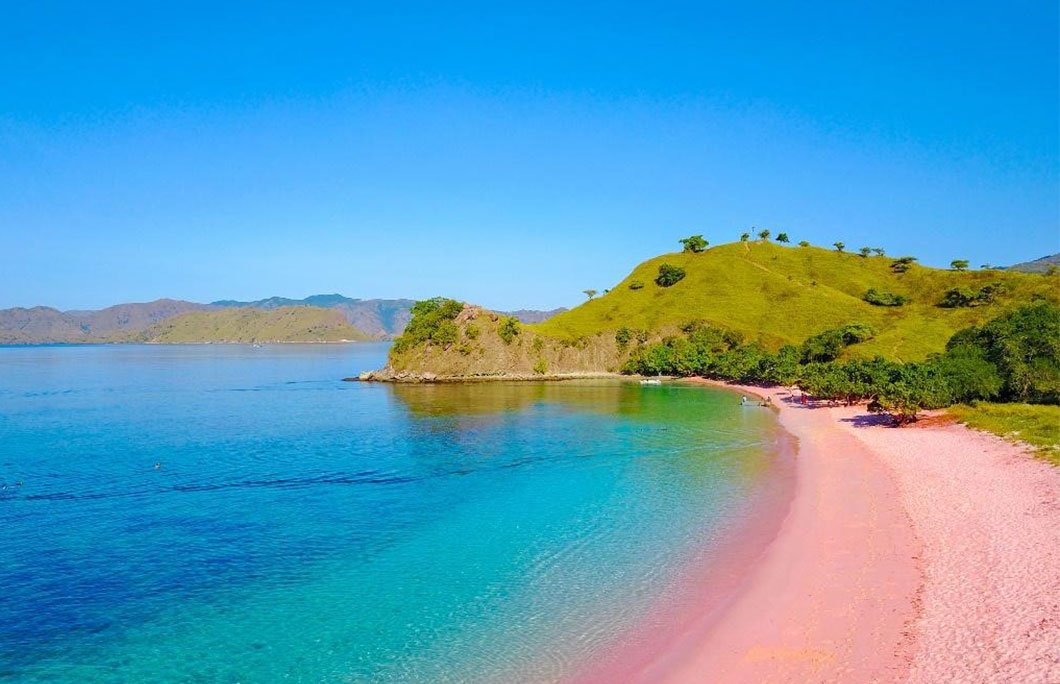 ---
14. Diani Beach – Kenya
You haven't seen a white sand beach until you see Diani Beach. The sparkling coastline is hugged by lush forests and palm trees, and the waves are perfect for surfing. Diani Beach isn't just beautiful; it also has a fun and vibrant atmosphere. It draws in a diverse crowd, from families to party people.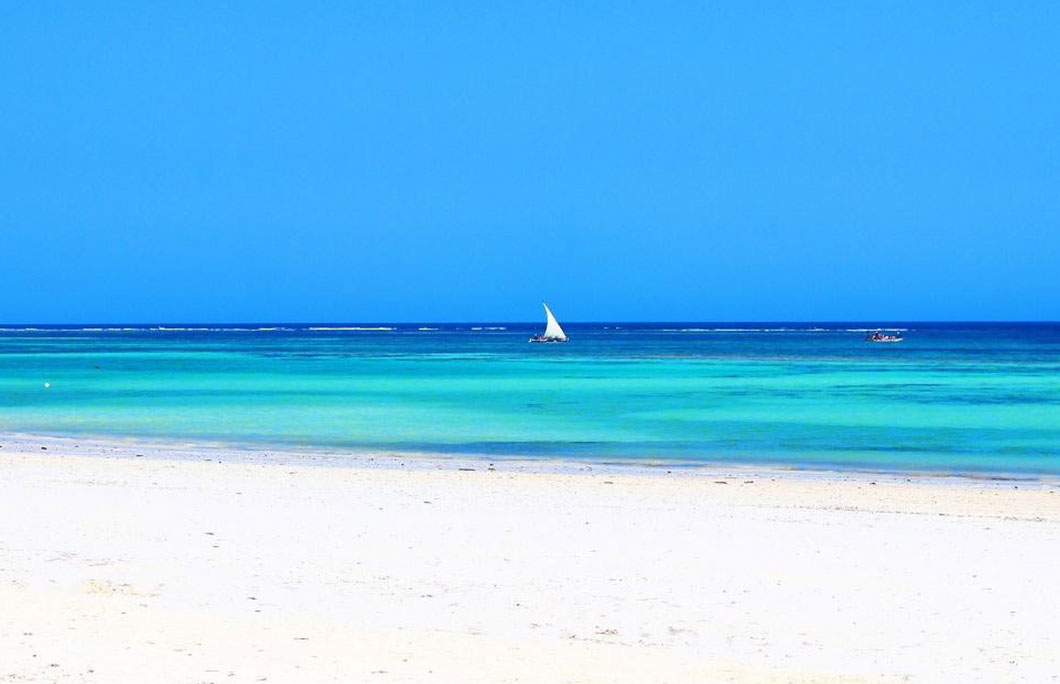 ---
13. Playa Conchal – Costa Rica
Costa Rica is one of the world's hottest destinations to visit right now. Not only does it offer staggering biodiversity, but this eco-friendly destination also boasts one of the best beaches in the world. There's a real sense of escapism here, with few amenities and ridiculously beautiful surrounding nature.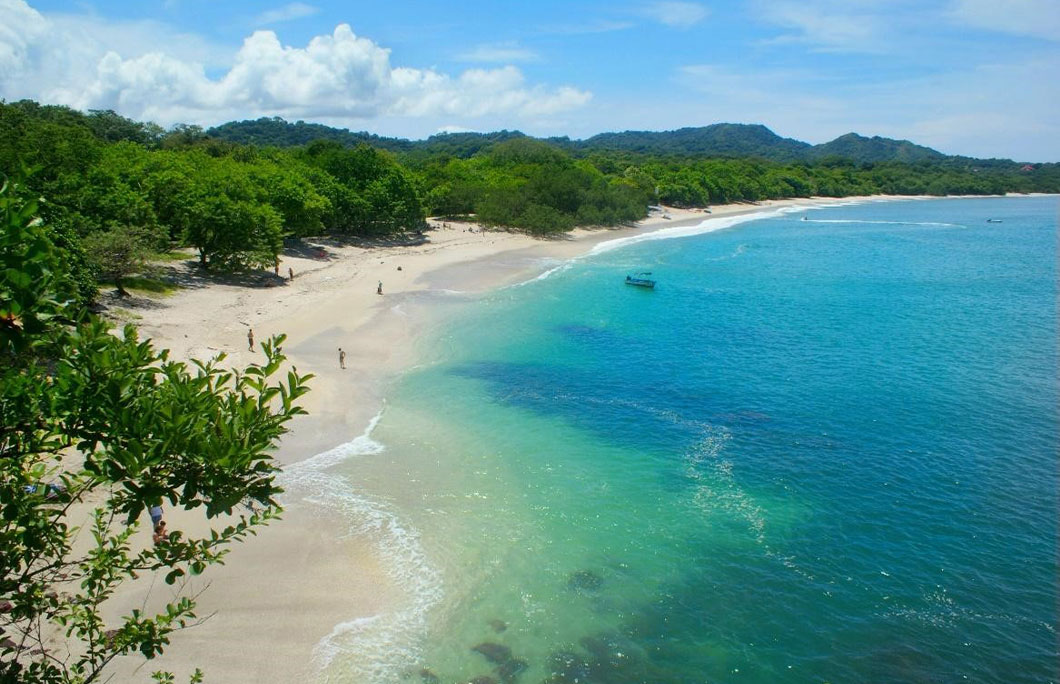 ---
12. Reynisfjara Beach – Vík í Mýrdal, Iceland
If tropical beaches aren't your thing, be sure to visit this beautiful black sand beach in Iceland. With enormous basalt stacks that rise out of the sea and unusual black sand, this is an unforgettable beach. You might recognise it from Season 7 of the HBO Series Game of Thrones.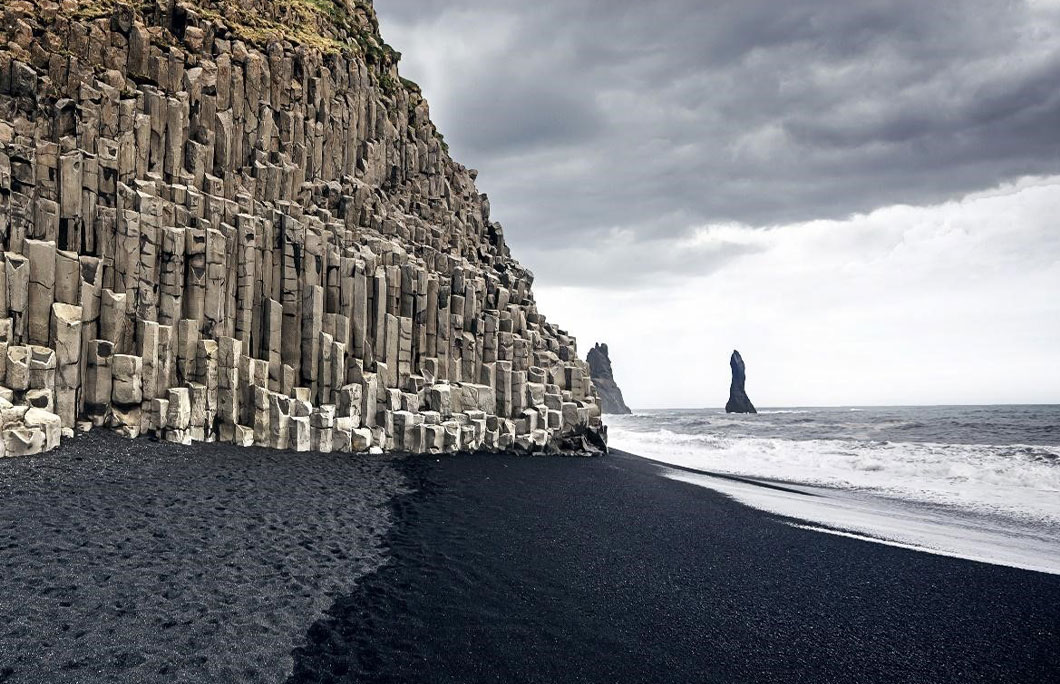 ---
11. Dhigurah Beach – The Maldives
Dhigurah Beach is the coastline that wraps around Dhigurah Island, all 2.2 miles of it! The green oasis in the middle of the Indian Ocean is a paradise, surrounded by miles of impossibly turquoise water. If you want to know what it's like to have your own private island, Dhigurah comes pretty close. It's basically empty, except for the snorkelling trips that come to the island to spot the resident whale sharks.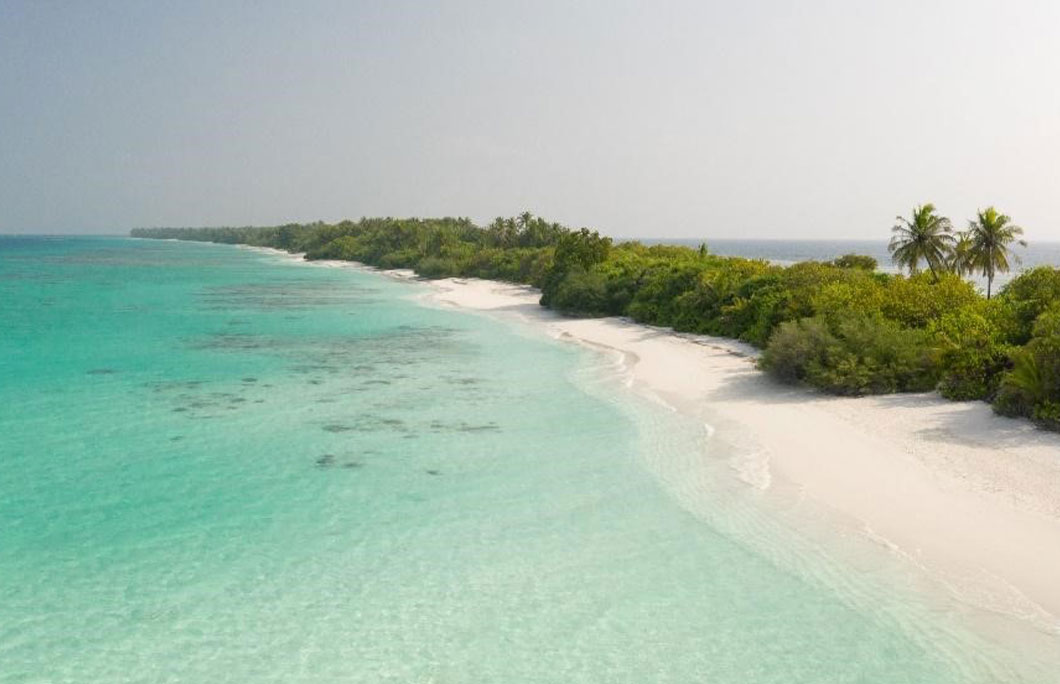 ---
10. Hyams Beach – New South Wales, Australia
Hyams Beach is just three hours south of Sydney, but between its pine forests and white sands, it feels worlds apart. It's an excellent spot for snorkelling, thanks to its gentle waves, and it's popular with stingrays too. Keep an eye out for playful dolphins for the ultimate photo opp.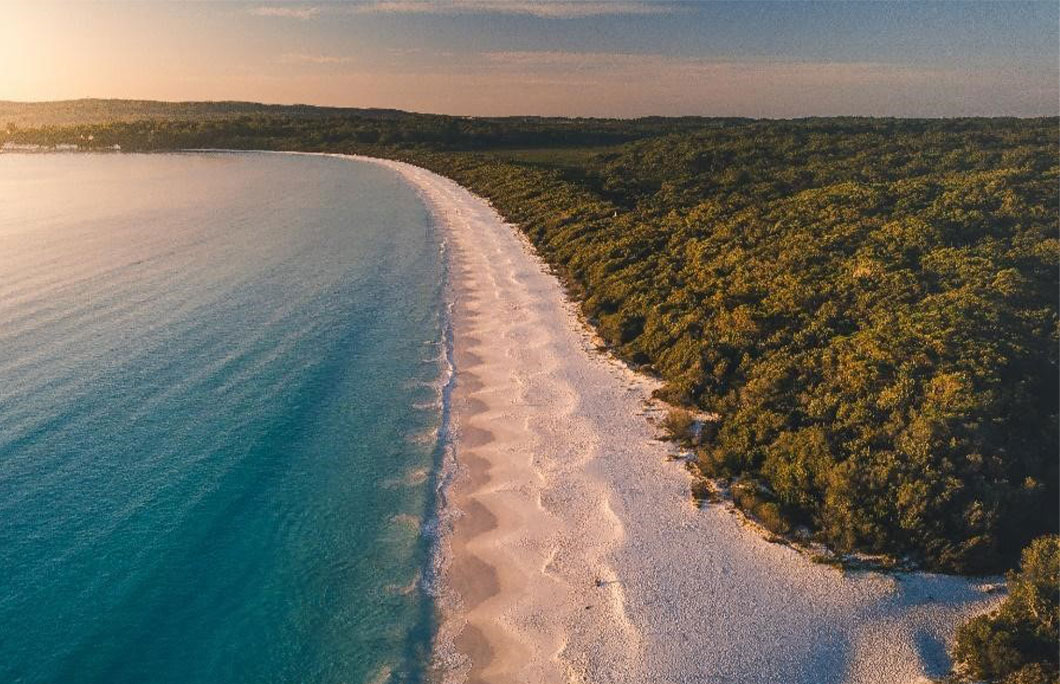 ---
9. Lang Co Beach, Vietnam
This little-known beach is a small cove below the Hai Van Pass – an incredibly scenic road that snakes through the mountains of Central Vietnam. The beach looks beautiful from above, but even better below – it's the perfect place to stop off and tuck into a fresh seafood lunch on the beach. It's backed by luscious Bach Ma National Park, creating a scene of utter tranquillity. Don't miss Lap An Lagoon, either.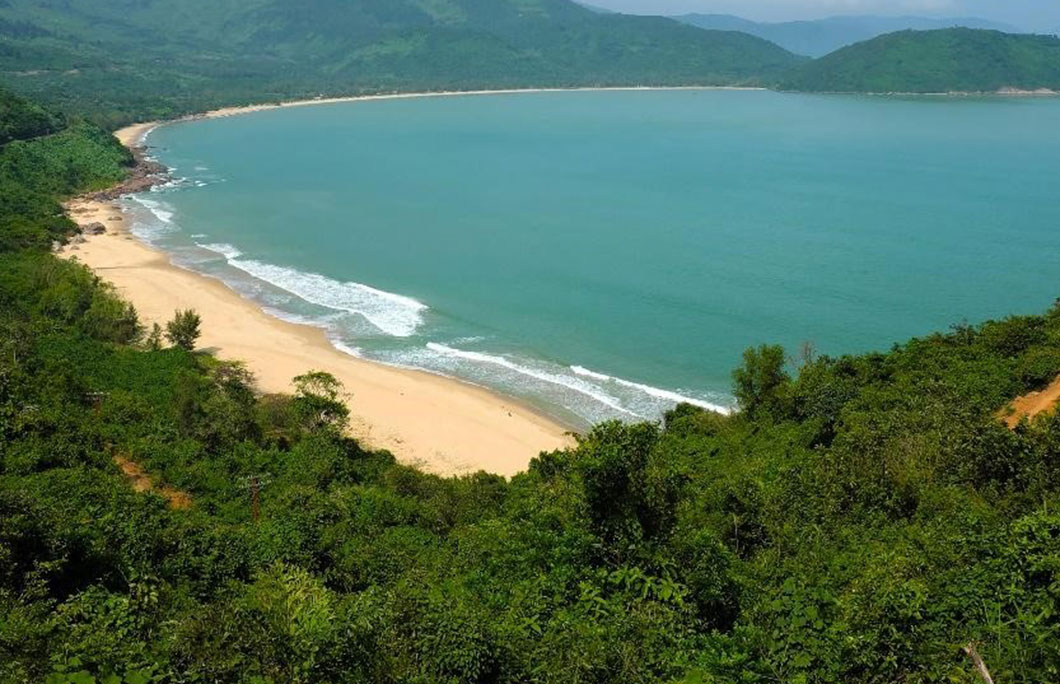 ---
8. Grace Bay – Turks and Caicos
This pristine beach is the shining jewel of the Turks and Caicos Islands. The entire beach is just over 3km long, with no pollution – just pure, white sand and clean water. A barrier reef found 1.6km out protects Grace Bay from the ocean swells of the Atlantic, so you can swim with ease.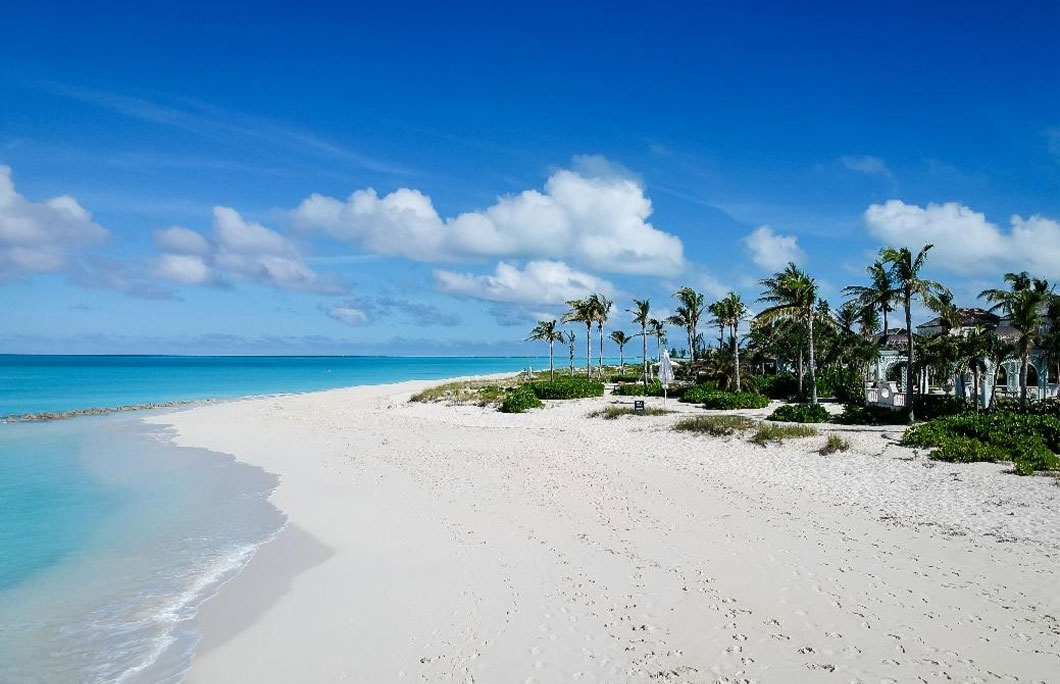 ---
7. Navagio Beach (Shipwreck Cove) – Zakynthos, Greece
Named after the 1983 shipwreck, this secluded cove is one of Greece's most photographed beaches, for good reason. The remnants of the boat sit in the centre of the huge white sandy beach, lapped by turquoise waters and backed by soaring cliffs. It's only accessible by boat, with trips lasting 30 minutes.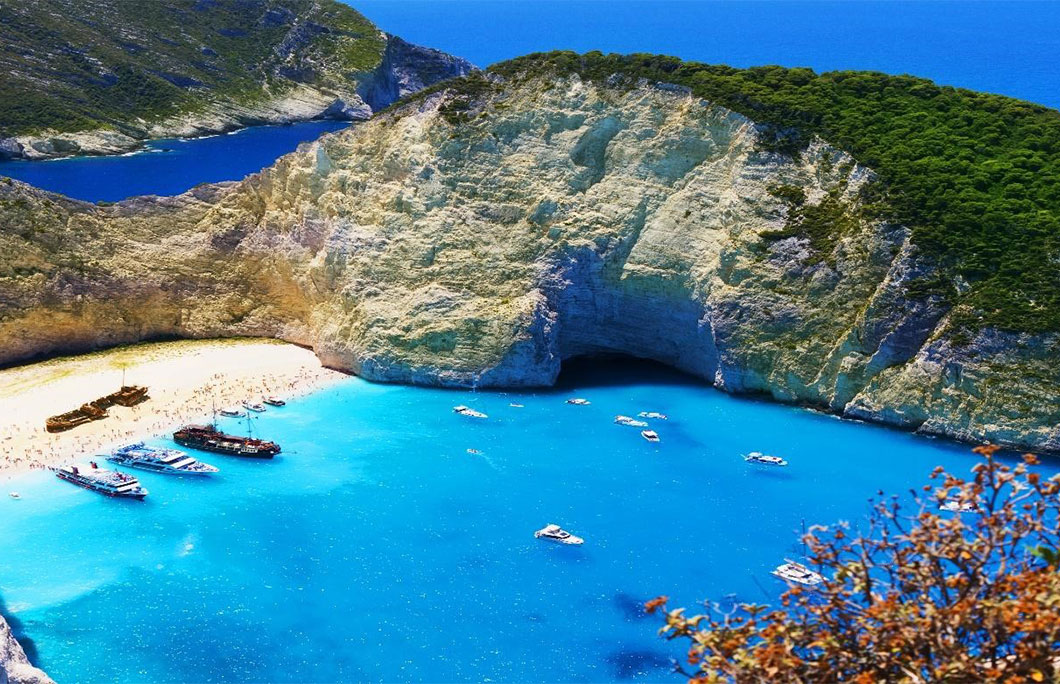 ---
---
---
6. Source d'Argent – Seychelles
It's one of the most photographed beaches in the world, but that doesn't make it any less magical. Beloved for its shallow warm waters and shimmering sand, you'll need to walk through the old L'Union Estate coconut plantation to access the beach. You may even spot a sea turtle swimming off the shore if you're lucky.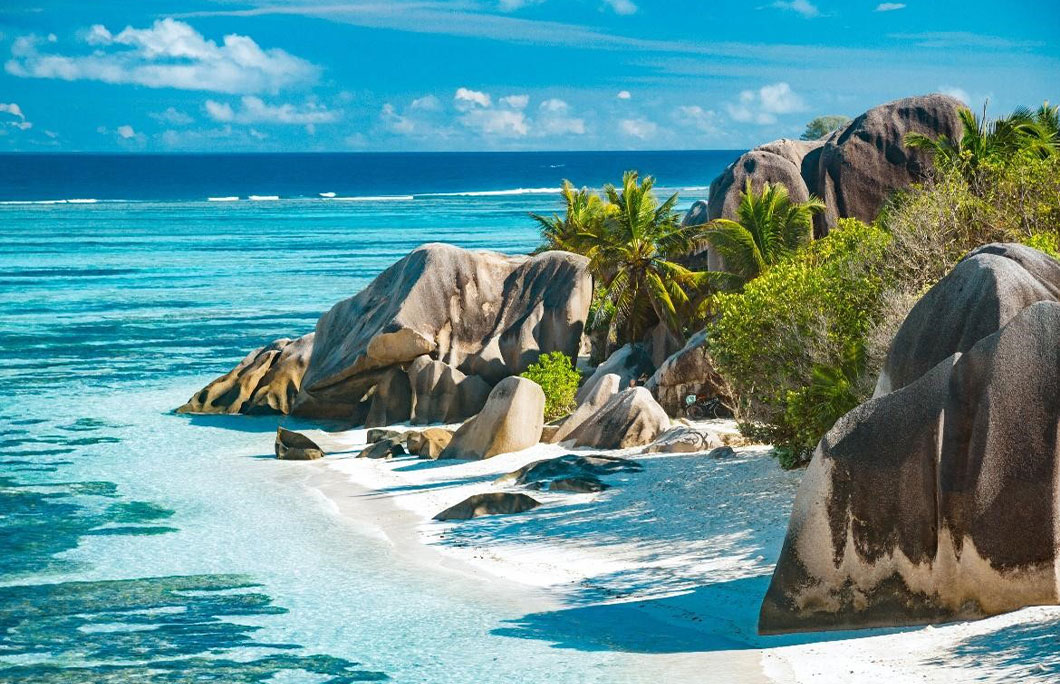 ---
5. Whitehaven Beach – Whitsunday Islands, Australia
Stretching across 7 kilometres, this brilliant white silica sand beach is among one of the purest in the world. The largest of 74 islands in the Whitsundays, the island is right in the heart of the Great Barrier Reef. As well as being one of the world's most unspoiled and beautiful beaches, the sand doesn't retain heat, so it's a fantastic place to walk barefoot, even on a hot day.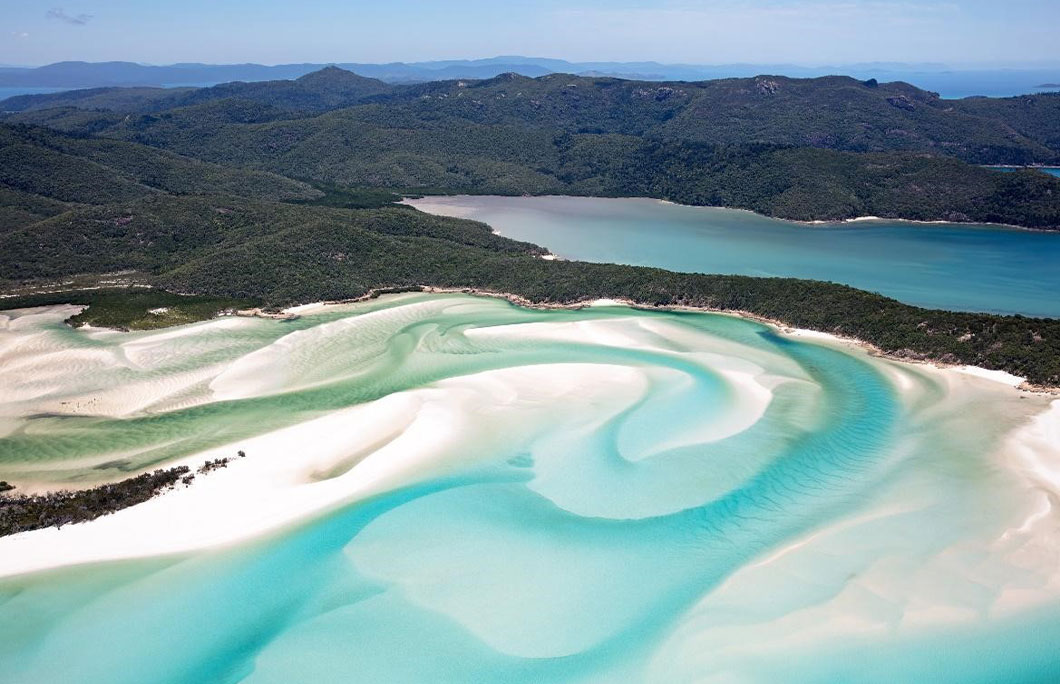 ---
4. Kendwa Beach, Zanzibar
Zanzibar is a haven of white sand beaches, but Kendwa piques it for us. The blinding white sand melts into the emerald waters – a picture-postcard sight. The beach is lined with hotels, restaurants, and bars, but it's kept pristine and clean. Sip on fresh coconuts, get a massage, or enjoy a cocktail in one of the beach shacks.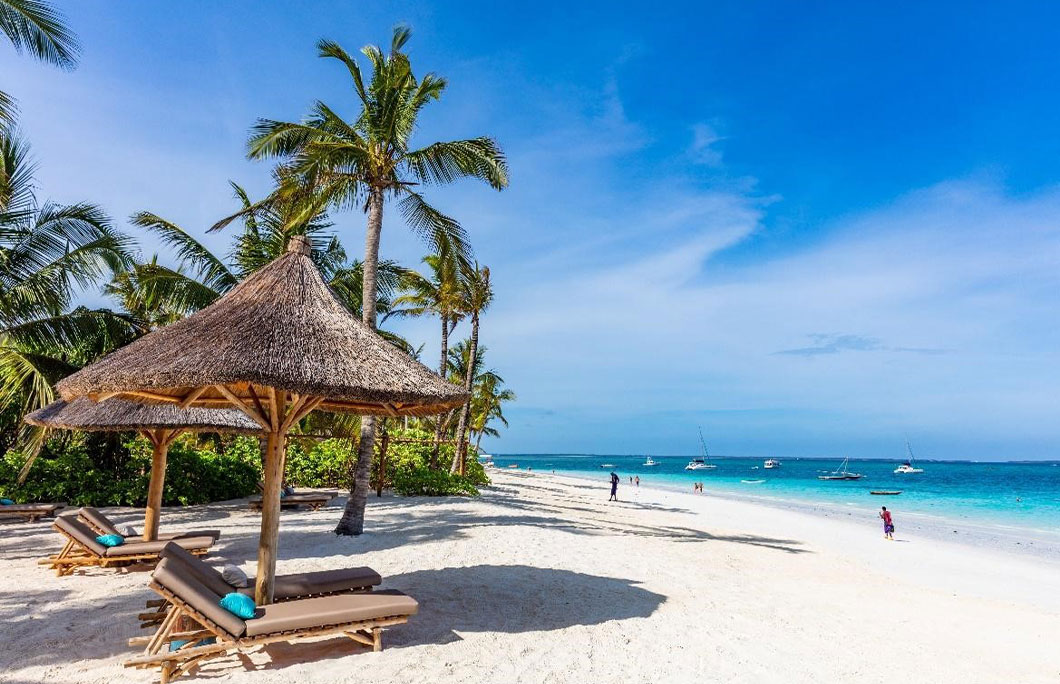 ---
3. Jalousie Beach – St Lucia
This tropical paradise of white sands, crystal clear waters, lush vegetation, and volcanic peaks is a beauty. Sugar Beach Resort takes up most of the beach, so you'll often hear people refer to this beach as 'Sugar Beach'. It is open to the public, though. There's a 1,800-foot drop in the sea at the base of the volcanic peak, Petit Piton, so it's a hit with snorkellers and scuba divers.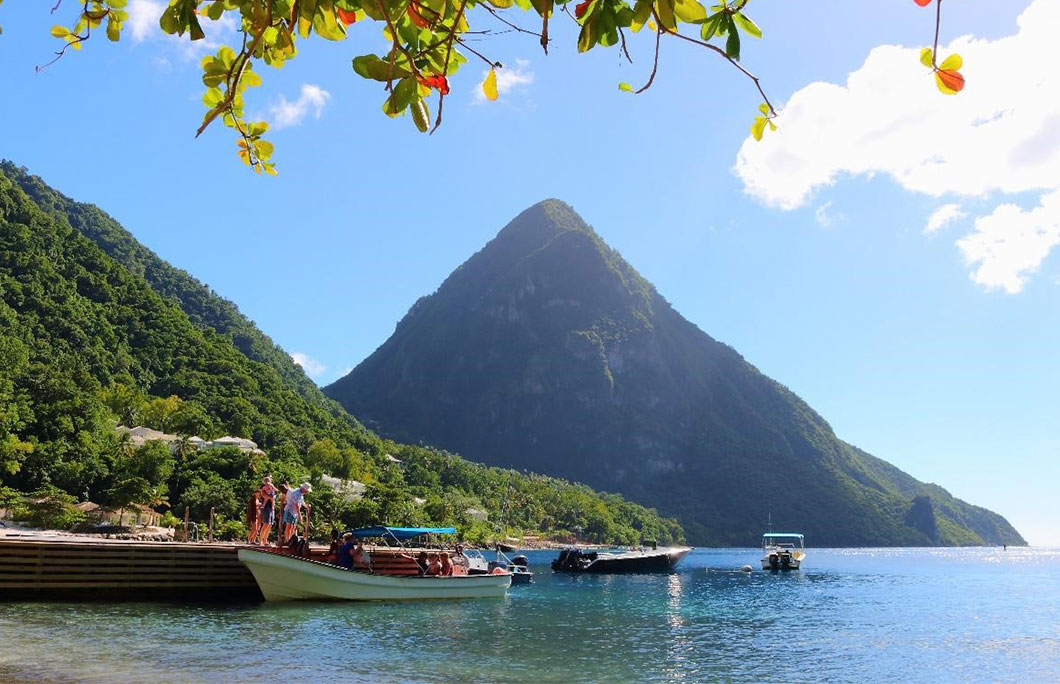 ---
2. Cabo San Juan Beach – Colombia
This tropical paradise is found in Tayrona National Park, stripping it back to the basics. It's a long hike through the tropics to get to the beach, and you'll have to bring your own water. There is a restaurant when you get to the beach, though. The main draw to Cabo San Juan Beach is the campsite – a night under the stars, listening to the calm sea lap onto shore sounds like heaven to us.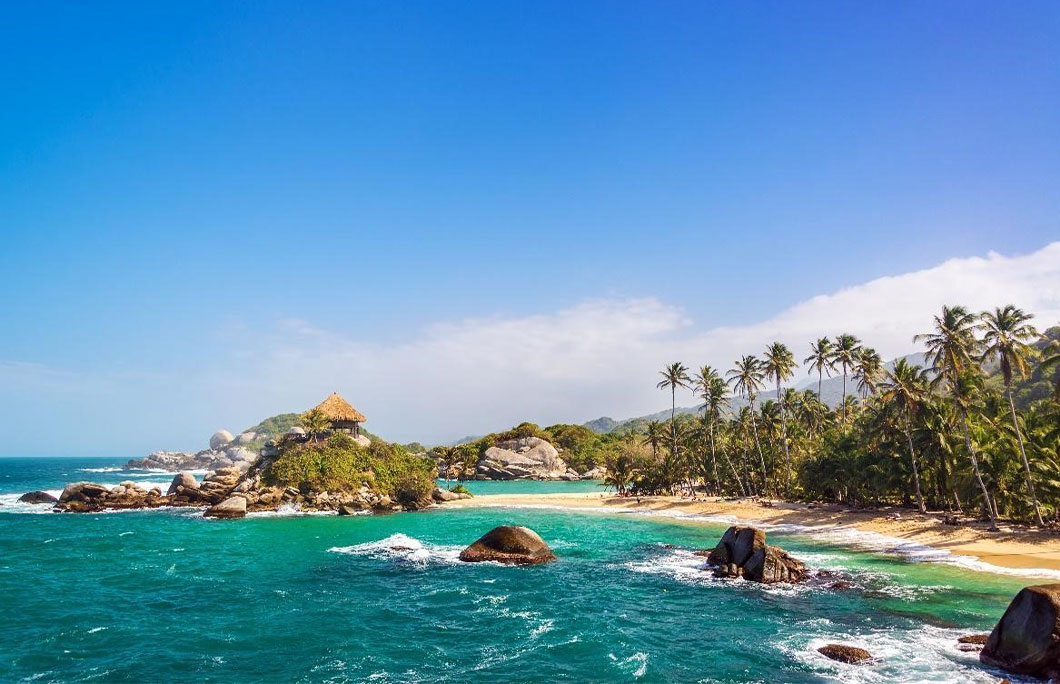 ---
1. White Beach, Port Barton, Philippines
The Philippines is known for its terrific beaches, but this gorgeous stretch of sand near Port Barton is a pristine gem. The only way to reach the beach is by hopping on a boat from Port Barton or taking a very bumpy journey in a 4x4 – being hard to reach means the beach is clean and wonderfully quiet. Think hammocks, powdery white sand, kayaks to rent, and of course, crystal-clear water. All with a backdrop of lush forests. Kayak over to Coconut Beach for a mini adventure.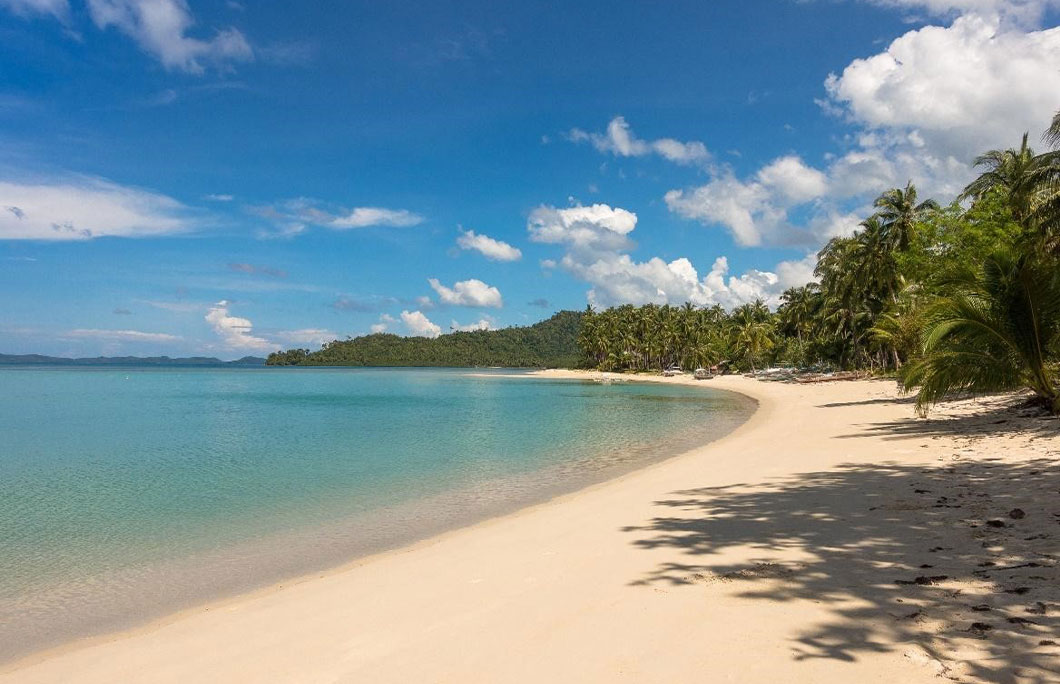 ---
---
Get the latest travel news and offers