Top 10 Road Trips in Italy:
Amalfi Coast
Tuscany tour
Stelvio Pass
Rome to Terni
Northern Lakes
Southeast Sicily
Lake Garda Scenic Drive
Great Dolomites Road
Umbrian country route
Abruzzo route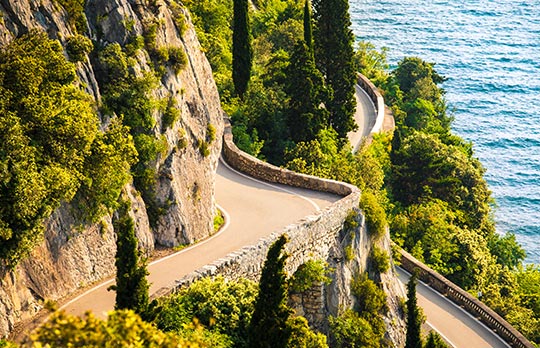 10 best scenic trips in Italy
So you're taking an Italian road trip staycation? If you're driven by la dolce vita, there's no better place on Earth. This southern European nation is blessed by an embarrassment of historical and cultural riches and hosts much of the world's best art, architecture and cuisine. But it's also no slouch when it comes to sport (especially football) while the lilting cadences of the language and charisma of the locals mean that romance is always ringing in the air. Whether you're based in cultural behemoth Rome, fashion capital Milan, Sicily's pretty Palermo or anywhere else, there's a heady mixture of captivating countryside and unique cultural attractions. This is one of the best places in Europe (and the world) to explore by car.
Bursting at its seams with history, Italy boasts a mind-boggling 55 UNESCO World Heritage sites – there are actually more historical monuments in the Tuscany region than in any nation on Earth. Capital Rome was the beating heart of the Roman Empire and seedbed of the Renaissance that swept Europe and beyond. Here you can gaze in wonder at Michelangelo's Sistine Chapel frescoes, ponder over the symbolism of Da Vinci's last supper or cool off at the elegant Trevi Fountain. Meanwhile, foodies can enjoy culinary masterpieces in any city – staples like pasta and pizza taste as delicious from humble cafes here as they do in top restaurants in other nations, and every region has its own unique dishes infused with local flavours. Provided you've got a designated driver, you can also find the perfect drop to accompany your meal – this is one of the world's most renowned wine producing nations.
Further afield, you can step back in time and view the remains at Pompeii, where history remains frozen in a single eerie moment, or strike out in your car to take in Italy's diverse and dynamic terrain. There's everything here from ice-bound Alpine peaks in the north to volcanic craters and aquamarine lakes in the south.
If you've been yearning to discover (or rediscover) the magic of Italy, travelling independently by car is perhaps the best way to do it these days – which is exactly why we've cherry picked these top 10 road trips for your delectation.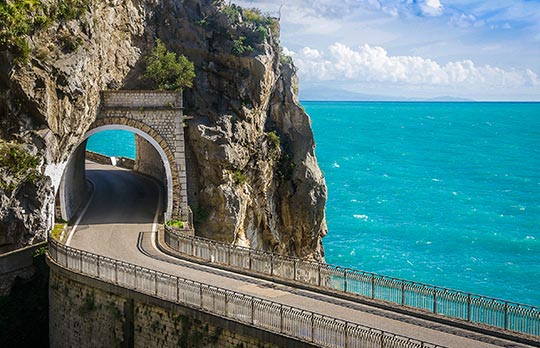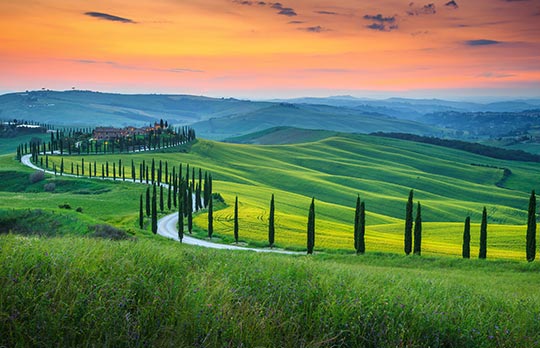 Top tips for driving in Italy
Got your motor running for some inspirational Italian road trips? Let's pause briefly for a few handy tips on driving safety and etiquette.
Firstly, rent a car that has a GPS system fitted if possible – major roads are well signposted and easily navigated in Italy, but smaller rural roads can be trickier, and you don't want to waste leisure time getting lost.
Watch out for ZTL – 'Zona Traffic Limitato' areas are restricted for the use of specified vehicles and/or pedestrians only and you need a special permit to use them. They're clearly marked and used by public transport and the police – avoid at all costs.
In general, driving can feel a little fast-paced and hectic in Italy, so be aware that fellow road users may often make erratic and sudden decisions about lane selections and other manoeuvres. Parking can be tricky – especially in the narrow streets of big cities – so stick to metered areas and display your ticket clearly.
Be aware that Italian speed limits vary according to the road and weather conditions. But the motorway speed limit is normally 130km/h and 110km/h in the wet. Outside built-up areas, the limit is 90km/h and it's 50km/h inside city limits.
Raring to go with your road trips? Avanti!
Amalfi Coast
For pretty pastel villages and roads wound tightly round dramatic cliffs, the Amalfi Coast is a classic road trip. If you're leaving from Salerno, the official starting point of the SS163 Amalfitana is a short drive westwards at the village of Vietri Sul Mare and the 48km run to Amalfi becomes narrower (and more spectacular) thereafter. Highlights include Positano for its vertiginous views, the gorgeous gardens at Ravella's Villas Cimbrone and the sublime seascape views from Amalfi's Monastero Santa Rosa Hotel.
Tuscany Tour
This 210km tour between Florence and Arvieto takes in lush Tuscan winelands and rich Umbrian terrain between these two atmospheric medieval cities. When you've had your fill of Renaissance art in Florence, hit the road south for charming chianti country, with lovely stops at Panzano and Siena. Driving slightly eastward you'll hit the cypress trees and rolling green hills of Val D'Orica, then you'll pass Montepulciano to reach the stunning hilltop town of Orvieto. There are vineyard tasting tours aplenty along the way – dive in if you've got a designated driver.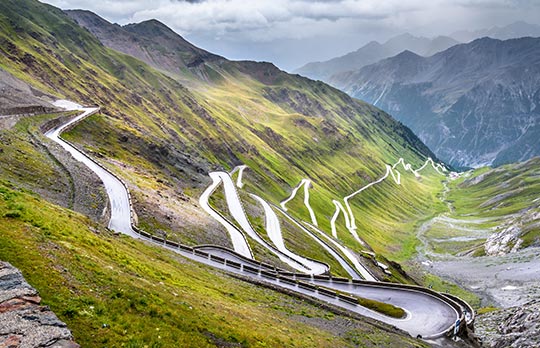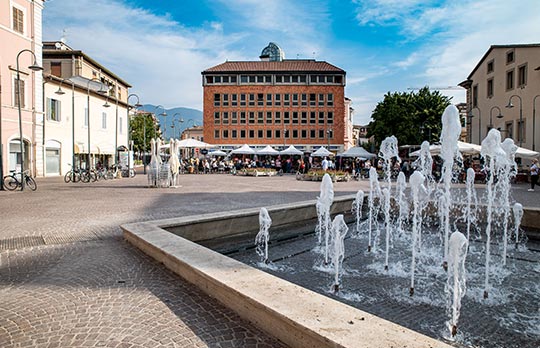 Stelvio Pass
Does an Alpine road trip through some of north Italy's most jaw-dropping scenery sound right up your street? The Stelvio Pass twists through 188km of the Ortler Alps via Stelvio, Bormio and Livigno. Stop at Bolzano for divine food at Casa Al Torchio, while you can even stay overnight at a family farm in Mitterhoff. Mountains, valleys, cliffs and crystal-clear lakes – nature doesn't get much better than this!
Rome to Terni
This 99km road trip showcases the best of the Italian countryside as it hugs the Tiber River in Marcigliana nature reserve and skirts the foothills of the Apennines at Monte Terminillo. As you leave the sensory overload of the Eternal City behind and the scenery becomes more rustic and serene, you'll pass roadside stalls selling artisan olive oil and stop off at tiny restaurants where you'll be welcomed like one of the family. For a true taste of Italy, this road trip is terrific.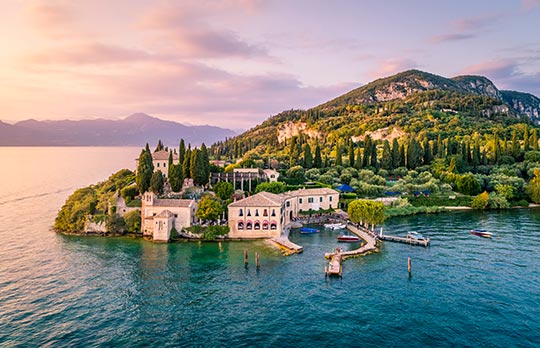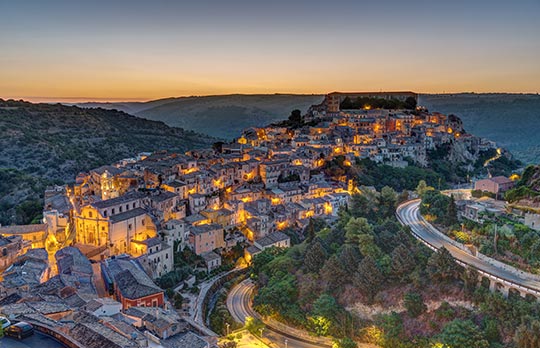 Northern Lakes
If you've got at least five days to spare, why not drive around Italy's romantic northern lake district and take in the beauty of Garda, Iseo, Como, Lugano and Maggiore? Passing rambling ruins, pristine palaces and one wonderful vista after another, this is a landscape you'll fall in love with. Highlights include the 17th century Villa Carlotta in Tremezzo with its superb statuary and the outstanding views of Lake Garda from Castello Scaligero in Sirmione.
Southeast Sicily
Sicily's rugged southeast coast features UNESCO-rated cultural treasures, culinary hotspots and elegant towns – this 165km road trip starting in Catania and ending in Raguso reveals some of the best attractions of this awesome Italian island. Catania has a lovely historic town centre, and you'll see ancient ruins and stylish baroque streets in Syracuse. Next comes Noto, which boasts Sicily's most beautiful street in Corso Vittorio Emanuele, while your final stop Ragusa lies further into the hilly interior.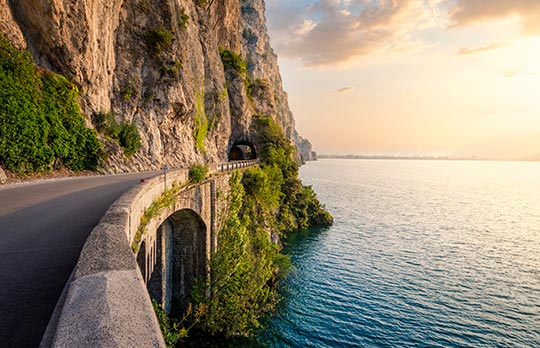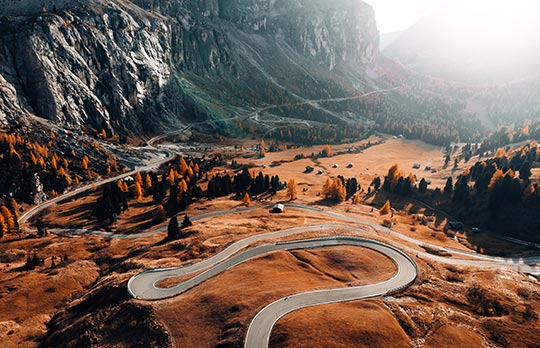 Lake Garda Scenic Drive
If the northern lakes road trip whetted your appetite for Italy's lakes, this 51km ride around Lake Garda lets you drink in the beauty of this legendary setting in around an hour and a half – although you might want to mosey along at a more leisurely pace. Route Forra skirts the western shore from the small town of Tremosine, through tunnels, twists and turns that reveal a catalogue of picture postcard views. Winston Churchill called it 'the 8th wonder of the world'. We agree!
Great Dolomites Road
This 109km road through Italy's iconic mountain range stretches between Bolzano and Cortina d'Ampezzo. As you leave the snow-kissed slopes of Bolzano, you'll drive past steep canyons and pretty Karersee Lake, the scoot through Costalunga pass and the heady peaks of Vajolet Towers. Thereafter, the Pordoi Pass affords sublime Sassolungo mountain views, and you drop down through a pine-scented valley to finally reach Cortina, nicknamed 'Queen of the Dolomites'.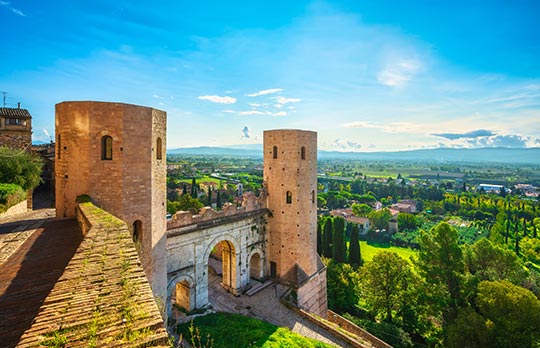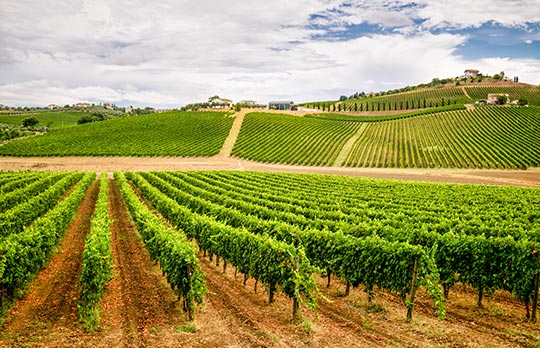 Umbrian Country Route
Drive through Umbria's dreamy villages, Romanesque churches and verdant pastures and you'll instantly understand why locals refer to it as 'the Green Heart of Italy'. The hillside town of Spoleto is your starting point and from there you'll drive east to the castellated town of Norcia and then cut back westwards to Montefalco wine region, before stopping at historic Assisi on your way to Orvieto.
Abruzzo route
Fancy a longer road trip from Rome? This 240km route to Sulmona let you cruise through isolated, expansive valleys and striking mountain terrains. The A24 out of Rome takes you up to Campo Imperatore and the mountaintop ghost town of Santo Stefano Di Sessiano, before you finally reach Sulmona under the Morrone massif. Foodies should drive a little further south to sample local delicacies in eateries at Il Vecchio Muro – this is the ideal road trip for a taste of the Italian high life.
Passion, food, culture and scenery – these top 10 Italian road trips have all the essential ingredients!