Top 10 Road Trips from Bologna
San Marino
Vicenza
Faenza
Verona
Ferrara
Porretta Terme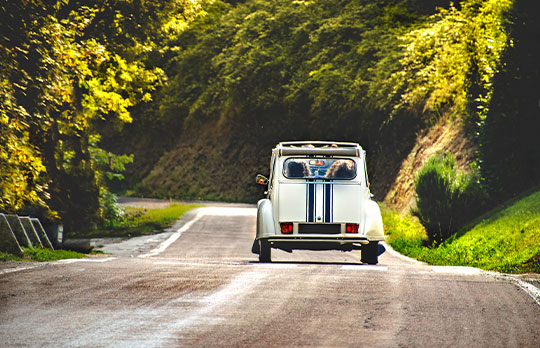 Top 10 scenic trips from Bologna
Spending some time in Bologna? It's a real treat for the soul and stomach. The biggest city in Emilia-Romagna region and 7th-largest in Italy, it has developed under Etruscan, Celtic and Roman rulers and is famous for its distinctive red -tiled rooftops, radical politics and ancient university (oldest in the Western World). A city of contrasts, you'll find high-tech industry and opera here alongside a lively, down-to-earth student scene.
The Piazza Maggiore is the impressive central square and features iconic buildings like the Palazzo Comunale, Basilica di San Petronio and Neptune Fountain, it has its own pair of leaning towers and the Bologna National Gallery, which hosts masterpieces by Raphael and Titian. Meanwhile, La Piazzola Market is a great place to pick up unusual gifts and there are fabulous views across the city and its environs from the forested slopes of Monte della Guardia.
And hiring a car in Bologna is the best way to check out its surroundings – sort it out in a couple of clicks right here.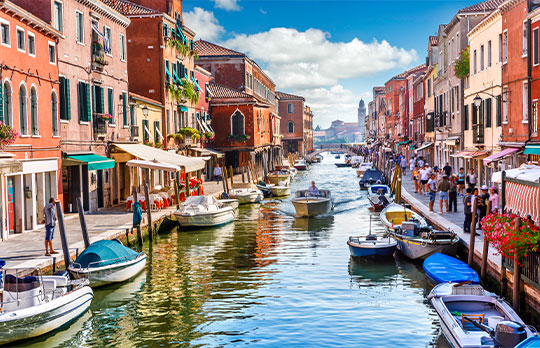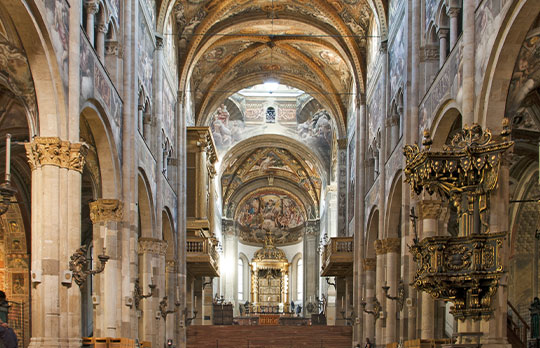 Top tips on driving in Bologna
Your top 10 road trips from Bologna will be here in a jiffy – meantime let's take a look at some driving tips.
First off, there's a restricted zone (ZTL) in the historic middle of Bologna where you're not allowed to drive unless you have a special permit – public transport is your best bet for accessing this particular area.
Speed limits in built-up areas are 50km/h in built-up areas, 110km/h outside built-up areas, and 130km/h on motorways. Remember to wear your seatbelt and don't use your phone unless you have a hands-free system.
Let's crack on with those road trips!
Venice
Fancy floating around one of the world's most romantic cities? Venice is one hour and 45 minutes from Bologna via the A13, so it's an ideal road trip destination for an overnight stay or weekend trip. Great things to do here include hiring your own water taxi to tour the Grand Canal (night time is quieter) and treating yourself to outrageously delicious cakes at Caffe Florian in San Marco Square. The Peggy Guggenheim Collection also boasts some brilliant work by Picasso and Pollock, and San Sebastiano has some stunning ceiling art by Renaissance artists Paolo Tiepolo.
Parma
One hour and 20 minutes from Bologna via A1/E35, Parma has a lot more to it than ham – as tasty as it is! There's the city's cathedral for starters – one of the greatest Romanesque buildings of its kind, it's located in Piazza del Duomo and features eye-popping interior frescos. Meanwhile, Piazza Giuseppe Garibaldi is a brilliant place to people-watch – it has a statue honouring the father of Italian unification himself, as well as impressive buildings like Palazzo del Governatore.
San Marino
How does a road trip to a tiny independent country sound? San Marino is one hour and 30 minutes from Bologna via E45 and Autostrada A14 and it really is magical. Set on the slopes of Monte Titano, this small but perfectly formed republic has spellbinding castles, a distinctive culture and tax-free shopping. If you're an ice cream fan, sampling the organic flavours at Altro Gelato is a must and if you're here from June-September, take time to watch the changing of the guard at Piazza della Liberta. Don't miss the Three Towers if you're feeling energetic – these otherworldly triplet fortresses on Monte Titano offer amazing views over the area.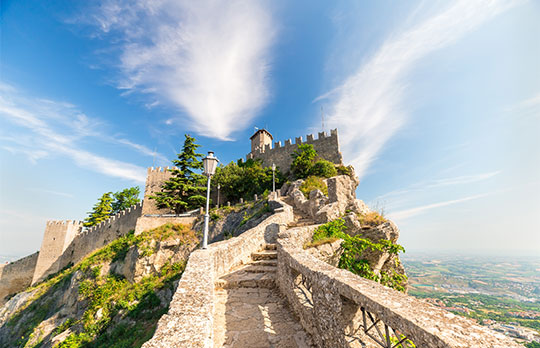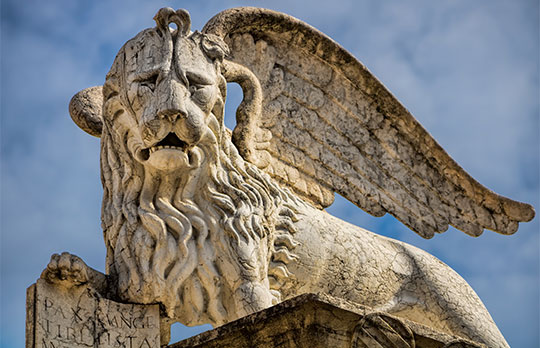 Vicenza
Just under two hours from Bologna via A13 and A31, Vicenza makes a wonderful weekend road trip destination. Located in north Italy's Veneto region, it sits between Venice and Verona and is a bit of a hidden gem. A UNESCO World Heritage site, Vicenza boasts everything from Renaissance palaces to subterranean Roman ruins, and its most famous resident was master architect Andrea Palladio – his exquisite buildings like Villa Capra La Rotunda and Teatro Olimpico elevate the city's architecture to another level. And if you like a bit of bling, Vicenza has a fine tradition of goldsmithing and jewellery design – pick up a piece for your significant other.
Modena
Just 50 minutes northwest of Bologna via A1/E35, Modena is an easy day trip that's really rewarding. Bit of a petrolhead? You'll be excited that this city is the birthplace of Enzo Ferrari and there's a museum next to his home with a stunning collection of classic Ferrari cars and other artefacts that showcase his life and work. Meanwhile, foodies usually appreciate a trip to Villa San Donnino to sample artisan balsamic vinegar and browsing the fresh fare at Albinelli Market. Top off your day by relaxing in Piazza Roma – it's a lovely place to hang out and watch the world go by.
Faenza
If you like ceramics and pretty scenery, a 50 minute drive along the E45 from Bologna to Faenza is a must. The maiolica ceramics which have been produced here for half a millennium are famous worldwide and celebrated in the International Museum of Ceramics – the largest collection of its type in the world. And the architecture's rather impressive too, especially the fine neoclassical facades of Palazzo Conti and Casa Pianipasi. There are also lots of local Osterias here where you can enjoy local cuisine and spend an evening socialising with locals and visitors alike. For an arty day trip with a difference and a chance to stock up on some posh pottery, Faenza delivers.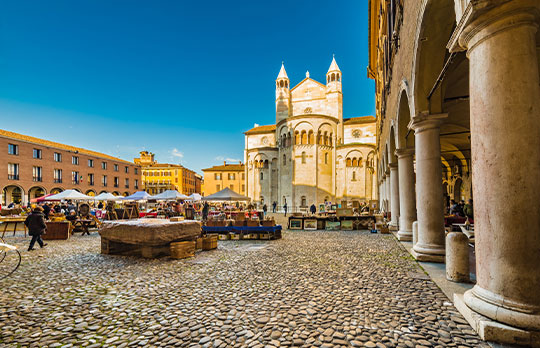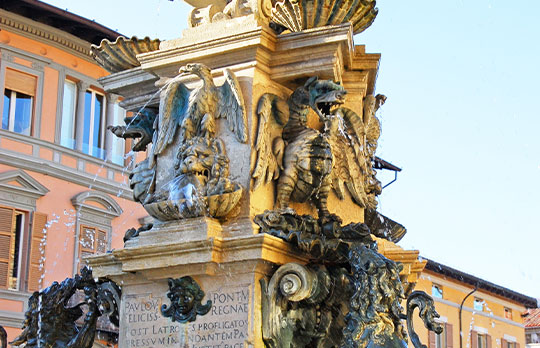 Verona
One hour and 35 minutes north of Bologna via A1/E35 and A22/E45, Verona is the setting for Shakespeare's most famous romance – Rome and Juliet. Great things to see here include the Arena di Verona (a commanding Roman amphitheatre) and the buzzing bars and restaurants in the surrounding Piazza Bra, and Verona Cathedral's elaborate interior. If you're a literature fan, a trip to Casa di Giulietta is a must – it's free to stroll in the courtyard but you pay to enter the museum and step out onto the iconic balcony where Juliet called to her star-crossed lover. Feel free to do the same if you're caught up in the moment!
Ferrara
Another quick road trip from Bologna, Ferrara is 50 minutes away via A13. Located 50km from the coast in Emilia-Romagna, this economic powerhouse was once the stronghold of the House of Este – a dynasty which was very powerful during the 15th century. The Castle Estense is always worth seeing – sitting on an island surrounded by a moat in the old town, its exterior is superb, and the interior boasts dungeons, a ducal chapel and ornate rooms like the Chamber of Dawn. Meanwhile, the Palazzo Dei Diamanti Art Gallery is itself a work of art, with its unique façade of faceted marble blocks. There's also a museum celebrating the resistance groups who fought against Mussolini during WWII and Parco Massari is a gorgeous green space. So that's Ferrara – a little something for everyone!
Porretta Terme
One hour and 15 minutes southwest of Bologna via S. da Statale Porrettana/SS64, Porretta Terme is a lovely stone-built village in the Apennines on the border of Emilia-Romagna and Tuscany. It's famous for the cathartic power of its thermal springs (legend has it they first gave a new lease of life to a sickly cow) and the verdant, mountainous surrounding countryside is ideal hiking territory. Don't leave without trying the traditional Tortelloni di Magro – a delicious dish of ricotta-filled pasta served with sage, melted butter and lashings of Parmigiano Reggiano. Bellissima!
Rimini
Let's end our Bologna road trip roundup with a trip to an awesome Adriatic Coast city. Rimini is one hour and 35 minutes away via E45 and Autostrada A14 and it's a real treat. One of Europe's most iconic beach resorts, the city has a 15km strip of sublime white sand beaches and a vast choice of bars and restaurants. Architectural highlights include the Arch of Augustus (built in 27 BC), and Tempio Malatestiano, which was built between the 9th and 15th centuries but still lies unfinished. Meanwhile, history buffs should head straight to Museo della Citta, home to artefacts from prehistory to the present day, while Italia in Miniatura is a charming model village with scaled-down versions of some of the nation's most famous buildings. Finally, the Piazza Tre Martini is the city's beating heart and at various times of the year hosts open-air concerts and markets.