The 50 Best Cafes For Digital Nomads
According to Nomad List, the best places in the world for digital nomads are currently Bali, Seoul, and Budapest. The crowdsourced platform draws from different data points in order to rank cities on factors such as cost of living, WiFi speed, and co-working spaces.
But, if you're constantly catching planes to new faraway destinations each week, you don't always have time to sign up for a co-working space and integrate yourself into the local startup scene.
For those kinds of situations, what you really need is a good cafe with some super-strong coffee and WiFi. We've been there too, which is why we decided to pool our resources and check in with our readers in order to find the best cafes for digital nomads in the world.
To rank the best cafes for digital nomads, we looked at various factors, including WiFi access, comfortability, number of outlets, and ambience. Ready to get to work? Head to any of these outstanding coffee shops on our list of the 50 best cafes for digital nomads in the world.
Best Cafes For Digital Nomads, How do these rankings work?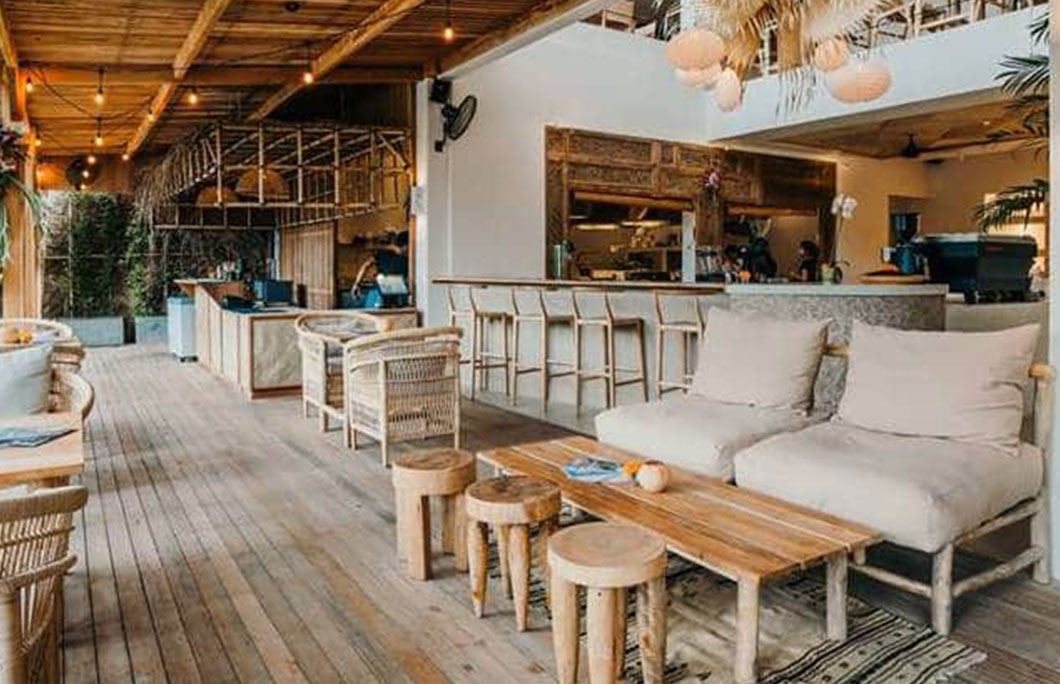 1. ZIN Cafe – Bali, Indonesia
Bali is currently the No. 1 spot for digital nomads, and while it's hard to narrow down just one, the best cafe for digital nomads in the world goes to ZIN Cafe.
Forget about all of the trendy co-working spaces and Instagram cafes for a second. As a digital nomad, you need to actually get work done, which means you're not looking for a super touristy place like Kynd or Coffee Cartel.
ZIN Cafe is spacious, comfortable, and quiet for the most part. The WiFi is strong and so are the laidback vibes.
---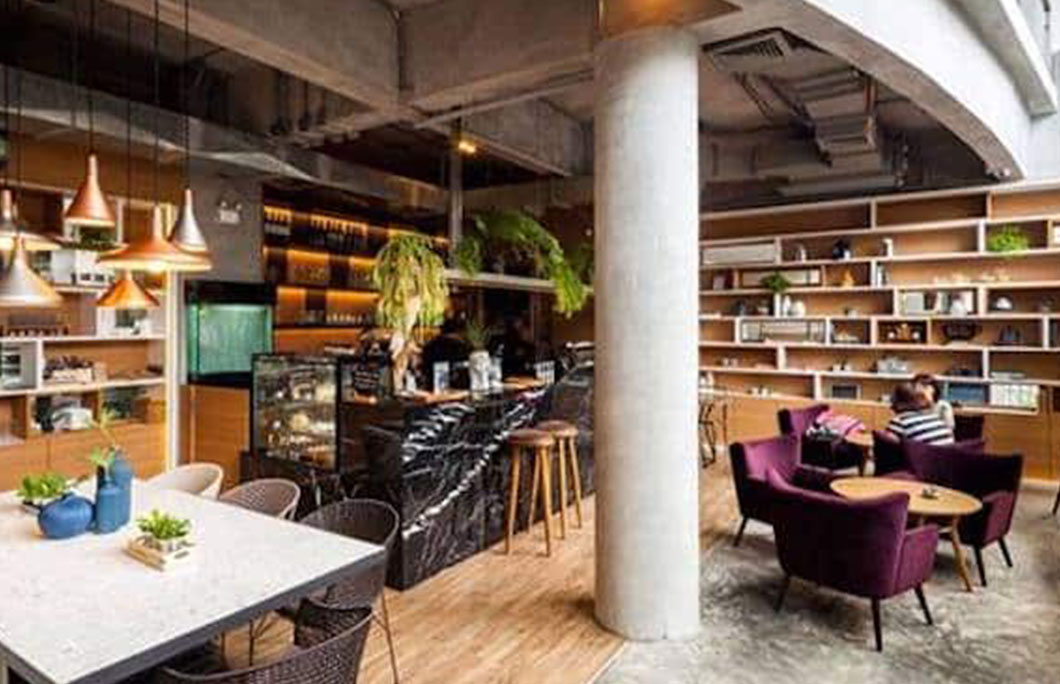 2. Storyline – Bangkok, Thailand
The slogan here is "eat, talk, work" and the space is designed to facilitate just that. The idea behind Storyline is to provide visitors with a modern, upscale environment that feels as if they're working from home.
Impressive design and savoury food make it our top pick for the best cafe for digital nomads in Bangkok, and one of the best in the world.
---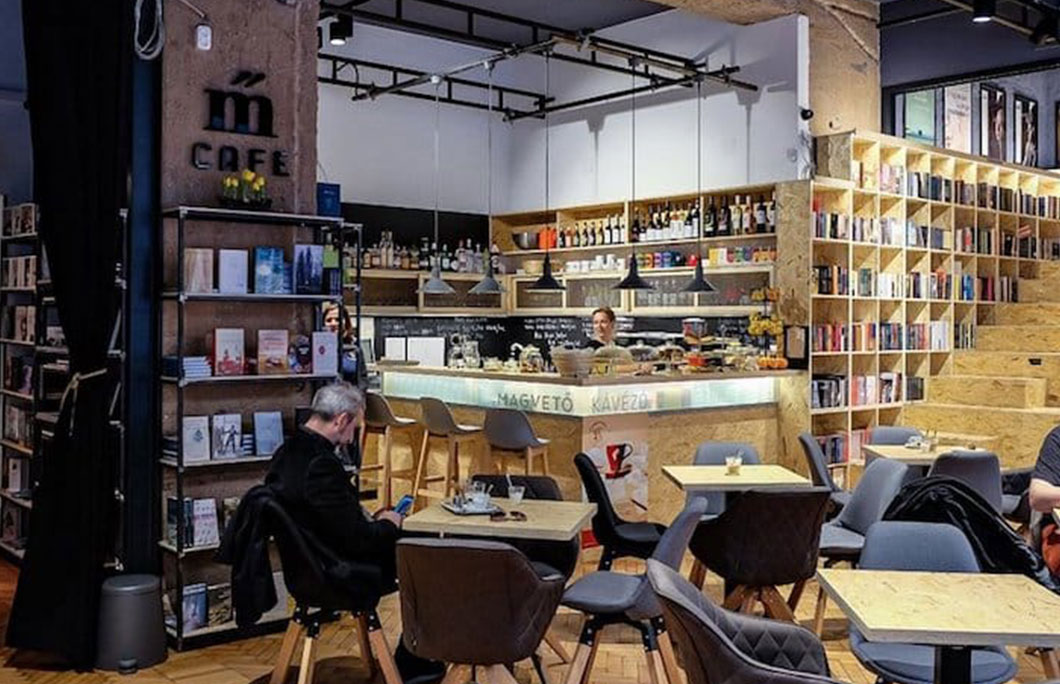 3. Magvető Café – Budapest, Hungary
Budapest beats out cities like Paris, London, and Barcelona to take the top spot as the most popular city in Europe for digital nomads right now.
A low cost of living and undiscovered local haunts make it perfect for eager travellers who want to work remotely and live well. And, we don't blame them. It's home to some of the coolest cafes. Our top choice?
Magvető Café is great for digital nomads in Budapest. Ample seating and a unique layout make it a cosy place to work from.
---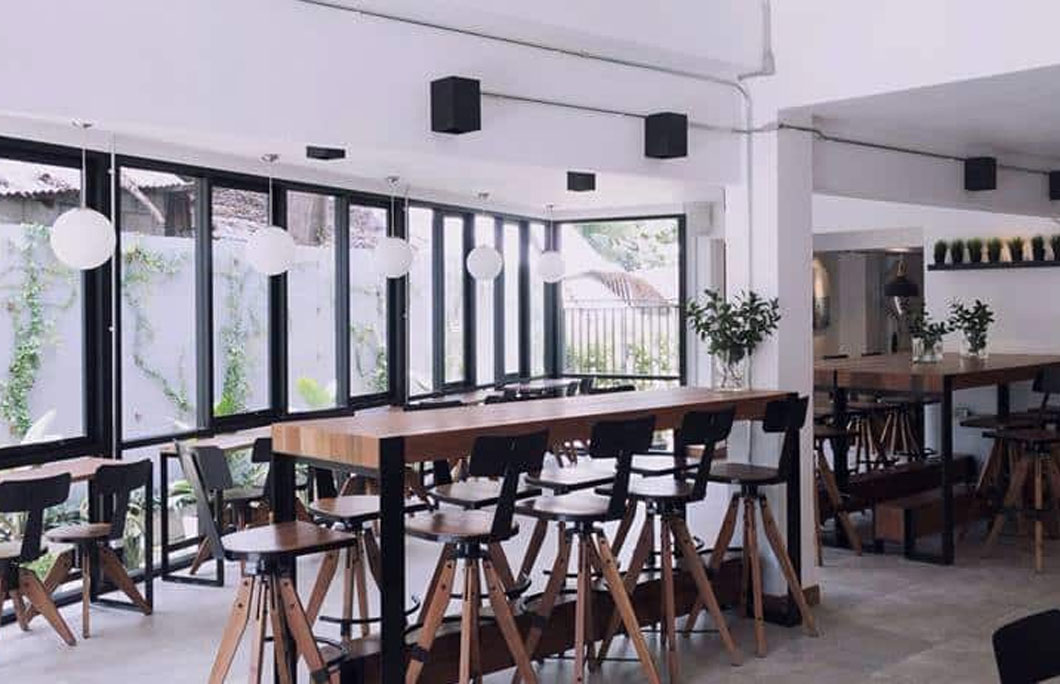 4. Thesis Coffee – Chiang Mai, Thailand
Although Bangkok holds one of the top spots, the lush, hip city of Chiang Mai is also pretty popular amongst digital nomads, too.
If you decide to do as thousands of other digital nomads have done and work remotely from Chiang Mai, then our top pick for the most laptop-friendly cafe goes to Thesis Coffee.
Yes, there are tons of great places to get work done here, but Thesis is bright, their WiFi is incredibly fast, and they've just opened a second floor which means more space to spread out if you like to work alone.
---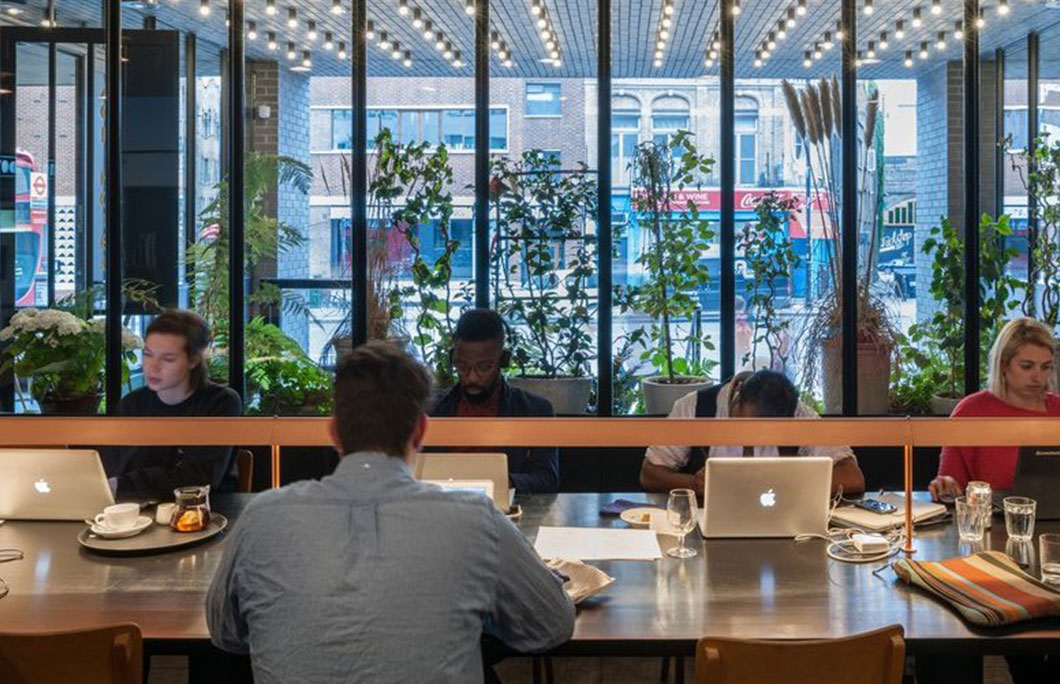 5. The Ace Hotel Lobby – London, England
Okay, so maybe we're cheating with this one as it's not primarily a cafe, but the Ace Hotel in London is actually one of the best remote working spots in Europe.
With loads of sofas, charing space, and long tables, there's nothing that this lobby space doesn't have if you're a digital nomad. And, yes, that includes hot, strong coffee.
They're also open 24/7. This is a huge plus if you're working for clients on the other side of the world and are up at odd hours.
---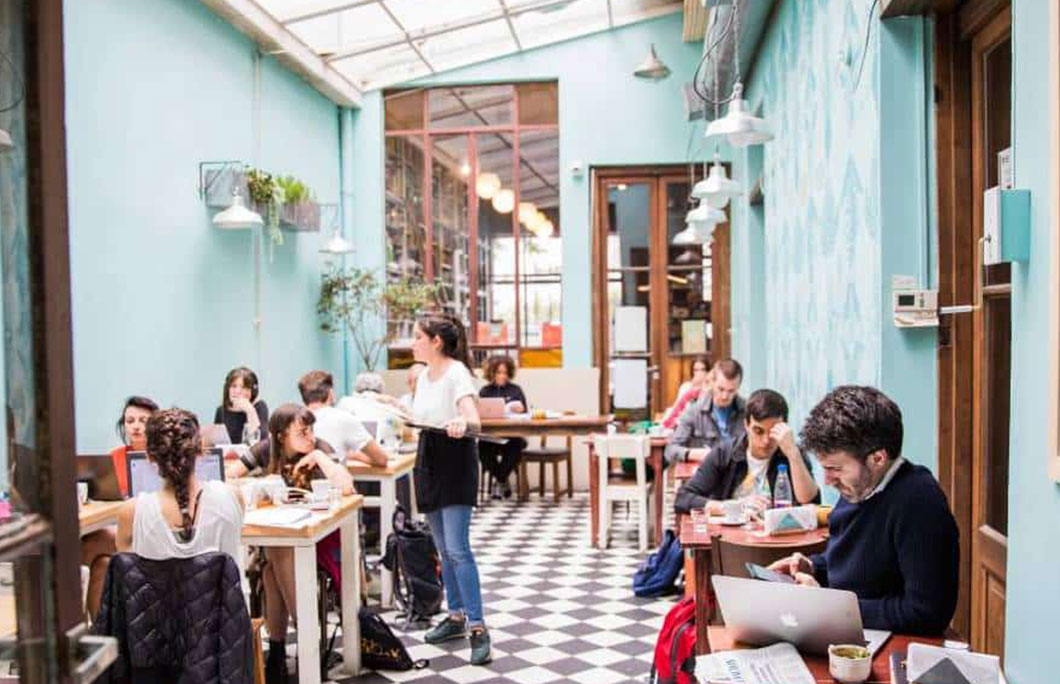 6. Libros del Pasaje – Buenos Aires, Argentina
It might not be the Instagram-worthy cafe you had in your head when you thought about switching to life as a digital nomad, but Libros del Pasaje is one of the best cafes in the world for hunkering down and getting stuff done.
It's a book store and coffee bar all in one, which creates a tranquil ambience that most remote workers need to focus. Head there early to snag a table on the outdoor covered terrace where you can enjoy some sun. And, be sure to try their famous budines.
---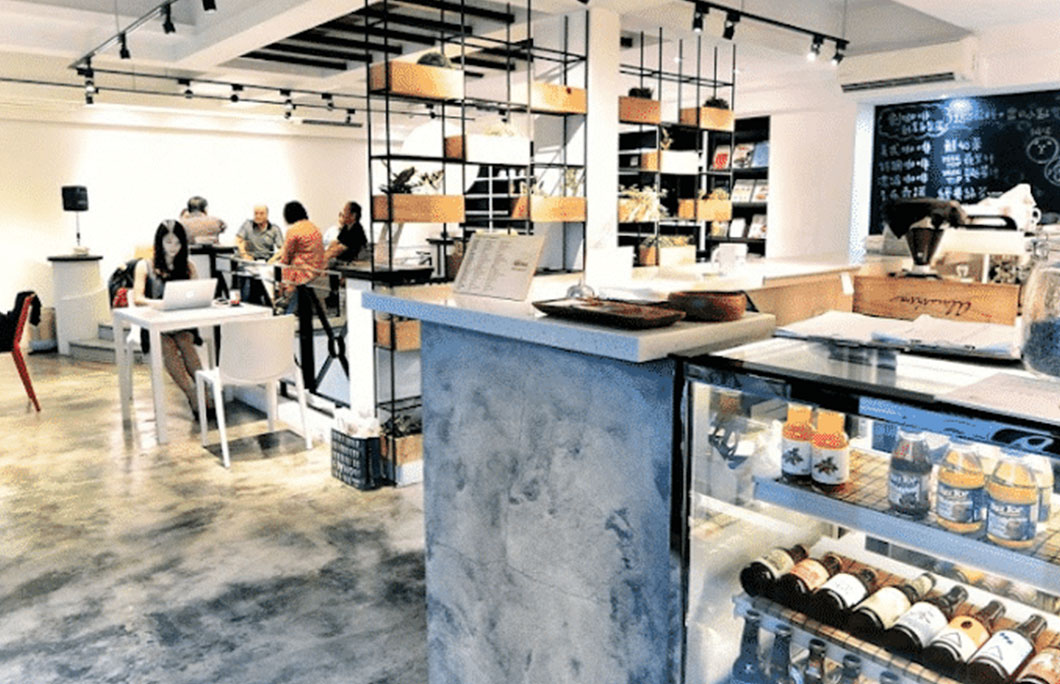 7. Trust Cafe – Taipei, Taiwan
Taipei is currently and has been for a while, in the ranking for the top 10 digital nomad cities in the world. The quality of life here is pretty great, and there are definitely cute cafes to work from, all of which have super-strong WiFi connections.
We recommend Trust Cafe, which is definitely designed for tired travellers and those in the startup community. They have literally everything you need to succeed as a digital nomad.
---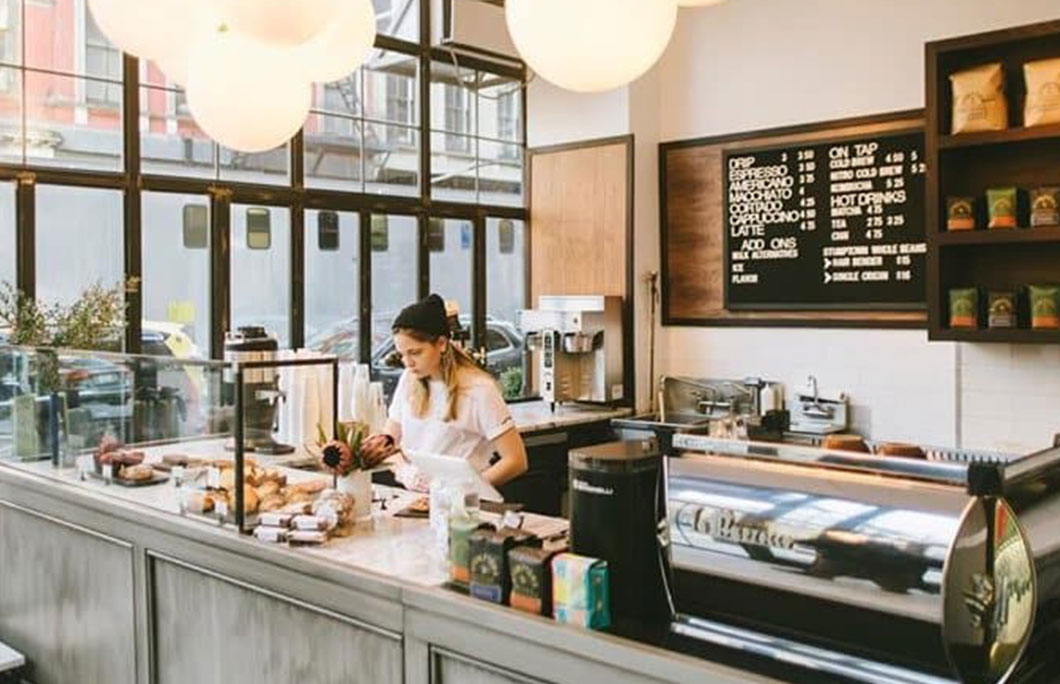 8. Hungry Ghost Coffee – New York City, New York
With so many remote working cafes to choose from in New York City, we had to poll a team of local freelancers. Their favourite spot? Hungry Ghost.
Their healthy lunches are popular and the bigger location on Flatbush Ave between Park Slope and Prospect Heights is the place to go if you need to focus.
---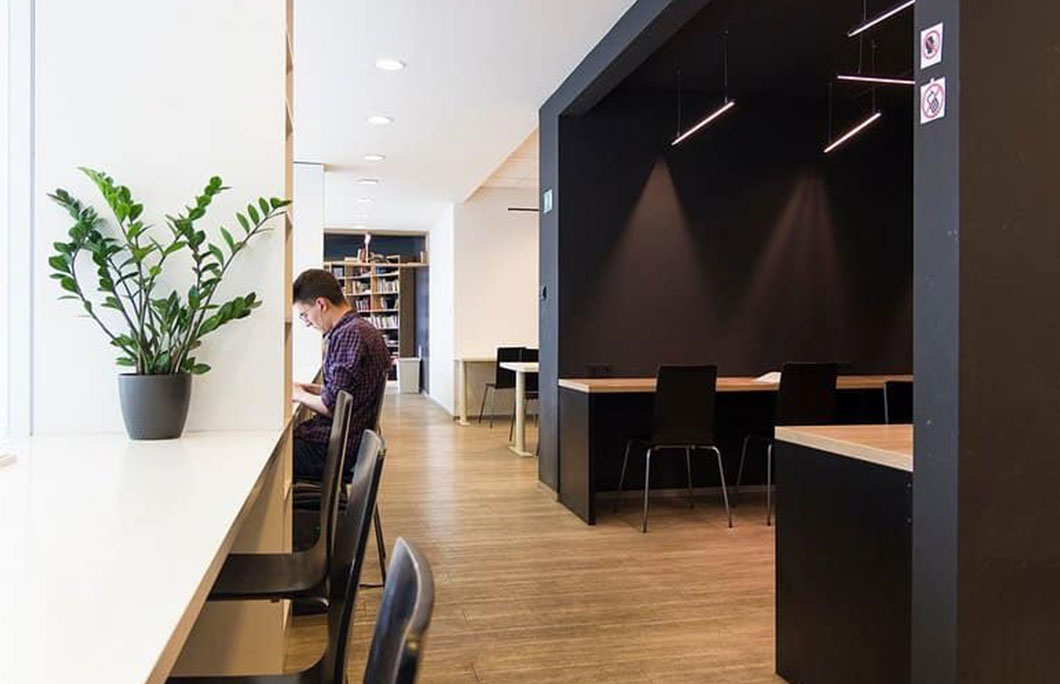 9. Cafedu – Prague, Czech Republic
Even though Prague consistently tops the list of the top 10 cities for digital nomads, remote workers in the past have had to fight for cosy spaces and quality WiFi you see in similar European cities.
That's what drove the owner of Cafedu to open up this cosy 24/7 study spot and cafe.
The day-and-night study room is large, bright, and modern. Simply put, it's a dream come true for many digital nomads looking for the perfect space to fuel up on coffee while also enjoying a quiet atmosphere.
---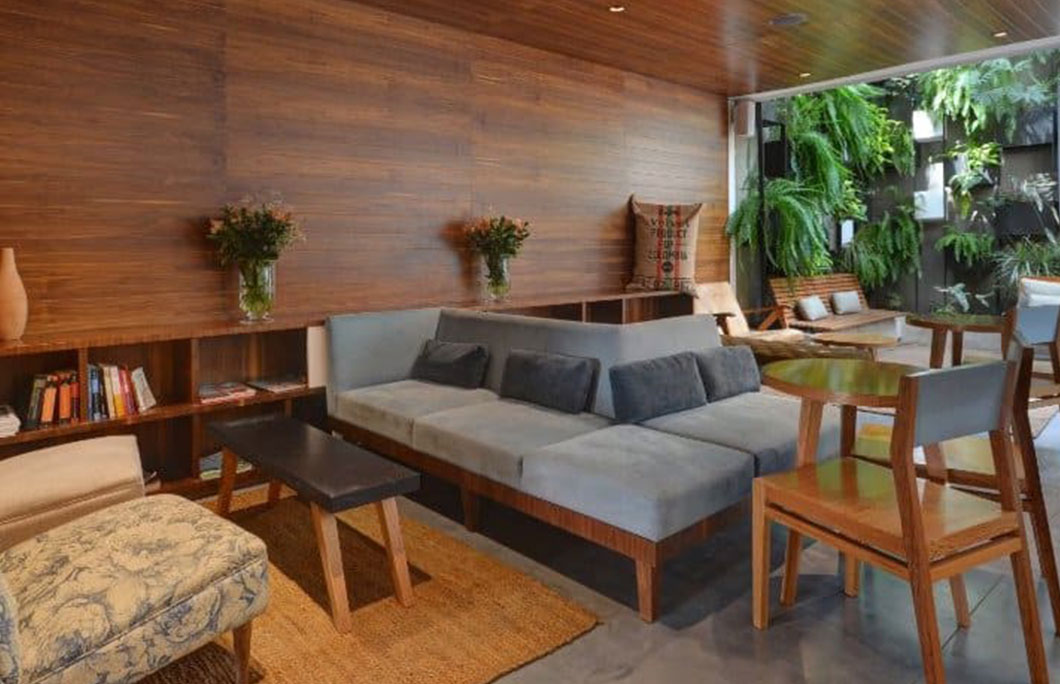 10. Cafe Velvet – Medellin, Colombia
Medellin, Colombia is set to become one of the top cities for digital nomads in 2020, especially in Latin America. The city itself, which they call the City of Eternal Spring due to such fantastic year-round weather, is innovative and highly accessible.
As a digital nomad, you can stay in Colombia six months out of the year as a tourist. If you do, we recommend heading to Cafe Velvet for all your remote working needs.
The seats are extra cosy and the ambience is modern yet jungle-like. And, the coffee is, well, Colombian.
---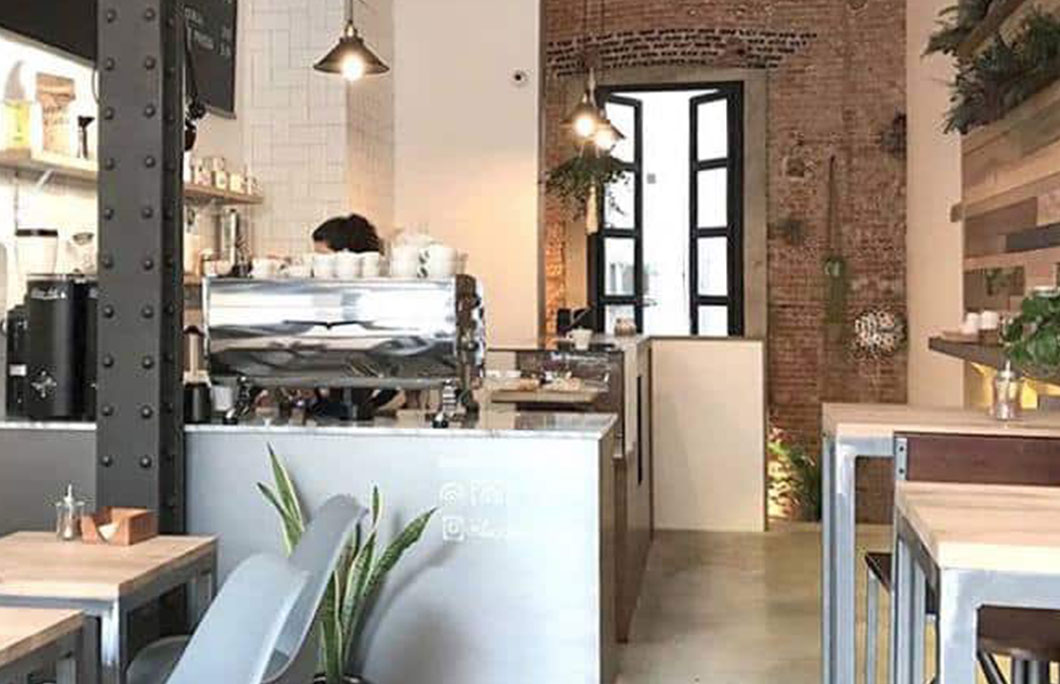 11. La Colectiva Café – Madrid, Spain
La Colectiva is one of many cafes in Madrid with super-fast WiFi and cosy places to settle in for a day's work. However, we find it to be the cosiest of the bunch, as the downstairs area feels like a university study space.
It's worth mentioning that Madrid is home to one of the six Google Campus locations in the world, and we highly recommend it for remote workers in Madrid.
The expansive space feels like a co-working office, but it's free to enter; all you have to do is sign up beforehand.
---
12. ONE LOVE Coffee – Kyiv, Ukraine
Who'd have thought that Kyiv would rise the ranks of top cities for digital nomads in 2019? It's nearly in the top 10, in part due to the super remote-working conditions and low cost of living.
If you don't believe us, then head there for yourself to check out the startup culture and freelance scene. While you're there, work from one of the most impressive cafes we've ever seen – ONE LOVE Coffee is a true architectural delight.
---
13. The 1st Penguin – Seoul, South Korea
If you're into anything tech, then this is the place for your remote work life. There are numerous co-working spots in Seoul. But, if you're looking for a cafe where you can hunker down and power through a lot of work, head to The 1st Penguin.
It's a quiet cafe space that's designed specifically for digital nomads and students. Case in point – the location features 200 electrical outlets for power charging and even pencil sharpeners if you need them.
---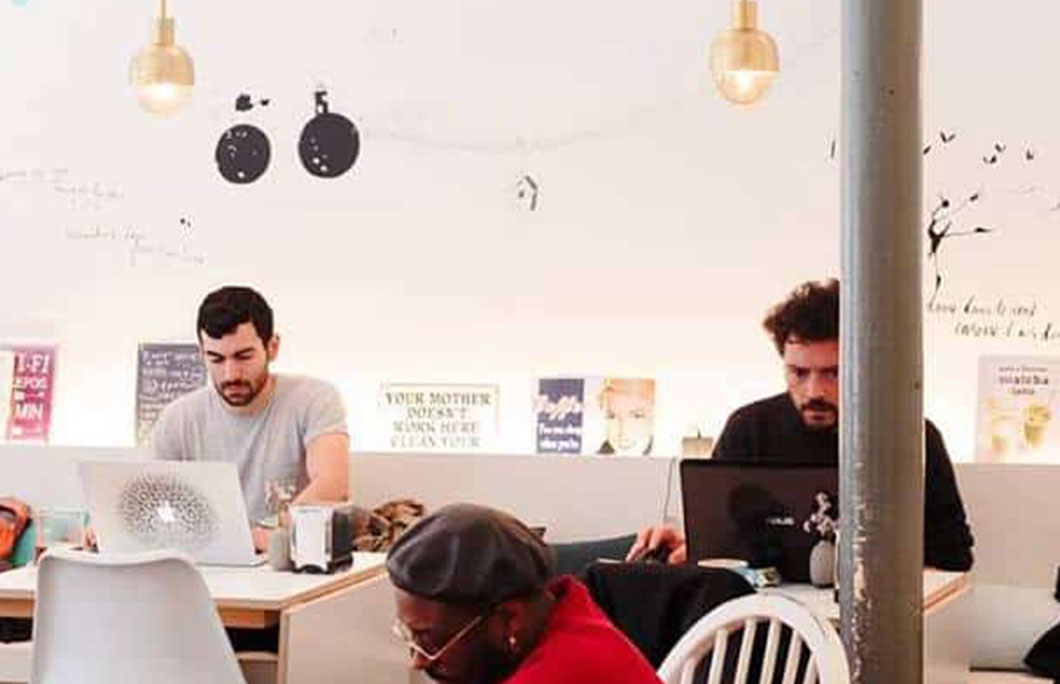 14. WISH Slow Coffee House – Lisbon, Portugal
The smell of fresh coffee draws you into this coffee house, which is great because you're going to need all the caffeine you can get if you're going to work all day in Lisbon. We love the bright, modern style of Slow Coffee House and the fact that they sling truly superior coffee.
---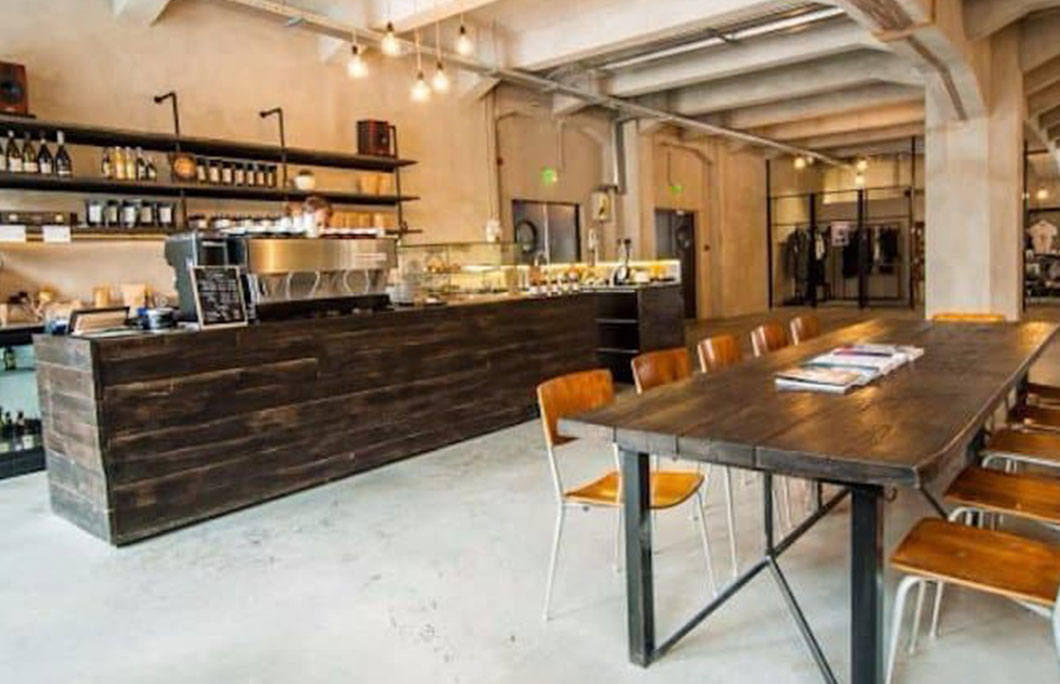 15. Beans & Dots – Bucharest, Romania
You'd be surprised at how remote-friendly and digitally-focused Bucharest is. Romania, in our opinion, is going to be one of the hottest travel destinations in the coming years, so head there fast.
While you're there, enjoy Beans & Dots. It's one of the city's top cafes for getting work done due to the great coffee and good working space.
---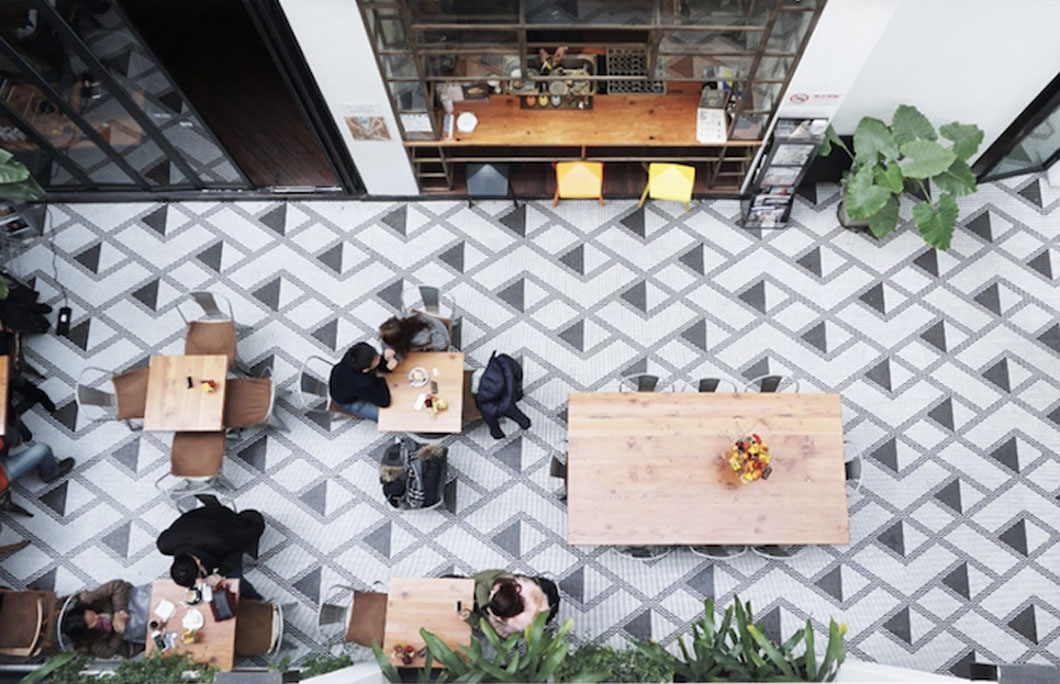 16. Seesaw Coffee – Shanghai, China
Shanghai is quickly becoming more popular as a top destination for digital nomads all over the world. This means that they're still in the process of setting up remote working-focused cafes.
However, Seesaw Coffee is changing all of that. Head there for super trendy vibes and a tranquil setting.
---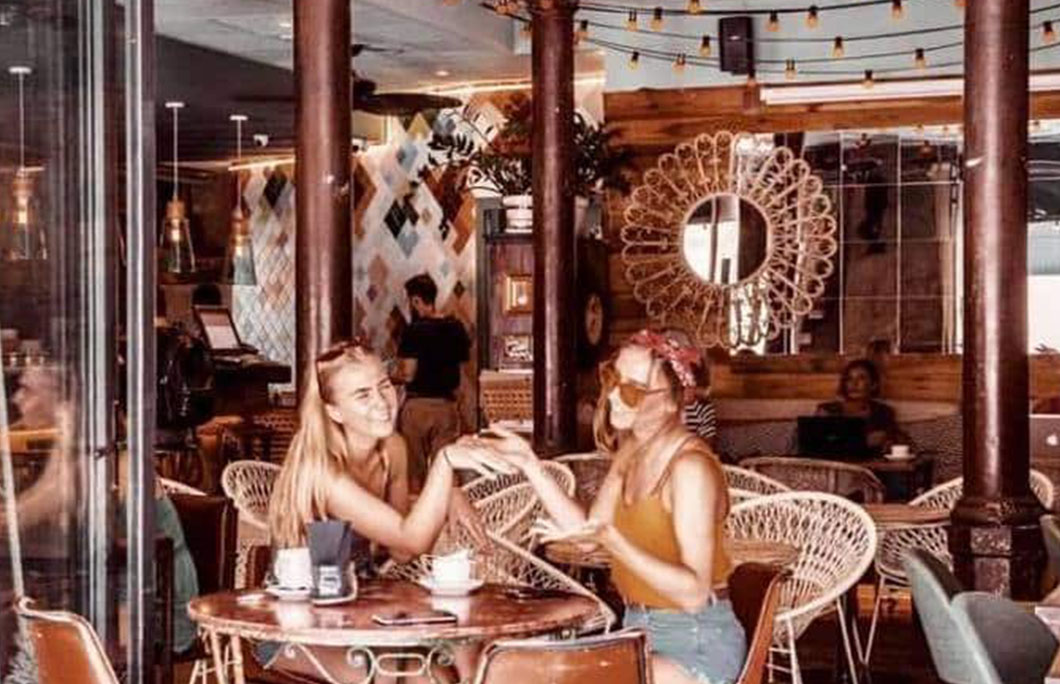 17. Alsur Café Palau – Barcelona, Spain
Brunch food, bagels, and bangin' WiFi are what you can expect to find here. We love Alsur particularly for the cosy vibes and menu choices they offer to digital nomads who want to power through a working lunch.
If you're not interested in drinking coffee but want to get work done, then definitely check out the Centre de Cultura Contemporània of Barcelona. It's free to enter and the space is extremely well-designed.
---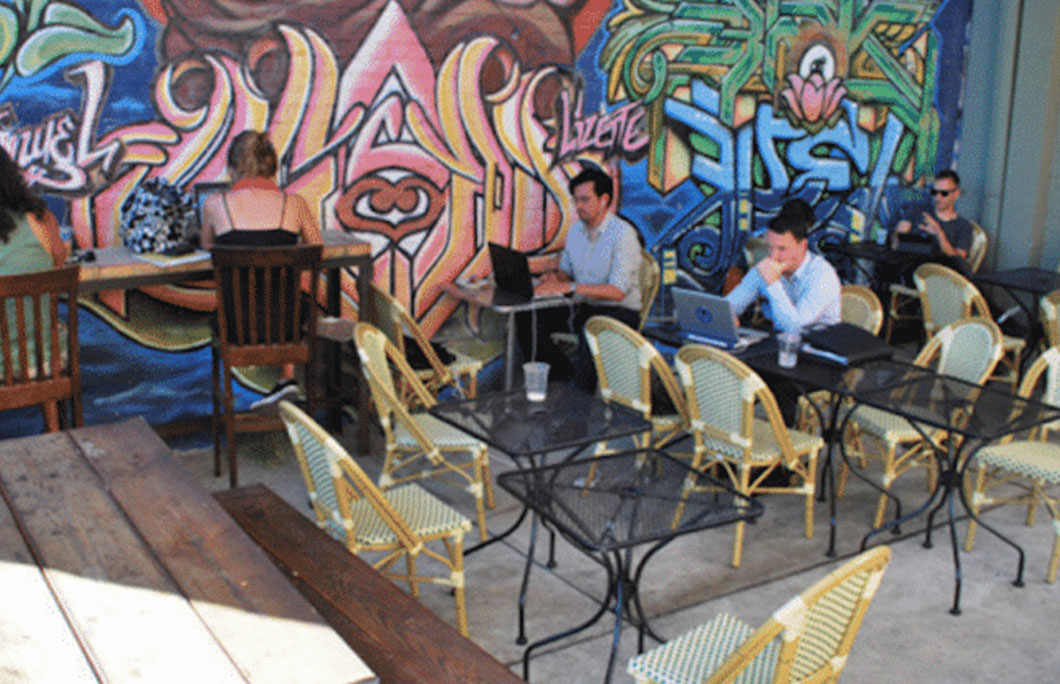 18. Stories Books & Cafe – Los Angeles, California
Los Angeles is littered with Instagrammable cafes at every corner. Sure, you could try working from one of the trendiest spots in Hollywood, but if you really want to get work done, then we suggest heading to Stories Books and Cafe.
---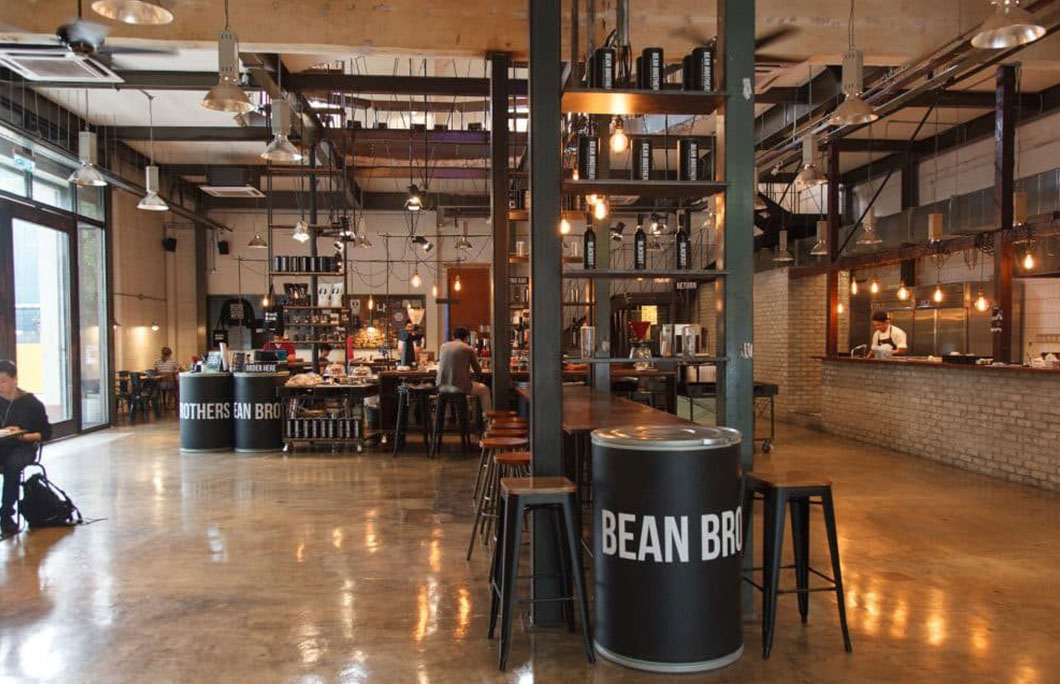 19. Bean Brothers – Kuala Lumpur, Malaysia
Bean Brothers is a unique coffee shop in Kuala Lumpur that spreads out over two floors. With numerous chairs, outlets, and table space to enjoy, there's no way you won't get work done here.
---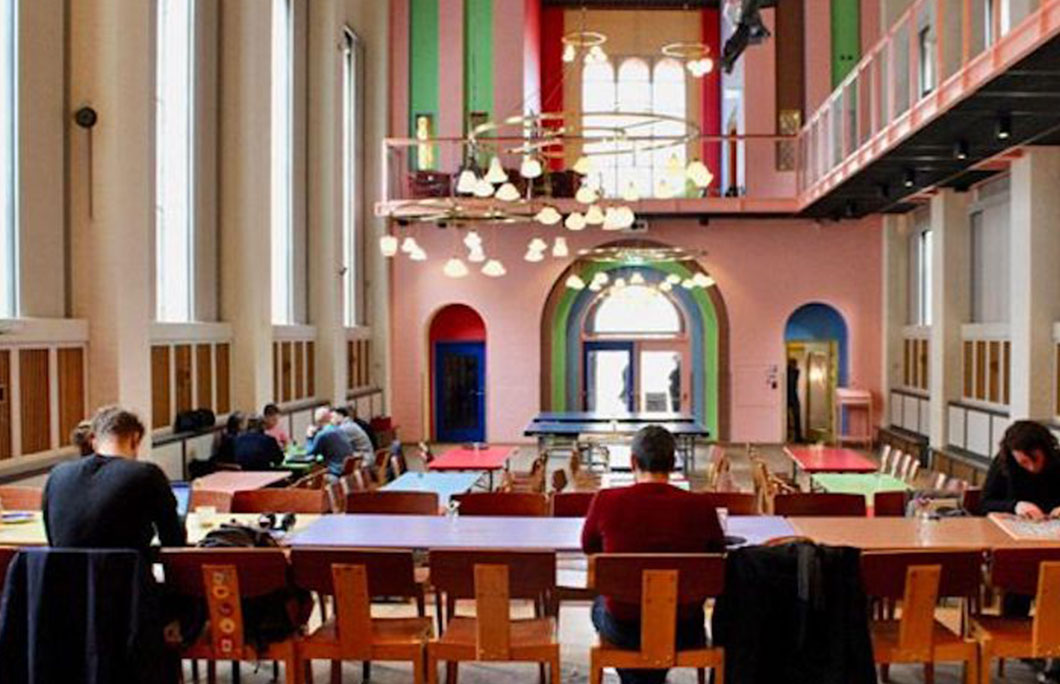 20. The Absalon Folkehuset – Copenhagen, Denmark
What used to be a church is now one of the most vibrant, colourful working spaces in all of Copenhagen. Absalon is a communal non-profit space and cafe that feels almost like a library slash cafeteria. We're into the vibes.
---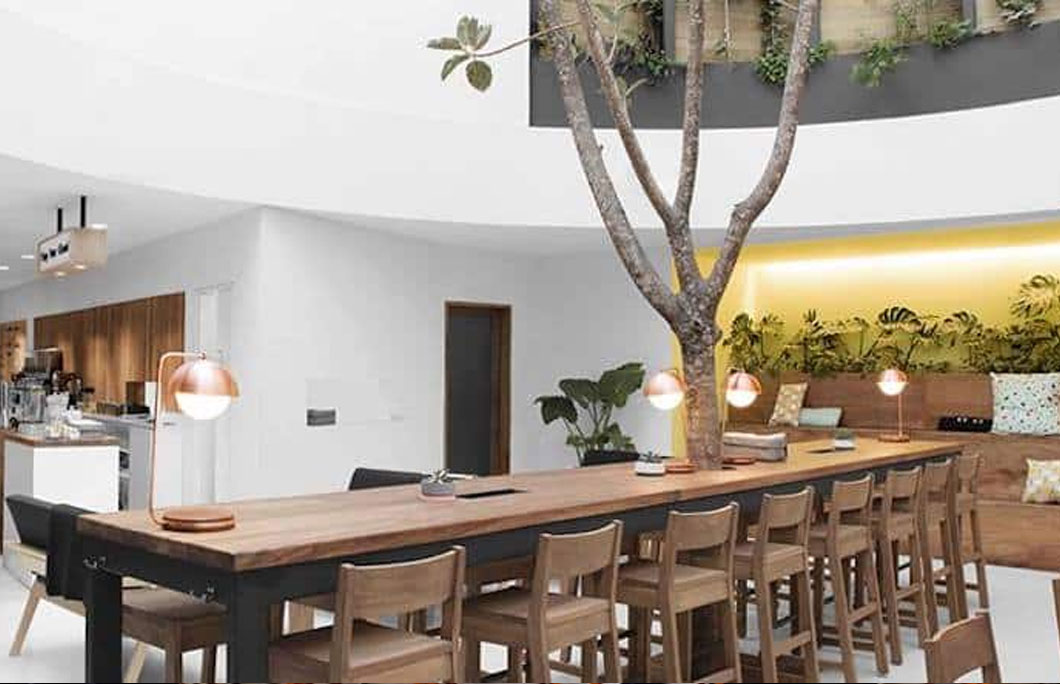 21. Blend Station – Mexico City, Mexico
Blend Station almost feels too nice to for a typical digital nomad. Long wooden tables, perfectly placed lamps and whitewashed walls create the perfect working environment. On top of it all, the WiFi is fast and they offer free infused water.
---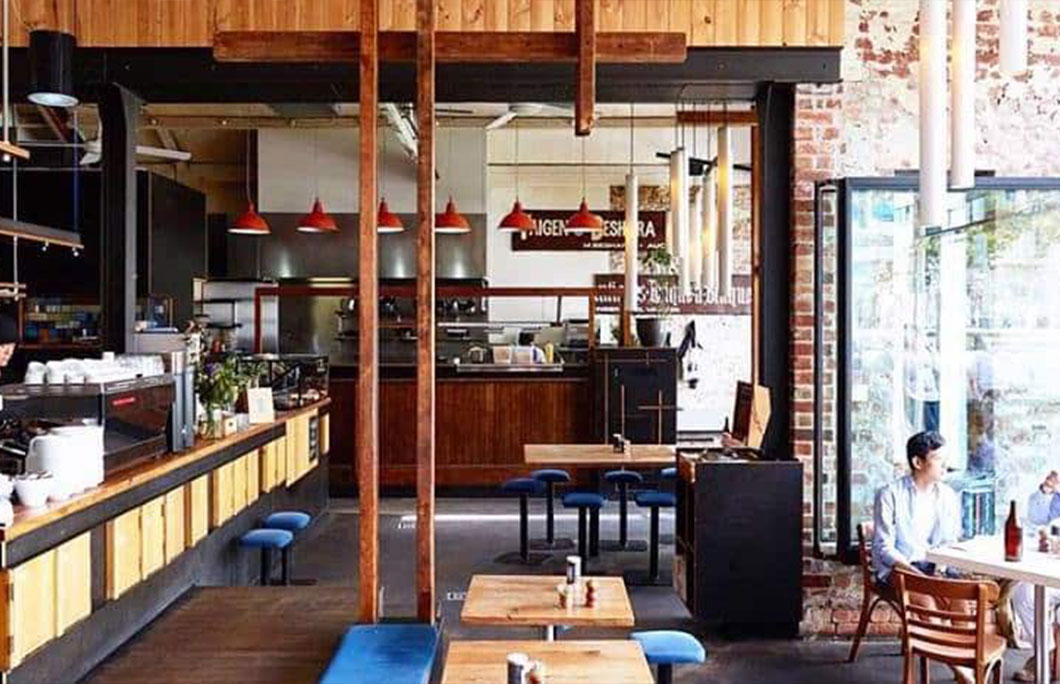 22. Auction Rooms Cafe – Melbourne, Australia
Big tables, good coffee, and ample power sources make Auction Rooms one of the best digital nomad cafes in Melbourne. We're big fans of the industrial chic look and the fact that there are so many different areas to sit.
---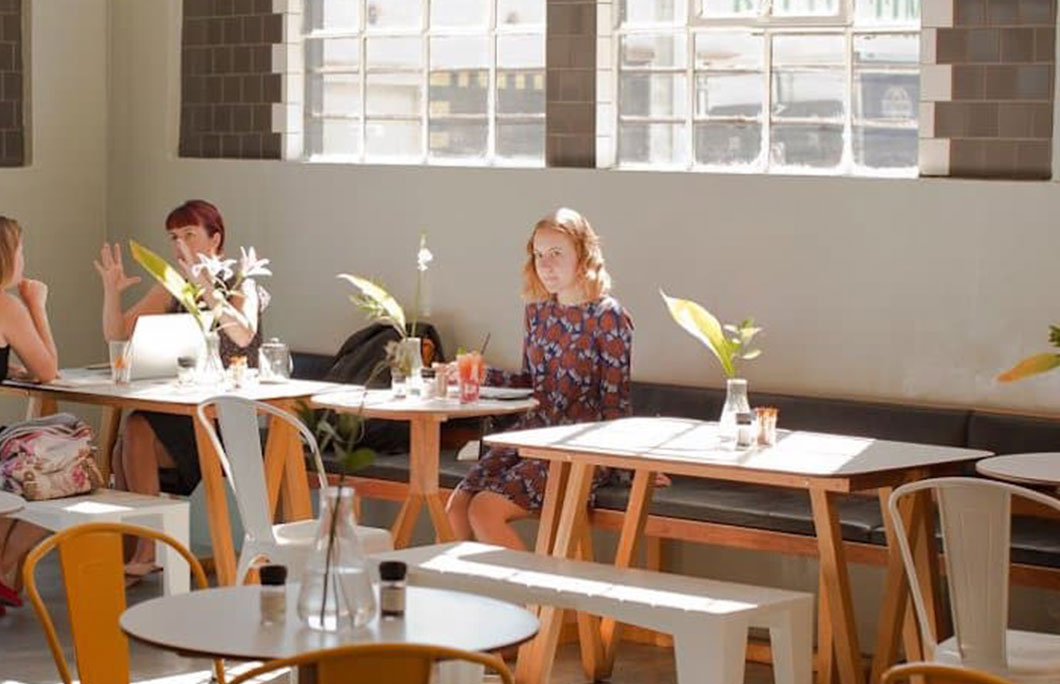 23. Superette – Cape Town, South Africa
The large windows at Superette allow ample light to flood into the cafe, providing visitors with a bright space to work from. Here, you'll find tons of plug points, free WiFi, and a community of other freelance workers.
---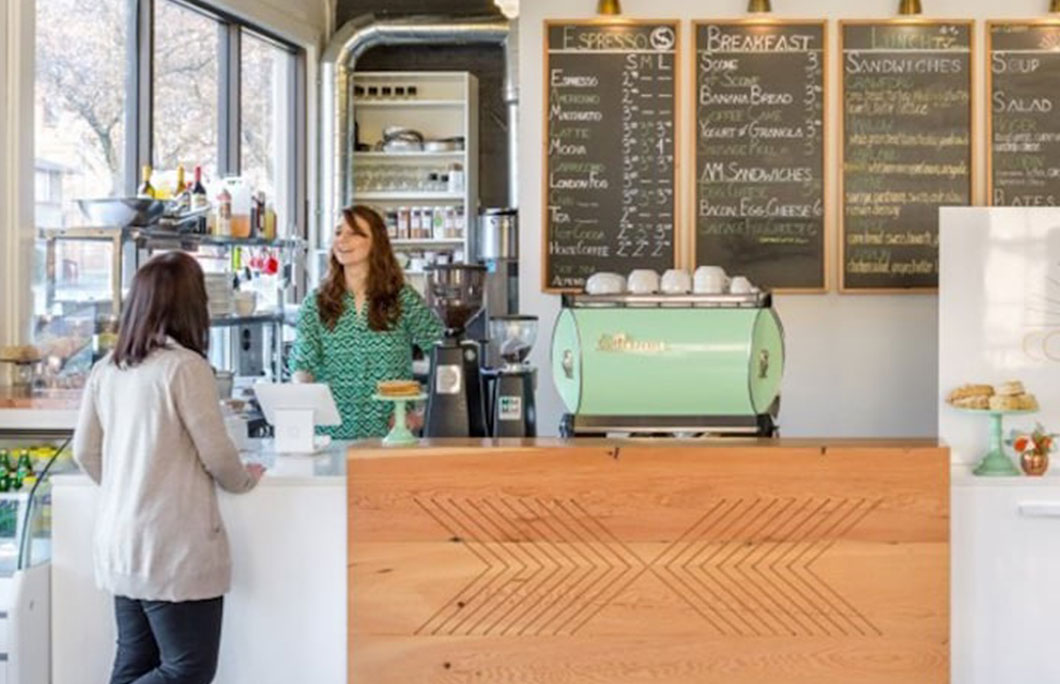 24. Commissary Cafe – Portland, Oregon
This dreary hipster town is filled with freelancers looking for some trendy cafes where they can sip quality coffee and get their work done. If you're in the same boat, then join the local remote workers at Commissary Cafe. The art deco vibes are super cosy and the WiFi is usually fast.
---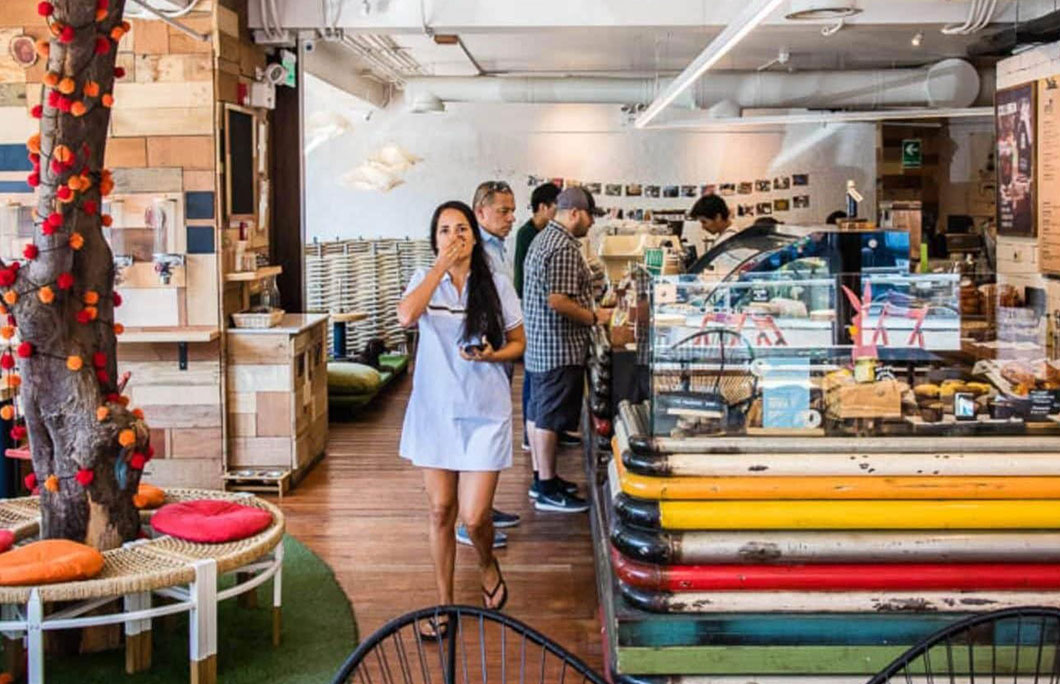 25. Puku Puku Cafe – Lima, Peru
Stable WiFi, work-friendly tables, and enough power outlets to go around, Puku Puku is a great spot to work and one of the best cafes for digital nomads in all of Peru. The fact that they serve Peruvian small-batch coffee and are one of the cutest cafes in the country is just icing on top of the cake.
---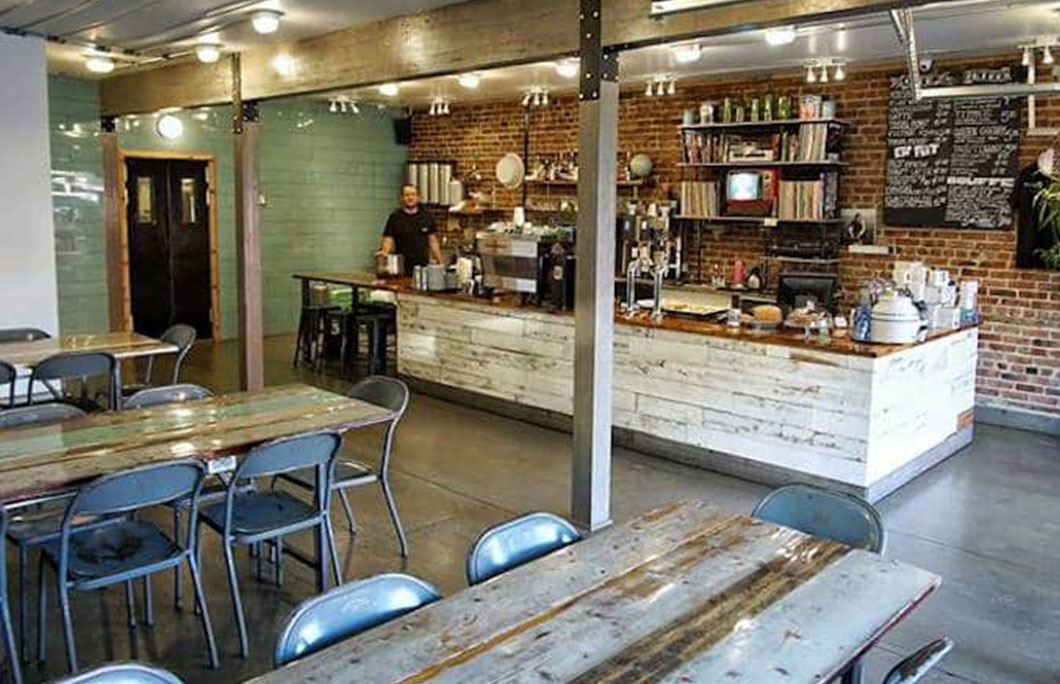 26. Paquebot Bélanger – Montreal, Canada
Paquebot Bélanger plays soft music from their collection of vinyl records you can order Kombucha and nitro cold brew, which we find to be super fancy. Each table also has electrical outlets. What more could you ask for as a digital nomad in Montreal?
---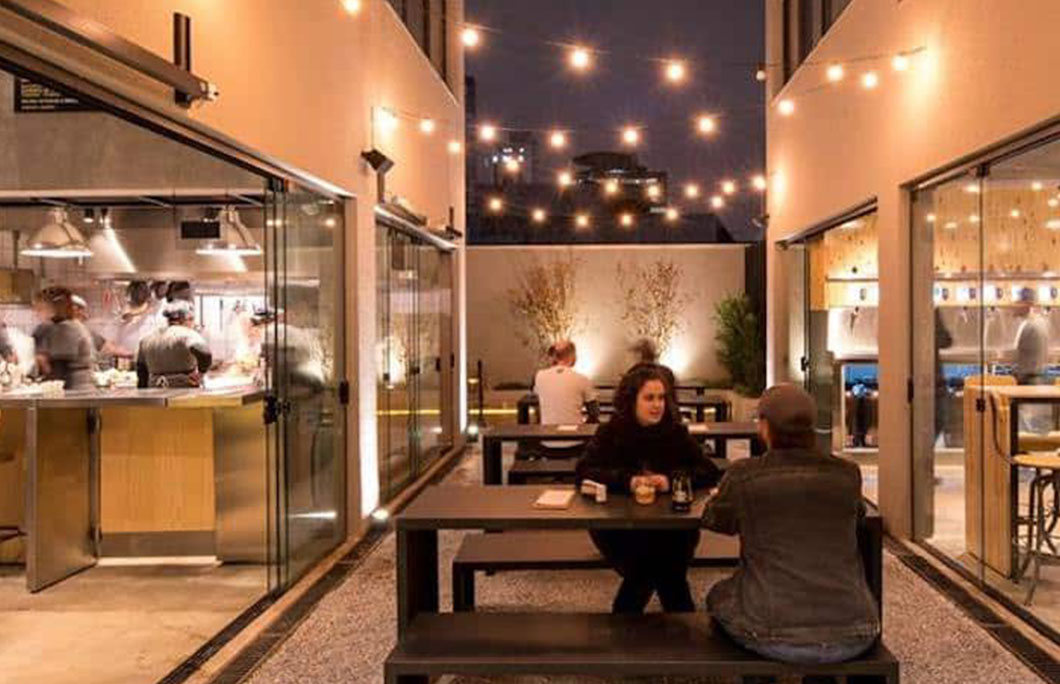 27. Perro Libre Pinheiros – Sao Paulo, Brazil
What looks like a craft beer bar is actually one of the highest-rated remote working spaces in all of Sao Paulo. Fast WiFi, high tables to put your laptop on, and, yes, beer on tap, all make Perro Libre a great spot for digital nomads in Brazil.
While it's not technically a cafe nor a coworking space, it's worth mentioning that, like, Madrid, Sao Paulo is home to a pretty impressive Google Campus. You do have to register to enter, but it's free!
---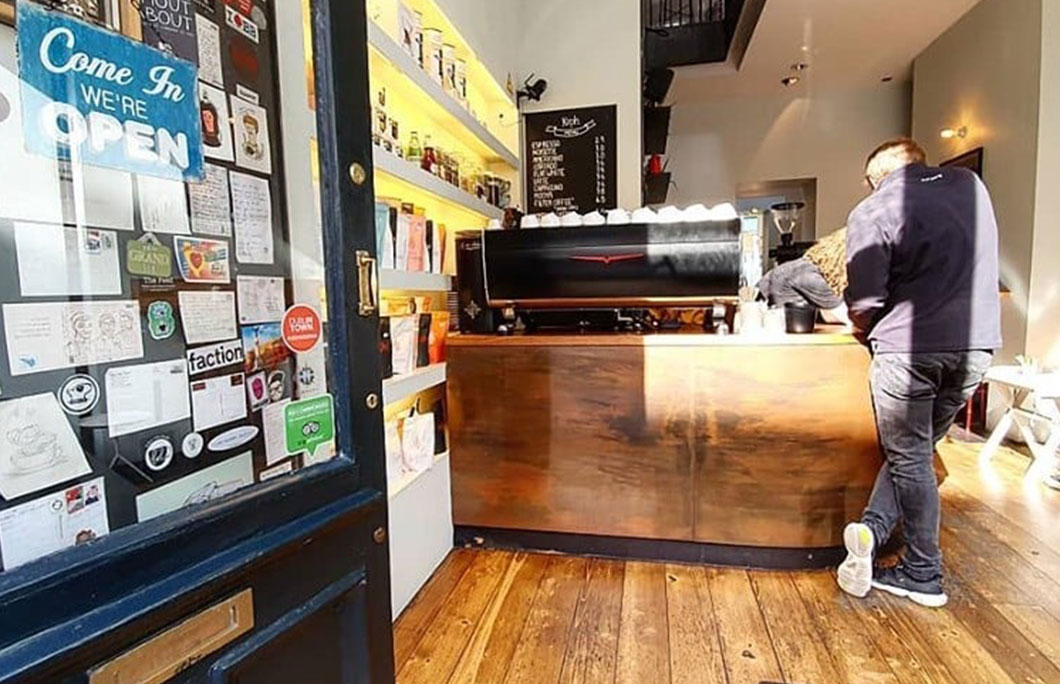 28. Kaph – Dublin, Ireland
Local remote workers cued us in on the fact that Kaph is the place to work from if you're looking for good cafes for digital nomads in Ireland.
The independent contemporary coffee shop spreads out over two floors, allowing you ample space to settle into your own cosy corner. They also sell gourmet cakes, which you probably deserve after a day on Slack.
---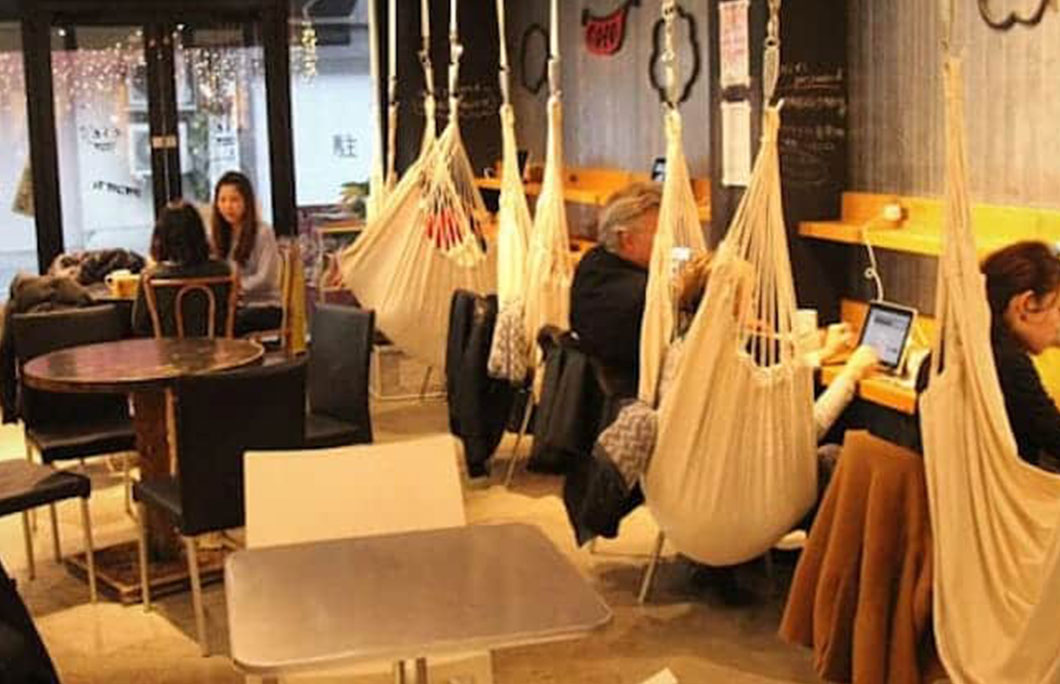 29. Cafe Asan – Tokyo, Japan
You'll find this unique cafe hidden beneath the JR railway tracks between the Okachimachi and Akihabara stations. Offering free WiFi and hammocks from which to work from, you'll feel as if you're swaying on the beach in Bali while enjoying Tokyo-like work vibes.
---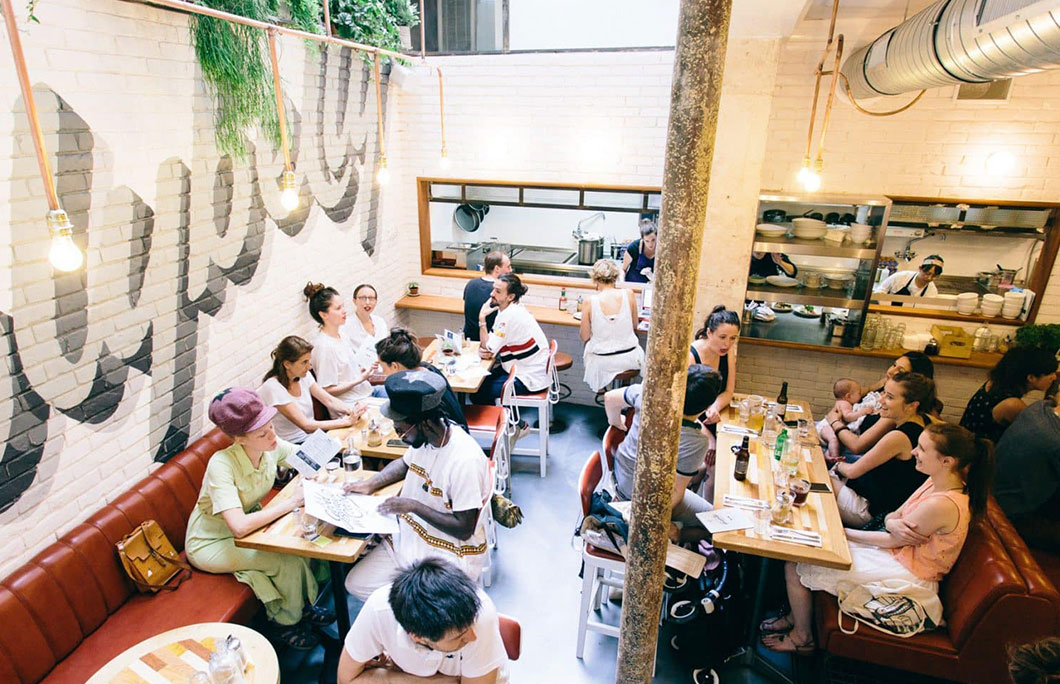 30. Holybelly – Paris, France
Like many other popular European cities, Paris is filled with trendy cafes in each of its twenty arrondissements. As a digital nomad, however, you're looking for fab and functionality. You'll find that at Holybelly.
It's worth mentioning that it does get a bit busy here around lunchtime, so if you need to power through a remote workday, make sure you bring your headphones to drown out the noise.
---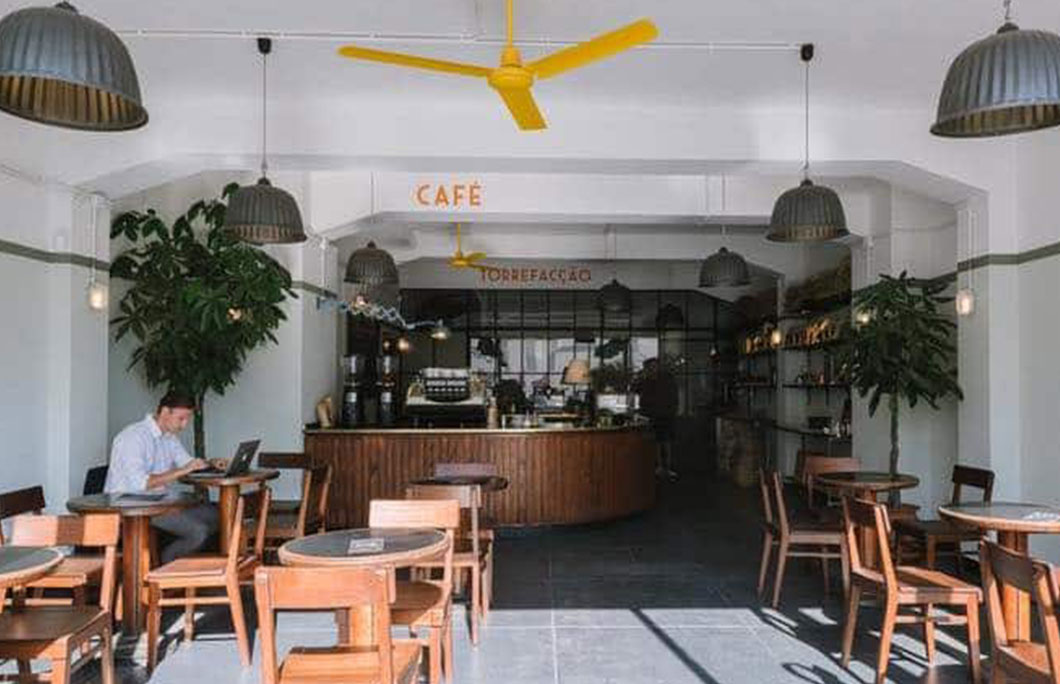 31. Combi Coffee – Porto, Portugal
Strong WiFi signals paired with tons of outlets and a trendy space make Combi Coffee one of the best cafes for digital nomads in Porto. In fact, it's so trendy that our only worry is that you might get distracted posting Instagram Stories instead of working.
---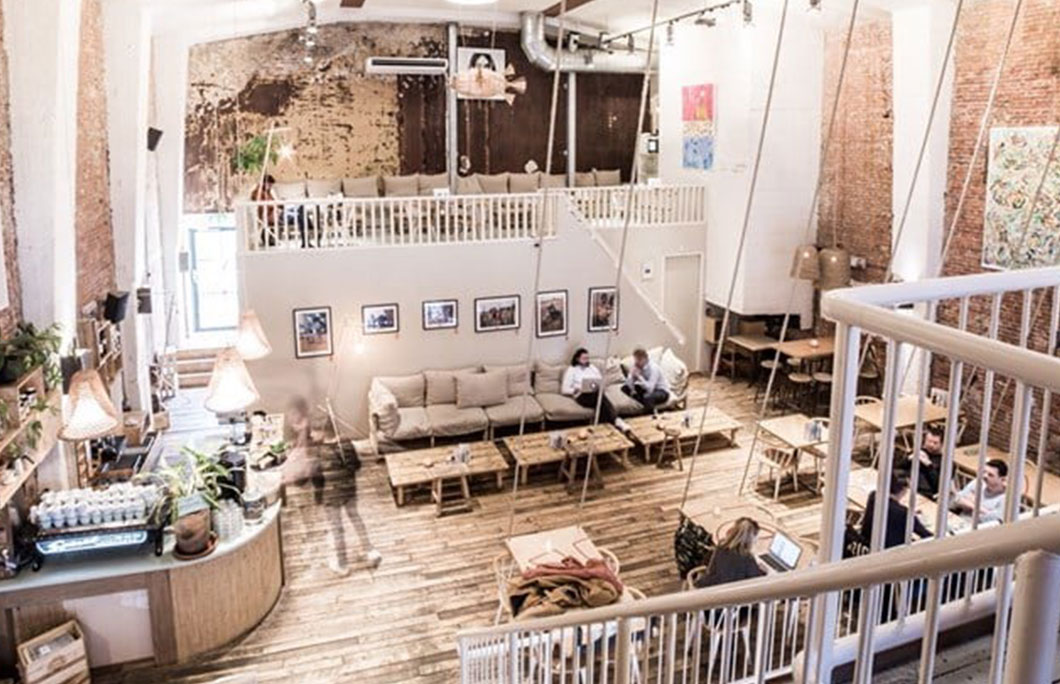 32. Coffee & Coconuts – Amsterdam, Netherlands
Built where a cinema once stood, Coffee & Coconuts serves up tropical vibes in the often chilly city of Amsterdam. There's lots of space to spread out here, which is something that stands out.
If you fall in love with the vibes here and end up visiting Bali, then you'll be pleased to know that there's a Coffee & Coconuts location in Bali, too!
---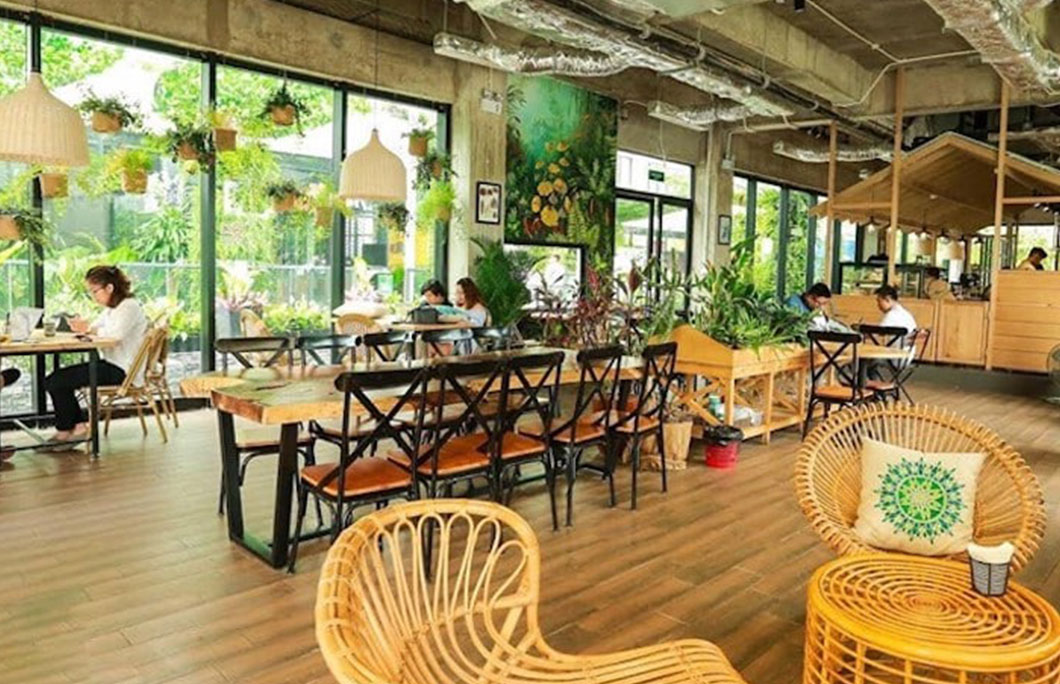 33. Gardenista – Hanoi, Vietnam
Working from a lush, overflowing green garden in Vietnam? Um, yeah, sounds like a goshdarn dream. You can make that dream come to like by visiting Gardenista in Hanoi.
Swap the concrete jungle for a semi-real one and let the green ambience carry you away into a frenzy of focus and productivity. It's not only one of the best cafes for digital nomads in Vietnam, but also one of the most unique.
---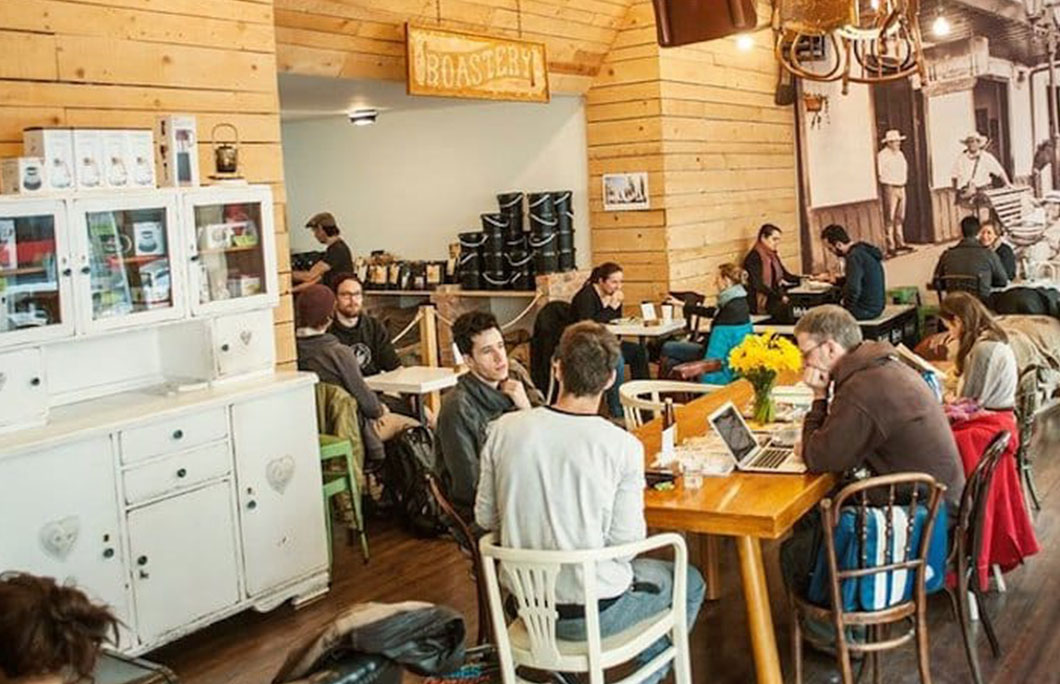 34. Coffee Pirates – Vienna, Austria
Because it's right across the street from Vienna University, Coffee Pirates has become synonymous with work and study. There's something truly unique about the vibes here, and the wood-panelled walls and cosy chairs make it easy to relax and focus on whatever you're doing.
---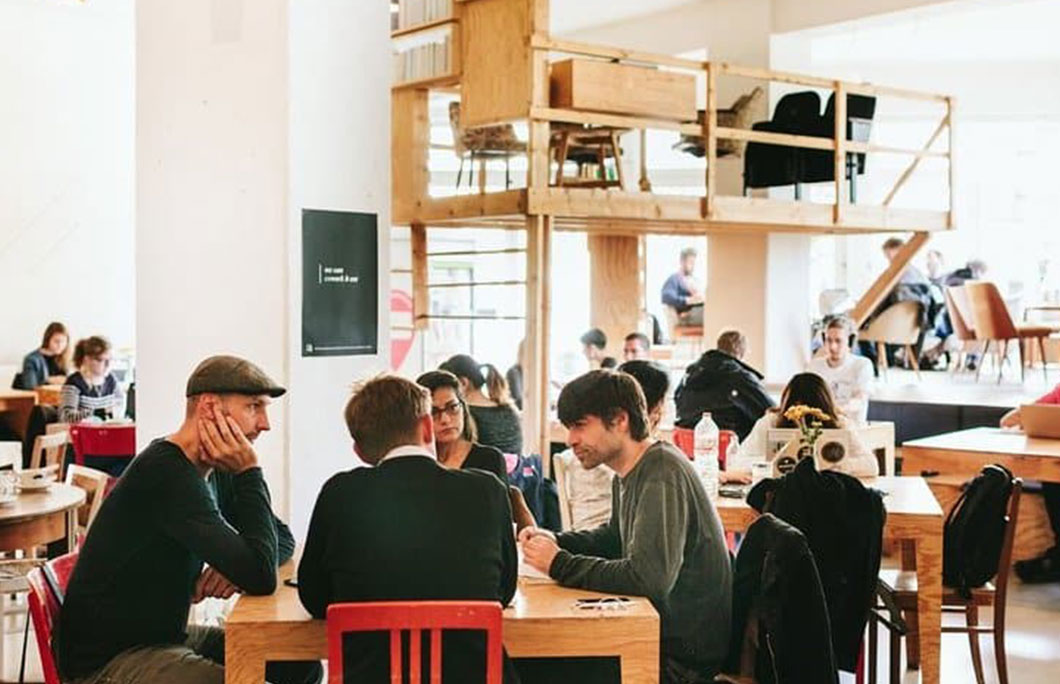 35. Betahaus Cafe – Berlin, Germany
While Betahaus is one of the more famous co-working spaces in the city of Berlin, their cafe is open to non-members. Here, you'll find other like-minded professionals just trying to get some work done, and that kind of work ethic really rubs off.
---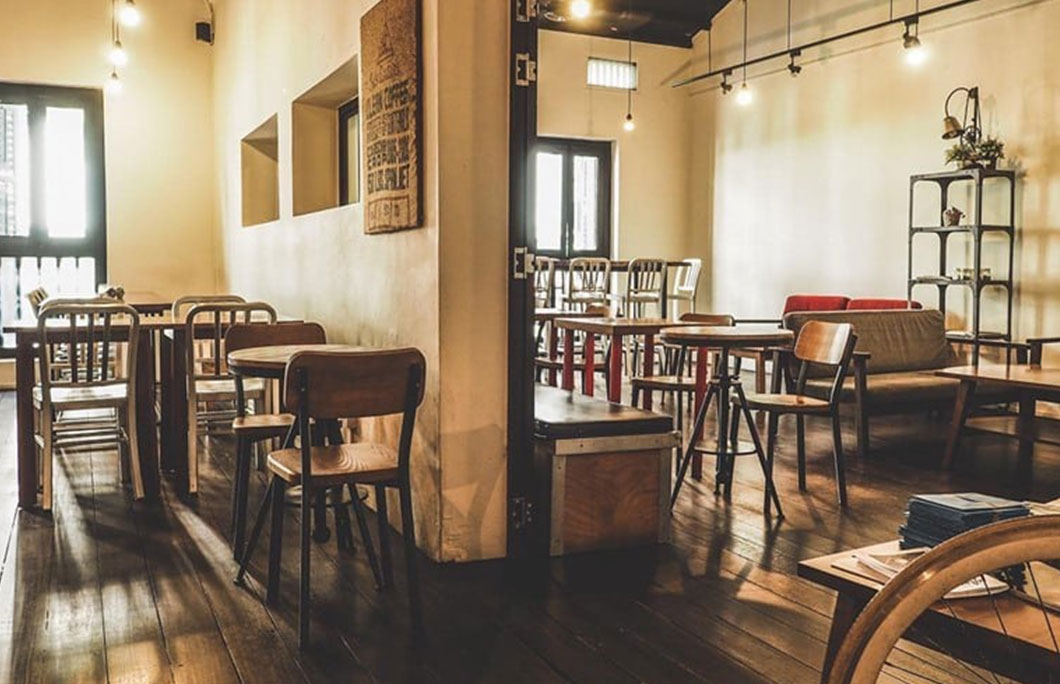 36. Group Therapy – Singapore, Singapore
This Singapore coffee chain actually started out as a collective events space, which makes it easy to see why it feels like a high-end co-working office. It also means that it comes fully-stocked with everything you need to work remotely: outlets, WiFi, and strong coffee.
---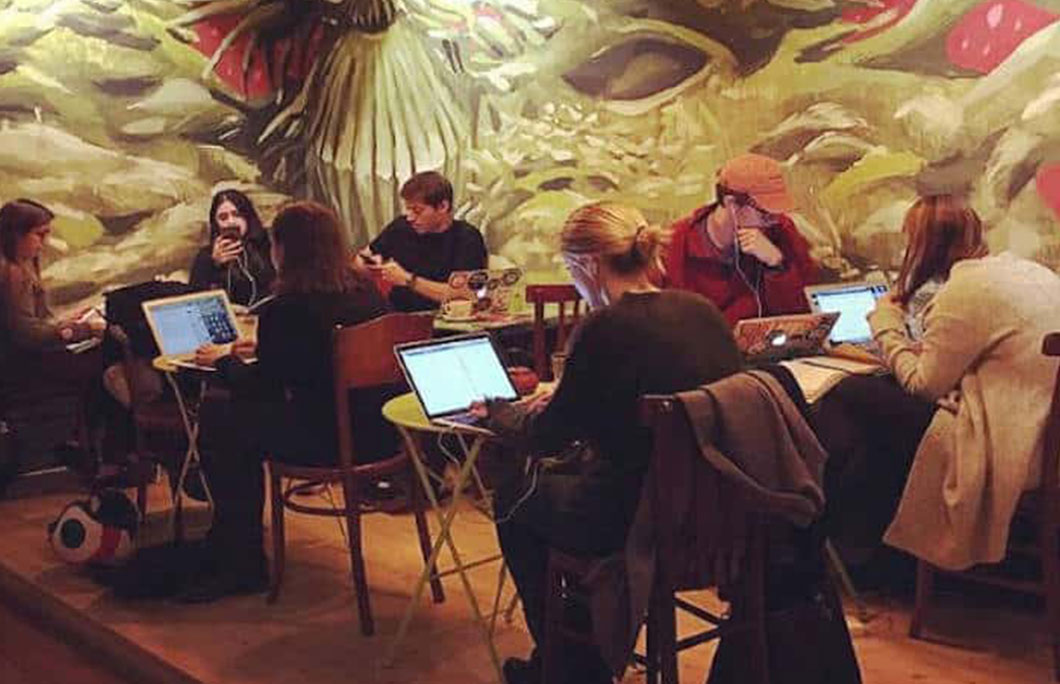 37. Ex-Circus – Rome, Italy
This cafe feels like a tropical circus and yet, somehow despite those crazy-sounding vibes, manages to be one of the best cafes for digital nomads in Rome. In fact, locals even head here to get work done out of the office.
---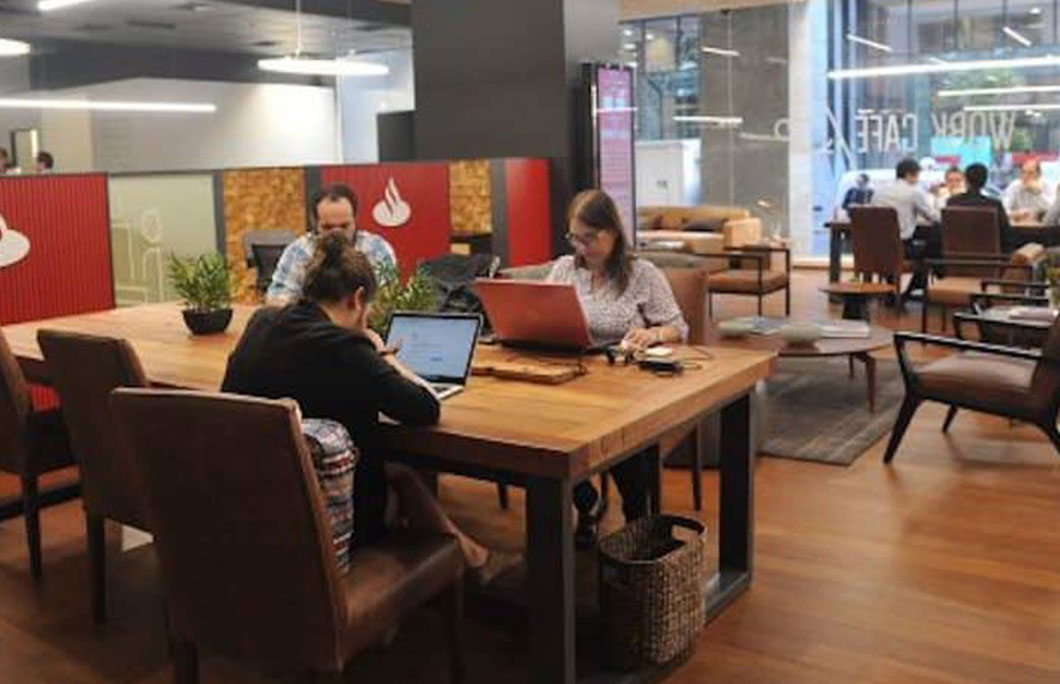 38. Santander Work/Cafe – Santiago, Chile
This chain of working cafe spaces belongs to Banco Santander, but unlike other co-working spaces in the city, these are actually cafes that are free to enter. As long as you purchase a coffee, you can stay however long you want.
---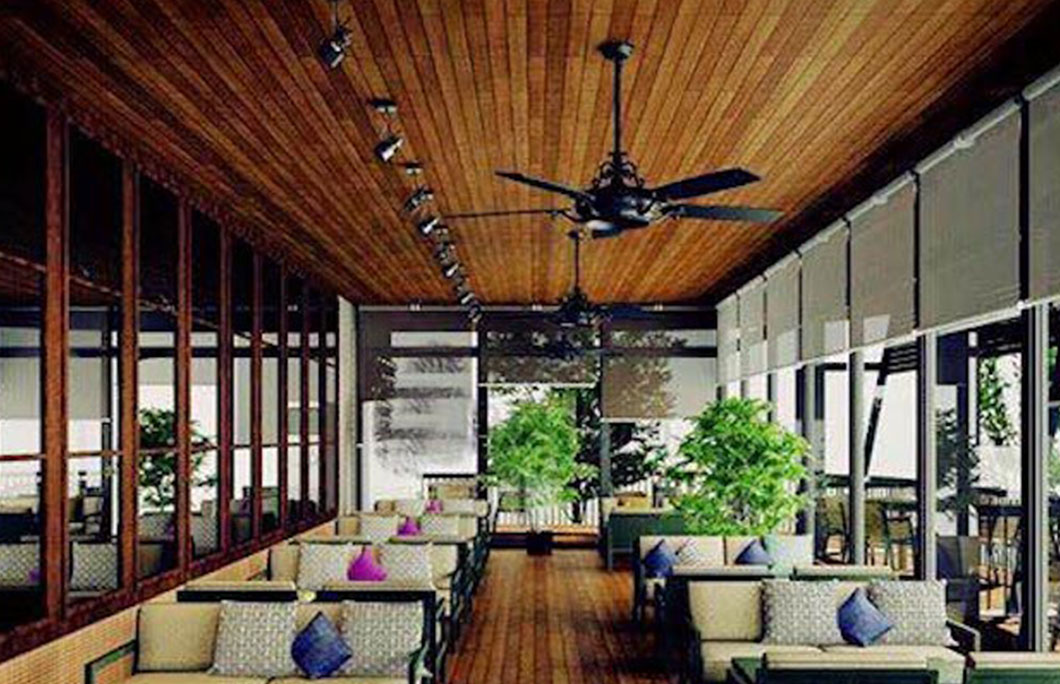 39. Allen Coffee – Da Nang, Vietnam
Ranked high by local expats for the quality of coffee, the speed of the WiFi, and the comfortability of the space in general, Allen Coffee is definitely a top spot for remote workers in Da Nang. We suggest working out on the terrace as it's super breezy and bright.
---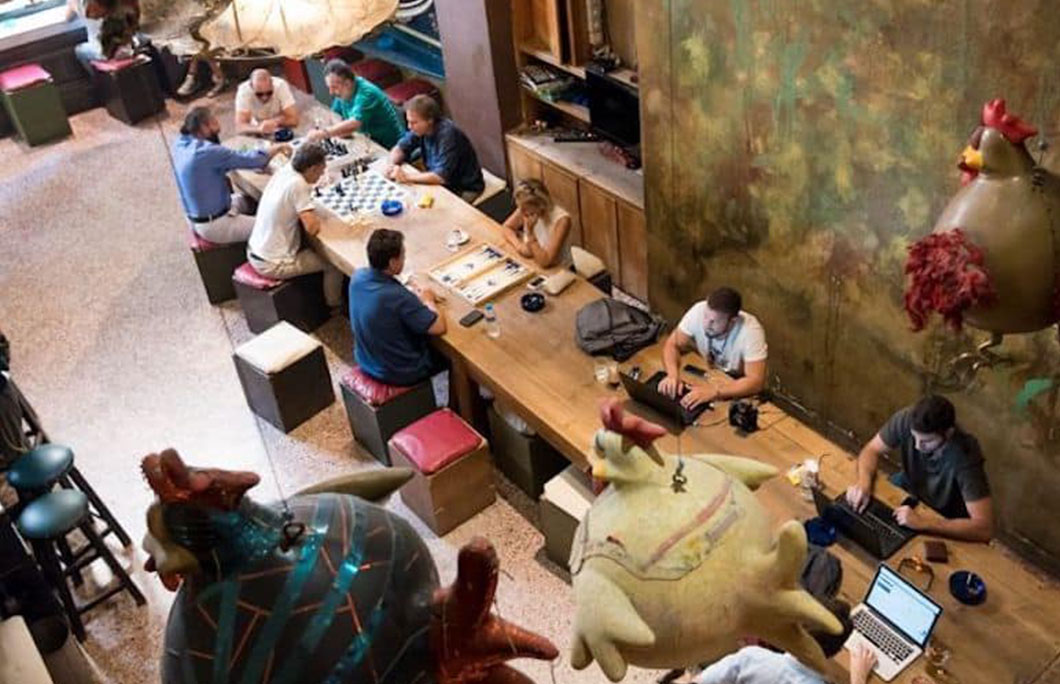 40. Booze Cooperativa – Athens, Greece
You might not think you're going to be productive working from a place called Booze Cooperativa, but this is actually one of the hottest spots for digital nomads in Athens.
The multi-faceted space stretches out over three stories and offers various different tables to work from. Bury your nose in your laptop or enjoy conversing with other remote workers who visit the space too.
---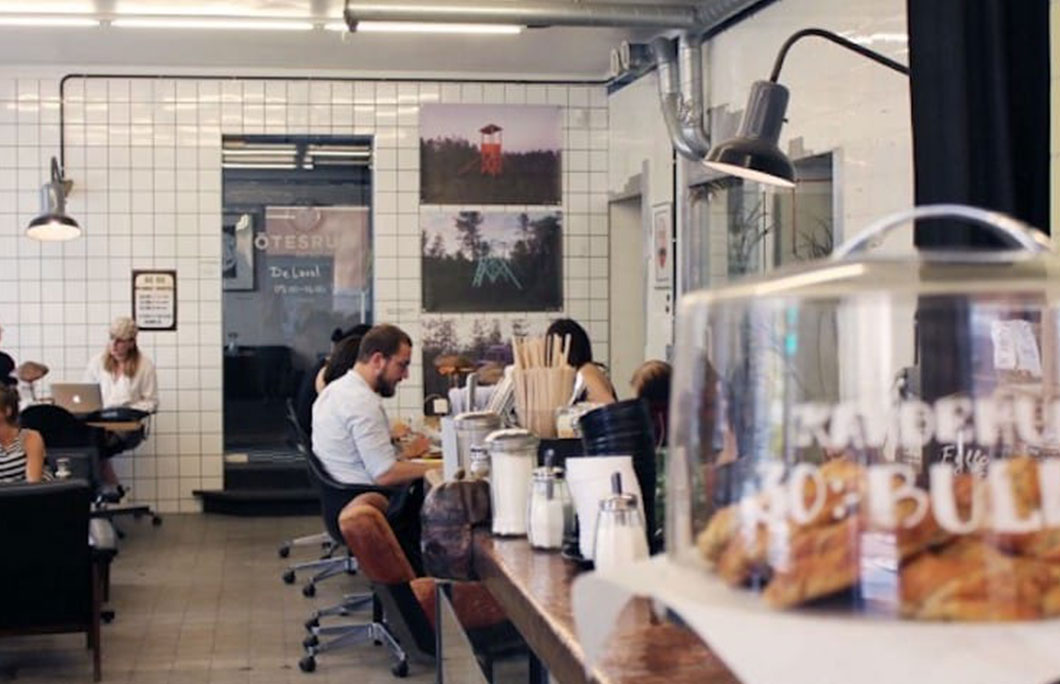 41. The Coffice – Stockholm, Sweden
Because The Coffice is so focused on providing the perfect balance of cafe and office, everything here is on point if you're a digital nomad. Good coffee and even better WiF mean you can work here seven days a week if you want.
If you need a more private space, The Coffice has conference rooms in the back that you can rent out for an additional fee.
---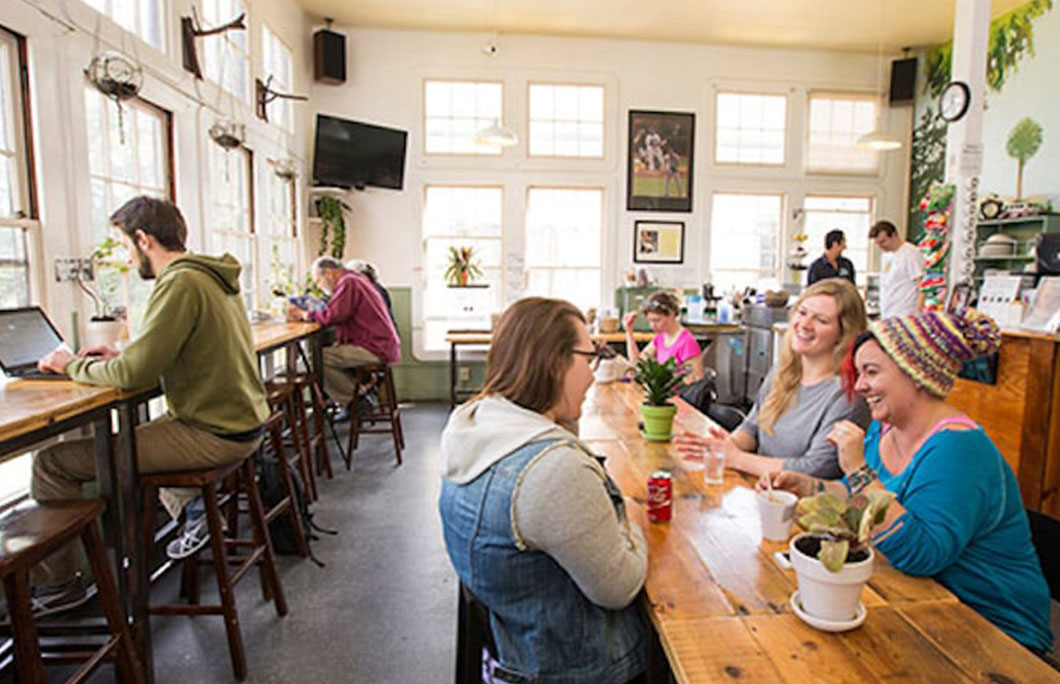 42. Franco Cafe – San Francisco, California
While this cute little cafe is located inside of a hostel, you don't have to book a room there to take advantage of the impressive remote working space. Cafe Franco serves up stunning views, relaxing vibes, and the perfect atmosphere to get stuff done.
---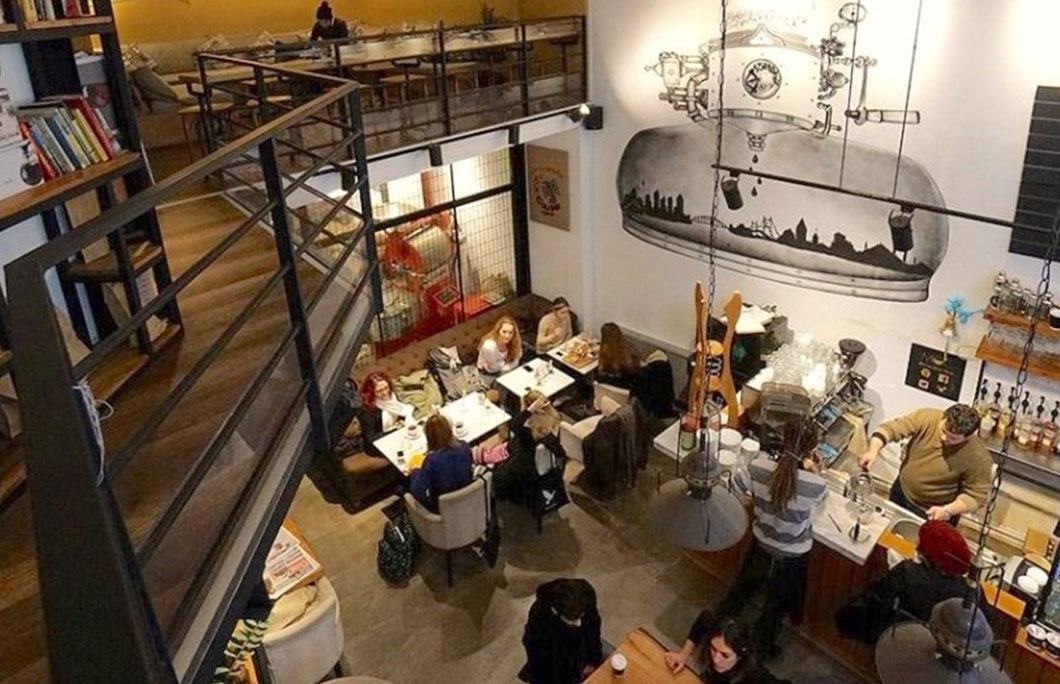 43. Ministry of Coffee – Istanbul, Turkey
What do you get when the residents of a specific neighbourhood in Istanbul have strange working hours? A place where they can convene to get work done and enjoy super-strong coffee in order to stay awake.
The Ministry of Coffee caters to this kind of dedicated worker, and they create the perfect atmosphere for those looking to enjoy high-quality coffee as they work through items on their to-do list.
---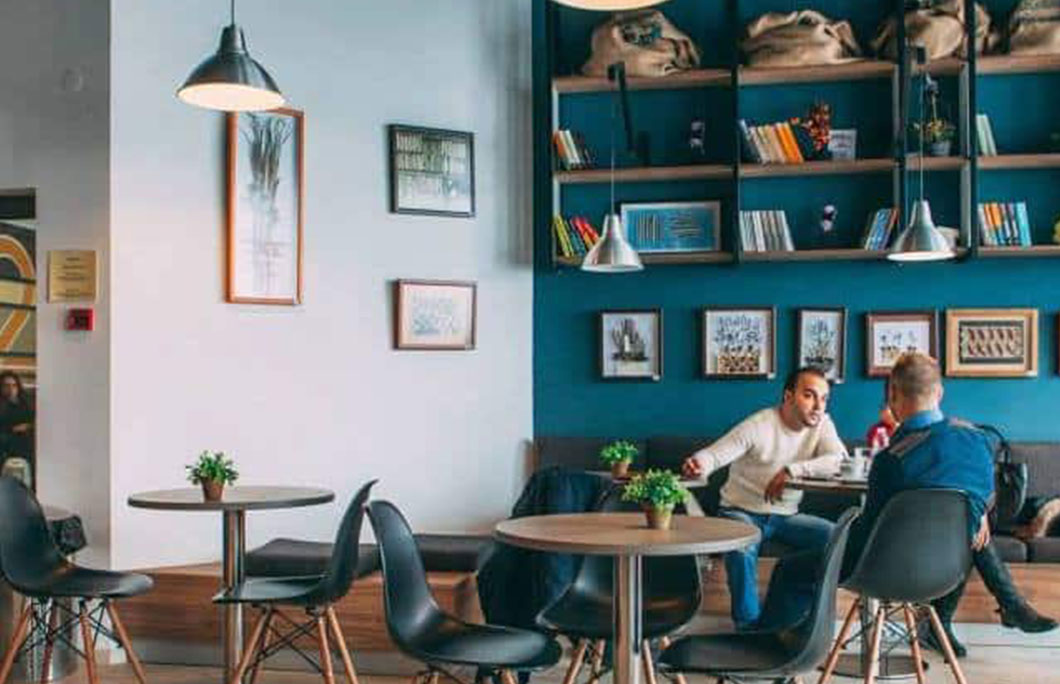 44. From Barista Coffee And More – Sofia, Bulgaria
Did you know that Bulgaria has one of the fastest WiFi connections in the world? Yeah, we didn't either until hoards of freelancers working out of Sofia let us know how amazing it is there.
Specifically, From Barista Coffee And More seems to pull in lots of foreign and local remote workers. Their WiFi is fast and their cafes are generally designed for communal working.
---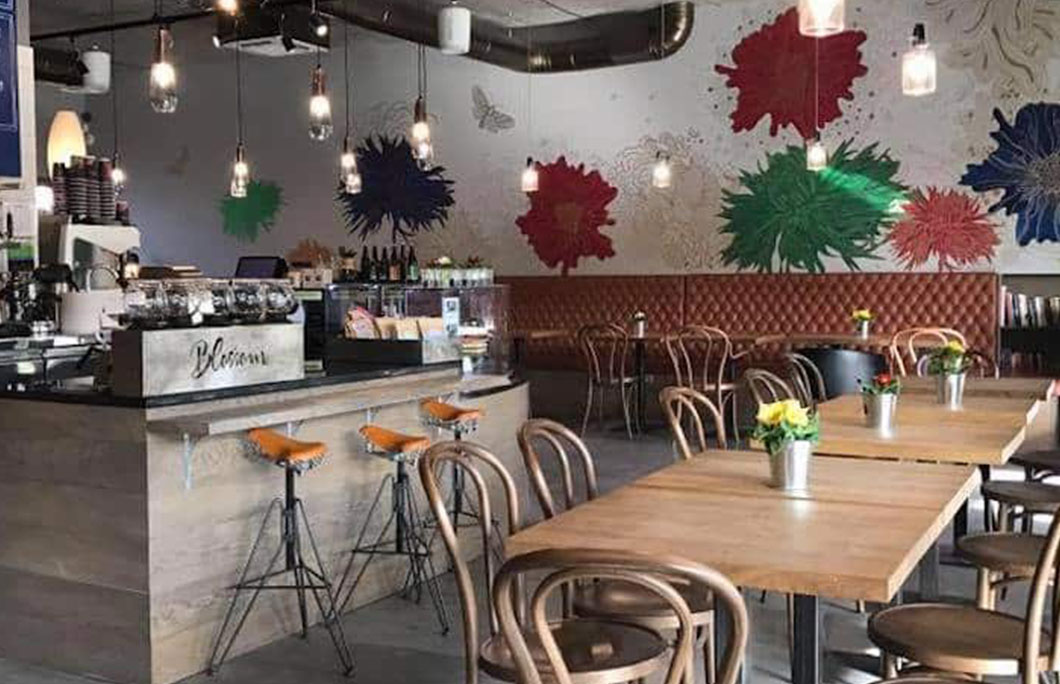 45. Blossom – Krakow, Poland
More and more young Polish workers are beginning to transition out of office jobs and into remote roles. Because of that, you'll find that cafes in Krakow are delightfully nomad-friendly. Check out Blossom, which is large, modern, and cosy. It's one of the best cafes for digital nomads in all of Poland.
---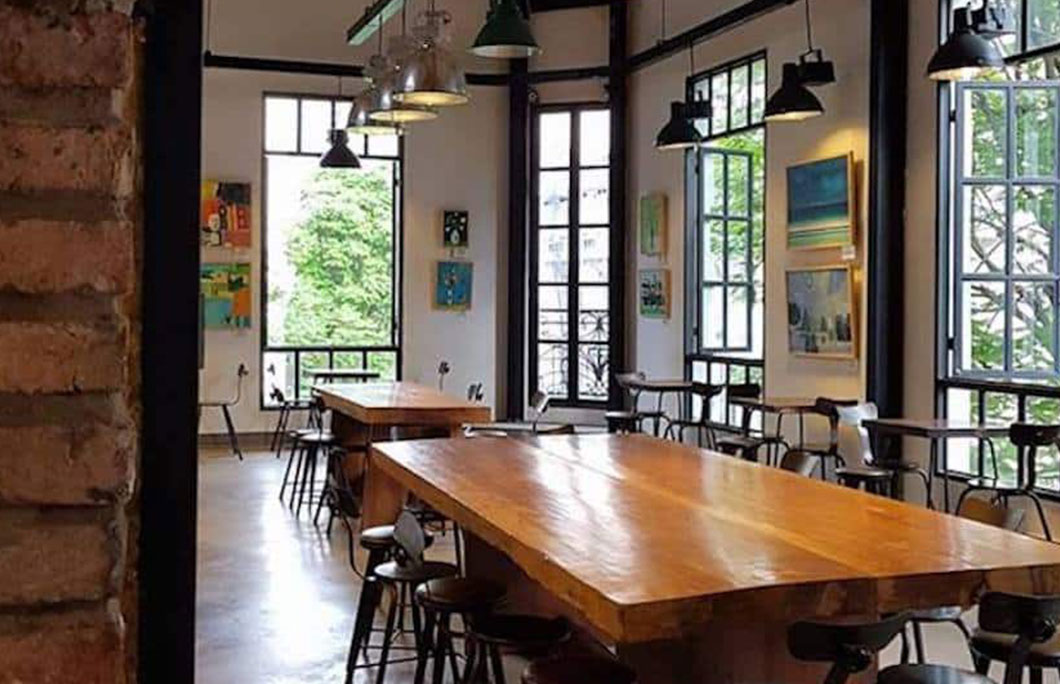 46. The Workshop Coffee – Ho Chi Minh City, Vietnam
The Workshop is a favourite amongst locals and travellers alike due to the strong WiFi and even stronger coffee. The place is set up, well, like a workshop.
The open-concept floor plan combined with long communal tables make it great for work, especially if you're travelling with other digital nomads or need to hold a meeting.
---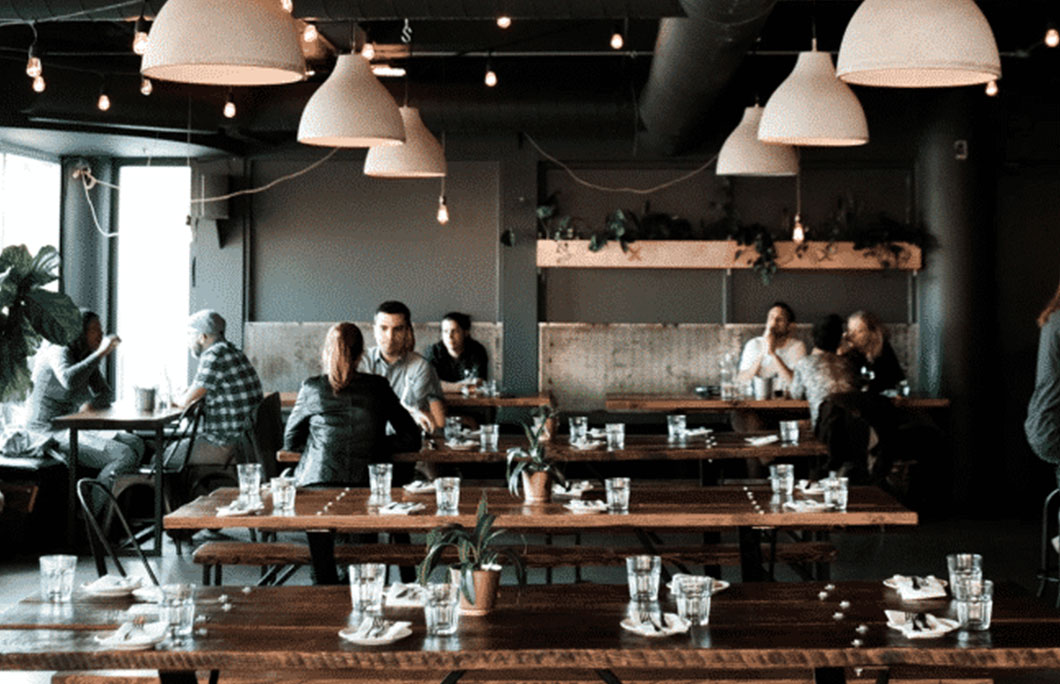 47. Boxcar Social – Toronto, Canada
Craft beer and charcuterie set this little Canadian cafe apart from other cafes in Toronto. It's hard to tell if it's the great WiFi, the warm atmosphere, or the beer, but even locals love to head here for an afternoon of telecommuting.
---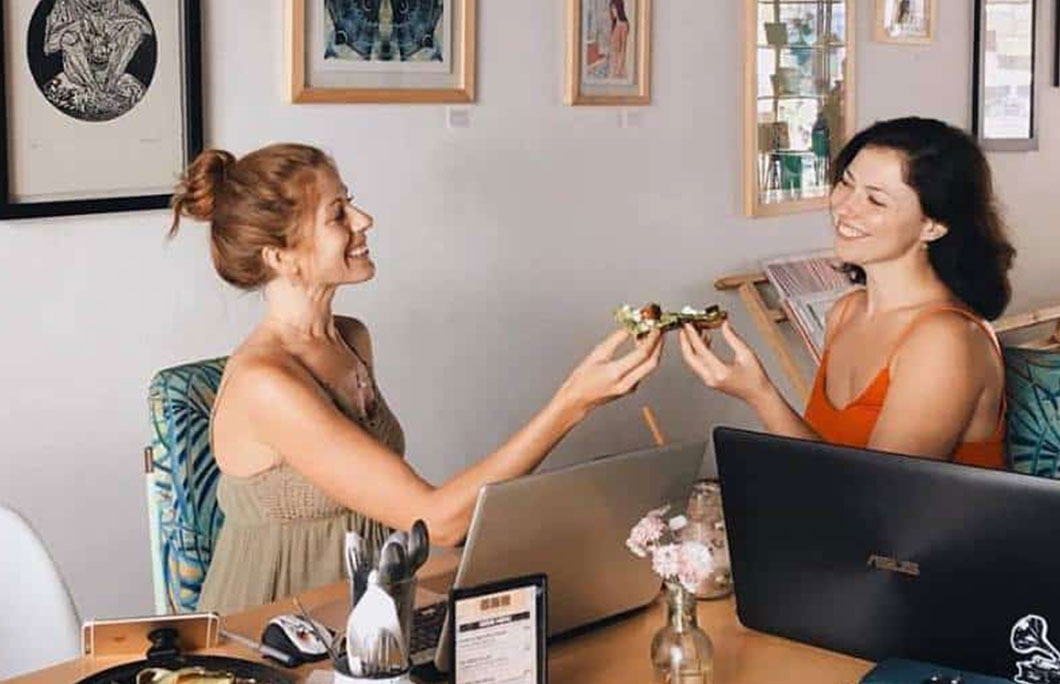 48. Tulum Art Club – Tulum, Mexico
If you're the kind of person who needs to surround yourself with beautiful art and good vibes in order to feel productive, then Tulum Art Club is going to be the spot for you.
As Tulum becomes one of the most popular travel destinations in Mexico, millennial travellers are making their way to this space in order to inspire and be inspires.
Spend the day working and then stay through the evening to meet other like-minded individuals on the same path as you.
---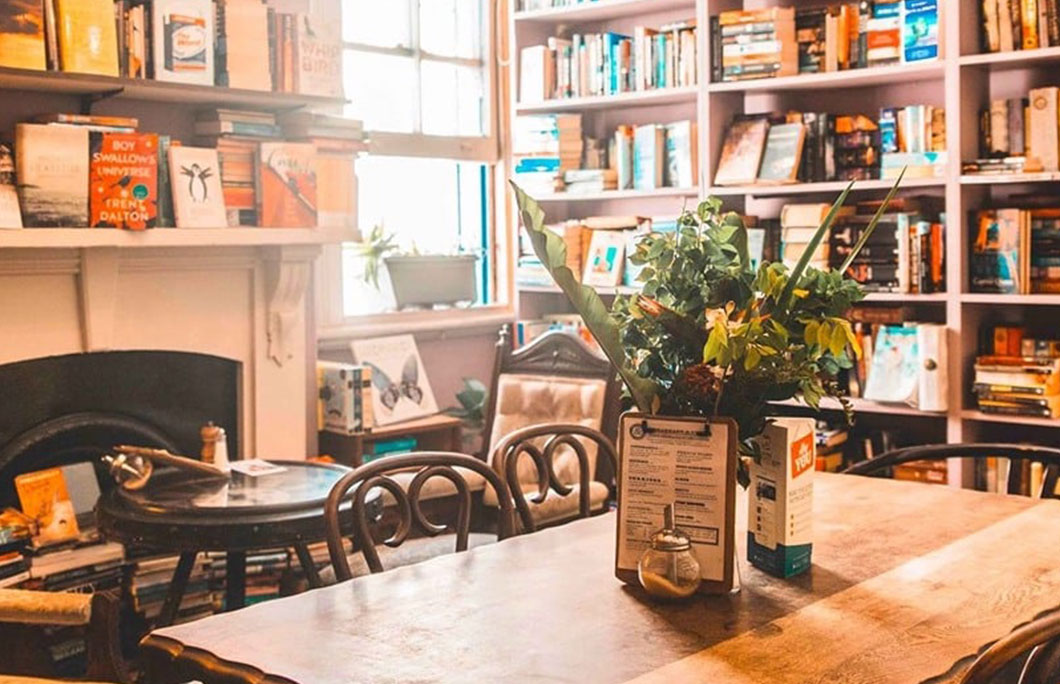 49. Ampersand Café & Bookstore – Sydney, Australia
Quiet, tranquil, and cosy are all three words we'd use to describe the unique bookstore and cafe that is Ampersand. If you're a digital nomad in Sydney, then you have to head over to check out this four-story space. It's a writer's dream and a reader's paradise.
---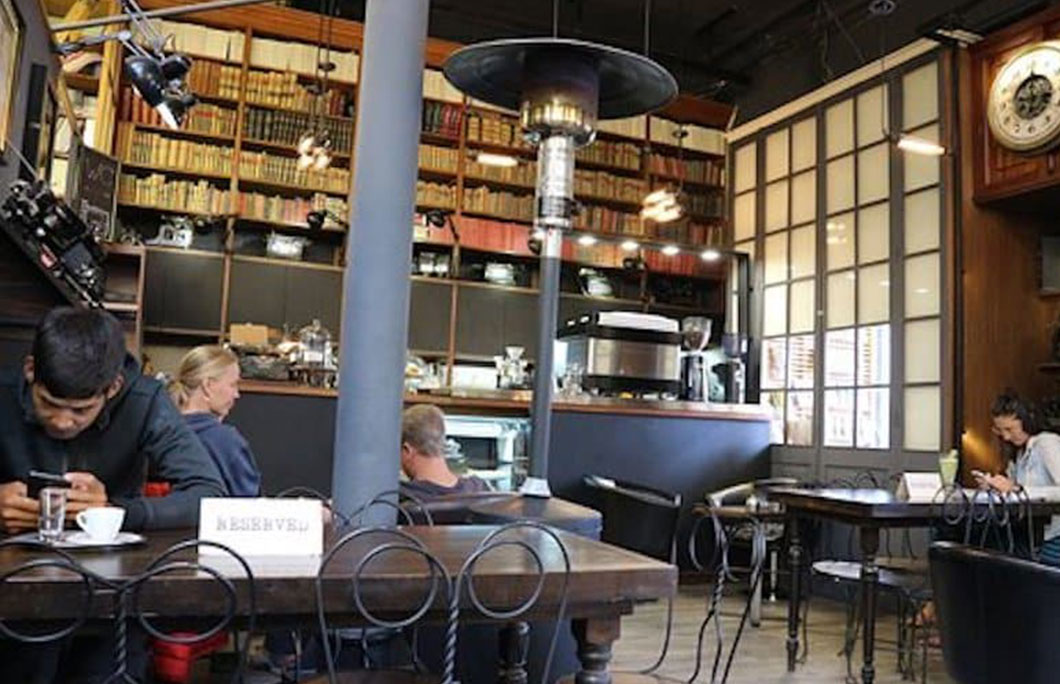 50. The Writers Coffee – La Paz, Bolivia
Rows of books cascade down the cafe walls at The Writers Coffee in La Paz. You'll be able to enjoy lush green plants and antique library vibes here, on top of specialty coffee that the owners know how to prepare to perfection.
Ask them to brew your coffee in a Chemex and then get ready to bang out your day's work. What more could you ask for out of one of the best cafes for digital nomads in Bolivia?
---