Top 10 Road Trips from Stuttgart
Bad Urach Waterfall
Strasbourg
Hohenzollern Castle
Tubingen
Lichtenstein Castle
Seewald Leisure Park
Sasbachwalden
Rothenburg ob der Tauber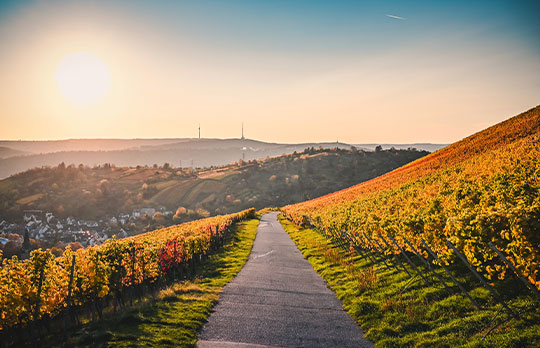 Top 10 scenic trips from Stuttgart
So you're spending some time in Stuttgart? Or maybe you live there at the moment? Either way, lucky you. The capital (and biggest city) of the German state of Baden-Wurttemberg, Stuttgart sits on the River Neckar, in striking distance of the Black Forest and Swabian Jura. The 6th-largest city in Germany, it's always a great place to spend time. Stuttgart is also a sophisticated city that's the home of Mercedes-Benz and Porsche – you can definitely live the fast life here, but there's also sublime surrounding countryside where the hills are peppered with vineyards and there's a laid-back lifestyle complemented by welcoming wine taverns and authentic restaurants.
The Schlossplatz is the city's impressive central square and its main attraction is the ornate, Baroque-style Neues Schloss palace, and the Schlossgarten park is an expansive green space where you can take a relaxing stroll any time of day. If you're a supercar fan, combine a visit to the Porsche museum with a factory tour, and the boho Bohnenviertel district has lots of charming cobbled lanes, unusual bookshops and unique boutiques to explore.
A great base for discovering the rest of the Baden-Wurttemberg region, Stuttgart is also in striking distance from several other great German towns and scenic spots – hire a car here and you're in for a treat.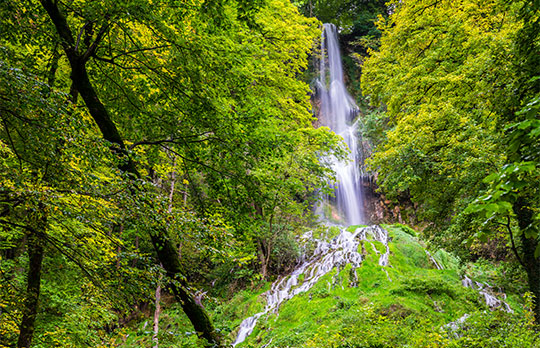 Top tips on driving in Stuttgart
We'll get to your top 10 road trips from Stuttgart faster than a Porsche 911 gets from 0-60. Let's take a quick look at some driving tips first.
Remember to drive on the right and overtake on the left. In traffic jams where two or more lanes are moving in the same direction, cars on the right are allowed to overtake those on the left.
If you're turning left at an intersection, give way to oncoming vehicles and remember that you shouldn't enter an intersection in busy traffic unless you have a clear exit – even if the light's green or you have right of way.
Speed limits in Germany are 50km/h in built-up areas, 100km/h outside built-up areas and there's a recommended limit of 130km/h on the autobahn. Let's get moving with those road trips!
Bad Urach Waterfall
Let's kick things off with a short trip to a mind-blowing waterfall. Bad Urach is one hour south of Stuttgart via the B27 and B312 and it's simply sublime. The star attraction of the UNESCO Global Geopark Swabian Alb, it's almost 40 metres high and there are several different viewpoints that all offer unique angles to watch this impressive natural phenomenon. There's some super scenery around the waterfall too, so bring your hiking boots if you've got time to tackle a few trails.
Strasbourg
Just under two hours from Stuttgart (and across the French border), Strasbourg is a great road trip location for an overnight stay or weekend away. The capital of the Alsace region, the city boasts the largest Medieval quarters in Europe and the timber framed houses and cobbled streets of Petite France and Grand Ile are iconic. Strasbourg has a unique mix of French and German influences and highlights include its spired cathedral, Parc de l'Orangerie (a lovely green space) and Barrage Vauban (a fabulous fortified bridge). Meanwhile, Musee Alsacien showcases the history of ordinary people in the region via everything from toys to cooking utensils, and you can also pre-book a tour of the European Parliament.
Hohenzollern Castle
A two hour drive from Strasbourg via B28, Hohenzollern Castle overlooks Hechingen in central Baden-Wurttenberg's Swabian Jura. And as it rises to the heavens on a forested hilltop, it's quite a sight to behold. The ancestral seat of the Prussian royal family, it hosts valuable collections of silver and china as well as several fine artworks. However, the castle complex itself and the breath-taking views it offers across the surrounding countryside are the main attractions – first-class.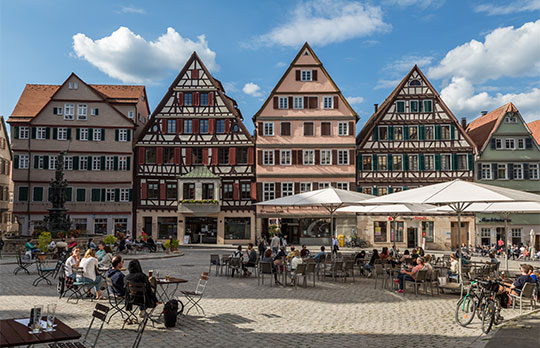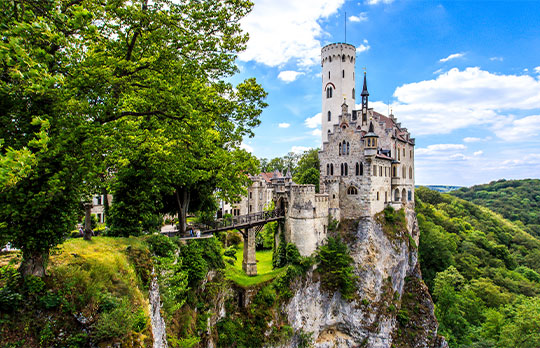 Tubingen
Just 40 minutes from Stuttgart via B27, Tubingen hosts one of the oldest universities in Germany and its old town has a 15th century City Hall featuring a fully functioning astronomical clock, as well as the stunning Stiftskirche St Georg, an ornate Gothic-style church. If you're staying for a while, entertain yourself in the traditional wine taverns and welcoming sidewalk cafes, and take a boat trip on the Neckar waterfront on board a 'Stocherkahn' - a traditional vessel controlled by a big wooden pole.
Lichtenstein Castle
Looking for a manageable afternoon road trip? Lichtenstein Castle is around one hour from Stuttgart via B27 and B312 and it's well worth visiting. This privately-owned castle is designed in the Gothic Revival style by Carl Alexander Heidelhoff and the name translates as 'shining stone'. If you're feeling energetic, there's a rope assault course to tackle, otherwise enjoy the Medieval ambience and treat yourself to a tasty meal in the Castle's Tavern before heading home.
Munich
Two hours and 30 minutes from Stuttgart via the A8, Munich is a lively city that's an excellent weekend road trip destination. With your car safely parked up for the duration, treat yourself to a breakfast of weisswurst (traditional sausage), pretzel and Weissbier (white beer) at the Schneider Brauhaus. You can also shop for bargains at the eclectic Midnightbazar (a lively open-air market) and marvel at the elaborate Glockenspiel cuckoo clock on Marienplatz. Another refreshing activity is swimming at the Mullersches Volksbad bathing temple – it's a beautiful Art Nouveau domed building. If you're a footy fan and hit town at the right time, perhaps you can also cheer on Bayern Munich at the awesome Allianz Arena?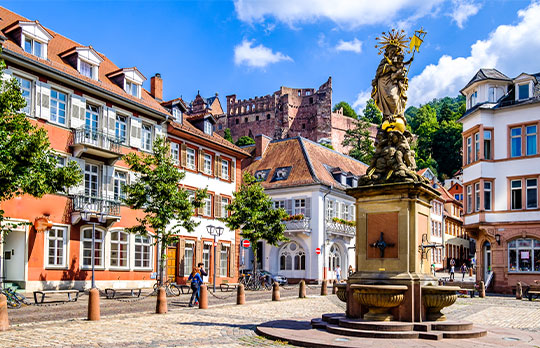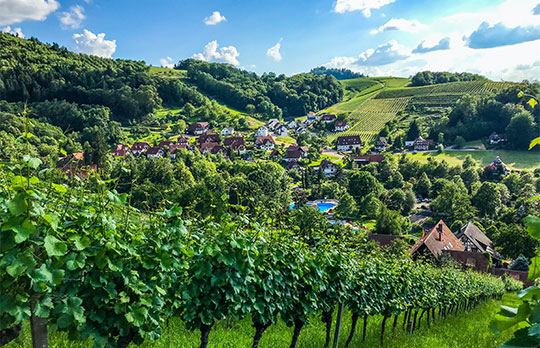 Seewald Leisure Park
Ready for a fun, family day out? Seewald Leisure Park is one hour and 20 minutes west of Stuttgart via A81 and it ticks every entertainment box. There's lots to see and do, but the 1500m stainless steel slide that whisks you through the picturesque Poppeltal countryside is a must-try. There's also water bumper cars, trampolines and merry go rounds, all amidst countryside characterised by dense forests and pretty villages. For a gentle but fun excursion with superb scenery, this fits the bill.
Heidelberg
One hour and 20 minutes from Stuttgart via the A81 and A5, Heidelberg is one of Germany's most popular tourist destinations. Located in a Neckar valley with verdant woods to each side, this romantic location has inspired countless artists and boasts some immaculate Baroque and Renaissance architecture. At the Altstadt (Old Town), you'll find the buzzing Markplatz and Kornmarkt squares, and it's overlooked by the stunning Schloss Heidelberg (castle), a rambling ruin dating back to the 13th century. The elegant Alte Brucke (Old Bridge) is another landmark – it connects the Aldstadt and Neuenheim districts and dates from 1788. Kids also love Heidelberg zoo – there are over 250 species of animals on display!
Sasbachwalden
At one hour and 30 minutes from Stuttgart via A8 and A5, Sasbachwalden is an easy day trip, but you might want to extend to an overnight stay. A beautiful Black Forest destination, this small village is famous for the blossoming floral arrangements that seem to erupt in a cascade of colour from every home and public space in spring and summer. Pack your hiking boots when you visit too, because the nearby Alde Gott Panoramic Hiking tour is one of Germany's most stunning outdoor trails. If you find yourself in need of fortifying refreshment on your way round, they've even installed schnapps fountains – what an excellent idea! The village is full of dreamy half-timbered houses and surrounded by green meadows and (naturally) woodlands. Just lovely.
Rothenburg ob der Tauber
Drive north from Stuttgart along the A81 for an hour and a half and you'll reach Rothenburg ob der Tauber – a northern Bavarian town famous for its Medieval architecture. The town walls feature lots of really well-preserved towers and gatehouses and there's an amazing altarpiece in St Jakob's Church carved by the masterful Tilman Riemenschneider. Once an Imperial Free City and one of Europe's largest, Rothenburg only submitted to the Holy Roman Emperor and ornate buildings like the Renaissance Town Hall reflect its former glory. If you're looking for a relaxing park, the Burggarten is simply beautiful, and its terrace offers outstanding views of the Tauber Valley and the southern portion of the city.