Cannot decide whether to choose Ghent Vs Antwerp?
Ghent and Antwerp are two cities in the Flanders region of Belgium. Both are great city break destinations. Ghent is famous for its medieval monuments, riverside life and picturesque old town. Antwerp on the other hand is known for its port, diamonds and historic city centre. Each city has its own delightful character but give visitors different experiences. A direct train runs between the two cities, the journey takes just one hour so it is very easy to visit both destinations. However, if you only have time to see Ghent or Antwerp, which one should it be? Our handy guide will help you decide which city is ideal for your Belgian city break.
Ghent Vs Antwerp: How to Choose Between the Two
Overview – is Ghent Or Antwerp better?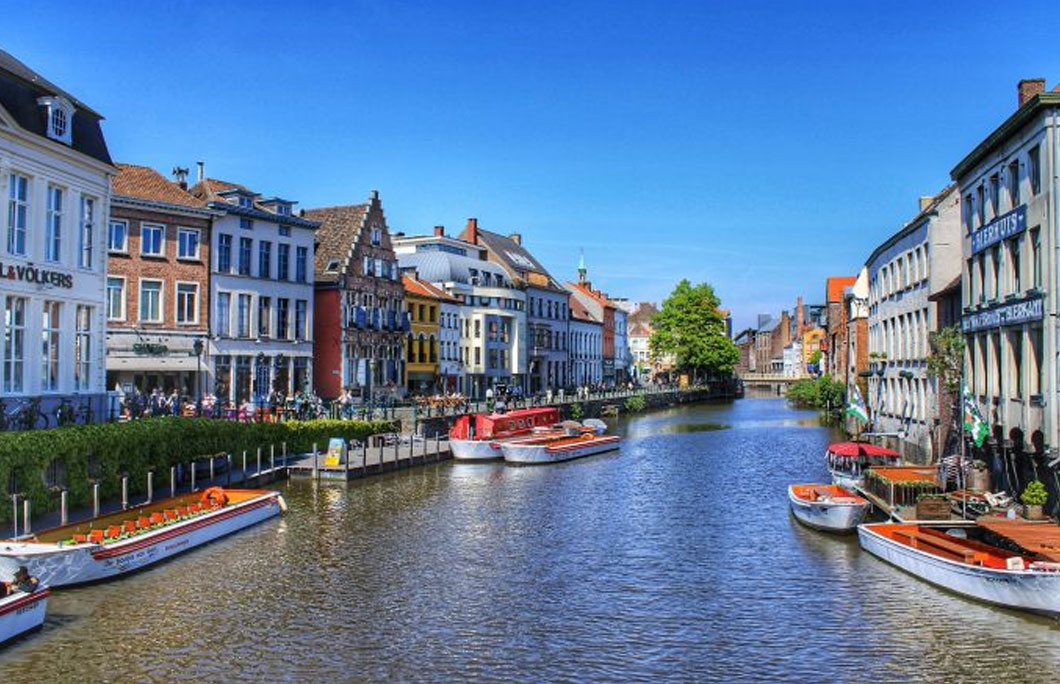 Ghent is in the East Flanders region of northern Belgium. This is the Flemish-speaking part of the country. It is an incredibly picturesque city with its waterways and medieval buildings. It is a tranquil city with a very agreeable atmosphere. However, if you are looking for some lively nightlife, you will find it here too, as there is a large student population. There are some nice museums and galleries as well as historic attractions to keep visitors busy but one of the best things about this city is its many festivals and great food and drink scene. The city feels safe and welcoming making it perfect for solo travellers and families. With its romantic feel, it is great for couples too.
Antwerp is in the Flanders region of northern Belgium. It is located just 88km (55 miles) from the North Sea. The Port of Antwerp is one of the biggest in the world and the second biggest in Europe. Antwerp is known as the diamond capital of the world due to the number of stones that pass through the city. There is a great buzz and vibe to Antwerp. It is a very cool city that attracts plenty of creatives who start up innovated companies. But it's not all new and trendy. It is steeped in history too. The historic city centre with its elegant squares, cobbled-stoned streets and impressive buildings is like an outdoor museum. Combining modern and Middle Ages, Antwerp has a lot to offer all types of travellers.
In terms of population, Antwerp is twice the size of Ghent so if you are looking for a city with an intimate feel, Ghent might suit you better. Ghent is also more picturesque than Antwerp. However, if you are looking for lots of things to do and the buzz of a big city, Antwerp ticks these boxes.
---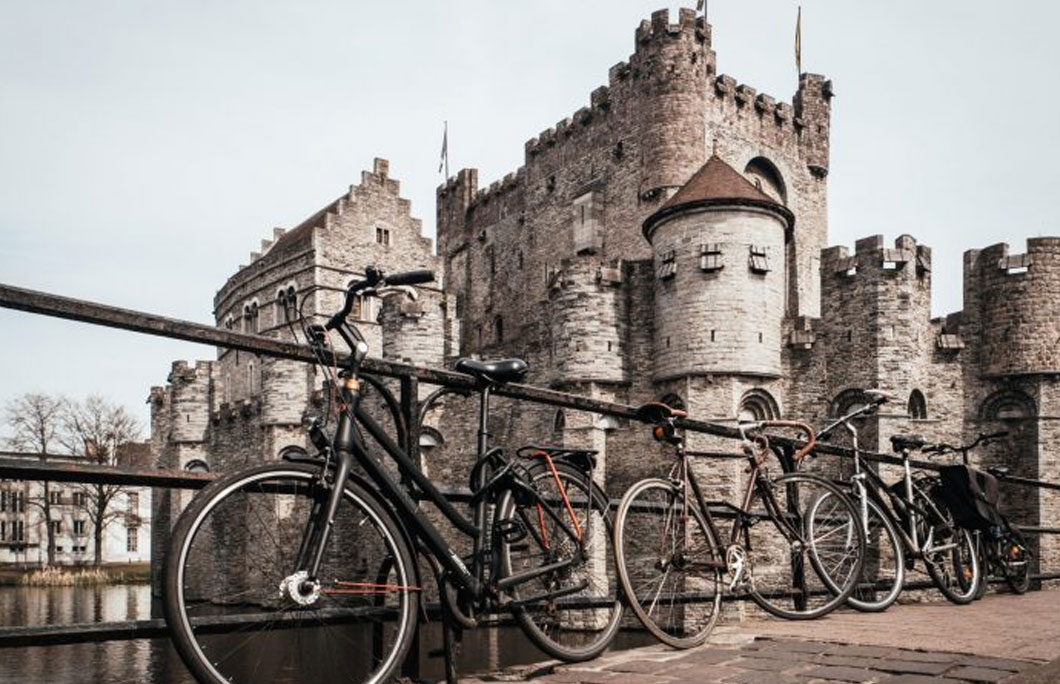 Antwerp
Antwerp is a dynamic port city with a large student population. This gives the city a youthful, energetic feel. You really notice this in the lively nightlife and bar scene. The city also has a deep-rooted history, which can be traced back to the middle ages. You can see the city's past in its glorious churches, interesting buildings and beautiful squares. However, Antwerp isn't a city stuck in the past as it embraces its vibrant cosmopolitan side too.
Antwerp's Great Market Square (Grote Markt) is the beating heart of the city. This handsome square is flanked by striking 16th-century guildhalls and the flamboyant City Hall. The square is full of restaurants and cafes and there is a great vibe here. During the Christmas season, there is an ice-rink and traditional market here too.
Sip coffee or the local beer in the Grote Markt before setting off to explore the compact city on foot. Wandering around the city, getting lost and uncovering interesting streets and walkways is a great way to discover Antwerp's charms and soak up the atmosphere. A few places to add to your itinerary are the Diamond Quarter, which is the epicentre of the city's diamond trade. Here you can watch skilled craftsmen cut the stones and create sparkling jewellery. Then walk to Antwerp City Park. Laze on the grass, give your feet a rest and enjoy nature in the middle of the city. Some fabulous, historic buildings to visit are The Cathedral of Our Lady and Antwerpen Centraal, one of the world's most beautiful railway stations.
Get your culture fix at Rubens House. This is where Flemish artist Peter Paul Rubens once lived and it is now a museum dedicated to his life and work. The city's largest museum is the Museum aan de Stroom. Here you can learn all about Antwerp's history, art and culture. If you are hungry for knowledge, but also just hungry, pay a visit to Chocolate Nation, the largest museum dedicated to Belgian Chocolate. The shop and restaurant are full of delicious creations.
Ghent
Ghent is an attractive port and university city with a chilled out vibe and friendly feel. It isn't overrun with tourists, yet, so there is a lovely authenticity to the place. Ghent is at the confluence of the Scheldt and Leie rivers, and river life is very important here. The city traces its history back to the 7th-century and in the 11th and 12th centuries, Ghent was an important trade centre. As a result, there are plenty of well-preserved historic buildings and sites of historical significance. Ghent has earned the nickname 'Mediaeval Manhattan' and has three UNESCO World Heritage monuments. Even though this city is steeped in history, it has a young, vibrant feel thanks to the high number of students who reside here. This vibe spills over into the nightlife scene.
When it comes to things to do, there are plenty of landmarks, quirky neighbourhoods and interesting museums to visit. One of the best things to do is to get to know the city from the water by taking a boat on the river Leie. This is a very pleasant way to get your bearings and the lay of the land. Once you have seen the city from the river, it's time to take to the pretty streets and explore on foot. The compact nature of the city means you can get around easily enough on foot as long as you have comfortable shoes.
Some of the most popular landmarks to visit are the 12th-century Gravensteen castle, St Pietersabdij Abbey, the striking Stadhuis city hall and St Baafskathedraal Cathedral. Located in St Baafskathedraal Cathedral is The Ghent Altarpiece (or the Adoration of the Mystic Lamb). This is thought to be one of the world's earliest oil paintings. It was completed in 1432 and is attributed to the artists, and brothers, Hubert and Jan van Eyck.
Popular museums include the MSK fine art gallery, the Huis van Alijn and the Ghent City Museum.
However, the best thing to do in Ghent is to just leisurely explore the streets and admire the buildings. Pop in and out of the quirky shops and stop by some different pubs, cafes and bistros. There are loads of festivals here throughout the year and in the summer there is nothing better than sitting out riverside, watching the world and the boats pass by.
---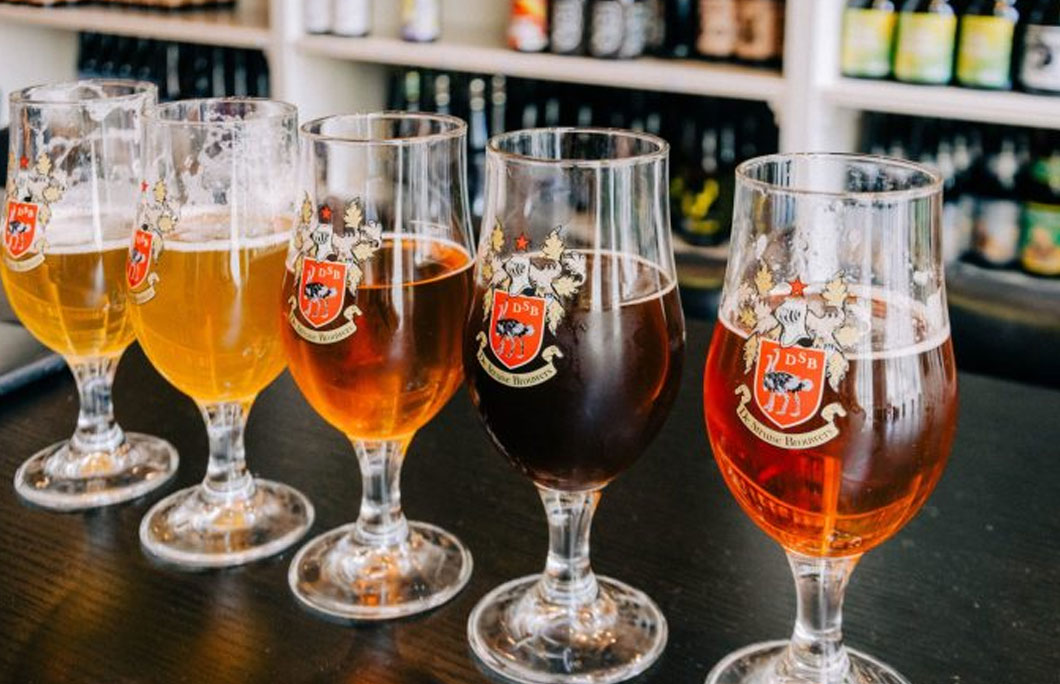 Ghent is a great city for those who enjoy good food, drink and dining options. The city is full of talented chefs who champion local, seasonal ingredients and showcase the best food in the region. Keep it local when you dine out and you won't go wrong. Look out for the following regional foods on menus: een pakske friet met mayonnaise en stoofvleessaus (fries with mayonnaise and stew gravy), paling in 't groen (eels in green sauce), waterzooi (creamy fish soup) and stoverij (beef or pork stew). For those with a sweet tooth, try the gestreken mastellen (sweet cinnamon pastries) and cuberdons (traditional candy also known as the Ghent nose).
Antwerp's food scene is thriving with lots of talented chefs and mixologists setting up pop-up restaurants, cool cocktail bars and quirky coffee shops. For more fine dining establishments, take your pick from Michelin-starred restaurants and high-end hotels. If you want to try the regional specialities look for gaufre (waffles) covered in syrup, exquisite chocolates and Antwerpse Handjes (biscuits).
Craft beer is big in both cities and you can sip the local brews in establishments across the city. You can even go to some of the breweries for a tour and tasting.
---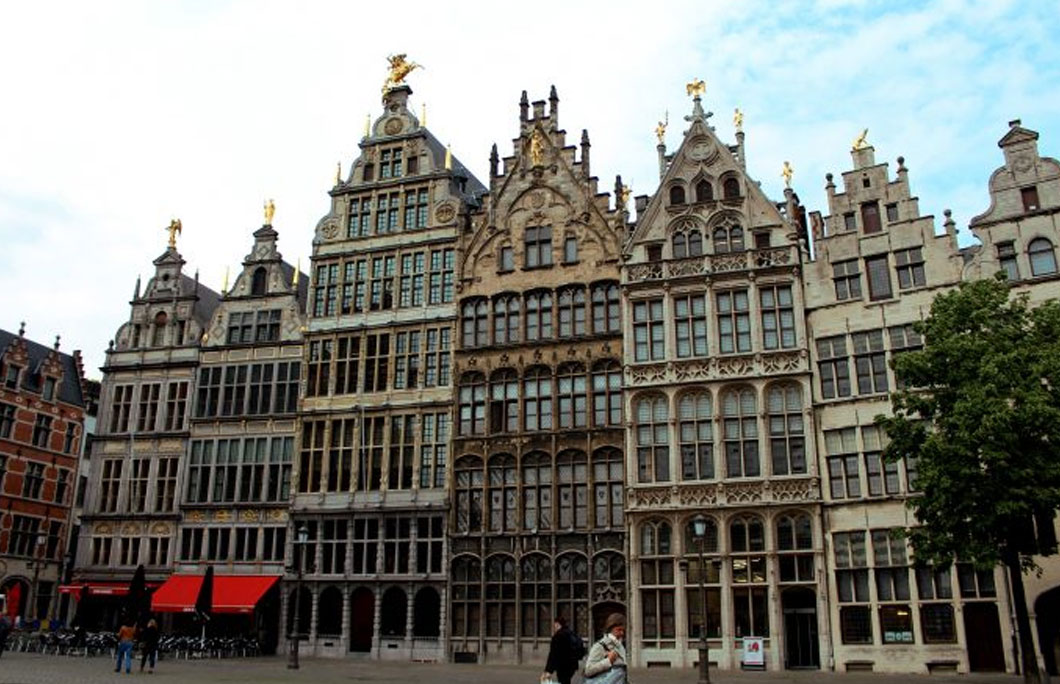 Shopping in Ghent is excellent. In fact, Ghent has the largest pedestrian shopping area in Belgium. To flex the credit card, make your way to the streets around Korenmarkt, Veldstraat and Langemunt. Here you'll find a decent mix of independent shops and boutiques, big-name brands, designer stores and markets.
Antwerp is a terrific shopping city with some uber-cool concept stores and designer studios, for instance, those of Dries Van Noten and Ann Demeulemeester. The heart of Antwerp's fashion district is Nationalestraat and the surrounding streets. There's also plenty of local everyday markets and bigger weekend flea markets too. Of course, Antwerp is also a great place to buy all your diamonds, darling!
---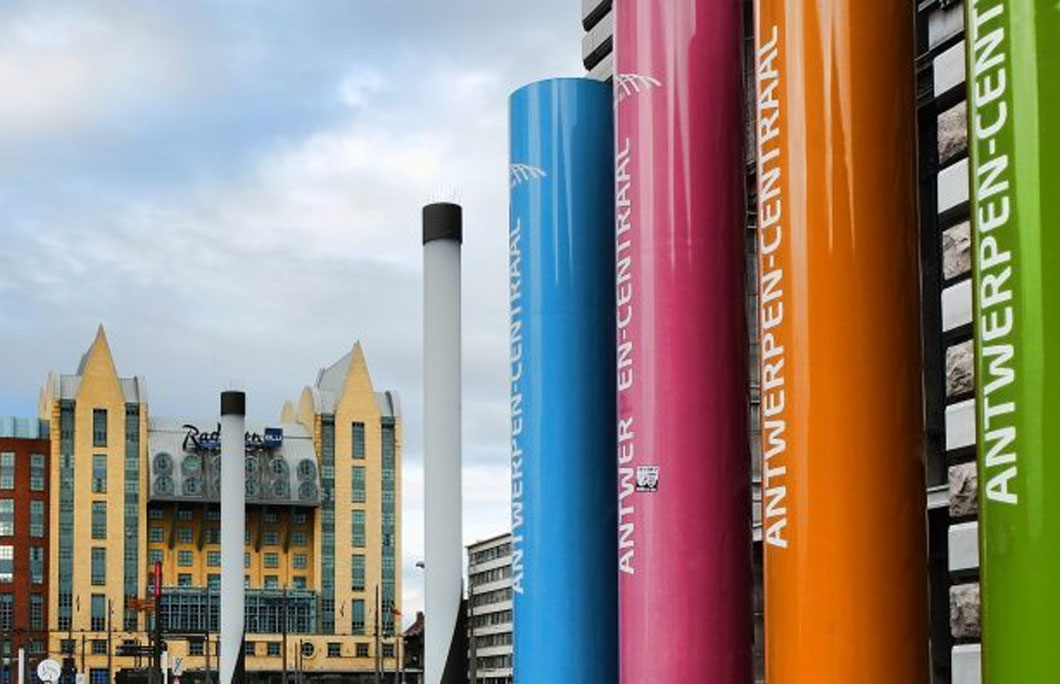 When it comes to accommodation, Antwerp is slightly cheaper than Ghent, so this may be a factor when deciding between the two cities.
Because of its compact size, wherever you decide to stay in Ghent you'll be close to the sights and attractions. The city centre is home to the most attractions and historic buildings, so it is a very popular place to stay. If you want to stay out of the city centre, the suburban area of Sint-Amandsberg is very pleasant and great for families too. You can easily reach the city centre within 20 minutes via public transport. The Ledeberg area is about a 30-minute walk from the centre and is a great place to stay for those on a tighter budget.
If it is your first time in the city and want to be close to all the attractions, Antwerp Old Town is the best place to look for accommodation. As you can imagine, prices here are higher than elsewhere in the city. The Sint Andries district is a lovely alternative to the city centre. There are plenty of things to do here but the accommodation is more affordable. In and around Central Station and Chinatown are the best places for more budget-friendly hotels and accommodation choices.
---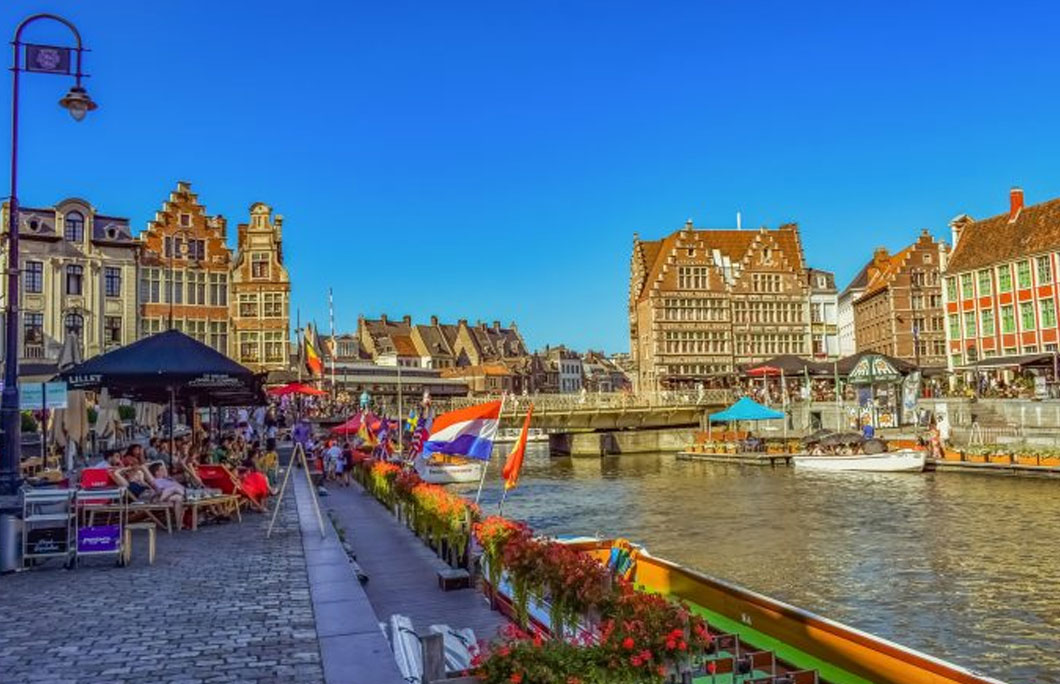 Ghent has a mild maritime climate. Summer never get too hot and winters never get too cold. However, there is rainfall during all months of the year, so make sure you bring an umbrella or rain jacket. Spring and autumn can be chilly but are a slow time for tourism. Therefore these seasons are a great time to visit to beat the crowds. Summer is the best time to visit Ghent. This is when the temperatures are comfortable and you can enjoy the longer, sunnier days and all the outside activities. In the winter, it rains or snows on average 7 to 10 times per month. However, this is the second busiest time for visitors to the city due to the wonderful Christmas celebrations, lights and markets.
Antwerp's climate is mild and generally warm and temperate. The weather is quite changeable though and rain is frequent. Make sure you pack an umbrella or raincoat. The best time to visit Antwerp is May through September when the days are warmer and sunnier. Spring and autumn can be cool but there are fewer tourists this time of year so these seasons are great for avoiding the crowds. The weather in the winter months is cold and the sun doesn't shine much making the place feel dull. However, the Christmas cheer, lights and markets more than make up for the poor weather conditions. This means winter is a very festive time to visit Antwerp.
---