10 Best Weekend Breaks from Athens
Saronic Islands
Meteora
Chalkida
Kea
Thermopylae
Livadia
Nea Smyrni
Santorini
Epidaurus
Piraeus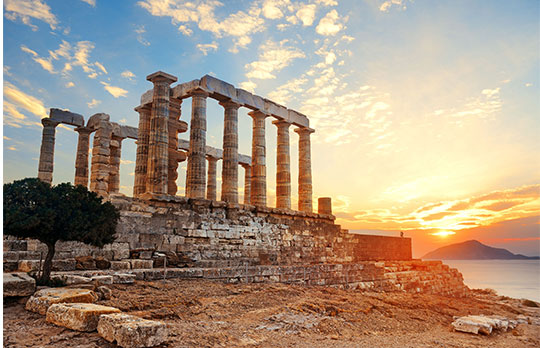 10 Best Weekend Breaks from Athens
Athens – this capital of the ancient world looms large in the collective consciousness of Western Civilisation thanks to its 3400 year history and association with luminaries like Plato and Aristotle. A centre for arts, education and philosophy, as well as the birthplace of democracy, the global influence of this iconic city can't be overstated. The capital of modern Greece, its population of around 4 million makes it the 7th-biggest city in the European Union and it's the nation's political, cultural, industrial and financial hub.
Attractions like the Acropolis, Parthenon, Temple of Zeus, Hadrian's Arch and Temple of Herodes Atticus span the ancient Greek and Roman eras. And if you're a history buff with an eye for a bargain, you might want to pick up a combination ticket that offers value for money entry to the Ancient Agora, Roman Agora, Aristotle's School and Keramiekos. But there's plenty to do outwith Classical Era attractions too. For instance, the Stavros Niarchos Foundation Cultural Centre (SNFCC) is a 170,000 square metre space comprising parkland, gardens, playgrounds, cafes, a man-made river and a cool contemporary glass complex. The Lycabettus open-air theatre is the perfect place to catch a play in the summertime and offers panoramic city views, and the Varvakios Agora indoor and outdoor food markets will set your senses alight. There's also the National Museum of Contemporary Art in Athens, The lush National Gardens, and the bustling Monastiraki Neighbourhood with its cool rooftop bars, craft stalls and independent shops stuffed with unique jewellery and antiques. Plus, when all that history and culture gets too much, there are lots of easy to reach weekend getaway destinations.
Getting ready for your weekends away from Athens
Awesome Athens getaways are straight ahead. But let's stop briefly for a few tips on getting around by car in the city and beyond.
Firstly, drive on the right-hand side of the road. Secondly, know the speed limit: it's 50km/h in urban areas, 110km/h on open roads and 120km/h on motorways. Everyone in the vehicle has to wear a seatbelt, it's illegal to use a mobile phone, and changing lanes on junctions is not allowed.
Now let's get moving with those weekend trips!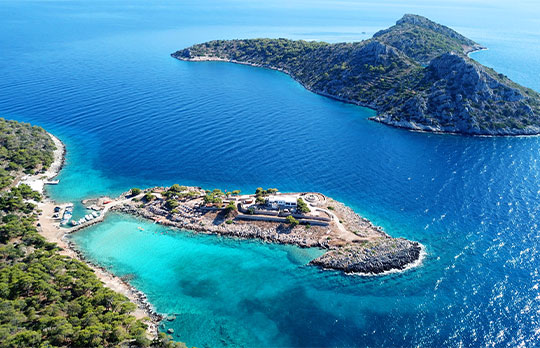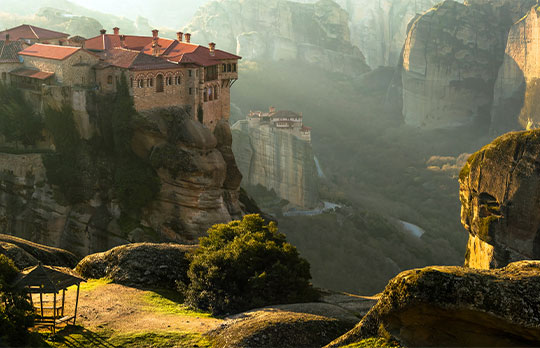 1. Saronic Islands
3 hours and 20 minutes away from Athens via the ferry at Pireos, the Saronic Islands are an ideal weekend getaway. The group includes Agistri, Spetses, Hydra, Poros, Hydra and Aegina. You might not make it to every island in one weekend, so if you want to prioritise, Hydra has awesome ancient architecture, Poros is perfect for sailing, Aegina is fab for families and Spetses boasts beautiful mansions. Things they have in common are crystal-clear waters, a relaxing ambience, tasty cuisine and a warm welcome that'll keep you coming back for more.
2. Meteora
How does a weekend in a truly eye-popping destination sound? Meteora is around 4 hours from Athens via A/D Pireos Athinon Thessalonikis Evzonon/A1/E75 and it's worth the effort because it's unlike anywhere else on Earth. With sprawling monasteries perched on vertiginous cliffs, it looks like something from a sci-fi movie and six of these establishments are still active, while many more are rambling ruins you can (carefully) explore. Another unusual activity here is truffle hunting in Kalambaka – a trained guide will show you the ropes with expert truffle dogs and once you've sniffed out a few of the areas prime varieties, the grand finale is a pasta dish complete with your own prize picks.
3. Chalkida
One hour and 10 minutes from Athens via A/D Pireos Athinon Thessalonikis Evzonon/A1/E75, Chalkida is another fascinating destination for a weekend getaway. The capital of Greece's second-largest island, Evia, Chalkida has 60,000 inhabitants and although it isn't the most popular destination for tourists, this area has a windswept beauty that's easy to love. Highlights include the Old Bridge that spans the Euripus Strait, the romantic promenade (lovely for walking along in the evening) and Avanton, the main shopping area. There are also several different beaches where you can relax, bathe and enjoy a cool drink.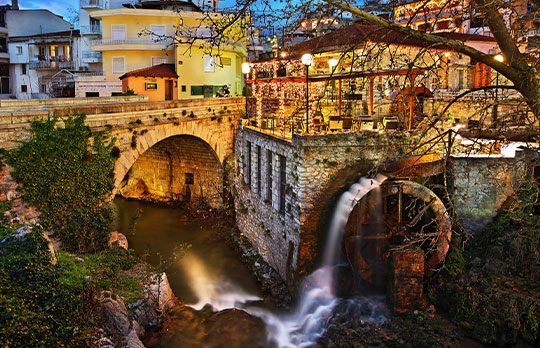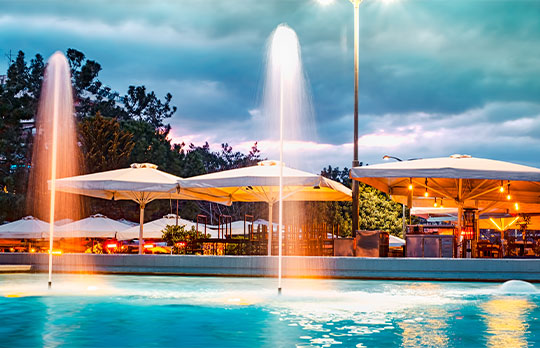 4. Kea
3 hours south of Athens via Kea-Lavrio, Kea is next on your list of top-notch weekend hotspots. One of the closest Cycladic islands to the capital, Kea is a low-key but high-end holiday destination for well-to-do Athenians attracted to its undulating hills, quiet beaches and crystalline waters. Your car comes in handy for exploring the island's rugged eastern side and there are several picture postcard bays, including Koundorous, Vourkari and Otzias. Gialiskari is a hip little beach with a lively bar, while the larger beach at Otzias is child-friendly, with shallow waters, sunbeds and even a playground.
5. Thermopylae
Two hours 10 minutes from Athens via A/D Pireos Athinon Thessalonikis Evzonon/A1/E75, Thermopylae is an excellent place for any history buff to spend a weekend. This is the site of one of history's most famous battles – when 300 Spartans under King Leonidas and 700 Thespians stood against the huge army of Xerxes. You'll see a monument to Leonidas at the historic Kolonos Hill and you can relax your travel-weary muscles at the hot springs of the town's modern spa. Another attraction worth visiting is the atmospheric Monastery of Metamorfosi Sotiros, with its spiritual ambience and sublime sea views.
6. Livadia
One hour and 45 minutes from Athens via the trusty A/D Pireos Athinon Thessalonikis Evzonon/A1/E75, Livadia is next up on your list of wonderful weekend getaways. This small town in central Greece is close to the Oracle of Delphi and popular activities include strolling round the scenic walkways, watermills and plane trees at Krya's Springs, visiting the site of the Oracle of Trophonius (built for Apollo) and visiting the Medieval Castle which dates from the Catalan occupation between 1309 and 1380.
7. Nea Smyrni
Ready for your shortest weekend break from Athens? Nea Smyrni is just 15 minutes from the city centre via EO91 but it's a welcome change of scenery. Attractions in this neck of the woods include the striking Church of Agia Fonti with its elaborate tower, the Acropolis Museum, The MindTrap Nea Smyrni and the Temple of Hephaestus. Top-rated places to stay in Nea Smyrni include the Hellenis Hotel, Lacoba Hotel and Athens Avenue Hotel.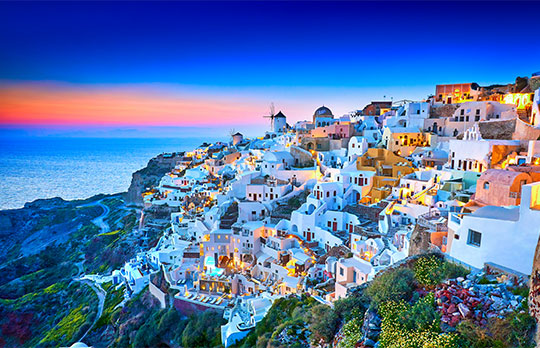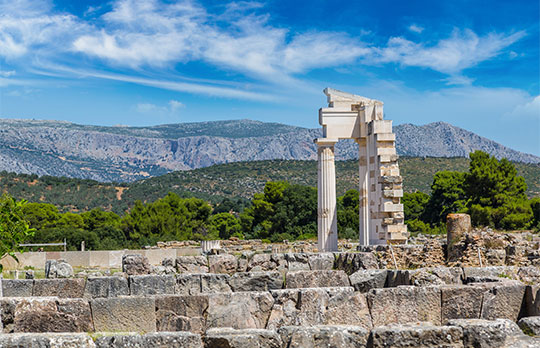 8. Santorini
Now comes the longest trip on your weekend break list. 8 hours and 30 minutes from Athens via Folegandros – Sifnos (on a ferry), Santorini is certainly enough of a trek to merit a long weekend. But you'll never regret your efforts. Amazing things to do in this iconic, volcanic, whitewashed isle include gazing at the gorgeous sunset in Oia, visiting the Monastery of Profits Ilias, and sampling the vino at Santo's Winery. You can also see the remarkably well-preserved ruins of the eruption in 1600 BC which is said to have spawned the legend of Atlantis and dine on ocean-fresh fish at high-quality local restaurants. If you're feeling fit, don't forget to hike to the top of Santorini Volcano – the views are divine. Highly-rated places to stay include the immaculate, minimalist Perivolas, Iconic Santorini with its spectacular caldera views, and chic cliff-side hangout Vora.
Click here to compare car hire in Santorini
9. Epidaurus
One hour and 35 minutes from Athens via Olympia Odos/A8/E94 and EO Isthmou Archaias Epidavrou, Epidaurus is a delightful weekend break destination for the discerning traveller. One for the ancient history fans, this trip takes you to one of Greece's most renowned archaeological sites. Hotspots include the Ancient Theatre (which still hosts plays in summer months), the Sanctuary of Asklepios (famous ancient healing site) and the Ancient Stadium (where elite athletes strutted their stuff). Comfy places to stay nearby include the Sea View hotel, Club Hotel Casino Loutraki and Kinetta Beach Resort & Spa.
10. Piraeus
Just 20 minutes from the city centre via Pireos, Piraeus is a place most people pass through when they're getting a ferry to an onward destination, but it has a vibe of its own that makes it worth a second look. Top things to do here include visiting the Archaeological Museum of Piraeus, strolling round the port and watching the ships, perusing the Hellenic Maritime Museum and taking in an opera at Municipal Theatre of Piraeus. For a weekend with a difference a stone's throw away, Piraeus really is a wise choice. Send us a postcard!