The 50 Best Pizzas In Europe
We're celebrating the places that take pizza to new levels, alongside those that honour classic traditions and techniques. As you might expect, quite a few of our favourite places are in Italy, but you'll find some exceptionally tasty pies scattered all over the rest of the continent, too. Prepared to drool? Without further ado, here are the 50 best pizzas in Europe 2022. You can see more about our criteria for rankings here.
Best Pizzas In Europe 2022, How do these rankings work?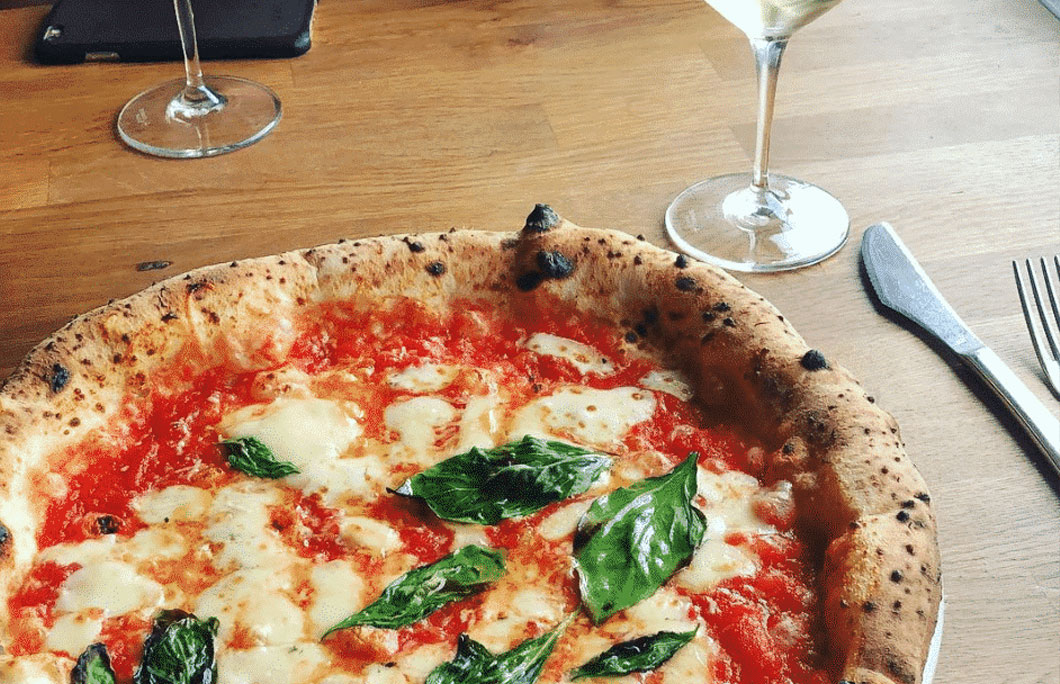 50. Franco's Pizza and Bar – Zagreb, Croatia
This high-end pizzeria delivers all the goods – authentic Italian ingredients, well-leavened dough and superb service. Those looking for hearty fare will be pleased to see that there are five(!) calzone options on the menu too, ranging from the seriously cheesy 'Say Cheese' to the silky 'Calabrian Red' made with a generous helping of 'nduja. The pizzas are excellent too, with a good variety of classic flavours and some inspired flavours too. The 'Mixed Emotions' pizza is a real sight to behold too.
---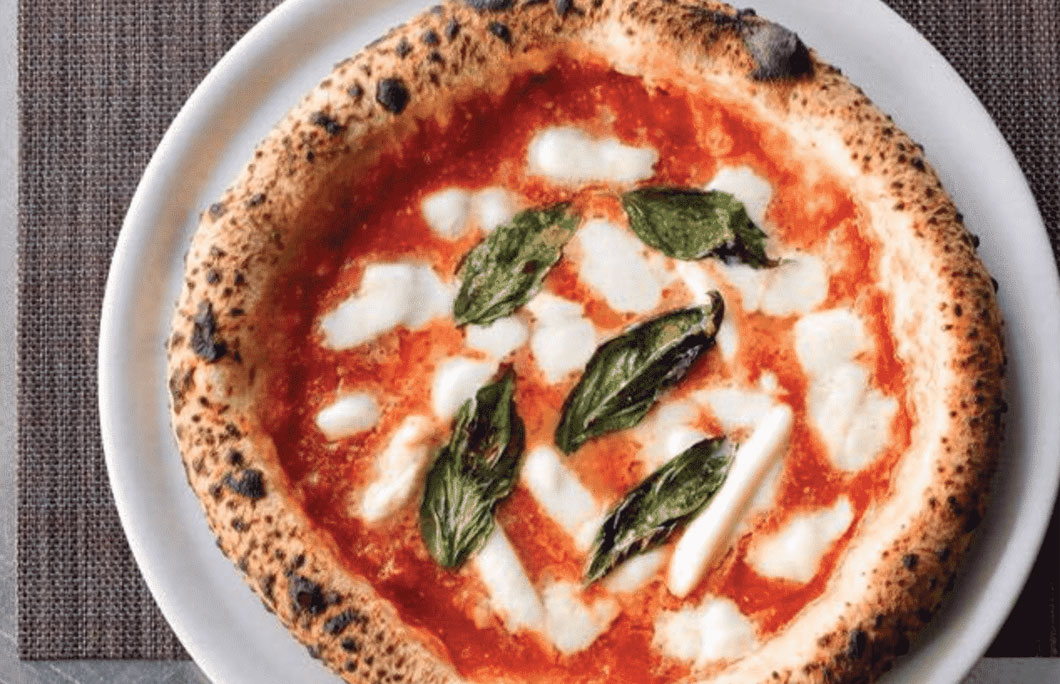 49. Homeslice – London, United Kingdom
Pizza purists might scoff at this entry but if you're big on pizza, it doesn't come much bigger than the slices at Homeslice. With a whopping "20 diameter, these supersized pizzas are crafted from 24-hour aged dough in a wood-fired oven. Crusts are charred to blistered perfection too. There's a variety of inventive toppings to choose from, ranging from the classic Margherita to the slightly off-the-wall chorizo, corn and coriander cream. There are now five locations dotted across the city.
---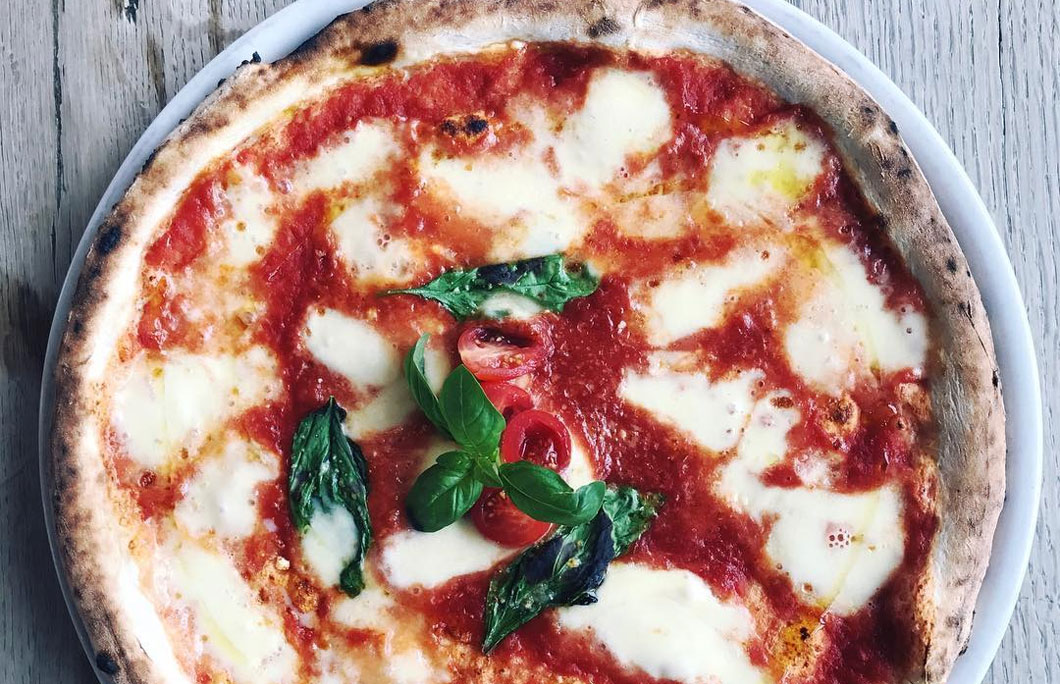 48. Al Legna Pizzeria – Marsaskala, Malta
Given that sunny Malta is a mere half an hour flight from Sicily, it should come as no surprise that they're good at making pizza here too. You'll find the restaurant tucked inside the Sensi Hotel, making it more elegant than most pizzerias. You can sit by the poolside nibbling your pizza while sipping on frosty beers and creative cocktails. The pizza is surprisingly traditional here too, made with a roaring wood-burning over and infused with rich flavours.
Click here to compare car hire in Malta
---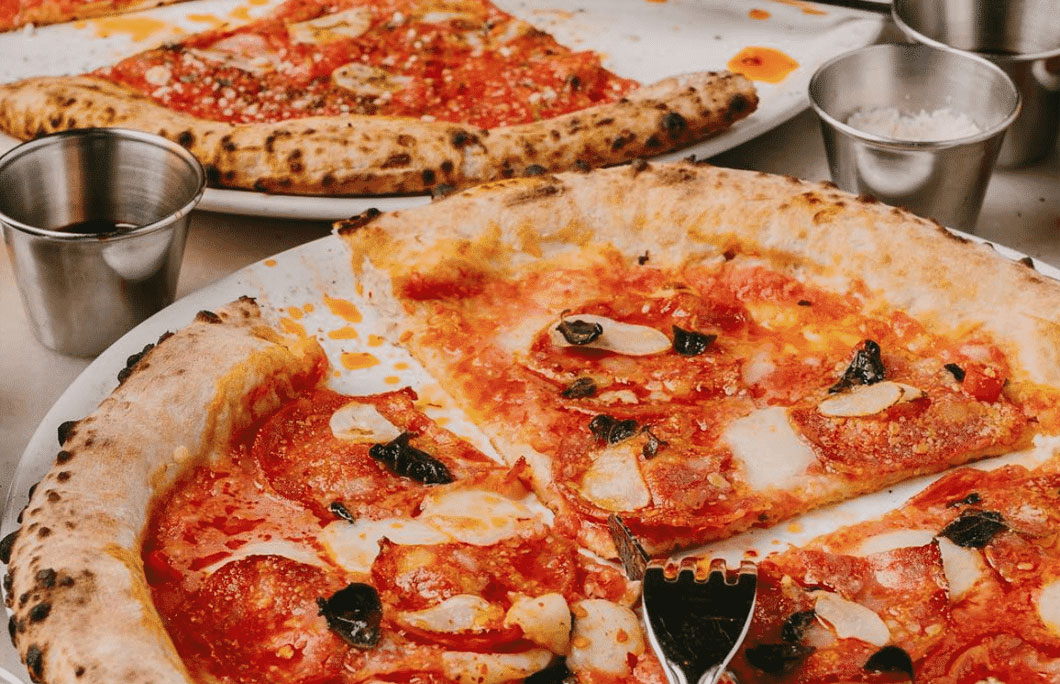 47. Basilico – Bratislava, Slovakia
Everything on the menu at Basilicó, Bratislava's beloved Italian restaurant, is guaranteed to be delicious but those pizzas are the real stars of the show here. Think fluffy, puffy crusts and perfectly paired ingredients and you're halfway there. The masterminds behind the restaurant, Alfonso and Gerardo, both hail from Campania so they know what they're talking about too.
---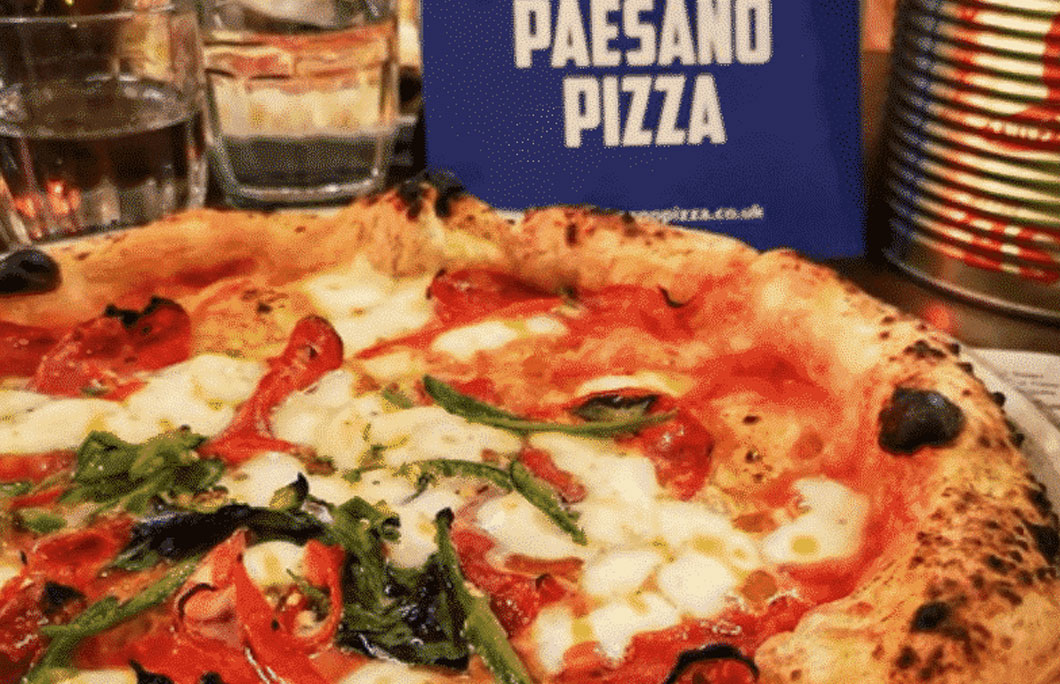 46. Da Paolo Restaurant – Nicosia, Cyprus
This traditional trattoria-style restaurant is beloved by locals and holidaying Italians. There's a large menu to choose from, but pizza is where Da Paolo excels. The pizzas are perfectly blistered inside a proper wood-fired oven and served piping hot. All the traditional combos are there but for something a little different, try some of the locally-inspired pizzas, like the 'Cipriota' made with feta, halloumi, mozzarella, salami, olives and lots of tomatoes.
---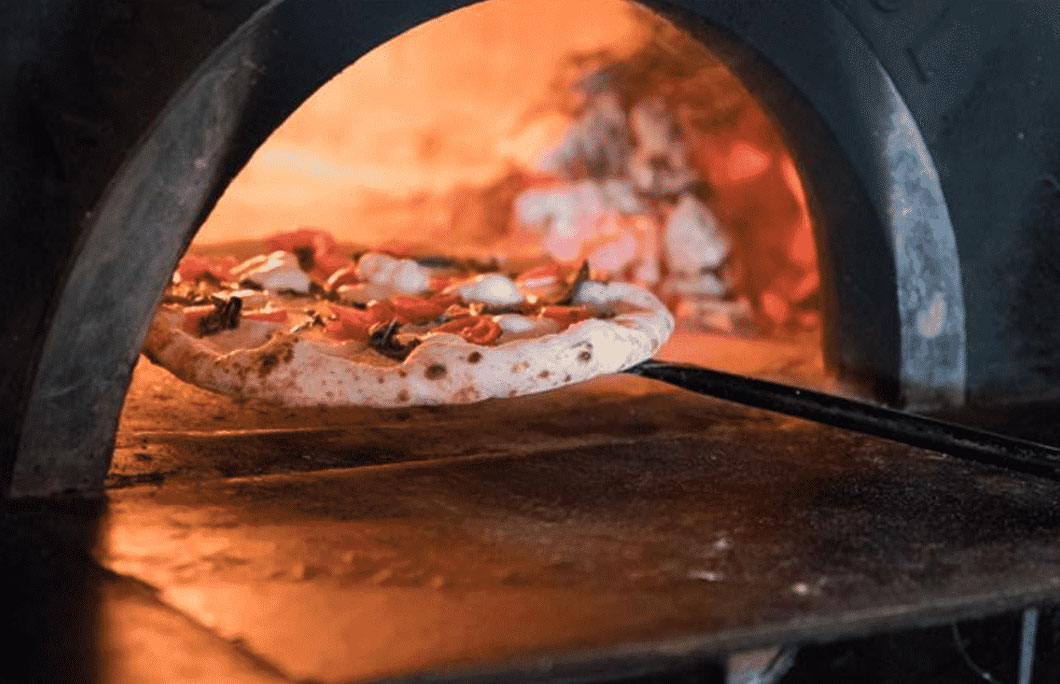 45. Kytaly – Geneva, Switzerland
Run by the Bortesi family, this small and friendly restaurant packs a real punch when it comes to pizza. Pizzas are light and fluffy with the perfect chew. They've stripped the pizzas down to their most basic flavours here, letting each ingredient speak for itself. The result? A truly irresistible bite.
---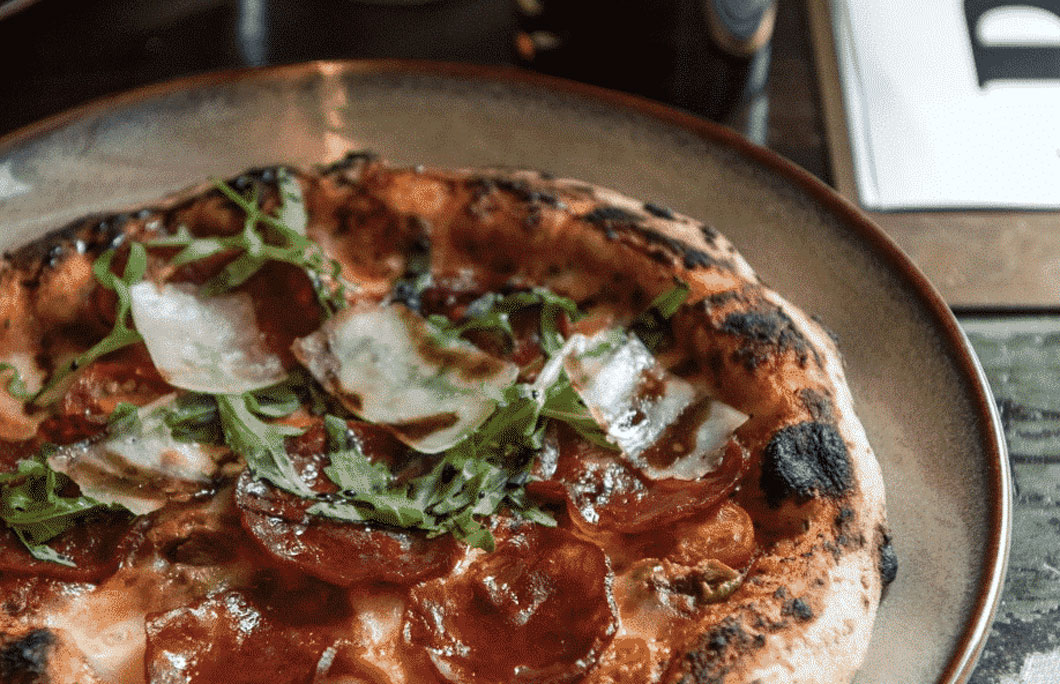 44. Standard – Berlin, Germany
The pizza here is anything but standard – in fact, it tastes as good as you'll find in Naples. The dough is left to rest for 24 -30 hours and they hand crush the tomatoes for the rich sauce. The super 4 Formaggi is a real treat: a white pie with four kinds of cheeses and braised radicchio with red wine. Want some meat? Try the pie topped with prosciutto and fig – the perfect combo.
---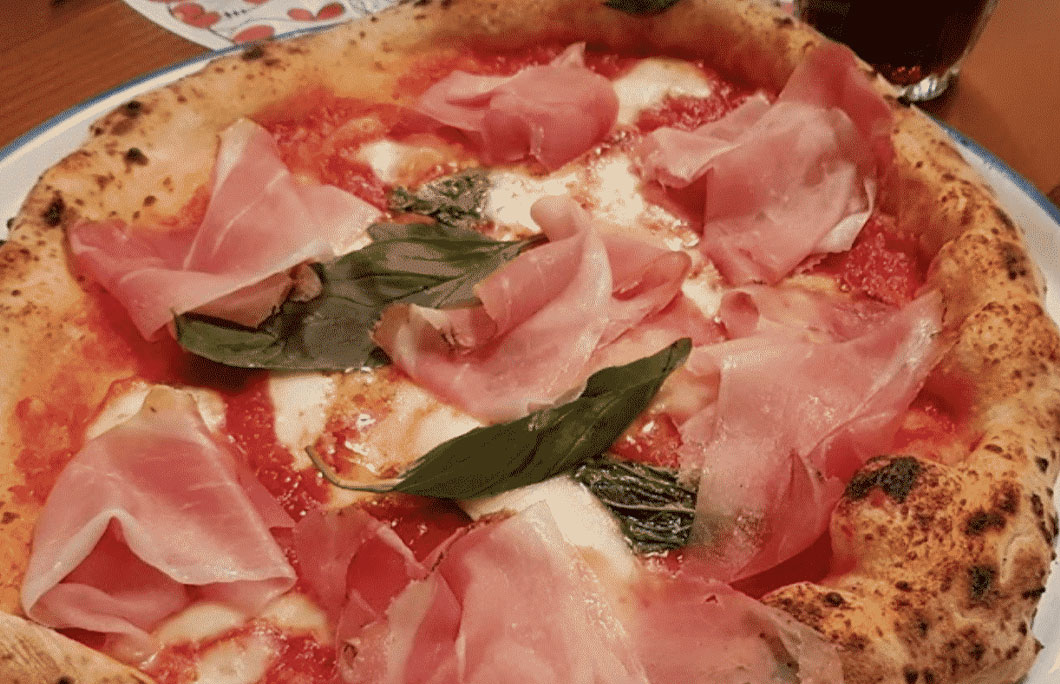 43. Jurgis ir Drakonas – Kaunas, Lithuania
Jurgis ir Drakonas is the best spot in the whole country for authentic Neapolitan pizza. As real pizza pioneers, the spot serves mouthwatering pies made from real Italian 00 flour along with imported Italian salami and sausages and Parmigiano Reggiano. Bite into the perfectly charred crust straight out of a wood-burning oven and wash it down with a frosty beer.
---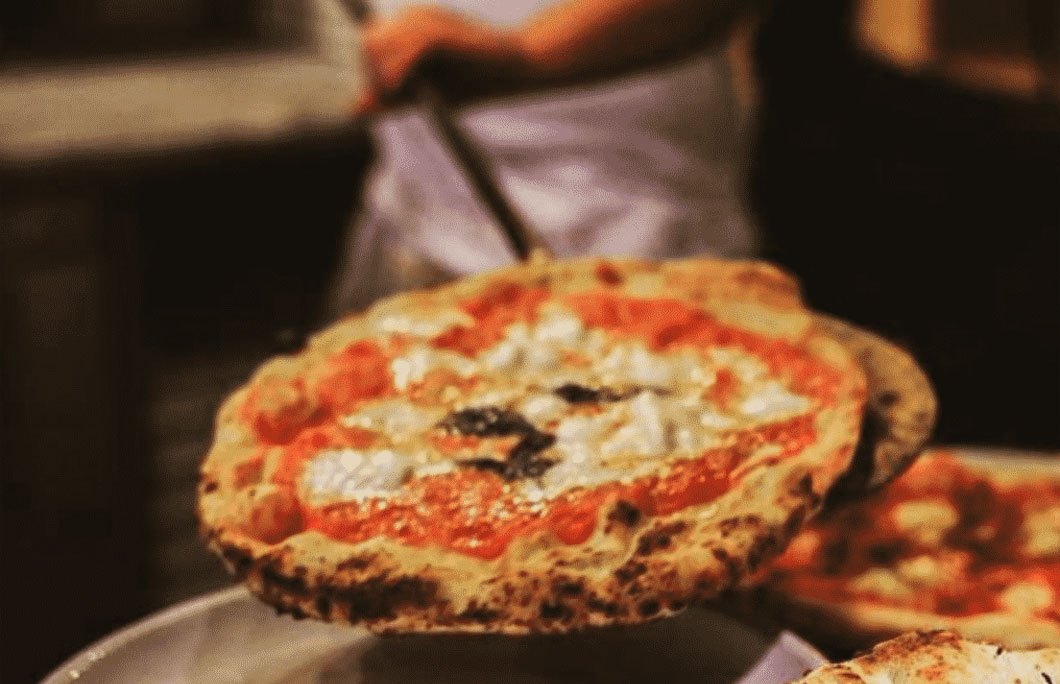 42. De Superette – Ghent, Belgium
This bakery-cum-pizzeria is easy to fall in love with. The Nordic-inspired setting serves up some of the best bread in the city from a Nordic-inspired, vintage-decorated restaurant. The pizzas are expertly leavened, light as air and perfectly charred in a wood-fired oven. The ingredients are top-quality too. Heaven in a bite.
---
41. PI Pizza Dublin – Dublin, Ireland
This wildly popular pizzeria, set right in the thick of the action, is one of the best restaurants in Dublin – full stop. The self-proclaimed 'wood-fired pizza fundamentalists' serve up Neapolitan-inspired pizzas made from Caputo "OO flour, topped with innovative ingredients and served alongside the city's best craft beers. Try the much-loved Nduja Pizza, made with crushed tomato, fresh basil, scamorza, 'nduja, honey, parmigiano reggiano and garlic.
---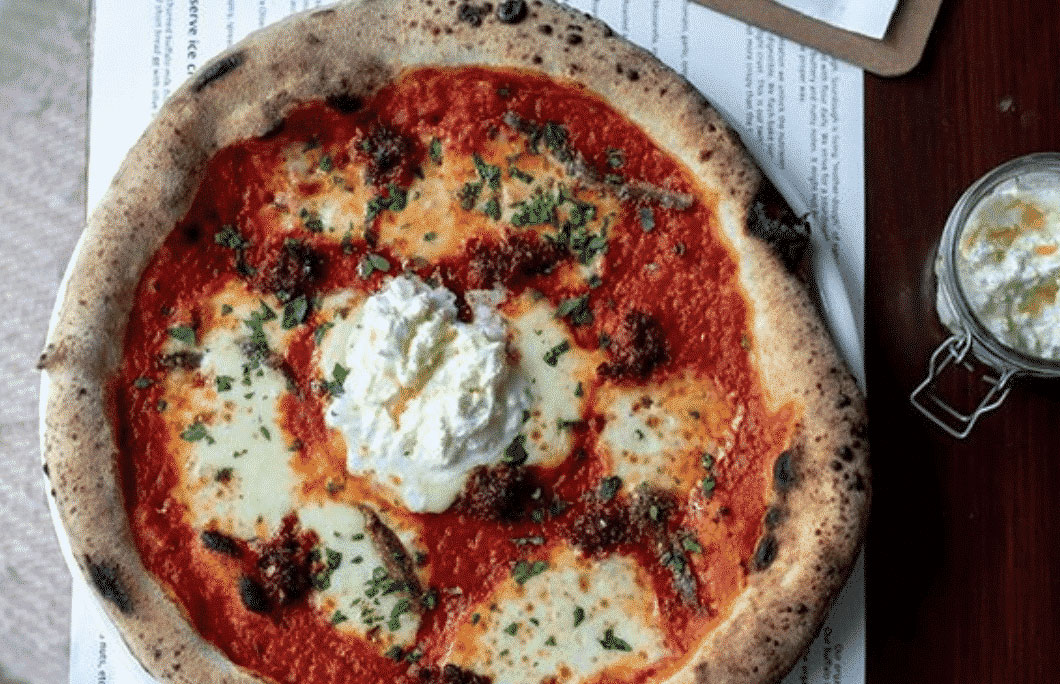 40. Street Pizza – Riga, Latvia
You'll need to get here early or brave the queues if you want a seat since this tiny restaurant in Riga can only accommodate around two dozen people at a time. But it's well with the wait. Pizzas are baked in powerful wood-fired oven and ingredients are all certified Italian. The base is fluffy and full-bodied and you'll be dreaming about that well-balanced sauce for weeks.
---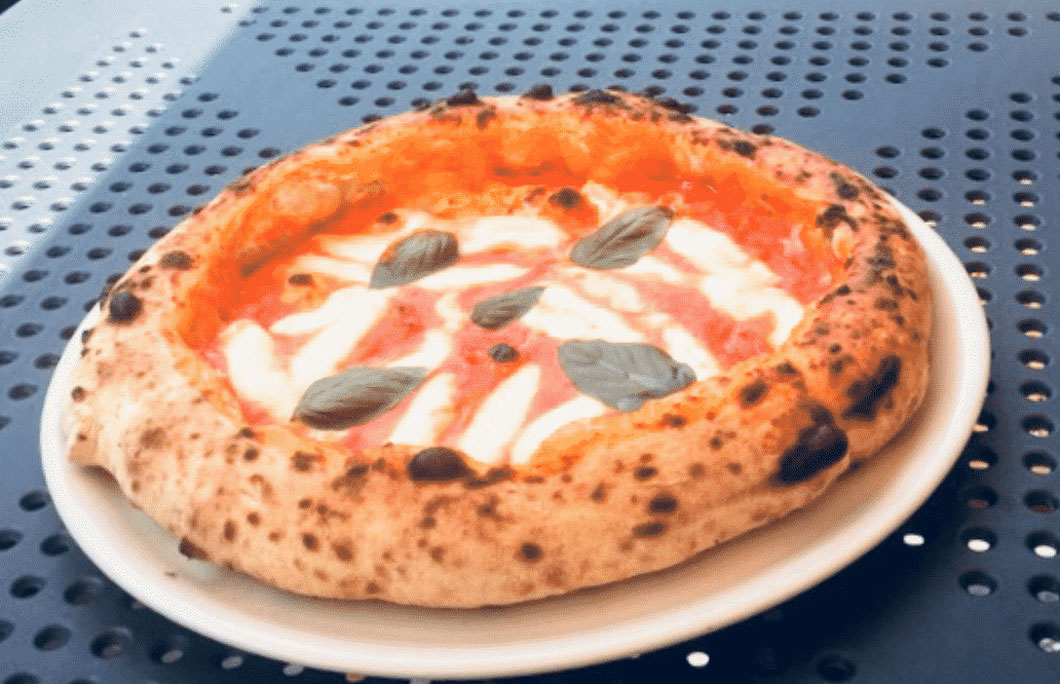 39. nNea Pizza – Amsterdam, Netherlands
nNea Pizza consistently ranks as one of the best pizzas in Europe. While they're pros at the world's favourite fast food, there's nothing fast about the pizzas here – they prove the dough for over 50 hours. Vincenzo Onnembo, the mastermind behind the renowned restaurant, is creative with flavour combinations too. Try the Orange n'Blue, made with roasted pumpkin, buffalo blue cheese, the finest fior di latte and provola di Agerola, sprinkled with hazelnuts.
---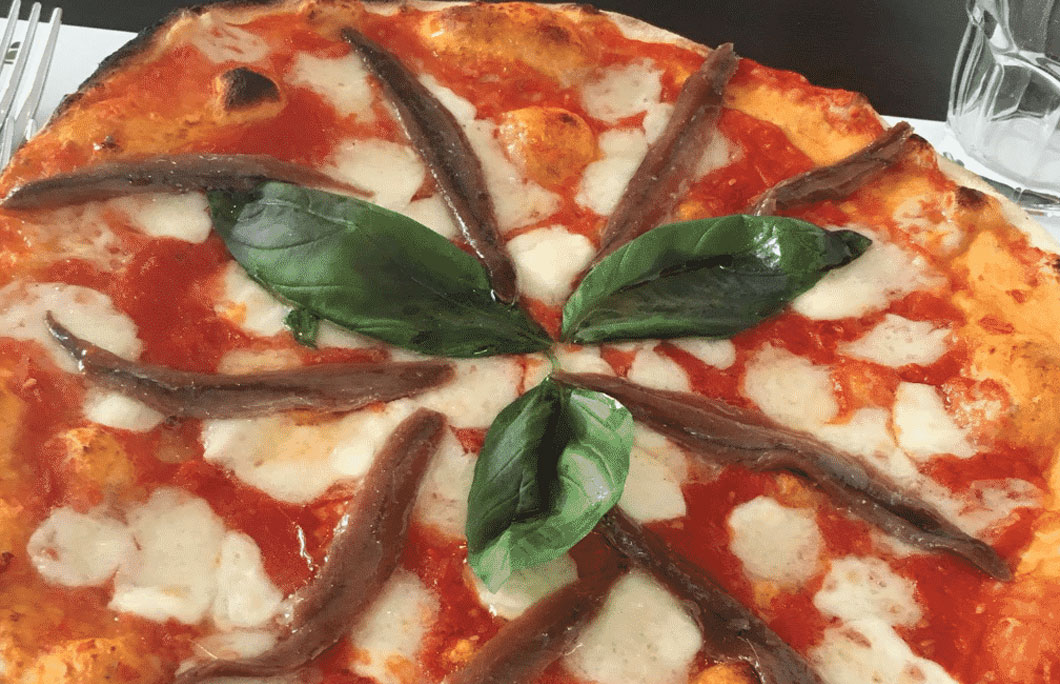 38. Majstor L Margaria – Belgrade, Serbia
Take a bite with your eyes closed and you could easily be fooled into thinking your sinking your teeth into a pizza straight out of Spaccanapoli, not the Serbian capital. But that's just one of many surprises the pizzaiolos have up their sleeves here. Trained by the great pizza maestros of Naples, the focus here is on simple, high-quality ingredients. The crusts are remarkably airy – not easy to find outside of Naples – but chewy too.
---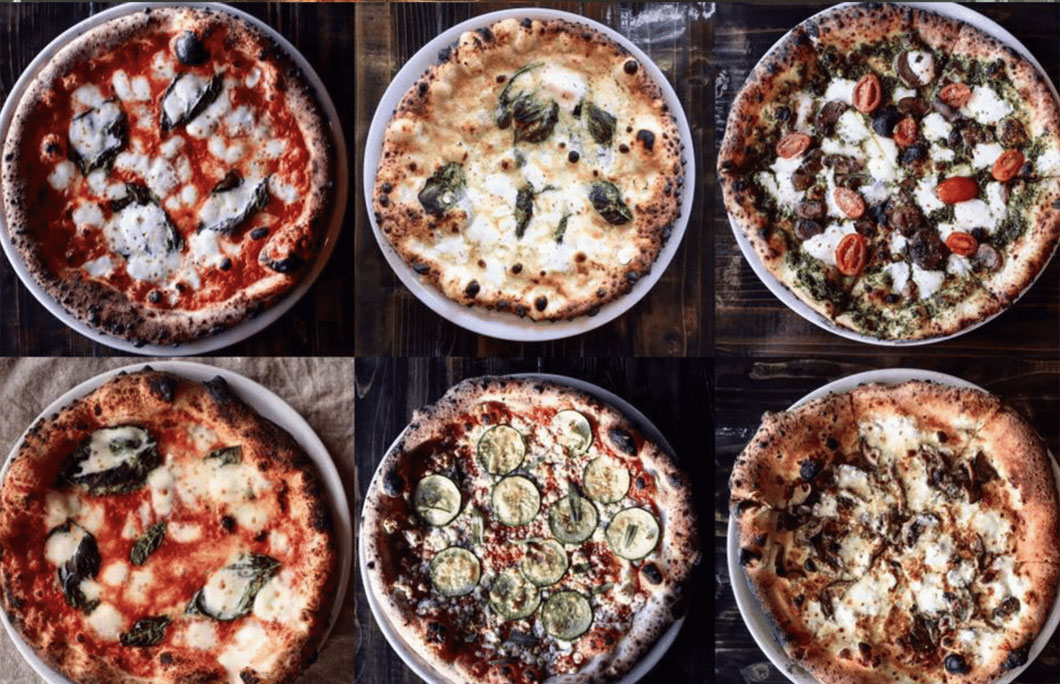 37. OKO – Viimsi, Estonia
Estonia is fast becoming a hit holiday destination for those who like to travel – and eat – slowly, but few seem to make it out to the seaside town of Viimsi. Beyond the sandy stretches, there's an excellent reason to venture here – OKO. Serving up some of the best pizzas in Europe, made with natural sourdough that is fermented for over 36 hours then baked at 500 degrees in a wood-fired oven. Try the black truffle special, it's a real crowd-pleaser.
---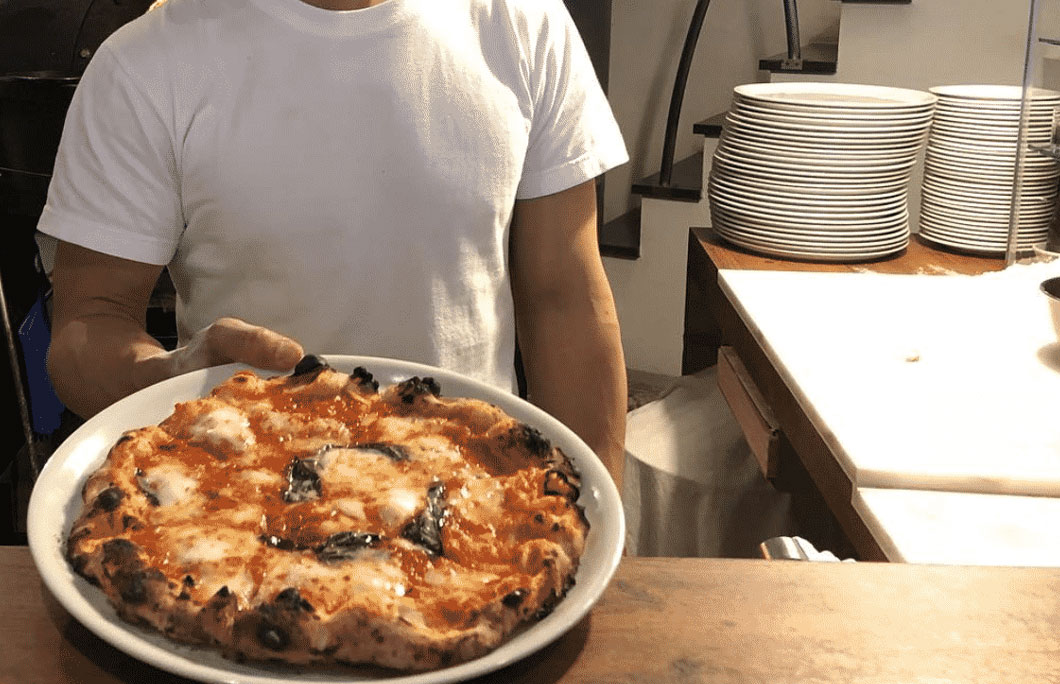 36. Pizzeria Rustica – Bled, Slovenia
This award-winning pizzeria sits high on a hill overlooking Lake Bled. Pizza is their passion – and it seeps into every dish. Customers rave about the friendly service, high-quality ingredients and crisp crust. Try the 'Kraška', made with cheese, oregano, olives, fresh tomato sauce and locally-smoked ham, washed down with a tap beer. Inside, the atmosphere is inviting and cosy, while on warmer days you can sit outside on the sun-filled terrace.
---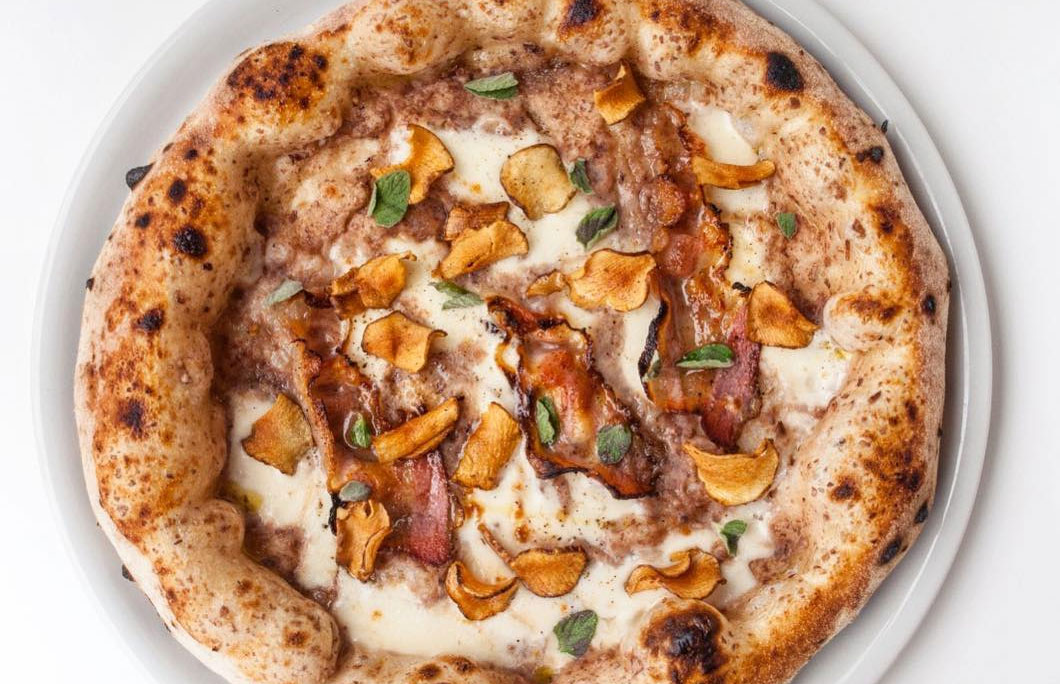 35. Pizzeria Luca – Copenhagen, Denmark
When it comes to pizza in Copenhagen, Luca Platania and his wife Salla have really upped the ante. In fact, they're so popular that there are now three outposts in Copenhagen and as many branches in Finland. Devotees of traditional Neapolitan pizza, they leaven the dough for 72 hours to create a perfectly chewy, crunchy crust and a deliciously soggy bottom. There's a good range of red and white pizzas on offer, but for something extra special not order the Pizzeria Luca Sharing Menu – a little bit of everything from the kitchen for the whole group.
---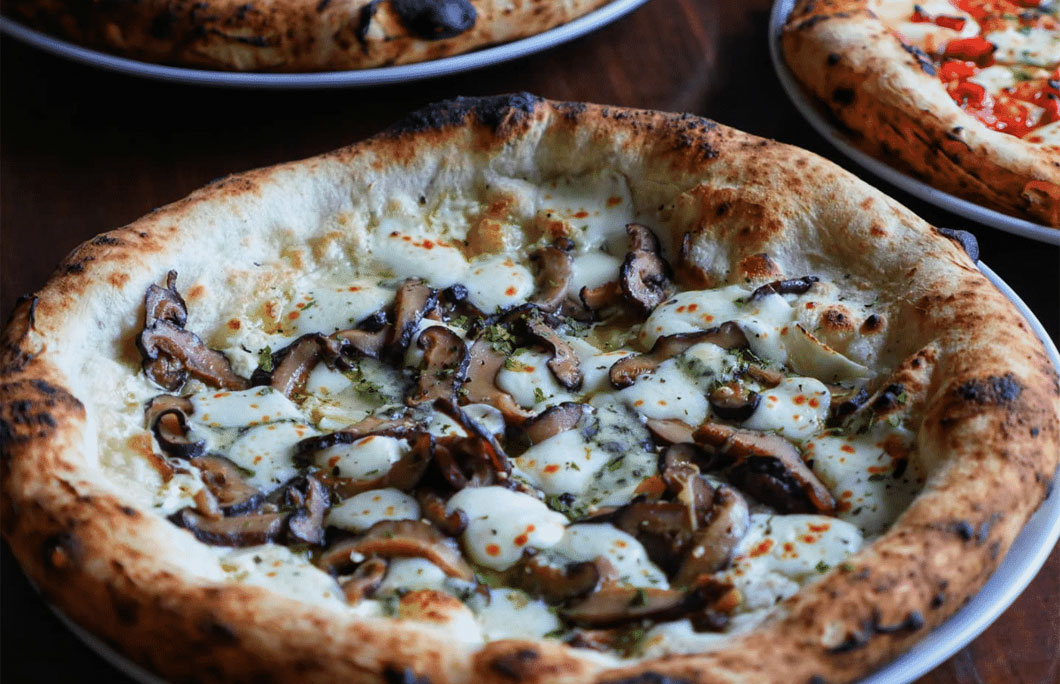 34. Paesano Pizza – Glasgow, Scotland
Proving that you don't need to hotfoot to Southern Italy for the most authentic pies, Paesano Pizza serves up award-winning Neapolitan-style pizzas at two locations in the heart of Glasgow. They're obsessed with sticking to tradition here, which is why everything – from the ingredients to the wood-fired pizza ovens – are sourced in Italy. Then there's the dough, a unique hybrid of yeast and sourdough, proven for over 48 hours and baked to a thin crisp. It's the sort of local everyone dreams of having in their neighbourhood.
---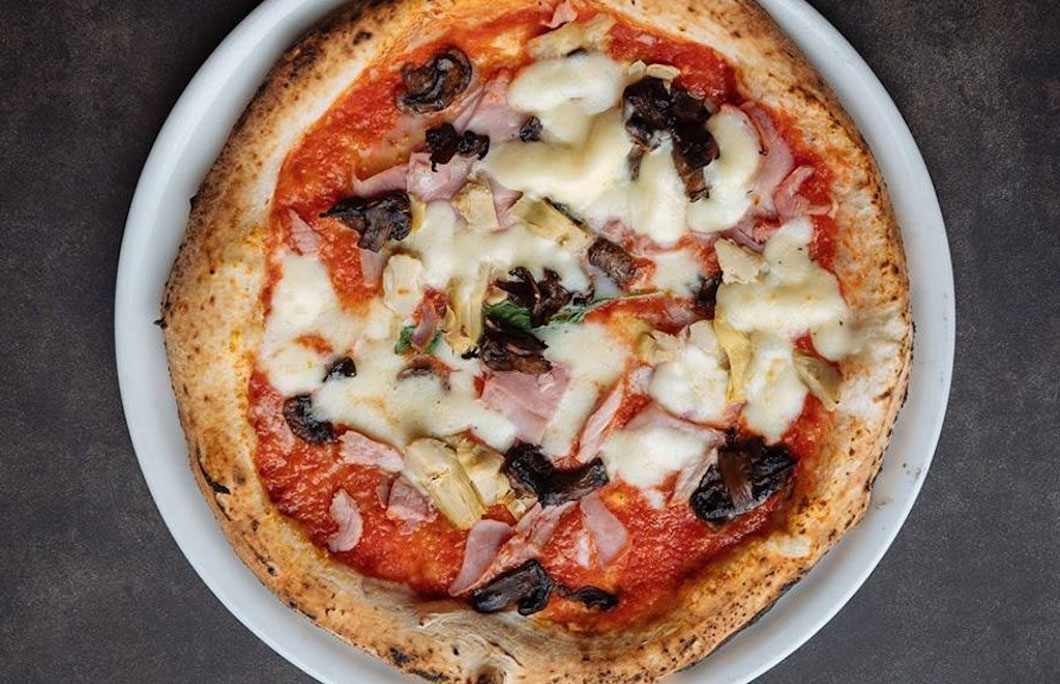 33. Pizza Nuova – Prague, Czech Republic
Located in the historic heart of the city, moments form the Vlava River, Pizza Nuova serves up some of the best classic Neapolitan style pizzas outside of Naples. They're even certified by the Associazione Verace Pizza Napolitana. Pizzas here are packed full of flavour and topped with San Marzano tomatoes, buffalo mozzarella and extra virgin olive oil to taste. As a final flourish, chefs lovingly bake the pizzas over beechwood in an oven from Naples.
---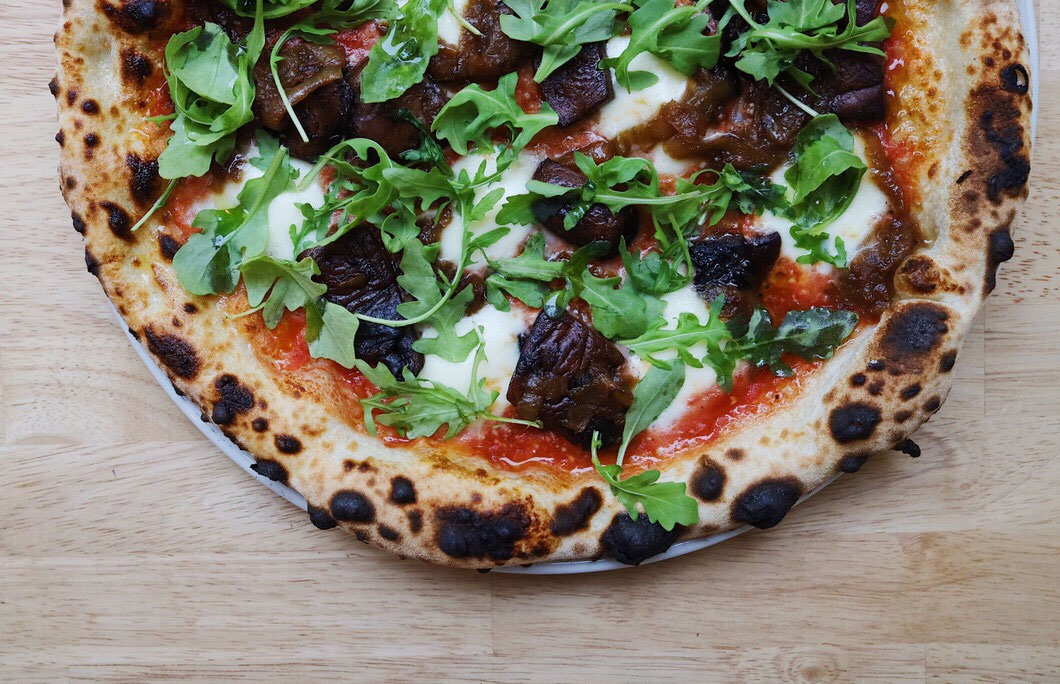 32. Verace – Ljubljana, Slovenia
It might be small but Verace's pizza offering is far from modest. Certified by the Associazione Verace Pizza, these Neapolitan-style pizzas feature a paper-thin base with a puffed-up pillowy crust that's perfectly charred from a hot wood-fired oven. Head chef Fabio Caruso is obsessed with sourcing the highest quality ingredients too. There's also a good range of pizzas catering for vegans, who – let's face it – don't usually get a look-in when it comes to authentic pizzas.
---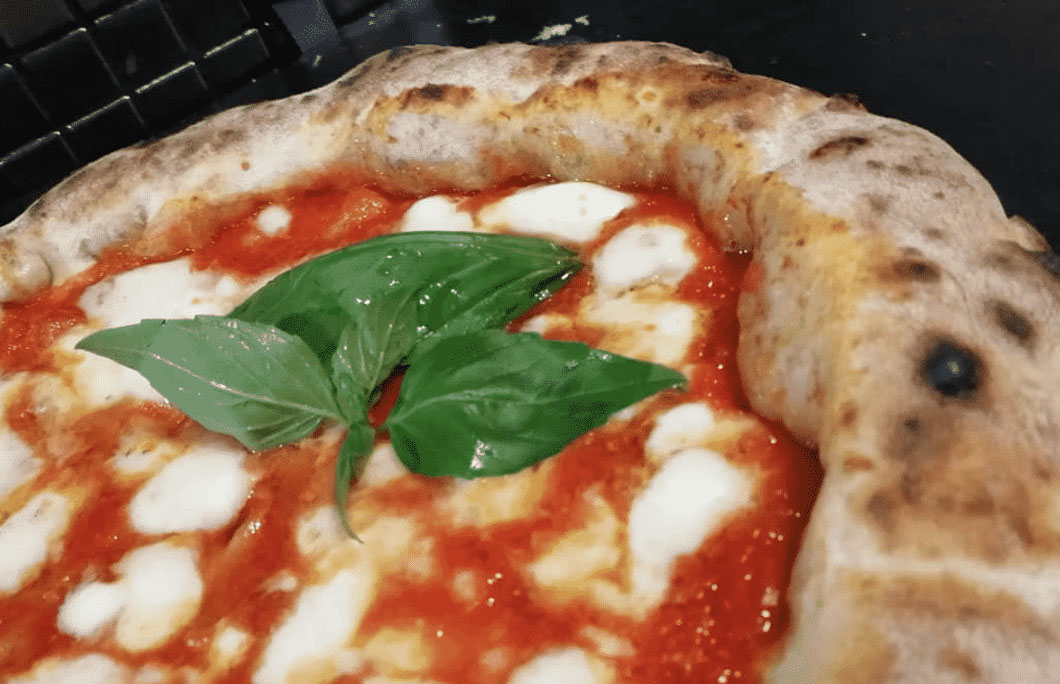 31. Oro di Napoli – Santa Cruz de Tenerife, Spain
Tenerife's culinary scene might once have been associated with laminated menus and fry-ups, but those days are long gone. Oro di Napoli is a case in point. The pizzas here regularly rank in the top 50s thanks to their soft, wood-fired bases and fresh ingredients. It's also an easy stroll to Los Cristianos beach, which means you have an excuse to keep coming back for more. The calzone will leave you smiling for days.
---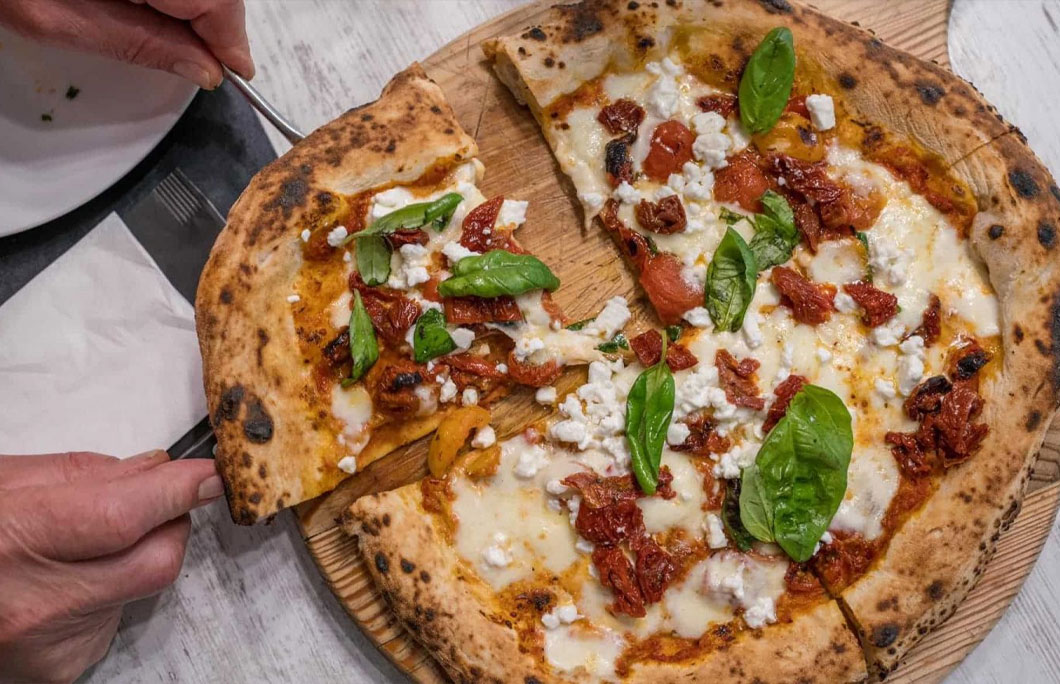 30. La Balmesina – Barcelona, Spain
This upscale Italian pizzeria serves up a good wine and a warm atmosphere in spades. But its pizza is the real star of the show here. Run by three proud Italians, their dough is famous. They prepare it fresh every day and ferment it for at least 72 hours. They use this to create three bases – Tonda (classic), Tonda de Espelta (spelt) and Pala (an oval, thicker base). All the classics feature but there's also some inventive additions too, like the Pizza Margherita Balmes, made with the addition of candied tomatoes.
---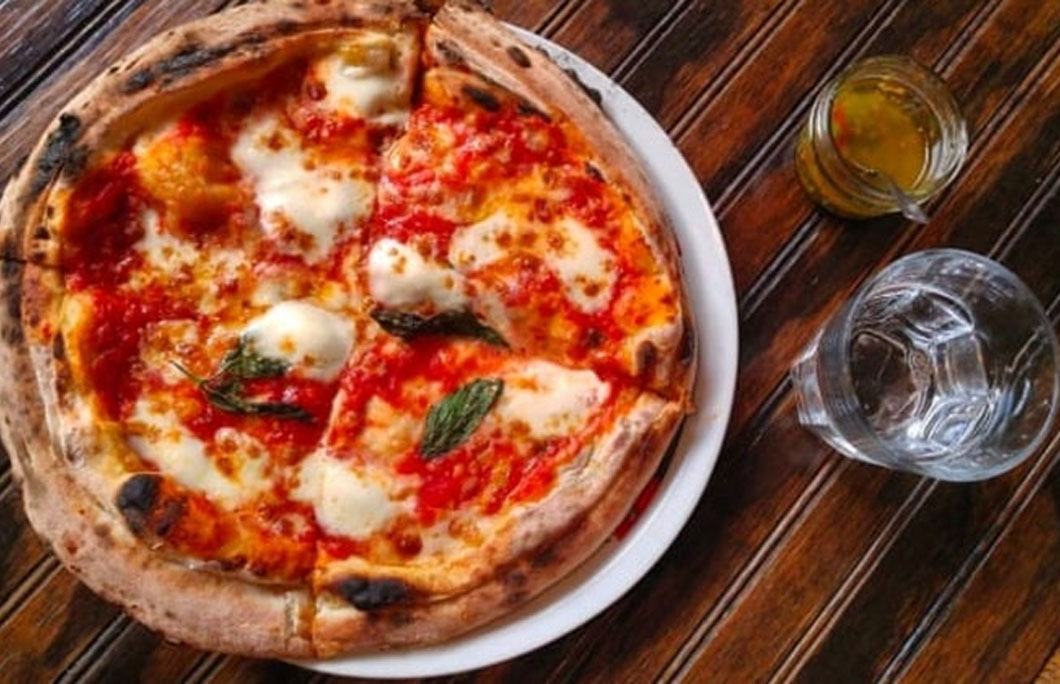 29. Antico Forno Roscioli – Rome, Italy
In a city as famous for its pizza as it is for its ancient ruins, it's not easy to stand out. That is, unless you're Antico Forno Roscioli. It's actually a bakery that's been running for three generations since the 1970s, famed for its crusty sourdough, cakes and incredible pizza sold by weight. They serve the pizza 'Roman style' – thin and crispy, both bianca (without a tomato base) and rossa. You'll need to use your elbows to get yourself one of the few seats, though the pizza is so good you can happily eat it standing up.
---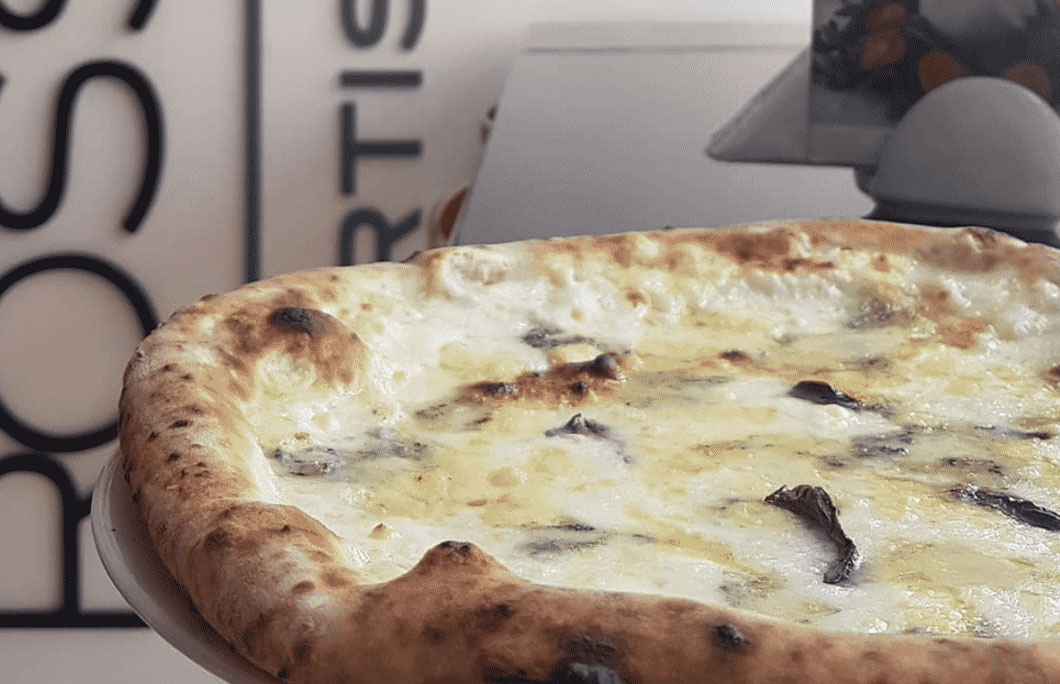 28. Putte's Bar and Pizza – Helsinki, Finland
Putte's Bar and Pizza is both vegan and dog-friendly, which already puts them in our good books. But even dog-free, meat-eating travellers will enjoy a pizza pie and the vibes at Putte's. Head here to sample something creative such as their 'Silence of the Lambs' or 'Bacon and Avocado'. Then, stay long into the night for the live entertainment down in the cellar.
---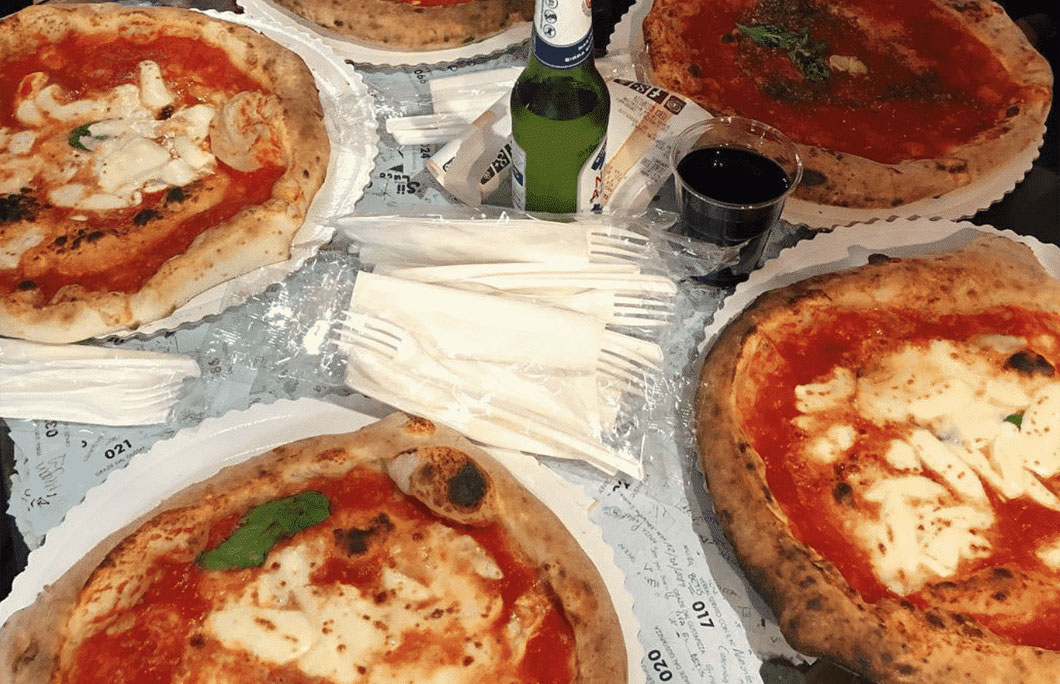 27. 450 Gradi – Lidingö, Sweden
This universally popular pizzeria serves up thick, fluffy Neapolitan pizzas made with "oo flour leavened for three days under strict temperature controls. The result is a light, bubbly base, topped with San Marzano tomatoes and Agerola fior di latte. Combine that with an idyllic seaside setting and it's hard to imagine a more perfect restaurant.
---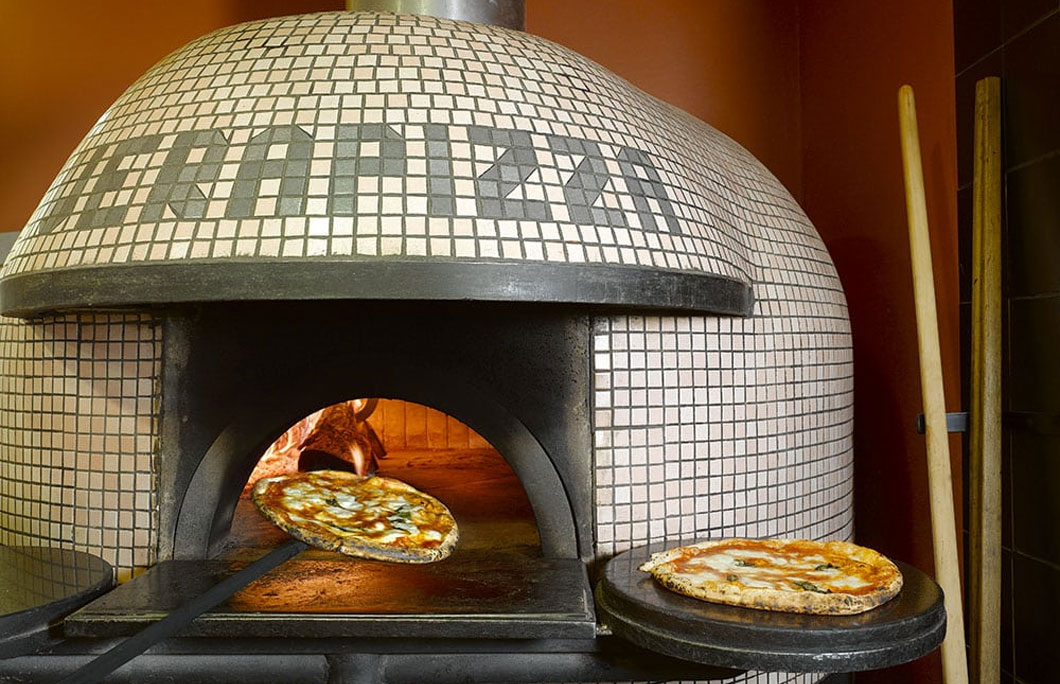 26. L'Antica Pizzeria da Michele – Naples, Italy
You no longer have to travel all the way to Italy to visit the iconic pizzeria from Eat, Pray Love, there are now offshoots of the Neapolitan eatery in the UK too. The original, founded in Naples in 1870, is still the best. You'll need to get a ticket and wait in line with the rest of the city's hungry punters. That said, it won't take you long to order, there are only two pizzas on offer: Marinara and Margherita.
---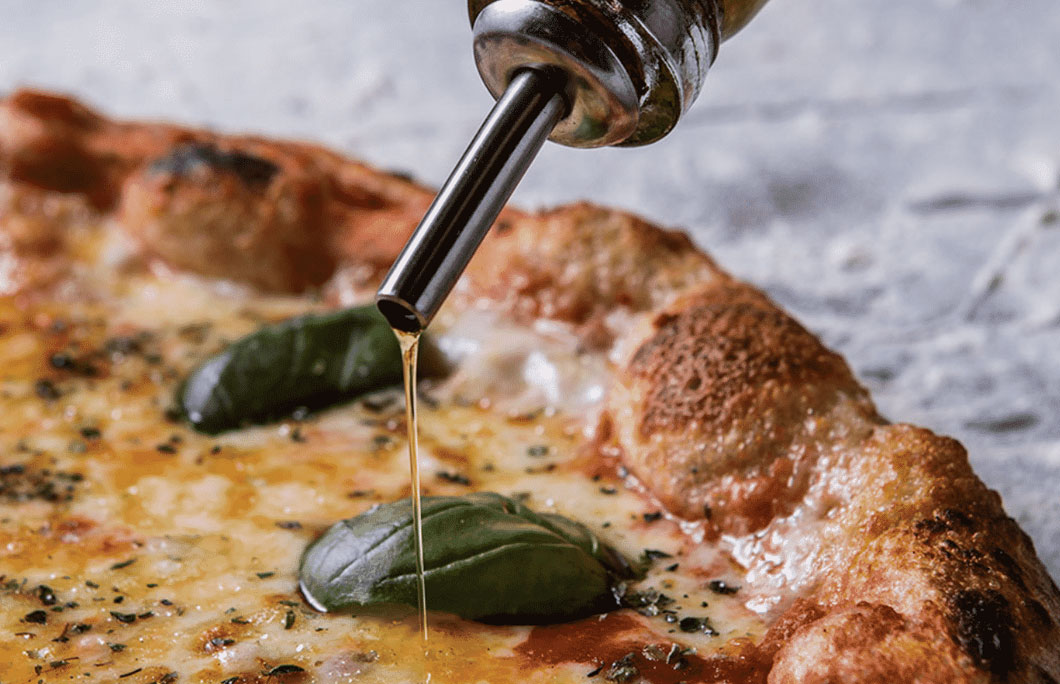 25. Dough – Bath, United Kingdom
This independent, family-run business serves up up first-rate slices of pizza, every time. They're made onsite by specialist artisans from Puglia, but don't expect any bog-standard bases. It's the variety of doughs on offer that really sets this pizzeria apart. Doughs include hemp, tumeric, seaweed and black rice, as well as the traditional sourdough.You'll find all of the traditional toppings on the menu, as well as some more inventive flavours, like Neapolitan yellow tomato sauce and crispy speck with olive pâté. It's also one of the few places in the country where you can find an excellent 'pucce' – a traditional Southern Italian sandwich.
---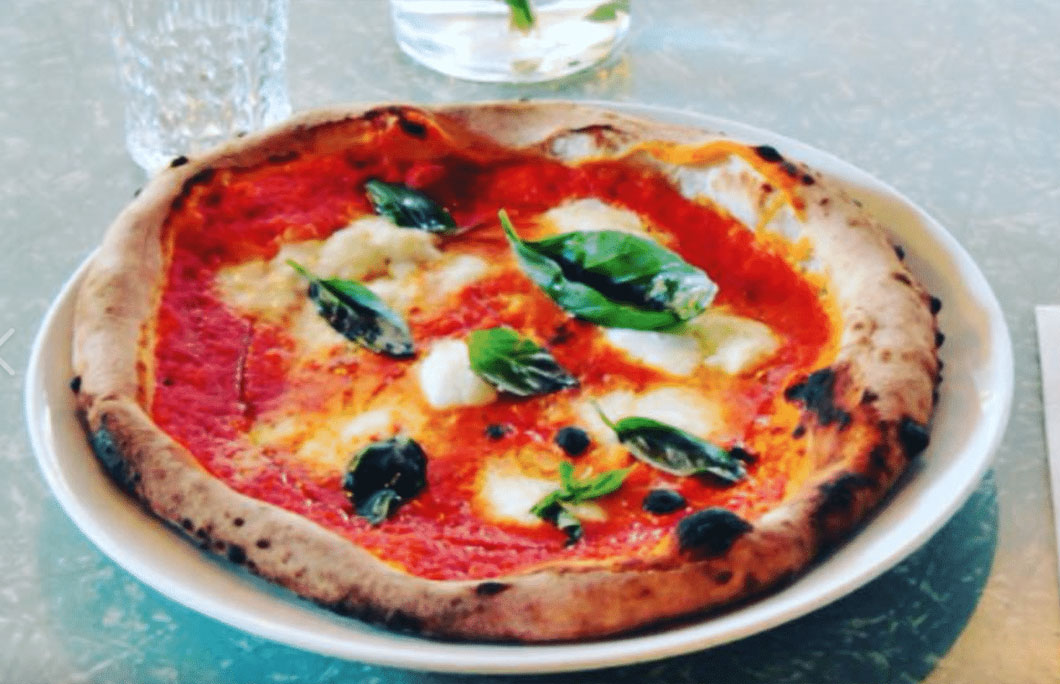 24. Animaletto Pizza Bar – Bucharest, Romania
Steps away from Victory Square, Animaletto Pizza Bar serves up the city's best slices. It's Roman-style – served thin and crispy – and generously topped with high-quality ingredients. The emphasis here is on breaking the mould, showcased in both the sleek, industrial-style decor and the contemporary pizzas. The bruschetta is excellent too.
---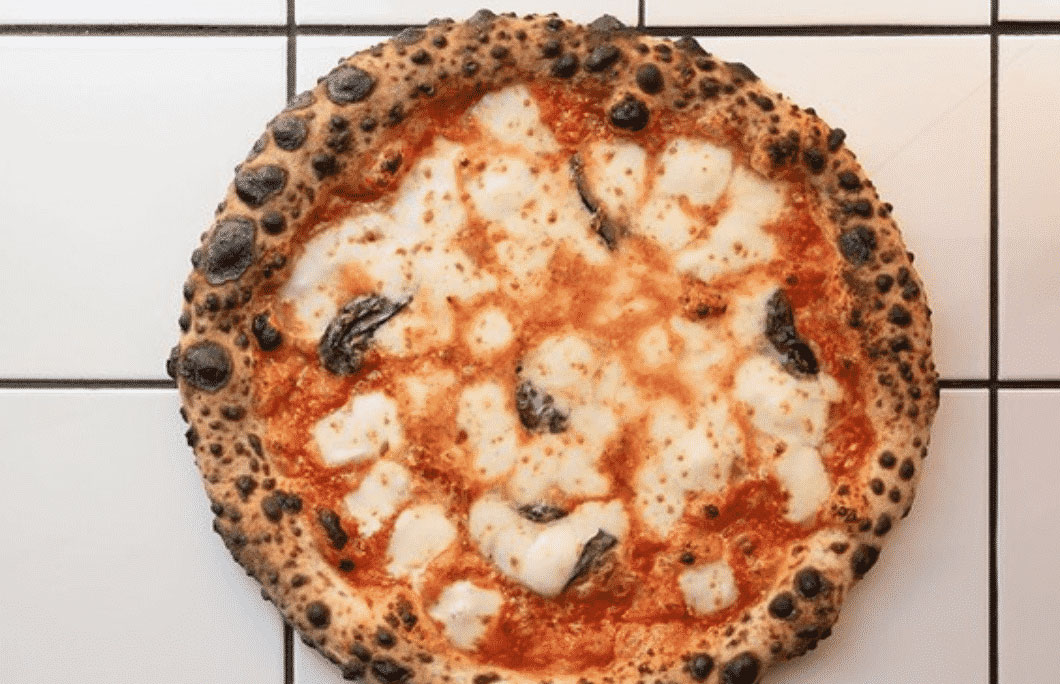 23. Bonci Pizzarium – Rome, Italy
Bonci Pizzarium has been dubbed the most influential and important pizza place in Rome. It serves pizza by the slice in a tiny 500-sq. ft shop down the road from the Vatican, but despite its tourist-friendly location it's just as popular with locals. Toppings range from the much-loved humble potato and mozzarella to the more adventurous stuffed with chickpeas and mozzarella.
---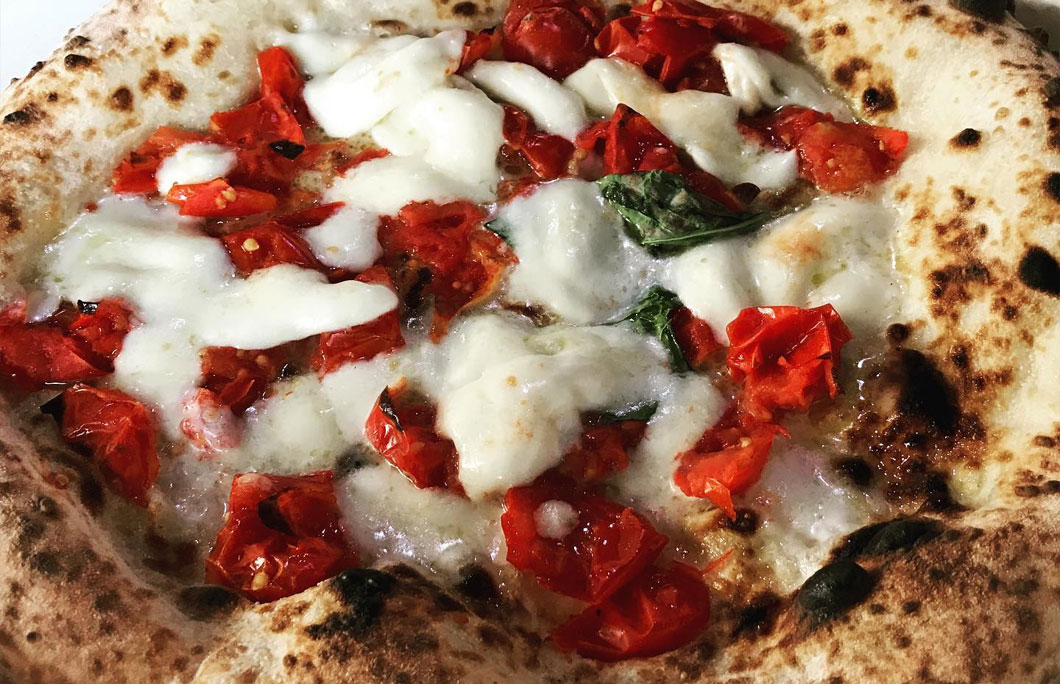 22. Acqua e Farina – Lugano, Switzerland
This unassuming restaurant located down an alley steps away from the river is easy to miss, but hard to forget. There's a range of authentic antipasti, meat dishes, pasta and salads on the menu, but it's the pizza here that keeps the crowds coming back. The chefs here use carbon flour, which gives it a darker crust, and locally-sourced ingredients. Customers rave about the 'Boscaiola' pizza, loaded with cured meats and fiore di latte cheese. Heaven.
---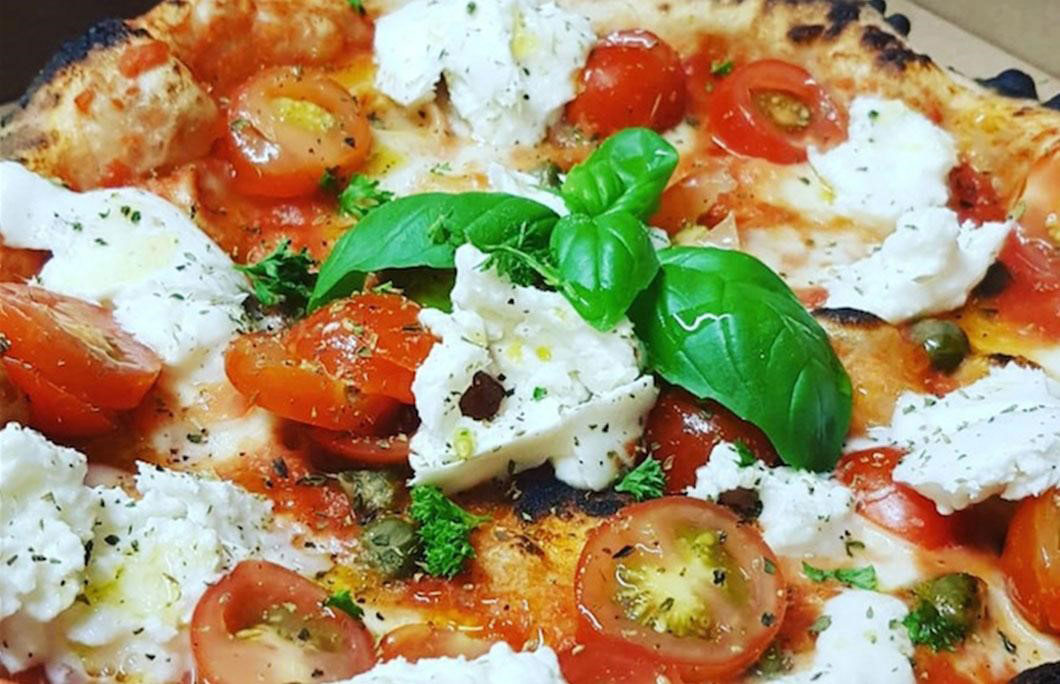 21. Restaurant 450°C – Turku, Finland
Run by Angelo Tursi and his sister Filomena, 450°C boasts some of the best Neapolitan pizza outside of Naples. Combining years of experience with uncompromising quality, the pizza here is as pillowy as any you'll find in Italy, served with a thick crust. The Pizza Napoli, topped with tomato, anchovies and capers, is faultless. Prices are cheap and cheerful thanks to its stellar location in the beating heart of the city at Turku's indoor market.
---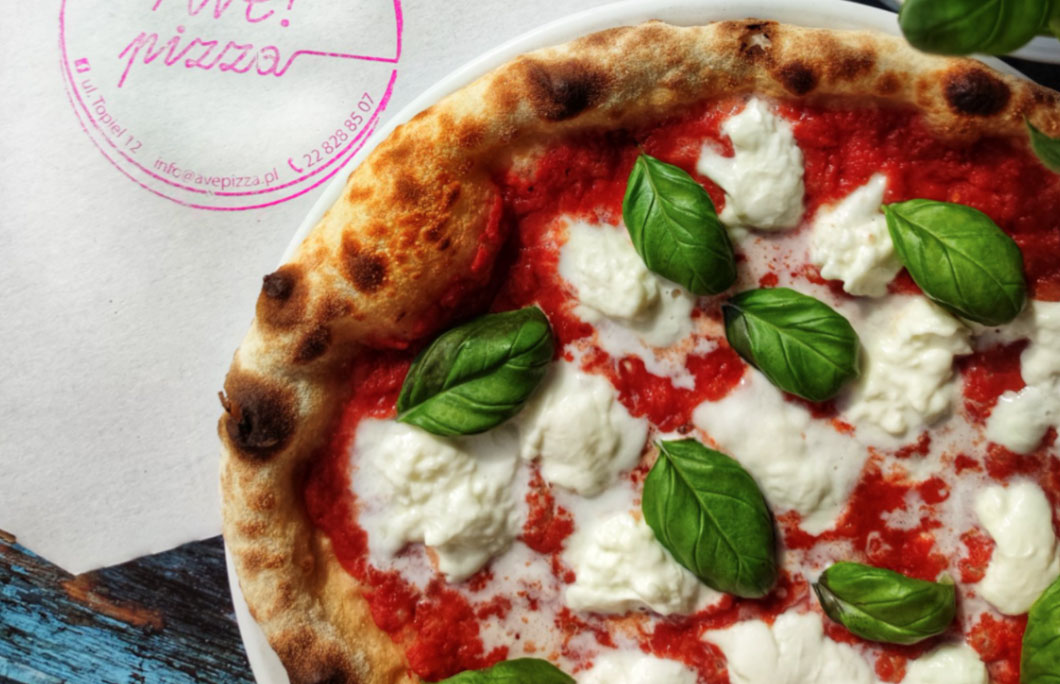 20. Ave Pizza – Warsaw, Poland
When a place imports all of its ingredients straight from Italy you can almost guarantee that the pizza is going to be out of this world. At least, that's the case with Ave Pizza in Warsaw. But, they take it well beyond simply using quality ingredients. To ensure the perfect results they prove their dough for 72 hours and cook the pizza in less than two minutes, at 450 degrees. It locks in all of the flavours you love.
---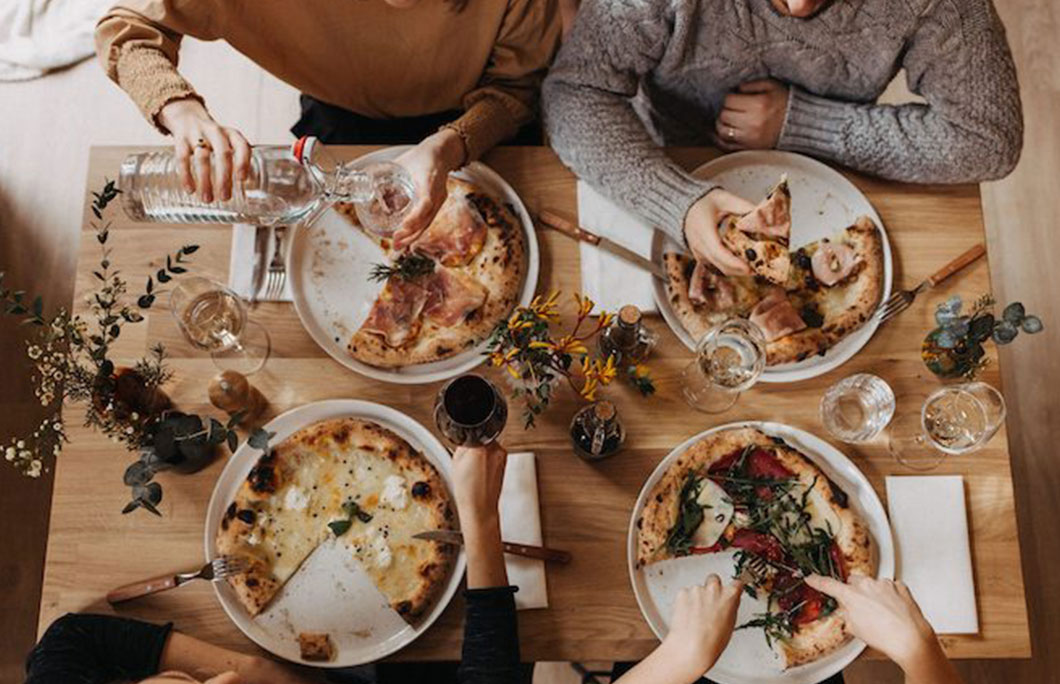 19. Belli di Mamma – Budapest, Hungary
Belli di Mamma is Hungary's best-loved pizzeria. They mix the pizza flour with wholegrain for a nuttier colour, proof it for two days and top it with fresh and locally-sourced ingredients. The result is a pizza with a light and fluffy crust, with a paper-thin base. Glorious. It's conquered the hearts of tourists and locals alike, even the biggest pizza purists among us.
---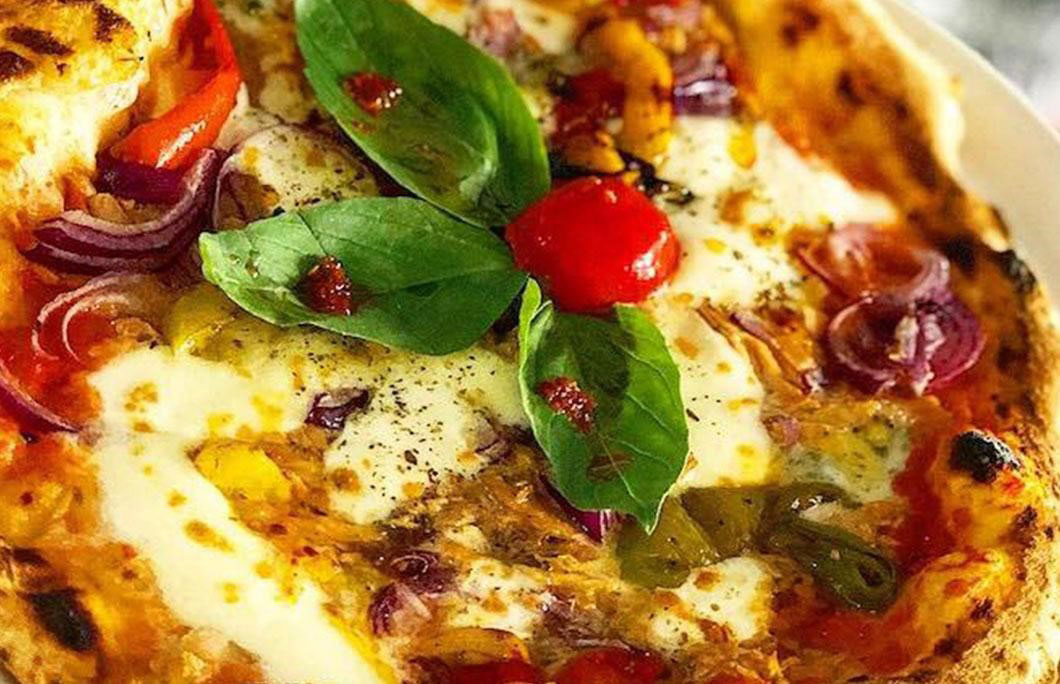 18. 60 Secondi Pizza – Munich, Germany
This laid-back pizzeria regularly places in the Top 50 Pizzerias in the World, for good reason. It's earned its accolades for its authentic Neapolitan-style base, welcoming atmosphere and sparkling service. You'll find all the usual suspects on the menu – the Margherita, the Regina, the Marinara – but the chefs really excel in their modern takes on the traditional. Try the Pizza Pazza, made with burrata, honey and walnuts, and wash it down with a cocktail.
---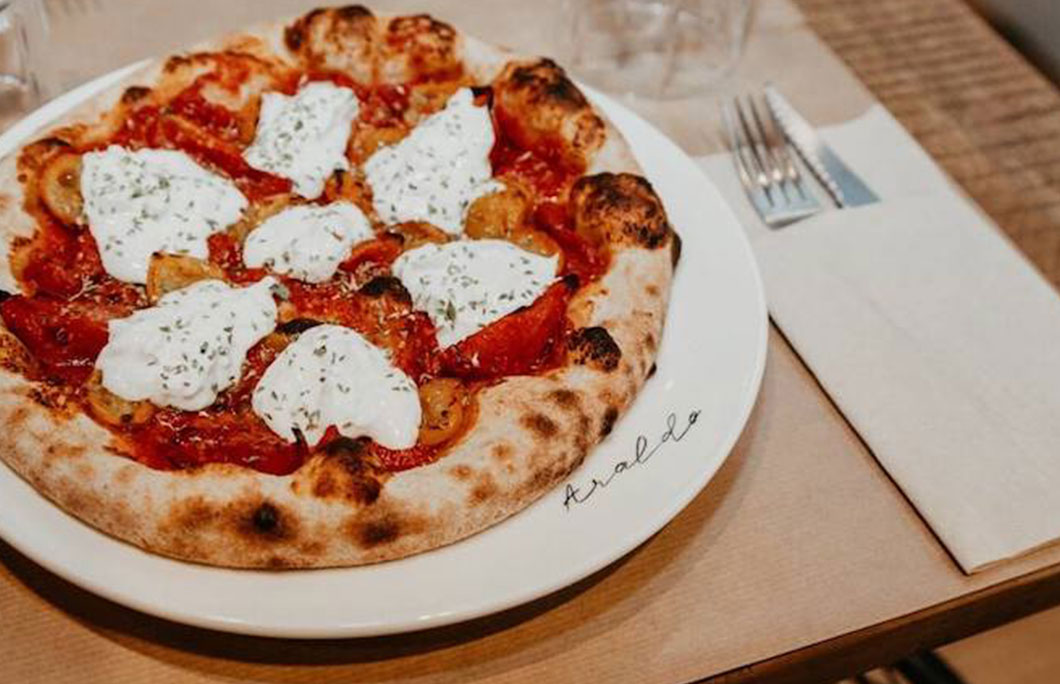 17. Araldo Arte del Gusto – Madrid, Spain
Araldo Arte del Gusto started life in Verona and quickly made a name for itself. Fast forward nearly two decades to the Spanish capital, and this restaurant is cooking up even more of a storm. The sourdough flour, left to rise for 60 hours, is key to their gloriously pillowy pizzas. The team here sources the highest-quality ingredients from Italy to top the pizzas and there are plenty of vegan-friendly options too.
---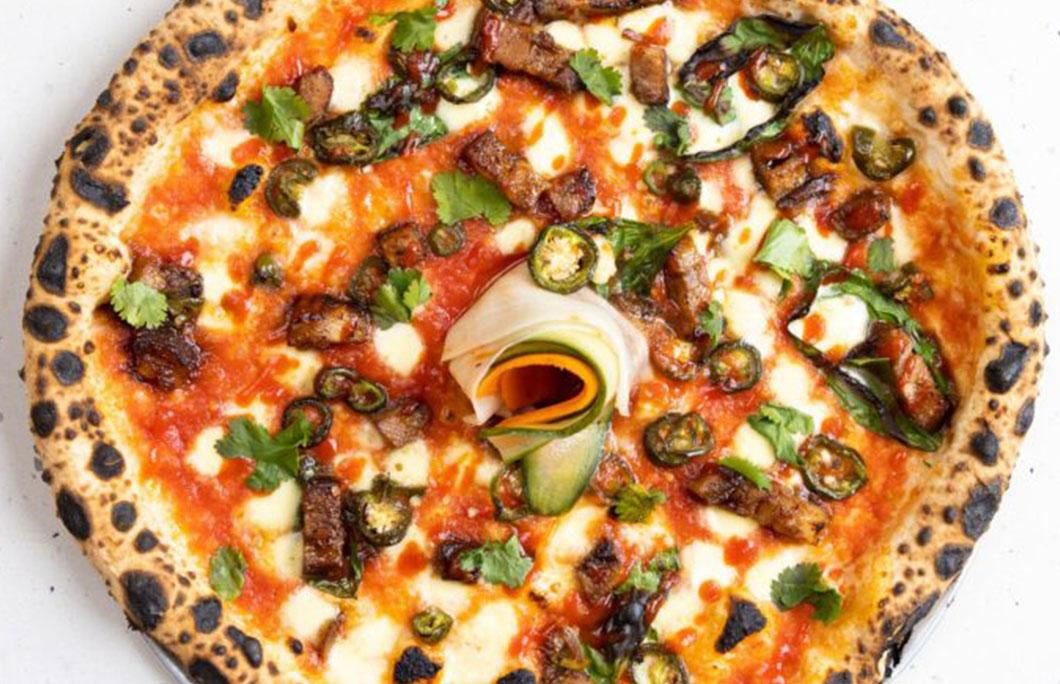 16. The Dough Bros – Galway, Ireland
The Dough Bros started life as a humble food truck, but it's since become a regular fixture on the world's most prestigious pizza rankings. The Neapolitan-style pizzas feature both Italian and locally-sourced Irish ingredients, including cold cuts and cheeses. It's not just the critics who love their pizzas either, the restaurant has overwhelmingly positive reviews online, with many proclaiming it the best pizza they've ever had – Italy included.
---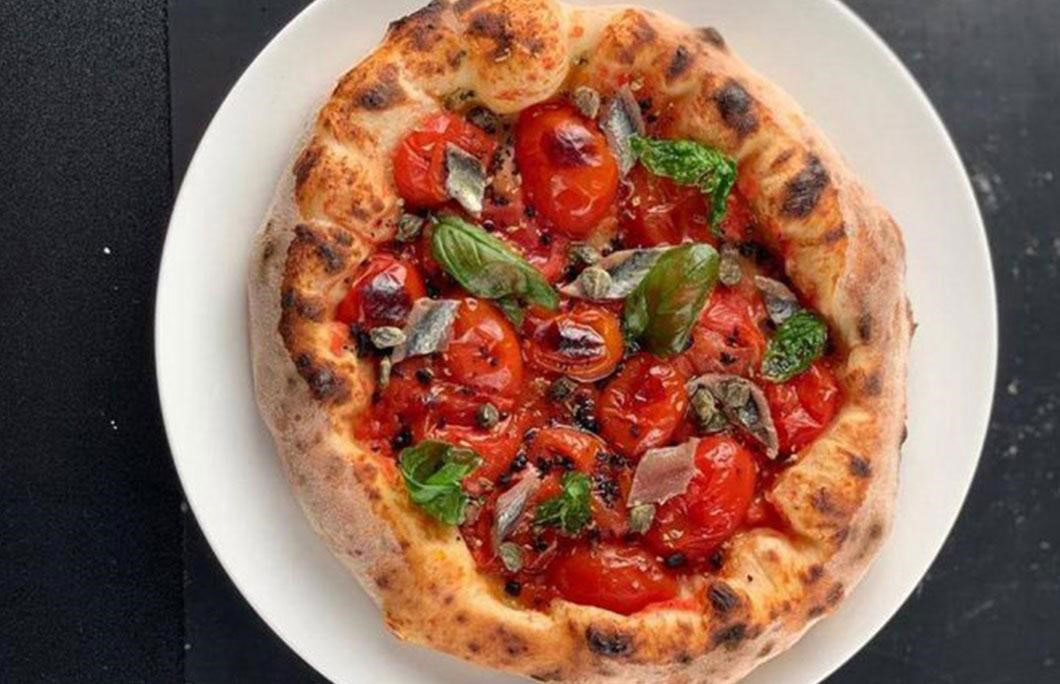 15. Pepe in Grani – Caiazzo, Italy
Famed pizzaiolo Franco Pepe's place is always busy and never lets you down – considered by many to be one of the best pizzerias in the country. They source toppings locally and pair creatively, using unusual ingredients such as chickpeas, erndive, figs and lardo.
---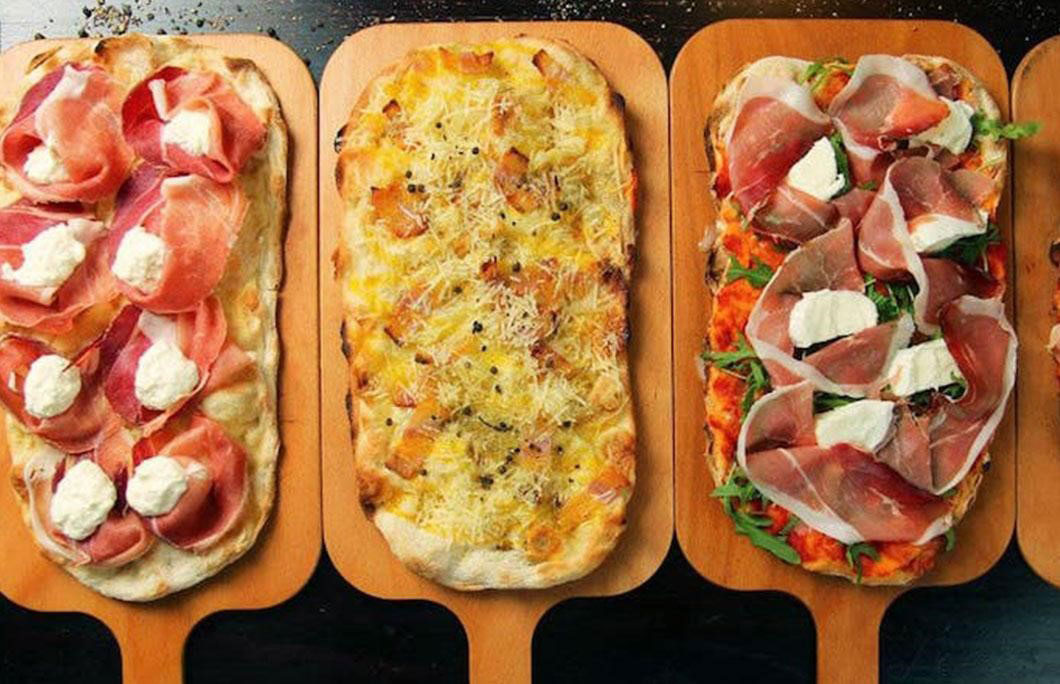 14. Sotto Pinsa Romana – Valletta, Malta
The pizzas at Sotto Pinsa Romana are simple, but far from slap-dash. You can almost taste the love and passion. Roman-style pizzas are thin, long and crispy, topped with fresh ingredients like creamy buffalo mozzarella, fresh tomatoes and locally-cured meats. Even Trip Advisor agrees; Sotto Pinsa Roman is the top restaurant in the city and has a mighty five score scoring from over 2,114 customers too.
---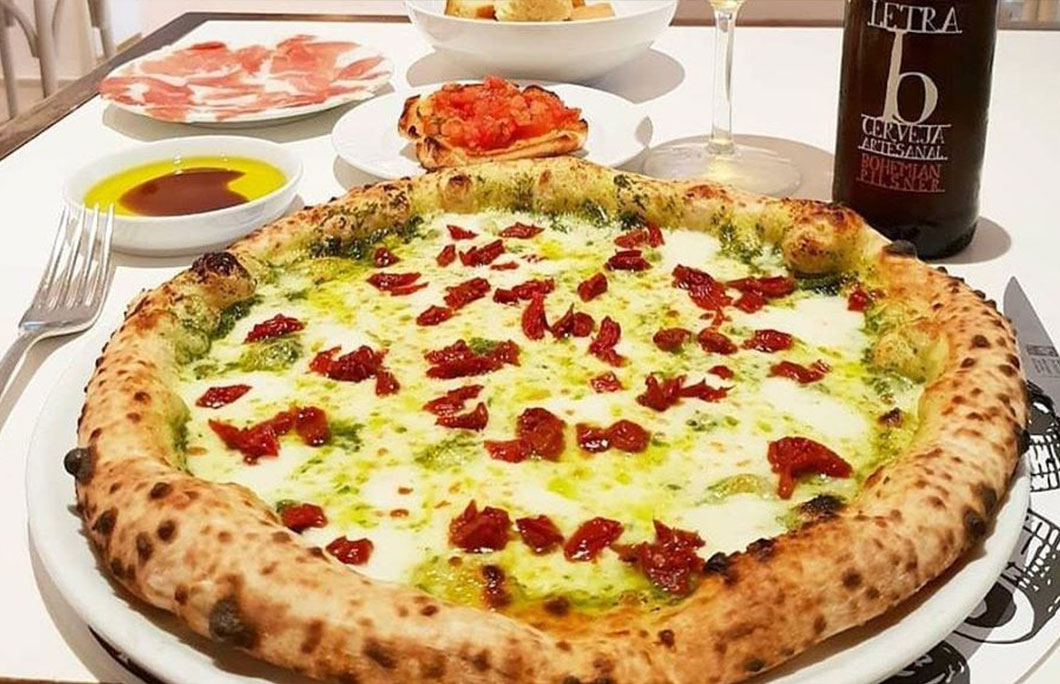 13. Forno d'Oro – Lisbon, Portugal
This Portuguese pizzeria is named for its impressive gold-lined pizza oven, built bespoke for the site. The Neapolitan pizzas here are huge, fluffy and fabulous, made with PDO-protected ingredients flown in from the motherland. You'll find all the classics on the menu, expertly made of course, alongside seasonal specials. Wash it all down with one of the restaurant's 35 beers, including some of the hardest-to-find craft beers outside of Italy.
---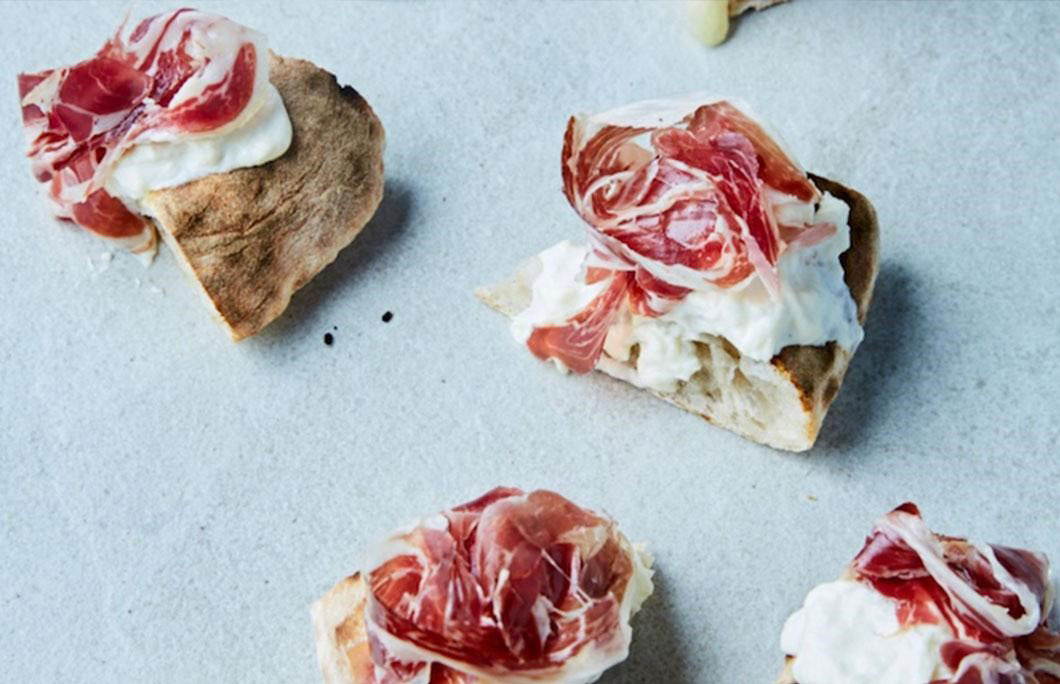 12. Vinoteket – Oslo, Norway
Vinokeket isn't your usual red-checked tablecloths and wood-fired ovens sort of pizza establishment. In fact, it's a wine bar. But while wine might be the speciality here, they've mastered the art of contemporary pizza too. Unlike classical Neapolitan pizza, Vinoteket's version is soft, airy, and cut into wedges. Ingredients are fresh and high-quality, if surprising. Think fish roe, Norwegian scallops and Norwegian fermented trout, accompanied by several glasses of wine, of course.
---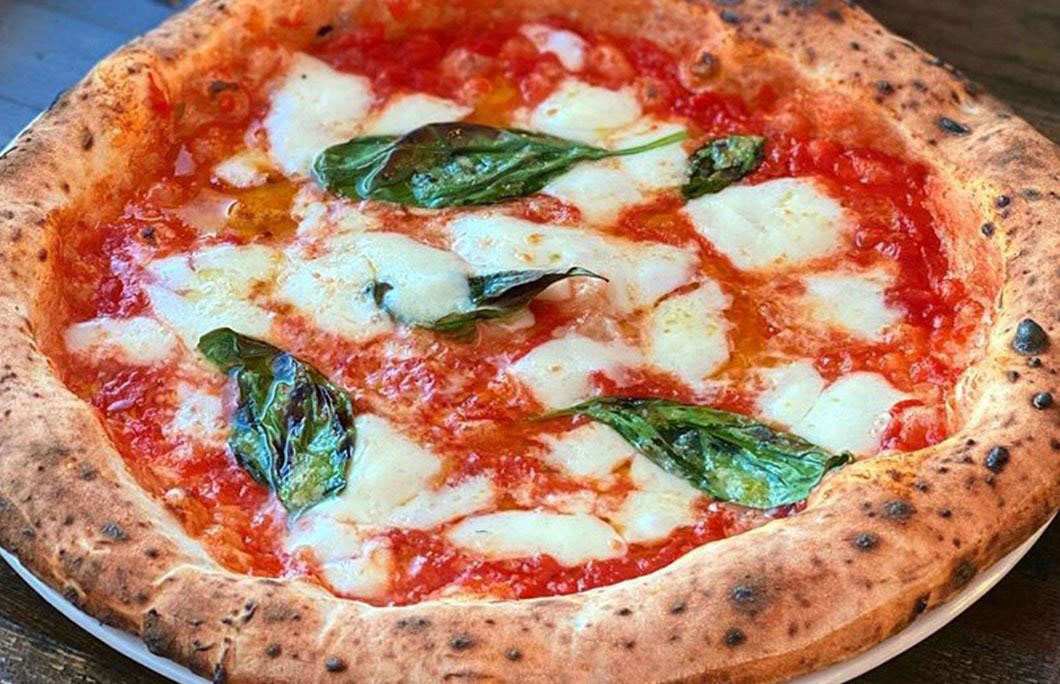 11. Lilla Napoli – Falkenberg, Sweden
Lilla Napoli's charming terrace might play a big role in luring bewildered tourists here, but it's the pizza that keeps the real foodies coming back. Falkenberg doesn't quite have Stockholm's culinary reputation but it does have the country's best pizza. Fusing Neapolitan traditions with Nordic style, the pizzas are so popular they practically fly out of the oven. They're certified by the Associazione Verace Pizza too. If you're feeling adventurous, try one of the seasonal specials written on the chalkboard.
---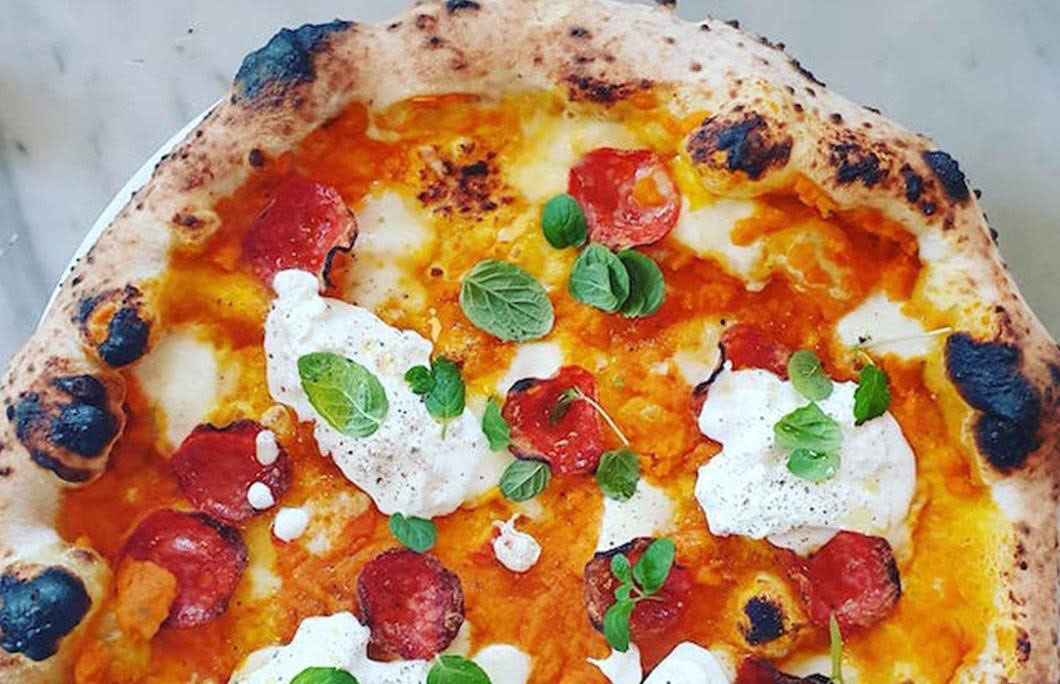 10. Nonna Pizzeria – Warsaw, Poland
This relaxed, rustic pizzeria is a firm favourite with pizza purists. Even the Trip Advisor brigade can't stop raving it, with a near-perfect score from close to 2,000 happy customers. There are a dozen dreamy pizzas to choose from, all cooked right in front of you in a traditional wood-fired oven. Toppings range from the classic Margherita to more creative pairings, like pistachio pesto with burrata.
---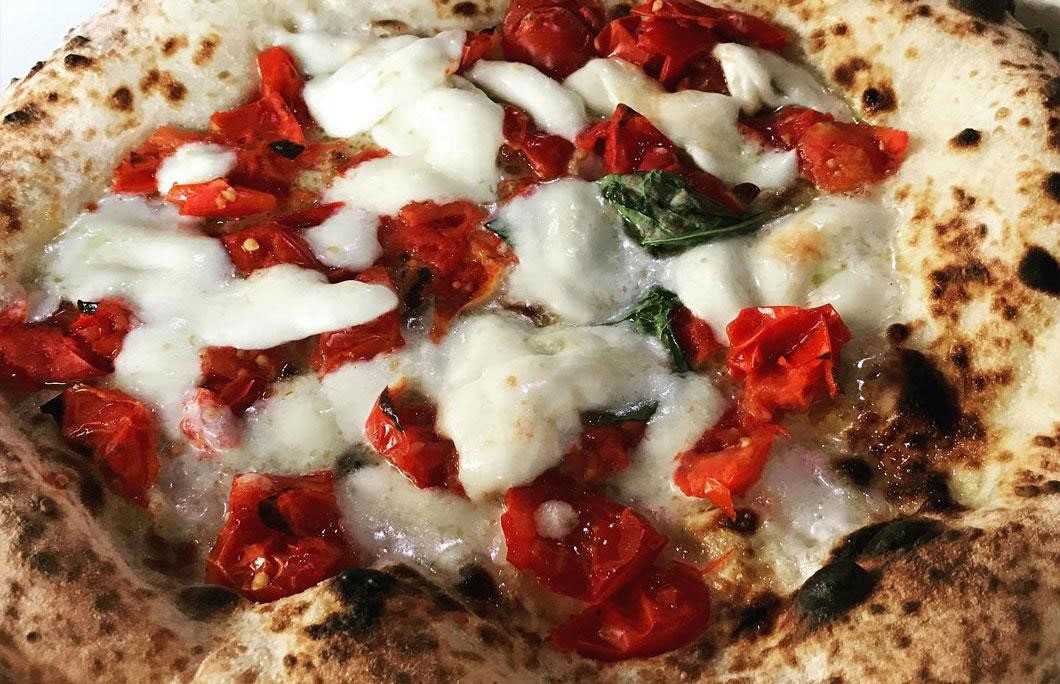 9. Malafemmena – Berlin, Germany
There are no ifs and or buts about it; Malafemmena serves some of the best pizzas in Europe and that's that. In mozarella they trust, and we do too. The chefs here know just how to balance fresh, creamy buffalo mozzarella with a lightly salted, pillowy crust. Every slice boasts the perfect proportion of toppings too, so you'll get the perfect bite every time.
---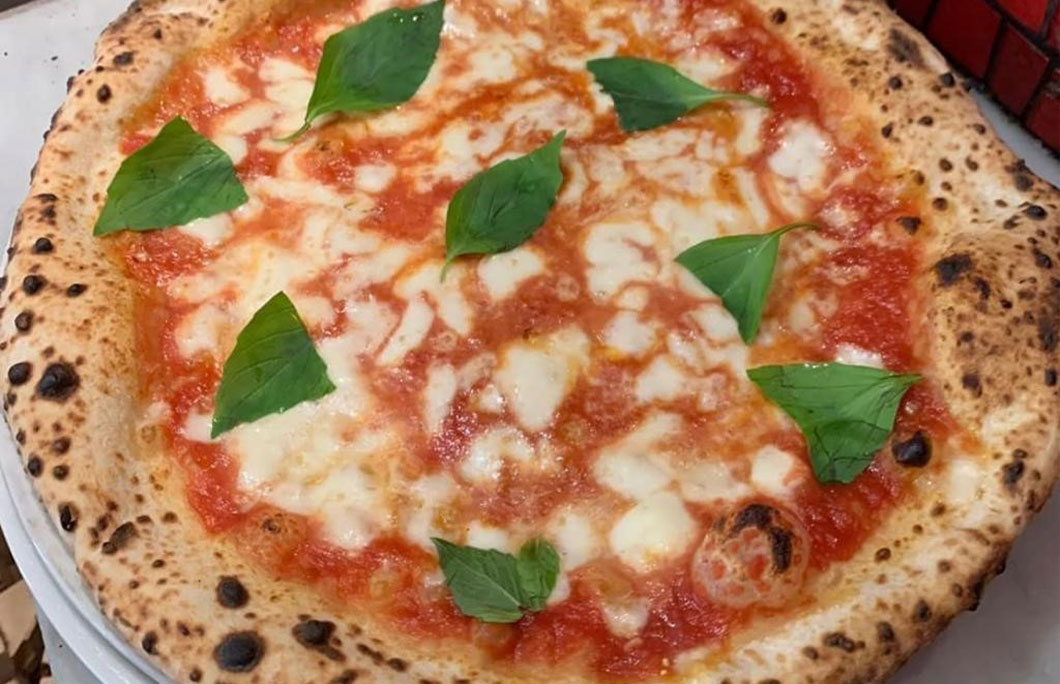 8. 50 Kalò di Ciro Salvo – London, England
Hailed as the Master of Dough, Ciro Salvo is a third-generation pizza maker who's truly revolutionised modern Italian food and pizza in Europe. The original location in Naples is one of only six pizzerias included in Italy's Michelin Guide. But most critics agree that you can find 50 Kalò di Ciro Salvo's best pizzas over 1,000-miles north of Naples, in London. From the dough to the sauce, it's pizza perfection.
---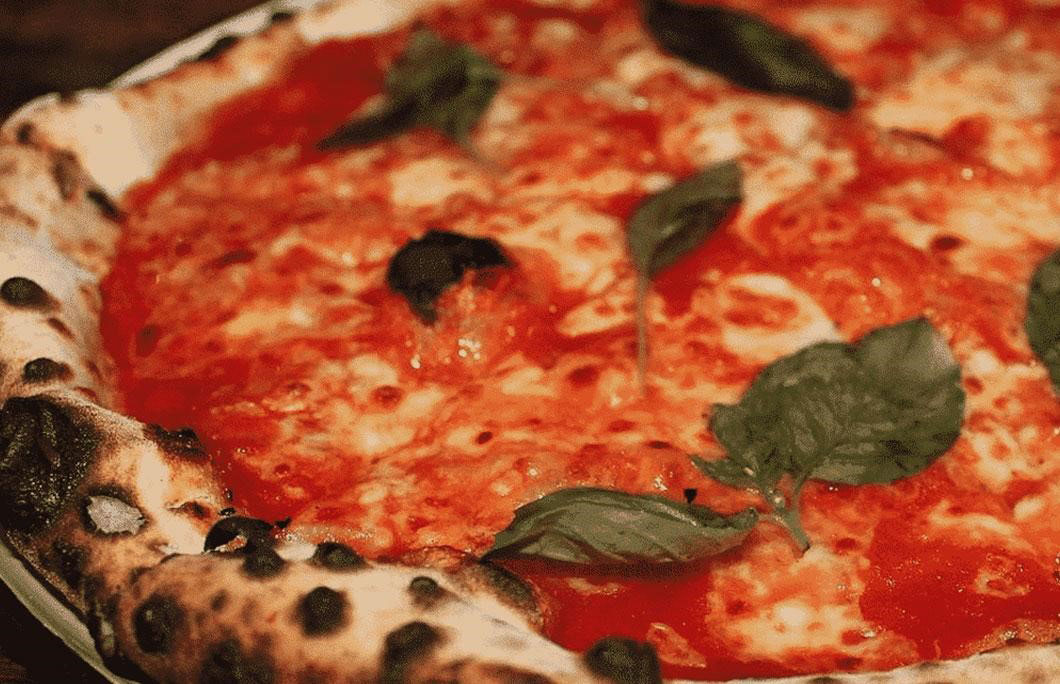 7. Bæst – Copenhagen, Denmark
Browse any international list of the best pizzas in Europe and you'll find Bæst at the near top of every list. Why? For starters, the team sources every ingredient straight from the farm, including organic meats and homemade mozzarella. Then they slide the freshly prepared pizzas into a wood-fired oven and onto your plate a few minutes later. It's a casual dining spot, but every pizza is made with real care and passion.
---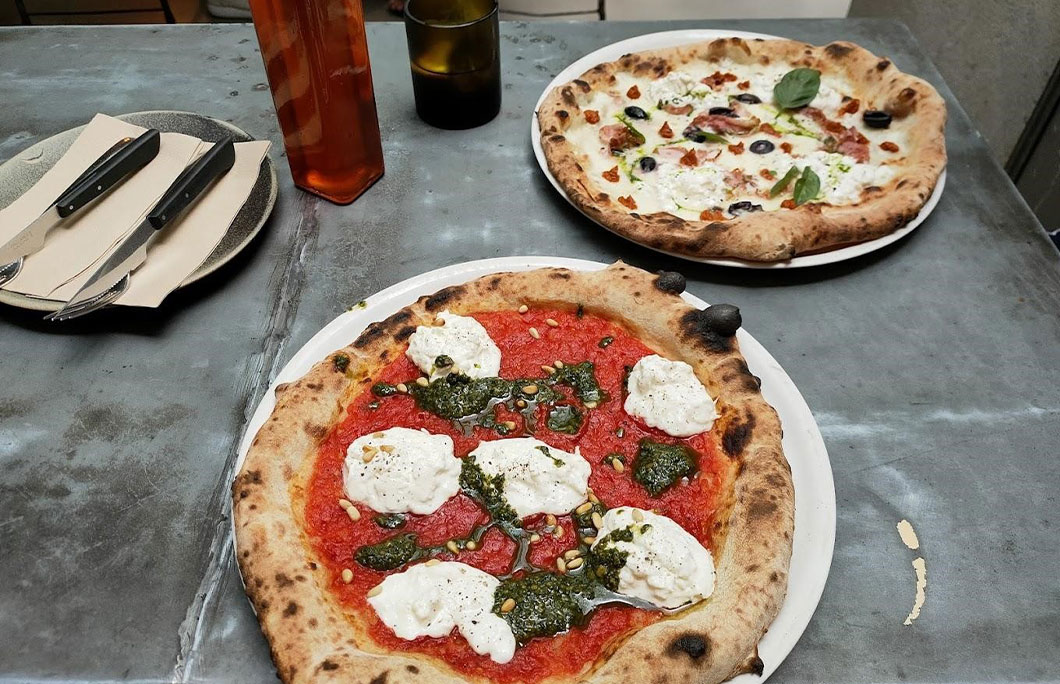 6. Sartoria Panatieri – Barcelona, Spain
Barcelona isn't short on award-winning pizzas, but when it comes to an organic, ethical and sustainable approach, Sarotia Panettieri is a cut above the rest. Run by two of the country's leading chefs, the pizza here is inspired by Naples but rooted in the region. They prize organic, locally-grown ingredients from small farms, from their organic flour to the cured pork belly. It's a real farm-to-table experience.
---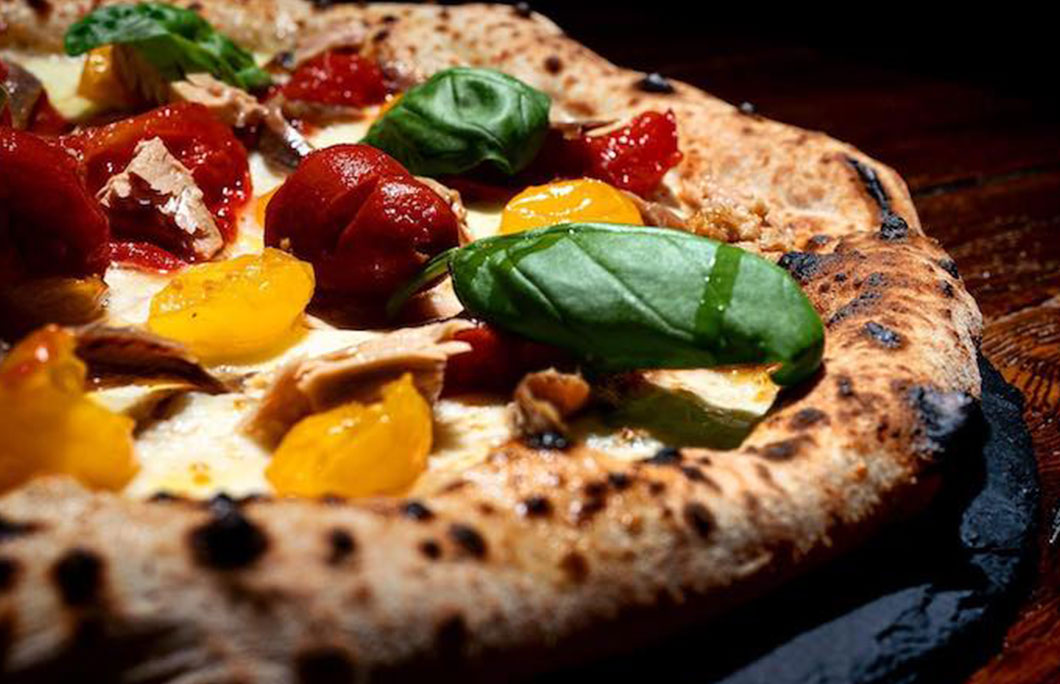 5. Via Toledo Enopizzeria – Vienna, Austria
If there's one restaurant that's guaranteed to pop up on any 'best pizza' list, it's Via Toledo Enopizzeria. This multi-award-winning pizzeria serves up world-class Neopolitan pizza in the heart of vienna's eighth district, Josefstadt. Mastermind Francesco Calò's pizzas are everything a pizza should be, both airy and crispy, light and satisfying. Try the fiendishly good Pizza Diavola, made with cream cheese and spicy salami, with a glass of one of the many DOC, DOP, DOCG and IGT wines on offer.
---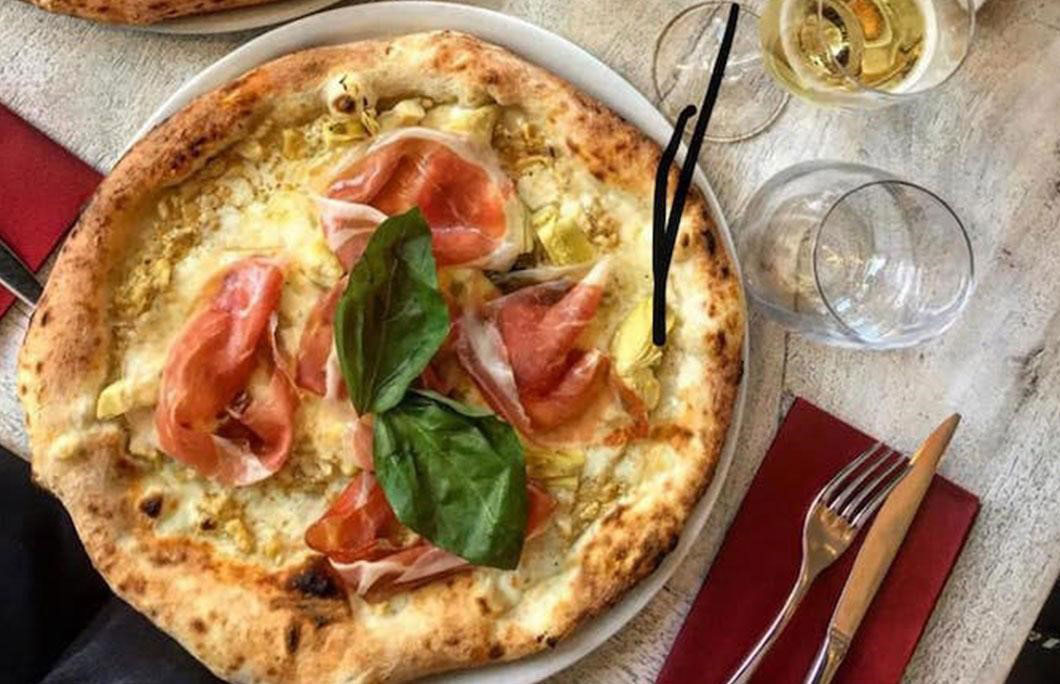 4. La Pizza è Bella – Brussels, Belgium
La Pizza e Bella has earned its accolades as Belgium's best pizzeria thanks to its fresh produce, authentic flavours and sparkling service. There's a wide variety of Bianchi and tomato-based pizzas and calzone on the menu, each guaranteed to be delicious. The speciality here is the buffalo ricotta-stuffed 'cornicione', but the seasonal specials are also invariably exciting.
---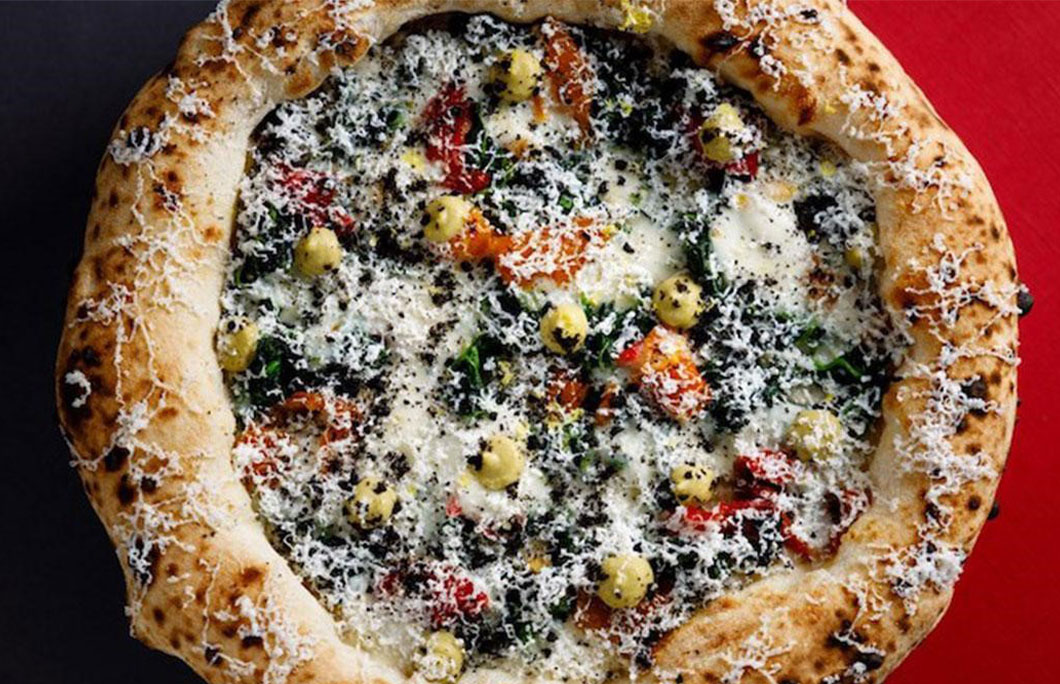 3. Seu Pizza Illuminati – Rome, Italy
Opened in 2018, this much-hyped pizzeria is guaranteed to exceed your expectations. Named after its founder, Pier Daniel Seu, the restaurant is sleek, modern and very marble. But there's more to the restaurant than superstar good looks, the pizza here will blow your mind. There are enough classics to keep conservative pizza eaters happy, but those with a more open mind should opt for one of the more inspiring combinations, featuring surprising ingredients like lime zest, guanciale and tuna tartare.
---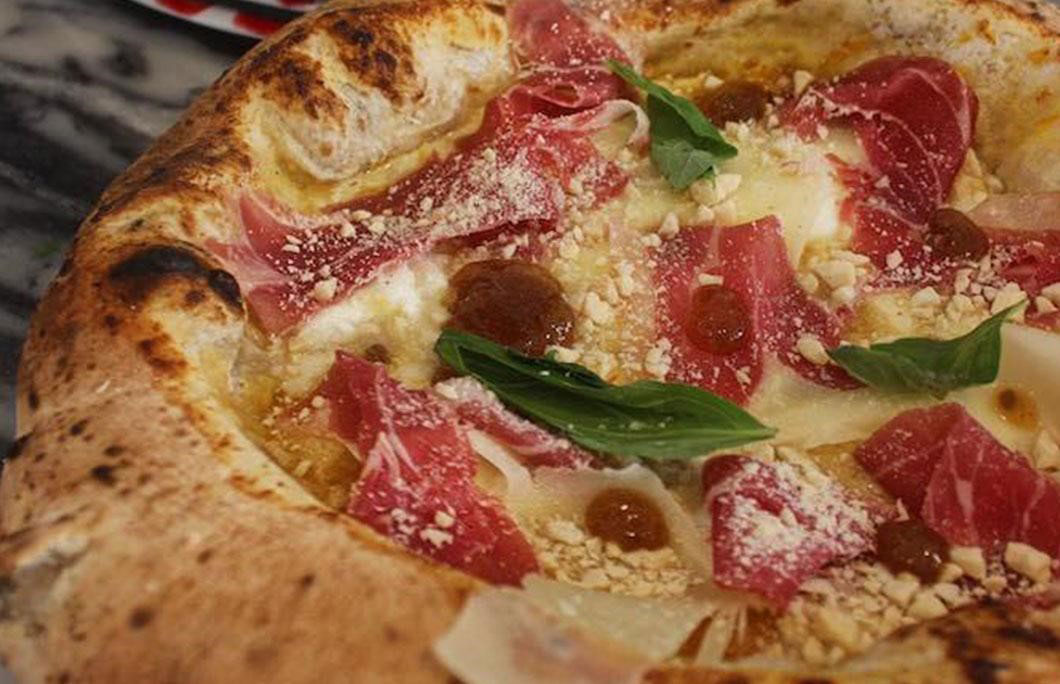 2. Peppe Pizzeria – Paris, France
There are countless high-quality pizza restaurants dotted around France's capital, but Peppe Pizzeria is really something special. Pizza maestro Peppe Cutraro trained in the Spanish Quarters in Naples then set up his award-winning restaurant in January 2020, just as the pandemic took hold. In true authentic tradition, there are only a dozen or so pizzas on the many, all with a pronounced crust and light, chewy bite. There are inspiring flavours on the menu too, such as truffles from Molise, guanciale and Parisian mushrooms.
---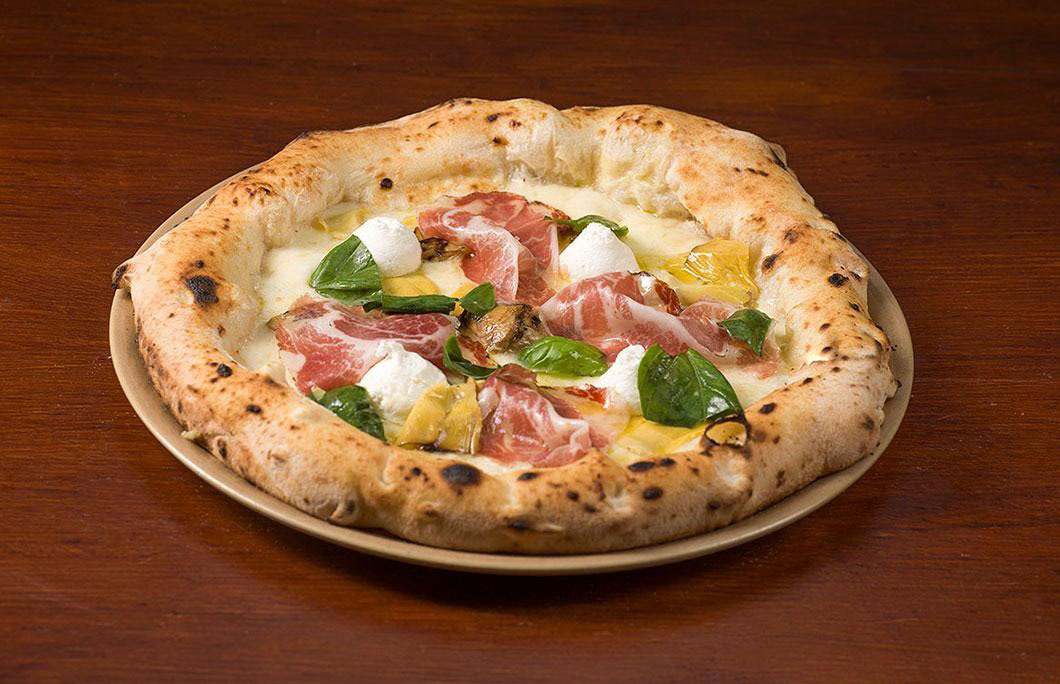 1. 10 by Diego Vitagliano Pizzeria – Naples, Italy
It's no surprise that Europe's best pizza hails from Naples, the birthplace of the world's favourite dish. There are dozens to choose from, but 10 by Diego Vitagliano offers something really special. As well as a super Margherita and Marinara, Vitagliano injects real culinary creativity into his more contemporary iterations. Expect the highest-quality, seasonal, local ingredients. They most certainly serve pizza like this in Heaven.
---