50 Best Winter Drives Around the World
As the weather becomes colder, many of us find ourselves hunkering down in our homes in search of warmth and comfort. But there's a barren yet majestic natural beauty that can only be found during the colder months, making a winter road trip a must-do. From winding drives through the Rocky Mountains to island hopping in Taiwan, here are the 50 best winter road trips throughout the world. Ready for an adventure?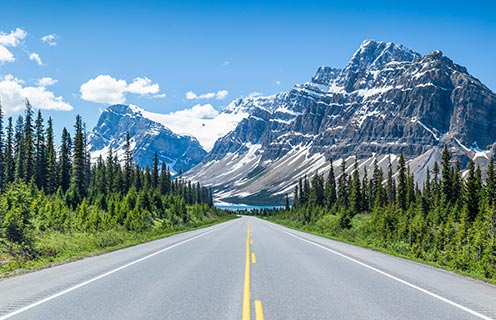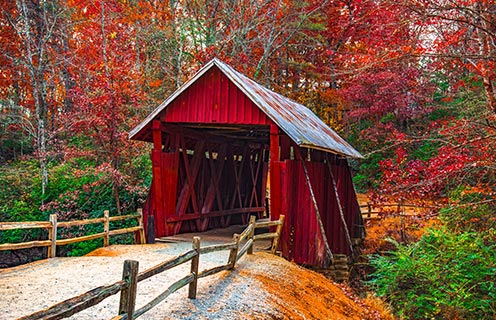 Top Drives Around The World
1. Icefields Parkway, Canada
In the heart of the Canadian Rockies, the Icefields Parkway connects Banff and Jasper over 140 miles of breathtaking alpine scenery. Tangle Falls, Bow Lake, Crowfoot Glacier, Peyto Lake, Nigel Pass, and Moraine Lake are just a few of the beautiful places to halt along the way. It's possible to see big-horn sheep, mountain goats, and woodland caribou.
2. Covered Bridge Tour, USA
As the Covered Bridge Capital of the World with its 50-mile circle including 31 historical covered bridges, Parke County is a popular tourist destination in Indiana. Starting in Rockville, there are five 30-mile-long drives. The snow-covered meadows, sandstone cliffs, dramatic ravines, and cliffs contrast sharply with the crimson bridges erected in the 1800s that cross freezing rivers. Highlights in this area include the Turkey Run State Park, which contains streams that seem more magical when covered with snow.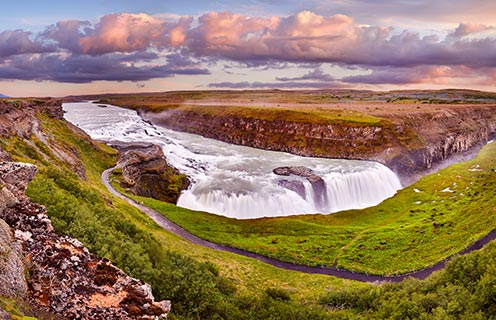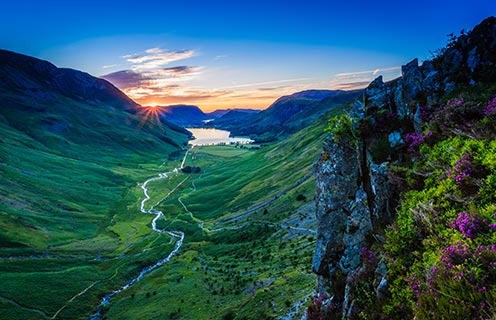 3. The Golden Circle, Iceland
This 190-mile journey from Reykjavik is a popular way to see the traditional beauty of southern Iceland, and there are several photo-worthy opportunities along the way. Famous tourist attractions along the route include Gullfoss Waterfall, Geysir Geothermal Field, and Thingvellir National Park. All along, keep an eye out for Icelandic ponies.
4. Lake District, UK
If you go to the Lake District in the winter, you'll dodge the summer crowds and see a scenery that's completely different, but no less stunning. Lake Windermere, England's biggest lake, is surrounded by snow-covered moors and hills as you make your way around the lake's perimeter.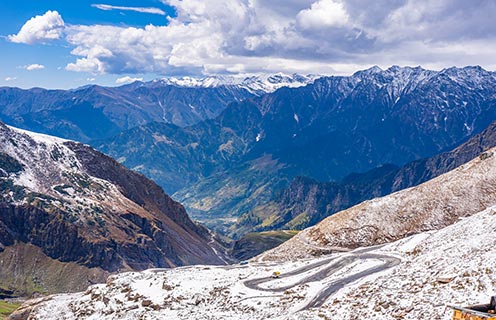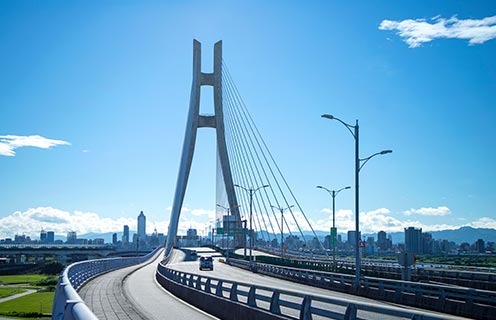 5. Leh to Manali, India
In terms of Indian mountain driving, the Leh-Manali road is unrivalled. As you make your way out of the Solan Valley and across Rohtang Pass, you'll pass the enchanting Chandra River and its many glaciers. Passes like Baralach La and Lachung La, with their stunning panoramas of the Himalayan foothills and canyons, are sure to take your breath away.
6. Taipei to Kaohsiung, Taiwan
Taiwan is a hidden gem for road trips. The path from Taipei to Kaohsiung circles the whole island. It takes four hours to go from Taipei to Kaohsiung on the expressway. To really experience Taiwan, we suggest spending 7-14 days meandering about the island and seeing the most important locations. Drive south from Taipei to Hualien, stopping along the way at Taroko Gorge, Sun Moon Lake, and Kenting National Park.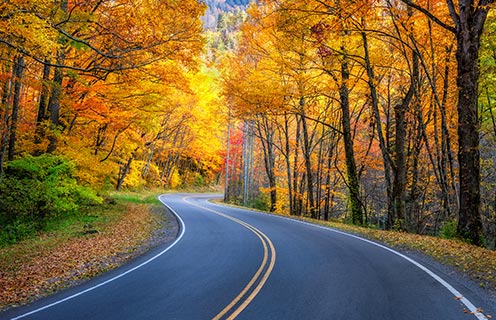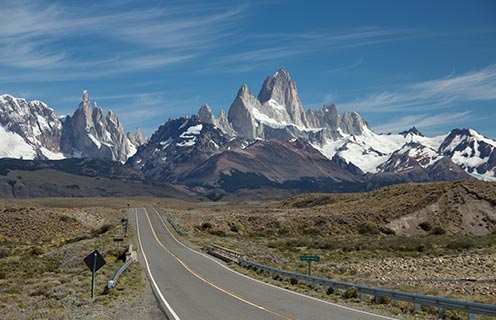 7. Great Smoky National Park, USA
The Great Smoky Mountains National Park, which straddles the Tennessee–North Carolina border in the southeastern United States, is yet another fabulous destination for breathtaking vistas, particularly during the winter months. If you stop to observe Mount Cammerer's majestic majesty and the surrounding southern alpine wilderness, you may be fortunate enough to spot elks and animals scurrying about.
8. Route 40, Argentina
To see all of Argentina's provinces and the country's incredible range of weather and landscapes, take a drive on the famed highway, Route 40, which runs across the whole country and is one of the greatest ways to see it all. You'll end up at the "end of the world," how cool is that?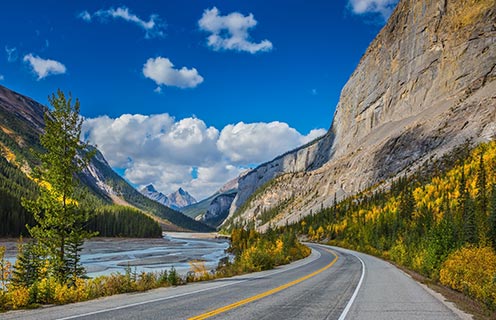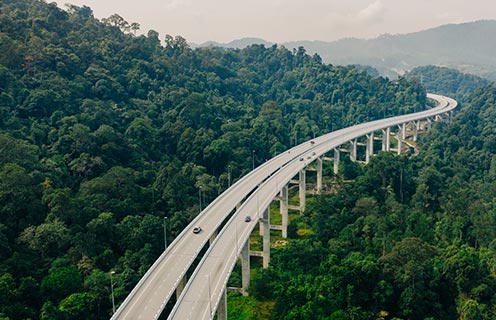 9. Bow Valley Parkway, Canada
Starting in Lake Louise and ending in the stunning Banff National Park, the Bow Valley Parkway provides an incredible winter driving experience. Johnston Canyon, which is over 8,000 years old, and Morant's Curve, which offers sweeping vistas of the Canadian Rockies in the distance, are just two of the area's most spectacular sights.
10. Kuala Lumpur to Penang, Malaysia
You'll travel 400 kilometres in 4 to 5 hours on a well-paved route. Travel from the capital to Kuala Selangor, a delightful little village tucked teeming with cheeky langurs, before continuing to the nearby river, which offers firefly trips and seafood banquets. Then, through Ipoh, Old Town, and Taiping, you'll arrive in Penang, a well-rounded family-friendly resort, with everything from tasty curries to adventure parks.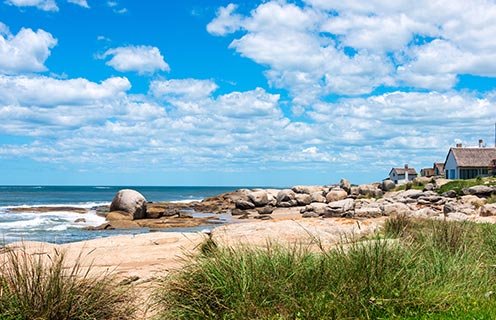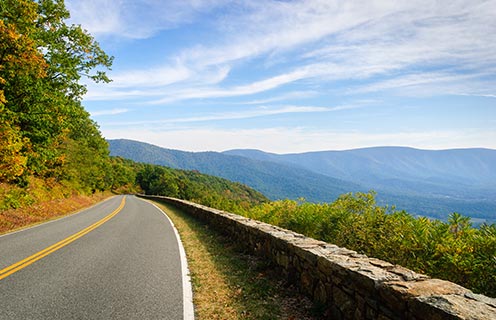 11. Route 10, Uruguay
Punto del Diablo is a surfer's paradise from December to February, which means Uruguay is an excellent choice for those looking to escape the biting cold of the winter in the northern hemisphere. The 8-hour road trip on Route 10 from Montevideo, the capital, takes you through various attractive seaside villages, beaches, and seaside hamlets.
12. Skyline Drive, USA
From Front Royal to Rockfish Gap, Shenandoah National Park's 105-mile road provides breathtaking vistas of the Blue Ridge Mountains. The Shenandoah Valley to the west and Piedmont to the east may be seen from any of the 70 viewpoints. Observe the speed limit and be prepared to encounter foxes and bobcats on the road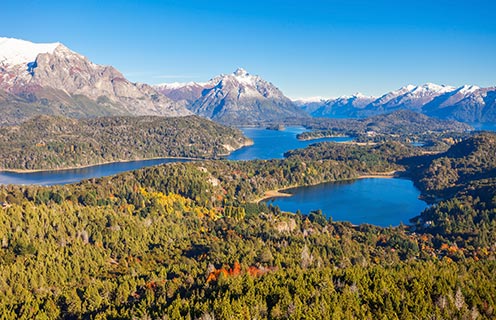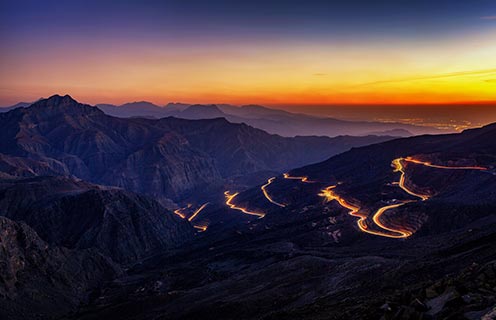 13. Seven Lakes Circuit, Argentina
The Seven Lakes circuit in Argentina is one of the most spectacular mountain drives you'll ever do. The ideal time to visit is between October and February, when biting winds in North America make this Patagonian delight a welcome respite.
14. Jebel Jais Mountain Road, UAE
The UAE's Jebel Jais Mountain Road, despite being under construction, is attracting a large number of mountain drivers and visitors these days. At a height of roughly 6000 feet, you'll be met with blacktop mountain panoramas and the tallest peak in UAE. The world's longest zipline, at 1680 meters above sea level, is also available for thrill-seekers to take in the breathtaking scenery.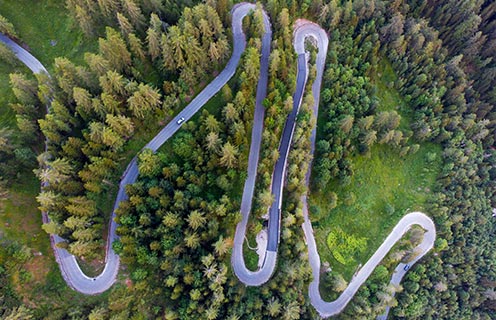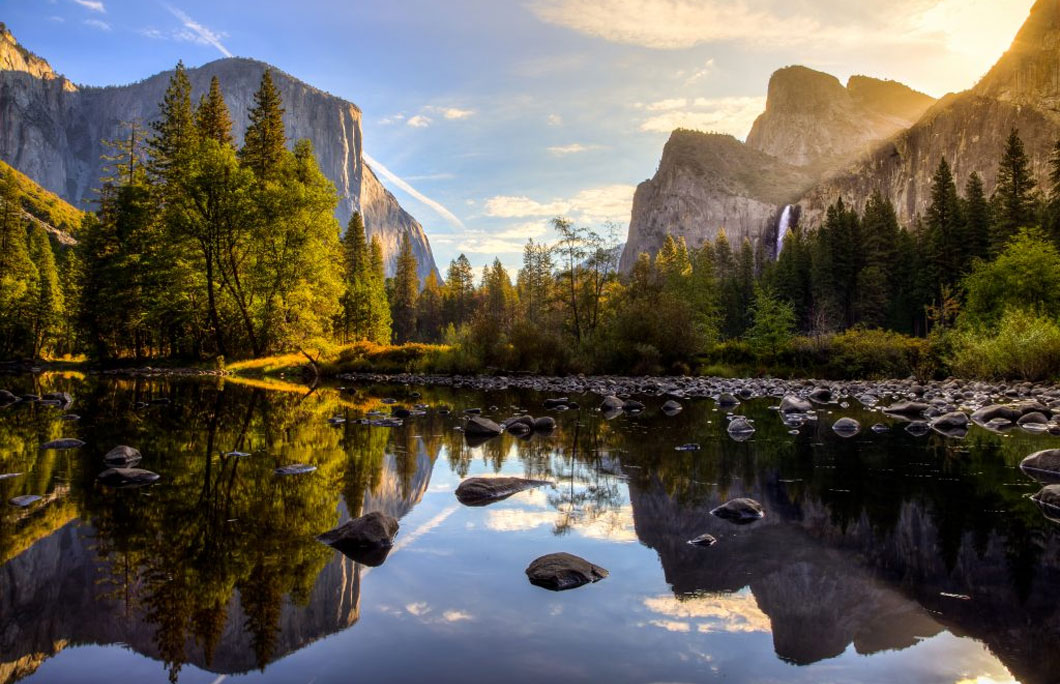 15. Triglav National Park to Laghi di Fusine, Slovenia/Italy
Start at Triglav National Park in Slovenia and continue into the highlands as the Soca River gurgles by your side for about a half of your journey through mountains and valleys in Slovenia. It's worth a visit to Tolmin Gorges and Slap Kozjak, Slovenia's tallest waterfall. Canyoning, kayaking, hiking, and paragliding are all available in Bovec, a small town in the region. There are 50 hairpin curves on the Vrsic Pass in the second half of the trip. The route ends at Italy's stunning Laghi di Fusine.
16. Yosemite National Park, USA
During the winter, the granite monoliths of the Yosemite National Park are blanketed in snow, while Bridalveil and Yosemite Falls transform into dazzling swaths of ice. Yosemite Valley and Wawona are open year-round and accessible by car, making it the perfect winter road trip destination. However, do keep an eye out for periodic road closures due to landfalls.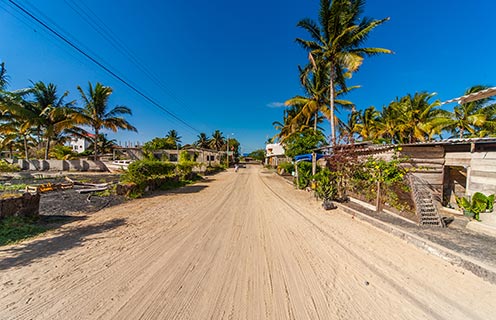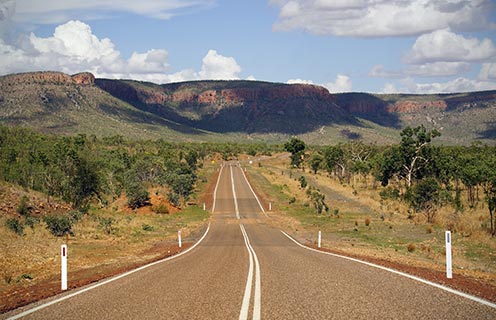 17. Galápagos, Ecuador
You'll need to fly into the Galápagos Islands but you can arrange a drive with a local taxi company. An odyssey around the island will take you through active volcanoes, tiny Ecuadorian communities, rich indigenous culture, and breathtaking natural scenery. It's suitable for visiting year-round but the winter months in the southern hemisphere (June-August) and in the northern hemisphere (December-January) are peak times.
18. Gibb River Road, Australia
The Gibb River Road, which runs through Ngarinjin country from Broome to Kununurra, may take up to 6 days to complete. The trail winds through gorges and cliffs, desert ponds and waterfalls, and a variety of landscapes. Winter is the ideal season to visit since in the summer, everything's closed as it's often too hot to be outside.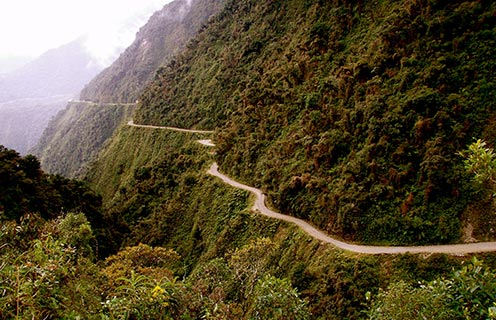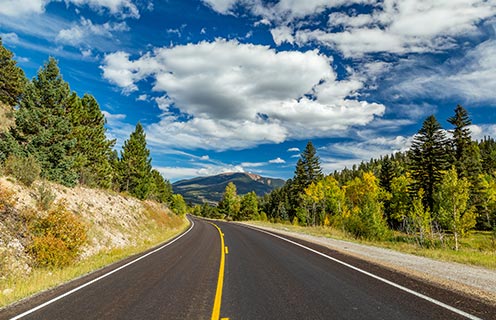 19. Death Road, Bolivia
The Death Road is a gorgeous drive, despite its moniker, as long as you don't mind the hairpin twists and the absence of guardrails. There's no better way to see Bolivia than by driving along a road that begins at more than 10,000 feet and finishes in the Bolivian hamlet of Coroico.
20. Taos Scenic Byway, USA
If you want to see the splendour of the desert with snowflakes dancing on junipers and pines, follow the Sangre De Cristo Mountains road on NM 76 between Santa Fe and Taos. There are several incredible places to see, such as a 14th-century Pueblo called Nambe and the wood-carving community called Cordova. Take a moment to admire Truchas Peak, which rises more than 13,000 feet above sea level.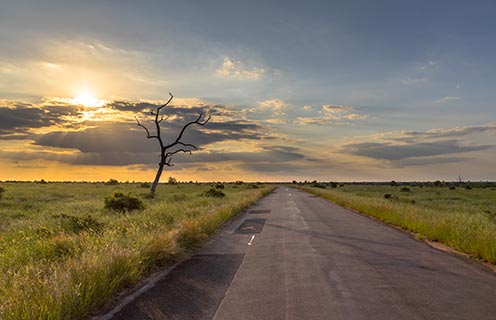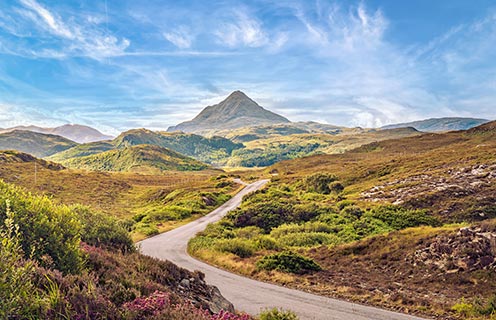 21. Nairobi to Mombasa, Kenya
While in Nairobi, be sure to visit the Daphne Sheldrick Elephant Orphanage and the Giraffe Centre, where you may feed the giraffes, then head towards Masai Mara for a safari like no other. Make your way towards Nakuru, where you can feast your eyes on flamingos, then zoom past Mount Kilimanjaro before reaching the port town of Mombasa, where you can relax on sublime white-sand beaches.
22. Scotland's Western Highlands, UK
There is a lovely 250-mile route from Edinburgh to the Isle of Sky across the Western Highlands of Scotland (Scotland). In addition to Linlithgow Palace and Stirling Castle on Sky, history fans will enjoy the Wallace Monument and the magnificent Eilean Donear Castle. At Morar, you'll find beautiful coves and bays on the Atlantic, while on Skye, you'll find dramatic sea cliffs and rocky outcrops.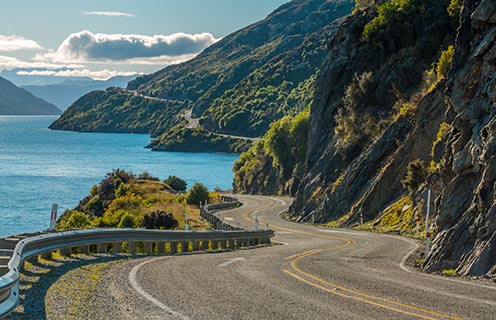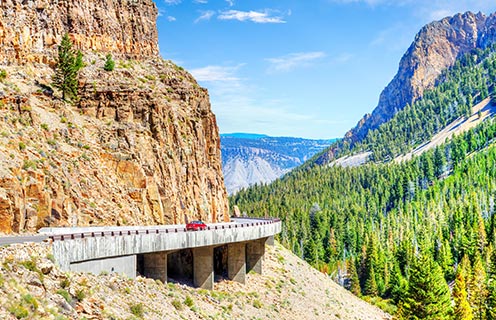 23. Southern Scenic Route, New Zealand
The Southern Scenic Route in New Zealand will take you through charming villages, remote beaches, magnificent waterfalls, and fjords of the South Island of the country. Remember that June, July, and August are the winter months, when the mountains are covered with snow and the coastlines are cooled down by the ocean air. To see more of the local wildlife, visit the Willowbank Wildlife Reserve, where you may see lemurs, wallabies, and even kiwis.
24. The Grand Loop Road, USA
Found in Wyoming, Yellowstone National Park's Grand Loop Road snakes 142 miles around the park like an inscribed circle that converges on the park's centre. Mammoth Hot Springs is located at the North Entrance, while Fountain Pots and Old Faithful are located near the West and South Entrances. Alternatively, hop on a snowmobile to get to Yellowstone's Grand Canyon. You can't help but be awed by the landscape's steamy splendour when you see it for yourself!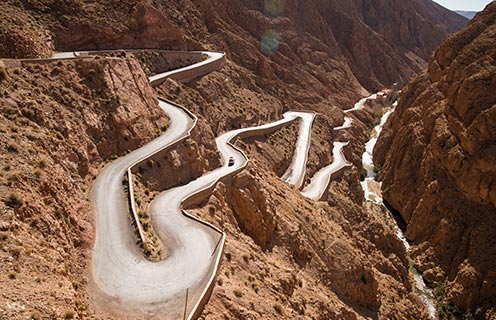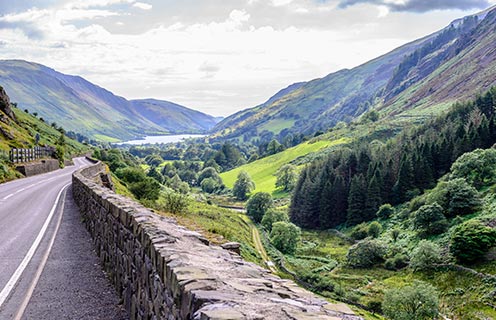 25. Marrakesh to the Atlas Mountains, Morocco
For an absolutely unforgettable North African road adventure, hire a vehicle at Marrakech Airport and head north towards Chefchaouen through Rabat, then down to the Sahara via Moulay Idriss, and back to Marrakech via the Atlas Mountains. In the Atlas Mountains, you can enjoy mule trekking across the snow-capped peaks, riding a camel on the sand dunes, or strolling through the labyrinth of beautiful medinas, among other exciting activities.
26. Snowdonia, UK
Snowdonia is well-known for its hiking trails, but motorists can also take in the breathtaking scenery from the road. This is even more true in the winter, when the steep, snaking routes are calmer and panoramic vistas of Mount Snowdon and other heights emerge around every curve. Beautiful medieval structures in some of Wales' most picturesque settlements contrast sharply with the winter landscape's contrasting greens, browns, and whites.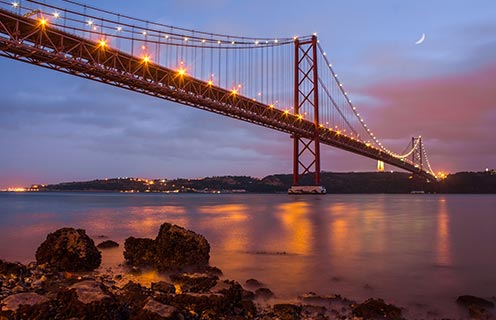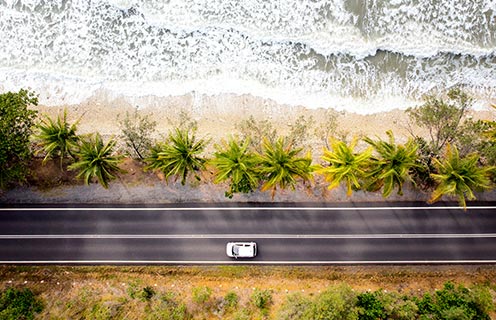 27. Lisbon to Guimaraes, Portugal
Road trips in northern Portugal begin with a visit to old Lisbon and end in Porto, a city famed for its colourful tiles and the titular drink. Guimaraes and Braga, two lesser-known but no less fascinating cities, are only a short drive farther north. Winter brings fewer visitors, so you have the countryside all to yourself.
28. The Great Tropical Drive, Australia
The Great Tropical Drive via Cairns from Townsville to the Daintree Rainforest is one of Australia's most picturesque journeys. You'll see beautiful sand beaches, secluded swimming holes, panoramic views, gorges and waterfalls, and the world's oldest rainforest. It's best done in a campervan or with camping gear so you can appreciate the wild countryside and stop anywhere you like. Remember that North America's winter is actually Australia's summer!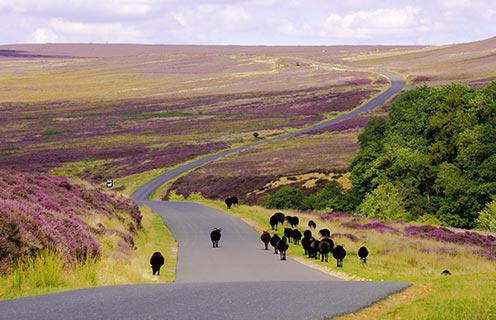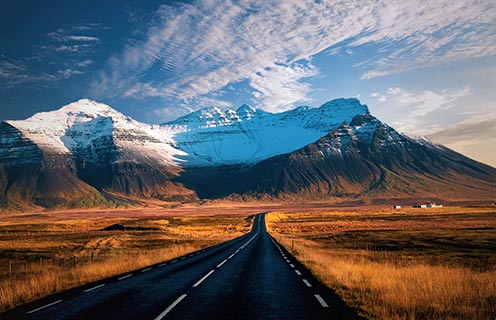 29. North York Moors, UK
The North York Moors, not to be mistaken with the Yorkshire Dales, is a scenic journey from Pickering to Whitby that offers a variety of landscapes, from rugged moorland to lush farmland. Whitby's cobbled alleyways, with the remnants of its clifftop Abbey looming above the town, provide an eerie Gothic winter sojourn.
30. Ring Road, Iceland
The Ring Road or Route 1 around Iceland's coast is beautiful all year round, but the dazzling snow that blankets the black sand beaches in winter elevates the experience to another level. Hire four-wheel-drive vehicles equipped with chains and drive through blinding snow and sleet to observe frozen water walls, icebergs, as well as live volcanic activity. If you're lucky, you could even get a glimpse of the Aurora Borealis!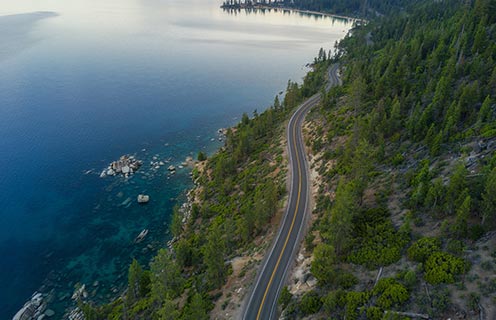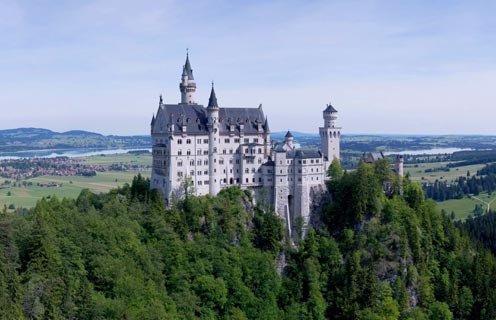 31. Lake Tahoe, USA
You'll be mesmerized by the Sierra Nevada mountains' reflection on Lake Tahoe's sparkling surface as you travel the 72-mile circuit of the lake. A National Scenic Byway runs along the lake's eastern shore. Lake Tahoe Nevada State Park's Sand Harbour is a must-see since it never freezes, making it the ideal spot to cool down.
32. The Romantic Road, Germany
You'll fall in love with Germany when driving the Romantic Road between Würzburg and Füssen. You'll drive through medieval walled-villages and stop off at the fairy-tale castles of Hohenschwangau and Neuschwanstein.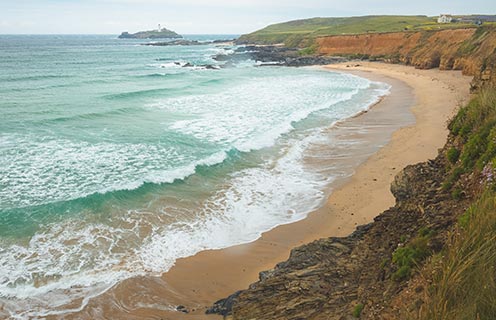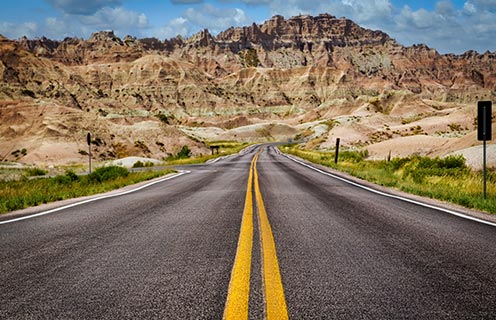 33. Cornish Peninsula, UK
In the depths of winter, Cornwall's sea-battered peninsula might seem like it's all yours. During the day, mist and snow blanket the sweeping landscape; at night, the sea lashes against the jagged rocks jutting into the sky. In the coastal towns and villages along your trip, you can expect a warm welcome, hearty meals, and crackling fireplaces.
34. South Dakota Highway 240, USA
Highway 240, often known as the "Badlands Loop," is a popular destination for hikers and photographers from all over the country because of its spectacular rock spires. Make a pit break at one of the scenic viewpoints along the way to see stunning snow-covered sedimentary rock formations. If you're lucky, you may also see a pronghorn antelope, mule deer, or black-footed ferret.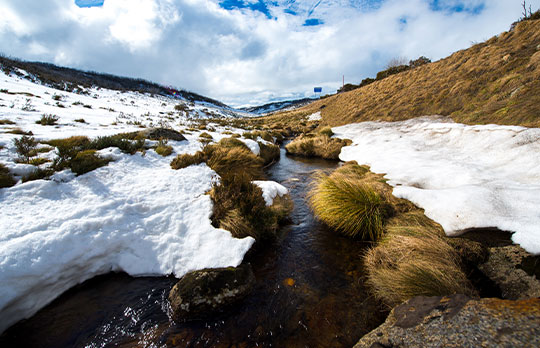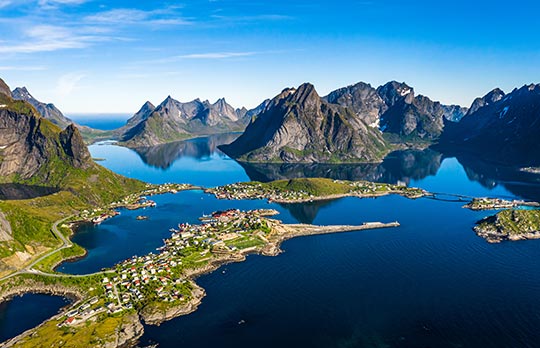 35. Kosciuszko National Park, Australia
The Snowy Mountains, as the name suggests, is a sublime place to experience winter in Australia. A day trip from Sydney to Jindabyne includes a stop in Canberra for lunch. Traditionally guarded by the Ngarigo, the mountains offer skiing, snowboarding, and cable car riding to the peak of Mt Kosciuszko for a wonderful dinner and some warming drinks with a breathtaking view. Alternatively, you may go horseback riding or hike around the national park at Jindabyne.
36. Lofoten Islands, Norway
The 143-mile road drives across the Lofoten Islands in Norway is destined to be a remarkable experience. Nusfjord, one of Norway's oldest fishing settlements, is a convenient overnight stop along the route. Reinehalsen's breathtaking mountaintop vistas are a must-see. You may rent sea kayaks or go snorkelling in the icy Arctic seas, or you can go cod fishing, which is a more tranquil activity.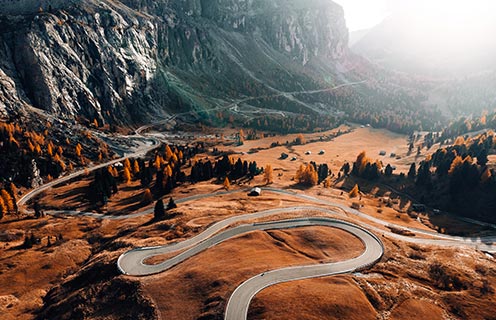 37. Srinagar to Gulmarg, India
You can see Kashmir's splendour in the winter by travelling the route from Srinagar to Gulmarg via Pahalgam and Sonmarg. The 123-kilometre-long drive is considered one of the greatest winter road adventures in India, as Kashmir Valley transforms into a snowy wonderland.
38. The Great Dolomites Road, Italy
The 86-mile Great Dolomites Road, one of the world's most exciting alpine drives, is a great day excursion from Venice. Spectacular vistas of mountain peaks and valleys may be seen from these hairpin turns. Driving east from Bolzano to Ponte Nova takes you via Valle di Fassa and up to 7,345-foot-high Passo Pordoi, a mountain pass.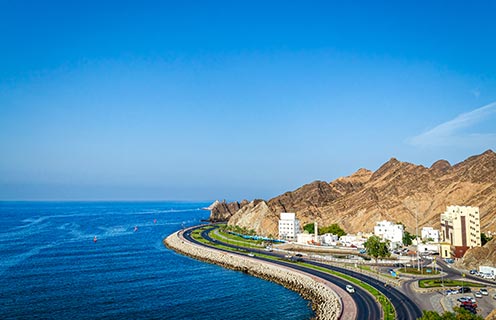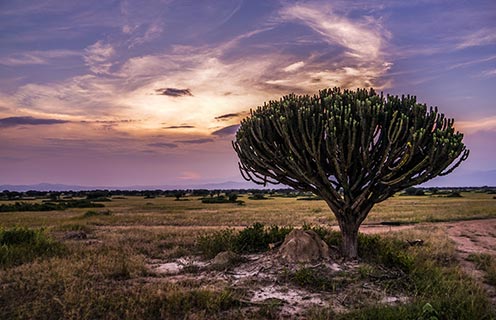 39. Dubai to Muscat, UAE/Oman
Oman's capital Muscat is a great addition to a Dubai holiday. You must cross the border by land. Highlights include an overnight stop in Al Ain (UAE) to see UNESCO sites, the zoo, museums and forts. Continue into the Hajar Mountains, stopping for the night in Jebel Shams, Oman's highest point, and an excursion to view dolphins at the Gulf of Oman.
40. Kigali to Kampala, Rwanda/Uganda
Kigali, Rwanda's capital city, boasts a fantastic coffee scene, a gateway to seeing silverback gorillas, and much more. As you cross the border into Uganda, pass through Queen Elizabeth National Park for a two-day safari before taking a boat across the Kazinga Channel to see elephants and hippos. Continue west towards Kibale Forest to track chimpanzees before ending your trip in Kampala, Uganda's vibrant capital. The winter months bring extremely pleasant weather to this part of the world.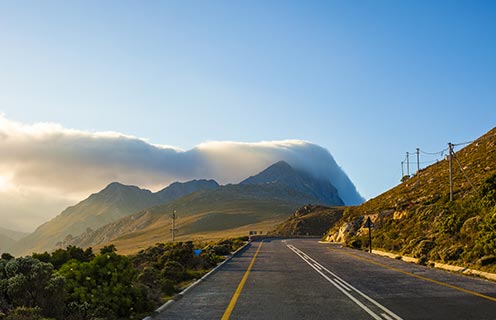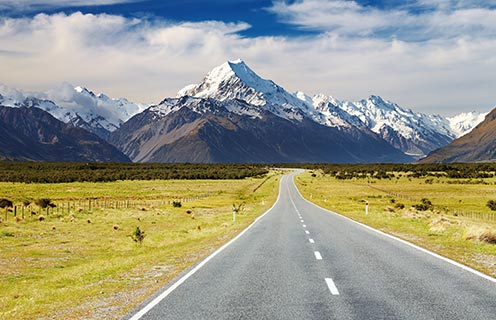 41. Johannesburg to Cape Town, South Africa
You can travel from Johannesburg to Cape Town through the Garden Route in 2-3 weeks. A safari in Kruger National Park is a must-do, as is a visit to the Drakensberg Ranges, home to the world's second-tallest waterfall, Tugela Falls. Continue southwards via Plettenberg Bay, Knysna and the southernmost point of Africa before reaching Cape Town. Along the trip, you'll get the opportunity to climb, explore caves, swim in beautiful beaches, and enjoy world-class wineries.
42. Southern Alps Road Trip, New Zealand
A 7-day South Island road journey between Christchurch and Queenstown awaits you, best done in the winter. You mustn't miss Mount John Observatory, as well as Aoraki/Mount Cook, New Zealand's largest mountain peak. Visit Arrowtown Holiday Park, a lovely mining town, before hopping over to Queenstown, where you may indulge in the city's incredible gastronomic scene.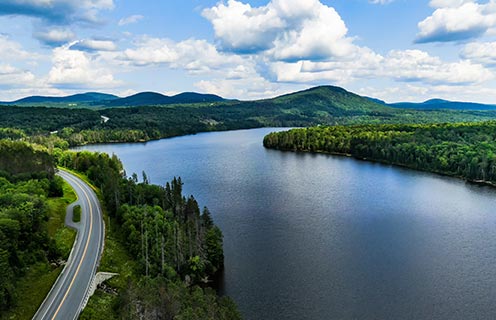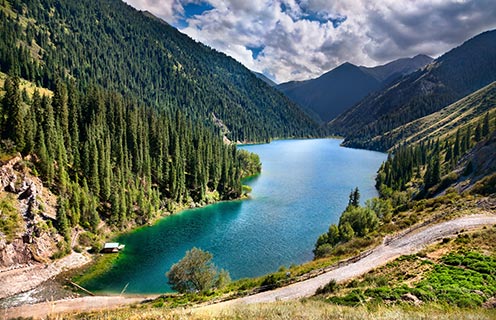 43. Vermont's Route 100, USA
As a winter vacation destination, Vermont is a popular choice for tourists. The 50-mile Vermont Route 100, which includes Green Mountain communities Wilmington and Weston, the Mad River Valley, and Moss Glen Falls, is a particularly wonderful place to relax. At Weston's Vermont County Store, you may pick up some useful keepsakes, as well as a trip to Waterbury's famous Ben & Jerry's factory.
44. Almaty to Kolsai Lakes National Park, Kazakhstan
Almaty, Kazakhstan, is a good starting point for a road trip through some of the country's most beautiful national parks. The steppes meet the snow-capped summits of the Tien Shan mountains, creating breathtaking natural splendour. The first stop before the Charyn Canyon is the scenic Issyk Lake, followed by the Kolsai Lakes National Park. Enjoy leisurely walks around the lake with breathtaking mountain views before relaxing at a local homestay for a truly authentic experience.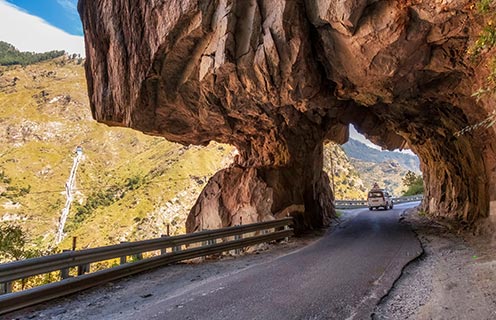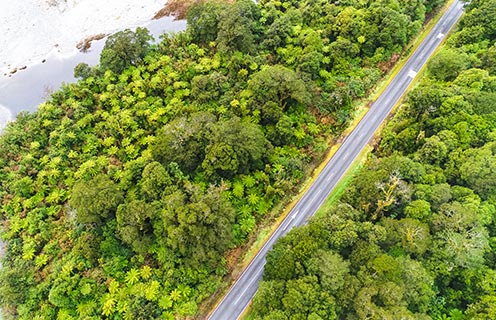 45. Narkanda to Sangla, India
If you've got the stamina, attempt this 156-kilometre journey during the winter to see the valley's most magnificent vistas of snow-capped mountains. Because it's a lesser-known road, it's all the more reason to go on a voyage. To avoid slipping, be cautious of verglas, ice that is translucent and can be seen through your tires. You'll be in awe of the raw beauty of this area.
46. West Coast Road Trip, New Zealand
Take an 8-day coastal road journey from Westport to Haast on the South Island's West Coast, which is famed for its lonely and rugged beauty. The natural beauty of Punakaiki's pancake rocks, a pint at Greymouth's Monteiths Brewery, and a glacier walk at Franz Josef are all must-dos.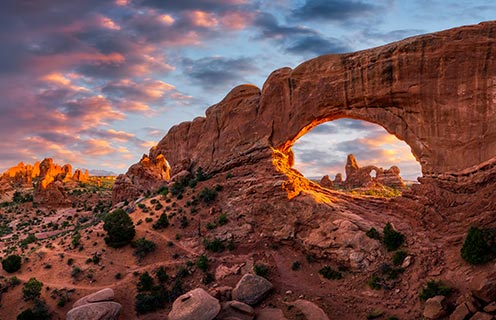 47. Seoul to Jeju Island, South Korea
Many consider this route one of Asia's best winter road excursions. From Seoul, head towards Oedolgae Rock, Jusangjeolli Lava Cliffs, and Jeongbang Waterfall, one of the world's rare sea-level falls, is nearby. Then try to catch the sunrise from Seongsan Ilchulbong (Sunrise Point) and spend a half-day touring Udo before taking a 15-minute boat ride to Jeju City.
48. Arches National Park, USA
Starting in Moab, Utah, Arches National Park's 36-mile scenic drive provides stunning vistas. Snow-covered sandstone sculptures in the desert are a wonderful treat for photographers. Many visitors come to see Wolfe Ranch, Windows Section, and the Delicate Arch viewpoint.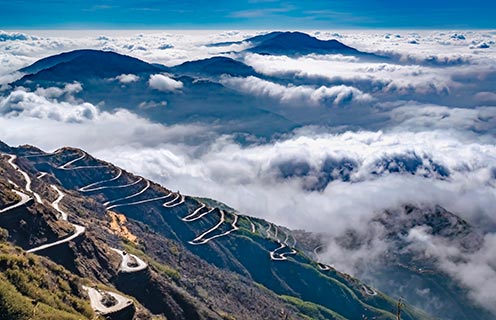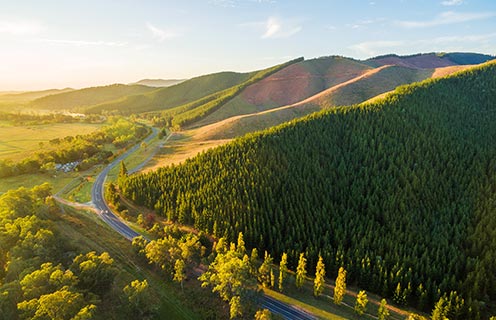 49. Zuluk Loops, India
Any mountain driving enthusiast will enjoy the famed Zuluk loops. Dozens of daring twists and turns await you on this road between Gangtok and Zuluk. You can prevent motion sickness by consuming lemons or chewing on eucalyptus candy. Keep a close eye on the road and obey the speed limit while making a turn.
50. The Great Alpine Road, Australia
This driving route with its wintery moniker passes via Yorta Yorta's ancient homelands of Taungurung and Gunaikurnanai, as well as awe-inspiring mountain vistas and lush forests. Along the way, you can enjoy hiking, wine-tasting, or just picnicking at Mount Buffalo National Park. The Gippsland Lakes await you at Metung, the end of the route. Keep an eye out for whales migrating in the area.