10 Epic Road Trips from Ghent
Antwerp
Diksmuide
Lille
Melle
De Haan
Nazareth
Lochristi
Zomergem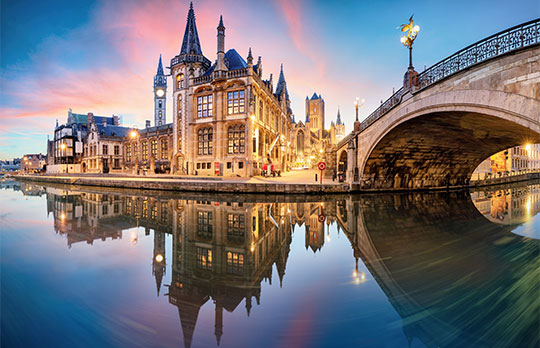 Top 10 scenic road trips from Ghent
You're looking for getaways from Ghent? We've got you sorted. But it's such a great place, isn't it?
One of the hotspots of Belgium's Flemish region, this city (and municipality) is the biggest metropolis in East Flanders province and the third-largest in the whole nation. Its port and university mean it's always abuzz with commerce and ideas, as well as a heady mix of contemporary and ancient culture. Originally a tiny settlement nestled where the Leie and Scheldt rivers meet, its population had swollen to 50,000 by 1300AD and it was one of Europe's biggest and wealthiest cities. You'll find high culture here (like the Mystic Lamb masterpiece by the Van Eyck brothers), top-notch vegetarian cuisine and amazing historical architecture (all of which is bathed in beautiful lighting displays as evening descends).
As well as being Europe's favourite city for vegetarians, Ghent has doubled down on environmental issues by introducing the continent's largest low-traffic pedestrian zone and sustainable accommodation options like Fairbnb, which offers green accommodation with local hosts. Meanwhile, family-friendly activities include visiting the Castle of the Counts, boat trips along the Lys and enjoying the visuals at Graffiti Street (Werregarenstraat). There are also lots of super swimming pools in Ghent, as well as activities like skateboarding and kayaking. All this and so many beautiful spots just a car's drive away too? What a place.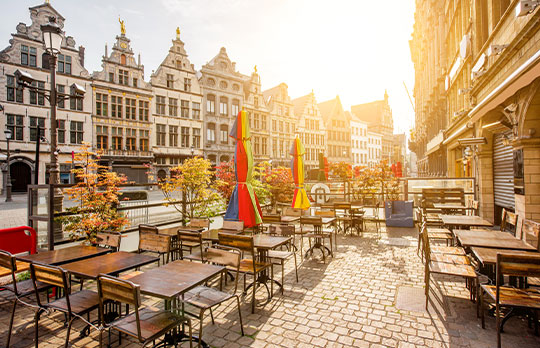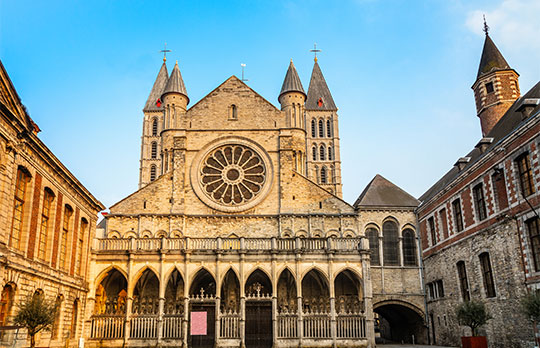 Top tips on driving in Ghent
Epic road trips fast approaching. But let's absorb a few fab driving tips before we get moving.
First off, beware of the Ghent LEZ (Low Emissions Zone). It only includes the inner city area within the ring road (not the road itself) but you still have to be aware of restrictions.
You drive on the right and overtake on the left here (which you probably know), all vehicles coming from the right have priority and prams have priority no matter whether they're on the left or right.
Seatbelts are mandatory, the international three-colour traffic light system is in use and the speed limit is 20km/h in residential areas, 30km/h near schools, 50km/h in built-up areas, 70km/h – 90km/h outside built-up areas (depending on the area – check signage) and 120km/h on motorways.
The time has come for your road trips – let's get moving!
Antwerp
On hour and 20 minutes north east of Ghent via the E17, Antwerp is Belgium's second-biggest city but for many visitors and locals alike, it's definitely the coolest. A hotspot for art and fashion for generations, this dynamic port city on the river Scheldt has an interesting history that stretches back to Medieval times. Cultural highlights include the stunning Flemish Renaissance Grote Markt central square and the 17th Century Rubens House, which showcases the life and work of the eponymous local art icon. Meanwhile, you can set your tummy rumbling at the Chocolate Museum, stroll around Steen Castle and (if you're feeling flush) head to the diamond district and treat your significant other (or yourself) to an eye-popping sparkler.
Tournai
How does a one hour drive to one of Belgium's oldest cities sound? Tournai is a lovely drive down the E17 and E403 skirting the French border and has a charm all of its own. With a UNESCO-listed Romanesque cathedral and 12th century belfry, a Grand Place restored to its former glory after bombing raids in WWII and a central square overlooking a Roman cemetery, it's a feast for fans of architecture. Other highlights include Maison Tournaisienne – a characterful 17th century house that hosts a museum all about living in Tournai from the 17th century to the present day.
Diksmuide
One hour and 10 minutes' drive from Ghent via the E40, Diksmuide is a truly delightful road trip destination. The most iconic site here is the town's belfry, which has a seriously impressive carillon of 30 bells – it's even a UNESCO World Heritage Site. Meanwhile, history buffs should also note that it's home to some expansive war cemeteries (including one that holds 25,000 German troops), as well as the sobering Trench of Death just outside the city – where Belgian soldiers battled valiantly under hellish conditions until WWI ended in 1918. It really is humbling to see at first hand how these brave men fought courageously against all odds.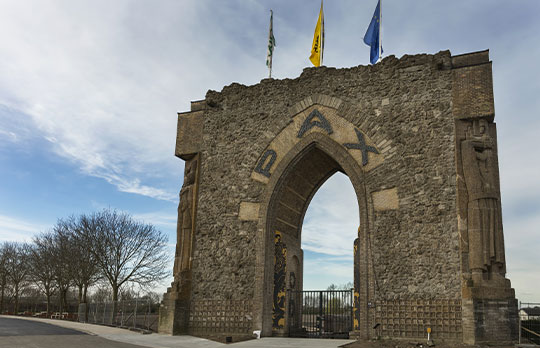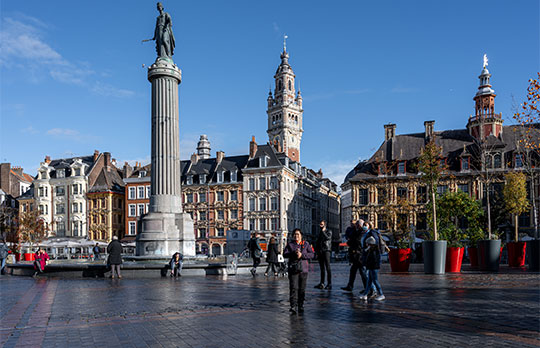 Lille
Time for a fabulous French road trip. Lovely Lille is just one hour and 15 minutes from Ghent via the E17 and lots of attractions await after you park up safely. The Palais des Beaux-Arts is probably the cultural highlight here – this ginormous museum is second in size only to the Louvre and houses masterpieces by Picasso, Rubens, Monet and Donatello (the artist, not the Ninja Turtle). But the stunning old town is full of first-class Flemish Baroque buildings and there's a zoo with zebras and rhinos, so there's a varied mix of attractions. Don't miss LaM, an innovative outdoor space commandeered for showcasing sublime contemporary and outsider art.
Melle
In the mood for a monster German road trip? The truly epic drive across the border to Melle takes around 5 hours from Ghent via the A1, so you'll need to stay for a couple of nights to make the most of it. But boy are you in for a treat. For starters, Wildpark Diedrichsburg is a relaxing green space with wild boar, lush parklands and gorgeous gardens, there's a car museum full of classic models, and it's also home to Brewery Huyghe – as long as you've no driving plans, kick back for a few hours with some refreshing Belgian beer (some aficionados say it's the world's best).
De Haan
One hour and 20 minutes from Ghent via the E40, De Haan is a Belgian coastal town that will capture your heart. A trendy tourist area for generations, the picturesque centre of town is the Concession area, which is peppered with pretty Belle Epoque villas. Meanwhile, the Wenduine area is scenic, laid-back and ideal for families. Speaking of which, if you like the ideal of having everything you need for a break in one controlled area, there's also a Center Parcs complex – worth looking into. For sun, sea, sand and lots of outdoor activities, De Haan wins hands down.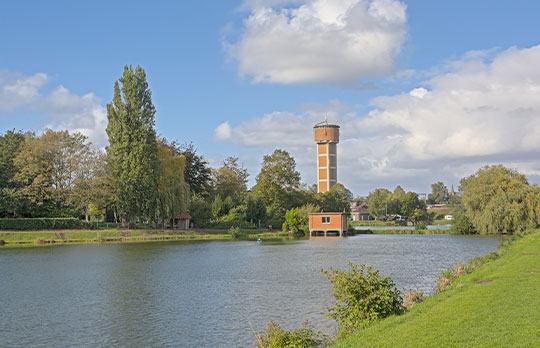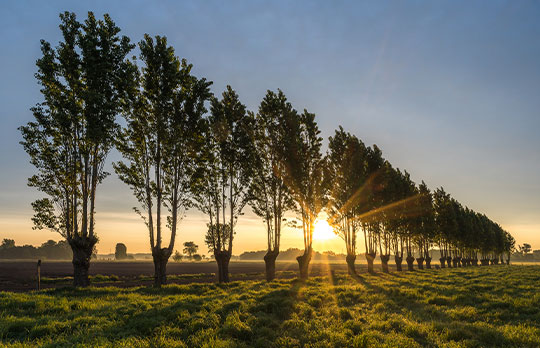 Nazareth
Don't worry – we're not sending you to the Holy Land! This Nazareth is only 25 minutes' drive from Ghent via the E17, so you can nip there for an afternoon to enjoy a cathartic change of scenery. The Hospicebossen forest is a brilliant place for a spot of tree bathing, you're not far from the Westerplas nature reserve wetlands, and you can relax and unwind all the way at Namaste Nazareth – a plush wellness spa with private sauna, hammam, indoor pool and hammam.
Evergem
25 miles north of Ghent via N456, Evergem is a short hop to the outskirts of the city but it's nice if you want to get away from the hustle and bustle for a while. There's some superb scenery in the Kiekenbossen nature area (great for tuning out from a busy schedule) and if you're a foodie, there's artisan coffee and vegan baking at Full Circle, Korean food at Kim's Kitchen, and French delights at De Koe Bel.
Lochristi
Just 20 minutes from Ghent on the trusty E17, Lochristi is another great getaway location with a mix of outdoor activities and tasty food. Treat yourself to ocean-fresh seafood and high-end snacks at Pastorie Zaffelare-Lochristi before burning off those calories on two wheels at the Ledebeek Bicycle Trail and relaxing in the well-manicured surroundings of Beervelde Park. And if you want to let your hair down, throw some shapes at Danstheater Feestpaleis – it's the place to be!
Zomergem
Last but not least, we've got a 40 minute scoot up the E40 to Zomergem for you. And what joys await when you get there? Plenty as it happens. Café de Variant is a great place to hang out and people watch, while Partycentre Euro-City is ideal if you want to try your hand at 10-pin bowling. And when it comes to nightlife, Zomergem isn't too shabby at all – try Kokorico and Jh De Messink when you want to let your hair down. When you're yearning for a change of scenery from Ghent but don't want a testing road trip that takes hours on end, Zomergem is the discerning choice.