15 Best Student Cities in the UK
Manchester
Glasgow
London
Coventry
Nottingham
Birmingham
Aberdeen
Brighton
Newcastle upon Tyne
Leeds
Sheffield
Liverpool
Cardiff
Belfast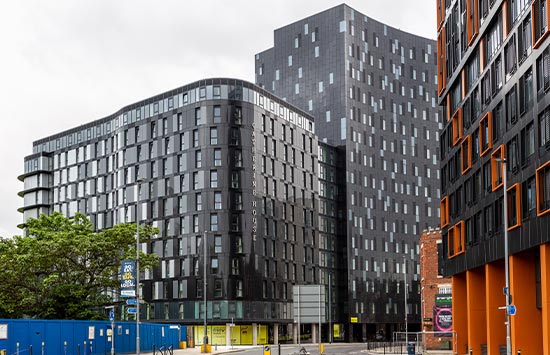 Best Student Cities in the UK
Britain is well-known for its academic prowess and has received the title of 'Best Country to Study' time and time again. It has some of the world's finest universities, internationally recognised degrees, outstanding career possibilities for graduates, a decent work-life balance, and fantastic cultural attractions.
As a result, it is not surprising that it is very popular amongst the student population for higher education.
Choosing the greatest city in the UK for your career aspirations, on the other hand, can be a time-consuming and critical decision. Affordability, school quality, public transportation, dining out, and social life are all important considerations. If you are looking for the best student cities in the United Kingdom, we've put together a list of the top 15.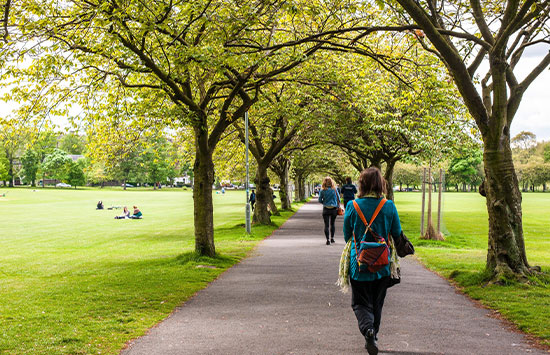 1. Edinburgh
Edinburgh, the capital of Scotland, is blessed with natural beauty as well as some top-ranking universities that include:
The University of Edinburgh
Heriot-Watt University
Edinburgh Napier University
Queen Margaret University
It has a rather large student population in relation to its overall size, which implies it ranks particularly high in terms of student mix. It is a popular choice due to its rich history, which can be seen through the spectacular architecture, friendly people, and a wealth of socio-cultural events. Though tuition prices are slightly higher than in other UK cities, the Students Awards Agency for Scotland totally subsidises undergraduate students from within the EU. You can easily travel throughout the city and live in communal apartments. The Edinburgh Castle and Arthur's Seat are must-see attractions, and the Edinburgh International Festival and the Edinburgh Fringe Festival should not be missed.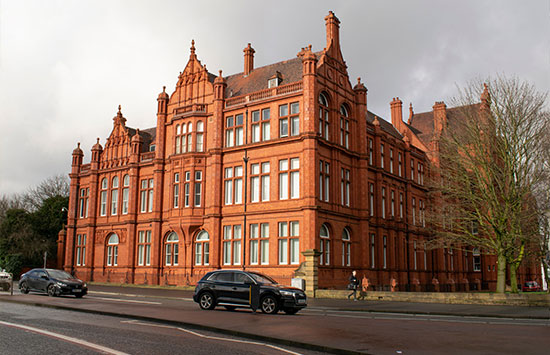 2. Manchester
One of the most popular student cities in England, Manchester has a number of international universities that include:
The University of Manchester
Manchester Metropolitan University
University of Salford
Manchester is a dynamic city with a warm and inclusive atmosphere. Aside from academics, the city is well-known for its music bands (Oasis, The Smiths) and world-famous football clubs (Manchester United, Manchester City). It is well-liked by the student body because of its cultural and extracurricular possibilities. It is also less expensive than other UK cities, which makes it desirable to overseas students. Among the many sights to see are Castlefield, the National Football Museum, the Museum of Science and Industry, and many more.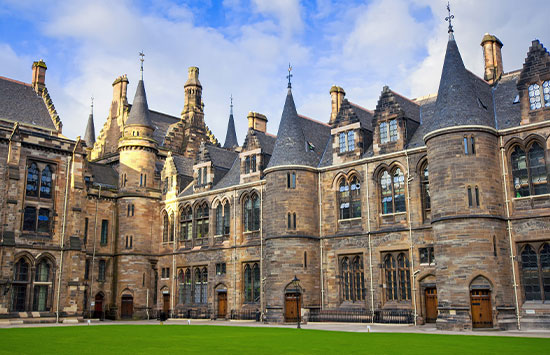 3. Glasgow
Scotland's largest city, Glasgow has some fine universities that include:
University of Glasgow
Glasgow Caledonian University
University of Strathclyde
The Glasgow School of Art
Its rich legacy, eclectic current culture, and welcoming residents guarantee that there is a diverse range of things to do here. When compared to other UK cities, the cost of living is reasonable, and student housing is readily available. The subway is a great way to get around the city. It is a comfortable and stimulating city to live in, neither too big nor too small, and was named one of the Top 10 greatest places to live in (Time Out 2019). If you choose to study here, visit the Kelvingrove Art Gallery and Museum as well as the Botanic Gardens.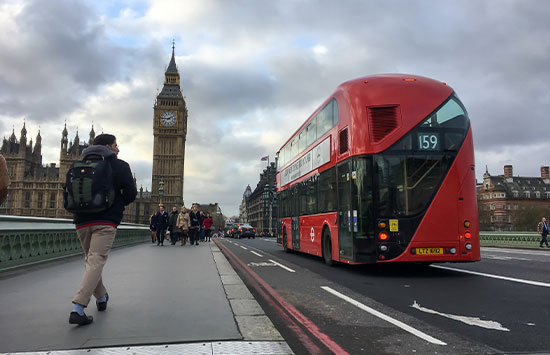 4. London
London has some world-class universities that include:
Imperial College London
University College London (UCL)
King's College London
The London School of Economics and Political Science (LSE)
It offers a huge array of courses for foundational, graduate, and postgraduate study, leading to a plethora of international scholarships and excellent work opportunities. The capital city is a city that never sleeps. It is one of Europe's most prominent business, cultural, and tourist attractions. You will be fascinated by the gourmet, cultural, and nightlife scene. The public transit system is terrific as well. The only disadvantage is that it is one of the most expensive cities in the world. You can, however, take advantage of numerous student discounts for travel and look into opportunities for living in affordable housing. If you study here, you should go to Buckingham Palace and the British Museum.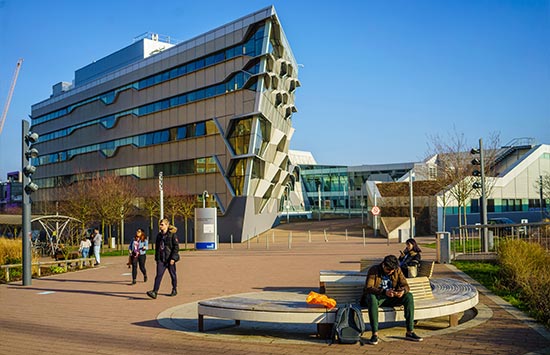 5. Coventry
Coventry, though quite underrated, boasts of two stellar universities:
University of Warwick
Coventry University
If you enjoy having fun and want to live an adventurous lifestyle, Coventry is an excellent choice. Music performances by artists such as Coldplay, as well as major sporting events like ice hockey and rugby, are hosted here on a regular basis. It is within an hour's drive from London and is home to various theatres, Roman art galleries, and museums. Rent and living expenses are lower than in places such as Manchester and London. Coventry has been named the UK City of Culture for 2021 due to its diversity and culture. It is also regarded as a safe city due to its low crime rate. Some of the best locations to visit include the Herbert Art Gallery and Museum, Brandon Marsh Nature Reserve, Coventry Cathedral, and others.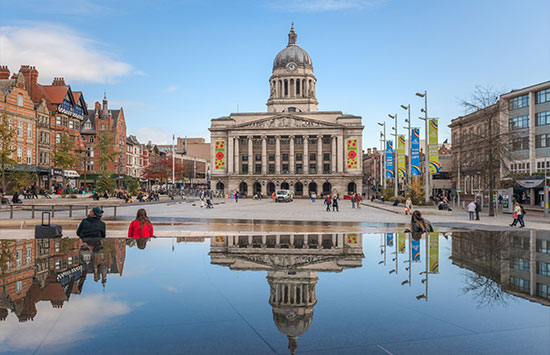 6. Nottingham
Nottingham is lovingly called the 'Queen of the Midlands' and has some superb universities that include:
University of Nottingham
Nottingham Trent University
Known for its connection with the legendary Robin Hood, Nottingham is the perfect blend of modernity and British tradition. The University of Nottingham has a sizable foreign student population, with campuses in Malaysia and China. When you're not studying, Nottingham has a plethora of restaurants, clubs, shopping malls, and theatres to keep you entertained. It also features an award-winning transportation system with environmentally friendly trams that you can simply board. Visit the ancestral home of renowned author Lord Byron, Newstead Abbey, and Highfields Park, among other tourist attractions.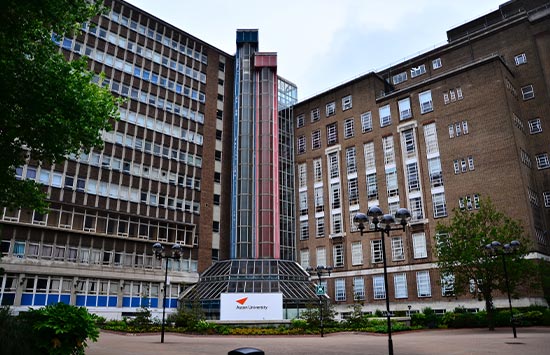 7. Birmingham
Birmingham is the UK's second-largest city and has some globally acclaimed universities that include:
University of Birmingham
Aston University
Birmingham, the UK's largest centre of higher education outside of London, is also known as 'The City of a Thousand Trades' due to its diverse industrial background. It also boasts the youngest population of any major European city and is recognised as the "home of heavy metal." In comparison to London, the cost of living and student housing is substantially lower. It is a multicultural city with many restaurants, bars, theatres, and art galleries to offer international students. If you want to study here, visit the renowned National Motorcycle Museum and take the Shakespeare Express to see the vibrant city centre.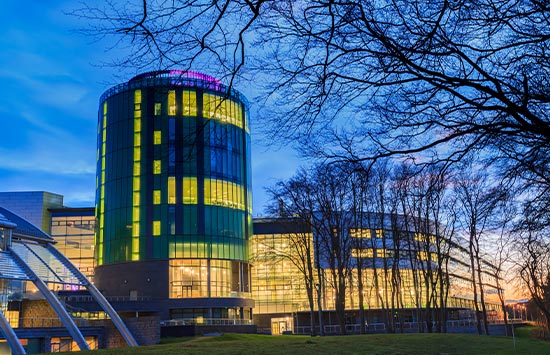 8. Aberdeen
Aberdeen, a port city in Scotland has some great universities that include:
University of Aberdeen
Robert Gordon University
Aberdeen is a fantastic location for nature lovers, thanks to its long stretch of shoreline and lovely countryside. The University of Aberdeen dates back to 1495 and has a top-ranked medical school as well as a beautiful campus. Because it is located at the confluence of the Don and Dee rivers, international students frequently choose fishing as a recreation here. With cheaper rent, the expense of living here is less expensive than in larger cities. Students from the United Kingdom and the European Union can study for free here. Climbing the dunes at Balmedie Beach or photographing the tropics in the Winter Gardens are both enjoyable pursuits.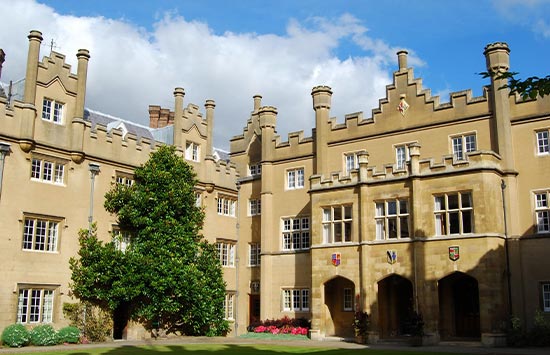 9. Brighton
One of the oldest cities in England, Brighton has a couple of world-class universities, namely:
University of Brighton
University of Sussex
Brighton receives a huge number of international students each year as a result of its liberal attitude and unofficial designation as the UK's LGBTQ capital. The old city, hailed as England's cultural centre, is an excellent choice for those who enjoy beaches, sand, and the sea. By train, Brighton is only an hour away from London. It is a popular destination for young people since it stages several high-profile events each year, including the Brighton Fringe Festival, Brighton Pride, and the Brighton Festival. It also features one of the best music scenes in the southern United Kingdom. When you're not studying, you may unwind with some great fish and chips at Brighton Palace Pier or go cycling near the Brighton Marina.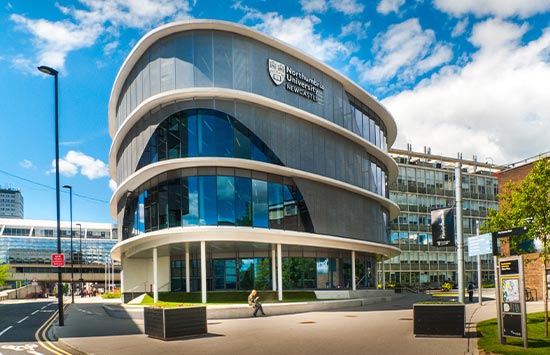 10. Newcastle upon Tyne
Newcastle, also known as Newcastle upon Tyne, is the largest city in north-east England, and it is proud of its two famous colleges, which are located close to each other:
Newcastle University
Northumbria University
Newcastle, named for the Norman castle in the city centre, attracts thousands of international students because of its dynamic culture and kind, welcoming locals known as 'Geordies.' Some of the best restaurants, nightclubs, and pubs can be found on the Quayside. If you appreciate sports, you will enjoy watching or participating in the Great North Run, the world's largest half marathon, which is held here every year. The city is also pedestrian-friendly, and there is a reliable metro system. If you study here, you can visit the award-winning Gateshead Millennium Bridge or uncover dinosaur skeletons at the Great North Museum: Hancock.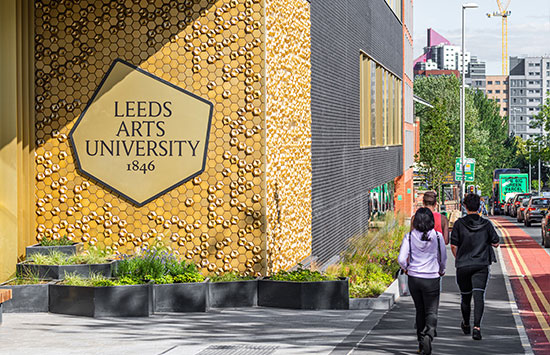 11. Leeds
Leeds is a lovely northern English city with three excellent universities, notably:
University of Leeds
Leeds Trinity University
Leeds Beckett University
Leeds, a city in a stunning historical location, is always brimming with cultural energy and economic vigour. With its music, sports, and arts culture, it provides an appealing lifestyle to overseas students. With restaurants, pubs, and retail complexes on every corner, there is never a shortage of things to do. You like the small-town atmosphere of this city. Leeds Carnival and Leeds Light Night in October are both fascinating festivities that you should not miss. It is a fairly accessible city that is well served by train and coach services. Some unusual sites to visit are the Royal Armouries Museum, the National Coal Mining Museum for England, and Roundhay Park.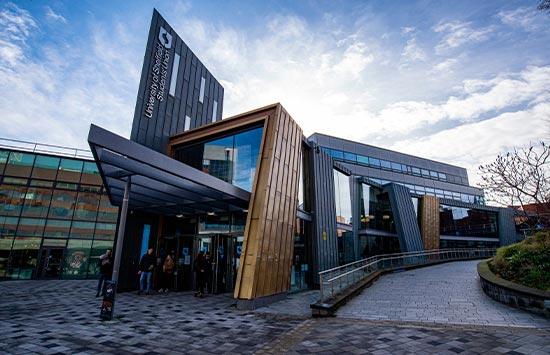 12. Sheffield
Also known as the 'Steel City', Sheffield in northern England is home to two great universities namely:
The University of Sheffield
Sheffield Hallam University
Sheffield, formerly an industrial powerhouse in England, is now a rising star in the UK's arts and entertainment sector. Nature enthusiasts will enjoy studying here because the city blends into the Peak District National Park, offering thrilling outdoor adventures. In addition, the city has given the world bands such as Pulp and Def Leppard. The cost of living is lower than in other cities, and the nightlife is fairly interesting. The Tramlines and Off The Shelf festivals are quite fashionable and happening. Travelling is also simple because it is well served by rail, bus, tram, and coach services. You'll also enjoy going to the Millenium Gallery, Kelham Island Museum, and Sheffield Botanical Gardens.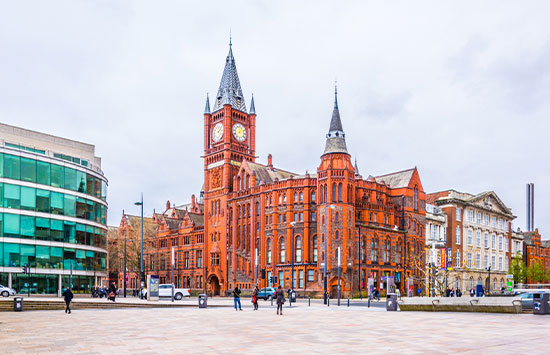 13. Liverpool
A port city in the north-west of England, Liverpool offers three fantastic universities, namely:
University of Liverpool
Liverpool John Moores University
Liverpool Hope University
Liverpool, named the UK's Capital of Culture in 2008, has the second-highest number of national museums, art galleries, listed buildings, and parks in England, only second to London. It is closely associated with music because it is the birthplace of The Beatles, and you will enjoy the Beatles Story Museum, as well as the various Beatles-themed restaurants and bars located around the city. Other noteworthy sites to visit are the Walker Art Gallery and the Royal Albert Dock. The city also has excellent transportation links, including fast public buses and railways, and the cost of living is very low.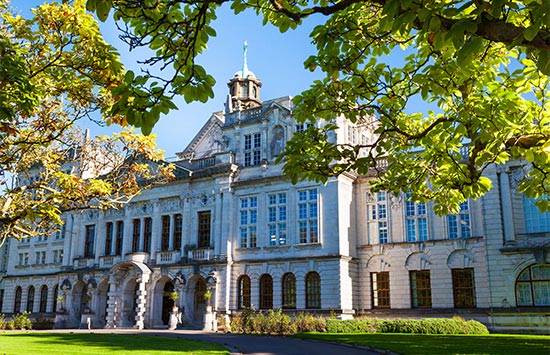 14. Cardiff
The capital and largest city of Wales, Cardiff is a vibrant city that is home to two institutions:
Cardiff University
Cardiff Metropolitan University
Cardiff is a wonderful destination for international students because it has practically everything you could possibly need. There are plenty of leisure opportunities, such as nightclubs, shopping arcades, coffee shops, and bars. And the fact that everything is within walking distance in this little city is a plus. You can spend a delightful evening away from your studies by visiting Cardiff's lungs, Bute Park, where you can explore Cardiff Castle, among other things. Hiking and cycling trails in the adjacent Brecon Beacon mountain range are ideal for adventure seekers.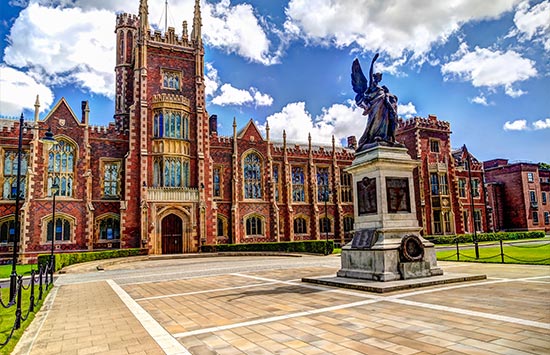 15. Belfast
Belfast, the capital of Northern Ireland is a very student-friendly city and has a couple of great international universities namely
Queen's University Belfast (QUB)
Ulster University ‐ Belfast campus
Belfast, famous for being the birthplace of the RMS Titanic, has a welcoming vibe and is a popular student city. It is also one of the safest cities in the UK and a relatively affordable location to live in. Clubbing is a popular activity among students in this city because nightclubs and pubs remain open till the early hours of the morning. Belfast is proud of its music culture, and you won't be disappointed. For a fantastic night out, check out the renowned Crown Bar and the Botanic Inn. You can travel practically anyplace on foot or by renting a bike from the public bike system. Other famous tourist sites are the Ulster Museum and the Titanic Belfast.