Top 10 road trips from Seville
The Alhambra
Donana National Park
Italica
Malaga
Ronda
Cadiz
Carmona
Jerez de la Frontera
Mazagon
El Caminito Del Rey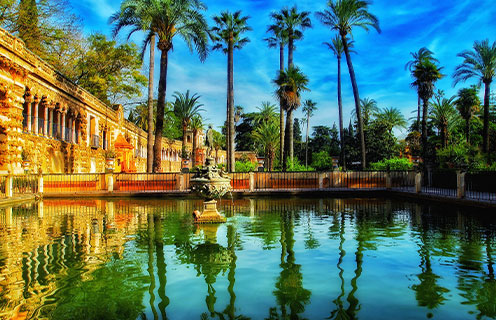 10 best scenic road trips from Seville
Seville might not top the charts for Spanish holiday destinations, but its seductive mix of culture, history and modern metropolitan delights will soon win you over – and by the time you leave, you'll want to return again ASAP. The crowning centrepiece of its city centre is its huge Gothic cathedral, but fans of architecture can also see palaces, churches and mansions in diverse styles that showcase its spicy mix of Moorish and European influences. Hot summers in Seville start as early as May, but the heat is turned up all year round thanks to Flamenco dance clubs, the joyous festivals held around Easter every year and the everyday buzz that's generated in tapas bars, cafes and restaurants. As the inspiration for Carmen and Don Juan, passion for life is in the blood here and you can't help but be swept away by the romance. However, when you do want a break from the bustle, this is also a super base for several cracking road trips around the Andalucia region and further afield – hire a car in Seville from Enjoy Travel and southern Spain is your oyster.
Seville's old city sits on the east bank of the Guadalquivir river and here you'll find its trinity of iconic monuments – the Alcazar, Giralda tower and Catedral. The medieval Jewish quarter and intimate backstreets of Barrio Santa Cruz radiate eastwards and this buzzing area draws visitors like bees to blooming flowers. Meanwhile, if you're yearning for retail therapy, head northwards to Plaza Duque de Victoria, Plaza Nueva, while culture vultures should head to Museo de Bellas Artes at c/Alfonso XII, which hosts one of Spain's greatest collections of fine art.
Whatever your reason for visiting Seville, it's a captivating city located close to countless urban and natural attractions – ideal for anyone who wants to mix cosmopolitan activities with fresh air and stunning scenery.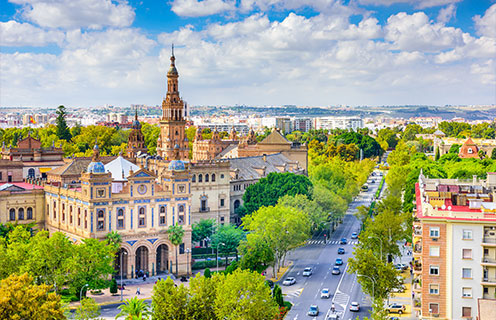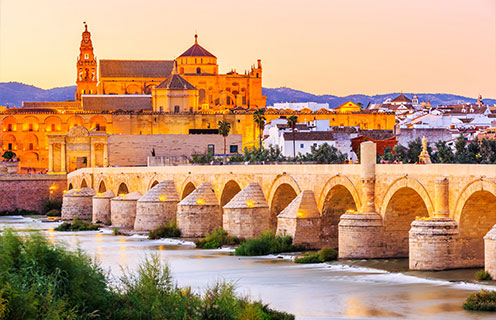 Top tips on driving in Seville
Your top 10 Seville road trips will be here in a couple of clicks of a flamenco castanet, but let's take in a couple of Seville driving tips first.
First off, always drive on the right here (and across Spain). Secondly, take note of the different types of roads – motorways are called 'autopistas' and marked A or E, while toll roads are designated AP (autopistas de peaje). Meanwhile, 'autovias' are dual carriageways, and these are denoted E, while national roads (carreteras nacionales) are marked N or CN and country roads (carreteras comarcales) are marked C.
When you're driving on a motorway, don't be alarmed if cars flash their headlights before overtaking you – in Spain, this is a regular warning that they're about to perform the manoeuvre. You need to be 18 to drive in Spain and 21 to hire a car – some car hire firms also apply a surcharge to drivers under the age of 25, so please check.
Drink driving laws are strict in and the best advice is not to touch a drop if you need to drive. The speed limits in Seville and its environs are 120km/h for motorways, 100km/h for main roads, 90km/h on other roads and 50km/h in towns, villages and other built-up areas.
Now let's get moving with your road trips!
The Alhambra
A magnificent Moorish palace complex crowning a hilltop in Granada, the Alhambra is one of Europe's top tourist attractions – and it's a manageable day trip from Seville. Andalusia was the Islamic world's western capital from the 13th to 15th centuries and this royal palace with its ornate carvings, gorgeous gardens and impressive towers is a statement of power carved in stone.
Getting there: The Alhambra is two hours 30 minutes from Seville via A-92.
Donana National Park
If you're a serious twitcher, an easy road trip to the Donana National Park to see Spanish imperial eagles and flamingos is a must. This UNESCO-listed national park is a protected nature reserve with diverse terrain that includes coastal sand dunes and scented pine forests as well as wetlands teeming with wildlife – a real treat for all nature lovers!
Getting there: Donana National Park is 50 minutes from Seville via A-8058
Italica
The Romans called Spain Hispania and Italica was this prized part of their empire's first city, as well as the birthplace of Emperors Hadrian and Trajan. A brilliant historical day trip from Seville, this large site near the contemporary town Santiponce lets you step back 2000 years in time and discover Roman houses with amazing floor mosaics and grand structures like the 20,000 seat amphitheatre, which hosted gladiator tournaments back in the day but more recently featured in TV's Game of Thrones.
Getting there: Italica is 30 minutes from Seville via SE-30.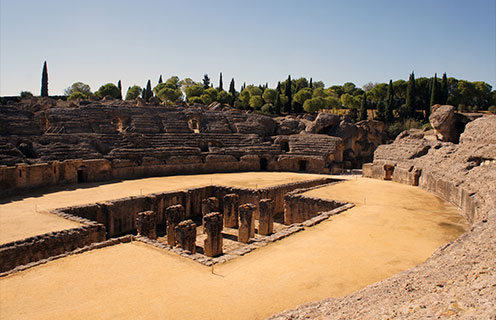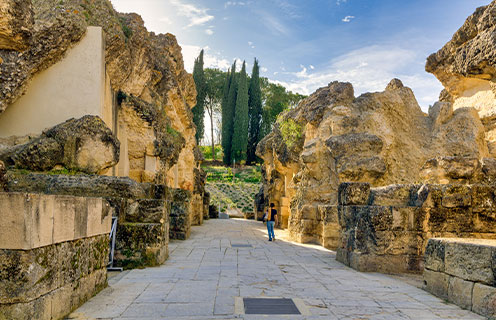 Malaga
The swish seaside resort of Malaga is one of the Costa del Sol's hotspots for the yacht set and it's a top-notch Seville road trip destination if you want to chill-out on the beach, people watch in the cafes or immerse yourself in the culture. History fans love the ruins of the Roman Theatre, there's a Picasso museum dedicated to the legendary local hero, and the renaissance-style Malaga cathedral is a delight. For relaxing, socialising and enjoying the history, there's more to Malaga than meets the eye.
Getting there: Malaga is two hours 15 minutes from Seville via A-92.
Ronda
One of Andalusia's famous 'white villages', the striking whitewashed settlement of Ronda sits perched perilously on a plateau above the El Tajo gorge, with the 130m ravine bridged by the renowned Puente Nuevo. The Alameda de Jose Antonio park offer panoramic views across the area and the historic Islamic La Cuidad quarter boasts some beautiful Moorish architecture. This was formerly a notorious outlaw region – there's a Museum of Bandits where you can find out all about those mean hombres!
Getting there: Ronda is one hour and 45 minutes from Seville via A-375 and A-374.
Cadiz
Another seaside town that exudes real character, Cadiz makes for a magnificent day trip from Seville. It's sparkling white buildings and terracotta rooftops are actually a constellation of barrios like fisherman's quarter La Vina, El Populo with its snaking cobbled alleys, and the old gypsy quarter Santa Maria, where you'll hear traditional flamenco music and lyrics floating on the breeze. Top this off with the sublime Costa de la Luz coastline and you've got a dream destination!
Getting there: Cadiz is one hour and 20 minutes from Seville, via the E-5.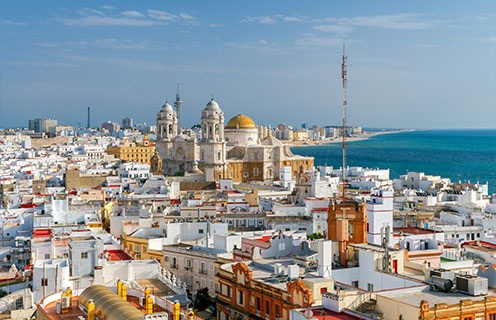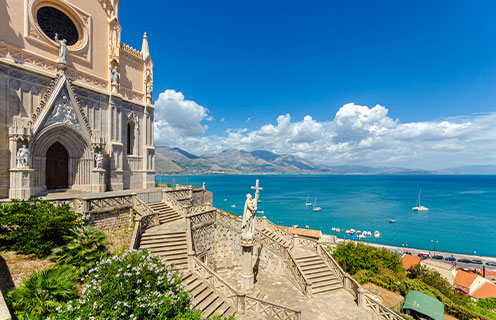 Carmona
Located just a short skip east of Seville, the stunning hillside town of Carmona boasts impressive Mudejar churches, elegant palaces, two Moorish forts and a nearby Roman necropolis. Apart from the historical highlights, it's also a hotspot for tapas and its old town is jam-packed with bars and restaurants where you can sample traditional regional fare and classic tapas, as well as wonderful wine and beer (if you're not driving).
Getting there: Carmona is 30 minutes from Seville via the A-9.
Jerez de la Frontera
If you really want to immerse yourself in Andalusian traditions, look no further than Jerez de la Frontera. For starters, equestrian enthusiasts love the prancing pedigree horses at the Royal Andalusian School of Equestrian Art Foundation and the centuries-old Jerez Horse fair in May. Meanwhile, there's a prestigious centre for the art of Flamenco and in late February/early March, the Festival de Jerez showcases flamboyant flamenco performances.
Getting there: Jerez de la Frontera is one hour and 15 minutes from Sevilla via the E-5.
Mazagon
Fancy a chilled-out day at the beach with superb seafood and a friendly atmos? The Huelva coast's Mazagon definitely fits the bill, with its chiringuito beach restaurants, perpetual sunshine and sweeping golden sands. After taking a dip and drying off in the sun, you can also try relaxing activities like horse riding along the beach – blissful.
Getting there: Mazagon is one hour and 20 minutes from Seville via A-49.
El Caminito del Rey
If you're a thrill seeker, you can turn your adrenaline levels up to maximum overdrive with a trip to the dramatic El Caminito del Rey. Prior to its 2015 restoration, this suspended cliffside structure was known as the most dangerous walkway on the planet, but now it affords safe yet spectacular views of the El Chorro and Gaitanes gorges. Be warned – this 35m long suspension bridge 100m above the ground is not for the faint hearted!
Getting there: El Caminito del Rey is two hours from Seville via the A-92.