Here's the 25 Best Christmas Markets in the Europe for 2023
Christmas is just around the corner, which means we have at least one month of mince pies, Michael Bublé and – best of all – Christmas markets ahead of us. Every year, throughout November and December, Europe's squares and streets transform into wintery wonderlands, complete with twinkling wooden chalets, angelic choirs and steaming cups of mulled wine. But who does them best? Whether you're looking for the classic German market experience or a festive shopping spree, here's where to get your Christmas kicks on the continent in 2023.
Best Christmas Markets in the Europe
25. Hafnarfjörður Christmas Village – Hafnarfjörður, Iceland
Dates: 5-6, 12-13 and 18-23 December 2023
Iceland may not immediately spring to mind when it comes to Christmas markets, but its cool capital is fast gaining a reputation as an alternative Christmas destination. There are a few markets dotted around the city, but Hafnarfjörður Christmas Village is arguably the best. An easy 20-minute bus ride from the city centre will plant you right in the heart of a winter wonderland, with Icelandic Yule Lads (mischievous Christmas creatures), a small ice skating rink and a dozen or so Alpine-style huts serving up homemade delicacies and bags of festive charm.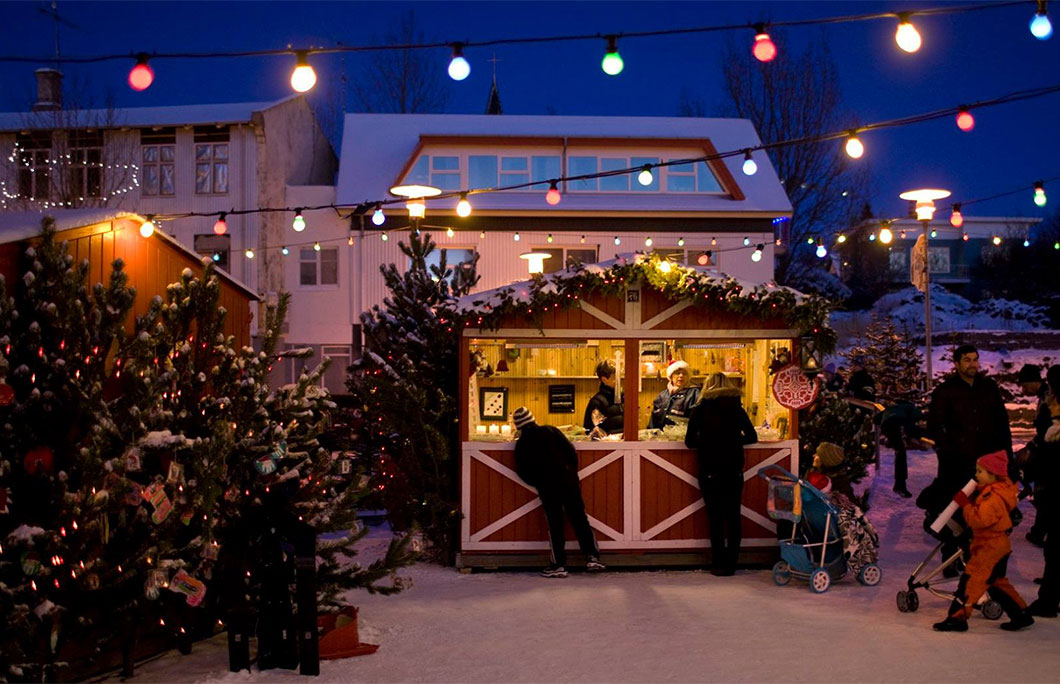 ---
24. Birmingham Frankfurt Christmas Market – Birmingham, UK
Dates: 2 November - 24 December 2023
England isn't short on Christmas markets, but none have a patch on Birmingham's Frankfurt market – the largest authentic German Christmas market outside of Germany and Austria. Stalls are laid out across Victoria Square and most of New Street from late November, serving up steaming hot bratwursts, schnitzels and sweet treats, best washed down with a cup of gluhwein or thick hot chocolate. With more than 120 stalls, it's worth holding off on Christmas present shopping until you have the chance to pop along.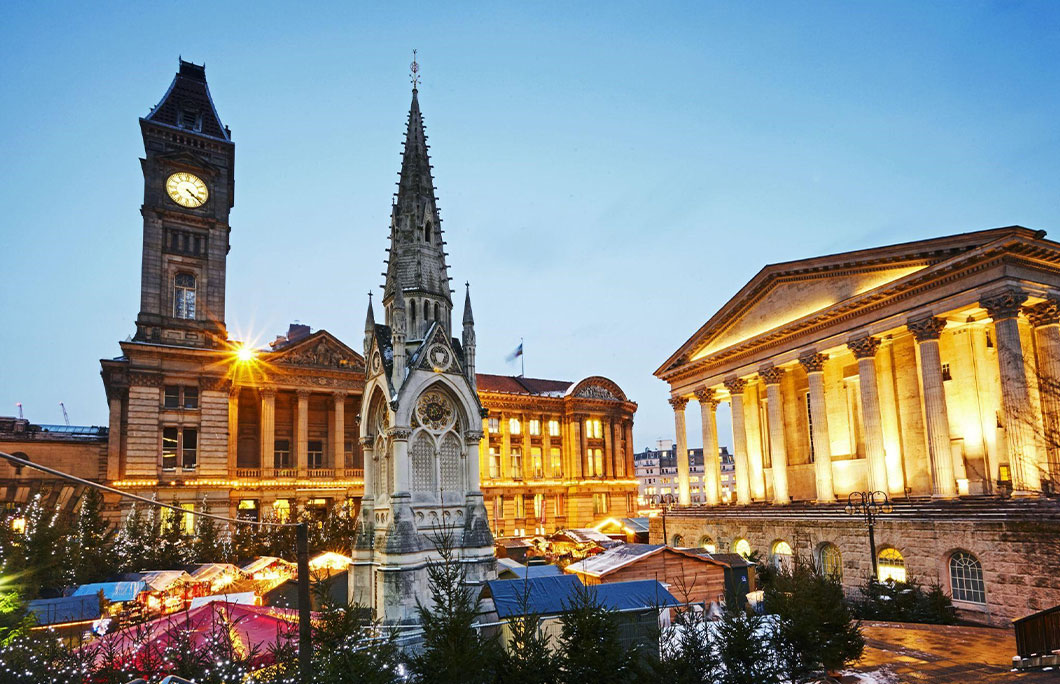 ---
23. Salzburg Christkindlmarkt at the Dom and Residenzplatz – Salzburg, Austria
Date: 23 November 2023 - 1 December 2024
Nothing compares to the fairytale feel of Salzburg at Christmas. Set in the shadow of the Hohenzalzburg fortress, the market looks much the same as it did in the 15th century, though the food is admittedly much tastier. There are traditional handicrafts, advent wreaths and artisanal Christmas decorations on offer at the chalet-style stalls, as well as mulled wine and roasted chestnuts. As you might expect of the hometown of the Sound of Music and Mozart, it's the music that sets this market apart, with free daily concerts in front of the cathedral.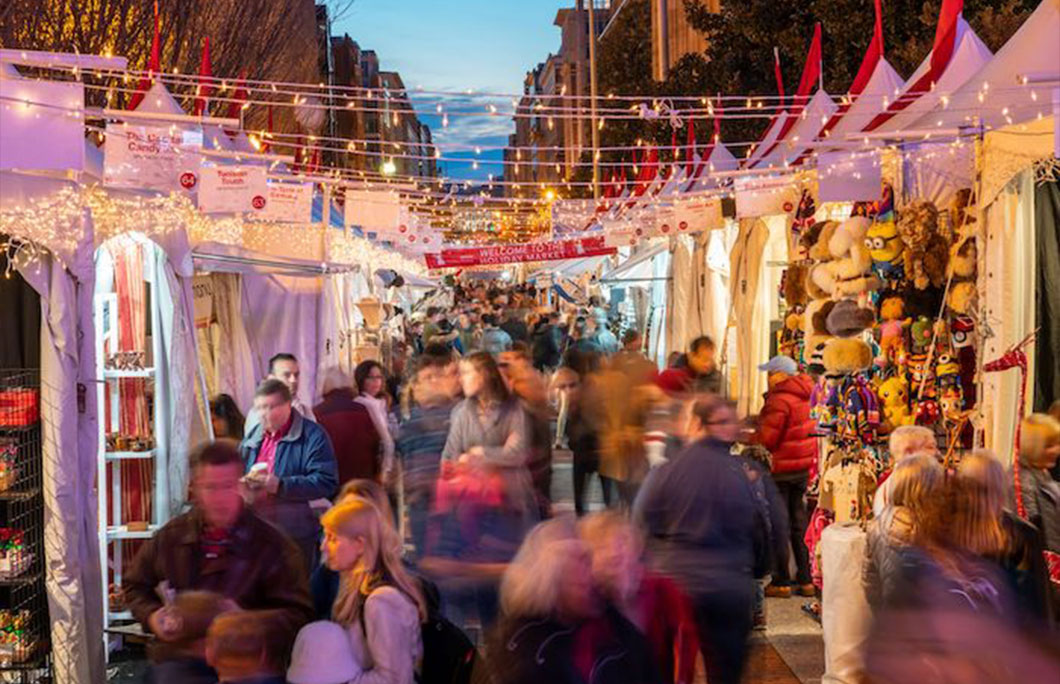 ---
22. Gdańsk Christmas Market – Gdańsk, Poland
Dates: 23 November 2023 - 1 January 2024
True, there are larger Christmas markets in Poland, but Gdansk is the most romantic. The historical town square transforms into a winter wonderland for the entire festive period, with over 150 stalls selling all manner of decorations, gifts and treats as well as regional delicacies like pierogi (dumplings), Polish cakes and grilled meats. For more family-friendly fun, there's a classic Venetian carousel, ice skating rink and meetings with Santa to look forward to too.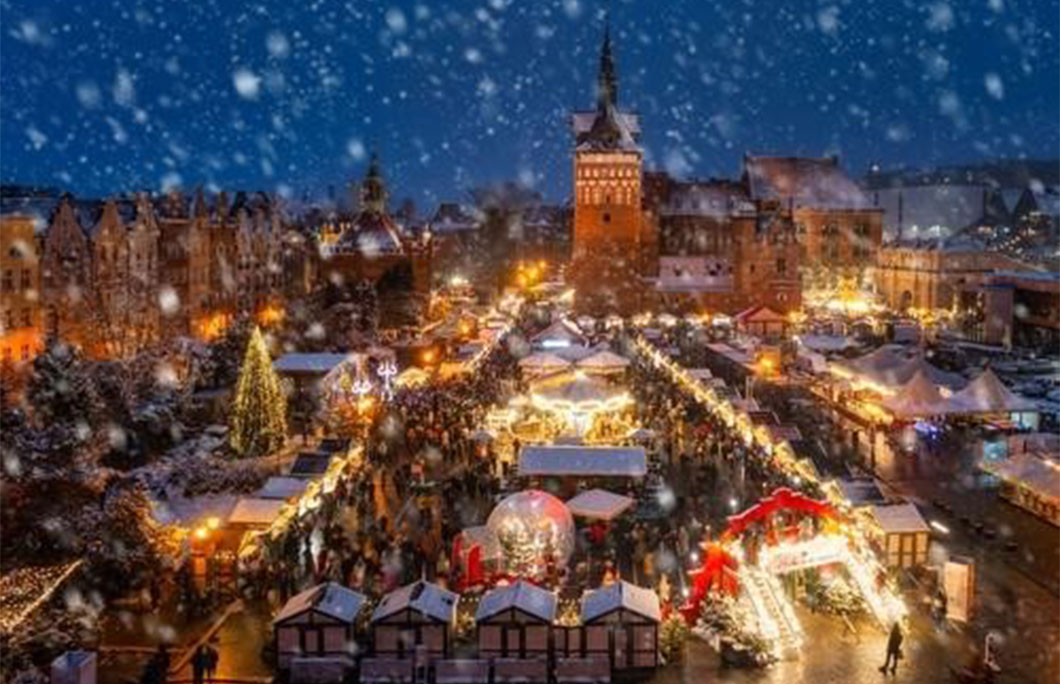 ---
21. Tallinn Christmas Market – Tallinn Estonia
Dates: 1 December 2023 - 7 January 2024
Tallin's Town Hall square is a stereotypical snapshot of the perfect Christmas market, with more than 60 snow-dusted wooden stalls arranged around a towering Christmas tree (said to be one of the oldest Christmas displays in Europe). Stalls sell everything from woollen mittens and wooden ornaments to gingerbread biscuits, glögi (mulled wine) and plates piled high with sausages, potatoes and sauerkraut. This year, Santa will double up as a multilingual MC for weekend performances too, offering even more opportunity for little ones to meet the main man.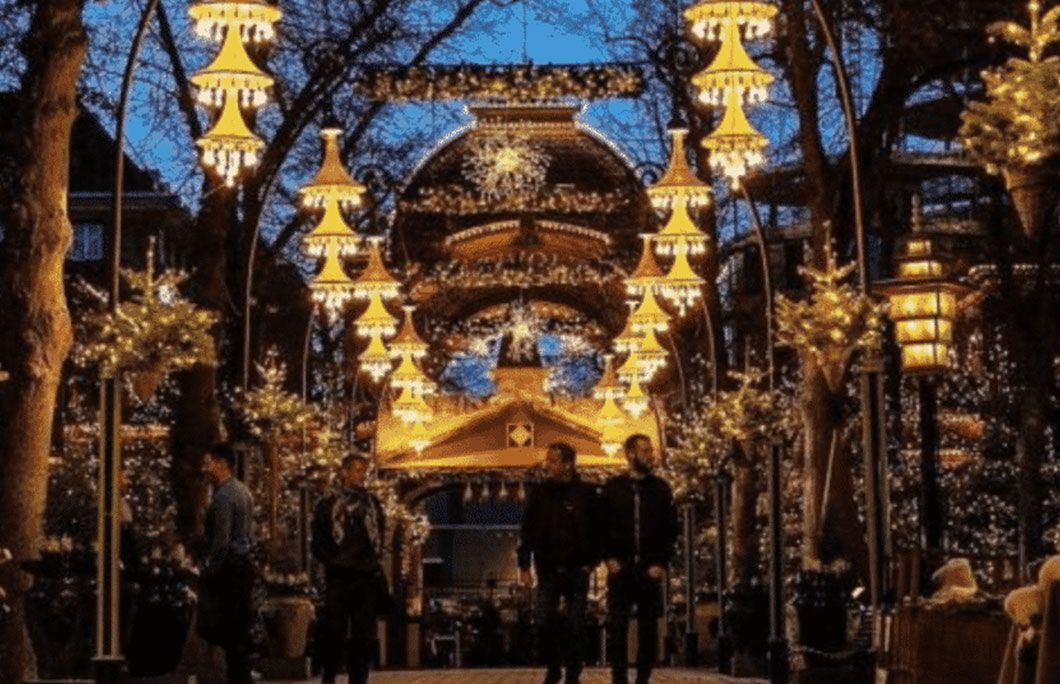 ---
20. Cologne Cathedral Christmas Market – Cologne, Germany
Dates: 23 November - 23 December 2023
Cologne really comes into its own at Christmas, when the aromas of baked apples, cinnamon biscuits and mulled wine fill the air. At least a dozen markets spring up across the city, but the most magical – and largest – takes place outside Cologne's gothic cathedral. There are at least 100 trinket-laden wooden stalls selling festive decorations, gifts and artisanal goodies to explore, and the menu is just as tantalising with cockle-warming gluhwein, steaming sausages and hot potato pancakes on offer. Little ones can take a spin on the old-fashioned merry-go-round and take festive snaps in front of the 25-metre red spruce tree, the largest in all of the Rhine.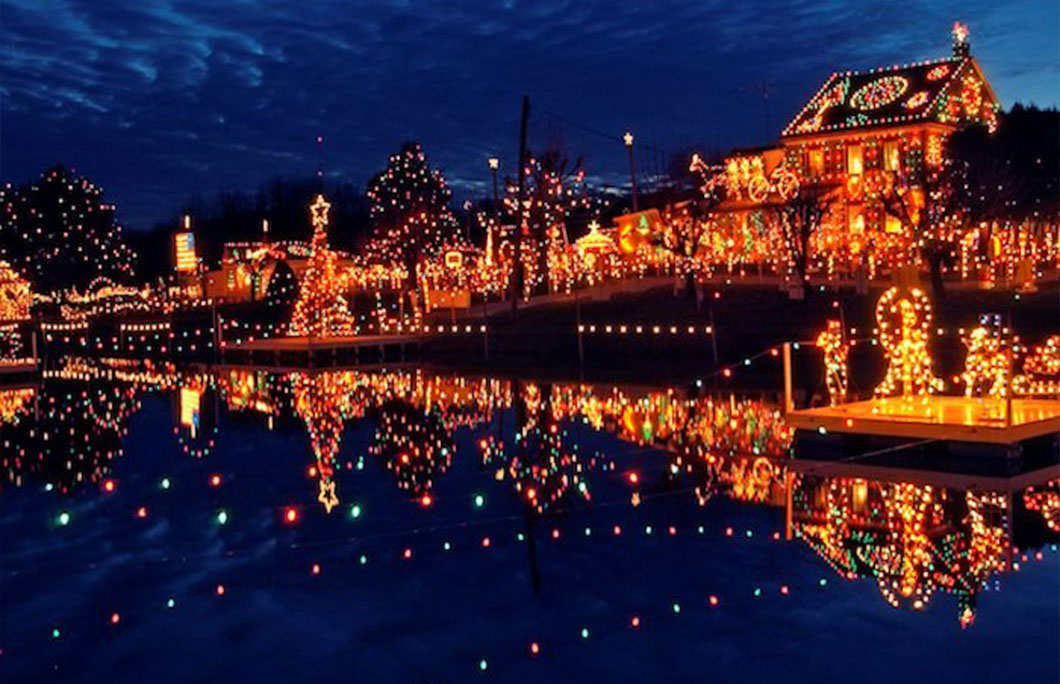 ---
19. Tuomaan Market – Helsinki, Finland
Dates: 1-22 December 2023
Tuomaan Market is the oldest and largest Christmas market in the capital. Located in Senate Square, under the gorgeous gaze of Helsinki's neo-classical cathedral, the market features 120 or so stalls selling handmade Christmas ornaments and Finnish delicacies like glögi and ham-filled pastries. As well as old-fashioned merry-go-rounds and Santa's grotto, the market gets a big thumbs up for some of its quirkier activities, like Bingo and wood-heated sauna sessions.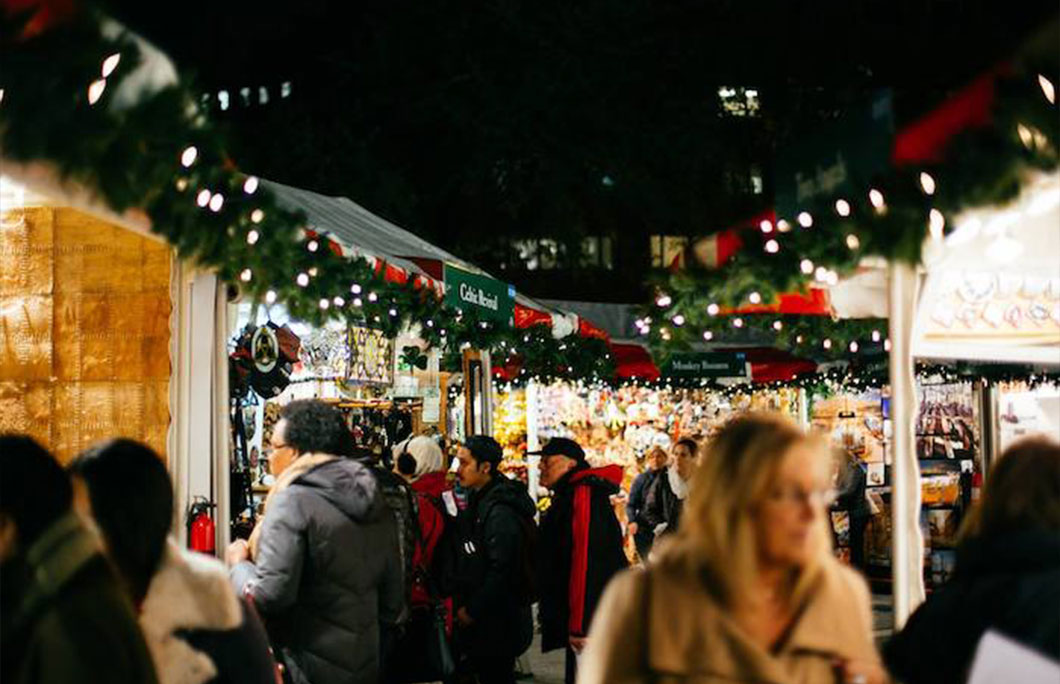 ---
18. Bratislava Christmas Market – Bratislava, Slovakia
Dates: 23 November to 23 December 23 2023
At the end of November, the fairytale squares of the Slovakian capital are filled with festive joy. Tiny stalls line the cobbled streets and fairy lights are draped across dozens of Christmas trees. The biggest – and best – market takes place in the main square, where traders ply their handmade wooden toys, embroidered tablecloths hand-blown glass ornaments and Slovak art. Work up an appetite shopping for local handicrafts, then treat yourself to potato cakes, huge sticky doughnuts and a couple of shots of hriato, a hot toddy made with honey.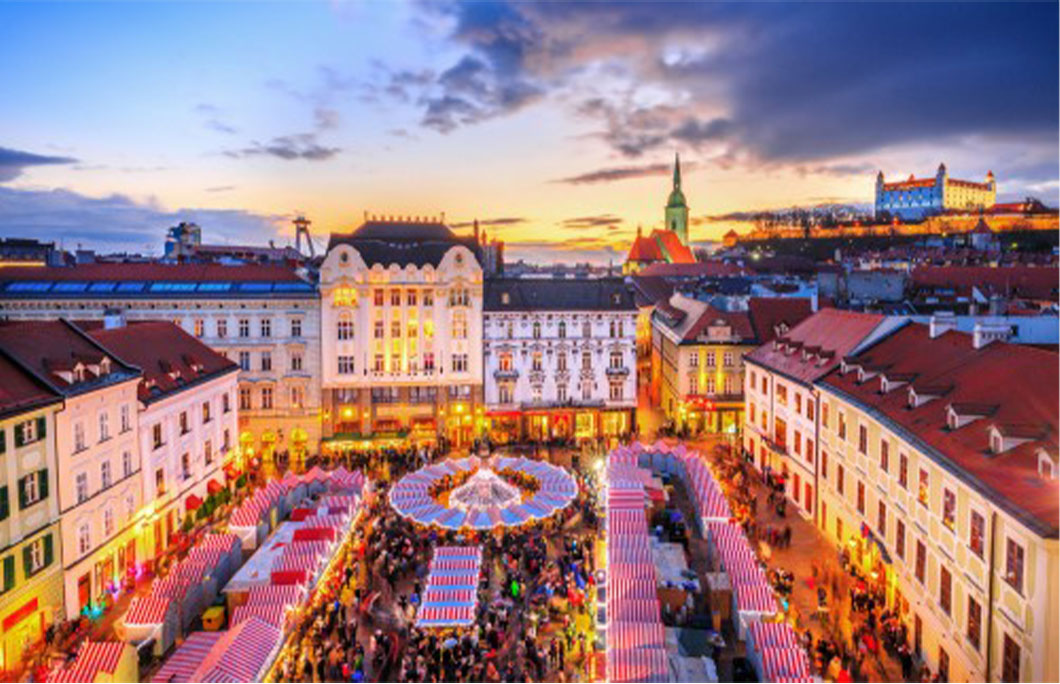 ---
17. Royal Christmas Fair in The Hague – Netherlands
Dates: 7 - 23 December 2023
This short and oh-so-sweet Christmas fair takes place in the historic heart of The Hague for just 16 days in December. This year's festivities will include dozens of tiny Christmas chalets, thousands of sparkling LED lights and a daily visit from Santa himself. Snack on seasonal Dutch treats like poffertjes and oliebollen to the soundtrack of Christmas choirs and musical performances every evening.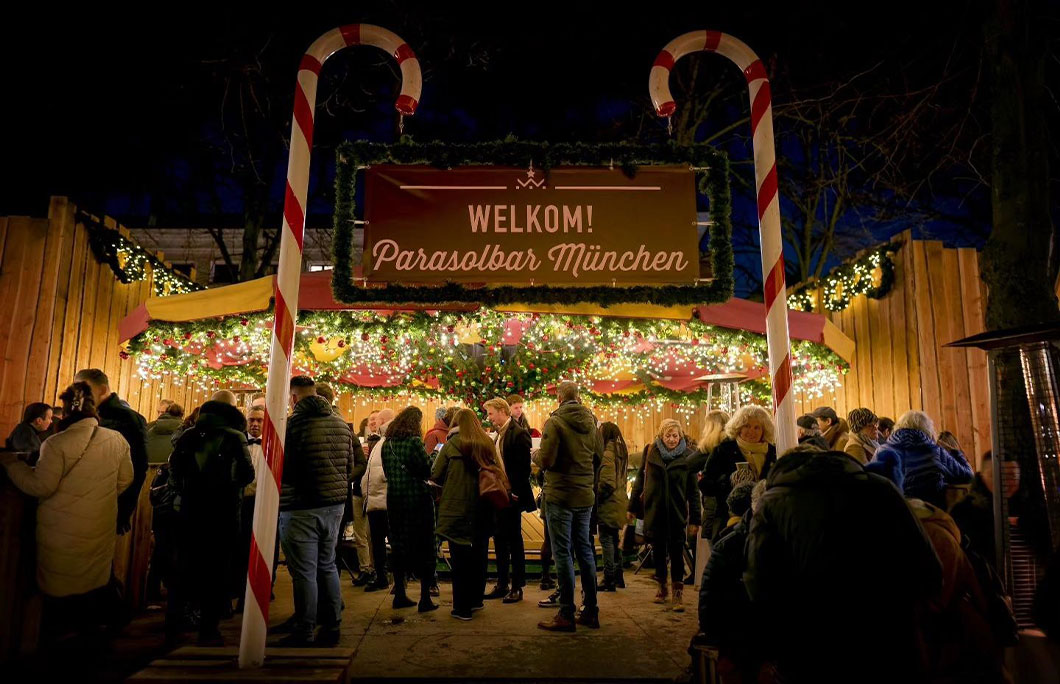 ---
16. Basel Christmas Market at Barfüsserplatz and Münsterplatz – Basel, Switzerland
Dates: 23 November - 23 December 2023
Basel is beautiful all year round, but particularly so when the Old Town is festooned in twinkling fairy lights. This year, the Barfüsserplatz and Münsterplatz squares will be crammed full of around 130 meticulously decorated rustic wooden chalets. Find vendors selling handmade toys, handcrafted gifts and festive ornaments in Barfüsserplatz, and Basel Lackerli (local gingerbread), festive fondues and raclette, hot punch and more in Münsterplatz. Little ones will love the fairytale forest, which hosts an array of fun festive activities every year, from gingerbread decorating to bauble-making workshops.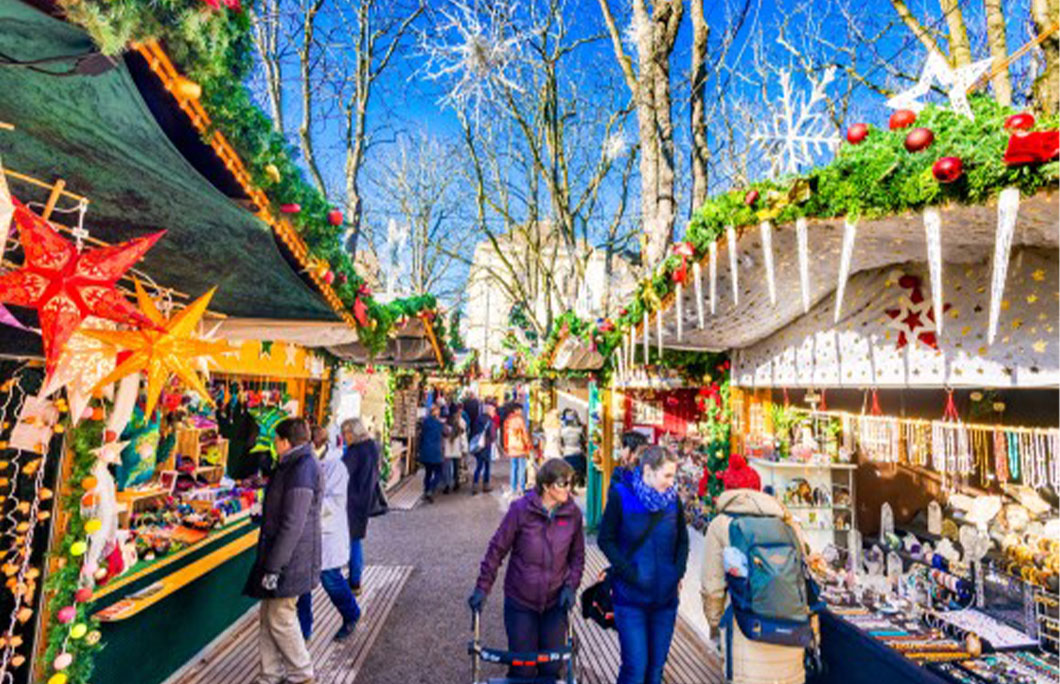 Editorial credit: ecstk22 / Shutterstock.com
---
15. Advent Feast at the Basilica – Budapest, Hungary
Dates: 18 November 2023 – 1 January 2024
Now in its 12th year, the annual Advent Feast at the Basilica has fast become one of Central Europe's most beloved Christmas markets. Over 120 stalls will set up shop outside St Stephen's Basilica this year, selling a mix of Hungarian handcrafted gifts and local delicacies like flodni (stick apple, walnut and poppy seed cake) to the festive soundtrack of brass bands and gospel choirs. But best of all are the extraordinary light shows projected onto the facade of the Basilica every evening, which display festive stories and religious scenes and last for several minutes at a time.
---
14. Glasgow George Square Winterfest – Glasgow, UK
Dates: 25 November 2023 – 4 January 2024
Scotland's second-largest Christmas market is always a rollicking good time, but this year Winterfest is back with a brand new concept and it's set to be even bigger and better. For families, there's a helter-skelter, silent disco, carousel, big wheel and ice-rink, while grown-ups can peruse artisanal Christmas decorations and gifts at the Alpine-inspired chalets and toast in the festive season with winter warming drinks at the Bavarian bar. The all-new Community Hub spotlights local artists, dancers and singers.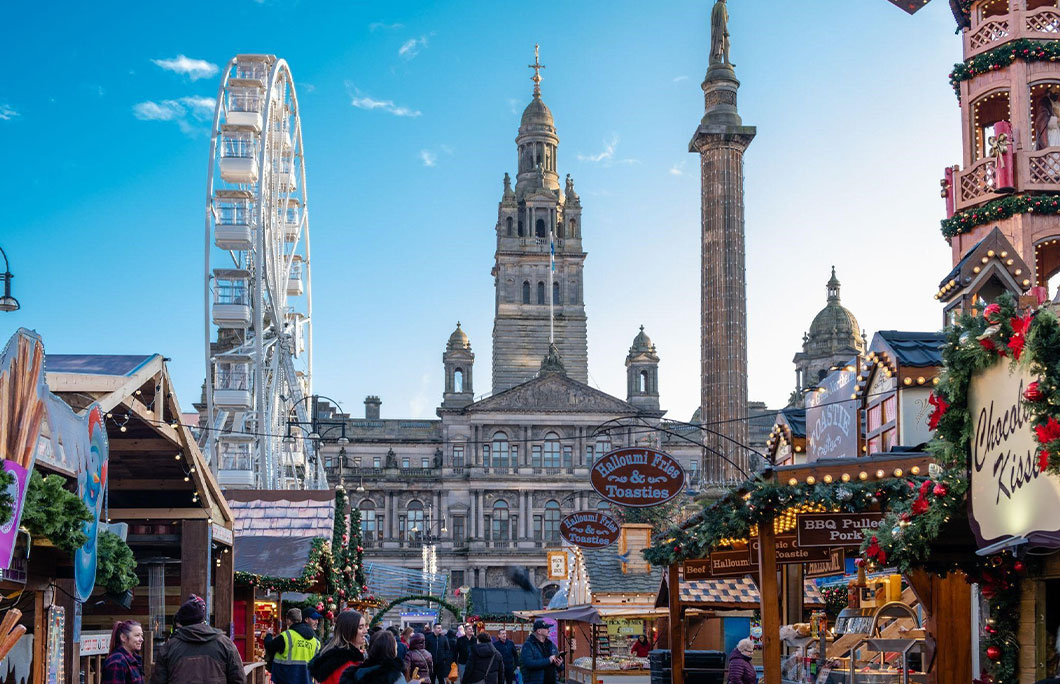 ---
13. Bruges Christmas and Winter Market – Belgium
Dates: 24 November 2023 - 7 January 2024
Bruges has bucketloads of festive charm thanks to its gingerbread houses, glittering canals and horse-drawn carriages, but nowhere more so than in the Markt – the beating heart of the city. Here, you'll find craft and food stalls, pop-up bars and dozens of pretty wooden chalets set around a wintry ice rink. If you have enough puff, clamber up the belfry's 366 steps for views of the city sparkling in the warm glow of fairy lights.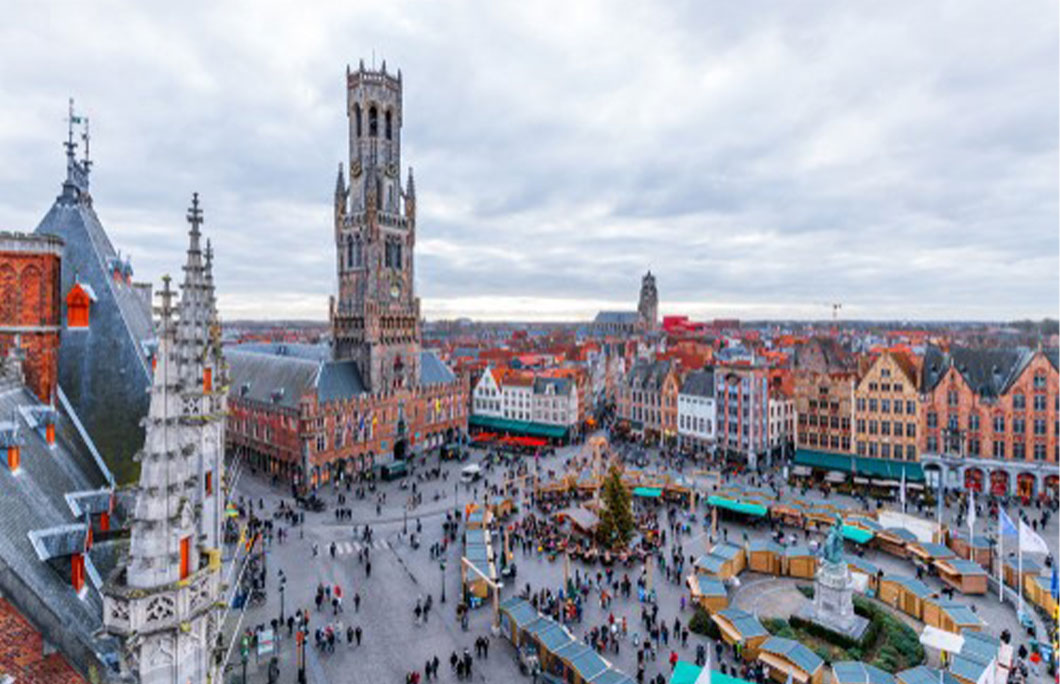 ---
12. Vorosmarty Christmas Market – Budapest, Hungry
Dates: 18 November – 31 December 2023
Come Christmas, Budapest is teeming with tinkling market stalls, but the oldest and most beautiful market is in Vorosmarty Square. Now in its 25th year, the market features more than 100 stalls selling trinkets, sausages and stews, local sweet treats like steaming chimney cakes, cups of mulled wine and shots of palinka (fruit brandy). There's also an exciting programme of events to get involved with, including workshops on the traditional art of making preserves and gift-making.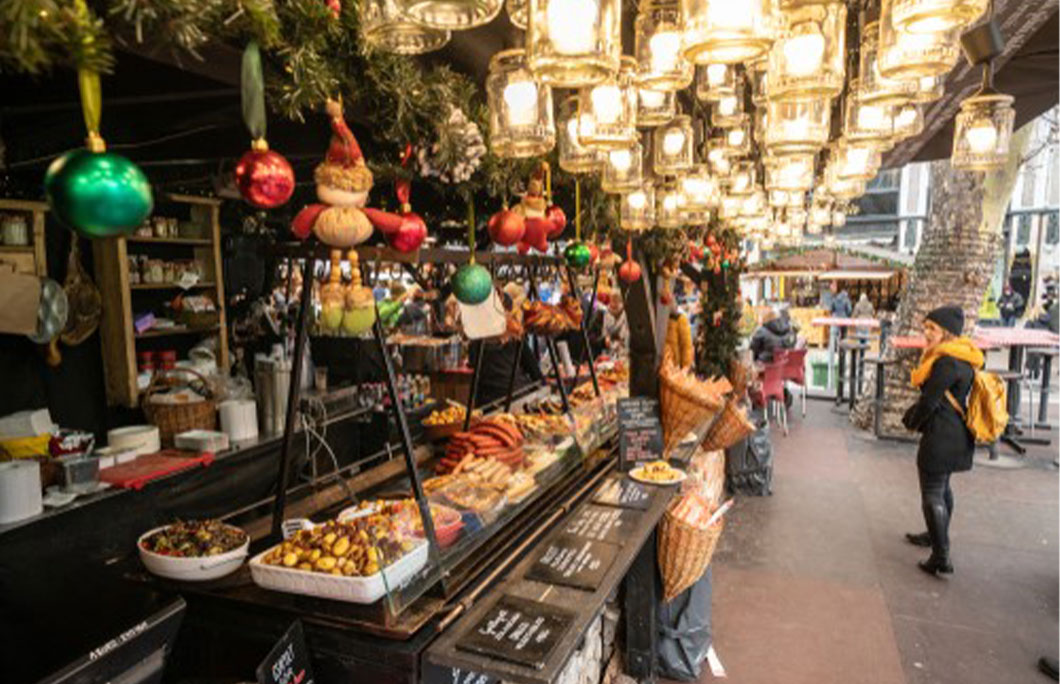 Editorial credit: Calin Stan / Shutterstock.com
---
11. Zagreb Advent – Zagreb, Croatia
Dates: 2 December 2023 - 7 January 2024
There are presents aplenty at Zagreb Adent, a city-wide Christmas experience made up of 25 individual markets that run for six weeks. Each market has a theme, though you'll find quality handicrafts, hearty regional cuisine and plenty of mulled wine throughout. Traditionalists will love the Zrinjevac Park Market, with its pretty wooden huts and festive food and drink, while Fuliranje Market, beloved for its street food, live music and DJ entertainment, is undoubtedly the coolest.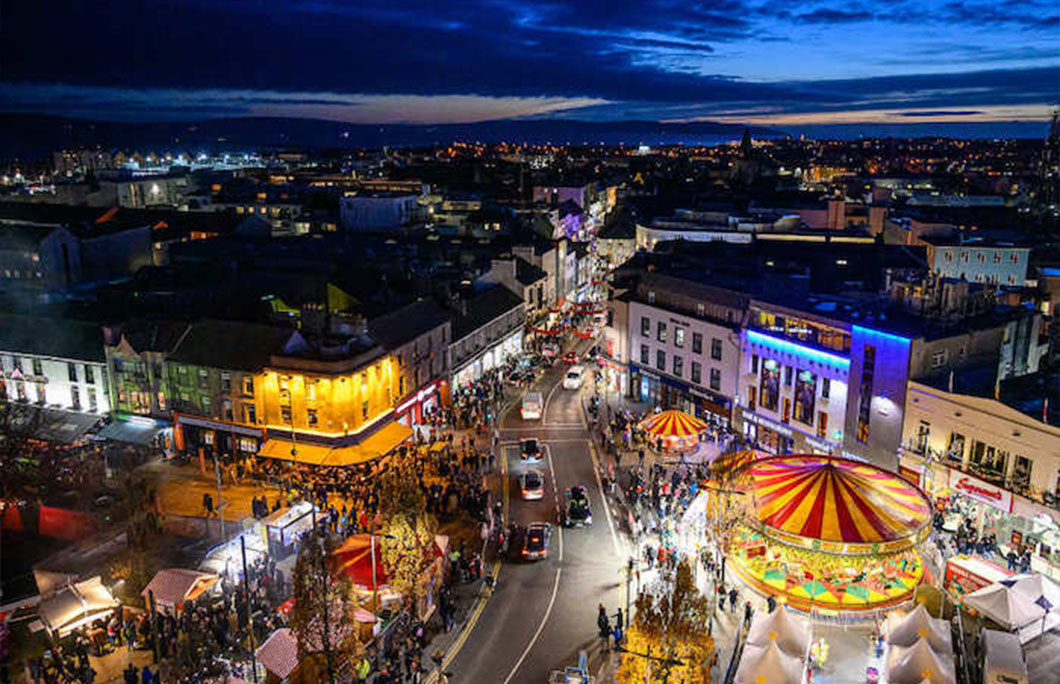 ---
10. Prague Old Town Square Market – Prague, Czech Republic
Dates: 2 December 2023 - 6 January 2024
Postcard-pretty Prague transforms into a whimsical wintery wonderland in December when frosted market stalls spill out of market squares and the smell of cinnamon buns and roasted chestnuts fills the air. The Old Town Square market boasts the most magnificent setting, squeezed between the 14th-century spires of Our Lady Before Tyn and the 15th-century astronomical clock. Beyond the usual trinkets, there are stalls selling sizzling sausages, warm pancakes, flatbreads and svarak (a citrussy take on mulled wine). Little ones will love the nativity scenes, which feature real-life sheep, goats, and donkeys.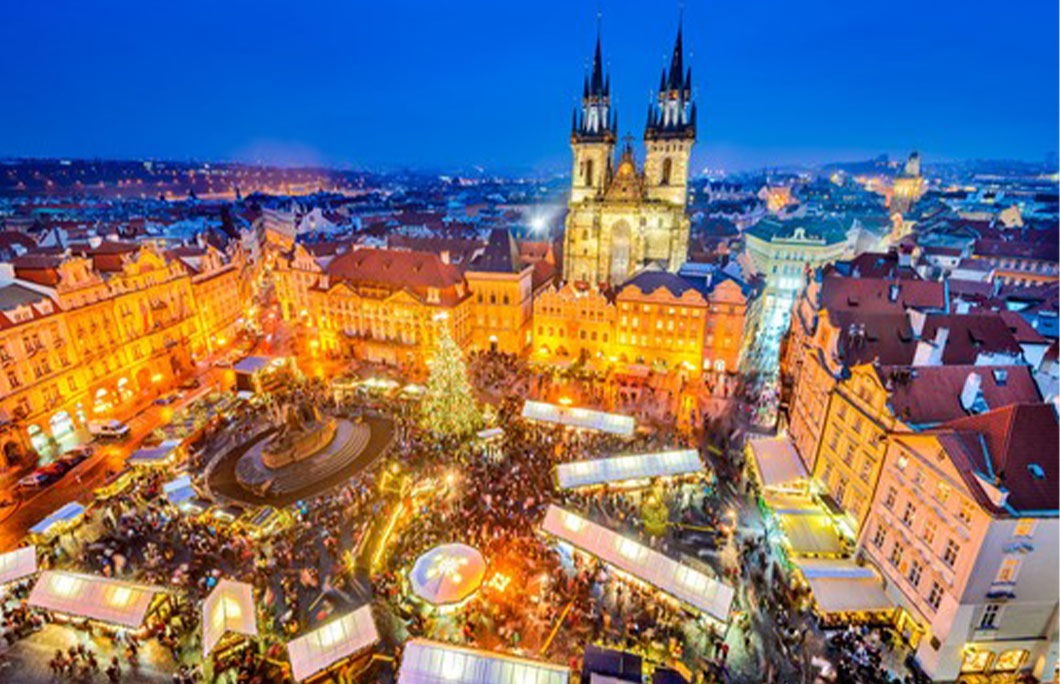 ---
9. Liseberg Christmas Market – Gothenburg, Sweden
Dates: 18 November - 30 December 2023
Liseberg Amusement Park hosts Sweden's largest and classiest Christmas market, with more than a thousand Christmas trees and dozens of stalls selling everything from smoked reindeer and glogg to alpaca yarn hats and handmade steel jewellery. For little ones, there are thrilling rides, a sprawling ice-skating rink (including a half-hour ice show) and a chance to visit Santa at his wooden workshop. For a truly Swedish Christmas experience, try the julbord, a smorgasbord of festive hams, herrings and other cold and hot dishes.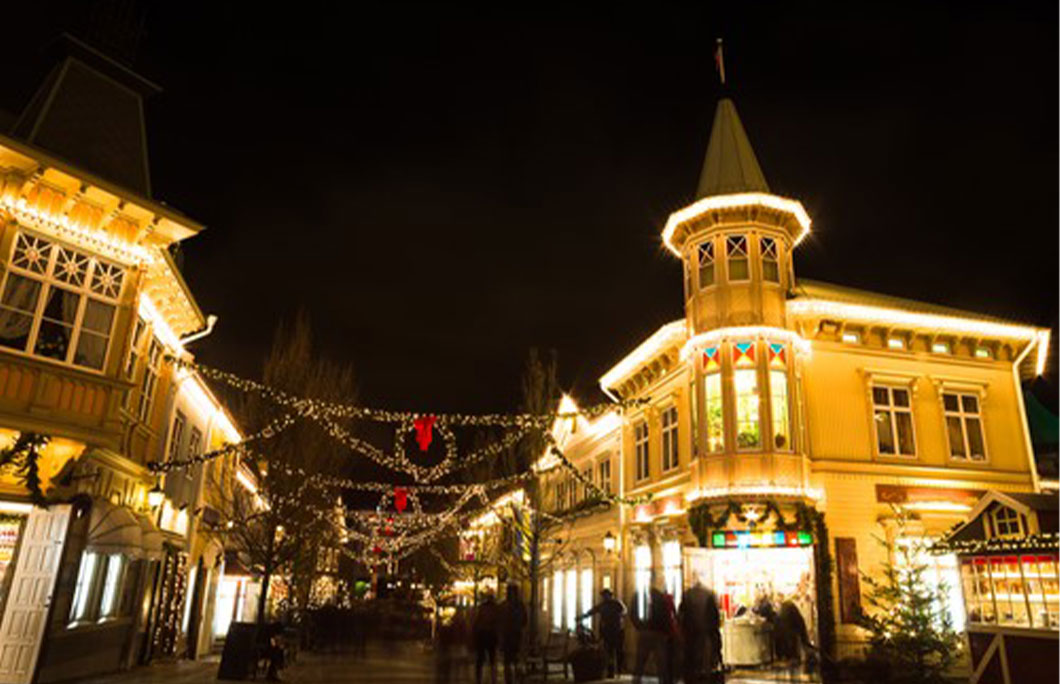 ---
8. Striezelmarket – Dresden, Germany
Dates: 29 November - 27 December 2023
Not only is Striezelmarket one of Europe's oldest Christmas Markets, but it also showcased the world's tallest Christmas pyramid in 1999, which you can still see today. This year's offering will feature all of the usual twirling carousels, festive music and over 200 stalls selling traditional handcrafted goodies and local delicacies. There are presents plenty here (pick yourself up a traditional handcrafted nutcracker as the ultimate memento), but don't leave without sampling a stollen fruit loaf. There's even a festival to celebrate the stodgy snack, with a parade and crowning of the fruit cake princess.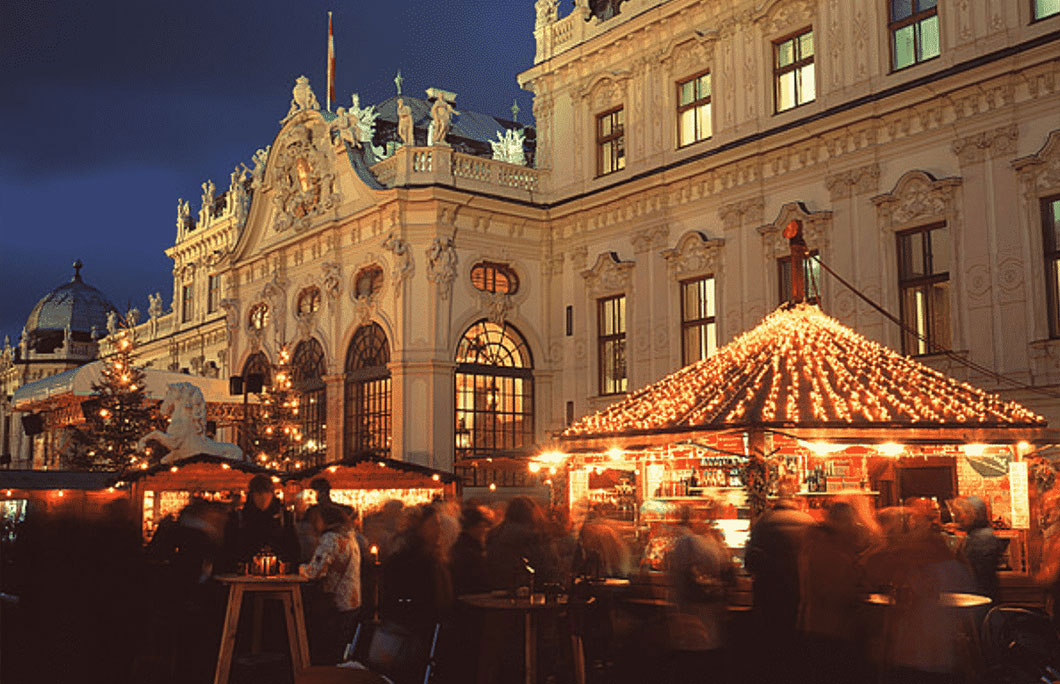 ---
7. Riga Christmas Market – Latvia
Dates: 3 December 2023 - 7 January 2024
Set against the glorious backdrop of the capital's Unesco-listed square, Riga's Christmas market has everything you'd expect of a traditional Christmas market – mulled wine, twinkling lights, Santa's grotto. One thing that stands out, though, is its towering twinkling Christmas tree: a tradition said to have begun over 500 years ago. After taking the obligatory selfie, fill up on bacon and sausages with sauerkraut, gingerbread cookies and steaming karstvins (mulled wine).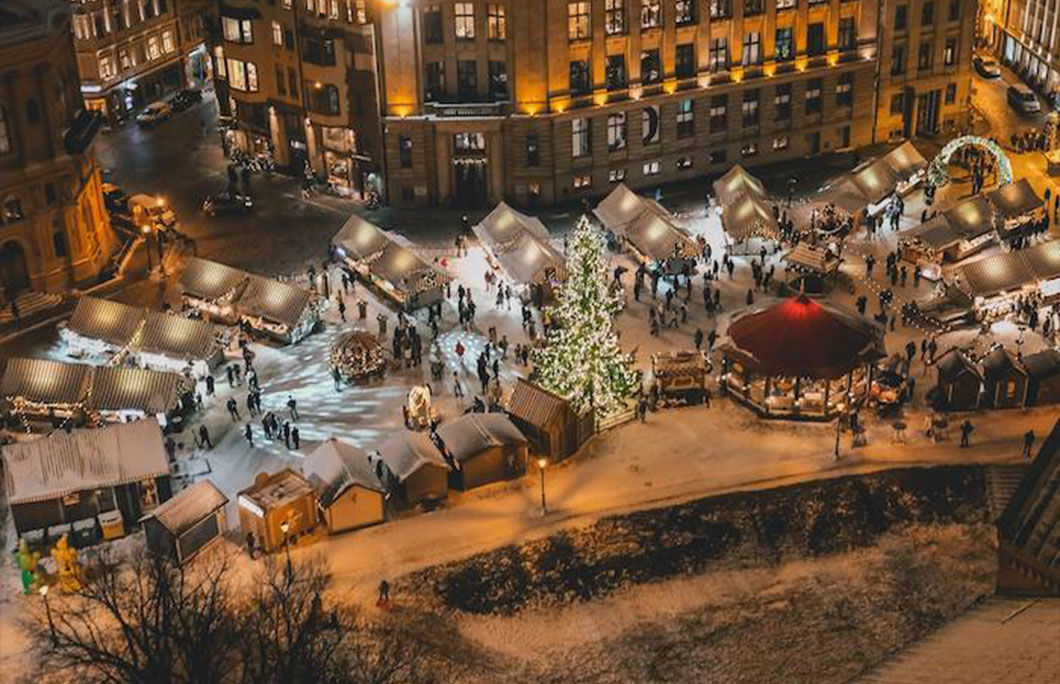 ---
6. Viennese Dream Christkindlmarkt – Vienna, Austria
Dates: 10 November 2023 - 7 January 2024
Vienna's most famous Christmas market, which is aptly named 'Viennese Dream', offers the full cinnamon-scented festive experience, complete with reindeer rides, ice skating and a romantic Ferris wheel. You'll find food stalls selling local treats like vanillekipferl (vanilla cookies), piping hot potatoes laden with cheese and gluwein galore too.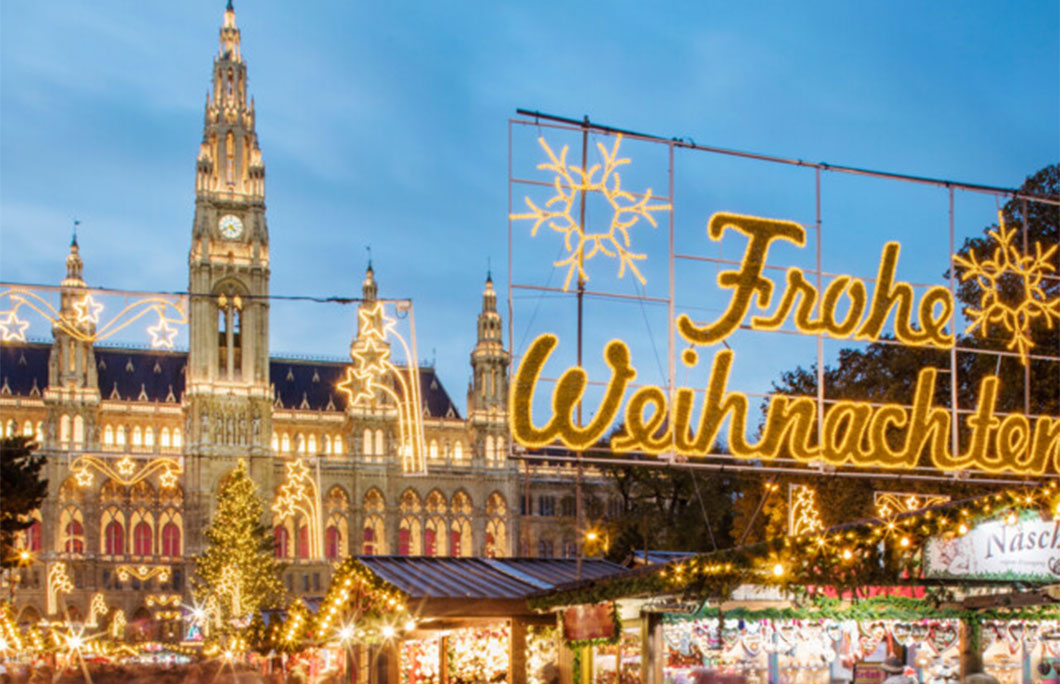 ---
5. Weignachtszauber – Berlin, Germany
Dates: 27 November - 31 December 2023
Weignachtszauber is Berlin's most magnificent Christmas market, and in a city that boasts more than 80 that says a lot. This year, the market will take place in nearby Bebelplatz instead of Gendarmenmarkt, but it's set to be as brilliant as ever. Dozens of traders will set up shop under a canopy of over a thousand twinkling baubles and fairy lights between the State Opera House, Humboldt University and Hotel de Rome. The sprawling white tent will host craft demonstrations, the festive entertainment is top-notch and you can expect to find all manner of sweet and savoury snacks in the heated restaurant area.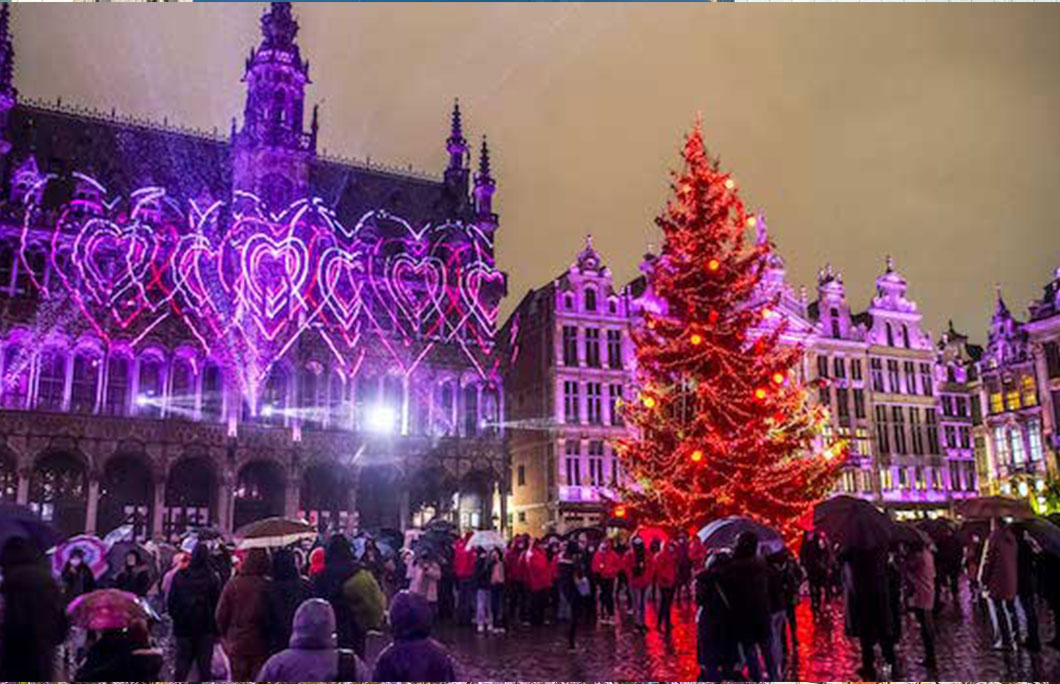 ---
4. Strasbourg Christmas Market – Strasbourg, France
Dates: 24 November - 24 December 2023
Strasbourg's Christmas market has been going strong since 1570, so it's no surprise that it's the self-proclaimed 'Capital of Christmas'. This year, over 300 charming wooden chalets will be laid out across the Cathedral Square and Place Broglie. There are nightly concerts and a twinkling ice rink, but best of all are all those Alsatian delicacies on offer. Tuck into bredele Christmas cookies), fois gras and hot white wine while you peruse the trinkets on offer.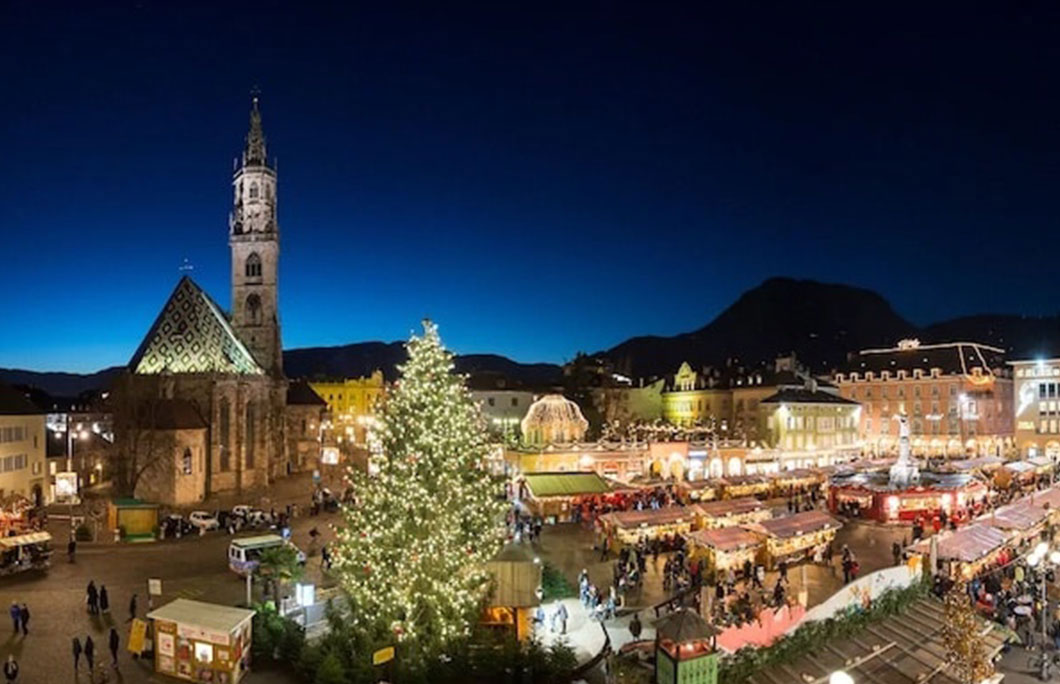 ---
3. Edinburgh Christmas Market – Edinburgh, Scotland
Dates: 17 November 2023 - 6 January 2024
The Scots take festive fun seriously, and the annual East Princes Street Gardens market is a case in point. Expect classic funfair rides including a Santa Train, 70 stalls selling handmade treats and bespoke products, and the Big Wheel – Scotland's largest Ferris wheel. Over on the West Princes Street Gardens, there's "Santa Land" – a Christmas pop-up for children with a Christmas Tree maze and Santa's grotto. The fun doesn't end on the 25th either, since the whole city starts gearing up for Hogmanay (New Year).
---
2. Wroclaw Christmas Market – Wroclaw, Poland
Dates: 24 November 2023 - 7 January 2024
For fairytale charm and festive sparkle, it's hard to beat Wroclaw. Nibble on potato pancakes, bigos (hunter's stew), oscypek (smoked salty cheese) and chocolate gingerbread before whisking the family off to watch fairytales brought to life with magical visuals and soundscapes. If you're in town at the start of the month, don't miss the spectacular annual St. Nicholas Parade, which takes place on 6 December this year.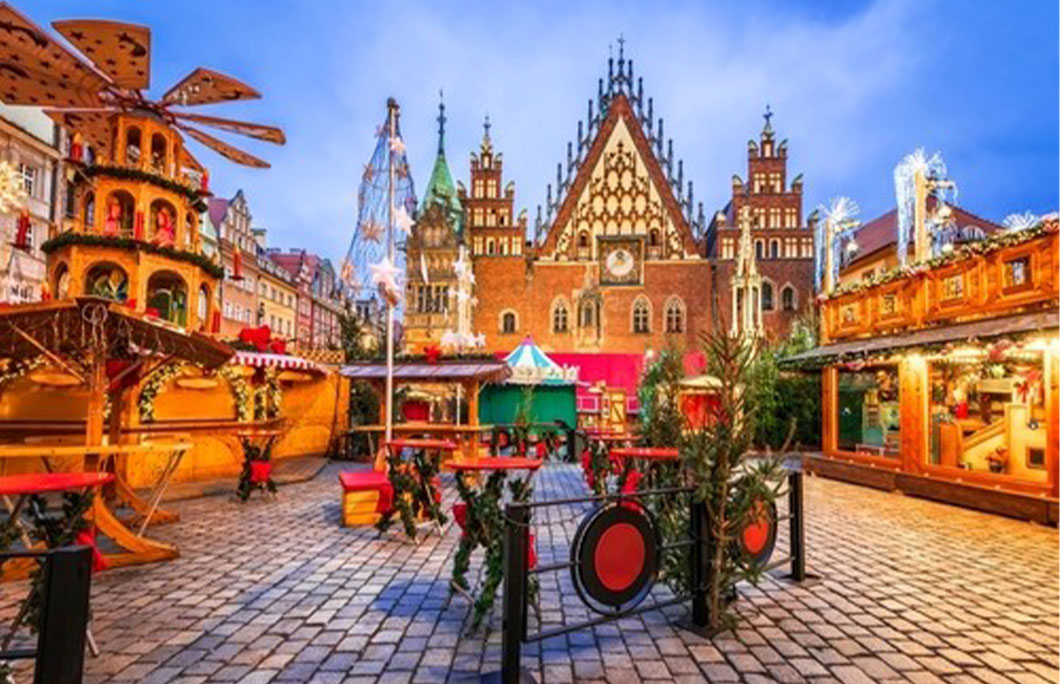 ---
1. Tivoli Gardens Christmas Market – Copenhagen, Denmark
Dates: 19 November - 31 December 2023
For a serious dose of festive smaltz, hotfoot to Copenhagen's historic amusement park. This year, it will be decked out with more than 500,000 twinkling fairy lights, 1,000 Christmas trees and more than 60 pine-covered wooden chalets selling warming drinks and food like aebleskiver (tiny pancake puffs covered in sticky sugar). There's plenty to keep sugar-hyped kids happy too, with rollercoasters, chats with Santa and family-friendly performances in the Glass Hall Theatre and Tivoli Concert Hall.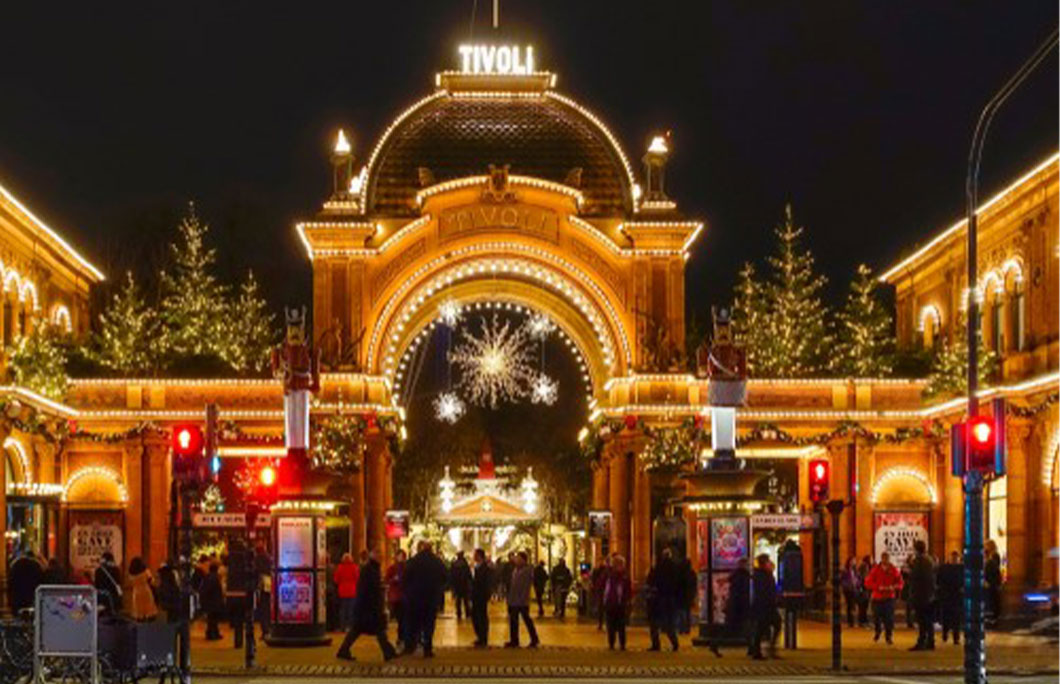 Editorial credit: footageclips / Shutterstock.com
---