The Best Dog Friendly Christmas Markets In The UK
The festive season is well and truly upon us and Christmas is looming, so it is time to plan your first visit to a Christmas market. We know how important dogs are – they are one of the family after all, and you wouldn't want to exclude them from your family's weekend festive break to a Christmas market would you? No, you would have to be barking mad to leave your dog at home while you enjoy Christmas, which is why we have found some of our favourite dog-friendly Christmas markets for you to attend, as well as some dog-friendly hotels too.
Here are the 7 most 'paw-fect' Christmas markets in the UK to bring your dogs.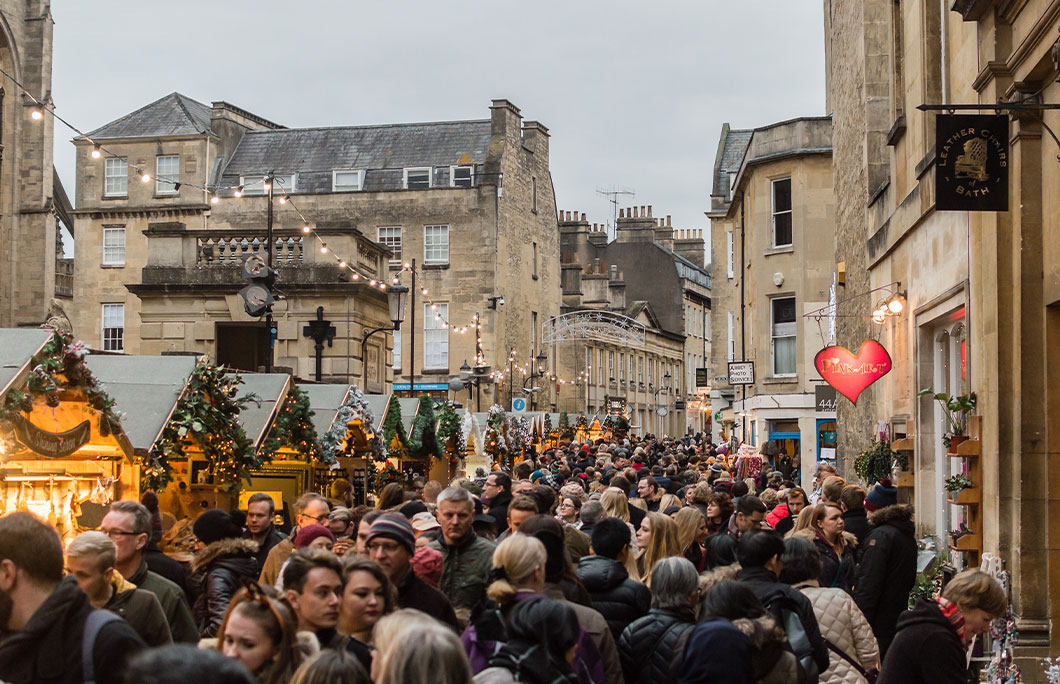 1. Bath Christmas Market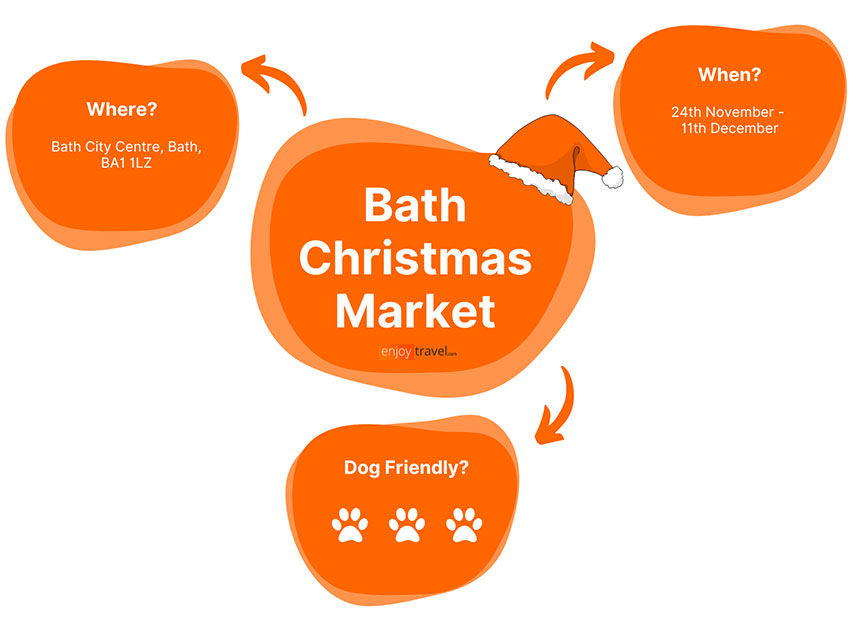 For 25 days from the 24th of November, the streets of Bath are full of Christmas cheer that is ideal for our festive furry friends. The Bath Christmas Market is the perfect place to fully submerge yourself in the sights, sounds and smells of the Christmas period. Lined with over 170 chalets – Bath is the perfect outdoor Christmas market to take your dogs along with you.
Strolling from the Bath Abbey to the famous Roman Baths, you'll be able to witness some of the most wholesome festivities around – all happily accompanied by your dogs who will love all the friendly stall owners and festive smells.
Where can I find the market?
Bath City Centre, Bath, BA1 1LZ
When is it on?
24th November to 11th December
Dog-friendly places to stay nearby
Homewood Hotel & Spa
The Homewood Hotel & Spa were the winner of 'The Best In Show' at the 2021 Pets Pyjamas Travel Awards – and for good reason. The hotel and spa pride themselves on being accessible to everyone, including our furry friends. On-site there are all the facilities your dogs could need, from 20 acres of wide open space to a dog-friendly menu in their bar and lounges. In fact, well-behaved dogs can go almost everywhere within the hotel, and they provide dog bowls and beds for a comfortable stay all around.
Abbey Hotel
The Abbey Hotel is right in the centre of Bath, with a lot of its top attractions within walking distance of the hotel. This dog-friendly hotel is the ideal place to stay when exploring the sites of Bath and beyond. Just a short two-minute walk from the infamous Roman Baths and Bath Abbey, the Abbey Hotel really is in the heart of the city.
Each of the modern bedrooms has a TV and beautiful bathroom amenities, as well as having options for your furry friends too. Although the main restaurant isn't pet-friendly, the ArtBar is open for you to dine with your canine. We love this hotel as an inner-city option for your stay in Bath.
Harington's Hotel
Wanting to dine with your furry pals? The Harington's Hotel is the perfect option for you. This charming dog-friendly hotel is located right in the centre of bath and has three Georgian townhouses nestled on a beautiful cobbled street. Each room has been individually designed – and come with dog blankets, treats and even toys for your pouch to enjoy on their stay. Hundreds of dog-owners all year round come to Harington's to take in the sights and meet other pet-friendly people on their travels. This is a great hotel to rest in after a long day exploring the Bath Christmas Market.
---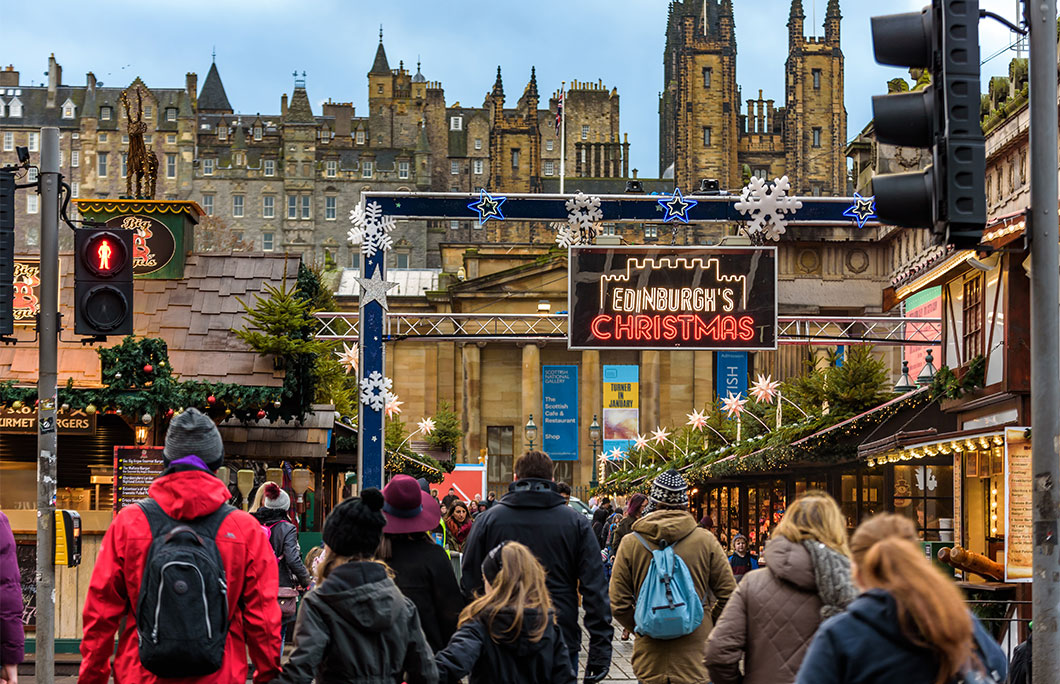 2. Edinburgh Christmas Market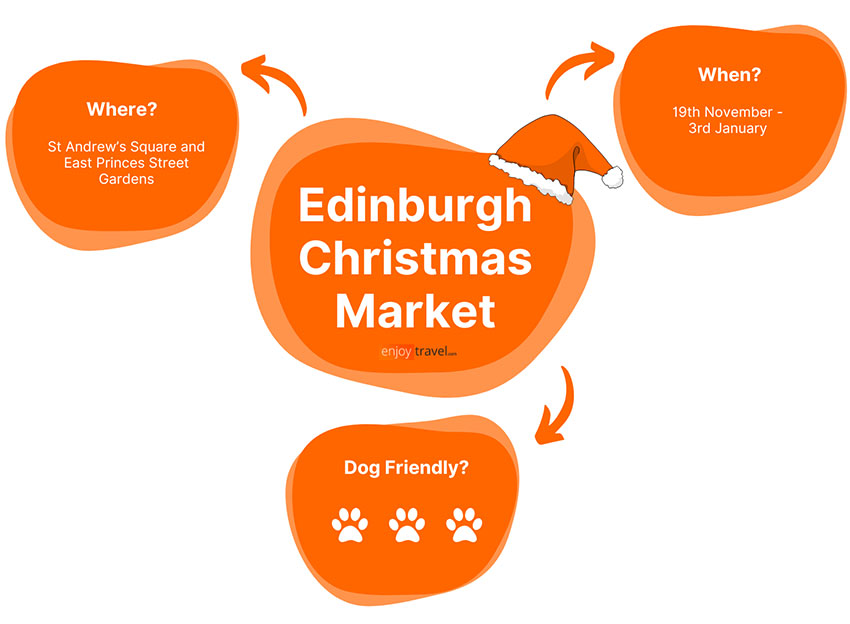 The Edinburgh Christmas Market has everything you could possibly want – in fact, it was ranked top 10 by TimeOut on their list of top 10 Christmas Markets in the UK. From huge Ferris wheels, to live shows all day long – the market is an incredibly festive occasion for all. Every year, Edinburgh set up its incredible ice rink that loops its way around the Melville Monument, and don't worry about slipping over, as there are supports for all ages. Unfortunately, your furry friends can't join you on the ice, but this is the only thing they can't join you on as everything else is super dog friendly and ready to welcome you and your furry friends with open arms. Your dog will be excited by all the smells, lights and friendly faces on their trip to Edinburgh Christmas Market.
Where can I find the market?
St Andrew's Square and East Princes Street Gardens – Edinburgh
When is it on?
19th November to 3rd January
Dog-friendly places to stay nearby
The Black Ivy
The Black Ivy is a beautifully welcoming dog-friendly hotel and restaurant situated only 5 minutes from the city centre of Edinburgh. With 21 bedrooms all uniquely fitted with their own look and charm, you will feel right at home with your fur babies right away. Along with this, The Bruntsfield Links and The Meadows are right next to the hotel, so you and your dog can enjoy a stroll in these beautiful locations before heading to the market. Want to know something even better? There are plenty of lit fireplaces in the hotel, so you will be able to enjoy a hot drink by the fire after a day of festivities.
B+B Edinburgh
In the West End District of Edinburgh, you will find the pet-friendly, 4-star boutique B&B called B+B Edinburgh. B+B Edinburgh is a beautifully unique accommodation, with everything you could possibly want right on your doorstep – from castles to parks. Just 15 minutes away from the Market, you can get yourself to the festivities in under 10 minutes by tram (and yes, the trams are dog friendly too!) We love how personal and diverse this little B&B is, and it is ideal for your furry friends looking for some time to unwind after a busy day at the Christmas Market.
Melville Castle Hotel
If you're looking for a modern, stylish and newly-renovated hotel – then the Melville Castle Hotel is the perfect pet-friendly option for you. This newly renovated castle has the perfect mix of traditional Scottish interiors, with a modern twist. It is situated on 54 acres of grounds and has plenty of space for your pup to explore and stretch their legs. The hotel is only a short drive to the city centre, so you can easily get to and from the Christmas market as and when you wish.
---
3. Winter Wonderland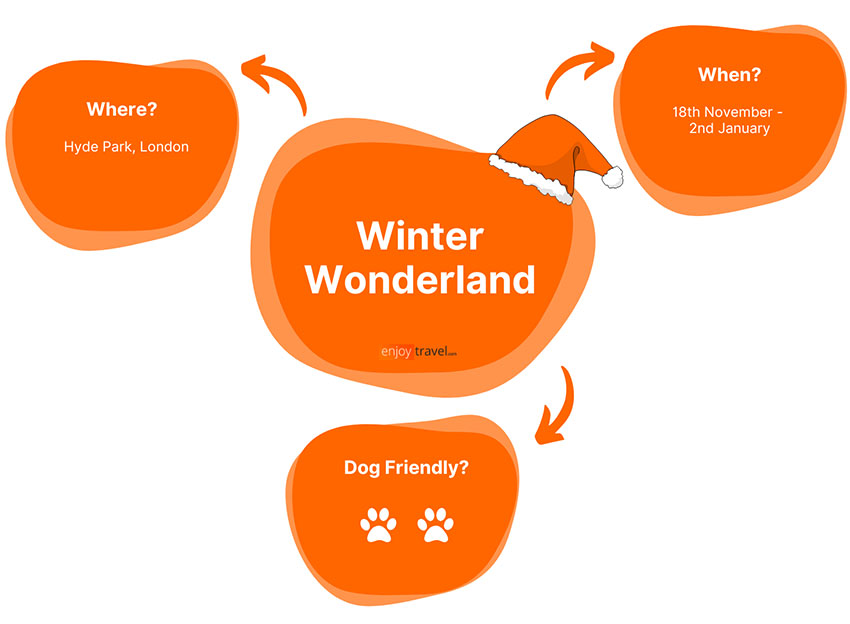 Everyone and we mean everyone, has heard of Winter Wonderland at Hyde Park. It is by far one of the most exciting and unique Christmas Markets of all time. This six-week-long event in the nation's capital city has some of the most incredible Christmas attractions ever seen. From ice skating in the UK's biggest ice rink to roller coasters and much more – you'll be sure to be entertained for hours at this breathtaking Christmas extravaganza.
Being one of the largest Christmas markets in London, it has over 200 wooden stalls with handmade gifts and foods, and there is plenty for your dog to enjoy too – with handmade dog treats and warm winter coats they will love it. That being said, it can get quite busy. If your dog is nervous in crowds, perhaps try and come during the day, as the market is typically most popular in the evenings.
Where can I find the market?
Hyde Park, London
When is it on?
18th November to 2nd January
Dog-friendly places to stay nearby
The Rubens at the Palace
Right in the centre of London, you will find The Rubens at the Palace. This gorgeous 4-star hotel has so much class, wonder and taste, you and your furry friend will never want to leave. Being just minutes away from Buckingham Palace, you will be situated right in the middle of it all – and Winter Wonderland is only a short drive or train ride away!
Nhow London
Looking for a cool, sleek and stylish place for you and your pouch to stay while in London? Look no further. Nhow is a new up-and-coming hotel that was designed with London in mind – and it really has wowed us. The 190 rooms are all decorated wonderfully, with almost all of them having a view of the hotel's courtyard. Despite being in the city centre, the area is surrounded by pet-friendly cafes and open spaces which are perfect for that all important morning walk. The hotel is just over 20 minutes by train to Hyde Park.
South Place Hotel
South Place Hotel in East London is the ideal dog-friendly hotel. With chic interiors and hipster vibes, you'll feel as though you've hit the jackpot with your room here. Each room has been secured, so all of the rooms are safe to let your pets stay indoors if you have to pop out on your own for whatever reason – and from king-sized dog beds to toys and food on demand, your pup will never be bored here. In fact, you might have more of a struggle getting them out of the hotel in the first place!
---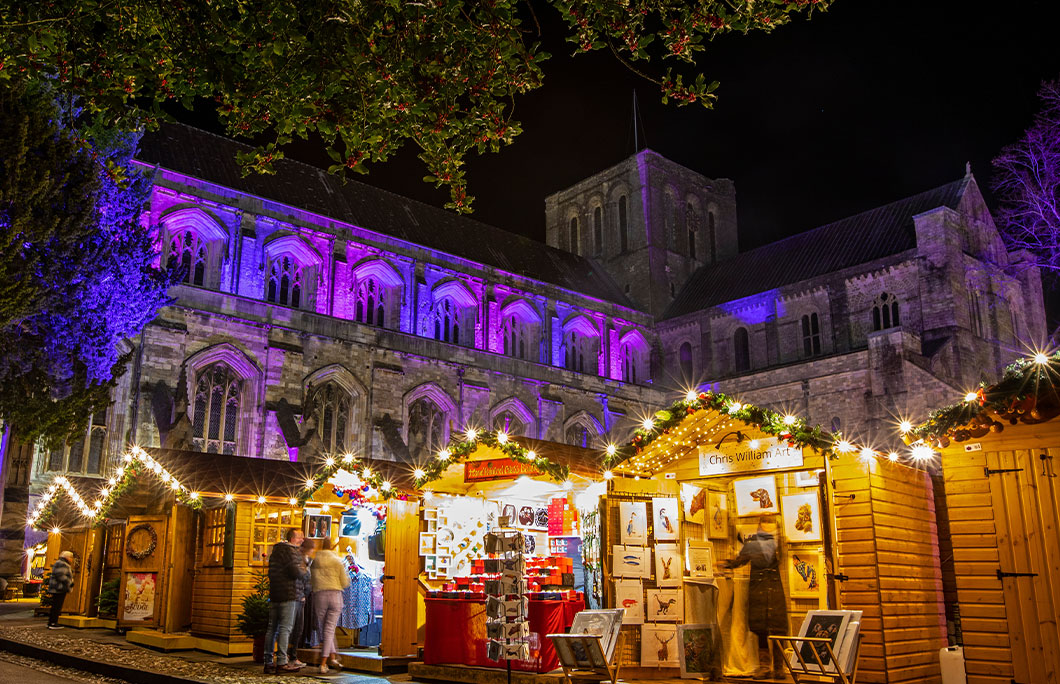 4. Winchester Christmas Market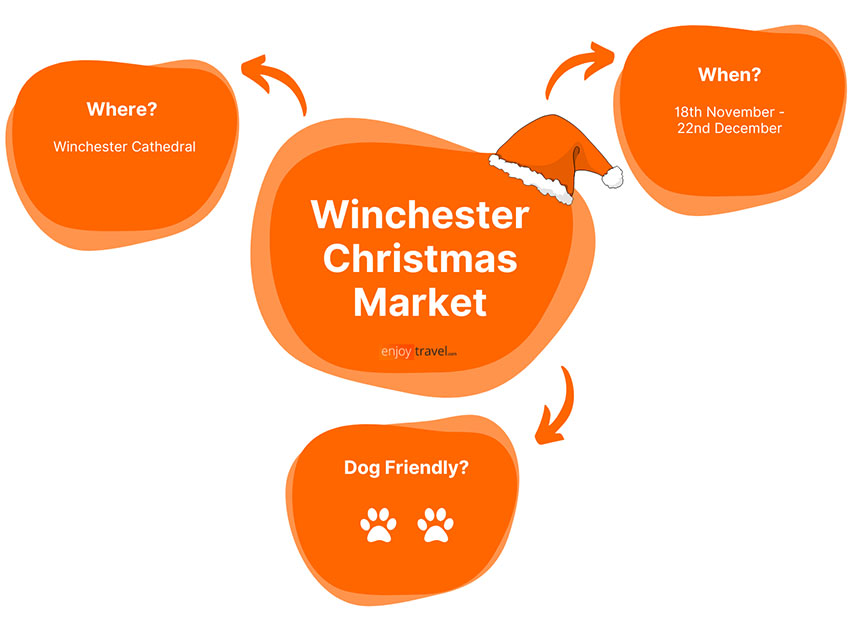 Winchester is one of the most festive places in the whole of the UK, which means it is the perfect place for a Christmas market. The gorgeous Winchester Cathedral is considered to hold one of the best markets in all of Europe – and that is saying something because Europeans know how to do Christmas markets! Winchester Christmas Market attracts over 400,000 visitors every year and has to return Christmas fanatics too. The city really knows how to do Christmas, and your furry friends will love all the smells (and tastes – as there is almost always a homemade treat stall for your companions!) and they will have a great time interacting with everyone around them at this spectacular Christmas market.
Where can I find the market?
Winchester Cathedral
When is it on?
18th November to 22nd December
Dog-friendly places to stay nearby
Lainston House
Situated on 63 acres of the Hampshire countryside you will find a 5-star hotel called Lainston House. This luxury hotel offers exceptional customer service and dedicates itself to creating the perfect atmosphere for you and your furry friends. This hotel is super close to everything you might need, while also being away from the hustle and bustle of the city. It is close to the River Test and other parks – so you and your dog will always have somewhere to walk.
The King's Head
If you're looking for a picture-perfect stay somewhere just outside of Winchester, then the King's Head is a great option for you. Nestled in the village of Hursley, this Georgian Inn is just 15 minutes from the Christmas market by car and is right by the New Forest – which we are sure your dog will absolutely adore. This is by far one of our favourite dog-friendly hotels available.
New Park Manor
Although a little further out, the dog-friendly New Park Manor in Hampshire is a beautiful spa hotel in the heart of the New Forest. This tranquil manor is the perfect place to escape with your dogs, as there is so much for them to explore both on and off-site. For endless dog walks and relaxing spa days, this hotel is the perfect place to unwind after a long day at the Winchester Christmas Market.
---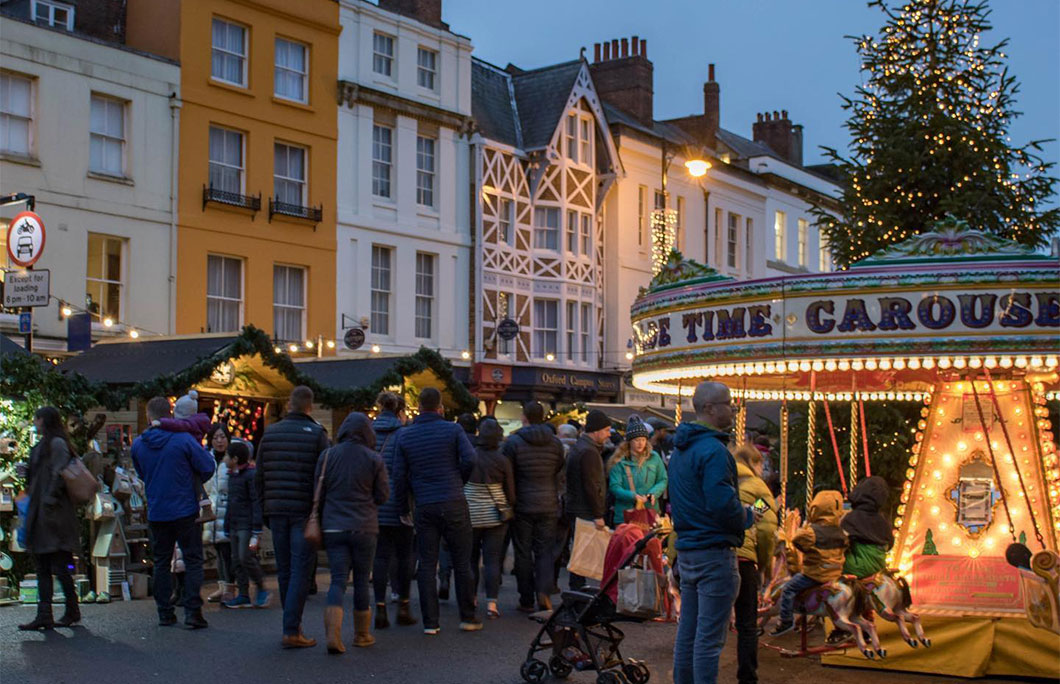 5. Oxford Christmas Market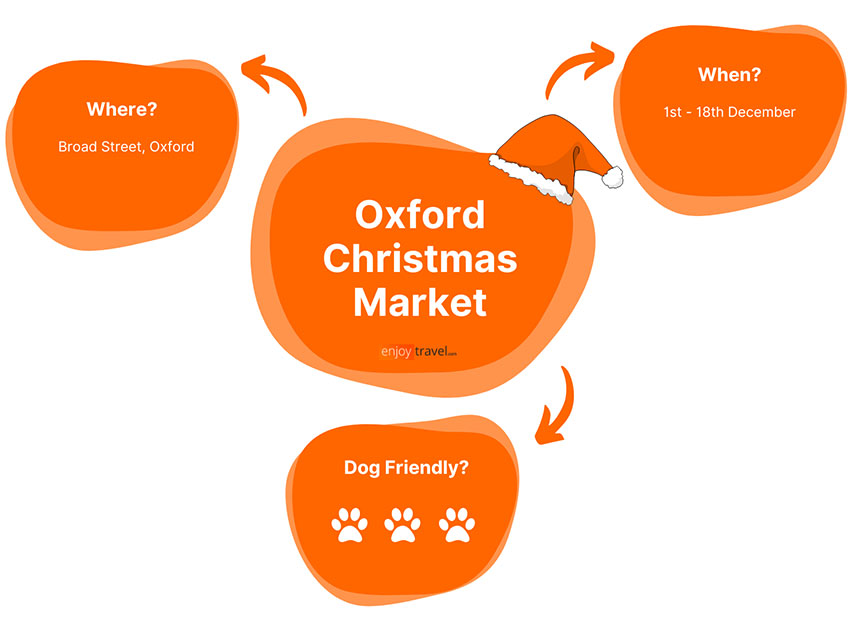 Oxford is one of the most picturesque places in the whole of the UK all year round, so it is no wonder that the Oxford Christmas Market is one of the best dog-friendly Christmas markets. With beautiful architecture and endless things to do and see, Oxford is the perfect place to get into the festive spirit – and the market looks like something out of a fairy tale. Your dog will love the endless smells and attention they get from pottering around this market.
Where can I find the market?
Broad Street, Oxford
When is it on?
1st to 18th December
Dog-friendly places to stay nearby
The Randolph Hotel
The Randolph Hotel (not to be confused with the 'Rudolf' hotel) is a famous hotel in the heart of Oxford. This hotel takes inspiration from the University of Oxford's rich history, and is just minutes from the university itself. The stained glass windows, incredible staircase and general architecture look like something out of a picture book – and it is all dog friendly!
Belmond Le Manoir aux Quat'Saisons
The Belmond Le Manoir aux Quat'Saisonsv is a grand house situated in Great Milton is a dog-friendly hotel that is perfect for both you and your furry companions. They pride themselves on exceptional service and are very proud to have their very own Michelin-star restaurant on-site. Surrounded by magnificent countryside, your dogs will love the endless opportunities for walks and is only a 25-minute drive from the centre, you'll love how accessible this hotel is to the Christmas market.
The Trout at Tadpole Bridge
Surrounded by the gorgeous landscape of the Cotswolds is a wonderful riverside inn called the Trout at Tadpole Bridge. This inn allows you to truly experience some of the best of the British countryside, while also only being a short 25-minute drive to Oxford city centre. It is the ideal location for you and your pouch to get away from the city, but also enjoy the markets in your own time to soak up the festivities.
---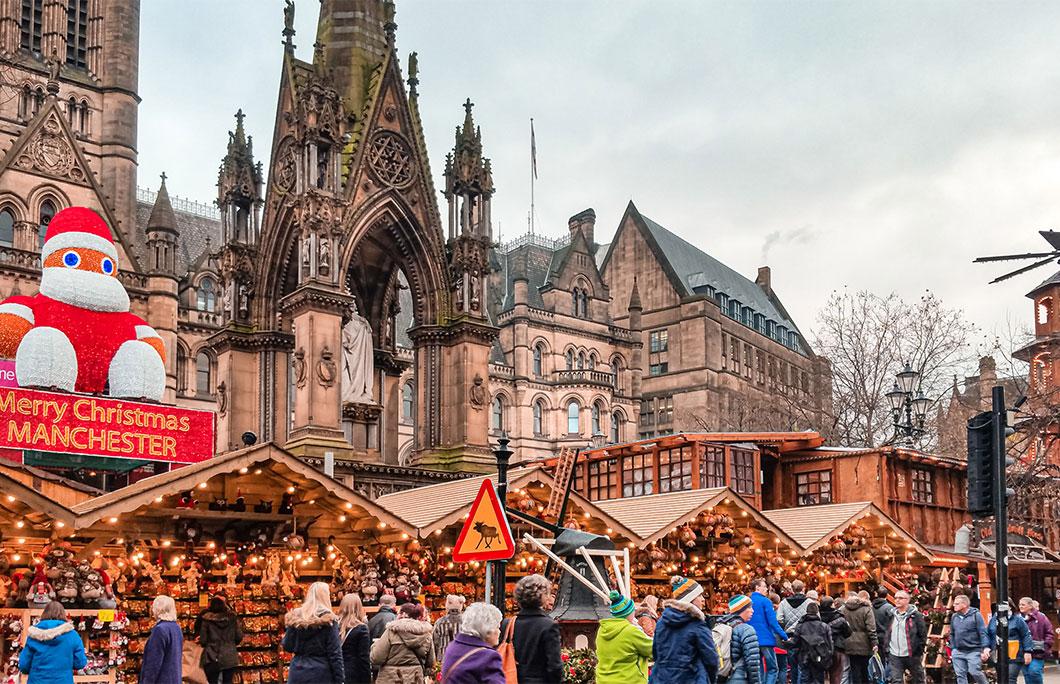 6. Manchester Christmas Market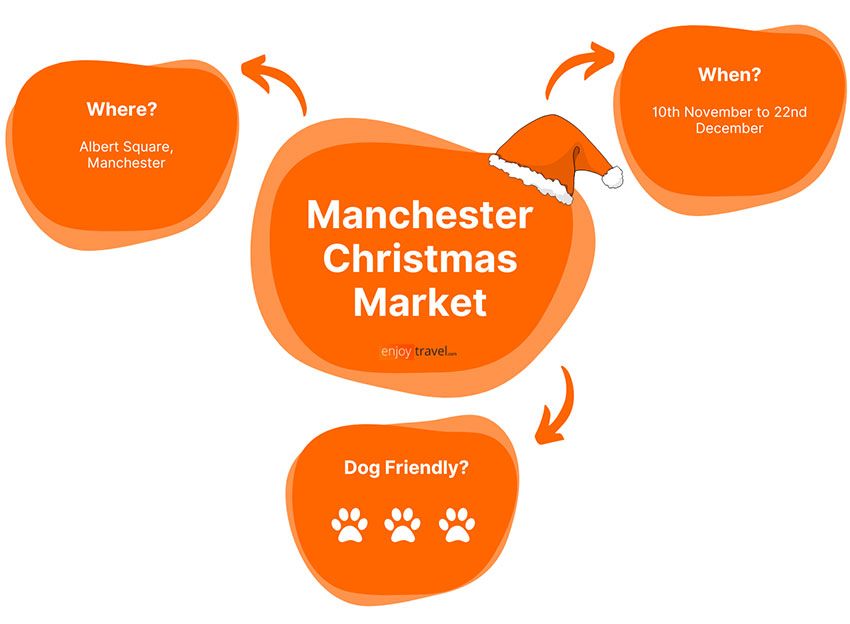 We love Manchester Christmas Market, as it stretches all across the city and everyone gets involved. The city is alight with beautiful stalls, excellent street food and there are endless homemade gift stalls available for your Christmas shopping. Manchester Christmas Market is one of the best in England – but be warned, everyone loves dogs here. If your dog isn't a fan of attention, we recommend possibly heading elsewhere on your Christmas market hunt, as they are sure to get a lot of fuss in Manchester. Just make sure if you are visiting the city to check which areas your dogs are allowed to visit, as some places are restricted for pets.
Where can I find the market?
Albert Square, Manchester
When is it on?
10th November to 22nd December
Dog-friendly places to stay nearby
There are a number of dog-friendly places to stay in Manchester, but Pets Pyjamas have collected together some of their favourites – including little independent cottages too. You can see their best dog-friendly hotels in Manchester here.
---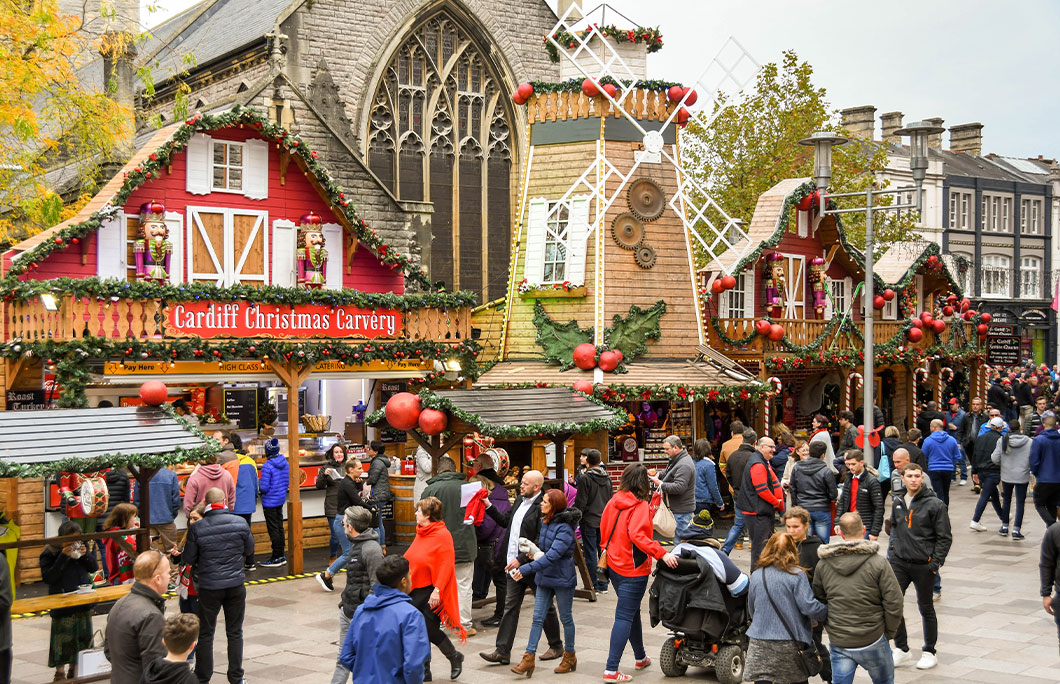 7. Cardiff Christmas Market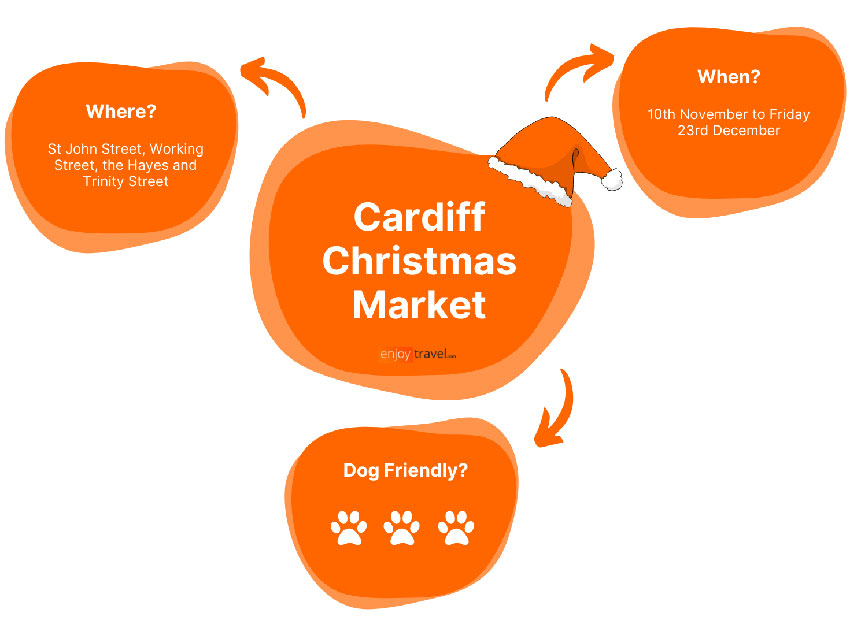 The streets of Cardiff come alive at Christmas and you and your pouch will be able to discover endless things to do at the Cardiff Christmas Market. From beautiful wooden chalets with gorgeous foods and hand-crafted gifts perfect for your secret Santa – you'll fall in love with the Welsh capital at Christmas time. We also love that this Christmas market isn't far from the city's Winter Wonderland and festively-lit walks around Bute Park – perfect for your furry friends.
Where can I find the market?
St John Street, Working Street, the Hayes and Trinity Street
When is it on?
10th November to Friday 23rd December
Dog-friendly places to stay nearby
New House Country Hotel
The New House Country Hotel towers over Cardiff and is the perfect retreat for you and your dogs. Located slightly outside of the bustling city centre, this hotel is close enough for you to enjoy the calm of the country, while also having easy access to the Christmas market in the centre. The staff at the New House Country Hotel absolutely love their furry guests, and your dog is sure to be spilt rotten if you stay here for your Christmassy retreat.
The Cardiff North Hotel
Another dog-friendly hotel that deserves a round of paws is the Cardiff North Hotel. This newly refurbished is the perfect place for you and your dog to set up a home while you visit the Cardiff Christmas market. There are numerous rooms for you and your four-legged pals to choose from, and each will give you a beautiful view. The hotel is also surrounded by beautiful local attractions, including the Brecon Beacons, Cardiff Bay and the infamous Cardiff Castle.
Hilton Cardiff
One of the most famous chain hotels that allow dogs are the Hilton Hotel, and the Hilton Cardiff is a wonderful option for you and your furry friends this Christmas. Close to the city centre and all of the local attractions, the Hilton is ideal for those looking to bring their dogs with them, while also looking for a little bit of luxury. We love how dedicated the staff are to each and every guest – and whether you're a person or a furry-friendly-companion they will treat you with the absolute best customer service.
There you have it, some of the best Christmas markets in the UK for dogs. We wish you and your furry friends a magnificent Christmas – make sure to tag us in your festive photos at @big7travel on Twitter for a chance for your canines to be shared for everyone to see!
---