Top 10 road trips from Milan
Lake Como
St Moritz, Switzerland
Verona
Lake Maggiore & the Borromean Islands
Bergamo
Venice
Varese
Lake Garda
Pavia
Genoa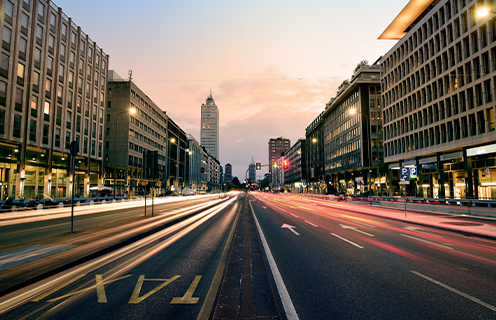 10 best scenic road trips in Milan
So you're heading for Milan? We're jealous ‐ for many, this fast, future-facing city is the fashion capital of the world, and thanks to legendary Clubs AC and Inter, it's no slouch when it comes to the beautiful game either! This home of the beautiful people has been ruled by the Romans, Napoleon and Austro-Hungarians over the generations and become an industrial and cultural powerhouse following Italian unification in 1861. Its haute couture scene is complemented by opera at the legendary La Scala, a buzzing contemporary music scene, and classic and contemporary architecture. The capital of Lombardy is also a great launchpad for road trips in the region and beyond, so there's lots of magical terrain for motorists.
If you're into designer labels, Milan's list of luminaries reads like a fashion who's who ‐ including Giorgio Armani, Dolce & Gabbana, Marta Ferri, Missoni, Moschino, Prada, Versace and more. Further, the biggest designer houses transcend clothing and have extended into hip bars, spas and hotels. Piazzo del Duomo is where the action is ‐ it's not only home to the city's stunning duomo but also connects to Piazza della Scala and the aforementioned opera house, and the shopping district of Via Dante a little further north. The Moscova and Brera neighbourhoods are amongst the city's most salubrious and if you head south to Navigli you'll find a fab selection of restaurants and bars close to the canals. While Milan can't compete with Rome or Florence in terms of artistic treasures, it still has its fair share of masterpieces, including Leonardo Da Vinci's The Last Supper (kept in the refectory of the Sant Maria delle Grazie church).
It turns out Milan made history long before it built its reputation as a couture hub. It was from here in 313AD that Emperor Constantine granted religious rights to Christians empire-wide through the Edict of Milan, and quickly became a major centre for the religion under Bishop Ambrogio. After falling to France in 1499, it was controlled by foreign powers for the next 400 years, hosted the rise and fall of Mussolini, and enjoyed post-war booms during the 1950s and 1980s. A well-connected road network means Lombardy's varied landscapes are within easy reach, as are other major Italian cities and even picturesque portions of Switzerland. Hire a car in Milan fromEnjoy Travel and see the best of its eclectic surroundings.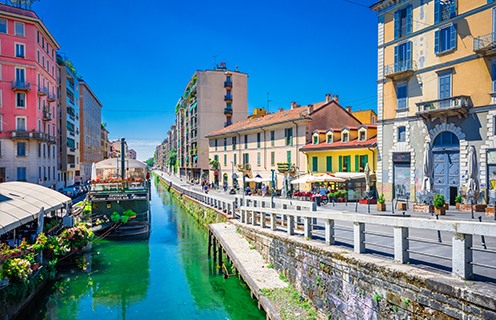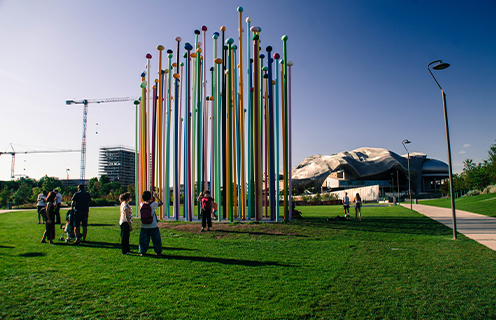 Top tips on driving in Milan
We'll get into your Milan road trips in a moment but let's take a short break for some driving tips first.
Always drive on the right in Milan and elsewhere in Italy and avoid driving in Milan city centre unless it's absolutely necessary. Access is restricted by the Area C congestion charge Monday-Friday at various times, and you have to buy a ticket in advance to gain entry.
Drive defensively, because local drivers frequently disregard traffic signs and speed limits if they're in a rush, although Italy's autostrada network makes road trips from Milan a little less hectic ‐ the A1 links the city to Rome and Florence, while the A4 connects you to Venice and Verona.
Parking in Milan city centre is limited and jaw-droppingly expensive if you're a non-resident, but you'll find metered kerbside parking a little further out and it's reasonable of you're prepared to hot foot it into the city.
Now we've got your driving advice covered, let's crack on with those scenic Milan road trips!
Lake Como
One of the world's most glamorous lakeside regions, Como is home to celebs like George and Amal Clooney, as well as gorgeous gardens, elegant villas, the fabulous frescoes of the 11th century Basilica of Sant'Abbondio and scenic views from the top of the Brunate funicular. The Roman Gate is a commanding reminder of the town's imperial past and it's also a superb place to shop for silk scarves and clothing.
Getting there: Lake Como is two hours from Milan, via SS 36 del Lago di Como e dello Spluga.
St Moritz, Switzerland
Fancy a trip from Milan over the border to Switzerland? St Moritz is a manageable day trip, although you might want to arrange an overnight stay to make the most of it. You'll ascend through some awesome Alpine scenery to get there, and your reward is a laid-back, luxury resort town which is world-famous for winter sports. If the slopes aren't your thing, there's a lovely lake surrounded by forest trails, and high-class hotels, cafes and restaurants aplenty.
Getting there: St Moritz is 3 hours from Milan via SS 36 del Lago di Como e dello Spluga.
Verona
Best-known to many visitors as the setting for Shakespeare's Romeo & Juliet, fans of the Bard visiting Verona can visit the 13th century Juliet's House (complete with romantic balcony and Capulet crest, and Romeo's House nearby (although the Montague mansion isn't open to the public). But this popular Milan day trip destination also offers a huge 1st century amphitheatre and plenty of fab food and art to discover in its romantic piazzas and lanes.
Getting there: Verona is two hours 10 minutes from Milan via the A4.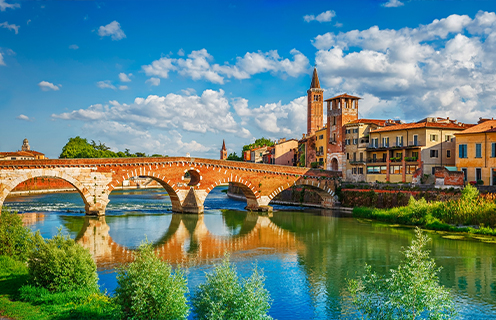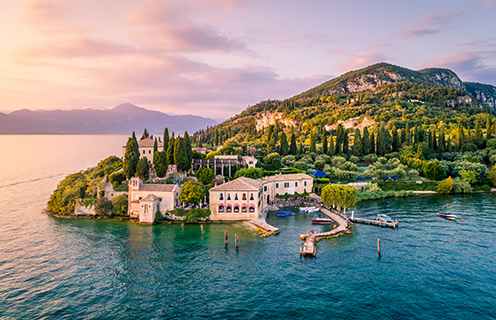 Lake Maggiore & the Borromean Islands
Located north of Milan, Lake Maggiore boasts three inspirational islands near the pretty town of Stresa, complete with palaces and gardens packed with manicured lawns, gorgeous flowerbeds, cedar trees and citrus groves. Isola Bella, Isola Madre and Isola dei Pescatori also have charming cafes and restaurants, and you can easily hop between them all via the local ferry.
Getting there: Lake Maggiore is one hour 40 minutes from Milan via the A8.
Bergamo
With its terracotta rooftops tumbling down the hillside and expansive 4km old town walls, Bergamo is certainly easy on the eye and offers an attractive Milan day trip. Ride the funicular up to the highest point and enjoy a bird's eye view of iconic buildings like the Colleoni Chapel and St Maria Maggiore, as well as many other architectural marvels that blend Baroque, Gothic and Renaissance influences.
Getting there: Bergamo is one hour northeast of Milan via the A4/E64.
Venice
A manageable trip from Milan that would be a sin to miss, Venice offers a unique atmosphere and endless romance. Highlights include the delightful domes of St Mark's Basilica, Palazzo Ducale and Bridge of Sighs and naturally, the Grand Canal where you can enjoy being punted through this awesome aquatic city on a romantic gondola.
Getting there: Venice is three hours from Milan via the A4.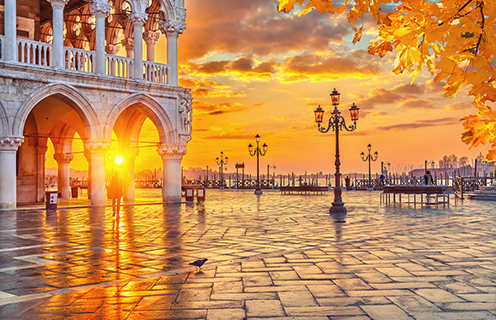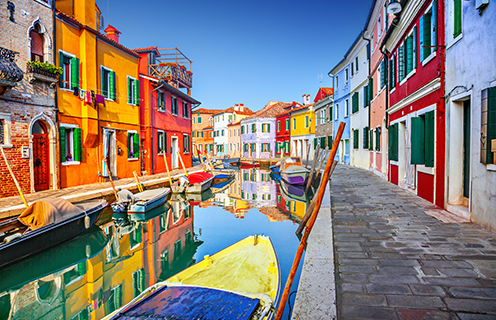 Varese
A UNESCO World Heritage Site, Varese nestles at the foot of Mount Campo dei Fiori and is famous for the complex of 17th century chapels and frescoes named Sacro Monte di Varese. The elegant Palazzo Estense villa with its formal gardens is another attraction and sublime Art Nouveau villas pepper its hillside. If you love religious art and beautiful surroundings, Varese ticks every box.
Getting there: Varese is one hour northwards of Milan via the A8.
Lake Garda
Set in the middle of Northern Italy, Lake Garda is backed by beautiful snowy mountains and fringed by olive groves and lemon trees ‐ rather spectacular all in all! Pretty towns surround it like a string of pearls, like Tremosine (a scattered town comprising a series of hamlets), and north shore sailing spots Riva del Garda and Nago-Torbole. Apart from boat trips, you can also try culinary tours, scenic hikes and more.
Getting there: Lake Garda is two hours 7 minutes from Milan via the A4.
Pavia
History buffs love a trip to Pavia, the former Roman imperial capital which also boasts stunning Renaissance buildings and medieval towers. The superb 14th century Castello Visconti houses art and history museums, the Romanesque Church of San Michele was the crowning site of emperors like Charlemagne and the Certosa di Pavia monastery 8km north of the town is one of Italy's most exquisite, ornate Renaissance buildings.
Getting there: Pavia is one hour from Milan via the A7.
Genoa
A famous port city and capital of the Liguria region, Genoa has been a maritime trade hub for centuries. Yet another marvellous Milan road trip, it's famous for the black and white façade of the Romanesque Cathedral of San Lorenzo, and labyrinthine lanes that spill out into grand squares like Piazza de Ferrari and its iconic Teatro Carlo Felice opera house. There's plenty to see in this dynamic destination.
Getting there: Genoa is two hours 15 minutes south of Milan via the A7.