Top 10 Newcastle road trips
Northumberland coast & castles
Hadrian's Wall
Durham
Tynemouth
Kielder Water & Forest Park
Alnwick Castle
Corbridge
Gretna Green
Hawick
Angel of the North
Officially named Newcastle upon Tyne, Newcastle is a lively, exciting and distinctive city in England's North East, with a postcode population of around 1.2 million.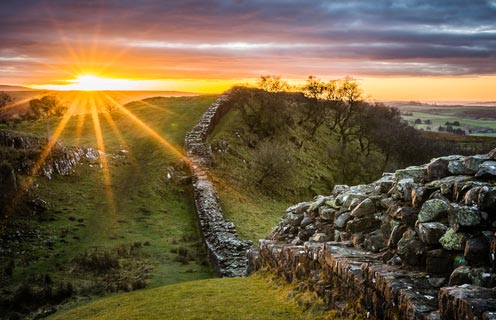 Where are the best Newcastle day trips?
Known affectionately to locals as 'The Toon', this is a city with a proud industrial heritage which is simultaneously civic-minded and outward-looking, and this is reflected in its architectural icons like the Tyne Bridge, Angel of the North, Millennium Bridge and Theatre Royal, its excellent university and buzzing cultural scene.
During your visit you'll probably find that what makes Newcastle most memorable are its no-nonsense yet wonderfully warm locals ̶ a night out here is always one to remember.
Beyond the city boundaries, there's much to explore too, from historical attractions that stretch back to Roman times to charming towns and villages, and stunning scenery on both sides of the (completely open) Scotland-England border.
Before you take off on our terrific road trips from The Toon, take a quick look at the handy Newcastle driving tips below.
Driving in Newcastle
Always drive on the left-hand side of the road in Newcastle, never drink and drive and always wear your seatbelt. As is the case everywhere in the UK, you're not permitted to use a mobile phone while driving, unless the system is genuinely hands-free and doesn't distract you.
You can drive from Newcastle from London in around five hours via the M1 and A1(M), while Edinburgh is only about two and a half hours away via the A1.
You'll find city centre parking at the Eldon Garden car park on Morden Street, the NCP car park at John Dobson Street and the Dean Street car park (which, appropriately, is on Dean Street).
If you're staying a little out of town, the Metro railway runs park and ride services in several locations, including Callerton Parkway north-west of the city centre, Walkergate to the east, Regent Centre to the north and East Boldon between Newcastle and Sunderland.
Ready to roll with your top 10 Newcastle road trips? Here we go!
1. Northumberland Coast & Berwick
A road trip from Newcastle to England's most northerly town, Berwick-upon-Tweed, takes you along the rugged Northumberland coast and through former coal mining and grain centre Newbiggin-by-the-sea, where Sean Henry's iconic Couples statue sits out in the water, and fishing village Craster, famous for kippers and delicious crab sandwiches. The amazing Holy Island of Lindisfarne is also a must-see, but it can only be reached at certain times of day via its tidal causeway. At Berwick itself you can stroll around the Elizabethan walls and treat yourself to a tasty lunch before heading home.
Getting there: take the A1 north along the coast to reach Berwick in about one hour and fifteen minutes.
2. Hadrian's Wall
If you're interested in Roman history, a trip to Hadrian's Wall is an absolute must. Built to guard the northern frontier of the Roman Empire from Pict tribespeople in Scotland in 122AD, this 80 mile long barrier is an awesome feat of ancient engineering which reached six metres high in some places and included ramparts, forts, barracks and mile-castles as it cuts right across the country. Some Hadrian's Wall highlights include Housteads Roman Fort & Museum, which is the best-preserved of its kind in Britain, and the fascinating fort excavations and Roman Army Museum at Vindolanda.
Getting there: drive west on the A69 from Newcastle and you'll be in Hadrian's Wall country in around one hour.
3. Durham
One of the most dynamic day trip locations from Newcastle, Durham is a historic town that it's all to easy to fall in love with. There's much to see and do here, including visiting the majestic Durham Cathedral, which is one of the finest examples of Romanesque architecture anywhere, and Auckland House Deer House and Park, created 800 years ago as a hunting estate by the Prince Bishops of Durham.
Getting there: drive south via the A1 (M) and you'll be in Durham in under half an hour.
4. Tynemouth
A short hop from Newcastle, Tynemouth village oozes unique history, sublime scenery, super shopping and lively nightlife, so you'll certainly find something to satisfy you. Tynemouth Priory & Castle has a commanding position on the headland, it's the area's best-known landmark, and the final resting place of the kings and saints of the ancient Kingdom of Northumbria, but there are also some lovely sandy beaches, while Tynemouth Aquarium has otters, seals and its own troop of monkeys.
Getting there: drive roughly northeast from Newcastle along the A1508 and you'll be in Tynemouth in just 20 minutes.
5. Kielder Water & Forest Park
When you want to sample the great outdoors, Kielder Water & Forest Park doesn't disappoint, with a 250 square mile forest to stroll around, the biggest man-made lake in Northern Europe and no less than three excellent visitors centres at Kielder Castle, Kielder Waterside and Tower Knowe. You'll see rare wildlife like cheeky red squirrels and the park has run a successful osprey breeding programme for the past few years.
Getting there: drive northwest along the A68 and you'll be in Kielder in an hour and 15 minutes.
6. Alnwick Castle
An impressive castle and country house, Alnwick Castle in Northumberland was built in the 11th Century following the Norman conquest and has been remodelled several times in the intervening centuries. It's the current seat of the 12th Duke of Northumberland but you might also recognise it from the first two films in the Harry Potter franchise, which is why you can try wizarding activities like broomstick flying while you're here!
Getting there: take the A1 northwards and you'll reach Alnwick Castle in about 45 minutes.
7. Corbridge
Nestled 16 miles west of Newcastle, Corbridge is a captivating town that's very close by, but you might want to stay overnight to really soak up the atmosphere. There's plenty of history here (this was once a garrison for Roman soldiers posted to Hadrian's Wall, and there's a superb selection of independent shops selling everything from unique crafts to designer baby clothes, and welcoming pubs and hotels aplenty. Meanwhile, if you fancy a relaxing stroll around manicured lawns, the lovely Aydon Castle is just a mile away.
Getting there: drive west of Newcastle on the A69 and after rolling through some verdant terrain you'll be in Corbridge in 25 minutes.
8. Gretna Green
Fancy getting married while you're based in this beautiful part of the world? Don't do it on a whim and please find a willing partner, but Gretna Green is one of the most romantic places in the world to tie the knot. Located just over the Scottish border, lovestruck English couples have flocked here for generations because they can tie the knot at just 16 years of age and without anyone else's approval. The blacksmith was traditionally the most senior tradesman in the village and oversaw many ceremonies ̶ you can still get married in the Blacksmith's Shop to this day!
Getting there: take the A69 west and you'll be in Gretna in one hour and 20 minutes.
9. Hawick
Another Scottish borders town in striking distance from Newcastle, Hawick is well worth hopping in your car to visit. A pretty town that frequently wind awards for its colourful floral displays, it has an interesting history which stretched back to the 12th Century. This is rugby country, and you might be lucky enough to catch a hard-fought match while you're in town, but it's also a major textiles centre where you can also pick up some chic cashmere and woollen designs.
Getting there: follow the A696 northwest and you'll reach Hawick in about one and a half hours.
10. Angel of the North
Last but by no means least, don't leave Newcastle and the North Easy without visiting the Angel of the North. This stunning steel statue at Gateshead was designed by Anthony Gormley and its winged design has come to symbolise the spirit of the region since it first spread its gargantuan wings in 1998. The largest angel sculpture in the world, it's 20 metres high, has a 54 metre wingspan and weight in at 200 tonnes. Sitting atop a former coal mine and projecting a boldly futuristic image, this heavenly being straddles the past and present of the region while pointing towards a hopeful future.
Getting there: drive north on the A184/A1 and you'll reach the Angel of the North in just 15 minutes.
As you can see, these 10 epic road trips from Newcastle let you sample the distinct history and culture of this friendly but fiercely independent part of the UK.
And when you want Newcastle car hire, Enjoy Travel is the talk of the toon!