10 Epic Road Trips from Bruges
Zeebrugge
Brussels
Knokke
Blankenberge
Ypres
Damme
Torhout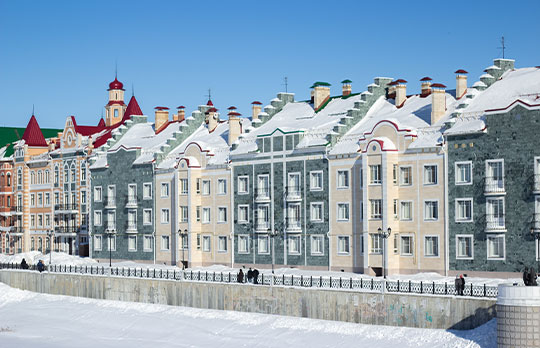 Top 10 scenic road trips from Bruges
Based in Bruges for a bit? Lovely stuff. The capital of West Flanders in Belgium's Flemish Region is one of the world's most unique cities – with more scenic (and historical) nooks and crannies than you can shake a waffle at. Characterised by charming cobbled streets, captivating canals and marvellous Medieval buildings, it's a romantic and inspirational place to live, work and visit. From the intricate carved ceiling of the Stadhuis (City Hall) to the 13th century belfry with 83m tower in Markt Square, there's impressive architecture at every turn. As well as plenty of cosy corners to chill out with world-class beer, warming coffee and delicious chocolate!
The Beguinage World Heritage Site is a delight for even the most well-travelled visitors – its beautiful white houses and relaxing convent garden are today occupied by Benedictine nuns and wandering around this sublime green space is truly magical. But the Rozenhoedkaai has to be the jewel in the crown – as swans glide gently across the mirrored canal water which caresses the fairy-tale buildings, you'll understand why this spellbinding spot is perfect for a selfie on the 'Gram! There's much more to Bruges besides, but no matter how fabulous it is, sometimes you just need to get away for a change of scenery. Which is exactly why we've hunted high and low to gather together these 10 epic road trips from Bruges (more of which soon).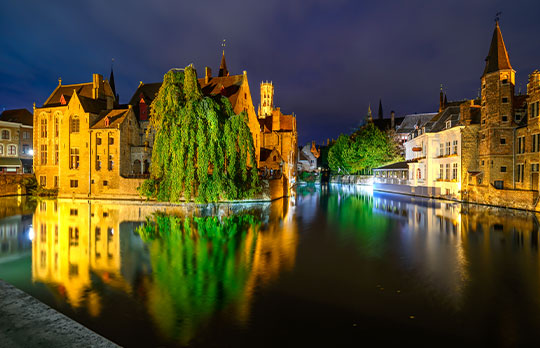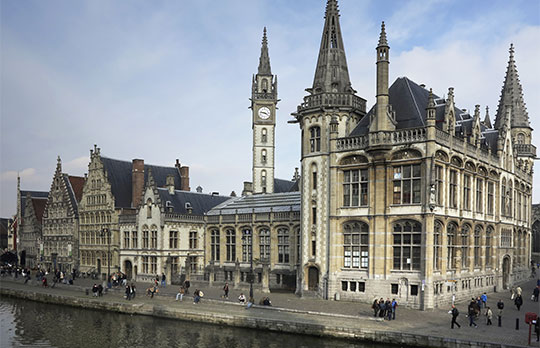 Top tips on driving in Bruges
Your jaw-dropping road trips are coming right up. But let's take a super-quick pause for some brilliant Belgian driving tips.
First off, you drive on the right side of the road in Belgium – which you hopefully know if you've been there a while! And here's another essential piece of info – dial 112 to connect to emergency services in the event of an accident and you'll be connected to an English-speaking operator.
Always wear your seatbelt, don't drink and drive and don't overtake at level crossings, intersections with right-hand priority (or others where the driver must give way), or if the vehicle you're overtaking is also overtaking another vehicle with more than two wheels.
Right – let's get moving with your epic Bruges road trips!
Zeebrugge
How does a short (but scenic) drive to a lovely coastal resort just 19km away from Bruges sound? Zeebrugge is a holiday hotspot at the west section of the Belgian coast famous in part for its role in WWI – it hosted a German U-boat base which was blown up towards the end of the conflict in 1918. Military history aside, it's a lovely spot to watch the colourful fishing fleet depart and enter the harbour, the seafront offers nautical attractions including ships and submarines, and the Fonteintjes Dunes are great to explore.
Ghent
45 minutes southeast of Bruges via the E45, Ghent is another outstanding road trip destination – especially if you love beautiful churches. The vertiginous St Bavo's cathedral dominates the city skyline and it's the pick of the bunch for many architecture fans, but the gothic-style St Nicholas church is also gorgeous. Meanwhile, if you're a culture vulture, the Municipal Museum of Contemporary Art hosts modern classics, while the Museum of Fine Art is the place to find traditional Flemish masterpieces.
Ostend
Ready for another short and sweet trip to the coast? Ostend is 35 minutes from Bruges via E40 and A10 and it's another super seaside town. Albert 1 promenade is the perfect place to take a postprandial stroll along the sands and indulge in a spot of people-watching. History buffs also enjoy exploring the Mercator – an impressive 20th century merchant navy vessel which is now a fact-packed floating museum. Atlantikwall Raversyde is another must-see attraction – a labyrinthine German WWI and WWII fortified complex which was of great strategic importance during both conflicts.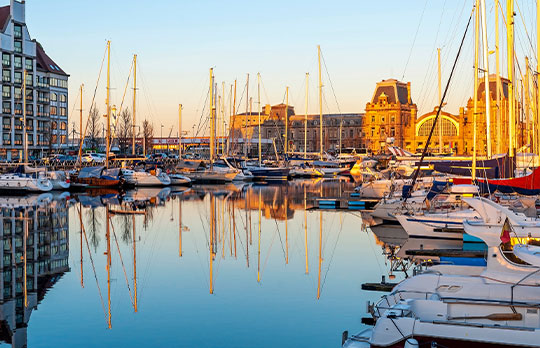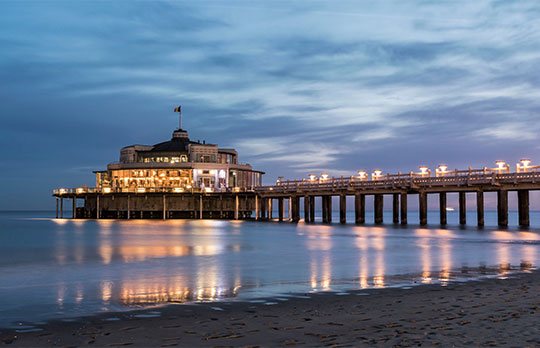 Brussels
Tempted by the bright lights of the big city? Belgium's capital (and largest city) Brussels is around one hour and 20 minutes away via the E40 and there's a host of things to see and do. The Grand Palace in the city centre is a blaze of brilliant 15th century architecture that includes the city hall and six accompanying guild halls, while the Old England building is a quirky 19th century former department store that now hosts a musical instrument museum. You can also stroll the grounds like a king or queen at the Palais Royal (the Belgian Royal family's official residence) and don't leave without taking a selfie with the cheeky Manneken Pis – the iconic statue of a boy relieving himself in a fountain.
Knokke
Take a spin northwards along the N374 from Bruges and you'll find yourself in Knokke – a high-end seaside resort near the Dutch border where the centrepiece is a huge 12km stretch of sand that includes no less than 4 beaches complimented by delightful dunes and lovely seagrass knolls. Hike, walk cycle or simple lie back and enjoy the views – whatever floats your boat. If you want a quieter family-friendly beach, opt for Duinbergen, while Heist beach is the local favourite.
Blankenberge
A popular holiday town since way back in the mid-19th century, Blankenberge sits 18km northwest of Bruges and it's a seriously superb road trip destination. SEALIFE Blankenberge gets you up close and personal with some amazing underwater creatures, while the Belle Epoque Centre showcases the history of the heady time in the late 19th and early 20th century when this influential aesthetic movement took Europe by storm. Meanwhile, a Brewery B tour teaches all about the beer industry in this part of the world – with standard and tasting tickets available.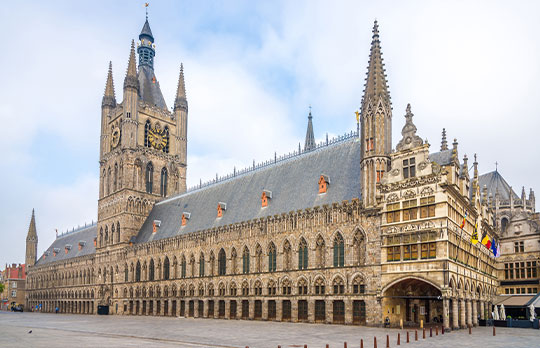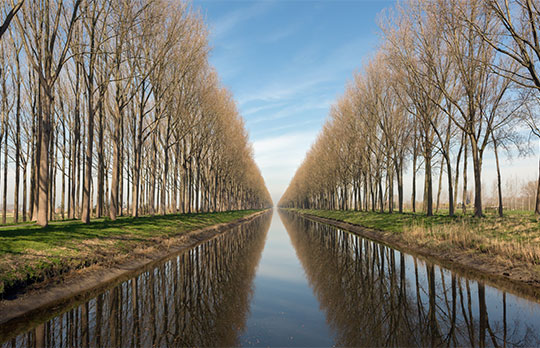 Ypres
A name that will be familiar to anyone with a rudimentary knowledge of modern military history, Ypres is 71km from Bruges and an essential road trip destination for many visitors to the area. The site of several gargantuan battles during WWI, it's home to many moving battlefields, memorials and combatant cemeteries. Most guided tours kick off from the iconic Merlin Gate and must-see spots include the Hooge Crater Museum, Hill 60, and Lakenhalle in the town centre, which is home to the extremely emotive and informative Flanders Fields Museum.
Damme
Just 15 minutes northeast of the centre of Bruges, Damme is a quick road trip destination that definitely delivers when it comes to distractions. A fortified town which came to prominence in the medieval era thanks to its position as a trading centre fed by its more famous neighbour, it caught Napoleon's ambitious eye when he earmarked it as the site for the Damse Vaart canal (which was planned to be part of a waterway system connecting France with the Benelux nations. Highlights include the impressive 15th century Gothic Stadhuis town hall, cobbled Kerkstraat area and surrounding polder countryside which is ideal for walks and cycling.
Torhout
30 minutes south of Bruges via E403, Torhout is a top place to take yourself away for a relaxing weekend break. Attractions here include the striking St Pieterskerk church, Caldare Sauna & Wellness centre and Mustard Museum – yup, it's a thing! But it's perhaps best known for cracking castles like Wijnendale (with its classic moat) and Ravenhof, which is easily accessible from the city park. Looking for somewhere to stay? Hotel Brasserie De Beiaard, Het Gravenhof, Te Lande and Hotel Chamdor are good picks.
Kortrijk
How does another medieval marvel sound? Kortrijk is 55 minutes from Bruges via the E403 and it's a rollicking road trip destination. Site of the Battle of the Golden Spurs (great name, right?) where Flanders defeated France in 1302, and the signing of the Kortrijk Treaty which formally drew out the extant borders between Belgium and France, it also boasts a host of medieval churches and a 17th century beguinage. This latter attraction is officially known as Beginjhof Kortrijk and as a UNESCO-Listed attraction, it's certainly worth visiting – set up in the 13th century by Countess Joan of Flanders for lay religious ladies, this 41-house complex was attacked during the aforementioned Battle of the Golden Spurs but these days it has a much more serene ambience. For something a little different, the Texture Museum is worth a look – it showcases the history of flax growing and the linen industry which is still the lifeblood of the local economy.