Top 10 Road Trips From Reykjavik
Laugarvatn Spa
Thingvellir National Park
Blue Lagoon
Snaefellsnes Peninsula
Landmannalaugar
Gullfoss Waterfall
Jokulsarlon Glacier Lagoon
Thorsmork
Raufarholshellir Lava Tunnel
Thrihnukagigur Volcano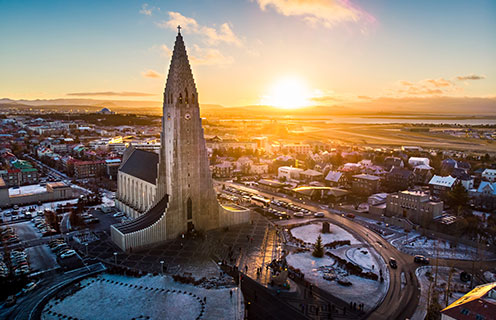 10 scenic drives from Reykjavik
A small city with a big soul, Iceland's Reykjavik is the world's most northerly capital and it's a cool place to visit in more ways than one. First settled in 874AD by Ingolfr Arnarson, it was officially founded in 1785 as a trading town and in the subsequent centuries expanded in size and scope to become the seat of Iceland's government and its commercial and cultural heartland. Famous for being one of the most pristine, eco-friendly and welcoming cities in the world, you'll feel instantly at home amidst its colourful buildings and gregarious locals.
If you're interested in socialising and culture, you'll find all manner of museums and galleries, endless examples of Scandi-cool design, high-class restaurants and kitsch cafes where you can sample everything from artisan burgers to international fusion cuisine. When velvet night descends and lights start to twinkle, there's a sparkling social scene too – everyone lets their hair down and gets their Viking horns out in brilliant bars and clubs where you can take in live bands and DJs playing tunes from every genre.
The city centre is bisected by the Tjornin Lake and attractions include the towering whitewashed concrete Hallgrimskirkja church, the shopping strip at Laugavegur, and the fascinating Saga Museum. There's creative graffiti and public art aplenty, while the chameleonic Sun Voyager sculpture is a particularly popular attraction – it transforms into various incarnations as the light hits it at different times of day.
You're on the edge of one of the world's last unspoiled wildernesses here, so hire a car in Reykjavik and waterfalls, lakes, geysers, caves, lagoons and even volcanoes are within striking distance. With Enjoy Travel car rental in Iceland, you're ready to roll with low cost deals on high quality vehicles. Let the adventure begin!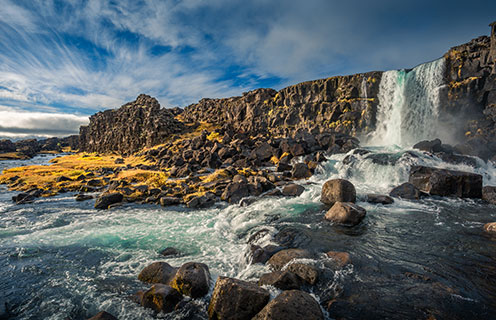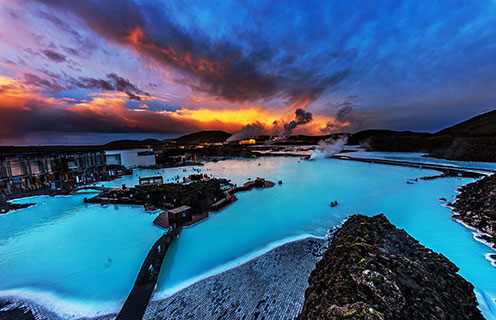 Top tips on driving in Reykjavik
Ready for your top 10 road trips from Reykjavik? They're coming right up, but let's take a quick pause to peruse some tips for driving in and around the city.
You drive on the right of the road in Iceland and the general speed limit is 30-50km/h in built-up residential areas, 80km/h on rural gravel roads, and 90km/h on paved roads. The driver and all passengers should wear seatbelts, car headlights should be switched on day and night, and using mobile phones isn't allowed.
Weather can be extreme here so please check the forecast thoroughly before you set off on any road trip. 4x4 vehicles can be the best choice here as they're rugged enough to cope with rural as well as urban roads, therefore won't restrict your plans. Please be aware that country roads might be narrower and their surfaces more uneven than you're used to, while some bridges become single lanes. Off-road driving is illegal in Iceland and if you're caught, the punishment is a high fine or imprisonment – authorities are keen that the environment remains unspoiled.
Now that we're caught up with a few handy driving tips, let's hit the road for your scenic road trips.
Laugarvatn Spa
Fancy a trip to a naturally heated spa bath which is slightly off the tourist track? Laugarvatn Spa isn't Iceland's most famous or popular, but it's still spellbindingly beautiful and at the right time of year you can even see the Northern Lights illuminate the sky as you sit back and relax. A short road trip from Reykjavik, this spectacular cuddle puddle is always worth a visit.
Getting there: Laugarvatn is one hour and ten minutes from Reykjavik via Thingvallavegur.
Thingvellir National Park
Just 45 minutes' drive from Reykjavik, Thingvellir National Park rolls the best bits of Iceland's natural beauty into one bombastic package. Here you'll see rocky moss-covered meadows, dramatic mountain passes, and many amazing points where the tectonic plates of Europe and North America meet!
Getting there: Thingvellir National Park is 45 minutes from Reykjavik via Thingvallavegur.
Blue Lagoon
One of the world's most iconic tourist hotspots, the Blue Lagoon spa is a day trip with a difference and its famous thermal waters aren't far from the centre of Reykjavik. The brilliant warm blue waters and cold, crisp air make a refreshing combination and you can also treat yourself to a fantastic full body massage to top off your cathartic experience.
Getting there: Blue Lagoon is 45 minutes' southwest of Reykjavik via Route 41.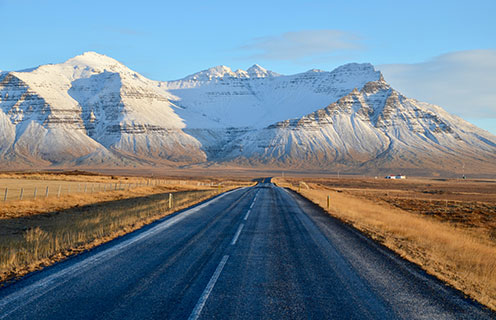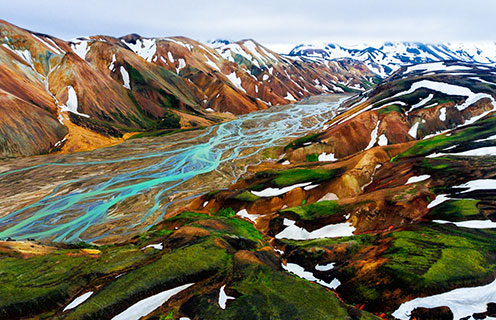 Snaefellsnes Peninsula
Set on Iceland's inspirational west coast, Snaefellsnes Peninsula's otherworldly terrain includes volcanic black sand beaches, the magical Kirkjufellsfoss waterfall, the dreamy harbour village of Arnarstapi and more. If you want to experience a slice of traditional Icelandic life with plenty of stunning scenery thrown in, you'll love this road trip.
Getting there: Snaefellsnes is one hour 45 minutes from Reykjavik via Snaefellsnesvegur.
Landmannalaugar
Located in Iceland's Southern Highlands, Landmannalaugar translates as 'The People's Pools' and these fantastic, free, naturally heated pools set amidst stark mountains, volcanic deserts and lava fields are a sight to behold. This isolated lunar landscape really feels out of this world and you can certainly unwind all the way in its wonderful wilderness.
Getting there: Landmannalaugar is 3 hours east of Reykjavik via Landvegur.
Gullfoss Waterfall
Iceland boasts many waterfalls, but Gulfoss is one of the most dramatic. Thundering down a 32m drop from the river Hvita in the nation's southwest, it continues to cascade in every season except winter, when it freezes over and produces sheets of solid ice until spring comes around again. It takes around an hour and a half to get there (depending on traffic), but you're rewarded with a sublime sight you'll never forget.
Getting there: Gulfoss is one hour and 35 minutes from Reykjavik via Thingvallavegur.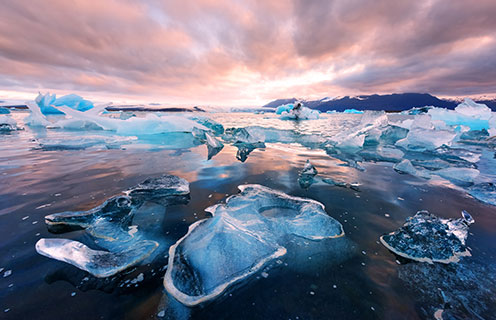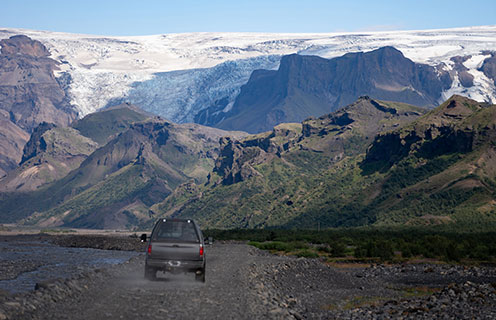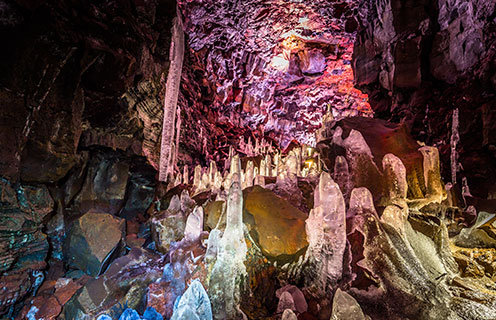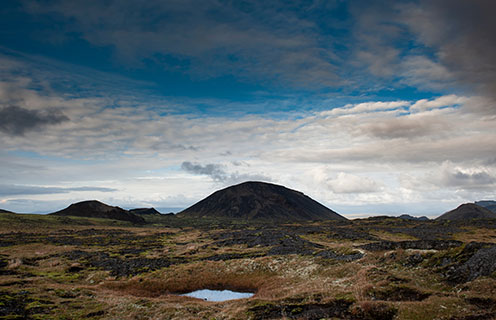 Jokulsarlon Glacier Lagoon
The largest glacier in Europe and the deepest glacier lagoon in Iceland, Jukulsarlon simply has to be seen to be believed. A delightful day trip from Reykjavik, this entire, vast lagoon is peppered with icebergs that sparkle and glow every imaginable shade of blue and white as light and shade caress their surfaces. Simply divine. Please note that this is a longer road trip, so you'll need to set off early or stay overnight.
Getting there: Jukulsarlon is 4 hours and 35 minutes from Reykjavik via Thjodvegur.
Thorsmork
Thorsmork translates as the 'Valley of Thor' and it looks every bit as dramatic as it sounds. One of Iceland's perpetually popular hiking destinations, it's a beautiful, lush verdant valley located under Eyjafjallajokull glacier and the 14km hike up from Fimmvorduhals volcano shouldn't be missed. If rugged road trips are your thing, look no further.
Getting there: Thorsmork is one hour and 45 minutes from Reykjavik via Thjodvegur 1.
Raufarholshellir Lava Tunnel
If you want to see first hand evidence of the ways that volcanic activity has transmogrified Iceland's landscape, take a trip down Raufarholshellir Lava Tunnel. At 1km long, it's the fourth-longest lava cave in the nation and as you walk along the specially constructed footbridge, the light from cave-in skylights above strikes the minerals in the stone walls, creating a captivating, kaleidoscopic effect. Provided you're not claustrophobic, this is a mind-blowing experience!
Getting there: Raufarholshellir is 45 minutes from Reykjavik via Thjodvegur 1.
Thrihnukagigur Volcano
Dormant for some 4000 years, Thrihnukagigur Volcano's magma chamber has been drained and you can travel safely down it in an elevator! This 120m descent is unlike anything else on Earth and really brings to life the cataclysmic natural powers that have forged the terrain of Iceland since time immemorial. You'll need to be reasonably fit to get there though – it requires a 45 minute hike over a rough lava field.
Getting there: Thrihnukagigur volcano is 30 minutes from Reykjavik via Sudurlandsvegur.
As you can see, these top 10 road trips from Reykjavik make your vacation in this cool capital even more special. Hire a car in Iceland from Enjoy Travel and get ready for adventures that will make magical memories – with low cost deals on high-class cars from trusted provider partners, you can find your ideal vehicle in a couple of clicks and book with perfect peace of mind.
When it comes to exploring the world's most eye-popping locations, we've always got you covered with comprehensive car hire packages – have fun and send us a postcard when you get there!