Top 10 Lisbon Road Trips:
Quinta da Regaleira
Tomar
Cascais
Serra da Arrabida
Ponte 25 de Abril bridge & beyond
Obidos
Evora
Peniche
Palmela Castle
Cacilhas
Bordered by seven scenic hillsides with sublime vistas across the Rio Tejo, Portuguese capital Lisbon is full of sparkling whitewashed cathedrals, rambling ruins and serpentine alleyways, with this combination of charming architecture and natural aesthetics making it one of the world's most striking cities.
10 of the best scenic drives from Lisbon
Foodie residents and visitors are in their element in neighbourhoods like Bairro Alto, where you'll find everything from ocean-fresh seafood to sizzling Alentejan beef steaks and enjoying a chilled glass of sangria from one of the hilltop viewpoints (miradouros) as you watch the sun set is one of life's rare, stardust-sprinkled moments.
The area around Lisbon has much to recommend it too, from villages hidden in the hills which boast beautiful palaces to dramatic coastlines and areas of historical and archaeological interest. All in all, it's primed for exploration on four wheels and Enjoy Travel makes Lisbon car hire smooth and seamless, with vehicles like the chic, bijou Volkswagen Up, reliable Ford Focus and sporty Citroen C4 Cactus available from well-established rental partners. Hire a car from Enjoytravel.com and travel under your own steam in one of Europe's most beautiful nations.
Tips on driving in Lisbon
Your 10 best day trips from Lisbon are coming right up but taking a few seconds to read some tips on driving in and around Lisbon is time well spent before you hit the pedal.
If you're a local you'll be well aware, but always drive on the right of the road in Lisbon and throughout Portugal.
Slip roads might be shorter than you're used to, so in order to take the tight bends safely you'll have to slow down.
Don't cross unbroken white lines and certainly not those that are double. This means that you're not permitted to turn left onto a road with double white lines – instead you need to turn right into the direction of traffic and then use the next roundabout to double back and get where you need to go.
Watch out for pedestrians on the road too ̶ a lack of pavements in some areas means that this is more common than you might expect.
Remember to wear your seatbelt, don't use a mobile unless it's hands-free and observe the speed limit.
Now let's get moving with those 10 terrific road trips ̶ we're raring to go!
1. Quinta da Regaleira
This stunning UNESCO heritage site near Sintra features a gorgeous Gothic palace dating from the late 19th Century and labyrinthine gardens full of meandering paths, exotic greenery, underground wells and secret tunnels. Ideal for an easy day trip from Lisbon, you can explore by yourself or hire a local guide.
Getting there: take the A37 from Lisbon to reach Sintra in around 40 minutes.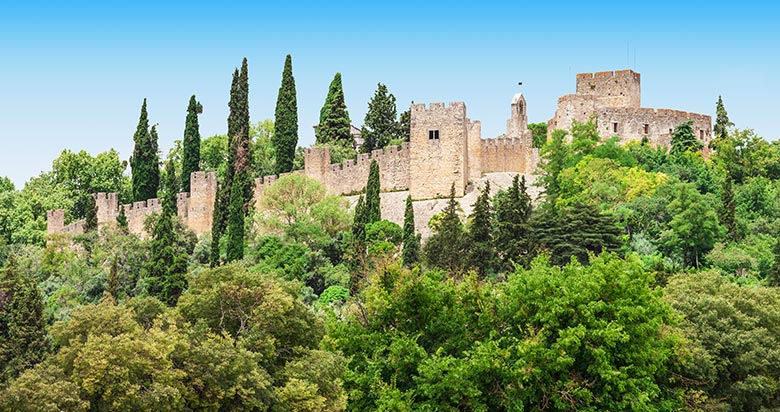 2. Tomar
This charming castellated town on the banks of the Nabao river was founded by the Knights Templar and its narrow cobbled streets and pretty whitewashed buildings positively exude magic and mystery. The main attraction here is the vast Convento de Cristo fortified convent, which has survived since the 12th century and has a gloriously ornate interior.
Getting there: drive north east from Lisbon in the A1 to reach Tomar in one and a half hours.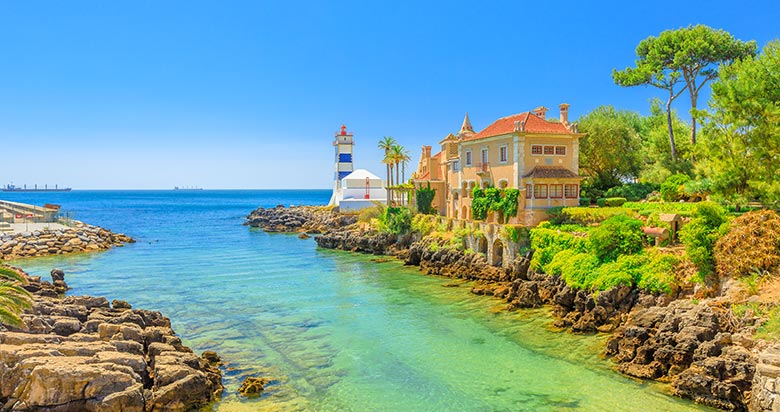 3. Cascais
Take the N6 road west from Lisbon and you'll pass lovely beach towns like Paco de Arcos and Estoril on the way to Cascais, where more delights await. There are plenty of beaches around Cascais itself, but Praia da Rainha's golden sands and azure waters make it a favourite, while the old town centre is packed with chic boutiques and cafes. The Boca Do Inferno (Hell's Mouth) chasm is also nearby ̶ a rugged sea cave carved into limestone cliffs by the elements.
Getting there: drive west from Lisbon on the A37 to reach Cascais in around 45 minutes.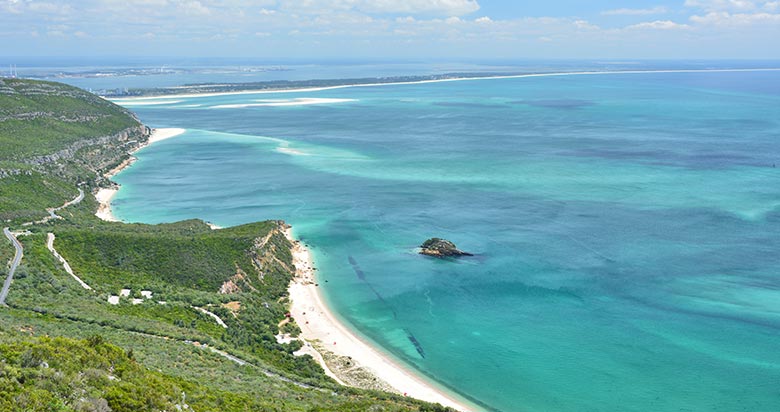 4. Serra da Arrabida
A manageable drive from Lisbon, the Serra da Arrabida Natural Park is one of Portugal's loveliest natural attractions. Covering 10,500 hectares and terrain that peaks at 501 metres, you'll find everything from hidden coves to historical convents. The beaches at Figueirinha, Creiro, Galapinhos and Galapos are the jewels in the crown though.
Getting there: take the scenic N379 road through the hills from Lisbon. You'll reach Serra da Arrabida in around 50 minutes and you can meander around for a few leisurely hours.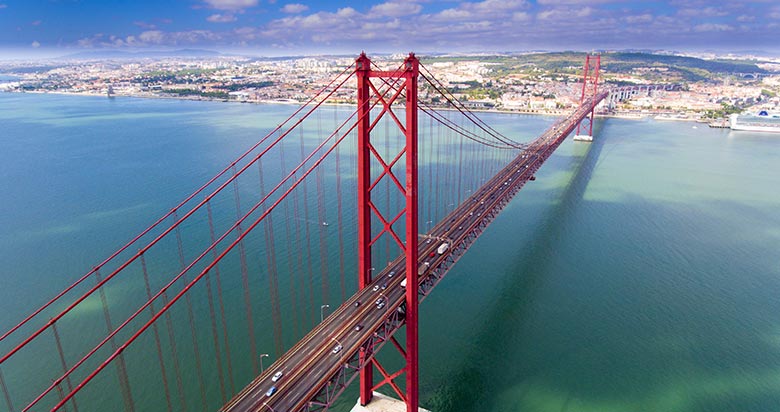 5. Ponte 25 de Abril bridge & beyond
This iconic crossing is only 2km long but if you visit Lisbon without taking the time to drive across it, you're missing out. Ponte 25 de Abril Bridge has a commanding view over the city and crosses the narrowest point of the Tejo Estuary. The Christo Rei monument is on the other side and the Costa da Caparica coastline is further south following the A2.
Getting there: take the A2 road out of the city centre and you'll reach the bridge in around 15 minutes.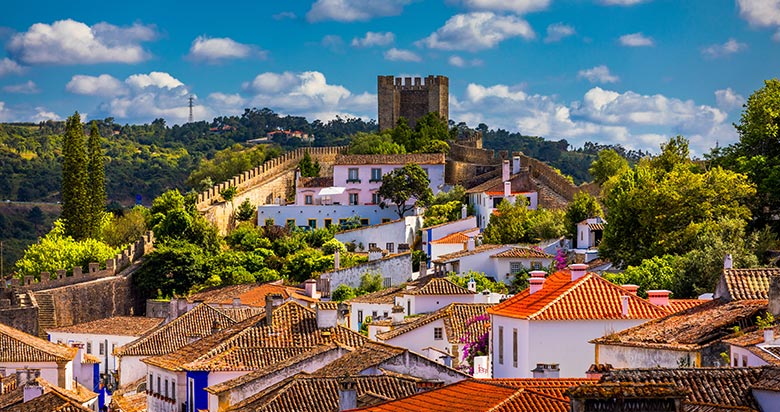 6. Obidos
A picture-postcard fortified village that's around an hour's drive from Lisbon, Obidos is ideal day trip material and there's plenty to see and do. The historic town centre is a maze of lanes cross-cutting ancient buildings painted white and blue, the ancient walls offer amazing views of the surrounding countryside (please be careful though) and Obidos Castle dates from the 8th Century AD, when the Moors controlled the area.
Getting there: drive north from Lisbon on the A8 to reach Obidos in around one hour and 10 minutes.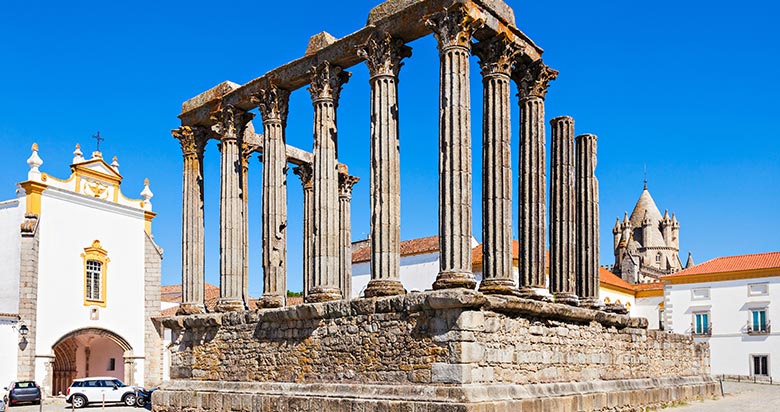 7. Evora
The traditional capital of the Alentejo region, exploring Evora is a step back in time since it hasn't changed much since it was at its peak in the 16th Century. This is an absolute haven for history buffs, with a Gothic cathedral, Roman temple and ancient university. You can also squeeze in a trip to Cromeleque dos Almendres Neolithic stones.
Getting there: drive east from Lisbon via the A2 and A6 to reach Evora in one hour and 40 minutes.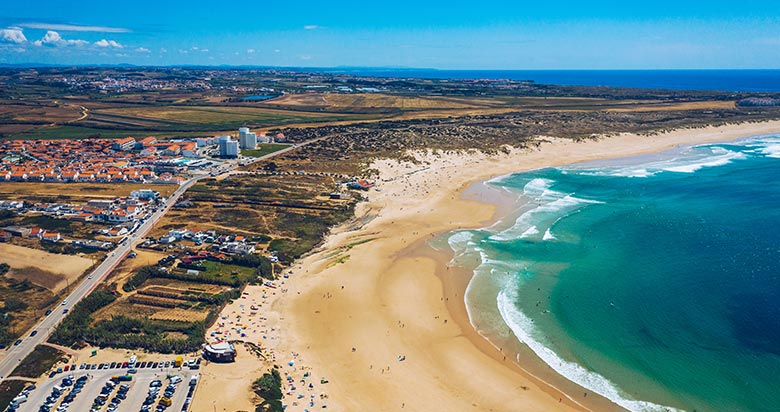 8. Peniche
Part of the Oeste region, Peniche is a small seaside city with big waves which attract surfers from all over the nation. If you're fond of hanging ten, Supertubos and Baleal beaches are definite hotspots, but the historic city centre is always worth exploring, while there are more beaches, a nature reserve and a former prison to see at nearby Berlenga Grande island (via a 45 minute boat ride).
Getting there: you'll reach Peniche in one hour and 15 minutes via the A8.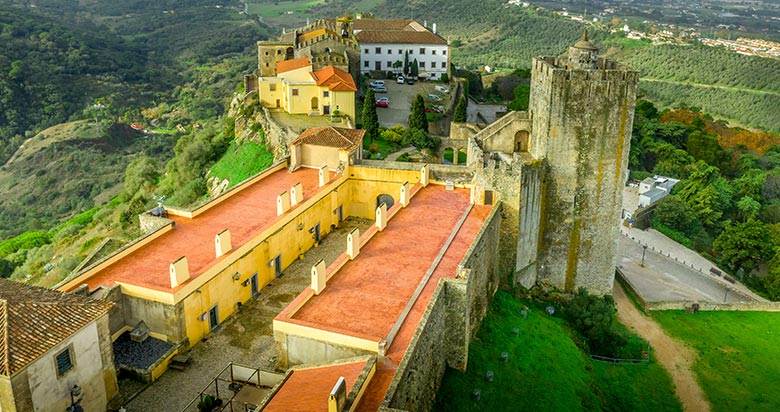 9. Palmela Castle
Towering over its surroundings at an impressive 1200m altitude, Palmela Castle offers eye-popping views of the Sado and Tagus rivers, verdant vineyards and, on a clear day, the silhouettes of Lisbon to the north. This strategic territory was occupied by the Romans and Moors until Portuguese forces took over in the 15th century ̶ there's no entrance fee and it looks lovely at night when the whole complex is floodlit.
Getting there: take the A12 out of Lisbon to reach Palmela Castle in 45 minutes.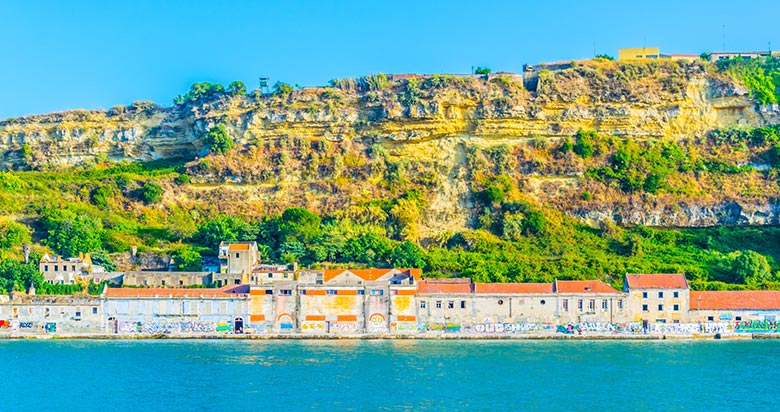 10. Cacilhas
A pretty fishing village with a bustling cultural scene, a day trip to Cacilhas is always a pleasure thanks to the abundance of fresh seafood on offer, riverside walks along the banks of the Tagus with scenic views of Lisbon and a free panoramic lift that offers a bird's eye view of the area. Caca da Cerca is the cultural centre and here you can enjoy everything from artisan coffee to interesting antique shops and craft boutiques. If fish doesn't float your boat, you'll find wider culinary choices at Rua Candido dos Reis.
Getting there: Cacilhas is around 35 minutes south of Lisbon via the A2 road.
As you can see, there are plenty of delightful and diverse day trip destinations just a short (but always scenic) drive from Lisbon.
Whether you like historic castles, relaxing beaches, wild water sports or unique geological features, there's something stunning round every bend of the road in this picturesque part of the world.
Hire a car in Lisbon with Enjoy Travel and you can hit the road with confidence ̶ in a reliable and stylish vehicle that suits your needs perfectly.
We're delighted to offer you low-cost Portugal car hire in a couple of clicks ̶ just remember to send us a postcard when you get there!