Best Road Trips From Reading
Wokingham
Stanlake Park Wine Estate
Highclere House
Chessington World of Adventures
Bracknell
Ascot
Wellington Country Park
Silchester Roman City Walls & Amphitheatre
Kennet & Avon Canal
Maidenhead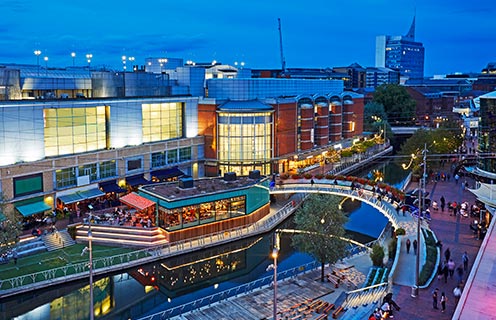 10 of the best scenic drives from Reading
So you're visiting Reading? Congrats on your impeccable taste – there's something for everyone in this terrific Thames Valley market town and even more to explore in surrounding Berkshire and beyond. Sitting where the River Thames and Kennet estuary meet, and just 46km west of London, Reading is perfectly positioned for discovering southeast England by car and it oozes culture and history.
Take a step back into the past with a stroll around Reading Abbey Quarter – the Abbey Ruins are 900 years old, and you can also discover where Oscar Wilde was jailed and Jane Austen attended school. Alternatively, take a walk on the wild side at Beale Wildlife Park or immserse yourself in the gorgeous verdant parklands of Basildon Park.
If you fancy some fun-filled family activities, Lagoona Park and Caversham Lakes aqua parks are outstanding and on rainy days, the Red Kangaroo trampoline park and indoor climbing centre are popular. Sports fans can also watch Reading Football Club take on rivals at the impressive Madejski Stadium in the town centre, or even watch the highly-successful Reading Rockets basketball team shoot some hoops at the Rivermead Leisure Complex.
As far as entertainment goes, there are restaurants, bars, clubs and pubs aplenty if you want to experience any type of cuisine and then let your hair down a little, while the Reading Festival is held each summer and attracts big-name UK and international acts as well as hordes of music fans from Britain and further afield.
The town's location and road infrastructure makes it an ideal base for day trips around Berkshire and the south of England. So if you hire a car in Reading from Enjoy Travel, you'll broaden your holiday horizons and really make the most of your break.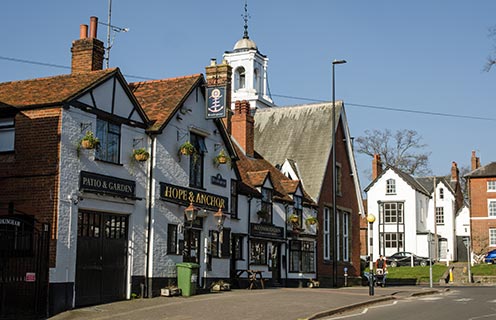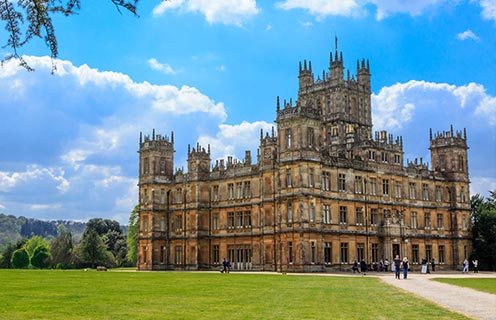 Top tips on driving in Reading
We'll roll out on your top 10 Reading road trips shortly – but first, let's take a look at a few tips on driving in and around Reading.
If you're arriving in Reading from elsewhere in the UK, you'll naturally know that you drive on the left-hand side of the road and that drink driving and using your mobile phone aren't tolerated. Furthermore, most car rental firms require that you're at least 21 years old to rent a car, and some apply a surcharge if you're under 25, so please confirm this.
The same speed limits apply here as elsewhere in the UK but look out for signs indicating lower 20mph limits in some areas. If you're visiting major towns and cities near Reading, avoid travelling during the morning and evening rush hours, and be aware that roads might also be congested during bank holidays, school and seasonal holidays and summer weekends.
There are Park & Ride facilities at Winnersh Triangle, Mereoak Park, and Madejski Stadium, and car parks at Thames Side Promenade, Cattle Market, Kensington Road, Recreation Road and Chester Street.
Now that we're caught up with the Reading road code, let's get moving with your scenic road trips.
Wokingham
If you fancy a relaxed day trip browsing independent shops for bargains, treating yourself to coffee and watching the world go by, Wokingham is ideal. The red brick and timber facades of Rose Street have stood strong for 600 years and one even boasts a mulberry bush said to date from the Tudor era. The name means 'Wokka People's Land' – Wokka was a Saxon Chieftain who ruled the roost around these parts – and the Windsor Forest courts were held here in the middle ages.
Getting there: Wokingham is 20 minutes from Reading via the A329.
Stanlake Park Wine Estate
Can you arrange a designated driver for the day? If so, a sojourn tasting the good stuff at Stanlake Park is just what the doctor ordered. This stunning property in Twyford has a 17th century wine cellar and during a visit, you'll discover how wine is made and taste several of the award-winning British varieties the estate produces. Naturally, there's a wine shop where you can buy a few bottles to take home to friends and family.
Getting there: Stanlake Park Wine Estate is 25 minutes from Reading via the A4155.
Highclere House
If you're a fan of TV's Downton Abbey, Highclere House is an essential Reading road trip – this is where the smash-hit series was filmed. This seriously impressive stately home looks even more magnificent in real-life, and the Earl and Countess of Caernarvon hold a vintage garden party here each September where everyone's dressed to the nines in period outfits and enjoys picnics on the manicured lawns.
Getting there: Highclere House is 40 minutes from Reading via the M4 and A34.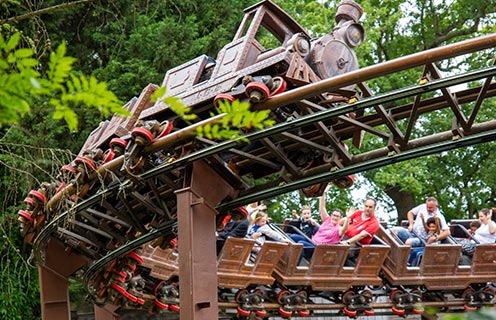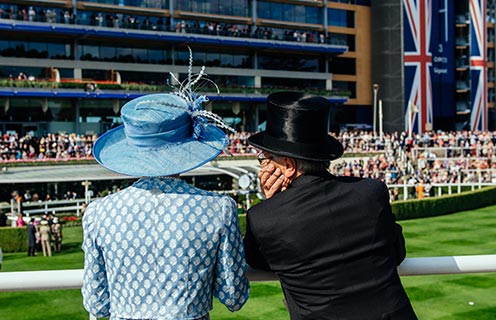 Chessington World of Adventures
For a family day out that's fun all the way, Chessington World of Adventures is hard to beat. Thrilling attractions include the Temple of Mayhem (suitable for older kids), Dragon's Playhouse (ideal for toddlers), Room on the Broom animated movie experience (good for a range of ages) and the Canopy Capers high-rise adventure with bouncing walkways. You can also see everything from penguins to lions at the nearby zoo if you've any energy left!
Getting there: Chessington World of Adventures is one hour and 25 minutes from Reading via the M3.
Bracknell
A great day trip location if you want a blend of urban and rural vibes, Bracknell is an underrated town that's surprisingly fulfilling to visit. If you want to shop til you drop and grab a tasty bite to eat, The Lexicon has it all. But for thrill seekers, Bracknell Forest boasts a Go Ape course and Coral Reef Waterworld is a popular adventure swimming arena.
Getting there: Bracknell is 30 minutes from Reading via the A329.
Ascot
The main attraction in Ascot is the racecourse – it attracts half a million visitors every year and dates back to 1711. If you fancy a flutter and you're a fan of the Sport of Kings, the middle of June is the best time to visit. Outwith the racing, there are several great bars and live music venues, the Savill Garden is one of Britain's best ornamental gardens and there are three golf courses in the vicinity.
Getting there: Ascot is one hour from Reading via the M4.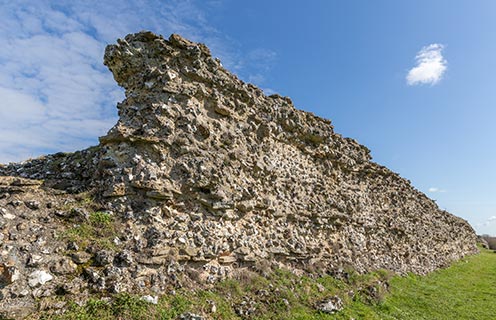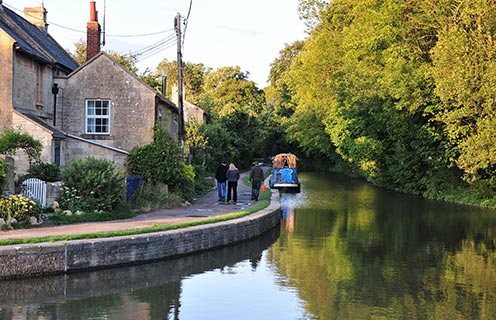 Wellington Country Park
For fresh country air and eclectic animal encounters, set your Satnav for Wellington Country Park. At Animal Farm, you can buy bags of feed and get up and close to the sheep and other animals and there's a miniature railway that loops around the grounds. Meanwhile, kids love the giant jumping pillow and there's a well-appointed soft play area.
Getting there: Wellington Country Park is 20 minutes from Reading via the A33.
Silchester Roman City Walls & Amphitheatre
This Hampshire attraction is a hotspot for history buffs, it's open any time during daylight hours and best of all, entry is free. Originally called Calleva, this was a hub for the Atrebates tribe and became the town of Calleva Atrebatum following the Roman Invasion of 43AD. Since it was never rebuilt, its complete circuit of Roman walls are some of the best-preserved in Britain and the adjacent amphitheatre is also impressive.
Getting there: Silchester is 30 minutes away via Bath Road/the A4.
Kennet & Avon Canal
If you're yearning for a relaxed waterside walk, bracing cycle, or weekend stay on a houseboat, the Kennet & Avon canal is a sweet spots for locals and visitors alike. Completed in 1810, the canal fell into disrepair in the 1960s but was restored to its former glory and reopened in 1990. It's now a clean and serene spot with highlights including Caen Hill, Devizes Wharf and Dundas Aqueduct.
Getting there: Kennet & Avon Canal is one hour and 20 minutes from Reading via the A4.
Maidenhead
Another manageable day trip from Reading, Maidenhead is a wealthy market town which sits upriver from Windsor. Its tranquil riverside setting is a draw for many visitors and attractions include an iconic railway bridge designed by Isambard Kingdom Brunel and the pretty Boulter's Lock (which has an excellent restaurant nearby). Another unique attraction across the bridge at the lock is Ray Mill Island, a park in the middle of the river where you can feed the ducks and treat yourself to a coffee while your kids investigate the adventure playground.
Getting there: Maidenhead is 40 minutes from Reading via the Bath Road/A4.
It's evident that Reading is an awesome launchpad for several superb road trips – hire a comfy and reliable car here from Enjoy Travel and have fun!