Top 10 Portugal Road Trips
Faro to Lagos
Porto to the Douro Valley
Seia to Guarda
Lisbon to Sintra
Sao Miguel Island
Porto to Braga
Madeira Island
Alentejo tour
Lisbon to Costa Vincentina
Atlantic Coast Surf Route
Nestled on a sumptuous strip of the Iberian Peninsula with Spain on one side and the Atlantic on the other, Portugal boasts a unique mix of transatlantic, African and European influences which flavour everything from its food to architecture and customs. With scenery that spans golden beaches and gorgeous holiday spots like the Algarve, cool cities like Lisbon and Porto, medieval castles perched on mountaintops and cobbled villages cascading down hillsides, it's ideal for exploring by car.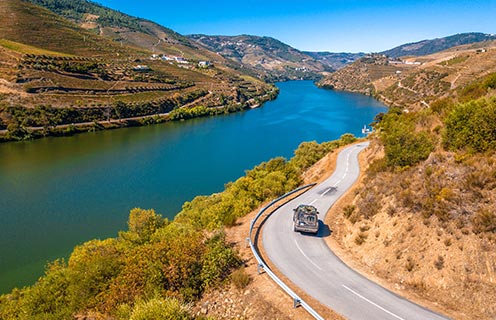 10 of the best scenic drives from Portugal
Hire a car in Portugal from Enjoy Travel and you can choose your ideal vehicle in a few minutes flat, with the peace of mind that comes as standard from major national and international car rental partners. With so much to discover and savour, you can easily extend well-travelled road routes when the mood takes you – stopping off at scenic spots you discover serendipitously or spending an extra day in one of your favourite cities.
There's 800km of dramatic coastline here that veers from stunning sea cliffs to dune-covered beaches and hidden coves to isolated islands – all lapped by awesome Azure seas. In the interior, you can roll through the vertiginous peaks of national parks like Peneda-Geres or wander around rustic villages in beautiful Beiras.
Top Tips on driving in Portugal
Your top 10 Portugal road trips are right around the corner, but let's take a minute for some useful refresher tips on driving in Portugal.
You drive on the right in Portugal (hopefully you know this if you live here!) and the minimum age to drive is 18, although you must be 21 to rent a car and some companies apply a surcharge if you're under 25.
Portugal has several electronic toll roads. You can take a ticket when you enter the road and pay at the booth before exiting, use a Via Verde machine pre-loaded with credit (ask if your rental vehicle is fitted with this) or use the EASYtoll service whereby you enter your license and credit card details at the start of your journey and have them debited from your bank automatically.
Using your mobile when driving is prohibited unless it's genuinely hands-free, everyone must wea seatbelts and kids under 12 can't travel in the front seat unless they're 150cm tall. Please note that it's illegal to overtake on the right in free-flowing traffic and green lanes on motorways are only for drivers using automated payment systems. Speed limits are 50 km/h in built-up areas, 90 km/h outside built-up areas and 120km/h on motorways.
Now let's get stuck into those jaw-droppingly scenic Portugal road trips!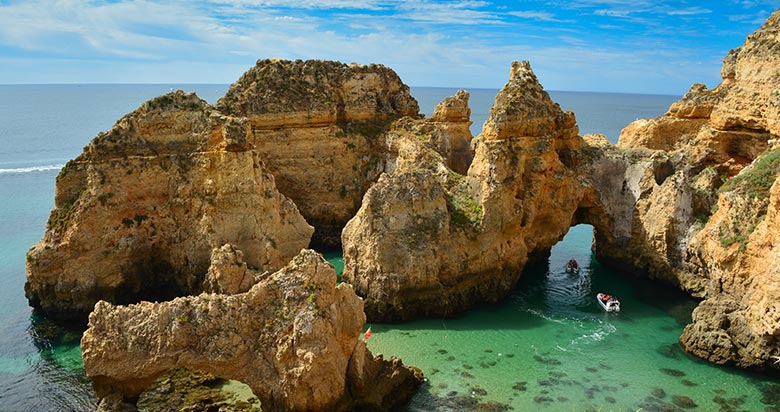 1. Faro to Lagos
This leisurely drive west from Lagos only takes an hour along the main road, but you should definitely take the coastal roads and build in time to stop at hotspots like Albufeira and Carvoeiro. Along the way, you'll pass superb beaches, the scenic Seven Hanging Valleys coastal hike and the iconic and otherwordly Benagil Cave, an astounding open-sky cavern with its own sheltered beach inside. Lagos is a great place to learn to dive but you might simply enjoy admiring the dramatic Ponta da Piedade and Sagres cliffs – divine.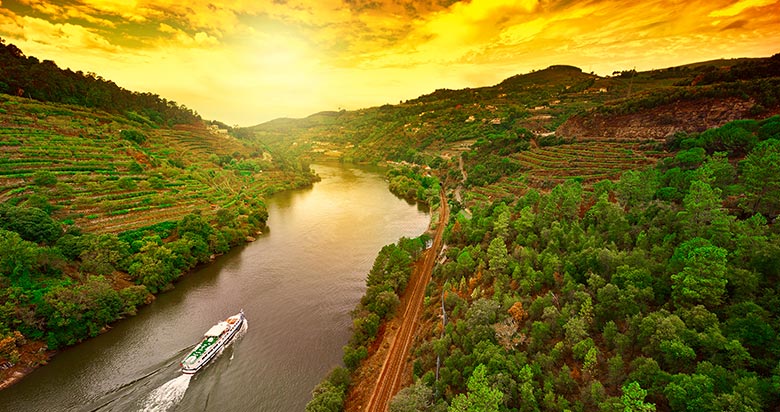 2. Porto to the Douro Valley
The journey from Porto to the heart of the Douro Valley takes around three hours, therefore you might want to build in an overnight stay so that you don't have to rush. Travelling from one UNESCO World Heritage Site to another, you can stop off in Guimaraes to see the Palace of the Dukes of Braganza and the scenic Monte da Penha peak, while the lush Douro Valley is the most beautiful place in the world to taste port in authentic wineries (bring a designated driver).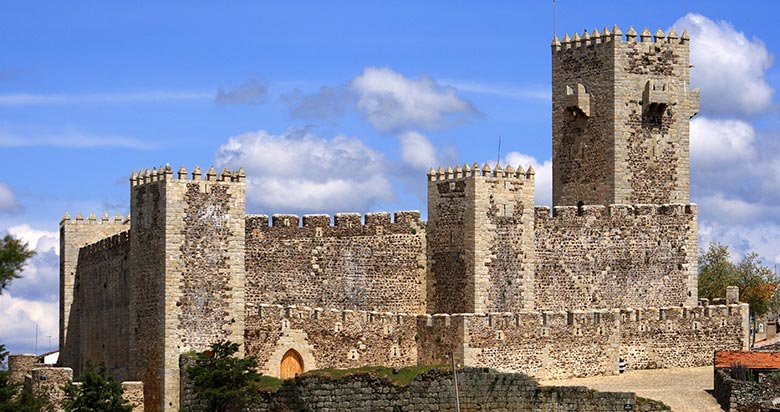 3. Seia to Guarda
This adventurous road trip takes you through the Serra da Estrela, Portugal's highest mountain range, and you'll need 2-3 days to take in all the highlights. Seia has child-friendly attractions like a toy museum and bread museum, and you'll reach Torre, the highest point in Portugal, by taking the winding road Sabugueiro and Lagoa Comprida. The Ferro Lagoons are located near the ski resort at Torre and the landscape is amazing, while other attractions on the way include Folgosinho Castle, which offers breath-taking views across Mondego Valley.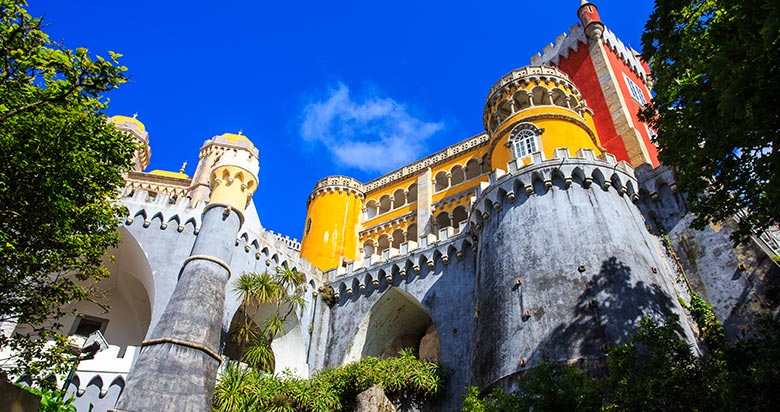 4. Lisbon to Sintra
Sintra is close enough to Lisbon for a manageable day trip, but there's so much to see and do that you might want to extend your stay to a weekend. The labyrinthine road through the Sintra Mountains offers something spectacular around every turn, but it's also peppered with immaculate palaces, castles and estates. If you take the coastal road back, you can stop in Estoril and Cascais to break up your journey.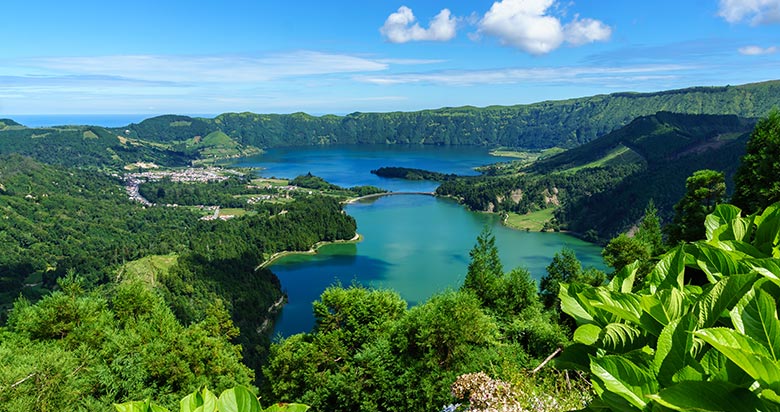 5. Sao Miguel Island
The capital of the Azores, Sao Miguel Island feels like it was made for exploration on four wheels. Starting in capital Ponta Delgada, you can drive right around the island and take 2-3 days to make the most of it. Heading westwards, you'll see eye-popping volcanic crater lakes at Sete Cidades, then cruising on through the rugged north coast, you can stop at the fairy-tale Salto do Cabrito – a 40m high waterfall hidden in a dense forest. Driving eastwards, stop at Furnas to stroll in beautiful botanic gardens and on the way back to the capital take a picturesque pitstop for a quick tour of the bijou but beautiful Vila Franco do Campo islet.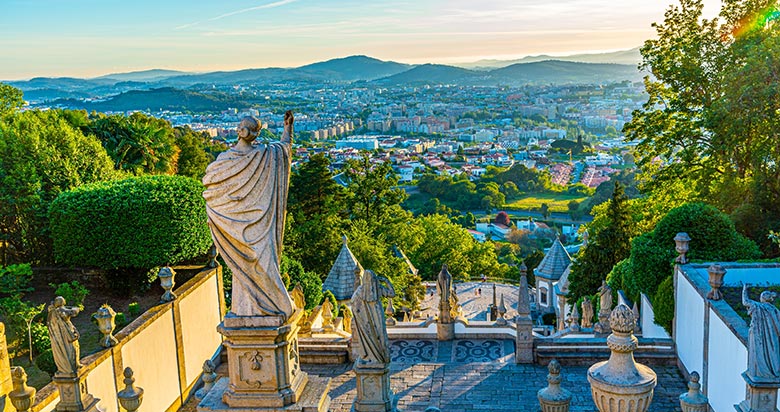 6. Porto to Braga
A northern Portugal adventure is definitely the road trip less travelled, but even though it's slightly off the tourist track, there's much to recommend it. On the way to Braga you'll pass the Venice of Portugal, Aveiro, with its romantic waterways and colourful boats, and Barcelos, home of the iconic rooster which symbolises the Portuguese lust for life. At Braga, the Bom Jesus do Monte and its dreamy hilltop views await.
Getting there: Pilsley is one hour and 25 minutes north of Portugal via the M1.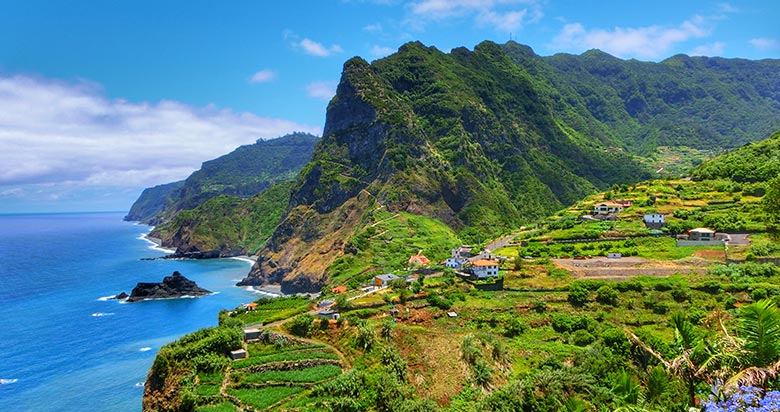 7. Madeira Island
The homeland of a certain Cristiano Ronaldo, Madeira sits in the Atlantic like an emerald jewel – a continent in miniature where you'll enjoy winding through mountains and verdant farmland, then cruising through tunnels to emerge on the edge of dramatic sea cliffs. Provided you're an experienced driver, proceed with caution and observe the speed limit, you'll traverse these rollercoaster roads safely.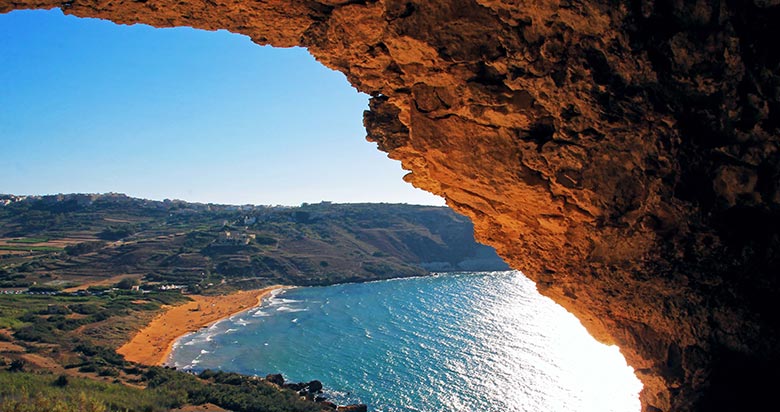 8. Alentejo Tour
An Alentejo road trip takes you through some of Portugal's loveliest scenery, with no less than two UNESCO World Heritage sites, as well as medieval castles and whitewashed villages aplenty. Starting in Evora, you can explore its cobbled streets, elegant cathedral and 2nd Century AD Roman temple before moving on to the castellated mountaintop village of Marvao, which boasts an imposing castle perched high in the Serra de Sao Memede mountains. Monsaraz is your last stop – it's packed with pristine white buildings and offers outstanding sunset views across the Basrragem do Alqueva lakes.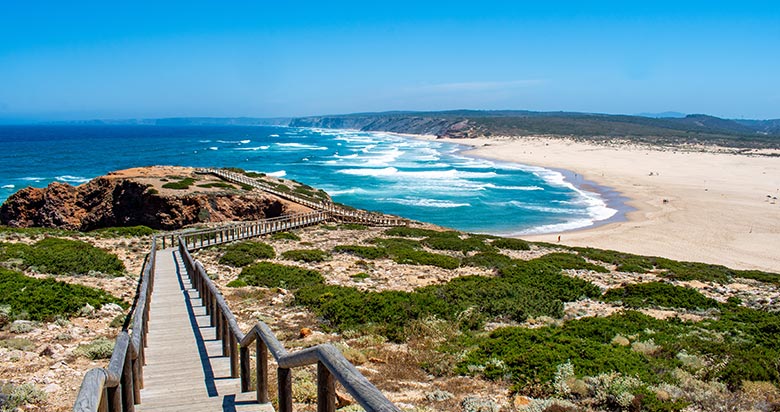 9. Lisbon to Costa Vincentina
You can complete this southern Portugal road trip comfortably in a couple of days and it's one of the country's most rewarding. The terrain is terrifically varied and veers from undulating hills to lush sylvan valleys and well-tended fields that creep right up to the Atlantic coast. Costa Vicentina has a golden sand beach backed by rugged rocky headlands and it's home to the popular Rota Vicentina hiking trail, while pretty tourist hotspots like Odeceixe and Odemira are close by.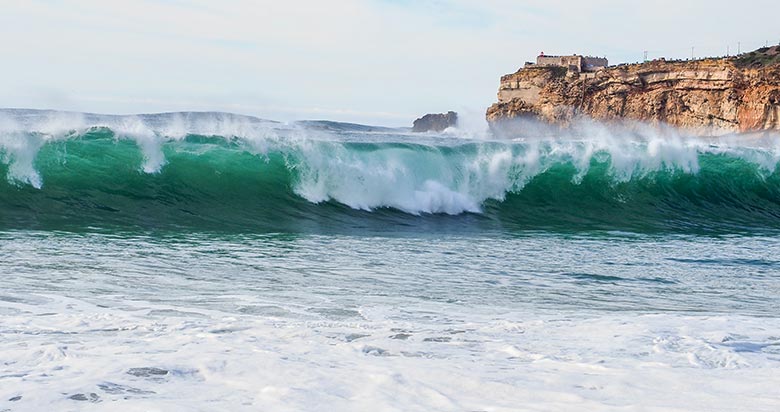 10. Atlantic Coast Surf Route
If white horses crashing off sea cliffs and washing over beaches sounds like your idea of bliss, you'll love this Atlantic Coast Surf Route. Starting in Praia do Guincho and ending in Praia do Pedrogao, you'll pass burnished beaches backed by fragrant pines and sharpen up your surfing skills at world-renowned hotspots like Peniche, Foz do Arelho and Nazare – famous for its gargantuan waves. This dazzling stretch of the Atlantic coast is a magnet for surfers and kitesurfers from all over the globe.
These top 10 road trips allow you to explore every nook and cranny of this captivating country – from cosmopolitan cities to historic towns and soft sand beaches to gorgeous green mountains.
Hire a car in Portugal from Enjoy Travel and roll out for an adventure that you'll cherish for years to come!