Cannot decide whether to choose Sorrento Vs Positano
The hilltop towns of Sorrento and Positano both offer sparkling sea views, breathtaking coastal drives and colourful winding streets in spades. Both have inspired generations of poets, artists and thinkers too, from Byron and Shelley to Steinbeck. So how do you choose between the two seaside spots? If you've got your heart set on the Amalfi Coast but can't choose where to base yourself, our handy guide to Sorrento and Positano should help you make your decision. Here's what to expect from the two blockbuster destinations, beyond the sunshine and sophistication.
Sorrento Vs Positano: How to Choose Between the Two
Is Sorrento or Positano better?
Sorrento is a small town, located on the Sorrentine Peninsula facing the Bay of Naples. Sunshine-yellow villas, rambling aristocratic houses and meandering citrus groves dominate the picture-perfect landscape. It's also well-connected, with easy access to other villages along the Amalfi coast, as well as Campania's chaotic capital Naples, and the ancient ruins of Pompeii.
Pint-sized Positano is the most popular destination on the Amalfi coast – and its popularity isn't unwarranted. Known as the 'Vertical Town', it's an undeniably pretty place, where colourful houses cascade down the cliffs to a tiny crescent bay, studded with yachts and fishing boats. Search 'Amalfi' on Instagram, and you'll find hundreds of images of Italian hotspot. It's a quarter of the size of Sorrento, set back in an enclave east on the Amalfi coast.
Things to do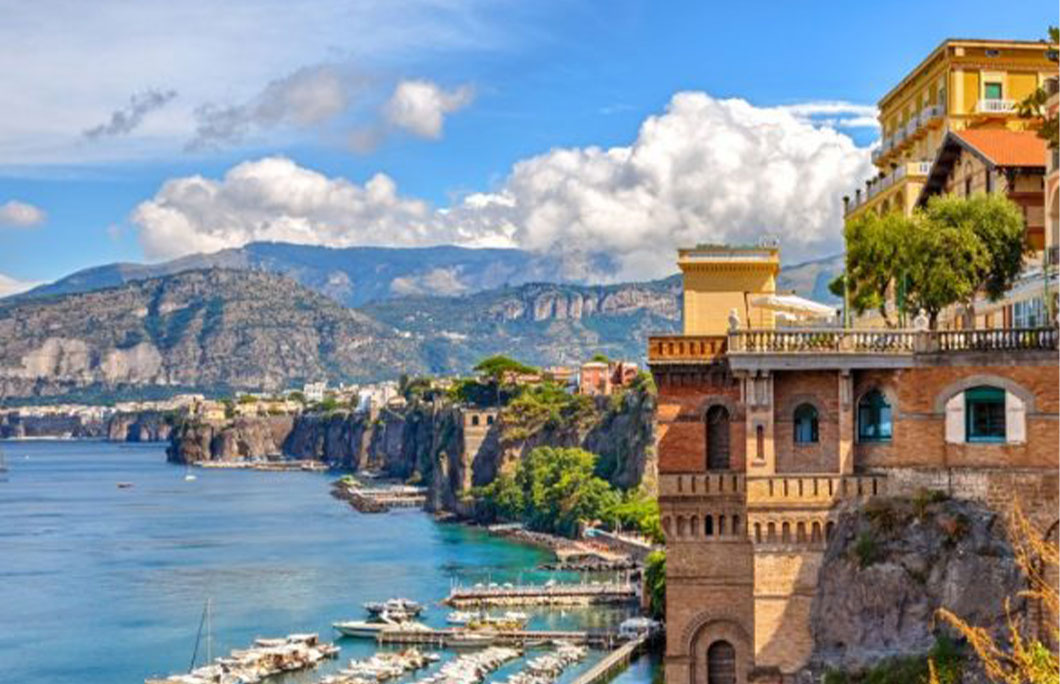 Sorrento
Sorrento's historic centre is a maze of narrow roaming streets, made for getting lost in. Sorrento is best explored on foot, dipping into boutiques and moseying around aristocratic houses. In the evening, do as the locals do and head to Via San Cesareo for an evening passeggiata. Or, watch the world go by at any of the terraced bars at Piazza Tasso, armed with an aperitivo.
The Chiesa di San Francisco is well worth a trip too. The 14th-century church often holds free art exhibits and concerts throughout the summer. Museo Correale features an interesting assortment of Neapolitan art and exhibits too.
Sorrento is full of rambling aristocratic villas, and some of them have now opened their doors to visitors. Villa Fiorentino is one of the most enchanting, with its sumptuous interiors and spectacular landscaped gardens. To best enjoy Sorrento's surreal sunsets, head to Villa Communale at dusk.
---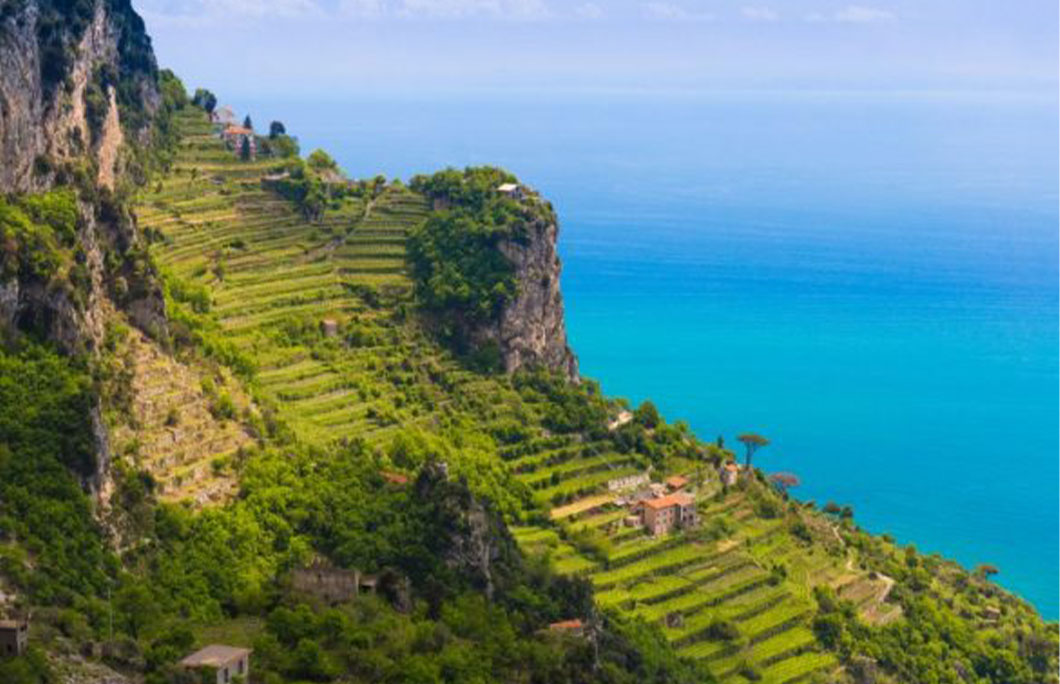 Positano
In terms of traditional sightseeing, the most famous landmark in Positano is probably the spectacular Church of Santa Maria Assunta. It dates back to the 10th-century, charming visitors with its medieval artwork and iconic dome-shaped roof. There are tiny art galleries to explore too, offering opportunities to browse and purchase local artists' works. Franco Senesi is undoubtedly one of the best, featuring works from over 20 Italian modern artists.
But as lovely as these sights are, most people come to Positano for the scenery – beaches, colourful winding streets and hikes. The Path of the Gods, as the name suggests, offers celestial views of the bay from a winding 6.5-kilometre trail. The Grotta della Semeraldo, with its emerald green waters and stalactites, is an enchanting boat trip away too.
Finally, there's the shopping. Positano is almost as famous for its ateliers as it is for aesthetics, so if you're looking for retail therapy, you won't be disappointed. Its narrow winding lanes are packed with hidden gems selling everything from colourful bikinis to limoncello. But Positano is best known for handmade leather sandals. For the ultimate Positano experience, get them custom-made by a local artisan like Artigianato Rallo.
---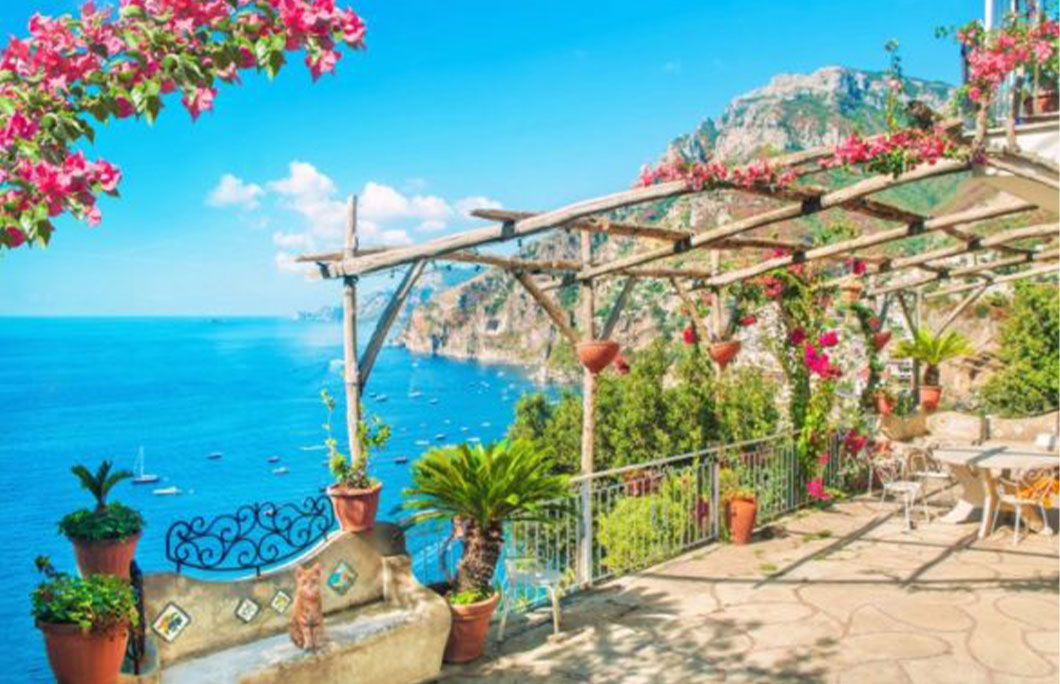 Food and Drink
Given that both towns sit on the coast, fresh seafood, sunshine and a sea view aren't difficult to come by in either.
In Positano, you'll find secluded seaside shacks as well as exclusive terraces. Upmarket Da Adolfo, accessible only by boat, offers the best of both worlds. For a prime people-watching spot, La Cambusa is legendary. Sitting just above the beach, you'll find fresh fish and seafood, as well as local dishes like Zuppa di Pesce.
As well as fresh seafood, Sorrento is famous for its citrus groves. Any trip to the town should include at least several glasses of freshly squeezed orange juice or an ice-cool limoncello. Villa Massa is the biggest producer of limoncello in the world and visitors can take a tour of the premises to find out exactly how the digestive tipple is made. The Marina Grande, a working fishing hamlet in the heart of the city, is the best spot for fresh and affordable seafood. Like Positano, it is a tourist resort, so you'll pay a premium for your dinner.
---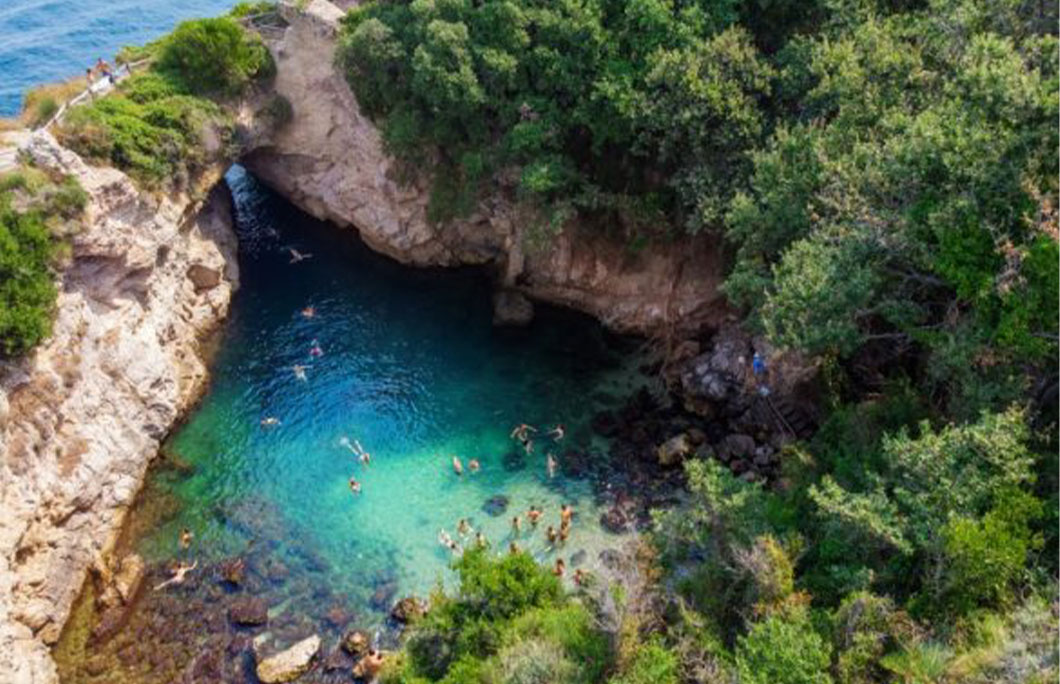 Beaches
Most of the beaches in and around Positano are pebble beaches. The Spiaggia Grande is the town's main beach, easily spotted thanks to rows of colourful umbrellas. The central area of the beach is free, with private lidos on either side. Fornillo is another popular beach, though it's a little more secluded thanks to the small hike down many steps to get to it. If you're willing to walk for it, there are dozens of postcard-perfect beaches around Positano too, like Arienzo Beach. Or, you could always rent a small powerboat and discover a hidden beach to enjoy all to yourself.
Sorrento only has one very small, crowded beach. But what it lacks in sweeping stretches of sandy beach, it makes up for in scenic swimming holes. Regina Giovanna is one of the most idyllic spots, a small tongue of land just beyond the ruins of Pollius Felix'villa. The small lagoon is said to have once been Queen Giovanna D'Angelo's private pool. There's a private beach club here too, with sun loungers and umbrellas for rent. Or you could just stretch out in the sun on one of the flat-topped rocks behind the lagoon.
---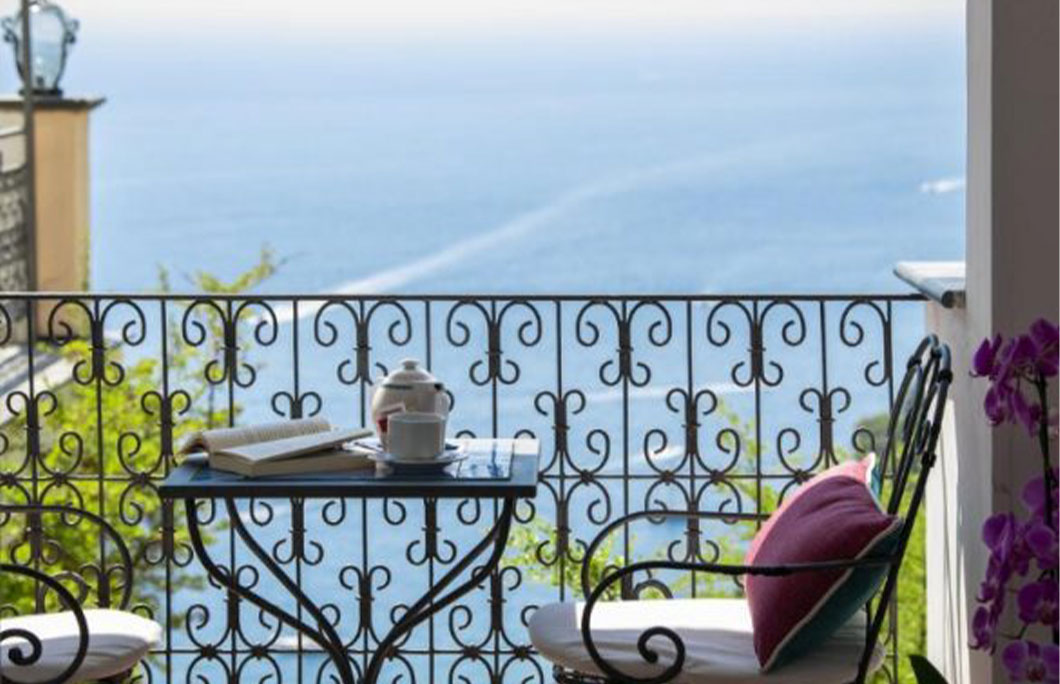 Hotels
Positano is a small town, but there's plenty of accommodation to choose from. As well as budget and style considerations, you should also think about how hard you're willing to work to get to your accommodation – Positano is known as the vertical city for good reason. Those looking for convenience above all else should choose a hotel or B&B around Spiaggia Grande. It also means you won't need to tackle the stairs to get home after a long day lazing at the beach. If it's the views you're after, look downtown, where you'll be close by to boutiques and restaurants too. If you're looking to save money, look to neighbouring Nocelle and Monetpertuso. Both offer a quieter alternative to the city centre, with excellent views and good access to the surrounding hiking trails.
Given its transport links to other pretty places on the coast and further inland, Sorrento is a popular base on the Amalfi. There's a good range of accommodation, with plenty of apartments, B&Bs and hotels for a range of budgets. If you're looking to stretch your budget even further, it's worth visiting during the low season, from October to April.
---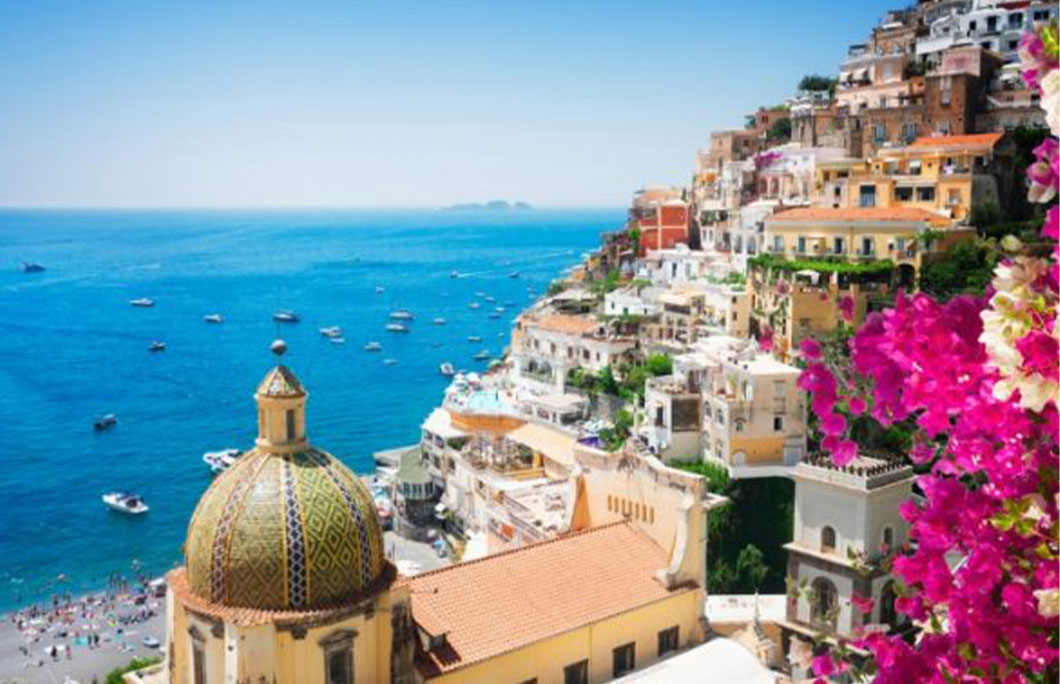 Weather
With just a 35 minute drive between them, Sorrento and Positano both offer a warm, sunny climate for most of the year. The best time to visit is in late spring or early autumn when temperatures reach around 25°C and the flowers are in bloom. The high season runs through July and August and, while the temperatures are the highest, it's also teeming with tourists. If you can avoid it, try and book a trip in shoulder season. If you're looking to travel more affordably and to fill your time with hikes and sights rather than sunbathing, it could be worth travelling between November and March. While a few smaller towns along the coast shut down for the season, Positano and Sorrento both stay open all year round.