Driving in Finland – 15 Things You Need to Know
Which side of the road?
Common traffic sign meanings
Things to take and pack
Prohibited items
Speed limits
Lights
Seatbelts
Alcohol and drugs
Parking
Traffic
Wildlife
Car types
Age requirements
Indicators
Roadside scams
Finland – a gorgeous place to hit the road
Finland – the very name sounds like adventure. This famous Nordic nation shares borders with Sweden, Norway and Russia and has a population of 5.6 million. Capital Helsinki is home to 1.5 million people and its rugged terrain is mostly comprised of boreal forest peppered with 180,000 lakes in Finland.
Called Suomi by the Finns themselves, Finland's rugged beauty is complemented by a cutting-edge culinary scene and a keen eye for contemporary design. Cold, atmospheric winters contrast warm pleasant summers, and this is one of the best places in the world to swim, canoe and hike. Wildlife includes bear and elk, summer is a time for music festivals and refreshing beers in outdoor terraces, while winter is primed for skiing, snowboarding and gazing at the wonder of the Northern Lights. If you're yearning for city vibes meanwhile, besides Helsinki, there are lively attractions in Turku and Tampere.
If the wild outdoors are your ultimate idea of fun and you want a taste of winter wonderland, definitely make a beeline for legendary Lapland. You'll see the dazzling Aurora Borealis, explore the dense forests and swamps and maybe even meet Santa. Hope you're on the nice list!
Excellent road trips in Finland include Helsinki to Porvoo, a pretty town packed with 19th century history, the vast, wild Nuuksio National Park with its lakes, hills, eagles and squirrels, and foxes, and Hanko with its coastal ambience.
Excellent places to stay in Finland include Hotel Haven with its fine restaurant, 5 star suites and views over Helsinki, the hip, family-operated hotel F6, and reasonably priced Hotel Fabian in the city centre.
And Helsinki is particularly fab for foodies. Café Fazer serves sumptuous salmon soup with oven-fresh bread, Savotta Restaurant serves traditional food with scenic views of the city cathedral, Ateljee Bar is a sky bar that serves strong cocktails and funky beats to complement the cityscape views and Café Regatta is a compact, bijou hangout that's perpetually popular with locals and visitors alike.
At the end of the day, unwind all the way in a luxe sauna at Loyly – this is a traditional wooded sauna where you can sweat out your impurities and (if you're peckish when you're done) treat yourself to a slap-up meal at the inhouse restaurant.
Driving is the ideal way to see the best of Finland – but read these 15 tips before you hit the road.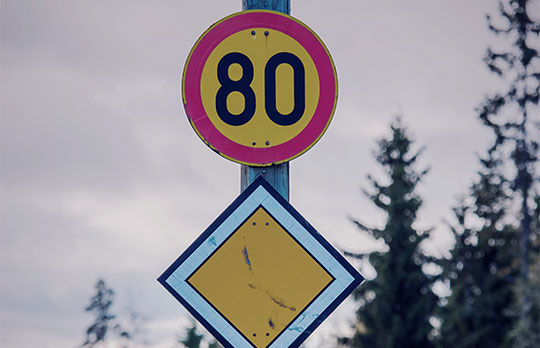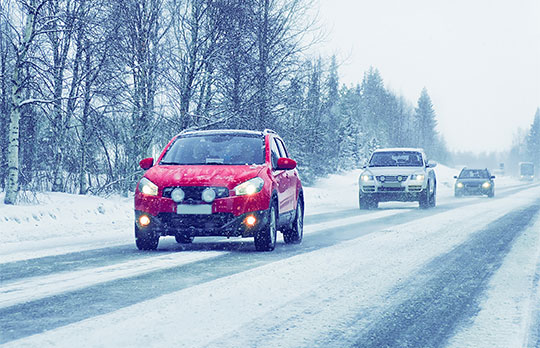 15 things you need to know about driving in Finland
Which side of the road?
First thing's first. You absolutely, positively, always drive on the right in Finland. People in this country have actually driven on the right since way back in 1858 so most cars are left-hand drive. Interestingly, Finnish post office vehicles are right-hand drive – the reason for this is that it allows the drivers to pull up next to mailboxes and push letters and parcels in without having to leave the vehicle. Every day's a school day – this is one fact that might win you the local pub quiz one day!
Common traffic sign meanings
In terms of their symbols, many Finnish traffic signs are similar to those in the UK. However, they're not in English, so there are a few phrases you should be aware of. For instance, petrol station is Huoltoasema, parking is pysakointi, exit is uloskaynti and entrance is sisaantulo. Detour is kiertotie, drive slowly is aja hitaasti, and local speed limit is aluerajoitus. If you want to confirm local road conditions and traffic works, check out Traffic Management Finland for the latest real time information. In general, the road network in Finland is far more efficient than what you're used to in the UK, which will no doubt be a relief.
Things to take and pack<
You should always carry your full, valid UK driver's license, warning triangle, spare bulbs for external vehicle lamps, first-aid kit, fire extinguisher, and high-visibility jacket. There can also be some long stretches of isolated roads in Finland, so it's always best to pack a change of warm clothes, some water and snacks.
Prohibited items
Conversely, there are a few things you absolutely should not take with you to Finland. Don't bring any milk or dairy products, raw meat or products containing meat. And you need to have some itemps inspected and a special certificate issued if you want to carry them – these include vegetables, plants, plant products and fruit.
Speed limits
It's always wise to drive within the speed limit. In Finland, the limit is 50 km/h in built-up areas. 80 km/h outwith built-up areas, 100 km/h on major highways in summer and 120 km/h on motorways in summer.
Lights
Be aware of best practice with lights is vital in Finland – especially when winter months are in almost complete darkness. In general, use your main beams, except when they'll dazzle approaching drivers (when you should switch to dipped beams), or when catching up with a vehicle ahead.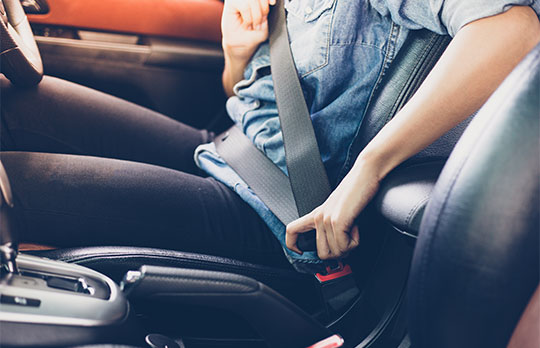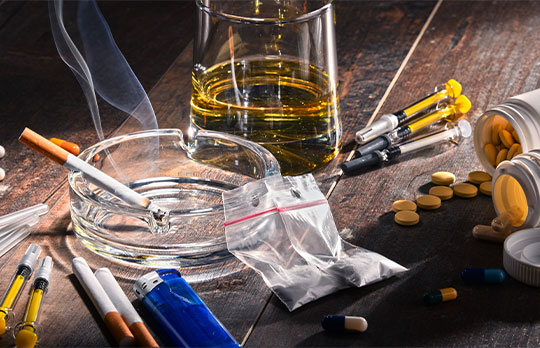 Seatbelts
As you'd expect, seatbelts are mandatory in Finland. When you're travelling in a car or van, everyone should wear a seatbelt front and rear, and children should wear seatbelts or age/size appropriate restraints.
Alcohol and drugs
Drinking and driving is strictly forbidden in Finland. The standard blood alcohol limit is 0.5 g/l for all drivers and failure to comply can result in a fine or even imprisonment. Alcohol tests are mandatory if you're involved in a road collision, but surveillance and random breathalyser tests are also used to enforce the law.
Parking
Because you drive on the right hand side of the road in Finland, you are only permitted to park on the right side of the road. However, please note that you can't park where there are bends or intersections nearby, if the car is located on railway or tram tracks, or if there's already a row of parked cars. You also aren't allowed to park where there are overpasses above or below the car and it's forbidden to pull up in a tunnel. Please note that it's often hard to park a car in Helsinki. There are three zones, and the cost gets pricier closer to the city centre. Large shopping malls and boutiques offer spaces, but the duration typically varies from 30 minutes to 4 hours.
Traffic
There are some long stretches of roads in Finland, but roads are generally in decent condition. Traffic jams are uncommon – to the extent that the worst compliant you'll likely hear is being delayed for a few minutes. You can use your Satnav to avoid delays if necessary, or (as mentioned) tune into Traffic Management Finland for hot-off-the press information.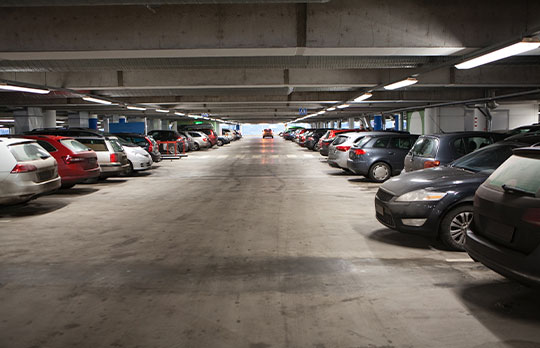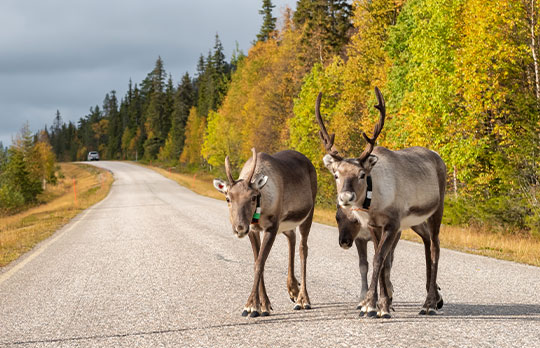 Wildlife
In 2019, wild animals caused 13,433 road accidents in Finland, with most incidents occurring in Pirkanmaa, Uuisimaa and Southwest Finland. You should always drive very cautiously in rural areas because some of the animals involved can be very large, such as reindeer, moose, bears and wild boar. Be especially careful when driving at night as this is when these types of animals tend to wander around.
Car types
Mini-sized cars are the most popular to hire in Finland as these allow you to conveniently zip around cities. However, a larger saloon is great if you're travelling in a larger travel group and if you're heading off to the hinterlands, a jeep-style 4 x 4 might be preferable. It takes a little time getting used to any vehicle that's new to you but wherever possible, try to choose a vehicle you're comfortable and confident driving.
Age requirements
In general, you have to be 20 years old to hire a car in Finland and have held your license for at least 1 year. The minimum age can vary depending on the type of car and some rental companies impose a surcharge on drivers under age 25.
Indicators
You should always use a directional indicator when you're moving off from the roadside, approaching a junction, turning the car around on the road or when changing lanes.
Roadside scams
Unusually, Finnish Police have reported a number of scams on the road network. One dastardly plot involves fake police who stop vehicles and then demand on the spot payment for fines. Remember that although regular police might impose an on the spot fine, they will never insist that it's paid there and then. Meanwhile, another scam involves motorists who have seemingly broken down and flag passing drivers for assistance. Once you pull over, these fraudsters then make aggressive demands for cash to fill up their petrol tanks.