Enjoy Ireland's beautiful countryside
There's no doubt you've heard that to combat the current health crisis, the government is advising travellers to avoid public transport in favour of walking, cycling, or driving.
Therefore, to get around the 14-day quarantines necessary when traveling abroad, hiring a car maintains social distancing and enables hassle-free travel.
Visiting Ireland by car also provides you with the opportunity to embrace The Emerald Isle under your own steam.
Read on to find out more about hiring a car in Ireland and rolling out for some awesome road trips.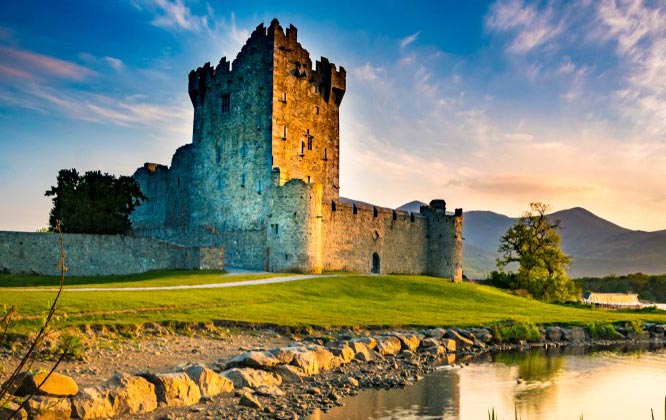 Why Choose Ireland?
London confirms travellers from Ireland to be exempt from Covid-19 quarantine
Ireland is an EU member country and island in north-western Europe. Surrounded by the Atlantic Ocean, it's steeped in history, rich culture, and legend. Its large land size (the third-largest in Europe) yet relatively small population (4.9 million), temperate climate, and gorgeous countryside roads make this excellent territory to escape to.
It's a member of the EU (so its currency is the Euro), its residents speak English and Gaelic, making it an international destination and it also shares a land border with the UK in Northern Ireland.
Irish and Gaelic culture
Irish culture has had a strong influence globally, particularly in literature. It has a robust Gaelic culture alongside a western one, evidenced in Gaelic language (including bilingual road signs), Irish music and Gaelic sports.
There are three World Heritage Sites on the island of Ireland, tourism is an essential part of the economy and it's one of the wealthiest nations on earth per capita, thanks in part to the 'Celtic Tiger' economic boom of the nineties and early noughties.
You'll find our must-do road trip recommendations to enrich your Irish experience below – but before you set off, pause briefly to read some important driving tips and rules in Ireland.
Generally, motoring rules are similar to those in the UK: you drive on the left in Ireland too. You'll also need:
A valid US, Canadian, or EU driver's license. For visitors from other countries you will need an International Driving License.
Vehicle registration document (V5).
Third-party insurance.
Your car hire agreement
Speed limits: The speed limits in the Republic of Ireland are: 50kph (30 mph) in urban areas, 80kph (50 mph) on single open roads, 100kph (60 mph) on national roads (marked by a green sign), and 120kph (74.5 mph) on motorways.
Ireland is mostly rural, so rural traffic like large, slow tractors and farm machinery is the norm during busy agricultural times from March to October. But also watch out for wildlife and pets which can suddenly cross the road, and remember that you might come around a curve to find cows or (especially) sheep resting right in the middle of the pavement or even the road.
Drivers may not use a mobile phone while driving, so get the passenger to be the navigator! Bluetooth/hands-free devices are allowed, but drivers must remain focused and careful when using them.
The alcohol limit while driving in Ireland is 0.5 milligrams of alcohol per millilitre of blood – which is lower than the 0.8 mg legal limit in many other countries – it's safer to not touch a drop while driving!
Finally, due to the uncertainty caused by Brexit and the health crisis, driving regulations or license requirements may change, so stay up to date.
Now you've got the lowdown on driving in Ireland, let's get on the road for some superb trips.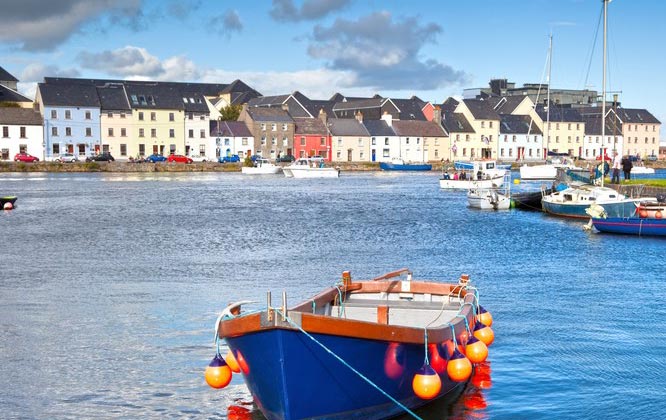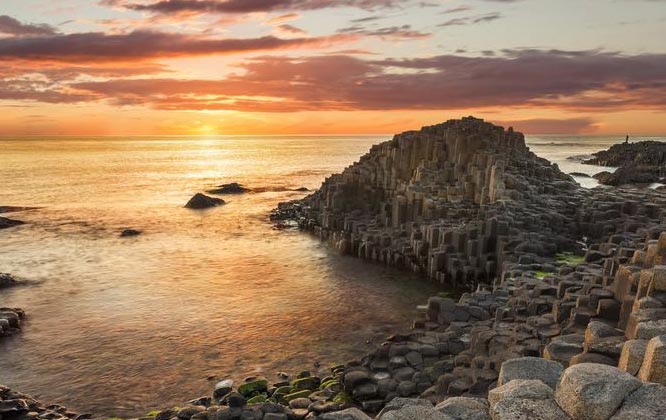 Irish Road Trips – Chasing the Crock of Gold!
The Rock of Cashel
The Rock of Cashel, Ireland's most visited heritage site, can be seen in many images of Ireland. Sitting atop a limestone rock outcrop in the Golden Vale, this spectacular complex of medieval buildings includes the High Cross and Romanesque Chapel, the 12th-Century round tower, a 15th-Century castle, and a 13th-Century Gothic cathedral. Cashel also has a folk museum which also features the 1916 Easter uprising, the Bru Boru Heritage Centre, Dominic's Abbey, Hore Abbey, and St. Patrick's Rock. The nearest airports are Cork Airport and Shannon Airport, both of which are around 80 km away, while Dublin Airport is located 150 km away. Hire a car at the airport and take a leisurely tour of County Tipperary!
Brú na Bóinne (the Boyne Palace)
Brú na Bóinne (the Boyne Palace) contains some of the most important historic monuments and sites in Ireland, and is a World Heritage Site. The megalithic tombs predate Stonehenge, the Pyramids of Giza and even the invention of the wheel! Newgrange is perhaps the most well-known, especially for its Winter Solstice celebrations on December 21, when a slither of sunlight hits a specially designed box in such a way to illuminate the tomb. The closest airport is Dublin (21 km or 40 miles) – hire a car at the airport and head North on the M1 motorway, then turn west for Brú na Bóinne just before the junction for Drogheda.
The Cliffs of Moher
The Cliffs of Moher in County Clare is a rugged area stretching along five miles of Ireland's West Atlantic coastline and rising to 700 feet above sea level. With an annual visitor count of 1 million, it's one of the island's most popular sites. The views extend from Galway Bay to the Maum Turk Mountains in Connemara, to the Aran Islands and beyond. To reach County Clare, fly direct to Shannon Airport, hire a car there and enjoy open road motoring to this stunning area.
The Aran Islands
These three islands in Galway - Inishmore (Inis Mór), Inisheer (Inis Oirr), and Inishmaan (Inis Meain) – are famous for their 'frozen-in-time' atmosphere, thanks to a rural culture and subsistence largely unchanged in centuries and their untouched natural beauty. However, expect mod cons like electricity, accommodation, cosy pubs, and super-friendly locals! It's not possible to take a car ferry to the Aran Islands so park your hire car at Doolin in County Clare or Rossaveal in County Galway (a shuttle bus runs from Galway City) to reach the islands by passenger ferry. There's bike hire on Inishmore so explore ancient ruins and serene country on a 1-day loop around the island, or spend a couple of nights in a luxury glamping pod or family B&B. Finally, don't forget to book accommodation prior to arriving, especially on Inisheer (Inis Oirr) or Inishmaan (Inis Meain).
Galway
Considered by some to be the cultural heart of Ireland due to its high proportion of Gaelic speakers and its strong association with traditional Irish, song, dance, music and Gaelic language, Galway City is the third-largest city in Ireland and the only one in Connacht. Although it has a population of just 70,000 it has a big heart, and Connemara is also the birthplace of the late actor Peter O'Toole. Hire a car at whichever airport you choose (Shannon and Knock Airports are both one hour's drive from Galway City, Dublin is 2.5 hours away) and take the N59 northwest up the stunning coast via Clifden, Westport and Ballycroy National Park.
The Ring of Kerry
This stunning scenic drive around the Iveragh Peninsula in southwest Ireland's County Kerry is a 179km-long, circular route through rugged coastal landscapes, ancient monuments, blooming gardens and colourful towns and seaside villages. Skellig Michael, a rocky island with an abandoned 7th-Century Christian monastery and 6th-Century beehive dwellings, is a major tourist destination (having recently featured in the Star Wars franchise) and several boats sail from Portmagee in summer.
The Giant's Causeway
Although this UNESCO World Heritage Site is in Northern Ireland (part of the UK), because there is no 'hard' border with the Irish Republic it's quick and easy to nip over the border up to the spectacular Antrim Coast, home of the Causeway Coast. Here you can explore the stunning and unique Giant's Causeway – a legendary formation of 40,000 large basalt columns of hexagonal stepping stones, formed in a more volcanic age some 60 million years ago. From Dunluce Castle to the Bushmills distillery via multiple Game of Thrones locations, the Causeway Coastal Route is consistently described as one of the world's best drives. Remember that as Northern Ireland is part of the UK, speed limits and distance are measured in miles per hour (mph) and miles respectively, so don't get caught out.
And there you have it! For a scenic escape from a restricted routine and a cathartic holiday close to home, Ireland takes some beating – wherever you go, you'll find aesthetic beauty, charming company and world-class craic!
Looking for your own Ireland adventure? Hire a car in Ireland Today!