Top 10 Road Trips from Antalya
Ephesus
Saklikent
Goynuk Canyon
Marmaris
Olympus
Elmali
Side
Pamukkale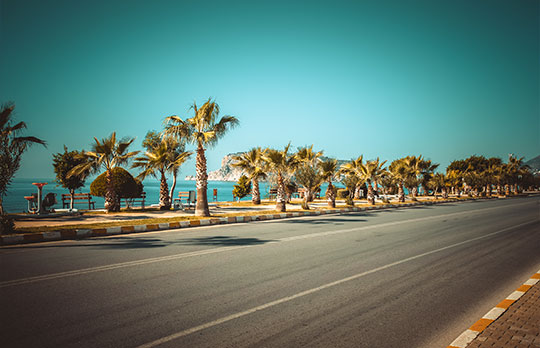 Top 10 scenic drives from Antalya
So you're spending some time in Antalya? Great choice. Turkey's fifth most populous city has a prime position on Anatolia's southwest coast, nestled between Turquoise Mediterranean waters and the Taurus Mountains. This is a metropolis that beautifully balances ancient and modern elements ‐ with the outstanding Ottoman architecture of its remarkably well-preserved Kaleici old town district and Roman harbour counterbalanced by beautiful contemporary buildings like the aquarium.
Main attractions in the old town include the commanding stone clock tower and fortress gate at the main square, and the ornate tiled interior of the 18th-century Tekeli Mehmet Pasa Mosque. Meanwhile, the old harbour is the perfect spot to watch the sunset with a cool beer, take a boat trip out into the bay or splash around in the Med. And more serious sunseekers can head west of Antalya's town centre to Konyaalti Beach, where sweeping golden sands and dramatic mountain backdrops await. But don't forget the Antalya Museum. One of Turkey's finest cultural institutions, it creatively displays treasures from the major surrounding archaeological sites, with exhibits covering the Bronze Age right through to Byzantium ‐ the superb Greek and Roman statues from sites like Patara and Xanthos are particularly impressive.
Hire a car in Antalya and you can see some of the world's best ancient ruins ‐ and much more ‐ at your own pace. Touring this area by car is a captivating experience.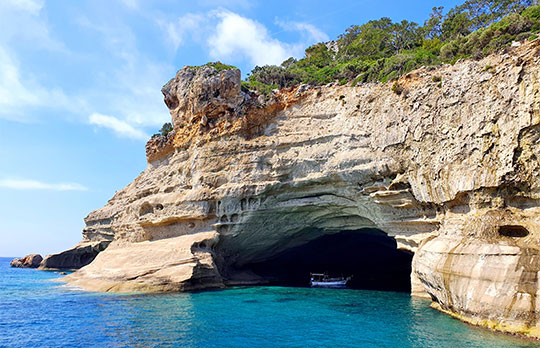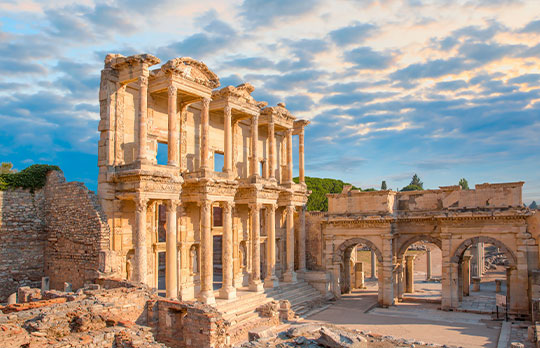 Top tips on driving in Antalya
Ready to roll with your Antalya road trips? Take five for some driving tips first.
You drive on the right-hand side of the road in Turkey and the minimum age to hire a car is 21. British drivers now need an international driving license to get behind the wheel here ‐ they're relatively inexpensive, so you can order one in advance of your trip and carry it alongside your UK license.
There's a zero blood alcohol content drink driving limit here, so please don't touch a drop any time you plan to drive. Always wear your seatbelt and observe the speed limit, which is 50km/h in urban areas, 90km/h on dual carriageways and 120km/h on motorways.
Now you're in pole position for those scenic road trips ‐ let's go!
Ephesus
First off, Ephesus is an amazing ancient site, but it's 5 hours from Antalya via the E87, so you should plan a weekend here to really make the most of it and drive rested, fresh and focused. That said, you'll be richly rewarded for your marathon trip to Turkey's most famous archaeological site. Stay over at nearby Selcuk or Kusadasi and plan your itinerary to pack the fun in. Highlights at the site include the 2nd century AD Vedius gymnasium, the Church of the Virgin Mary (where the Third Ecumenical Council was held in 431 AD), and the Square of Verulanus and Great Baths. But that's not all ‐ The Arkadiana is a grand avenue where portions still look perfectly paved, and the Great Theatre is striking for its size and how intact its cavea and orchestra remain.
Saklikent
One hour and 10 minutes west of Antalya via Yil Blv, Saklikent is a super place to visit if winter snow sports are your thing. The season generally runs from Mid-December to early April and the slopes are generally quiet during the week. The winter sports area sits between 1850 and 2547m in the mountains and boasts hotels, ski lifts and 10km of pristine slopes, with half suitable for novices, the lion's share of the remainder aimed at intermediate skiers, and a couple of slightly trickier slopes. If you've not brought your gear and this is an ad hoc trip, don't worry ‐ you can hire everything when you get there.
Goynuk Canyon
Just 40 minutes from Antalya via D400, Goynuk Canyon is a must-see for fans of the great outdoors. The canyon's sheer sides, pounding white waters and pretty waterfalls are seriously impressive and this natural adventure park offers activities like canyoning, rafting, paintball, guided walking and a thrilling zip line suspended 40m in the air. Once you've had your fill of exploring Goynuk from all angles, grab some lip-smacking Turkish barbecue dishes from the restaurant near the entrance. Mmm, hmm.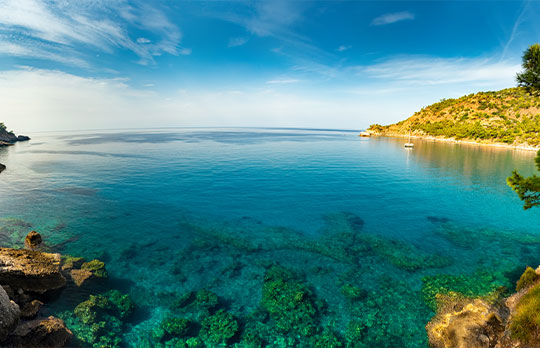 Isparta
One hour and 40 minutes north of Antalya via D685, Iparta is an inspirational day trip destination. There's lots to do in this area, including relaxing by languid Lake Egirdir, exploring the ancient Antioch of Pisidia, and the religious site of Dundarbey Medresesi, which was an ancient Islamic educational centre. Isparta is also a fab place for foodies ‐ Antre Gurme Café serves sizzling steaks cooked to perfection, Ferah Kebap Salonou offers arguably the finest lamb in the vicinity, and Antre Cadde specialises in both Turkish and Italian cuisine. For cultural sites and tasty bites, Isparta delivers.
Marmaris
Another longer trek from Antalya, Marmaris is a 4 hour 20 minute drive via D330 and D400. But stay here for a few days and you might not want to leave ‐ it's a spellbinding destination. The castle is a good first stop when you get there ‐ dating from the 16th-century, it was extensively restored in the 1980s and offers panoramic views from the walls. Meanwhile Icmeler Plaji is rated as the best beach by those in the know, and you can take a small boat our to the uninhabited island of Sedir. There's an upscale marina where you can sip cocktails and people watch as boats bob gently on the breeze, and a boat tour to see the sea caves is always exciting.
Olympus
Also known as Mount Tahtali, Lycian Olympus is one hour and 25 minutes from Antalya via the D400, and it's a dynamic day trip destination for anyone who loves history and scenery. The best base for exploring this area is Kemer and you can either scale the peak over a period of a few days or take the lazy (but still lovely) option and hop in the cable car. At the top, you're afforded peerless views of the Beydaglari Mountains, Antalya coast and sparking Mediterranean. There are two decent restaurants at the top, a souvenir shop and a pro photographer who can snap you against the dramatic backdrop.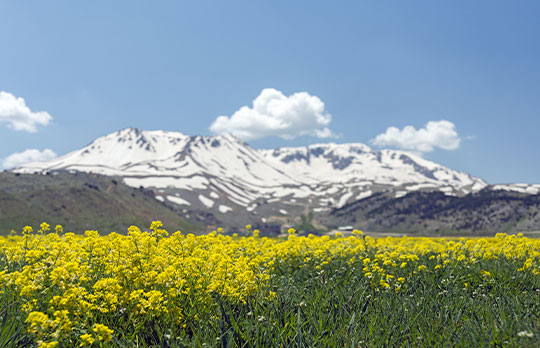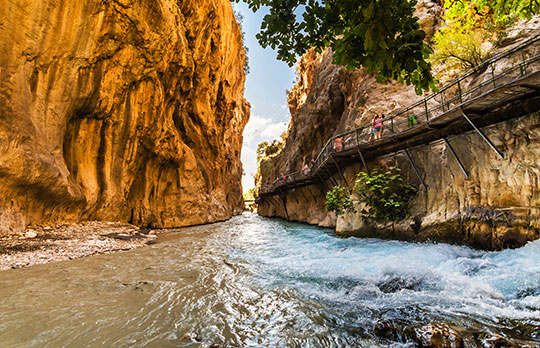 Elmali
One hour and 30 minutes from Antalya via D330/E87 and D635, Elmali is a hidden gem just waiting for you to discover. A quiet rural area where visitors enjoy horse riding, wildlife and hiking, this is a great choice for a getaway to recharge your batteries. One of the highlights near Elmali is Avlan Lake, an eye-popping karstic formation lake that's set 1030m above sea level and covers 850 hectares ‐ its mountainous surroundings and mirror surface makes it look doubly impressive on a warm, blue sky day.
Fethiye
Fethiye is two hours and 40 minutes from Antalya via D330/E87 and it's a fab road trip destination. Top things to do in this picturesque location include taking a yacht cruise from the harbour, paragliding over Oludeniz lagoon, and strolling through the ghost town of Kayakoy. You can also relax on Butterfly Valley beach, which is bookended by two beautiful cliffs, and explore the romantic ruins of Xanthos. Archaeology fans also shouldn't miss the Rock Tombs of Tlos ‐ set high in the hills 35km east, this complex is carved into solid stone and features baths, an agora, restored theatre and more.
Side
How does a one hour trip along the coast via Mersin-Antalya Yolu/D400 sound? Side is a popular road trip from Antalya and it's easy to see why. An important Greek and Roman settlement at various points in its history, Side boasts unique attractions like the Temples of Apollo and Athena and its vast Roman Theatre. But east beach also satisfies pleasure seekers, Mangavat Waterfalls are a slice of paradise and rafting the river at Koprulu Canyon is an experience you'll never forget. The ruins of the town of Seleucia are also worth seeing ‐ wandering through these abandoned streets in a scented pine forest has a real spiritual feel.
Pamukkale
A three hour drive northwest via E87, Pamukkale is the perfect way to round off your awesome Antalya road trips. The name Pamukkale means 'cotton castle' and you'll understand why when you see its striking, bright white calcite cliffs and natural terraces named travertines. These semi-circular formations are full of water in some parts and really look unique. There's also the Hierapolis City ruins, and Hierapolis Theatre to explore, and you can take a cathartic dip in the health-giving mineral waters of the Pamukkale Antique Pool.