Top 10 Road Trips from Montenegro
Podgorica to Komovi
Grebaje Valley
Bajrovica Katun to Zabljak
Podgorica to Skadar Lake
Kotor Bay
Budva Riviera
Biogradska Gora National Park
Bar and Ulcinj
Podgorica to Dubrovnik
Ostrog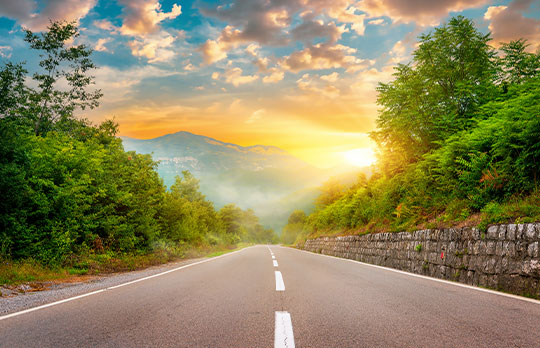 Top 10 scenic trips from Montenegro
Montenegro – this exotic sounding Balkan nation is named Crna Gora in the native tongue, which translates as 'Black Mountain'. Nestled in Southeastern Europe on the Adriatic Sea, it's bordered by Croatia, Albania, Kosovo, Bosnia and Herzegovina and Serbia – as well as sharing a sea border with Italy. Podgorica is the capital and, as well as Montenegrins, the country has significant groups of Albanians, Bosniaks and Serbs. A reasonably small country (13,812 square km), it punches above its weight in terms of scenery, with diverse terrains that includes some seriously stunning coastal vistas – commanding mountains take sheer drops into the sea, castellated towns perch precariously on clifftops and sumptuous soft sand beaches welcome visitors from all over Europe and beyond. Away from the coast, the high country around Prokletije and Durmitor is popular with hikers, the ancient forest of Biogradska Gora is magical and the nation's wildlife still includes apex predators like bears and wolves.
Montenegro's diverse cultural heritage reflects its position between eastern and western cultures and the fact that it was fought over by various powers for generations. Consequently, architectural riches here include well-preserved remnants of Roman villas, ornate Orthodox monasteries, elaborate mosques and sturdy fortresses in various styles. Popular things to do in this exciting nation include visiting the picturesque village of Sveti Stefan, exploring Budva Old Town and taking in Tara Canyon (world's second-deepest after the Grand Canyon). But there's much more besides and hiring a car in Montenegro here at Enjoy Travel is your key to unlocking the best of this Balkan powerhouse.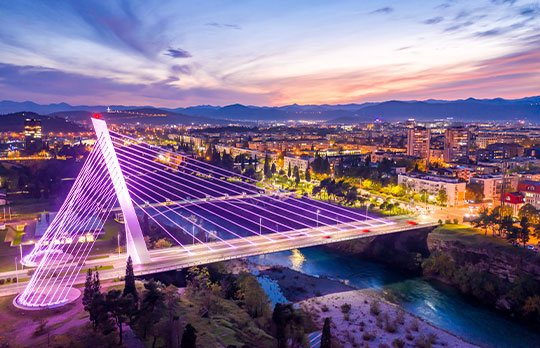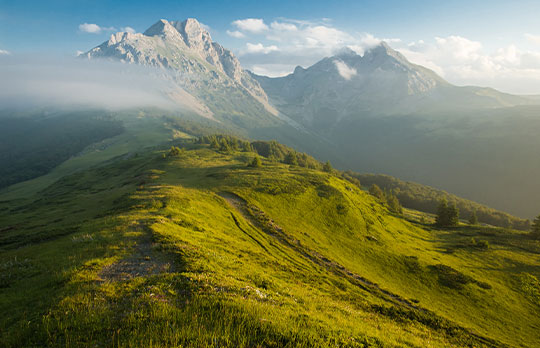 Top tips on driving in Montenegro
Top 10 road trip in Montenegro coming right up, but let's take a pitstop for some driving tips.
Firstly, remember that you drive on the right and overtake on the right, with cars from the right usually having right of way, and you should use dipped headlights all day and night on all roads – at every time of year.
The driver and all passengers should wear seatbelts, kids under 12 aren't allowed in the front passenger seat and those under 5 should wear an age and size appropriate restraint. Never drink and drive – the blood/alcohol limit is 0.03% and random testing by police is common.
Speed limits in Montenegro are 50km/h in built up areas (unless signs say otherwise), 80km/h outside these areas and 100km/h on motorways.
Now let's roll out on those road trips!
Podgorica to Komovi
If you're based in the capital Podgorica, this mountainous road trip takes you through some of Montenegro's most magnificent scenery. The drive to Stavna at the base of the Komovi mountains takes around two and a half hours and this high pastureland is as pretty as any equivalent in Alpine nations like Switzerland. You can stay overnight at Eko Katun Stavna and there's an ad hoc herdsman's settlement nearby that offers a glimpse into what life has been like for centuries in this remote yet beautiful part of the world. There are a series of road tunnels that weave through different areas of the Komovi mountains and it's a super spot to explore.
Grebaje Valley
Three hours from Podgorica via E65/E80, Grebaje Valley in Prokletije National Park is always a great weekend road trip destination. One of Montenegro's hidden gems, the Grebaje Valley is a narrow, scenic strip of terrain around 20 minutes from the town of Gusinje. Book a couple of nights stay at Bungalows Prokletije – these comfy wooden cabins offers eye-popping views of Dolina Grebaje, and the food and hospitality are top notch. Build in time for the hike to Volusnica – the view from the top includes the Albanian Alps and Karanfili Peaks.
Bajrovica Katun to Zabljak
Zabljak is three hours 20 minutes from Bajrovica Katun, and this rewarding road trip takes you along Tara Canyon and through Montenegro's rugged yet preternaturally beautiful heartlands. Zabljak is a brilliant base camp for exploring Durmitor National Park and you can easily find somewhere central and comfy to stay for a couple of nights to unwind and make the most of the area at your own pace. Durmitor National Park arguably offers the best hiking terrain in the entire Balkans and highlights include the Black Lake, Planinica plateau and Bobo Kuv – the most vertiginous peak in the whole range.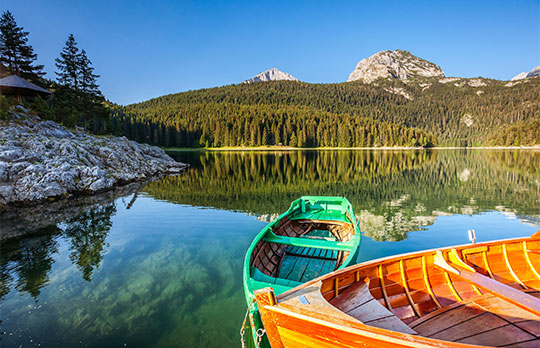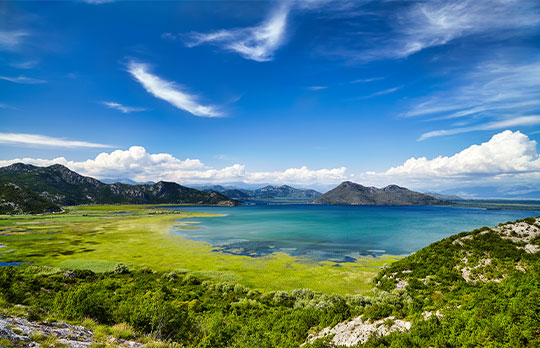 Podgorica to Skadar Lake
A reasonably short drive from Podgorica, Skadar Lake is an ideal scenic setting for anyone who loves birds and water. One of Europe's largest bird reserves, the reed canals and open expanses of this haven for twitchers are teeming with wildlife. A boat trip to the prison island of Grmozur and the tumbledown Lesendro fortress is a must, and there are several other islands which host monasteries where they produce a delicious local brandy. If you're fond of a tipple, this is also the nation's foremost wine region, so if park up your car or have a designated driver, there are winery tours aplenty.
Kotor Bay
An exciting road trip from Podgorica to Kotor Bay and beyond exposes you to some of Montenegro's most fascinating history and culture. At Lipa Cave (equidistant from the capital and Cetinje) there are interesting guided tours through the labyrinthine karst cave system, while King Nicola's Court and the Blue Palace are just two highlights of the ancient capital Cetinje. A little further on, the road through Lovcen National Park affords some of Montenegro's most spectacular vistas, and the route snakes back downwards in a series of sharp bends, with each offering another picturesque angle of the Bay of Kotor. Keep your eyes on the road if you're driving though!
Budva Riviera
An easy day trip destination from Podgorica, the Budva Riviera really is as beautiful as it sounds. The most jaw-dropping route skirts Lake Skadar and continues on along the coast, with possible pitstops in pretty Petrovac and Sveti Stefan, as well as the verdant forested terrain of Milocer. At Budva, you've got an old town that dates back 2000 years, the magnificent Mogren Beach and a host of first-rate restaurants serving ocean-fresh seafood and more. For a taste of the good life, a couple of days in Budva Riviera is good for the soul.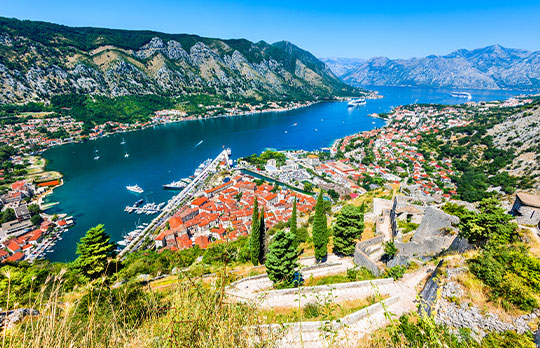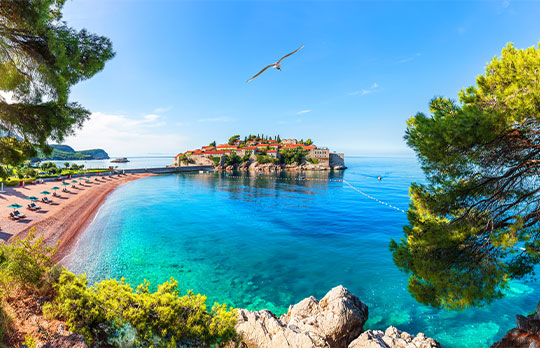 Biogradska Gora National Park
Around one hour and 40 minutes from Podgorica via E65/E80, Biogradska Gora National Park is a joy to behold. Popular activities in this natural wonderland include visiting Biograd Lake and exploring the hiking trails around the virgin rainforest or taking on the more vigorous challenges of the Zekova and Crna Glava Bjelasica mountain peaks (2117m and 2139m respectively). Horseback riding is another favourite pastime in this part of the world and the glacial lakes of Pesica and Uruslovacko are absolutely gorgeous.
Bar and Ulcinj
Located on Montenegro's south coast, the traditional towns of Bar and Ulcinj are real eye-openers. Bar boasts an old town enhanced by brightly coloured streets and buildings, as well as iconic olive groves where the world's oldest olive tree still stands strong – the 2000 year old Stara Maslina. One of the Adriatic's oldest towns, Ulcinj is a similar vintage and has several sandy beaches to choose from – as well as the juiciest watermelons available anywhere on Earth (trust us!).
Podgorica to Dubrovnik
Fancy a cross-border road trip? Croatia's Dubrovnik is two hours and 30 minutes from Podgorica via E762 and M6, and it's always a delight. Great things to do here include walking along the ancient city walls (a Game of Thrones filming location) and exploring the narrow alleyways and elegant squared of the Old Town. Take the cable car to the top of Mount Srd for spectacular views and don't miss Dubrovnik Cathedral with its 16th century Titian triptych on the main altar.
Ostrog
Just one hour's drive northwest of Podgorica, Ostrog Monastery is one of the holiest sites in Montenegro. But you don't need to be religious to appreciate its sublime beauty and impressive architecture – it's literally carved into the cliffside overlooking the Bjelopavlici Plain. The views from the upper monastery over the Zeta River are lovely and nearby Niksic Krupac Lake is always worth a pitstop. For unique architecture and striking nature, Ostrog fits the bill.