Top 10 Nottingham Road Trips:
Sherwood Forest
Ashbourne
Sheringham
Lincoln
Melton Mowbray
Newark-on-Trent
Skegness
Mam Tor
Bolsover Castle
Hardwick Hall.
Famous as the home of legendary outlaw Robin Hood, this is an inclusive, future-facing city which fuses its fascinating past with a contemporary music and club scene enlivened by its huge student population and terrifically talented locals.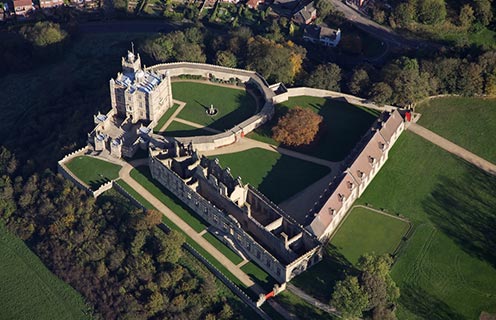 An English East Midlands city with a population of 794,000 in the metro area, Nottingham is packed with history, culture and superb scenery.
10 lovely scenic drives from Nottingham by car
Meanwhile, in surrounding Nottinghamshire, there are attractive towns, charming villages, pretty parks, gorgeous gardens, fantastic forests and relaxing nature reserves aplenty, which makes Nottingham a superb base for hiring a car and heading off for an adventure.
Highlights in the city proper include Old Market Square, complemented by the Guildhall and elegant, neoclassical Council House, the Lace Market heritage zone with its distinctive red brick buildings, Nottingham Castle, with its squat, stout splendour, and the interesting Green's Windmill and Science Centre.
Before you strap on your seatbelt, take a look at a few useful tips for driving in and around Nottingham.
Tips on driving in Nottingham
East Midlands Airport (EMA) is just 11.7 miles from Nottingham and it's a hassle-free car hire pick up location if you're arriving by air, but you can easily arrange a Nottingham downtown/city centre pickup.
The speed limits in Nottingham and its environs are 70mph on dual carriageways and motorways, 60mph on single carriage roads, 30 mph in built-up areas and as low as 20mph in some residential zones.
Once you're ready to roll, the following amazing Nottingham road trips await:
1. Sherwood Forest
No visit to Nottingham is complete without a drive out to Sherwood Forest, the home of tight-wearing, bow-wielding hero Robin Hood. Located near the village of Edwinstowe, the Sherwood Forest Visitor Centre is packed with interesting information on the legend of Robin and his Merry Men, and the natural wonders of this expansive 1000-acre sylvan space. If you like forest bathing and folklore, you'll be in your element here.
Getting there: Take the A614 north from Nottingham to reach Sherwood Forest in around 45 minutes.
2. Ashbourne
A delightful market town characterised by elegant Georgian town houses and winding cobbled streets, Ashbourne is located just south of the Peak District National Park's south boundary. There are lots of natural delights here, including the striking White Peak and its unusual limestone formations, lovely Dovedale with its verdant ravine and pyramid-like Thorpe Cloud, and terrific Tudor buildings and bustling markets in the town proper.
Getting there: drive west from Nottingham via Brian Clough Way/A52 to reach Ashbourne in around 40 minutes.
3. Sheringham
Located on the lovely North Norfolk Coast, Sheringham is a super seaside town where you can spend a lovely day out taking in the fresh sea air, feeling the sand between your toes and exploring historical attractions. The beach is clean and serene, so you'll enjoy strolling along and watching the waves break against the rocks, while Sheringham Museum: The Mo has interesting displays on everything from folk art to wind energy, as well as an observation tower offering a bird's eye view of the area. Alternatively, at Sheringham Park you can enjoy a spot of forest bathing amidst ancient woods with giant oaks.
Getting there: take the A52/A148 east from Nottingham and you'll be in Sheringham in around three hours.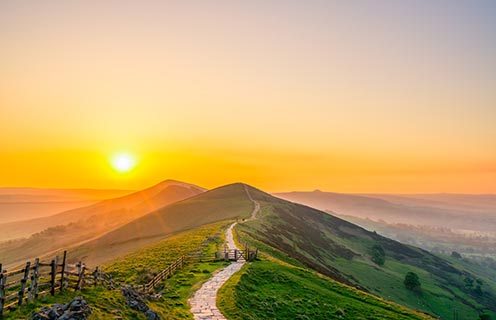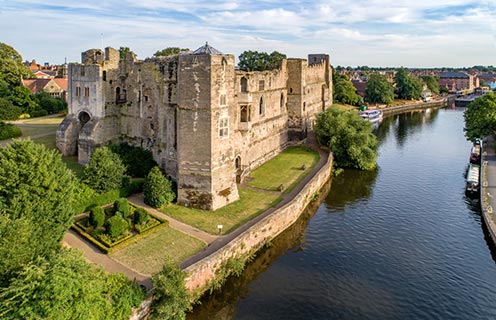 4. Lincoln
Ram-packed with history, Lincoln is a famous East Midlands city which was controlled by Romans and Vikings during different parts of its history. Nowadays it's blessed by beautiful architecture, jaw-dropping historical sites and a variety of cafes and restaurants. Lincoln Castle is the main attraction here and thanks to restoration it now looks as good as it did when it was built by William the Conqueror, Lincoln Arboretum is a lovely Victorian park peppered with lakes, fountains pathways and lawns, and Steep Hill rewards anyone energetic enough to tackle its gradient with inspirational independent shops and cafes.
Getting there: Lincoln is an hour northeast of Nottingham via the A46.
5. Melton Mowbray
A traditional town in Leicestershire, Melton Mowbray boasts the picturesque St Mary's parish church, hosts a livestock market on a weekly basis and is the home of the delicious Melton Mowbray pork pie and Stilton blue cheese. Thrill seekers love Twinlakes theme park, which is packed with rollicking roller coasters, log flumes and old school fairground games, and the Melton Carnegie Museum is full of exhibits on the town, its inhabitants, history and culture. Alternatively, if you want to relax in natural surroundings, head to Melton Country Park, where there's a bubbling brook, lake full of wildfowl, super sensory garden, picnic areas and dense woodland to discover.
Getting there: drive southeast from Nottingham on the M1 and you'll reach Melton Mowbray in one hour and 15 minutes.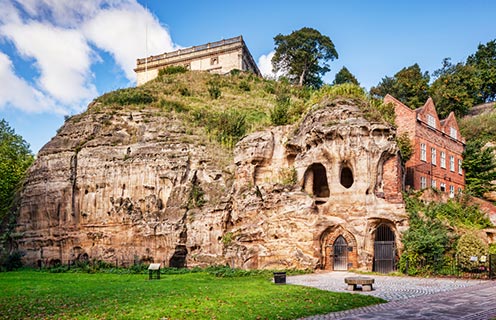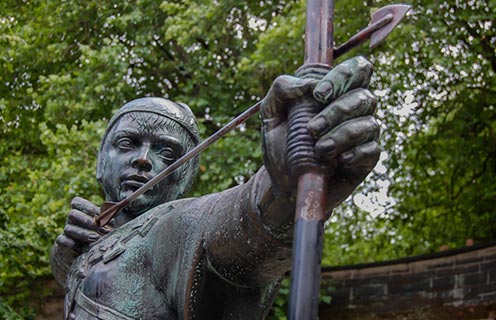 6. Newark-on-Trent
A market town in the Newark and Sherwood district, Newark-on-Trent is a manageable and scenic road trip destination from Nottingham. As well as the attractive scenery, there are plenty of cultural and historical highlights ̶ for instance Newark Castle is set in a picturesque park overlooking the River Trent and has a commanding Norman gate as well as labyrinthine underground chambers and passages. You can refuel and refresh yourself in the superb 15th Century Tudor surroundings of the Old Bakery Tea Rooms and stop at the nearby Newark Air Museum 2 miles east of the town, where aviation fans will find planes like the Vulcan bomber and de Havilland Tiger Moth on display.
Getting there: Newark-on-Trent is around 40 minutes from Nottingham via the A46.
7. Skegness
A classic English seaside town, Skegness is set on the Lincolnshire coast and it's always worth a visit. Stroll along the seafront and there's everything from traditional funfairs, crazy golf and ten-pin bowling to keep you entertained, plus there's some lovely scenery along the coast including Mablethorpe, Sutton-on-Sea and The Wolds.
Getting there: drive east from Nottingham along the A46 and A158 for around two hours to reach Skegness.
8. Mam Tor
Set in the Hope Valley in the Peak District, Mam Tor is an iconic 517m high hill near Castleton ̶ if you want a Nottingham day trip through some lovely scenery and don't mind a bit of walking in order to experience the best views, you'll love it. Mam Tor borders the gritstone Dark Peak and limestone White Peak, so from here you'll see breath-taking views of the Winnats Pass gorge, one of the highlights of the Peak District National Park, and the ridge walk between Rushup Edge and the west section of the Great Ridge affords views as far as Manchester. There's also a clutch of caverns below Mam Tor, including the Peak Cavern, Speedwell Cavern and Treak Cliff Cavern.
Getting there: take the A610 from Nottingham to reach Mam Tor in one and a half hours, rolling through some lovely scenery on the way.
9. Bolsover Castle
Located near the town of Bolsover (handily), Bolsover Castle is a fine example of a Stuart mansion which looks like a fairy-tale illustration come to life. The views over the Derbyshire countryside are spectacular and strolling around here takes you on a real step back in time. The salubrious rooms of the Little Castle are sure to impress, the rambling, ruined terrace range is infused with a romantic ambience and the wall walk is simply wonderful. Staff dressed in period garb add another authentic flourish and there's a takeaway where you can pick up enough tasty treats to make the journey home an adventure for your tastebuds too.
Getting there: take the M1 north and you'll be at Bolsover in just 35 minutes.
10. Hardwick Hall
An elegant Elizabethan country house in Derbyshire, Hardwick Hall was created by Bess of Hardwick (Countess of Shrewsbury and one of the most powerful women of the time) in the 16th century. Now operated and maintained by the National Trust, there's plenty for visitors to see and do in the house and surrounding grounds. You can grab a lip-smacking snack from the café and stroll through the gardens and wild woodlands, but the highlight is the hall itself, where you'll find striking Elizabethan tapestries, furniture from across the ages and an extensive collection of paintings, ceramics and unusual and unique objects.
Getting there: Hardwick Hall is around 30 minutes from Nottingham on the M1, so it's a short hop but a world away.
As you can see, these 10 terrific road trip destinations provide ample evidence that Nottingham is a great base for bouncing around this brilliant part of England by car.
Book as far ahead as possible to bag a bargain on your Nottingham hire car and you can look forward to discovering all of the above destinations and more!