10 Best Weekend Breaks from Lisbon
Estoril
Setubal
Aldeia da Mata Pequena
Alentejo
Sesimbra
Serra Da Estrela
Badajoz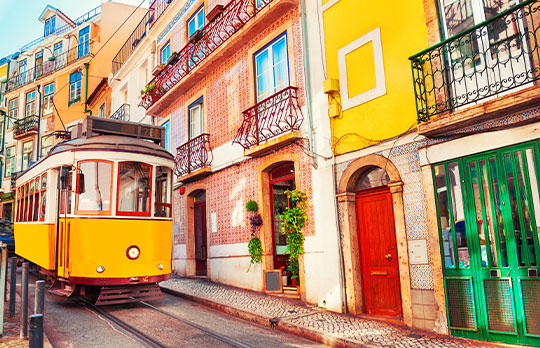 Top 10 weekend breaks from Lisbon
The most westerly capital in mainland Europe, Lisbon's pleasant climate, waterfront scenery and heady mix of old world charm and contemporary attractions make it a great place to spend time. Its neighbourhoods spilling down hillsides, cobbled streets, rickety trams and independent shops seem like charming remnants of a bygone age, while feats of modern engineering like Ponte Vasco da Gama, new rail systems and a revitalised riverfront fast-track it into the 21st century.
Lisbon's nightlife reflects its multicultural heritage, with Brazilian, African and traditional Portuguese bars and clubs entertaining locals and visitors alike. Highlights here include the magnificent Moorish Castelo de Sao Jorge, vibesy Barrio Alto upper town and Baixa lower town, with the elegant symmetry of its grand 19th century buildings. Located close to several beautiful beaches and numerous fascinating towns and cities, Lisbon is also a launchpad for wonderful weekend breaks – hit the road with a hire car from Enjoy Travel and adventure awaits.
Top tips on prepping for your trip from Lisbon
Let's take a look at some preparation tips for your weekend break before you get rolling.
First off, make sure your SatNav is set up properly and you've got sunglasses, tissues, drinks and snacks in easy reach.
Make sure your oil levels are sufficient, check your coolant, make sure your tyre pressure and tread depth are fine and your lights are working properly.
Oh – don't forget your fuel either.
Now let's get moving.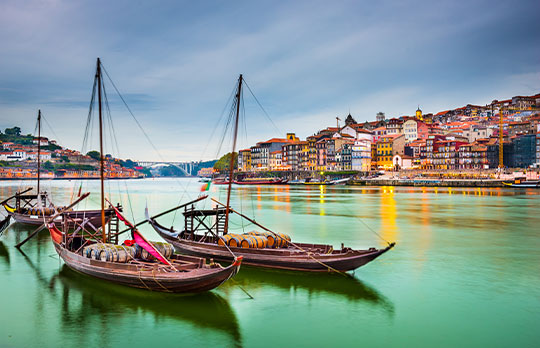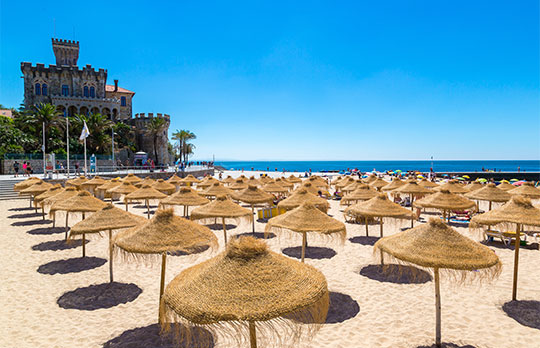 1. Porto
Three hours north of Lisbon via the A1, Porto is the perfect choice for a long weekend away from Lisbon. From its wine making traditions to beautiful bridges and traditional restaurants to fine museums and galleries, it's a truly charming city. If you're a bibliophile, don't miss the lavishly ornate bookshop at 144 Rue das Carmelitas which inspired Harry Potter author J.K. Rowling, while if you're fit, climbing the 225 steps of the 19th century 75m high Clerigos Tower is a must – the views are outstanding. On a sunny day, embrace people-watching while enjoying cheese and wine on the terrace at Aduela, or alternatively, the seafood at Adega Sao Nicolau is excellent. Riverside walks in the ancient Douros Ribeira are always romantic and if you're a wine lover, don't miss touring some of the city's iconic underground port cellars – the Sandeman Museum-Cellar is a good pick. With a brilliant blend of history, scenery and culture, Porto is easy to fall in love with.
2. Estoril
Just 24 minutes west of Lisbon via IC15 but a welcome change of vibe, Estoril is a convenient weekend getaway location you'll love. Top things to do here include trying your luck at Estoril casino (there are game tables and over 1000 slot machines) and surfing, swimming or relaxing on the sands at the stunning Praia da Torre. The bright red Cabo Raso lighthouse is another landmark – this 19th century defensive fort affords spectacular views of the rugged coastline. Excellent places to stay in Estoril include the bright and airy Hotel Londres Estoril Cascais, cool, contemporary Intercontinental Cascais-Estoril, and timelessly elegant Hotel Palacio Estoril. Meanwhile, Boteco do Gaucho at Rua Dom Bosco is a brilliant place to eat if you like Brazilian fare, Cimas serves top-notch rustic Portuguese dishes, and Lamassa is a highly-rated Italian establishment.
3. Setubal
How does a beautiful bayside location 40 minutes' drive from Lisbon via A2 sound? Located at the mouth of the Sado river, this hard-grafting city originally made its fortune from the fishing industry although now it's buoyed by the tourist dollar. With religious, scenic and culinary attractions, it's got something for everyone. Monastery of Jesus is a wonderful 16th century building designed by Diogo de Boitaca and Quinta de Bacalhoa estate is one of the nation's best-preserved buildings from the same era, located at the northwestern limits of Arrabida Natural Park. There's also a lovely Art Deco market hall (Mercado do Livramento) where you can pick up fresh fish, fruit and veg, flowers and artisan cheese.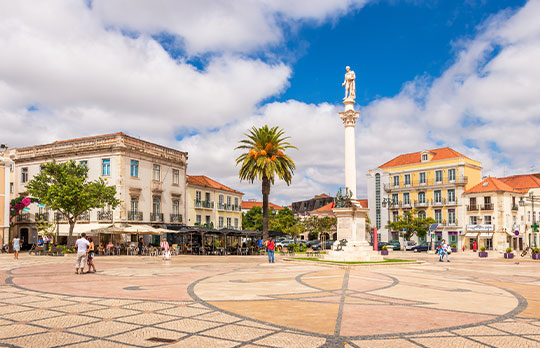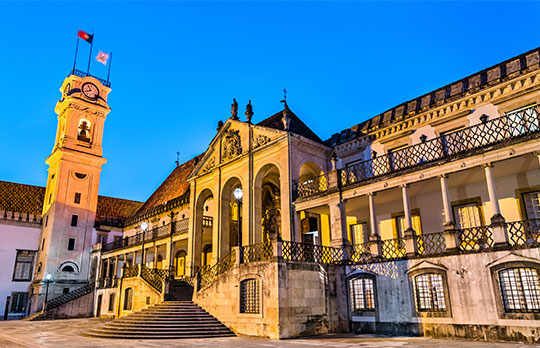 4. Aldeia da Mata Pequena
Love the great outdoors? Aldeia da Mata Pequena is the perfect weekend getaway if you enjoy activities like hiking, cycling, horse riding or jeep tours. 45 minutes from Lisbon via the A8, this minute village of 13 traditional, brightly painted Portuguese houses is a hidden gem. Each cottage sleeps between 2-6 persons and has a living room, bathroom, kitchen and patio. As well as the complex owners, several locals still live here and as you encounter ducks, sheep and donkeys on the winding streets, it really is like stepping back in time. It's self-catering, but breakfast is available and as well as the aforementioned activities, yoga, surfing, bird watching and wine tasting sessions are on offer.
5. Alentejo
Two hours southeast of Lisbon via A2, A6 and IP2, Alentejo and its surroundings are ripe for exploration on a weekend away. Amazing things to do here include visiting the Evora UNESCO World Heritage Site (with its Roman Temple and Royal Chapel), taking a wine tour at one of the areas many first-rate vineyards, and driving out to mysterious Almendres Cromlech – Portugal's largest standing stone formation, which dates back to Neolithic times. If you're a twitcher, there's also some premium bird-watching terrain at the Sado Mamede Park, Castro Verde and the Sado Estuary. For nature and culture, Alentejo is tough to top.
6. Coimbra
Two hours north of Lisbon via the A1, Coimbra is a classic Lisbon weekend getaway destination. Set on the banks of the Mondego rover, this city hosts Portugal's oldest university and has a number of noble historic buildings and contemporary charms. Located on a hill bang in the middle of Coimbra, the university features a 16th century tower that affords terrific views of the city and a prison where misbehaving students were once incarcerated! The 12th century Monastery of Santa Cruz is another iconic site, while the cantilevered Pedro da Ines Bridge is a masterpiece of contemporary engineering. If you want to relax, Penedo da Saudade and the 18th century Botanic Garden are gorgeous green spaces.
7. Ericeira
A short 42 minute drive via the A8 and A21, Ericeira is a stunning place to spend a weekend. Considered Europe's surfing capital, it's known for its impressive waves and swell and therefore it's one of the best places to get to grips with this exciting sport. There are five beaches here, including the excellent Praia da Foz do Lizandro and Praia da Baleia. And this was a bustling fishing village before it became a laid-back surf hub, therefore you can still sample some of the freshest seafood in local restaurants. If you prefer skateboarding to surfing (or maybe you do both), check out Boardriders Ericeria – a unique skate store/bar/skatepark combo that's a seriously cool place to hang out.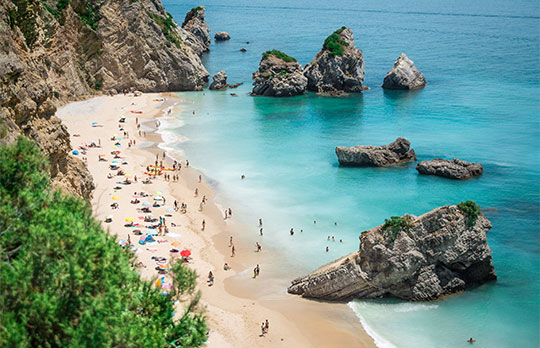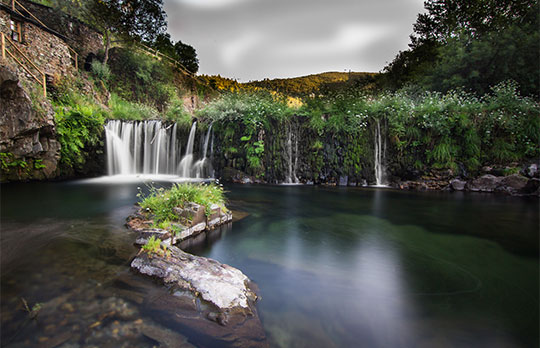 8. Sesimbra
Drive 55 minutes south of Lisbon via A2 and N378 and you'll reach Sesimbra, a lovely resort town which is a top choice for local Portuguese holidaymakers. Surrounded by the dramatic Serra da Arriba mountains and a convoluted coastline peppered with cliff and coves, this is a fabulous location for activities like mountain biking, climbing, sea kayaking, diving and (naturally) surfing. The Castelo de Sesimbra offers a bird's eye view of the entire area, the windswept Cabo Espichel headland is striking and if you're full of energy, take a hike up to the top of Formosinho – at a respectable 501m, it's the highest peak in the vicinity.
9. Serra Da Estrela
Around three hours and 15 minutes from Lisbon via A1 and A23, Serra da Estrela nature park is home to the highest mountain range in mainland Portugal and it reaches its most vertiginous point at 1993m in Torre. With 375km of marked trails for hikers of various abilities horse riding and mountain biking in the summer and skiing and snowboarding in winter, this natural playground is perfect for active weekend visitors. Don't leave without tasting the local cheese – delish.
10. Badajoz
A two hours and 20 minutes' drive from Lisbon via A6, Badajoz is brilliant for a Spanish city break. Exciting things to see and do here include visiting the Alcazaba Moorish citadel, taking in the stunningly refurbished Plaza Alta (featuring well-preserved 16th century houses) and browsing the displays in the fascinating Carnival Museum – this city hosts one of Spain's most famous carnivals and you can learn all about the tradition in this dedicated collection. Great places to stay in Badajoz include the NH Gran Hotel Casino de Extremadura and Sercotel Gran Hotel Zurbaran.