Cannot decide whether to choose Marmaris Vs Bodrum?
Dreaming of a week or two on the glittering Turkish coast? Marmaris and Bodrum are two of the most popular resort towns in Turkey, thousands flock to the golden sands for a summer holiday each year. Although they're both beautiful destinations on the west coast of Turkey, there are quite a few differences between the two. Bodrum resembles a Greek landscape, it's dry and dotted with whitewashed houses, while Marmaris is lush and has a more Turkish vibe. It's not too late to pack up and get your summer holiday fix, so take a look at our guide to help you decide whether Marmaris or Bodrum is the destination for you.
Marmaris Vs Bodrum: How to Choose Between the Two
Overview – is Marmaris or Bodrum better?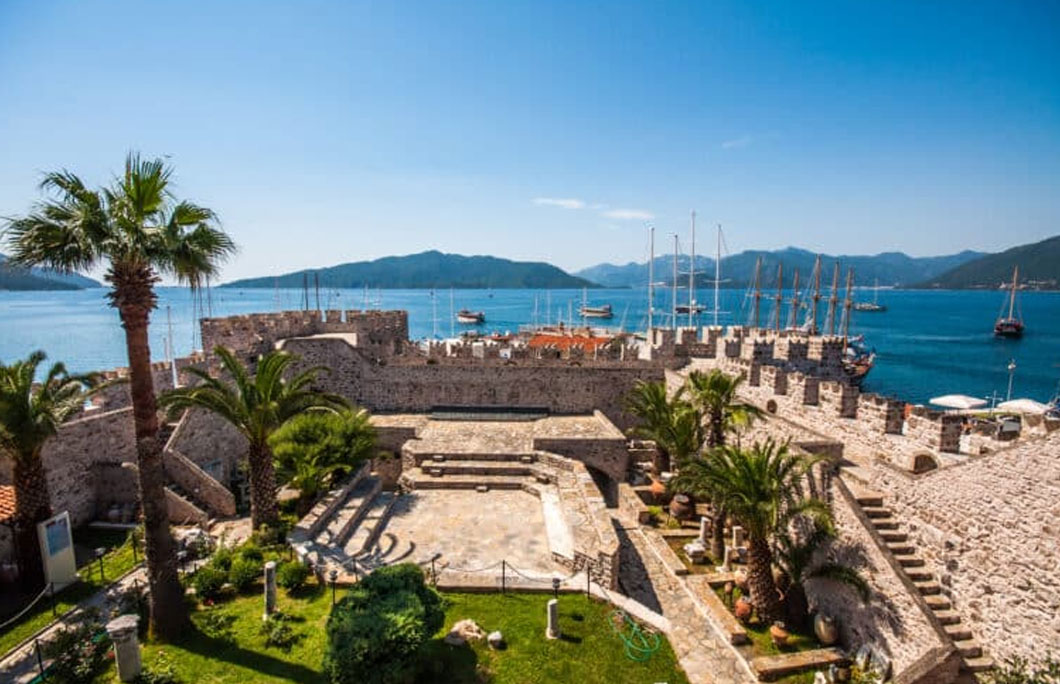 Marmaris
Marmaris is one of the most popular resort towns in Turkey full of beaches, charming marinas, pine-covered hills, and more. It's primarily popular with overseas tourists, teeming with luxury hotels and a bustling nightlife that goes on until the early hours. But that doesn't mean it's without its traditional charms. The Old Town is rich in character and history, crowned by the 11th-century Marmaris Castle from the Ottoman empire. Plenty of sun-seekers head straight to the pebbly beach of this port town, but there is plenty of fascinating history and enchanting, narrow whitewashed alleyways to explore.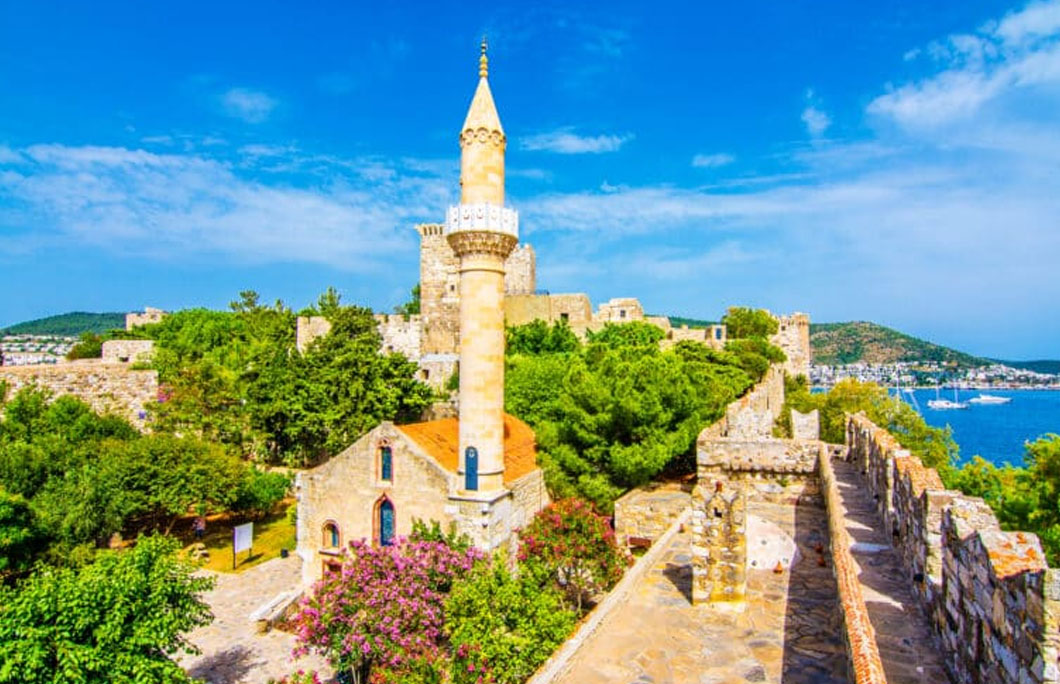 Bodrum
Bodrum is a city in the large and rocky Bodrum Peninsula. The city and the peninsula are definitely popular with overseas tourists, but you'll also find lots of locals here too. It's particularly popular with Turkish celebrities and people in the public eye, especially in the glitzy town of Yalıkavak. There's a lot to the Bodrum Peninsula and this upscale town of superyachts and exclusive beach clubs. On the other hand, you have some of the world's most fascinating historical sites. The city dates back to the 5th century BC and archaeological sites remain that can transport you back in time.
---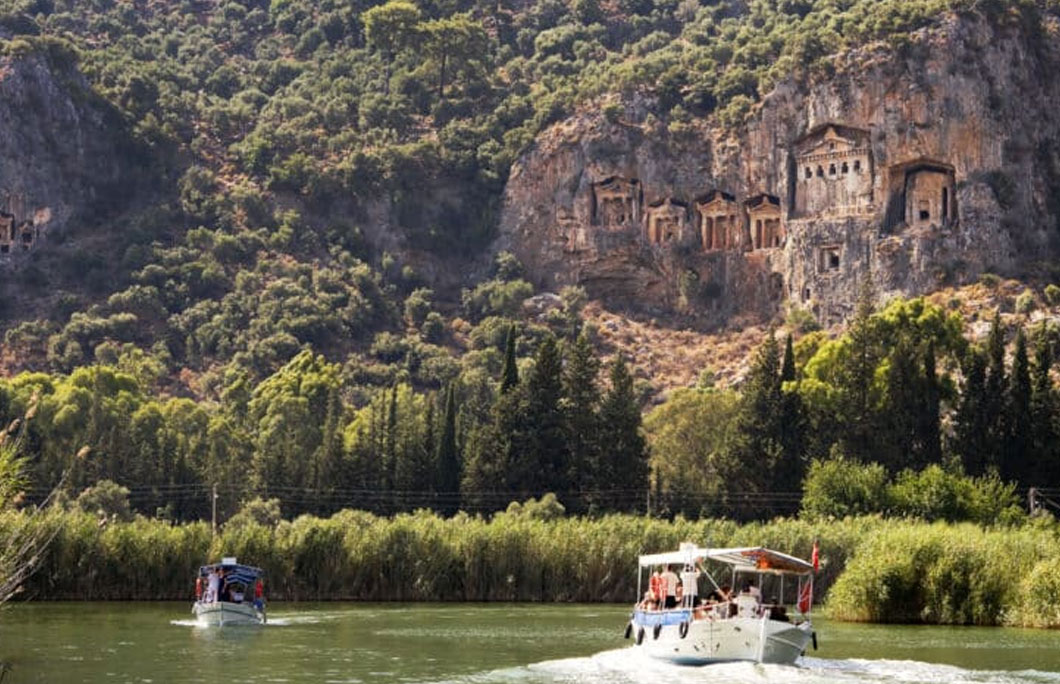 Marmaris
Marmaris is primarily known for its laid-back, all-inclusive holidays of sun, sea, and sand. But there's plenty more to see and do beyond the poolside cocktails. And while this technique does involve the sea, one of the best things to do in Marmaris is to take to a boat tour. Marmaris is blessed with lush green backdrops, dramatic rugged cliffs, and has a unique blend of Aegean and Mediterranean Seas which is speckled with islands. Enjoy the scenery, explore secret caves, and jump off exhilarating cliffs. If it's an adventure you're after, you can go hiking or take jeep tours or an ATV through the dense Marmaris National Park. Reach new heights and take in incredible sweeping views while spotting a variety of wildlife and a mix of red oak, pine, and plane trees. If you go deep into the park you'll come across the Nimara Caves, where archaeologists have found evidence of human habitation dating back 12,000 years. And this certainly isn't the only historical point of interest in Marmaris. The Old Town and Marmaris Castle are extremely well preserved and fascinating. Wind through narrow cobbled lanes lined with whitewashed cottages and enchanting flowers before reaching the 11th-century fortress. It was used as the staging of Sultan Suleyman the Magnificent's Ottoman troops when they recaptured the island of Rhodes. For even more history and out-of-this-world scenery, take a river cruise down the nearby Dalyan River. Pass by the dramatic scenery of high cliff banks with ornate tombs that have become one with the cliffs. The tombs date from the 2nd and 4th centuries BC.
Bodrum
While Bodrum is popular with tourists and celebrities searching for a sun-soaked getaway, there's still plenty of traditional Turkey to explore here. For example, the Dibeklihan Culture Village is the historical heart of Bodrum. If you want to pick up some Turkish ceramics, lamps, or rugs, this is the place to go. If you stay until the evening you can catch a concert or outdoor cinema too. Or, head to the Bodrum Marina for upscale shopping and glittering views of the yachts and catamarans. There are several charming and beautiful marinas to see, but Bodrum Marina is also home to the iconic Castle of St. Peter, arguably Bodrum's top sight. Sitting on elevated land, the 15th-century fortress was built by European crusader knights to protect the lands against the Ottomans. They failed to do so, and the Ottoman reign continued for over 600 years. Today, the castle is a fascinating museum, as well as a museum of underwater archaeology. If you get the history bug and want to learn more about this ancient peninsula's history, we highly recommend exploring the 4th-century ruins of Halicarnassus. one of the seven wonders of the ancient world. There are also several noteworthy museums. For an insight into the port city's naval history, there's the charming Maritime Museum. Or, for something a little more contemporary, there's the ARThill, the private collection of internationally renowned artist Ender Güzey.
---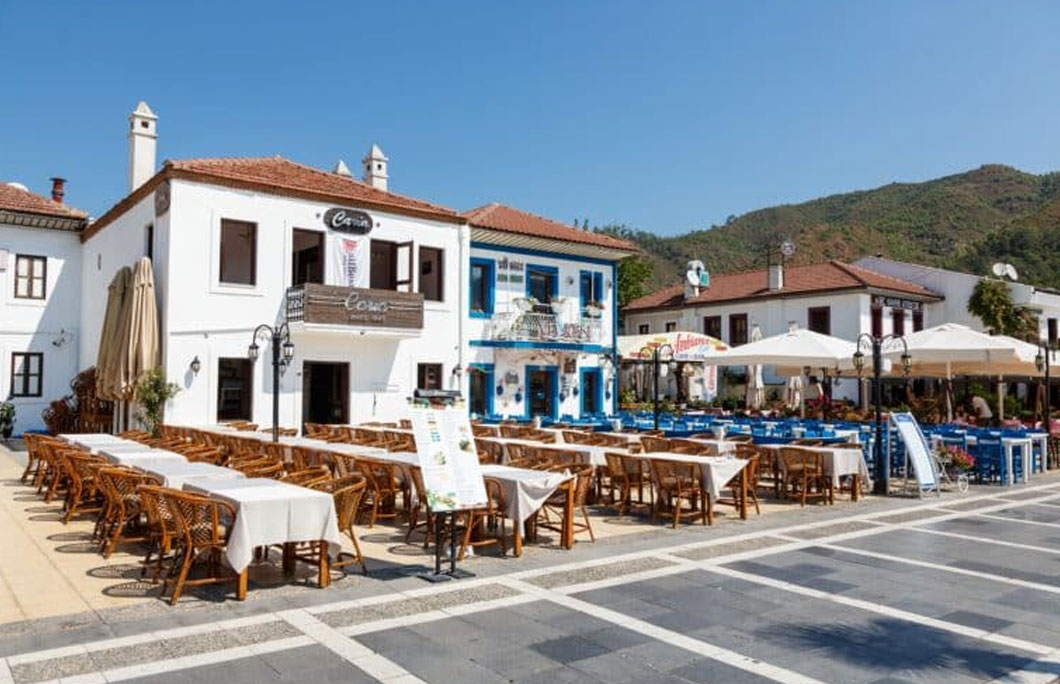 Marmaris
Marmaris cuisine is similar to Bodrum, there are touches of Greek influence there. And like everywhere in Turkey, you've never far from an affordable and good hearty meal. You'll find a whole variety of restaurants in Marmaris, from no-frills taverns to some excellent fine dining. Most restaurants are around the castle and seafront, which is particularly beautiful as you watch the sun go down. Popular dishes include Kuzu Güveç (lamb casserole), olive oil-drizzled lamb kebabs, and köfte (spiced meatballs). Marmaris is a resort town, so you'll easily find international cuisine and classic pub grub. But if you want something more traditional, you might need to do some searching and find a small, local spot deep in the Old Town. To dial up the romance for date night, Nestel Marina is lined with luxury restaurants and quiet spots.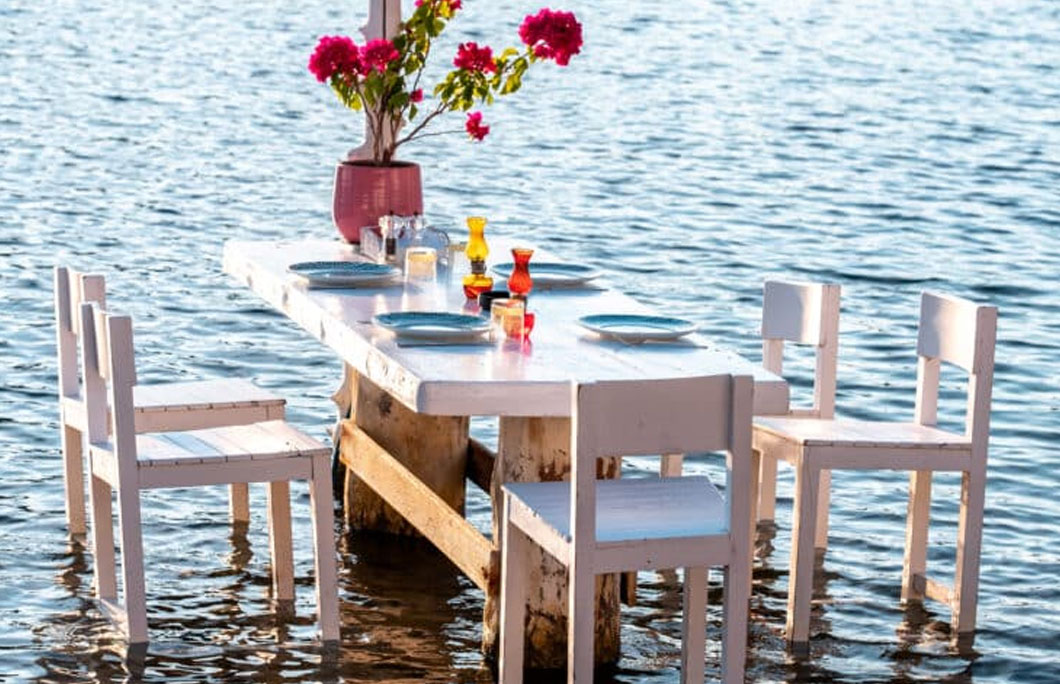 Bodrum
Bodrum's proximity to Greece means you'll find dishes that are heavily Greek-influenced. Turkish and Greek food is quite similar anyway, so if you like Greek food, you'll like the food here. Popular dishes include stuffed pumpkin flowers, octopus stews, keskek (wheat and meat stews) and radish salads. Restaurants range from no-frills spots where you can find excellent local food, to fantastic and glitzy fine dining options. The Bodrum peninsula is also teeming with romantic, small marinas and villages where you can find plenty of seafront restaurants and watch the sun go down. Gümüşlük is particularly beautiful, with some tables and chairs literally in the sea. Restaurants here have lots of choices of mezze to start, then you can choose a fish to be served up fresh.
---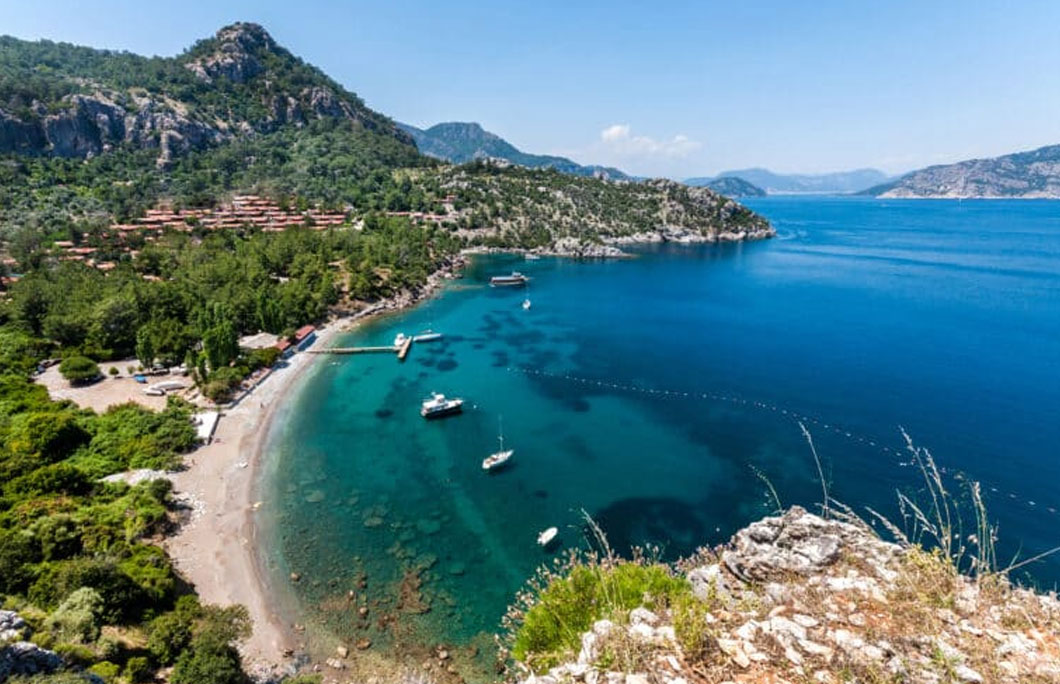 Marmaris
The beaches in Marmaris are located in bays, with warm, calm waters that are perfect for families and sweeping mountain views carpeted in lush forests. If you're staying close to the centre and aren't planning on venturing further out, you have two options located in central Marmaris. Urban Beach lies along the centre of Marmaris, so it couldn't be easier to take a dip. It's busy, lively, and family-friendly. Then there's Uzunyali Beach, which is also known as Long Beach. It's right next to the Urban Beach, a narrow stretch of sand that's backed by the busy promenade. These are great and convenient beaches, but it's worth travelling further out if you want something more relaxed than a city beach. Icmeler Beach is the east of Marmaris, about a fifteen-minute drive away, and offers golden sands, incredible mountainous views, and crystal clear waters that are ideal for watersports and family beach games. Turunc Beach is ideal for those looking for a village, laid-back atmosphere and surrounded by rolling hills dense with lush forests.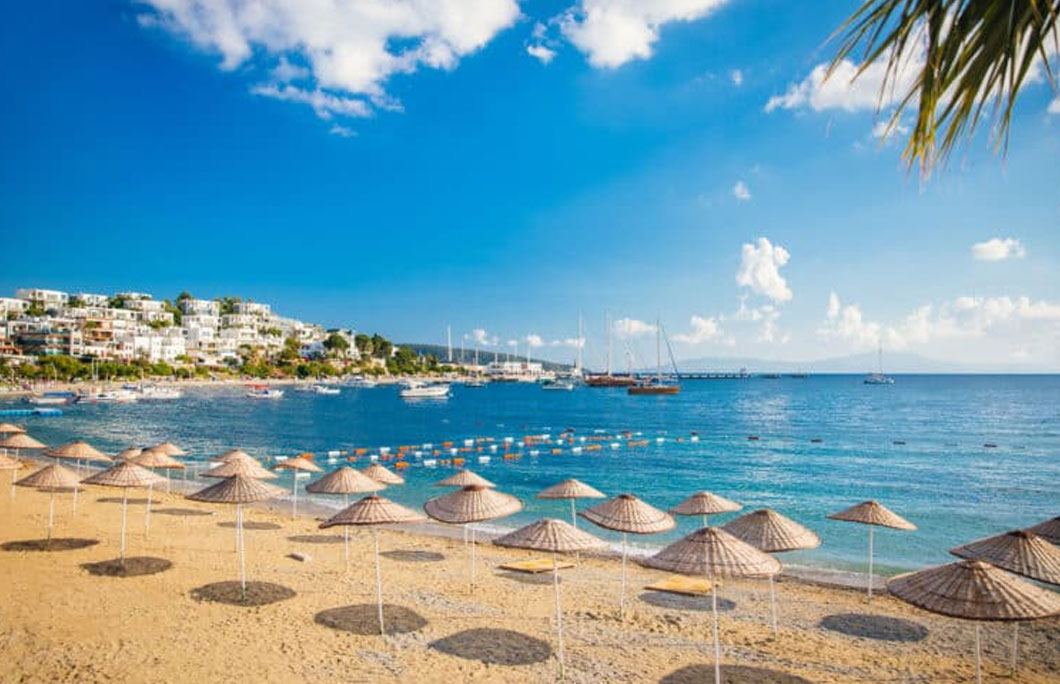 Bodrum
If you're visiting Bodrum without a car and don't want to rely on public transport, there are two beaches located in Bodrum Town. Central Beach, located east of the city, is lined with restaurants and offers a narrow shoreline. And there's Kumbahçe Beach, which is further east. This small but beautiful beach is popular with locals and has a great view of the castle. There's a patrolling lifeguard and you can rent sun loungers with umbrellas at both beaches.
p>
But for the best beaches, it's worth travelling out of the city and along the peninsula. While most tourists will head to their resort's beach, there are several great public beaches too. In 2021, Turkey's Ministry of Tourism and Culture built Içmeler, just 2.4 miles from the city centre. The beach has several platforms that overlook the sea, with an affordable cafe on the central platform. Bitez Beach, a horseshoe-shaped bay, offers calm waters and a shelving shoreline, which makes it popular with holidaying families. Torba boasts a picturesque setting backed by pine forests, while Yahsi is the best beach for swimming.
---
Marmaris
Marmaris is a fully-fledged resort town, so you won't have any trouble finding the right accommodation for you. There's an extensive list of accommodation on offer to suit all budgets – 3 – 5 star hotels, family-friendly hotels, self-catered apartments, deluxe apartments, and luxury villas. For all-inclusive package holidays, you'll find most of them are situated in Central Marmaris, which includes Armutalan and Siteler, as well as the popular Long beach (Uzunyali) promenade. If you want something quieter while still being lively, Icmeler is a popular family holiday town and Turunc is perfect for those looking for an idyllic and quiet escape.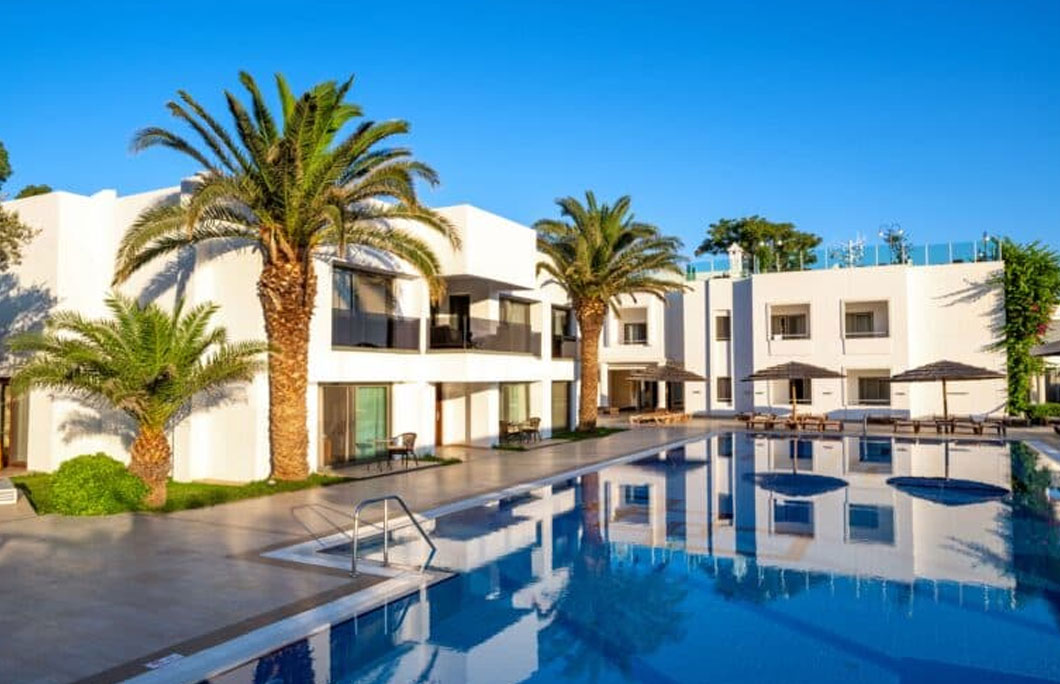 Bodrum
Bodrum is a well-developed tourist town, so finding good accommodation isn't too much of a struggle. Most of the package-tourism resorts are in Gümbet, which is a little over ten minutes by car from Bodrum Town. If it's your first time in Bodrum and you want to be within spitting distance of the best bars, sights and restaurants, Downtown is your best option. It's small and development is strictly regulated, which means prices escalate in the summer and you'll need to book a room well in advance. Those looking for an ultra-cheap break should hotfoot to Akyarlar, which has the cheapest pansiyons on the peninsula. In contrast, if you want something exclusive and sophisticated, Yalıkavak is the place to be.
---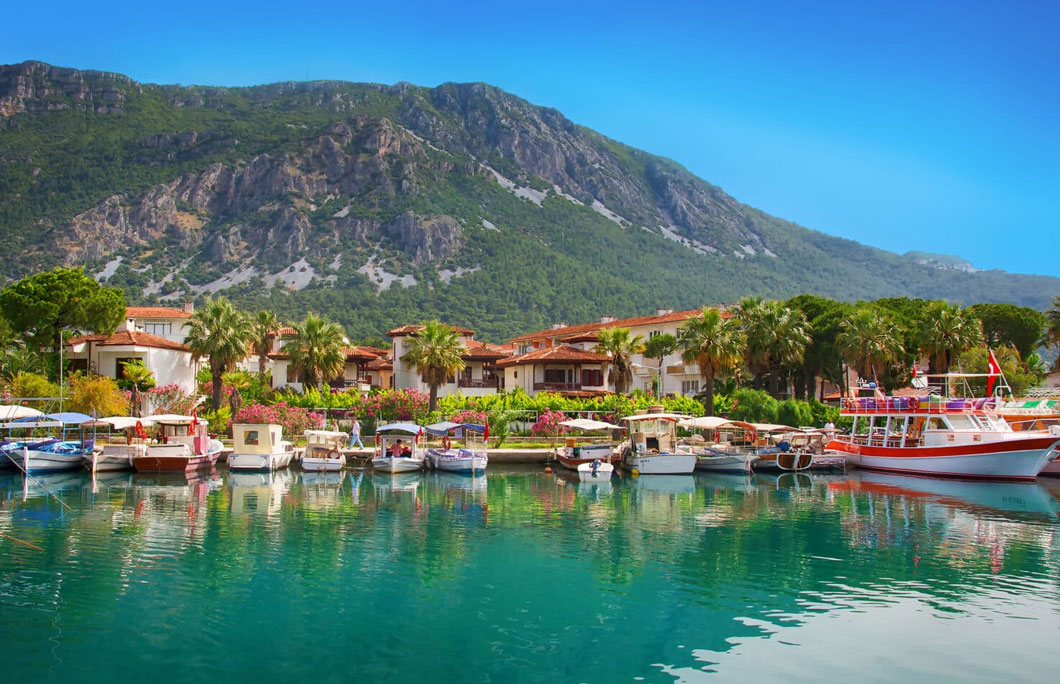 Marmaris
Marmaris' location in a bay means it's protected from winds, so you might find the humidity to be particularly dry. But because it's surrounded by forests and pine trees, there is still a freshness to the air. Still, in comparison to Bodrum, it tends to be a couple of degrees hotter. July and August are the hottest months of the year with an average temperature of 35°C. If you're not a fan of the heat, May reaches a comfortable high of 26°C while June has highs of 32°C. At the time of writing this, on 26th July 2022, the temperature in Marmaris is a scorching 39°C and Bodrum is still at sizzling highs of 37°C. While July is the hottest, January is the coldest and wettest month of the year with highs of 14°C and 233mm of rainfall over 13 days.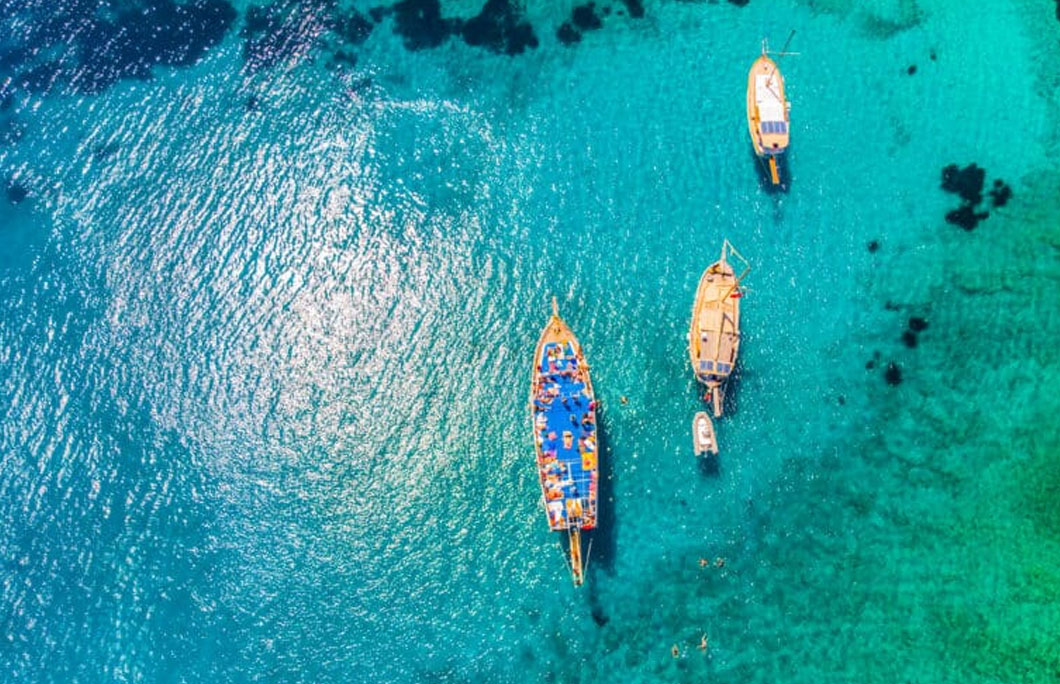 Bodrum
Bodrum has a Mediterranean climate, with hot and dry summers. The hottest and driest month of the year is July, with sizzling daily high temperatures of 35°C. While it's hot, there's a nice sea breeze that makes it more comfortable. January is the coldest and wettest month in Bodrum, with highs of 14°C and an average of 87mm of rain over ten days. Sunseekers should head here between June and September for the hottest days and sea temperatures averaging a toasty 23°C.
---