Cannot decide whether to choose Nice or Cannes?
Located on the same stretch of the Côte d'Azur, Nice and Cannes are, on the face of it, very similar destinations. Both became popular resorts in the mid-19th century. They both boast sweeping seaside promenades, Belle Epoque architecture and beautiful beaches. But while Cannes is a notorious playground for the wealthy, Nice is still relatively down to earth. Undecided between the two? Our helpful guide should help you decide between Nice and Cannes.
Cannes or Nice: How to Choose Between the Two
Is Cannes or Nice better?
Nice is the capital of the Riviera and the fifth largest city in France. The stylish destination has been a tourist magnet for centuries, beloved by everyone from Queen Victoria to Elton John. It's no toy town though, at its heart Nice is still a working city. Its commercial port thrums with activity and the terraced cafes and brasseries are just as likely to be filled with locals as they are tourists.
Cannes has always had an air of exclusivity. Ever since it was "discovered" in the 1830s, it's attracted a well-heeled clientele – first came the aristocrats and royals, then Charlie Chaplin and Coco Chanel. Today it's best-known for the world's most famous movie festival, Cannes Film Festival. Every year in mid-May, the whole town is taken over by the crème de la crème of Hollywood. It's the definitive Riviera resort, with glitzy yachts lining the harbour, exclusive hotels and designer boutiques.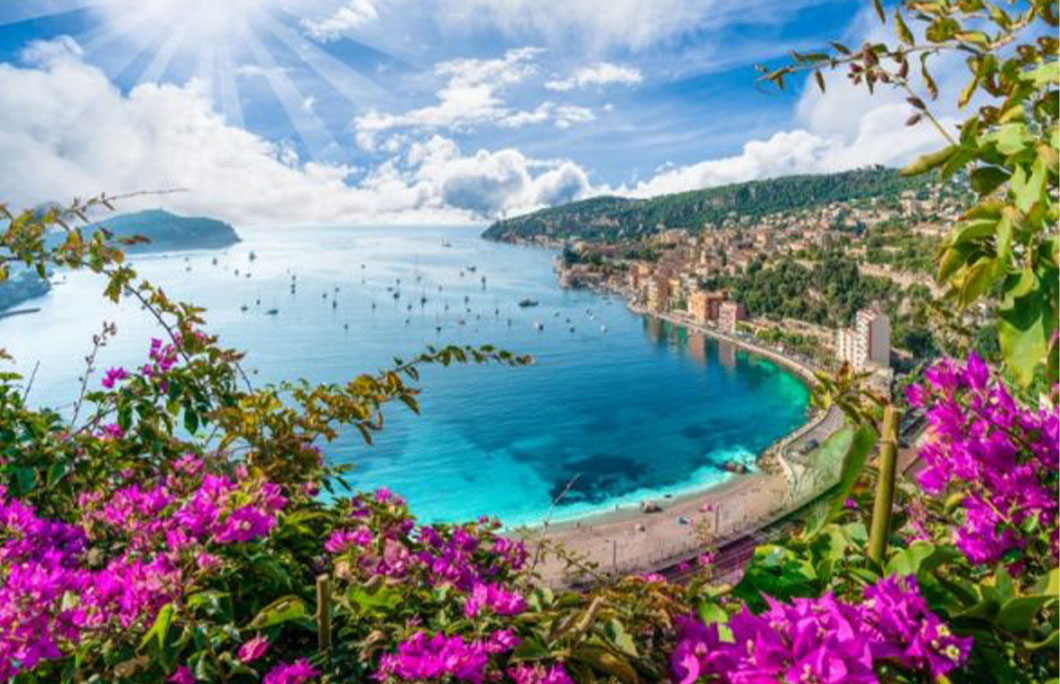 Things to do
Nice
The Promenade des Anglais, which curls around the five-mile bay, is one of Nice's most enchanting sights. Built in the 19th century, it's where wealthy English expats took their afternoon strolls – and where you should too. With views of the Mediterranean Sea on the one side and fin-de-siecle architecture on the other, it's the perfect spot to soak in the sun, as well as the local flavours.
The Old Town is crammed full of shops, bars, restaurants and galleries. It's where you'll find most of Nice's blockbuster sights, including the Cathédral Sainte-Réparate, Nice Opera House and the Palais Lascaris. For art lovers, there's the Musée d'Art Moderne et d'Art Contemporain, featuring artists contemporary artists such as Andy Warhol, and the Musée Matisse, home to one of the world's largest collections of his work. Matisse famously wintered in Nice from 1916 onwards and produced some of his most colourful canvases here.
---
---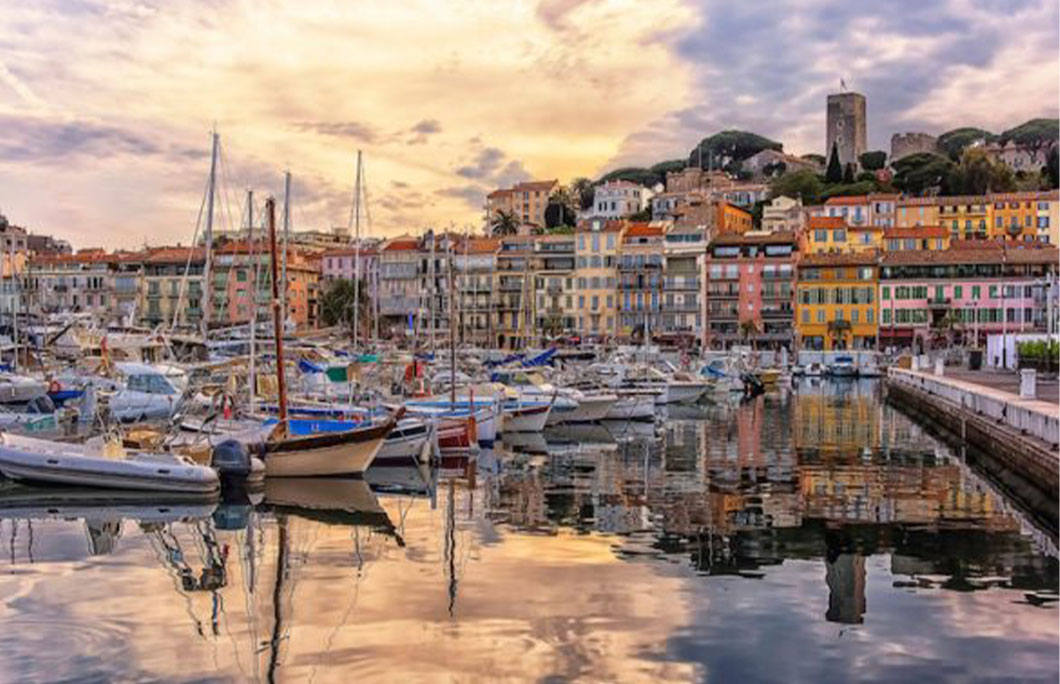 Cannes
While Cannes is the more famous city of the two, at its heart it's still a seaside destination. There's only a handful of museums and galleries to visit – the best is Musée de la Castre, a medieval fortress housing a diverse collection of ethnographic art.
Most visitors make a beeline for the Boulevard de la Croisette, the Riviera's most glamorous seafront. Nestled between the sparkling Mediterranean and a row of exclusive hotels and boutiques, it's the Riviera of most people's imaginations. Sumptuous yachts, millionaires and white-clad stewards fill Cannes' Vieux Port.
If you have a few days and you're looking to dig a little deeper, there are four islands, known as the Lerins Islands, just off the coast. Each is accessible by ferry, offering an array of quirky museums, monasteries and beaches.
---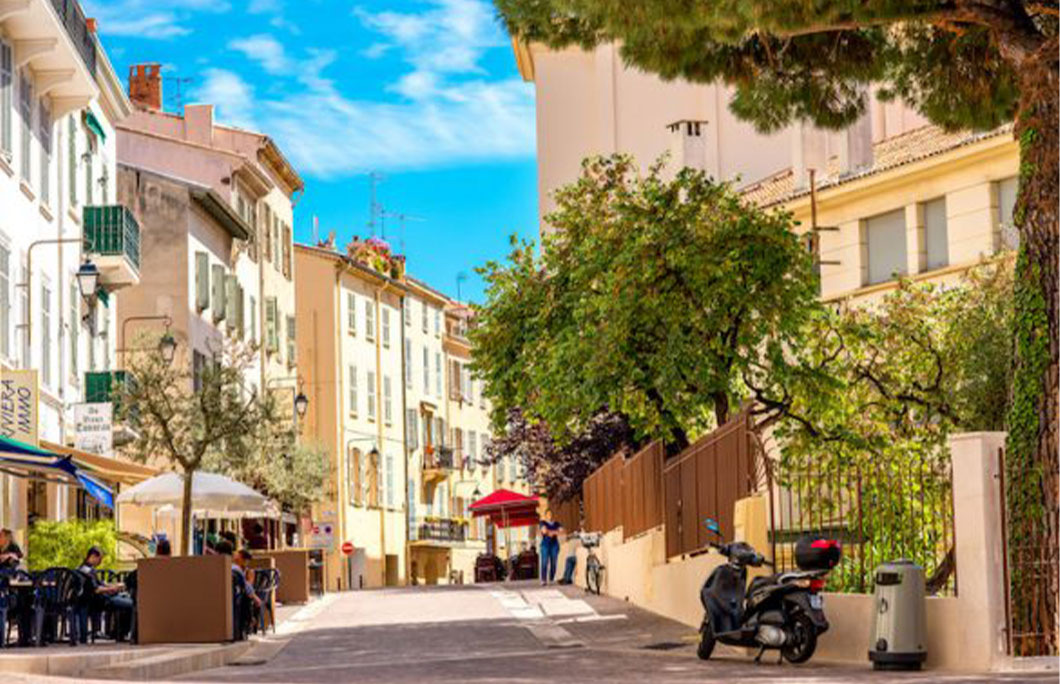 Food and Drink
Nice is not short of good food, and visitors will find everything from cheerful cafes to haute cuisine.The port quaysides are the best spot to enjoy fresh seafood, while in the old town you'll find dozens of restaurants serving up Nicoise specialities include pan bagnat, salads niçoise and socca. There's a strong Italian influence too, with pasta and pizza often on the menu. There are Michelin-starred restaurants too, like Pure & V.
Cannes is home to hundreds of restaurants, but you'll need a discerning eye to find the good ones. For inexpensive dining, the areas around rue Meynadier and Quai St-Pierre in the old town are filled with lively, affordable cafes. For picnics and light bites, the Forville Market is a local favourite, serving up local olives, oysters and fresh local produce every morning. Unsurprisingly, there are a few Michelin stars in the air too. La Palme d'Or has held two Michelin stars for over 25 years. Drinking and nightlife abound, with dozens of exclusive bars and clubs along the rue Macé and rue des Frères Pradignac
---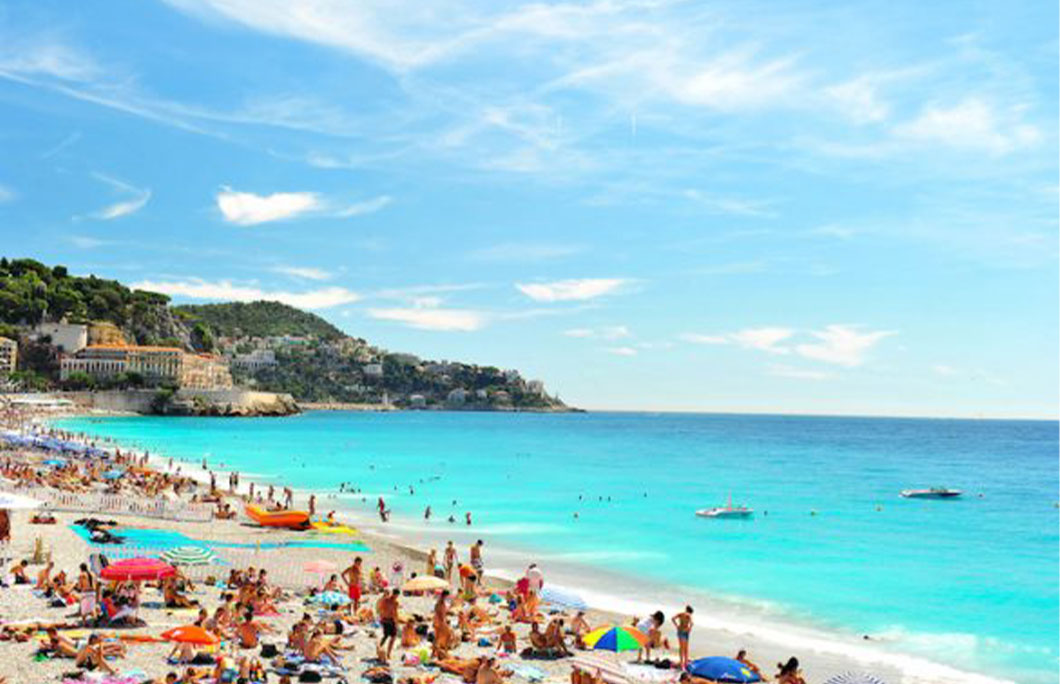 Beaches
You won't find many sandy stretches since most of the beaches are pebble, but don't you dare call it a shingle – the large pebbles are known as galets. The main stretch along the Promenade des Anglais is nice enough, but a short stroll east will reward you with a handful of pretty coves and the pretty Plage de Reserve. Coco Beach is another popular destination, particularly with the local gay community. There are dozens of private beaches too. Castel Beach is one of the best.
Cannes is, at its heart, a seaside resort – so beaches is something it does particularly well. The Place de la Croisette remains the preserve of the elite, but there are plenty of sandy stretches further west. Free beaches line the boulevard du Midi, towards the La Bocca suburb. If you're looking to make a day of it, all of the big hotels along La Croisette have their own private beach. Hotel Carlton is one of the best; it's also where Grace Kelly filmed To Catch a Thief in the 1950s. Like most of the private beaches, you'll find loungers, waiter service and lockers.
---
---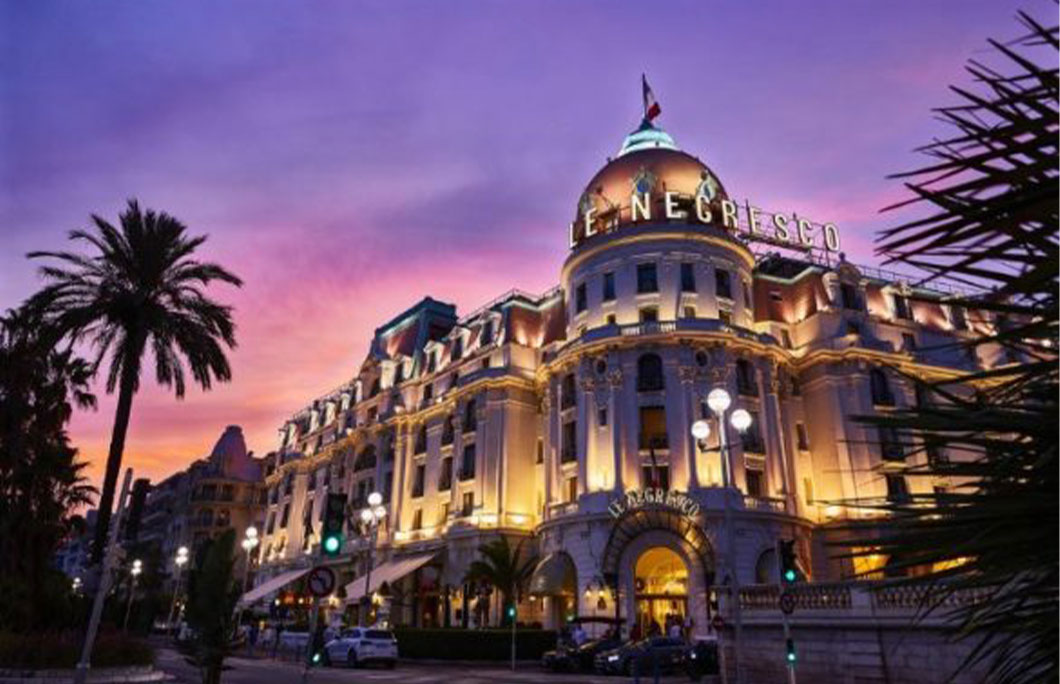 Hotels
You'll find the cheapest hotels north of the city and around the train station, though some of these are a little seedy. There's a big market for holiday rentals in the city too, and the old town is brimming with pretty Airbnbs and rentals – the sorts with pastel-coloured shutters and rooftop views – at an affordable price. If it's sea views you're after, you can't get much closer than the Hyatt Regency Nice Palais de la Mediterranee and the historic Hotel Negresco, both located on the waterfront.
Not all of Cannes' hotels are bank-breaking, though you're unlikely to bag a bargain. But why would you want to? Luxury is what Cannes does best. The most exclusive hotel brands – the InterContinental Carlton Hotel and the Hôtel Barrière Le Majestic Cannes are located along La Croisette. As well as immaculate seafront hotels, you'll find design-led hotels deeper in the centre, like Okko Centre. Le Canberra, a 1950s-inspired boutique just a few minutes from the beach, is highly reputed too.
---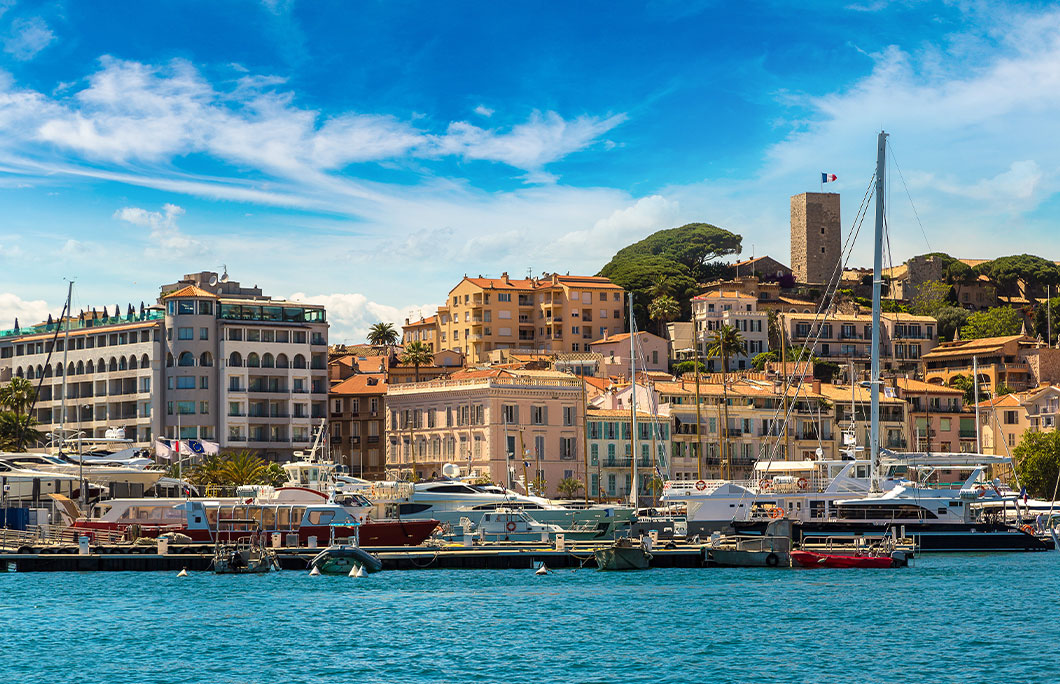 Weather
Both Cannes and Nice enjoy a typical Mediterranean climate, with hot dry summers and mild winters. Temperatures are typically above 20°C on the Côte d'Azur rising to an average of around 27 °C in July and August. If it's swimming and sunbathing you're after, summertime is best in both cities. If you're looking to avoid the crowds, consider travelling in early Autumn too. Temperatures generally remain around 20°C through October before dropping. If you're looking for gentle strolls and sightseeing, winter is a pleasant time to travel. In August, a typical day on the Côte d'Azur will see around 650,000 visitors per day, compared with just 50,000 per day in December and January.
---

---