10 of the Best Beaches in Australia
Australia has over 30,000 miles of coastline caressed by some of the world's most beautiful beaches.
And more than 85% of Aussies live within 50km of the coast – meaning that it's part and parcel of their chilled-out culture.
So whether you want the perfect seaside spot in this sun-kissed nation to surf, sunbathe, or simply sit back, breathe the fresh air and watch the world go by, you're spoiled for choice.
"A nation of 10,000 inspirational beaches"
In fact, there are over 10,000 inspirational beaches in this idyllic island nation, so if you wanted to visit one a day it would take you 27 years to tick them all off your travel to-do list!
But don't worry – we've weighed up the best and dispensed with the rest to hand-pick the most picturesque, fun and downright delightful seashores Down Under.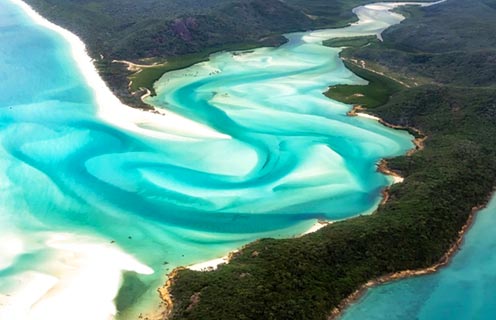 Slip into your cozzies, slap on your sun cream and get ready to make a splash – here are the 10 best beaches in Australia.
10. Four Mile Beach, Port Douglas
If you were asked to close your eyes and imagine the ultimate tropical beach, chances are you'd picture something close to Four Mile Beach in Port Douglas, North Queensland.
This gorgeous golden sand beach, with its glistening crystal waters, curves gently towards the horizon – complemented as it progresses by picturesque palms and a verdant mountain backdrop.
Port Douglas has a sub-tropical climate all year round.
Ideal for swimming in the Coral Sea, catching rays, napping in the cool tree shade or strolling solo or with your significant other while watching the sublime sunset, this is a hotspot loved by tourists and locals alike.
A brief stroll from the heart of Port Douglas and its ample accommodation and restaurants, perhaps the best thing about Four Mile Beach is that it's largely uncommercialised, untamed and unspoiled – which makes for an altogether more relaxed atmosphere.
"Breath-taking views of beach and mountains"
Take a short hike up to Flagstaff Hill lookout at the top of Island Point Road and you're rewarded by breath-taking views of the beach and mountains to the south and the Coral Sea, Snapper Island and Low Isles to the north.
If you're still feeling energetic after your walk, there's plenty more to do – snorkelling and crab fishing can be arranged, and there are several high quality restaurants nearby to slake your thirst and dine on delicious fresh seafood.
Getting to Port Douglas
Fly into Cairns airport (code: CNS) and take an hour drive north into Port Douglas. For a real luxurious trip, check out the Sheraton Grand Mirage, which backs directly onto the Four Mile Beach. Rent a car from Cairns Airport for around A$ 25 per day for a Hyundai Accent or similar with East Coast Car Rentals or a more spacious Mitsubishi Eclispse or similar for around $45 per day.
9. Surfers Paradise, Gold Coast
Surfers Paradise is the beating heart of the Gold Coast and it's easy to see why.
Few places on earth offer such a fabulous fusion of endless miles of brilliant beaches, azure waters, awesome weather, daytime attractions for all the family and dynamic nightlife.
Learn the basics of mastering a board
Perhaps the most iconic surfing destination Down Under (hence the name), learning the basics of mastering a board is a must while you're in town, and surf schools like Go Ride A Wave will have you hanging ten in no time at all.
If you want a bird's eye view of the town, head up to the top of skyscraper Q1, Australia's tallest building, where you can get strapped into a safety harness on the observation deck and marvel at the beautiful sights below. This is possibly the best view in the entire country, but it's not for the faint-hearted!
Meanwhile, if you're yearning for some retail therapy, Soul Boardwalk is an open air shopping mecca located at the bottom of the high-end Soul Tower and it's well worth a visit. Foodies will be satisfied with a choice of restaurants serving everything from burgers to sushi and you can purchase authentic street and surf wear from boutiques like Quicksilver, Roxy and Ripcurl.
8. St Kilda, Melbourne
St Kilda is a Bohemian suburb situated around 6km south of Melbourne city centre and its chic and bijou beach stretches for 700m between St Kilda Marina and St Kilda Harbour, with a bustling boardwalk and St Kilda Pier enhancing its attractions.
"Californian vibe"
The foreshore has a bit of a Californian vibe, with joggers and roller-skaters coasting by while windsurfers and swimmers have a whale of a time in the water. But if you prefer your activities a little more on the relaxed side, you can always find a quiet spot to sunbathe or alternatively, hire a bike from St Kilda Cycles and glide gently along the ocean path.
A ghoulish ghost train, mirror maze, dodgems & scenic railway
Stroll to the end of St Kilda pier at sunset and you'll see something a little special – the town's penguin sanctuary is situated here and you'll see its unruffled residents preening themselves as they prepare for bedtime.
There are thrills to be had on land as well as sea here – Luna Park amusement complex is right at the beach front and it's been entertaining kids of all ages since 1912 with rollercoasters, a ghoulish ghost train, mirror maze, dodgems, scenic railway and much more.
And don't forget the food – from the legendary Bombe Alaska dessert at Donovans to the chilli crab at Claypots, St Kilda restaurants are a foodie fantasy.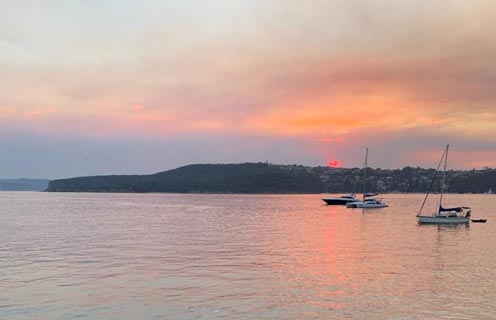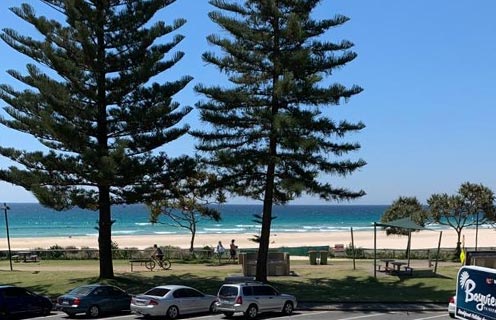 7. Manly Cove, Sydney
Manly beach might not quite be as famous as Bondi, Sydney's other major seaside tourist magnet, but it might float your boat if you prefer a slightly less hectic vibe and scenery that's just as stunning.
Noble Norfolk Island palm trees line Manly Beach and it's the traditional territory of the Kayimai and Cannalgal people – when famous Royal Navy officer Captain Arthur Phillips first encountered them when visiting in 1788, he was so impressed by their macho bearing that he named the area 'Manly' in their honour.
Hop in your Sydney hire car in the Central Business District and you'll be in Manly in around 30 minutes, but you can also get here via ferry from Circular Quay. If you take this route, remember that the first beach you come to after disembarking at Manly Wharf isn't actually the main Manly beach – it's West Esplanade Beach to the west and Little Manly Cove eastwards.
New South Wales, Scuba diving adventures
Manly is marvellous for sunbathing, surfing and simply soaking up the laid-back atmosphere – a walk along the boardwalk will take you past rugged rocks as well as sand, with ravishing cliffside residences towering above. Finally, for subsea adventures like scuba diving, Dive Centre Manly will sort you out with equipment and lessons.
6. Rainbow Bay, Queensland
You'll find Rainbow Bay beach at the southern end of Coolangatta in Queensland's Gold Coast.
If you're a keen surfer, you might already be aware that it provides access to Snapper Rocks, home of the Superbank, a legendary long right hand point break wave that's famous in the global surfing fraternity.
Point Danger & Captain Cook
You don't need to be a pro wave rider to make the most of this superb spot though, because there's a patrolled, sheltered swimming area close to the shore that's suitable for families and the Point Danger viewing platform provides arresting views of the coast. Point Danger was christened such by Captain Cook in 1770 when he was charting the local coastline and it still hosts an active lighthouse that bears the iconic mariner's name.
Don't forget that one of the best ways to unwind at Rainbow Bay is by taking a cathartic dip in one of the many rockpools on the beach – it feels like having your own private pool hewn from solid stone.
And after a busy day of beachside shenanigans, cool off with a cold beer at Rainbow Bay Surf Club, watch the sun sink slowly into the sea and recharge your batteries for adventures ahead.
5. URBNSURF, Melbourne
Want to polish your surfing skills in a controlled Melbourne environment that's super-safe but still a whole heap of fun?
Then head to URBNSURF – located at Tullamarine, next the city's airport, loyal fans of this first-rate attraction reckon it might be the world's best wave pool.
"This high-tech waterpark caters for surfers of every ability."
Beginner surf zones The Bays offer gentle waves that allow kids to find their feet on the boards, while an intermediate surf session throws random rights and lefts at more confident boarders and an advance surf session works up 16 second rides that throw barrel waves and exciting turns into the mix.
You can bring your own gear or hire everything from boards to suits onsite, and restaurant Three Blue Ducks serves up sumptuous steaks, lip-smacking seafood and premium pizza.
If you're based in Melbourne and would like to learn the basics of surfing before heading to the open sea to pit your wits against the elements, URBNSURF is too good to miss. Spend a few sessions here and by the time you head further afield to practise your new passion, you'll feel far calmer and more confident.
4. Whitehaven Beach, Queensland
The Whitsundays are an archipelago of 74 tropical islands off the Queensland coast and next to the Great Barrier Reef.
In a nation with some of the world's most scenic spots, these islands have an almost otherworldly beauty and Whitehaven Beach might just be the jewel in their crown.
This bright white spit of sand on the southeast of Whitsunday Island is almost purse silica, hence its preternatural hue, and it looks spectacular set against the deep greens and blues of the ocean.
If you love wildlife you can swim with sea turtles and psychedelic tropical fish here and it was named the world's most eco-friendly beach by CNN in 2010.
For the best pub grub in Whitehaven and wine and beer served with a smile, head to the Marina Tavern after a busy day on the beach, but Bob's Bakery is the best place for tasty sausage rolls and lamingtons – these authentic Aussie chocolate sponge cakes smothered in coconut flakes are a taste sensation.
Want to live in the lap of luxury while you're in this neck of the woods? Book a room at Qualia on nearby Hamilton Island – you'll feel so laid-back that you're horizontal, but if you can be bothered dragging yourself from the spa or sun lounger, the wildlife in the vicinity includes kookaburras, koalas, kangaroos and wallabies.
3. Turquoise Bay, Western Australia
Turquoise Bay is situated close to the town of Exmouth and it has been named the best beach in Western Australia multiple times on Trip Advisor.
It's also perfect for exploring the Ningaloo Reef, which is Australia's biggest fringing reef (the name given to coral reefs that lie close to the seashore) and hosts manta rays, whale sharks and many other residents of the deep. Be warned though – currents her can be powerful, so snorkelling is best left to intermediate or strong swimmers.
Exmouth has a fairly eclectic collection of eateries for a reasonably small town, so you won't struggle to find something that suits your tastes. Adrift Café on Huston Street possibly serves the best breakfasts on the block, with big breakfasts that set you up for an energetic day ahead and plenty of veggie options, while Whalers Restaurant at the junction of Murat Road and Welch Street serves fresh local seafood accompanied by live music and excellent customer service.
Turquoise Bay is more sedate than busier beach resorts on the east coast of Australia, but if you love nature and serenity, it's truly terrific.
2. Noosa Heads, Queensland
For many, trendy resort town Noosa Heads is the sweetest spot in Australia's Sunshine Coast.
Sub-tropical rain forest & beautiful white sands
Nestled in a subtropical rainforest, with superb sandy beaches, beautiful blue waters and a cracking climate, this locality has an abundance of natural blessings.
Noosa Main Beach is a stone's throw from the busy bars of Hastings Street and since it's north-facing, conditions are conducive to those dipping their toes into surfing for the first time and families who don't want wild waves to spoil the party.
If you fancy a trip out of town, Peregian Beach is around 13km south and features coastal heath, scrublands and wildflowers as well as sand, with luscious Lake Weyba nearby as well as markets in town where you can pick up unique craft gifts.
The fauna and flora in this area are world-renowned – the Noosa Biosphere is recognised by UNESCO for its fish, koalas, and bush tucker.
Meanwhile, adventurous travellers might want to take a 4WD tour of Fraser Island from Noosa – at 1850 square km, it's the largest sand island in the world, and boasts distinctive snow white sand beaches, eucalyptus woodlands, mangroves and fresh water perched lakes.
1. Bondi Beach, Sydney
Most Bondi locals will tell you that this is Australia's most famous beach – and there's an argument to be made that they're quite right.
Traffic permitting, you can drive from central Sydney to Bondi Beach in about 20 minutes and there are so many things to do that you'll want to spend several days here to make the most of it.
Its golden sands and quality waves attract sun worshippers and surfers alike, but there's even more to Bondi than these core attractions.
Watson Bay
If you're feeling fit, hike along Federation Cliff Walk to Watson Bay – it's a 5km cliffside trail which takes around an hour and a half each way, but worth the effort for the pristine views of the Pacific Ocean and the rare chance to spot a whale breaching the water if you're there between May and November.
The Bondi Icebergs Club
The Bondi Icebergs Club is located at the south end of the beach and it's a vibrant place to visit too – the outdoor pools are placed so close to the open sea that when the wind whips up, the salt spray surges through the air to refresh you while you're swimming. There's also a spa to help you relax your muscles and a quality bar and restaurant with prepossessing views of the dramatic coastline.
Make a beeline for the Bondi Markets while you're in town too – held every Sunday in the grounds of Bondi Beach public school, you can find anything from a grandfather clock to a kitsch 60s chair.
"the juiciest patties in town"
And there's nothing like a tasty burger and milkshake after a day exerting yourself in the sea and surf, so head to Bonditony's Burger Joint for the juiciest patties in town – the 'trippin zeahorse' with grass fed beef, tasty cheese, lettuce, tomato, Spanish onions, BBQ chutney, mustard mayo and tomato relish is to die for!
As you can see, Australia's beaches are as diverse and disparate as its terrain and culture, which makes sampling as many of them as possible a mesmerising experience.
With Enjoy, you can rent a reliable vehicle in any popular location Down Under and set off to see any of these terrific locations for yourself, taking in some super scenery along the way.
Familiarise yourself with these hotspots and their fascinating people and you'll start to understand the distilled spirit of Australia itself – a land where ancient meets modern and the metropolis merges with the wilderness in an array of awe-inspiring ways.
Looking for your own Australian adventure? Hire a car in the Australia Today!