Top 10 Road trips in the Czech Republic
Loucen & Mcely
Lednice & South Moravia
Spindleruv Mlyn to Bohemian Paradise
Marianske Lazne to Marienbad
Tabor & Southern Bohemia
Liberec to Prague
Prague to Brno
Broumovsko
Prague to Ostrava
Holasovice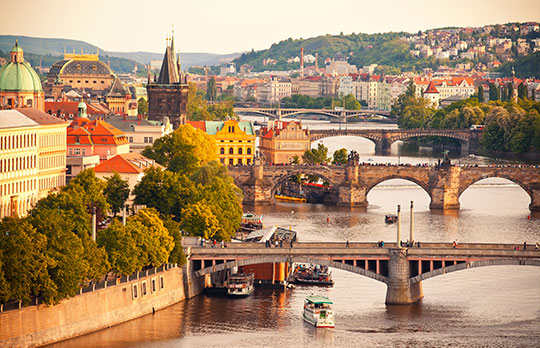 10 best scenic drives in the Czech Republic
Planning a holiday in the Czech Republic? Or perhaps you're heading there for business? Either way, fitting in one of our ten terrific road trips is a brilliant way of discovering more about the scenery, history and culture in this eclectic central European country. Capital Prague is at the vanguard of Czech culture and since Communism fell in 1989 it has become one of Europe's most popular tourist destinations, as well as the world's gateway to the rest of Czechia. Its medieval architecture is perfectly preserved and sites like the iconic 14th century Charles Bridge and vast castle complex are legendary. But it's also a lively and creative city with a cool cuisine scene and laid-back vibe where relaxing with a drink and shooting the breeze has become an art form.
Beyond the capital, Moravia has verdant vineyards and hip bars, Bohemia boasts traditional breweries and rambling castle ruins, and the Sudeten Mountains are peppered with pretty spa towns. The Czech Republic's strategic location means it was a prized possession for various empires and dynasties over the aeons, which means that its romantic countryside is full of gorgeous castles and chateaux in various architectural styles ‐ perfect road trip destinations for history buffs who want to take a scenic step into the past. Further while this is a modern, outward-looking nation, you'll still find folk traditions, especially in Moravia and South Bohemia. And one tradition which you might be interested in is brilliant beer-making ‐ for many connoisseurs, the Czech Republic is the home of the world's best beer. So if you want to park up your car for a few days, you can sample the original (and best) Budweiser Budvar, and other outstanding brands like Pilsner Urquell and Staropramen. Hire a car in the Czech Republic with Enjoy Travel and a whole world of discoveries awaits.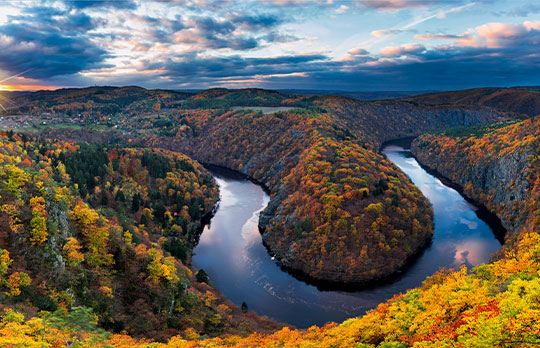 Top tips on driving in the Czech Republic
Your top 10 road trips in the Czech Republic are arriving imminently. But let's take a quick gander at some useful driving tips before we hit the pedal.
First off, don't forget to drive on the right hand side of the road here and carry your UK driving license with you.
All passengers have to wear seatbelts and kids under 150cm and 26km must use a size and weight-appropriate restraint system. Drinking and driving is strictly forbidden, and you can be penalised for anything above 0% in your blood ‐ the best approach is not to drink a drop if you plan to drive.
Don't use your mobile phone when driving and switch on your dipped headlights when visibility is poor. In built-up areas the speed limit is 50km/k, it's 90km/h outside built-up areas, and 130km/h on motorways.
Now without further ado, let's crack on with your scenic road trips!
Loucen & Mcely
Located just a convenient hour's drive from Prague, the beautiful villages of Loucen and Mcely are charming road trip destinations when you want a day away from the capital. Each settlement has a sublime chateau, and they really are something to write home about. Originally built as a summer home for a somewhat eccentric aristocrat, a tour of Loucen's chateau reveals the iron which his butler used to press his cash and dry the ink on his newspaper, while the grounds have amazing mazes and the first football pitch in the nation. Mcely's chateau is just as palatial and here you'll find a natural pool, ornate fountains and a sumptuous onsite restaurant.
Lednice & South Moravia
Around two hours and 45 minutes from Prague, Lednice can be tacked as a day trip but planning an overnight stay let's you soak up the atmosphere in a more relaxed way. This is the beating heart of the South Moravia wine region, so there's lots of gorgeous green countryside, but the highlight is the elegant neogothic chateau, with its dreamy spires and immaculate grounds. Schedule a stop at nearby Valtice, where there's a wonderful wine salon nestled inside a brilliant Baroque castle ‐ pick up a bottle to take home!
Spindleruv Mlyn to Bohemian Paradise
If you're visiting in season, Spindleruv Mlyn is a paradise for skiers and snowboarders, but this two hour road trip means it's also a super summer road trip base. Stop at Farma Hucul for horse riding through the forest, then at Rautis if you'd like to learn how to blow glass beads, after which you'll continue on to the Castle of Vranov ruins, which offer amazing views across Bohemian Paradise. If you're feeling really energetic after parking up, you can even try rock climbing at Mala Skala ‐ otherwise settle in for an indulgent night in a castle at Eu Chateau Hotel Hruba Skala.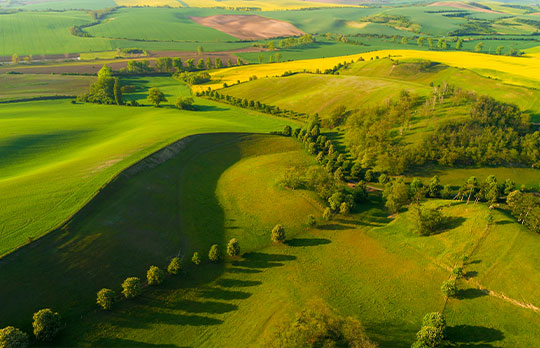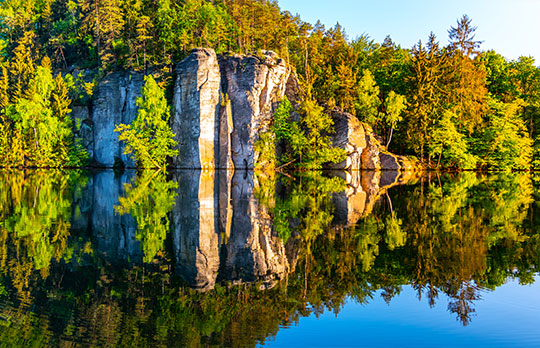 Marianske Lazne
Located two hours from Prague and three and a half hours from Brno, Marianske Lazne is a lovely spa town which makes a marvellous weekend getaway location. Here you'll find lots of pretty parks and plenty of picture-postcard buildings, as well as quaint and quirky features like the famous 'singing fountain' next to the yellow baroque colonnades. Choose the Danubius Hotel for a really special experience ‐ it's connected to the famous Roman baths by a tunnel and you're free to make full use if the cathartic amenities!
Tabor & Southern Bohemia
Tabor is just 112km from Prague, but this unspoiled village brings the magic of Southern Bohemia to live in no uncertain terms. Small but perfectly formed, you can tackle Tabor on foot, enjoy lush forest trails around its castle, pop into the local monastery and if you're feeling full of beans, even climb up the church tower for a bird's eye view of the superb surroundings. For a relaxing drive through some spellbinding scenery, a Tabor road trip is terrific.
Liberec to Prague
A formidable road trip for architecture fans, the hour and a half trip from Liberec to Prague takes you from one aesthetically pleasing Czech location to another and it's testament to just how good looking a nation this is. Attractions in Liberec include the Neo-Renaissance Town Hall with its sky-scraping spires, brightly-coloured Liberec Chateau, Chamber of Trade and Commerce and Villa of Theodore Liebeg. Meanwhile, there's more architecture in Prague than it's possible to see in one visit, but standouts include St Vitus Cathedral and the Old Town with its mind-blowing astronomical clock.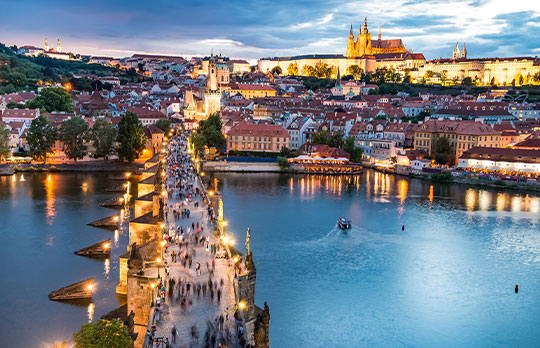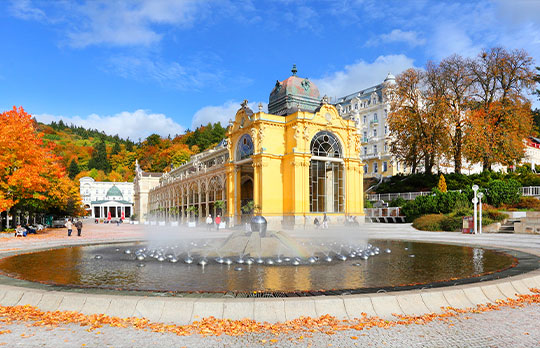 Prague to Brno
Situated about two and a half hour's drive from Prague, Brno is the Czech Republic's second-biggest city and is always worthy of a visit. The capital of Moravia, it has a historic city centre complemented by buildings which date back to the 11th century, as well as fine examples of Renaissance and Baroque architecture. Don't miss the Villa Tugendhat Museum- a unique modernist villa built in 1929 by the wonderfully named Ludwig Mies Van der Rohe. This visionary home feels so fresh that it could have been designed yesterday.
Broumovsko
This stunning protected landscape area is located two hours and 15 minutes from Prague and it's a must-see for fans of the great outdoors. Park your car, get your hiking boots on and set off on some panoramic hiking trails that you'll never forget, thanks to otherworldly rock formations like the Rock Theatre and Chapel of Virgin Mary. If you're a really adventurous hiker, you can even cross the border to Poland's Stolowe Mountains National Park (please check the latest travel guidance though).
Prague to Ostrava
Fancy a three and a half hour road trip from Prague to the capital of the Moravian-Silesian region in the Czech Republic's northeast? Highlights here include Landek Park, which celebrates the areas proud mining heritage and the pastel coloured buildings in Masaryk Square. Meanwhile, the atmospheric Silesian Ostrava Castle, which was first erected in 1280, sank dramatically into the ground when its foundations were undermined in 1872 and has now been faithfully resurrected to its former glory! Another cool family attraction is the Miniuni Miniature Park, which features scale models of European hotspots like the Houses of Parliament and the Eiffel Tower.
Holasovice
A two and a half hour trip from Prague, UNESCO-listed Holasovice is the perfect road trip destination is you want to see a well-preserved example of a traditional central European village. The buildings are in the South Bohemian Folk Baroque style, and it really does feel like a time capsule. If time permits, stop off at the impressive State Chateau of Hluboka before heading home ‐ it's considered one of the most beautiful in the entire Czech Republic.