Top 10 Road Trips Near Coventry
Kenilworth
Warwick
Hatton
Coombe Abbey
Tanworth-in-Arden
Rugby
Sutton Coldfield
Charlecote Park
Corby
Banbury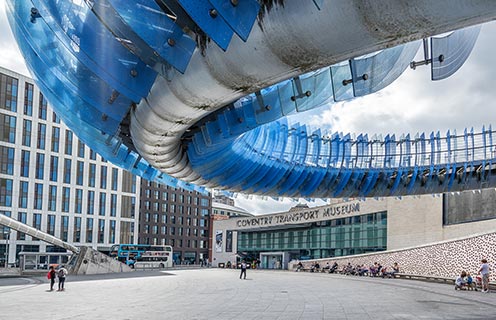 10 of the best scenic drives from Coventry
Heading to Coventry for a staycation this year – or perhaps you're based there all year round?
Either way, lucky you – the UK's City of Culture is a magical melting pot where music, dance, visual art and cuisine from around the world mix in a mystical melange. Its ties to the Caribbean are particularly strong and it's twinned with Kingston, Jamaica – this English city was the beating heart of the late 1970s/early1980s UK ska revival, led by 2-Tone records stalwarts like The Specials and The Selecter. If you're a music fan, a trip to the 2-Tone Village Coventry just beyond the city centre is a must. As well as the mind-blowing music memorabilia, there's an award-winning café, sumptuous restaurant serving spicy feasts and live music area.
A city with an estimated population of around 430,000, Coventry sits on the river Shelbourne. Located in the present-day West Midlands, it's part of historic Warwickshire and was heavily damaged in 1940 by extensive bombing during the Coventry Blitz of WWII – when its 14th Century Cathedral Church of St Michael was almost completely destroyed. The cathedral was subsequently rebuilt, and the phoenix-like metropolis also boasts three universities – Coventry University, University of Warwick and Arden University.
If entertainment is your priority, this city hosts a plethora of vibrant venues to see live dance, drama and music, such as the Albany Theatre and Belgrade Theatre. Meanwhile, on days where you're feeling a little more sedate, you can take a leisurely stroll around Coventry Canal Basin, where art trail treks take you through sublime countryside via towpath trails. You'll find out more about the city's fascinating industrial heritage from various informative plaques dotted along the way.
The surrounding countryside is ideal for exploring by car, with scenic spots and terrific towns and villages around every corner, so when you want a break from the city vibes, there are plenty of alternative destinations within striking distance. Hiring a care in Coventry with Enjoy Travel is super-simple and you can book your ideal vehicle at an excellent price in just a couple of minutes.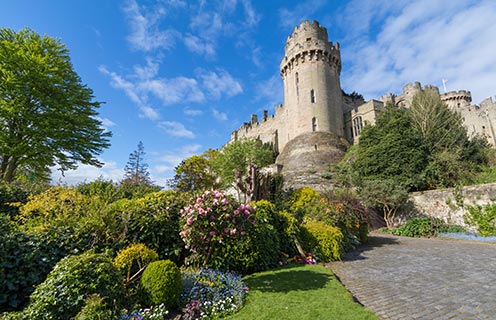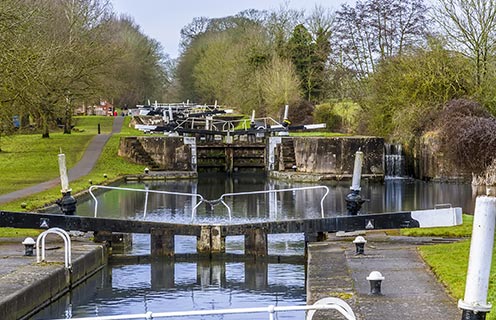 Top tips on driving in Coventry
Your Coventry road trips are coming up shortly, but before strapping on your seatbelt and starting your engine, take a minute for some refresher driving tips on hitting the road in and around Coventry.
One of the trickiest propositions for locals and visitors alike is Coventry Ring Road. The speed limit on slip roads entering and exiting this road and the limit on the road proper is 40mph, the right hand lane is the correct lane of travel, and your earliest chance to move to the left lane to exit is right after the gangway sign confirms you can do so. If you're unfortunate enough to find an aggressive tailgater behind you, move over to the left lane when it's safe to do so and allow them to pass – it's not worth getting uptight about.
Like elsewhere in England, the national speed limit is 70mph on motorways, 60mph on dual carriageways, 40mph in built-up areas and 30mph on other busy areas with street lighting. Drink-driving is strictly prohibited, seatbelts are mandatory and using a mobile while driving is not permitted unless the system is hands-free.
Now we've caught up with some road tips, lets get revved up for your road trips!
Kenilworth
A short skip from Coventry, Kenilworth is packed with picturesque scenery and historical attractions. The centrepiece attraction here is Kenilworth Castle and Elizabethan Gardens, which date back 900 years – the Norman keep is magnificent. But there's also a network of terrific nature trails and an awesome Alpaca farm just outside of town – you'll never be bored!
Getting there: Kenilworth is just 15 minutes from Coventry via the A444.
Warwick
Another hotspot for history buffs, Warwick is always worth a visit for its remarkably well-preserved 14th century castle where you can see jousting tournaments and birds of prey displays, the charming half-timbered Lord Leycester Hospital, and the dreamy spire of the Collegiate Church of St Mary. Green-fingered visitors also love a trip to Hill Close Gardens – an oasis of Victorian horticulture where you can buy beautiful home-grown plants.
Getting there: Warwick is around 20 minutes from Coventry via the A46.
Hatton
A manageable (but magnificent) day trip from Coventry, Hatton is full of fun family activities. For instance, you can visit its famous flight of 21 canal locks (know as the 'stairway to heaven') and take a gentle stroll past the canal boats before stopping for a delicious pub lunch. But for something more adrenalin-filled, Hatton Adventure World has thrilling slides, indoor laser quest, pony rides and an adjacent shopping village full of local fare.
Getting there: Hatton is 18 minutes from Coventry via the A46.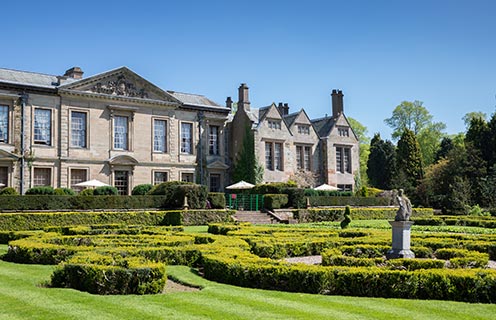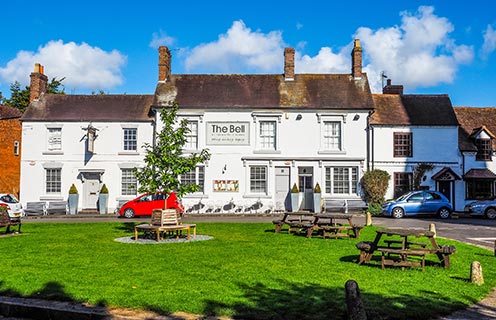 Coombe Abbey
Now a plush hotel where you can relax in the lap of luxury (or merely pop in for afternoon tea), Coombe Abbey dates back to the 12th Century, featured in the Gunpowder Plot and was surrendered to King Henry VIII during the dissolution of the monasteries. Meanwhile, the pristine 500-acre park that surrounds it was designed by the iconic Capability Brown and boasts fabulous formal gardens and a serene 80-acre lake.
Getting there: Coombe Abbey is around 25 minutes from Coventry via the B4027.
Tanworth-in-Arden
Located to the south of Birmingham, Tanworth-in-Arden is a picture-postcard village which music fans might know is the birthplace (and burial spot) of singer Nick Drake. It has a lovely laid-back ambience and attractions include the delightful 19th Century Danzey Green windmill, a pretty parish church and fab bar food at The Bell – treat yourself to a tasty meal and soft drink before driving home.
Getting there: Tanworth is 35 minutes away via the A45.
Rugby
A bustling market town that's a favourite Coventry road trip destination, Rugby gave birth to the sport that's carried its name around the world in 1823, when a pupil at the renowned Rugby Public School named William Webb Ellis picked up a football during a match. Sports fans can tour the school to learn more, and there's also an interesting art gallery and museum, the stunning Caldecott Park with its fab flowerbeds and manicured lawns, and the Newbold Quarry Park nature reserve.
Getting there: Rugby is 30 minutes from Coventry via London Road and the A45.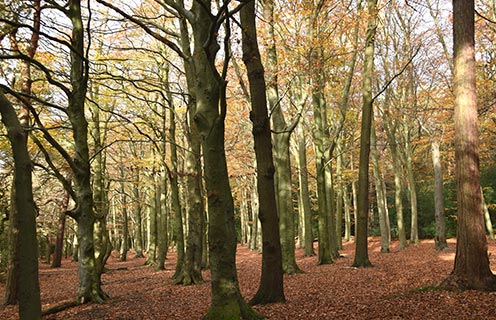 Sutton Coldfield
Another cool community near Birmingham, Sutton Coldfield has plenty to recommend it. For instance, you can stroll the expansive 2000-acre Sutton Park Nature Reserve to explore forests, wetlands and marshes, then pop into the Artifex Gallery for locally-made furniture, paintings, glassware and more. You can also catch a performance at Sutton Arts Theatre and buy everything from bathroom art to lingerie at The Mitchell Centre.
Getting there: Sutton Coldfield is 35 minutes away via the A45 and M6.
Charlecote Park
Fancy escaping to an elegant Victorian home surrounded by a lush, landscaped Victorian deer park? Who wouldn't, right? As you stroll along well-kempt footpaths you can (safely) watch the deer bellowing, or collect conkers and fungi, while the grand house itself is inspirational inside and out, and there are refreshments at the Wood Yard Café. Additional animal attractions include water birds of all stripes and historic Jacob sheep.
Getting there: Charlecote Park is just 25 minutes from Coventry via the A46.
Corby
Wander around this Northamptonshire town and the unusual local accent might convince you that you're in Scotland – vast numbers of Scottish families settled here during the 20th century to work in its thriving steel mills. Attractions include the superb 16th century Kirby Hall, the verdant East Carlton Country Park and the fantastically-named Rockingham Castle. For a spot of refined forest bathing, wander through the ancient glades of Fineshade Wood.
Getting there: Corby is one hour and 15 minutes from Coventry via the A14.
Banbury
Another outstanding market town, Oxfordshire's Banbury is a brilliant place to take a drive out to. History fans love the handsome Broughton Castle (used as a filming location for Jane Eyre and Shakespeare in Love), the medieval Ye Old Reindeer Inn where Oliver Cromwell strategized before the Battle of Edge Hill in 1642, and of course, Banbury Cross, the setting for the famous nursery rhyme.
Getting there: Banbury is 45 minutes from Coventry via the A423.
These 10 road trips exemplify how awesome Coventry is as a holiday base – hire a car from Enjoy Travel and adventure awaits in this mesmerising part of England.