10 Of The Best Staycation Ideas in Scotland
Scotland has uninhabited swathes of natural beauty, but with a fraction of the population of neighbouring England (these two nations, together with Northern Ireland and Wales, comprise the UK).
In fact, at just 5.3 million people, the population of Scotland is far less than that of London, and the fact that most of Scotland's residents live within the 'Central Belt'—the strip that runs East to West across the country and which takes in the capital city, Edinburgh and Scotland's largest city, Glasgow—means that there are thousands of miles of exhilarating, often empty roads to explore.
Furthermore, crime is low and Scotland, and with much fewer people (especially in rural areas) social distancing is easy and you can feel safe and secure in a scenic nation which has been voted the world's most beautiful country by travel publications like Rough Guides.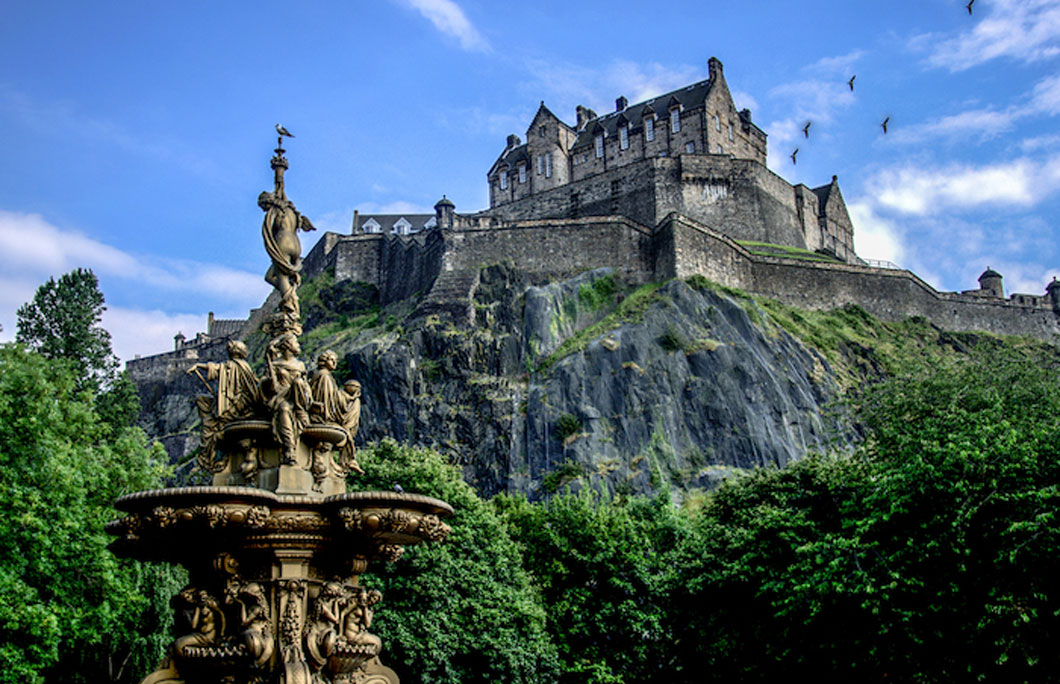 Hiring a car for a Scottish road trip or holiday
In Scotland hiring a Toyota Aygo or similar mini-size car costs just £15 (€17) a day off-season, while a compact-size Ford Focus is only £18 (€20) a day, even an economy-size model like the Ford Fiesta is just £17 (€19) a day, and a full-size car like the Volkswagen Transporter is available for only £26 (€29) per day!
Increasing we are seeing our customers hire a car in their home country as travel abroad has become restricted and people are less confident about public transport. Below you'll find our top 10 picks for Scottish staycations ̶ hire a car from Enjoy and you can even tick two or three of our sumptuous spots off your list!
1. Glencoe
Glencoe is a village and imposing valley in the western Scottish Highlands. Known for wildlife which includes red deer and golden eagles, and as the scene of a famous massacre in 1692, it retains a haunting feel and yet Glencoe Village is picturesque and welcoming. There are a number of mountain trails ascending from either side of the road (A82), waterfalls (some of which you can drink from) as well as activities for everyone, from kayaking to gorge walking and more. It can get busy in summer (avoid the crowded parking places on the A82 if possible), but it's well worth the effort for the mountains (which feel like they'll topple over onto you) and the drive over Rannoch Moor to get there.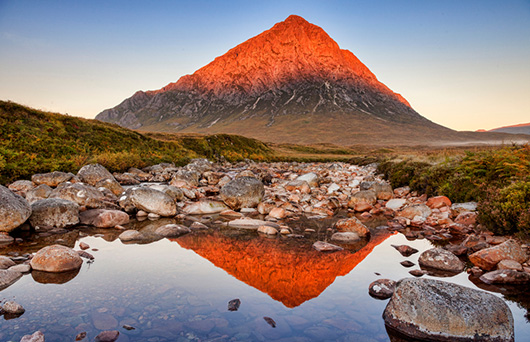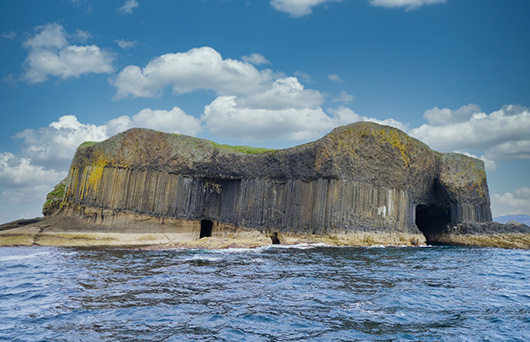 2. Edinburgh
Scotland's capital and the country's 2nd-largest city is famous worldwide for the Edinburgh Festival & Fringe which takes place every summer and attracts millions, including a record 3 million visitors in 2019. And since this year it's off due to the current health crisis, it's the perfect time to explore at your own pace. Accommodation ranges from hostel-type dormitory to 5-star hotel suite, public transport within the city is efficient, and Edinburgh is within easy reach of country roads, craggy coasts, rocky hills and the North via the new Forth Road Bridge (take a trip to South Queensferry to marvel at the Forth Rail Bridge, completed in 1890).
Getting to Edinburgh
Edinburgh airport (code: EDI) is Scotland's busiest airport, and just a 20 minute drive out of Edinburgh city. Major airlines include EasyJet, Ryanair, British Airways, KLM, TUI, Wizz Air and multiple other international airlines as well as local carrier Logan Air. It's also one of the UK's busiest overall airports. You can take a direct flight to Manchester, London, Paris, Amsterdam, Dublin, as well as over 100 airports across Europe and USA.
Driving to Edinburgh
Coming from England - London, Leeds, Newcastle it's the A1 which runs directly into the city of Edinburgh, however take into account that after Northumberland it mostly runs on single carriageway, so over-taking is limited and the speed restriction is 60 MPH for much of that part of the journey. London to Edinburgh is around 400 miles and likely to take about 7 hours. The train service is direct and will take around 5 hours from London to Edinburgh.
Where to stay
The gothic "Old Town" of Edinburgh is exceedingly popular due to its flamboyant 'old meets new' mixing of the middle ages modern era. There are excellent hotels depending on your budget. The Radisson Collection Hotel, Royal Mile Edinburgh is well placed, luxurious and modern and close to the centre and Edinburgh Castle. You'll find a room somewhere in the region of £140 per night.
For the lower end of the budget, try the Ibis Edinburgh Centre Royal Mile – Hunter Square, in the Old Town, central to many pubs, restaurants and nightlife, and you'll find a room more on average £39 per night - excellent value.
Hiring a car in Edinburgh
Whilst Edinburgh is a major UK and Scottish city, it is surprisingly easy to drive around and not difficult getting out of the city by car outside of the rush hour. You can easily drive from Edinburgh and be in luscious country-side, mountains and stunning scenary in less than an hour. Out of season you can rent an economy car from the airport or city from as little as £12 per day with Green Motion, or upgrade to a family size vehicle or 4x4 eg. a Honda CRV or similar from just £19 per day.
3. The Scottish Borders
This is the area north of the Scotland-England border and south of Edinburgh and which includes towns such as Jedburgh, Kelso, Peebles, and Galashiels. Set in rolling hills reminiscent of English Dales and lush farmland connected by well-kept roads, the Borders is famous for rugby, textiles, and historic abbeys like those in Jedburgh, Melrose, Selkirk and Dryburgh. The history of the Borders is awash with the blood from a thousand years of warring neighbours, but today it's tranquil, temperate and filled with idyllic driving, all within an hour or so from anywhere in the Central Belt.
4. The Outer Hebrides
The Outer Hebrides are an idyllic island chain off the north-west coast of Scotland. Inhabited since the Neolithic Age, they're a weathered bastion of Gaelic culture, rich history (including Viking rule), deserted beaches that stretch for miles, and the (usually harmonious) meeting of ancient and modern. The islands are connected by ferries and can be wholly traversed in a day (ferry schedule permitting). Enjoy lively Stornoway (the Outer Hebrides' only 'proper' town) then drive south through the blue hills of Harris, home to Harris Tweed, until you reach the ferry at Leverburgh. After a pleasant 1-hour sailing to Berneray you can drive all the way to South Uist in 90 minutes. Accommodation ranges from glamping pods to apartments hewn into rock, plus the usual B&B and hotel-type accommodation.
5. The Inner Hebrides
The Inner Hebrides are a group of islands that includes Skye, Islay, and Mull. The main industries on these islands, like their counterparts to the north, are fishing, crofting, touring and whisky distilling. More temperate than the Outer Hebrides, the 35 inhabited islands (and 44 uninhabited) are globally recognised as a centre for malt whisky heritage ̶ Bowmore, Jura, and Tobermory are just a few of the single malts distilled in the Inner Hebrides. Caledonian MacBrayne (also known as Calmac) runs ferry services to the islands, which are ideally placed as a getaway during the current health crisis due to their tiny populations and huge expanses of wild beauty. National Geographic recently voted Skye the fourth best island in the world and here you can explore the 500-million-year history and enjoy the breath-taking views from the (almost) 1,000-metre Cuillin Ridge. Skye's hugely popular with walkers and can get busy in summer, but even the drive to get there is dramatic. Due to low light pollution the stars are highly visible, while attractions like the Fairy Pools will delight children and adults alike. There are even dinosaur footprints in the Staffin Bay rocks, not to mention all the deserted inlets, castles, and old-timey pubs.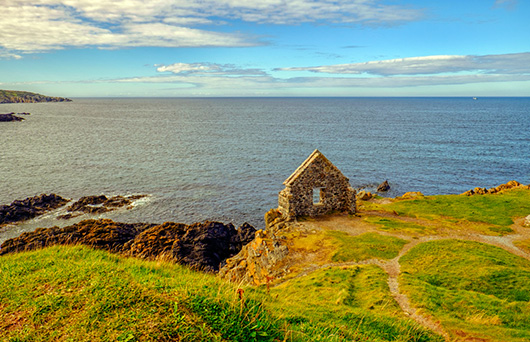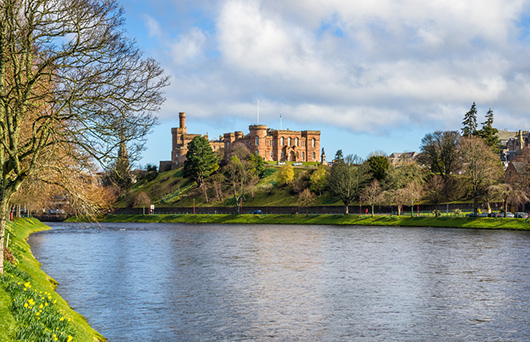 6. Portsoy
Clinging to steep hills that meander down to an award-winning harbour, Portsoy is an ancient village of pretty fisherman's cottages intersected by narrow cobblestone streets. The harbour also has a beautiful lido which fills with the tide, and annually in early July Portsoy hosts the Scottish Traditional Boat festival. As well as the usual accommodation available – B&B, hotel, private rented accommodation – it's also possible to camp, or park a campervan, on the many 'links' (a Scots word for 'meadow') nearby. Links Bay has golden sands and is just a few minutes' walk away, and don't forget to try the famous ice cream before you leave!
7. Loch Lomond & The Trossachs National Park
Loch Lomond & The Trossachs are less than an hour from Glasgow and Stirling. Loch Lomond is the UK's largest lake ('loch' is just 'lake' in Scots) with all the activities you expect and then some. Surrounded by mountains and glens the area is full of wildlife, walking, natural beauty and spectacular views. There are 30 islands within the loch, including one with a hotel! The Trossachs have been described as 'The Highlands in Miniature' and this romantic area of crystalline lochs, rolling hills and languid forests to the east of Loch Lomond inspired Sir Walter Scott to write Lady of the Lake and attracted other literary legends lie Coleridge and Wordsworth, as well as countless visual artists over the generations.
8. Glasgow
Glasgow is Scotland's largest and most vibrant city. Architecturally respected, cosmopolitan and creative, it's probably Scotland's friendliest city too ̶ you can start chatting to anyone here and they'll spraff (Scots for 'chat') right back like it's the most normal thing in the world (although you might struggle to understand!). In terms of culture, activities, shopping and dining (at reasonable prices) it's hard to beat Glasgow and if you're a football (soccer fan), this city is home to the sporting world's fiercest rivalry, between Glasgow Rangers and Glasgow Celtic FC ̶ watching an 'Old Firm' derby match between these two legendary teams is an experience you'll never forget!
9. Inverness
Inverness is the UK's most northerly city, located near the legendary Loch Ness. The home of the famous-but-shy 'Nessie', you probably won't see this cryptozoological beast, but that won't stop you from enjoying Britain's most voluminous freshwater lake. Inverness is a musical hub too ̶ catch Rock Ness and the Tartan Heart Festival in summer. From the ghosts of Macbeth's past to notorious battle sites (Culloden Moor is genuinely spooky), castles, Nessie cruises, whisky shops, bagpipes and wool/tweed mills, this city is an oft-overlooked staycation spot.
10. Stirling
Stirling is a small town which packs a heavyweight historical punch ̶ it was the site of William Wallace's defeat of the English army at Stirling Bridge in 1296. Wallace's military guerrilla campaign against Edward II of England kick-started a Scottish independence movement eventually completed by King Robert the Bruce in 1314, and which lasted 400 years until the creation of the UK proper in 1707. Stirling Castle and The Wallace Monuments are must-see sights. In the Wallace Monument you can see Wallace's actual Claymore sword (over 6 feet long), and it's next to the picturesque university campus of Stirling University. Stirling town itself is typical of smaller Scottish towns of the size, but there's still plenty to see and do.
And there they are, our 10 best staycation ideas in Scotland! Remember, Scotland is compact so it's quite possible to base yourself in town, get into the wilderness during the day, but be back in time for tea.
Hire a reliable car from enjoy in Scotland and hit the road to reach all of these brilliant beauty spots!