Top 10 Peterborough Road Trips:
Nene Valley
Wells-next-the-Sea
Stilton
Rutland Water
Melton Mowbray
Wicken Fen
Evesham
Swadlincote
St Ives
Eyebrook Reservoir
Cambridgeshire's Peterborough might not be the obvious choice for your British staycation, but there's much more to this city than meets the eye.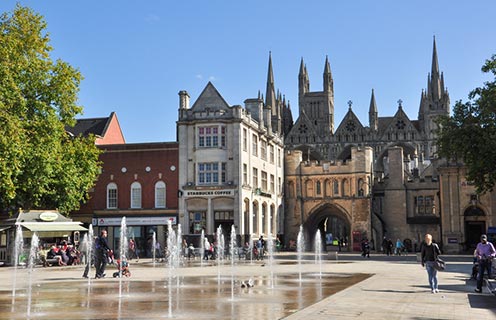 10 of the best scenic drives from Peterborough
You'll find an eclectic mix of activities and attractions here, ranging from historical attractions to rural walks, and nature reserves to charming cafes and cosmopolitan hotels.
Historical highlights include the impressive (900-year-old) cathedral, the rural John Clare Cottage and Sacrewell Farm, while the lively river embankment hosts a lively mix of cultural events throughout the calendar, including the Italian Festival, Diwali Festival and CAMRA Beer Festival.
There are plenty of relaxing green spaces to explore, the night-time economy features theatre, ballet and live music, and there are four major sports stadiums covering everything from football to greyhound racing.
Beyond the city limits, there's lots to explore in Cambridgeshire by car ̶ from seaside towns and lakeside villages to areas of outstanding natural beauty and mind-boggling historical attractions. Whether you want a minibus or a mini-sized run around, hire a car in Peterborough with Enjoy Travel and adventures in this brilliant British region await.
Tips on driving in Peterborough
Your 10 epic road trips from Peterborough are right around the corner, but these tips on driving in Peterborough are a stitch in time that could save you lots of time and hassle when you arrive.
Speed limits on motorways, dual carriageways and single carriageways around Peterborough are the same as you're used to in other areas of the UK, but there are some lower limits to look out for. For instance, there are 20mph limits along the length of Hawksbill Way and Beluga Close, on Mill Lane in Castor, and in Helpston Road and Peterborough Road in Ailsworth.
In the city proper, there's parking at Bishop's Road, Wellington Street, Deacon Street, Brook Street and Dickens Street. Meanwhile, if you need to fill up your tank, you'll find petrol stations at St John's Street, Oundle Road, Woodston, and at the Morrison's supermarket at Bellona Drive.
Now you know a bit more about the road code in this neck of the woods, let's get moving with your recommended Peterborough road trips!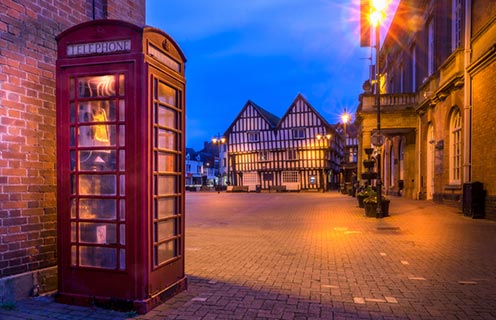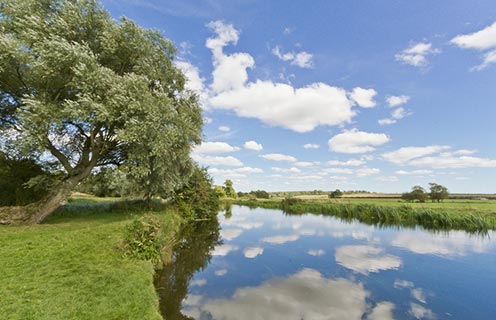 1. Nene Valley
A popular road trip from Peterborough, there's plenty to keep you entertained in Nene Valley. For starters, Adventure Rutland at Yarwell Mill Country Park offers stand up paddleboarding and kayaking in the River Nene, Stanwick Lakes nature reserve is perfect for nature lovers and at Nene Valley Railway, you can set off in an authentic old-time steam train which is based at Wansford Station and chugs you along leisurely to Ferry Meadows, Orton Mere and Yarwood Junction.
Getting there: Nene Valley Railway is a stone's throw from Peterborough along the A15.
2. Wells-next-the-Sea
Fancy a seaside break in north Norfolk? Wells-next-the-Sea is a wonderful choice. At Wells town you'll find an elegant Georgian square and chic shops on Staithe Street and in high season you can hop on a narrow-gauge railway to reach the beach, but it's not too far to walk at any time. The beach itself is bordered by pretty scented pines and features attractive pastel-coloured beach huts as well as wildlife like seals and seabirds.
Getting there: Wells-next-the-sea is around two hours from Peterborough via the A47.
3. Stilton
Famous for its eponymous cheese (and the annual cheese rolling festival each May!), Stilton is a historic town full of attractive and interesting buildings, one of which is the Bell Inn, where notorious highwayman Dick Turpin is said to have hidden out in the 18th century. If you've got your golf clubs with you, there's an excellent 9-hole course at Stilton Oaks and Burghley House is an imposing country pile built by William Cecil, Lord High Treasurer to Queen Elizabeth I, between 1555-1587 which is worth investigating.
Getting there: reach Stilton from Peterborough in around 25 minutes via London Road/A15.
4. Rutland Water
Want a day trip with something for everyone? Rutland Water is the road trip for you. Blissful Barnsdale Gardens has scenic woodland's a kids garden and a plethora of exotic plants, and there's everything from trampolines to a whopping 5.5m freefall into the water at Rutland Water Park, while Rutland Nature Reserve is home to waterfall and rare ospreys.
Getting there: drive along the A1175 from Peterborough to reach Rutland Water in 40 minutes.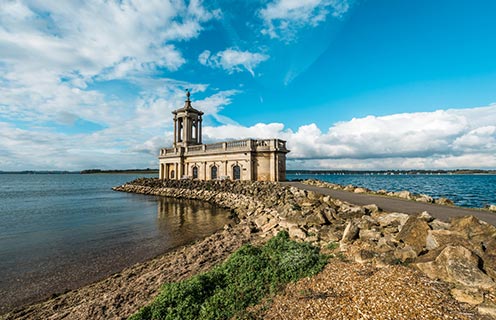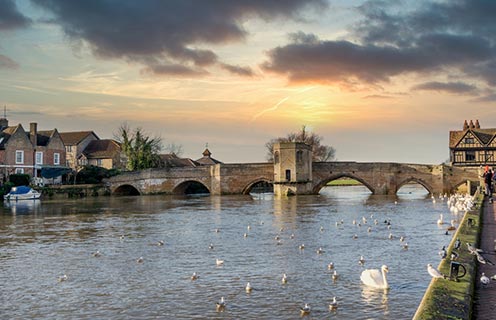 5. Melton Mowbray
Famous for succulent pork pies, Melton Mowbray in Leicestershire actually has a lot more to offer than tasty pastry products. St Mary's Church is an outstanding example of 15th Century Gothic architecture, Twinlakes Theme Park offers everything from wild rollercoasters to chilled-out traditional fairground games, and head seven miles south to Iron Age Borough Hill for panoramic views of the whole area.
Getting there: Melton Mowbray is 35 minutes from Peterborough via the A1.
6. Wicken Fen
Wicken Fen is England's most famous Fen and the National Trust's oldest nature reserve. This is one of Europe's most important wetlands as it's home to an amazing 9000 species, including hen harriers, short-eared owls, dragonflies, cuckoos, bitterns, swallows and waxwings. You can take a boat trip, cycle around the perimeter, and gaze in wonder at the wild konik ponies.
Getting there: drive along the A1123 to reach Wicken Fen in around 35 minutes.
7. Evesham
Located in Worcestershire, Evesham makes for a brilliant day trip from Peterborough ̶ it's full of fantastic timber-framed houses, lovely green spaces, and boutiques packed with unusual bargains. While away a few hours fly fishing at Lenches Lakes, take a refreshing dip outdoors at the Droitwich Spa Lido, or enjoy the latest releases or classic movies in the sumptuous surroundings of the Regal Cinema.
Getting there: Evesham is two hours from Peterborough via the A14 and A46.
8. Swadlincote
A former mining town in South Derbyshire, Swadlincote offers more dynamic distractions than you might expect, so it's a decent choice for an interesting road trip from Peterborough. You can find out more about its industrial heritage at the Moira Furnace and Country Park and Sharpe's Pottery Museum, or tree bathe in the beautiful National Forest. You can also try skiing and snowboarding at the Swadlincote snow sports centre.
Getting there: drive along the A6006 to reach Swadlincote in one hour and 45 minutes.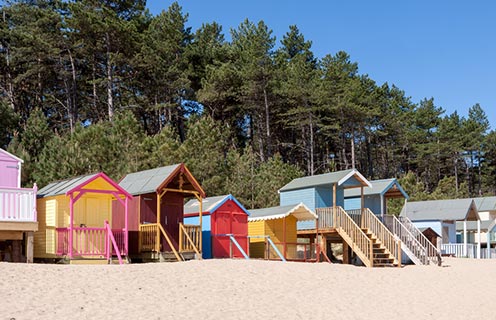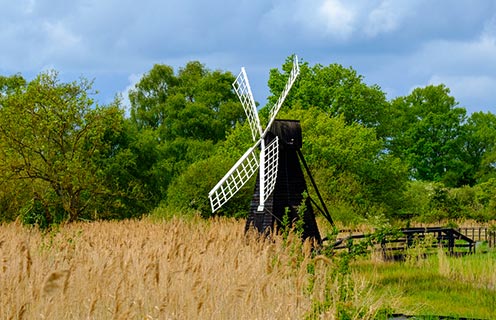 9. St Ives
A scenic Cambridgeshire town that you shouldn't miss, St Ives is an easy but rewarding road trip from Peterborough. St Ives Bridge is iconic, you can shop in street markets or take a cruise on the electric riverboat and Holt Island Nature Reserve is a serene spot where you can relax and unwind. Another unusual attraction is the Norris Museum, an attractive riverside building which recounts the history of Huntingdonshire from the present day way back to 160 million years ago.
Getting there: St Ives is just 40 minutes south of Peterborough via the A1.
10. Eyebrook Reservoir
A 201-hectare reservoir and site of special interest, Eyebrook Reservoir spans Leicestershire and Rutland and was created by damming the Eye Brook. This area was used as a practice sites for the famous Dambuster raids during WWII and it's now an extremely biodiverse area that's home to lots of wildfowl and migratory birds. If you're into messing about on the river and attempting to catch a big one, there's some high-quality fly-fishing onsite.
Getting there: Eyebrook Reservoir is just 45 minutes from Peterborough via the A47.
As you can see from this decathlon of legendary road trips, Peterborough is a top-notch base for your next Great British staycation. Whether you're staying for a weekend or a full week, you'll definitely never be bored ̶ there are awesome activities for history fans, culture vultures, nature lovers and active holidaymakers (or anyone who has diverse tastes).
Hire a car in Peterborough ahead of time and you can take your pick from low-cost deals from a variety of high-quality regional, national and international car hire partners, with the best makes and models to meet the needs of you and your party.
When you want to explore Peterborough, Cambridge and beyond, your one-stop shop for reliable car rental is right here. Plan your car hire in a couple of clicks, enjoy perfect peace of mind and pick up your ride on arrival ̶ it couldn't be simpler.