Top 10 Brighton road trips:
Chichester
The Seven Sisters
Arundel Castle
Cowfold
Alfriston
Herstmonceaux
ye & Camber Sands
Hever Castle
Heading to Brighton for business or pleasure? Good choice – if you do like to be beside the seaside, this is one of Britain's most iconic coastal resorts. The home of Fatboy Slim is famous for bouncing beats and hedonistic beach raves, 1960s clashes between Mods and Rockers (famously recreated on screen in cult movie Quadrophenia) and an iconic pier packed with plenty of distractions for pleasure-seekers. This cool city combines the cachet of a youth culture hotspot with the mass appeal of a traditional seaside destination – you'll never be bored and there's a welcoming, Boho vibe.
10 of the best scenic drives from Brighton
There's plenty more to see and do in Brighton beside busting moves, playing bingo and eating fish and chips (not that there's anything wrong with these pastimes). For starters, the Royal Pavilion is always a popular attraction – this exotic seaside palace was commissioned by the Prince Regent and originally completed in in 1815 but redesigned from Neoclassical to Oriental style on his request, hence its exotic domes and minarets. Meanwhile, for a spot of retail therapy combined with a step back in time, you can stroll along The Lanes – a network of narrow alleyways where you'll discover chic cafes, awesome antique shops, bijou jewellery boutiques and artisan bakeries.
Finally, if you've got some downtime, Brighton is definitely one of the best nights out in Britain. A magnet for stag and hen parties, weekenders arriving from London and revellers arriving from all over the nation, the choice of pubs and clubs is mind-blowing. Gourmets are satisfied by gorgeous gastropubs, beer lovers adore the craft beer bars, there are live music venues, kitsch alternative bars, and suave superclubs. You'll never have to walk far to find a fantastic watering hole – North Laine, The Lanes, Trafalgar Street, Churchill Square and Western Road are peppered with hotspots that come alive after dark.
When you need a break from the hustle and bustle, this seaside city is also a great base for a range of scenic road trips – hire a car in Brighton with Enjoy Travel and southern England is your oyster.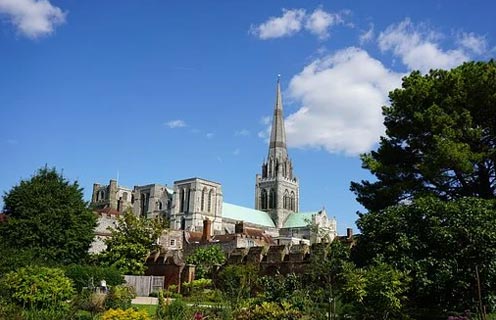 Top tips on driving in Brighton
We're almost ready to roll with your top 10 road trips from Brighton. But before you strap on your seatbelt and get rolling, let's look at a few tip on driving in and around the city.
For some time now, Brighton & Hove Council have been increasing their efforts to reduce vehicle speeds around the city using various education and enforcement techniques. For instance, you'll probably notice many SIDs (speed indicator devices) on roads to remind you of your speed and suggest you slow down (if appropriate). Drink and drug driving can also be problematic, and this isn't tolerated here, or anywhere in the UK.
Seatbelts are mandatory for the driver and all passengers, mobile phone use is prohibited unless the system is genuinely hands-free. However, you are permitted to use your phone in an emergency, in order to call 999 or 112 for assistance.
Now that we're finished with your driving tips, lets get moving with those jaw-dropping road trips!
Eastbourne
This fellow English seaside town naturally shares some commonalities with Brighton, but there are definitely enough differences to merit a day trip. The views from the cliffs on Beachy Head are outstanding, Birling Gap has a gorgeous, sheltered beach and the pier and promenade feature all the classic seaside resort distractions. For a bit of retail therapy, head along Terminus Road to browse unique bargains in the fabulous independent shops.
Getting there: Eastbourne is 55 minutes from Brighton via the A27.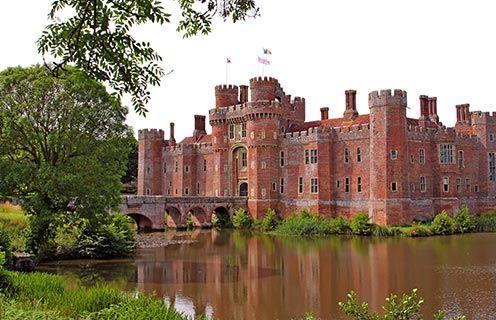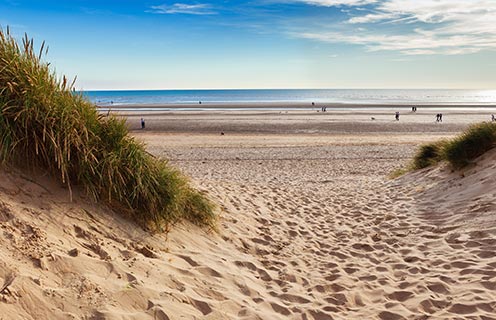 Chichester
A great day trip destination with a lovely cathedral and great choice of shops and boutiques, Chichester is always worth a visit and this is a road trip with a couple of attractive pitstop possibilities. First off, Bognor Regis has family attractions like crazy golf and Harbour Park theme park, or alternatively, Littlehampton has charming cafes and pubs where you can treat yourself to a tasty bite before heading home.
Getting there: Chichester is one hour and 20 minutes from Brighton via the A23.
Lewes
Just a skip from Brighton, Lewes is a historic market town in the South Downs with plenty of cute houses and serene streets to stroll around. Attractions for history buffs include Anne of Cleves' house and the Norman castle (dating from 1081), but the best time of year to visit is Bonfire Night, when giant effigies of contemporary public figures are set ablaze by locals and wheeled through the streets!
Getting there: Lewes is 30 minutes from Brighton via the A27.
The Seven Sisters
The jewel in the crown of the South Downs coast is arguably The Seven Sisters chalk cliffs – these mesmerising natural features have provided a dramatic backdrop for many movies and TV series. Start at Cuckmere Haven in the west of The Seven Sisters and wind your way along as you marvel at the magnificent views – bliss!
Getting there: The Seven Sisters are 50 minutes away via the A259.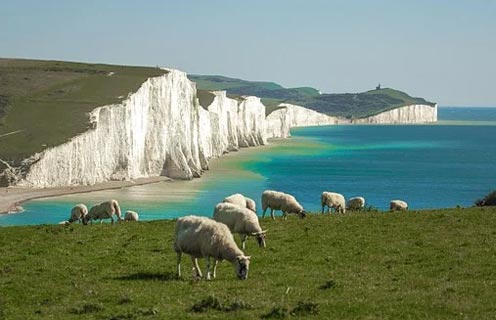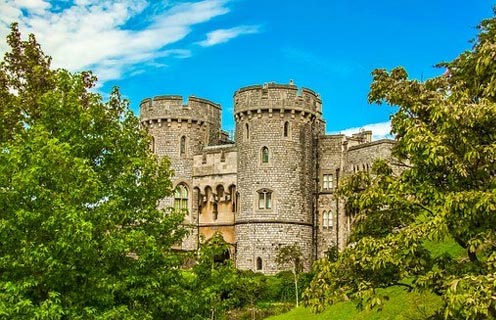 Arundel Castle
The verdant South Downs market town Arundel is an awesome road trip destination, and its magnificent medieval castle is the main draw – history comes to life here thanks to popular events like jousting and battle re-enactments. Before you go home, treat yourself to a cream tea at Bertie's – your tummy will thank you for it. If you've got plenty of time, stop off at Amberley on the way there or back, where there are terrific thatched cottages, another castle and a fascinating museum.
Getting there: Arundel is 50 minutes from Brighton via the A27.
Cowfold
This isn't a strange kind of bovine origami, but rather a charming village in Horsham, West Sussex. The St Hugh's Charterhouse monastery is located here and there's also a fabulous first edition bookstore where bibliophiles can browse for blissful hours, while the Hare and Hounds serves a pretty mean pub lunch to combat those hunger pains. If you're in the mood for a laid-back, romantic road trip, this is it.
Getting there: Cowfold is 30 minutes from Brighton via the A23.
Alfriston
If a road trip to an idyllic English country village sounds sublime, you'll absolutely love Alfriston. Roads are packed with authentic red brick and half-timer houses, you can stuff yourself with scones in multiple eateries and Rathfinny Wine Estate offers tasting tours if you have a designated driver. Historical attractions include St Andrews Church in River Cuckmere Valley, and the delightful Alfriston Clergy House, with its thatched roof, timber frame and sublime cottage garden.
Getting there: Alfriston is 40 minutes from Brighton via the A259.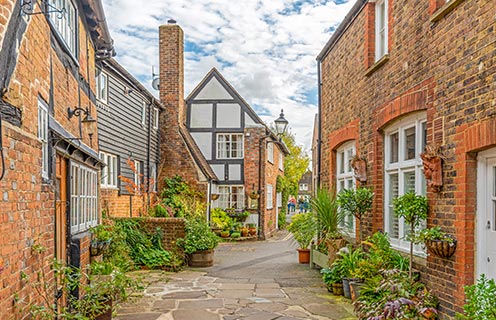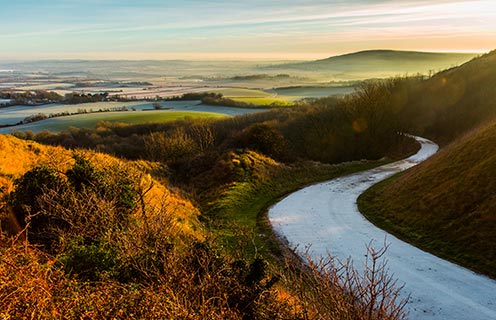 Herstmonceaux
This road trip feels a bit like a secret mission from a James Bond movie. Herstmonceaux is a little-known Sussex observatory located close to a bijou hamlet and it has a massive telescope for viewing planetary bodies in the Dark Skies. Kids and adults alike can visit during open days and evenings, or even sign up for organised astronomy courses. If you're a science-mad family, this is a must.
Getting there: Herstmonceaux is one hour from Brighton via the A27 and B2124.
Rye & Camber Sands
Do you like golf, undulating sandscapes and picturesque villages? If so, this road trip is sure to delight. Rye sits perched on the edge of East Sussex and Camber Sands (the county's only sand dunes) are to the south. Rye features rows of old-fashioned timber-framed houses and also has a piratical past peppered with port invasions and smuggling tales. Rye Golf Club is a lovely links course and the ever-changing landscape of Camber Sands lies beyond.
Getting there: Rye is one hour and 45 minutes from Brighton via the B2089.
Hever Castle
The former home of Anne Boleyn, Hever Castle has fabulous fortifications and a double moat. It started to disintegrate after passing into the ownership of Anne of Cleves but was then restored to its former glory in the 10th century by American William Waldorf Astor. Surrounded by a Tudor village and large gardens, it's an eye-popping place to visit.
Getting there: Hever Castle is one hour from Brighton via the A23.
As you can see, Brighton is an excellent place to strike out from on a wide range of exciting road trips – book your hire car online with Enjoy Travel and get ready for a great staycation!