Top 10 Road Trips in Germany
Palatinate Wine Route
Romantische Strasse (The Romantic Road)
Stuttgart to Weil am Rhein
Alpenstrasse (The Alpine Route)
Scharzwald Hochstrasse (Black Forest High Road)
Volcanoes Route
Berlin and Eastern Brandenburg
Papenburg Loop
Baltic Coast Route
Weimar to Dessau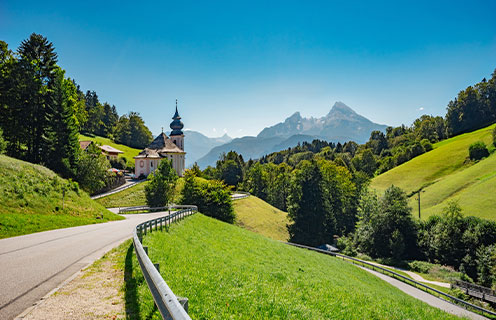 10 best scenic road trips in Germany
A legendary European nation replete with romantic scenery, Germany is a real treat for your eyes, heart and soul. From fairy tale castles perched on dramatic crags to dark forests brimming with folklore, and historic towns to cosmopolitan cities, there's something to satisfy everyone.
Germany's terrain is rich and varied ‐ from sandy northern coasts and central vineyards and river valleys to the striking natural amphitheatre of the Alps, the Great Outdoors has never looked better. When it's time to get back to civilisation for a while, cities like capital Berlin, Hamburg and Munich are multicultural hotspots, where multitudes of museums and galleries meet underground clubs and modern architecture sits next to baroque and gothic classics.
Naturally designed for exploration by car, Germany serves up some of the world's most sumptuous road trips.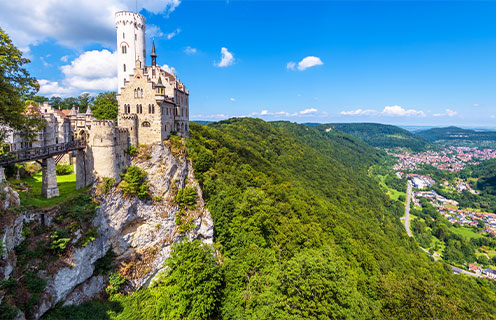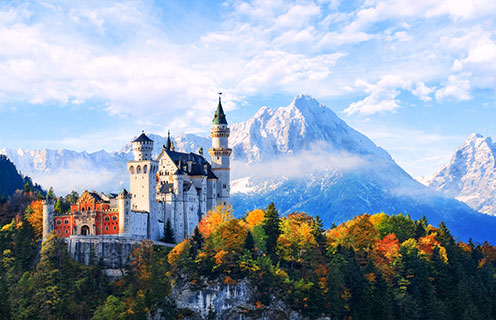 Top tips on driving in Germany
Before we get moving with your road trips, let's take a brief pause for some German driving tips.
You should drive on the right in Germany and observe speed limits of 130km/h on motorways, 100km/h on main roads and 50km/h in urban areas. Please note that there's no upper speed limit on some sections of the autobahn ‐ these are indicated by a white circle sign with five diagonal black lines.
The three colour traffic light system you're used to in the UK is used in Germany, but a red light with green arrow permits you to turn right at a red, provided you give way to other drivers and pedestrians.
Drink driving laws are tougher than the UK, at 0.05% blood alcohol volume, and seatbelts and appropriate child restraints should always be used.
Let's start those dynamic Deutschland road trips!
Palatinate Wine Route
Starting in Schwiegen-Rechtenbach and ending in Bockenheim an der Weinstrasse, this 96km route through the verdant vinelands of the Palatinate (Pfalz) region is a real treat. You'll wind through dene forests, undulating vineyards and charming villages. It's so lush that kiwi fruit grow next to the grapes, and located close to the Pfazerwald UNESCO reserve which is bristling with biodiversity.
Romantische Strasse (The Romantic Road)
The Romantic Road ranges for 350km across some of Germany's most picturesque scenery in Bavaria and Batten-Wurttemberg. Starting in the pristine medieval town of Rothenburg ob der Tauber, you move on to 2000-year-old Augsburg, the nation's oldest city, before continuing to Neuschwanstein Castle, and filming location for The Great Escape, Fussen.
Stuttgart to Weil am Rhein
The quickest route between Stuttgart and Weil am Rhein is 250km, but you'll want to extend it with detours in the Kraichgau region and Heidelberg. This scenic area is another robust wine region and there's lots to explore. At your final destination in Weil am Rhein, you'll see the curvaceous Three Countries Bridge, which links Germany with Switzerland and France.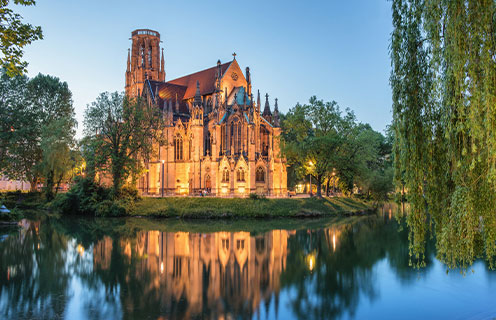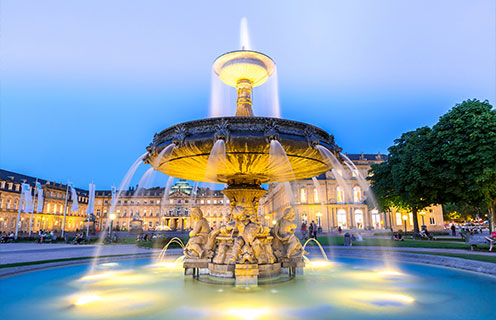 Alpenstrasse (The Alpine Route)
This panoramic route starts in Lindau and continues through 450km of the Bavarian Alps to Konigsee. This is Germany's first official scenic route and has been entertaining visitors since 1858 with its historic castles, fir and snow covered peaks and crystalline lakes – take a few days to unwind in this elegant natural environment.
Scharzwald Hochstrasse (Black Forest High Road)
If you like a spot of cathartic tree bathing, this famous 60km run through the Black Forest is a piece of cake. The route's high altitude means that the panoramic views are perpetual, and from your starting point in Baden-Baden, you'll pass meadows, waterfalls, lakes (and naturally, plenty of trees) before your tour ends at Freudenstadt.
Volcanoes Route
This serene day trip takes you from former East German capital Bonn, via 280km of some of Europe's most volcanic terrain. Taking in the vertiginous Eifel region, you'll pass several dormant volcanoes in a landscape carved from lava, with highlights including the Laacher See caldera lake and Andernach Geyser. At Trier, don't miss the 4th Century High Cathedral and the remains of the Emperor's palace with its rambling Roman walls.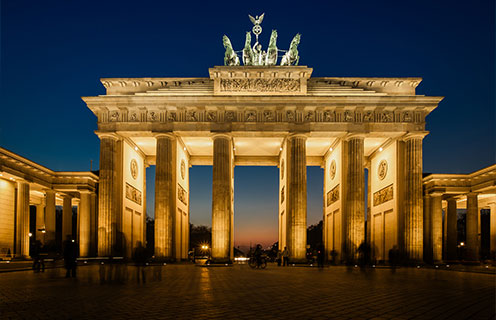 Papenburg Loop
A scenic 170km loop that starts and ends in the city of Papenburg in Lower Saxony's north Elmsland region, this road takes you northwards to Aurich then doubles back for the homeward run. In between, you'll see the rustic Ammerland farming region and pretty canalside villages close to the Netherlands border on this 'Fen Route' which links both nations historically. Papenburg itself is a vibrant port city with a rich shipbuilding heritage.
Baltic Coast Route
Covering 417km between Lubeck and Binz in northeastern Germany, this route takes you past sweeping sand coastlines and historic Baltic towns like Wismar and Strasland. The distinctive brick architecture in these Hanseatic towns is beautiful and the rugged waves and beaches are breath-taking.
Weimar to Dessau
This 286km trip is a must for fans of Bauhaus architecture, which started in Weimar in 1919. You'll see the experimental Haus am Horn house and marvel at Dornburg's dollhouse-style Rococo palaces. Next comes the modernist city of Chemnitz, followed by Dessau, home of the world-famous Bauhaus building, which was home to the movement until 1925 and designed by its founder Walter Gropius.
These top 10 road trips in Germany showcase this diverse nation's fascinating history and superb scenery – send us a postcard when you get there!